Filipino Egg Pie is a custard pie slowly baked in a flakey butter crust.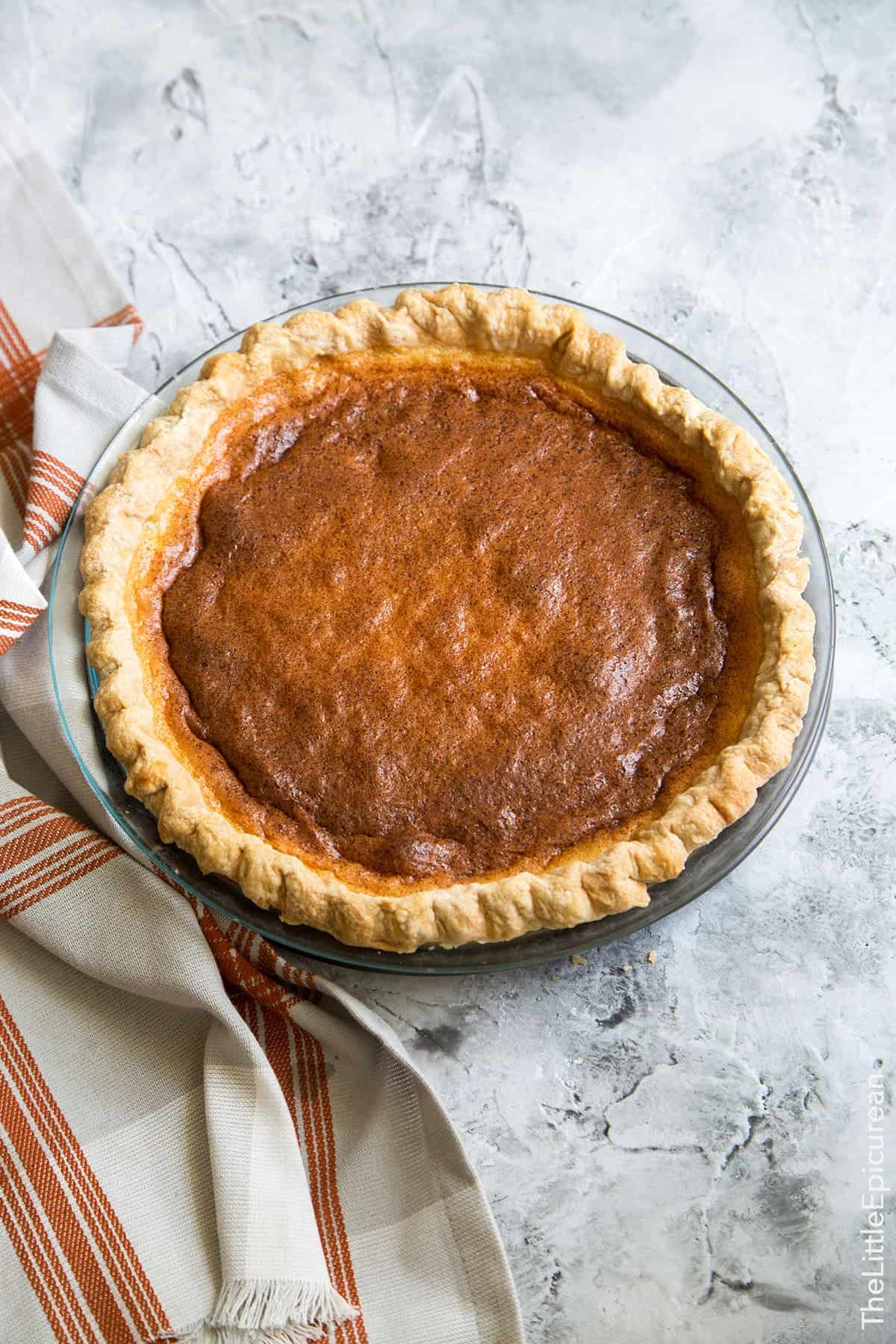 For most people, "pie" evokes childhood memories of warm apple pie served with vanilla ice cream or sweet summer strawberry pie with a dollop of whipped cream.
For me, this Filipino Egg Pie comes to mind.
[I mentioned my love for this custard pie (three years ago!) in this cinnamon buttermilk pie.]
What is Filipino Egg Pie?
Filipino egg pie is traditionally made with milk, sugar, eggs, and sometimes with a touch of calamansi juice/zest to brighten up this otherwise very sweet pie.
In keeping with tradition, I used canned evaporated milk and sweetened condensed milk.
Back in the day when refrigerators were uncommon or unavailable, Filipinos (and most of Southeast Asians) relied on canned evaporated milk for cooking and baking.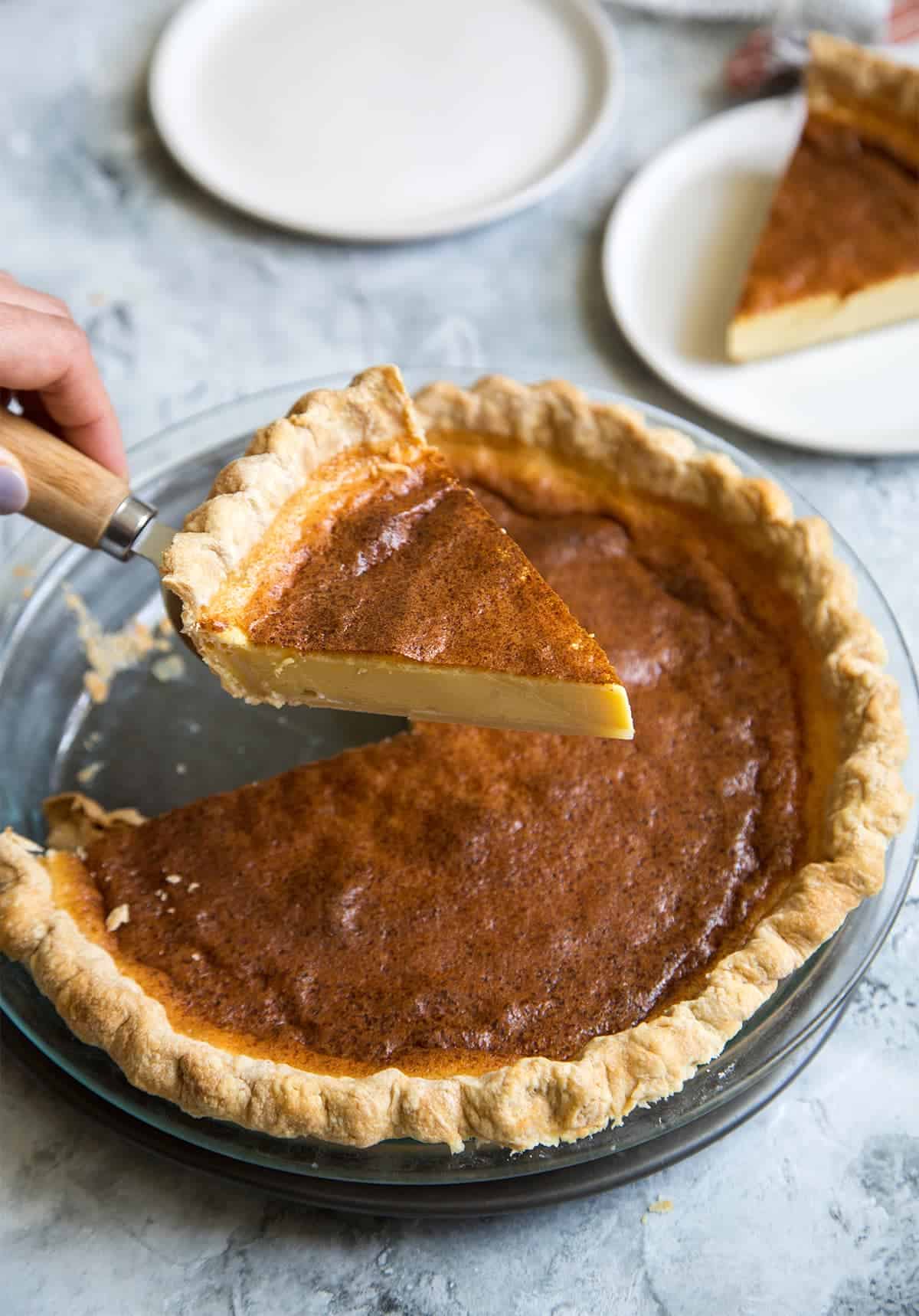 Growing up, this egg pie would make an appearance at every gathering and celebration.
Filipinos parties are known to decked out with a ton of food. It wouldn't that outlandish to find two or three of these pies at the dessert table.
We would usually purchase egg pie at our local Filipino bakeries. On the occasions when they'd sell out, my dad would hurry to Marie Callender's to buy their custard pie. The custard pie is similar, except for its addition of nutmeg.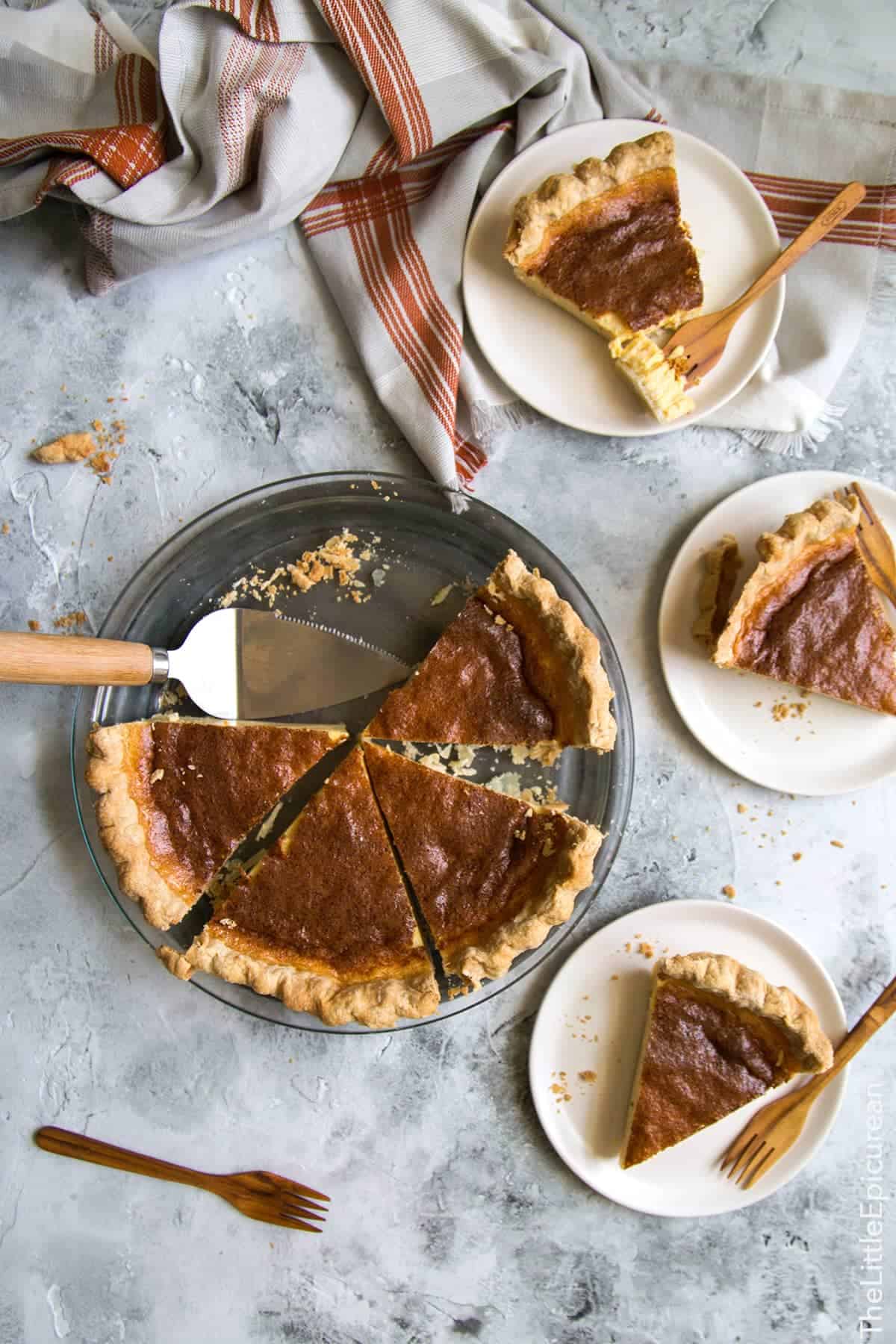 The distinguishing feature of Filipino egg pie is the toasty brown surface.
To achieve that toasty surface, whipped egg whites are folded into the custard batter just before baking.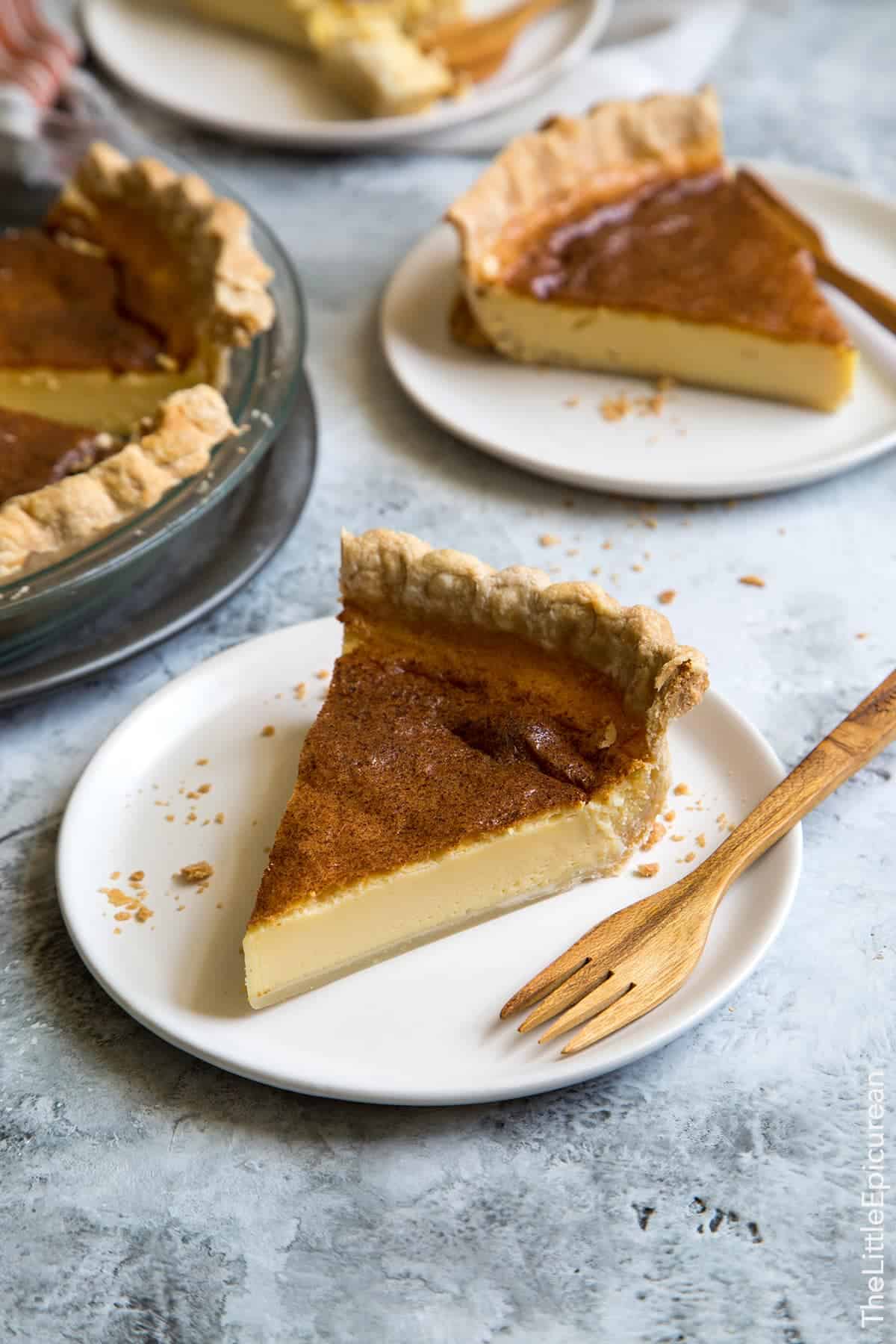 Tips and Troubleshooting for making egg pie:
Why Par-Bake the Crust?
Par-bake or pre-bake the pie dough in order to achieve a well-cooked flakey pie shell.
Line the pie dough with pie weight (like dried beans or rice) to prevent it from forming air bubbles or air pockets in the oven. Pre-bake the pie for about 15-18 minutes.
The pie crust will be not fully cooked at this point. It will finish cooking with the custard filling the second time around in the oven.
Par-baking ensures that the bottom of the pie crust will not be soggy.
Whipping Egg Whites
It is important to use a clean bowl, free from any debris or traces of fat. Traces of butter, oil, or yolk will prevent the egg whites from whipping efficiently.
Room temperature egg whites will whip faster than cold egg whites.
Ensuring Silky Pie Filling
If you notice that the egg yolks are lumpy or stringy, strain egg yolk mixture before folding in the whipped egg whites.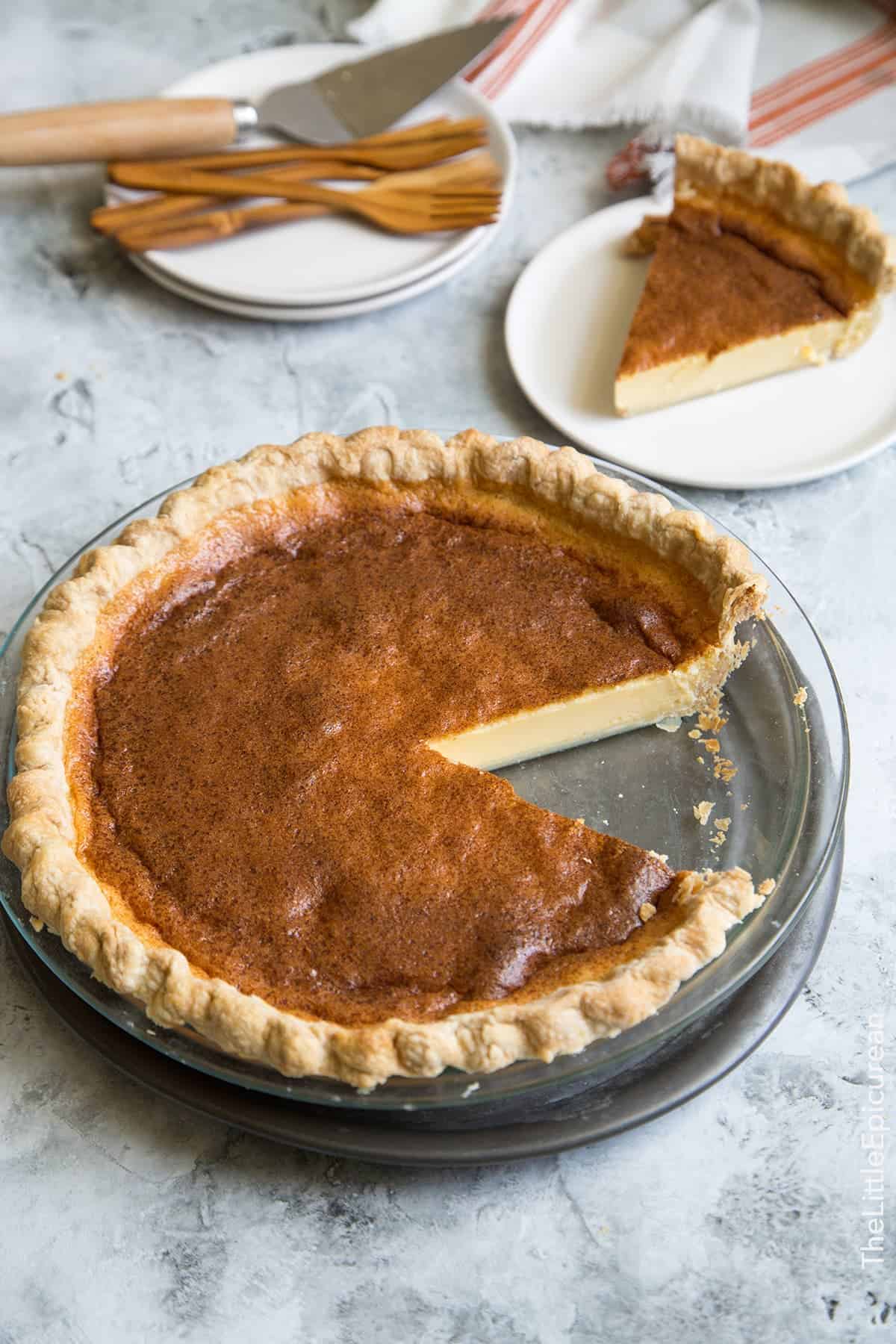 While I love the more popular Filipino desserts like leche flan and steamed rice treats (puto, sapin sapin, etc), Filipino egg pie was my absolute favorite as a child.
Nowadays, I rarely see this pie at Filipino parties. It makes me a little sad. The new generation of Filipino-Americans (my little nieces and nephews) have no idea what they're missing. I want to bring egg pie back!
Interested in other Filipino desserts? Check out these favorites: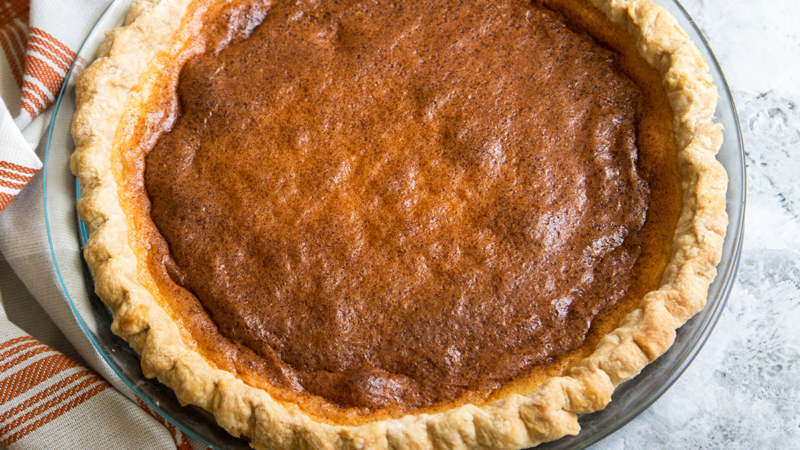 Filipino Egg Pie
This sweet custard pie is a popular Filipino dessert served as parties, gatherings, and celebrations.
Yield: 9-inch pie
Ingredients
Pie Dough:
1 1/2

cups (198 g)

all-purpose flour

1/2

teaspoon

fine sea salt

1

teaspoon

granulated sugar

1/2

cup (4 oz/114g)

unsalted butter, cut into tablespoons,

cold

2-3

Tablespoons

ice water
Filling:
6

large

egg yolks

3/4

cup

sweetened condensed milk

1

cup

evaporated milk

1/4

teaspoon

vanilla extract

2

large

egg whites

optional:

1/2 teaspoon calamansi juice or 1/2 teaspoon calamansi zest
Instructions
Pie Dough:
In a large bowl, combine flour, salt, and sugar. Cover and let chill in the fridge or freezer until bowl is cold. (About 5 minutes)

Using a pastry blender (or two forks), cut cold butter into cold flour until mixture resembles coarse, pebbled sand. Add ice water and fold to combine. Dough will be shaggy.

Dump dough onto a lightly floured work surface and knead until mixture comes together. Pat dough to a thickness of about 1/2-inch. Wrap in plastic wrap and let chill in the fridge for at least 1 hour (overnight is best).


Allow chilled dough to sit at room temperature for 5 minutes before rolling. Roll dough on a lightly floured work surface to about 11-inch in diameter and about 1/8-inch in thickness. Place pie plate upside down over the rolled dough to ensure it is the correct size.


Transfer dough to pie plate and firmly press into the bottom and sides of plate. Trim excess dough leaving about 1/2-inch overhang all around. Fold overhang into the pie and decorate the edges as desired. Let chill in the fridge for 5-10 minutes.


Preheat oven to 400oF. Line pie with parchment paper and fill with pie weights (i.e. dried beans). Bake for 15 minutes. Remove pie weights and bake for another 3 minutes. Allow pie crust to cool while you prepare filling.
Filling:
Lower oven temperature to 325oF. In a large bowl, whisk together egg yolks, condensed milk, evaporated milk, salt, and vanilla (and optional calamansi) until smooth*. In a separate bowl, whip egg whites to soft peaks. Gently fold egg whites into batter.

Pour batter into par-baked pie crust. Bake for 45-50 minutes until the surface is golden brown in color and the custard just slightly jiggles in the center. Allow pie to cool to room temperature before slicing. Once pie has cooled, you can also store it in the fridge to chill of easier and cleaner slicing.
Notes
If you notice that the egg yolks are lumpy or stringy, strain egg yolk mixture before folding in egg whites.
Calamansi is optional. Do not substitute lemon or lime.
All images and text ©The Little Epicurean