No ice cream machine necessary. All you need is a hand mixer to make this rich and creamy no churn ube ice cream!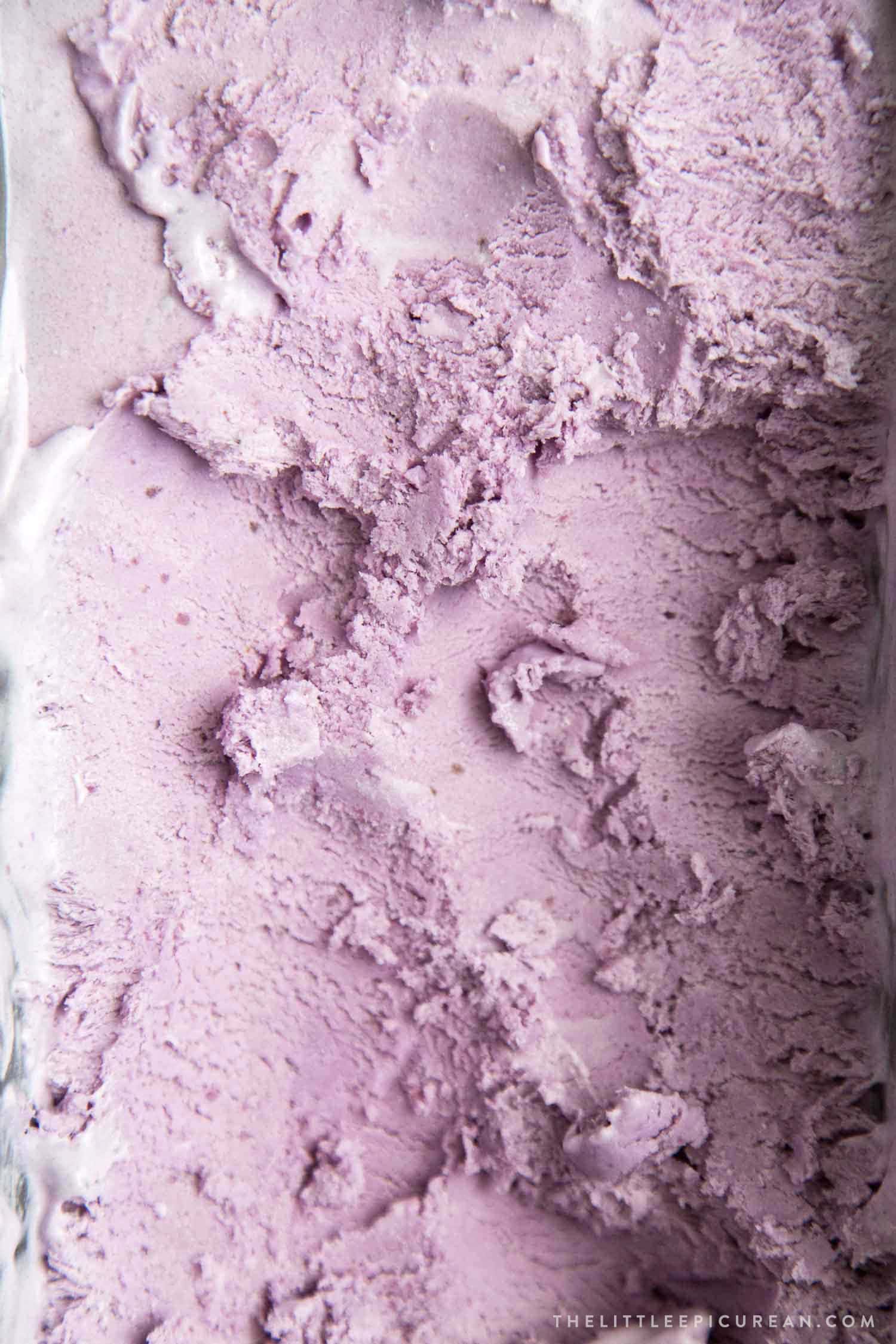 No churn ice cream is nothing new! It's a variation on the classic Italian dessert semifreddo.
This type of ice cream relies on the powers of whipped heavy cream to aerate the frozen dessert.
For this tropical version, I'm using the increasingly popular ingredient ube, also known as purple yam.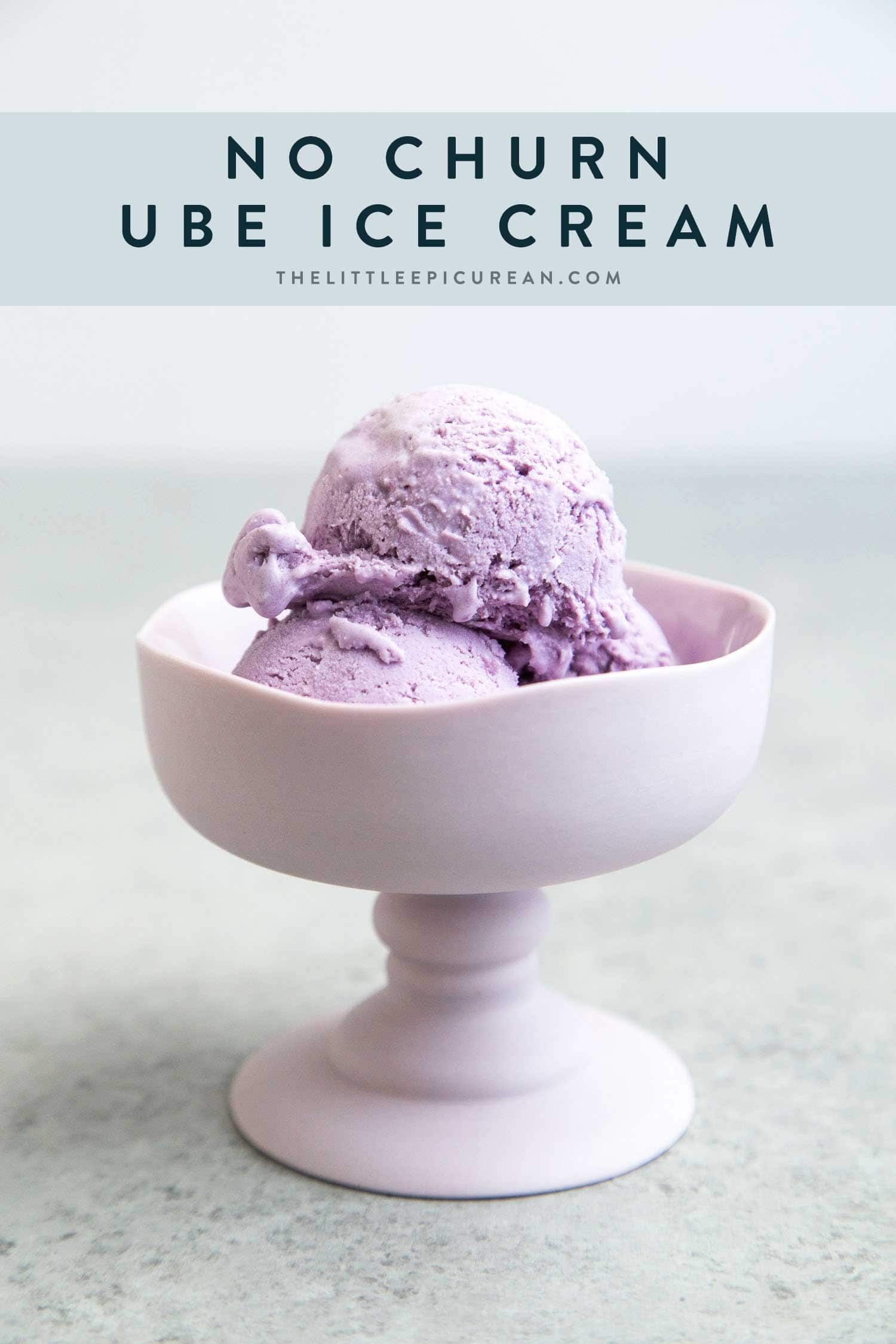 Easy Ube Ice Cream
Ube hit mainstream once Trader Joe's started selling pints of ube ice cream earlier this summer.
Ube fans all over were stocking up on the purple ice cream. It took me several weeks to finally get my hands on the popular flavor.
Unfortunately, it was a short run. My local Trader Joe's no longer carries the product.
Have no fear! Now you can make ube ice cream at home! The key to this ice cream is ube halaya!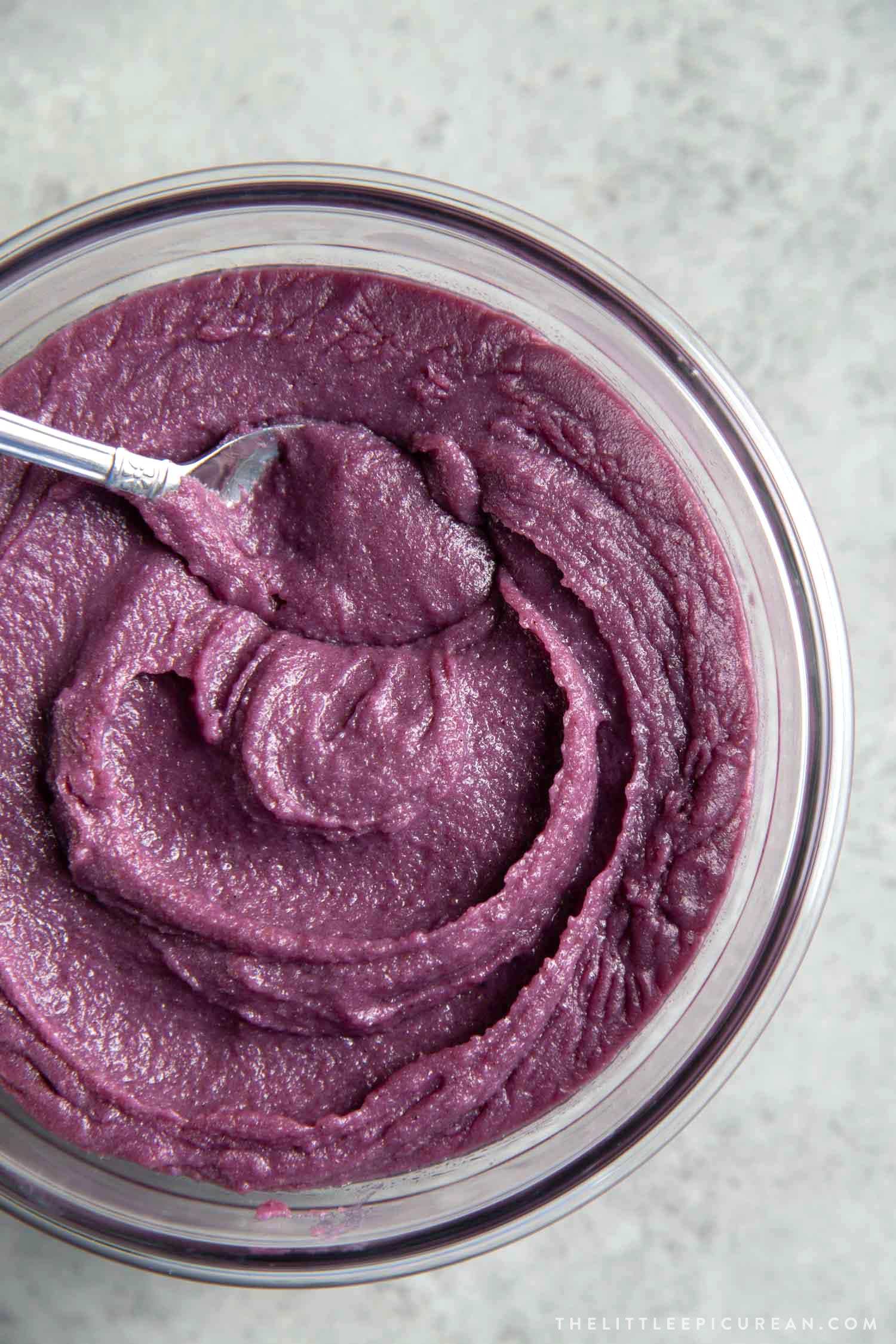 What is Ube Halaya?
Ube halaya is also known as ube jam or halayang ube.
It is a cooked dish made from boiled mashed purple yam, milk (usually sweetened condensed milk and coconut milk), butter, and a generous amount of sugar.
It is generally served cold as a dessert or used as a filling or flavor for other desserts such this ube chiffon cake.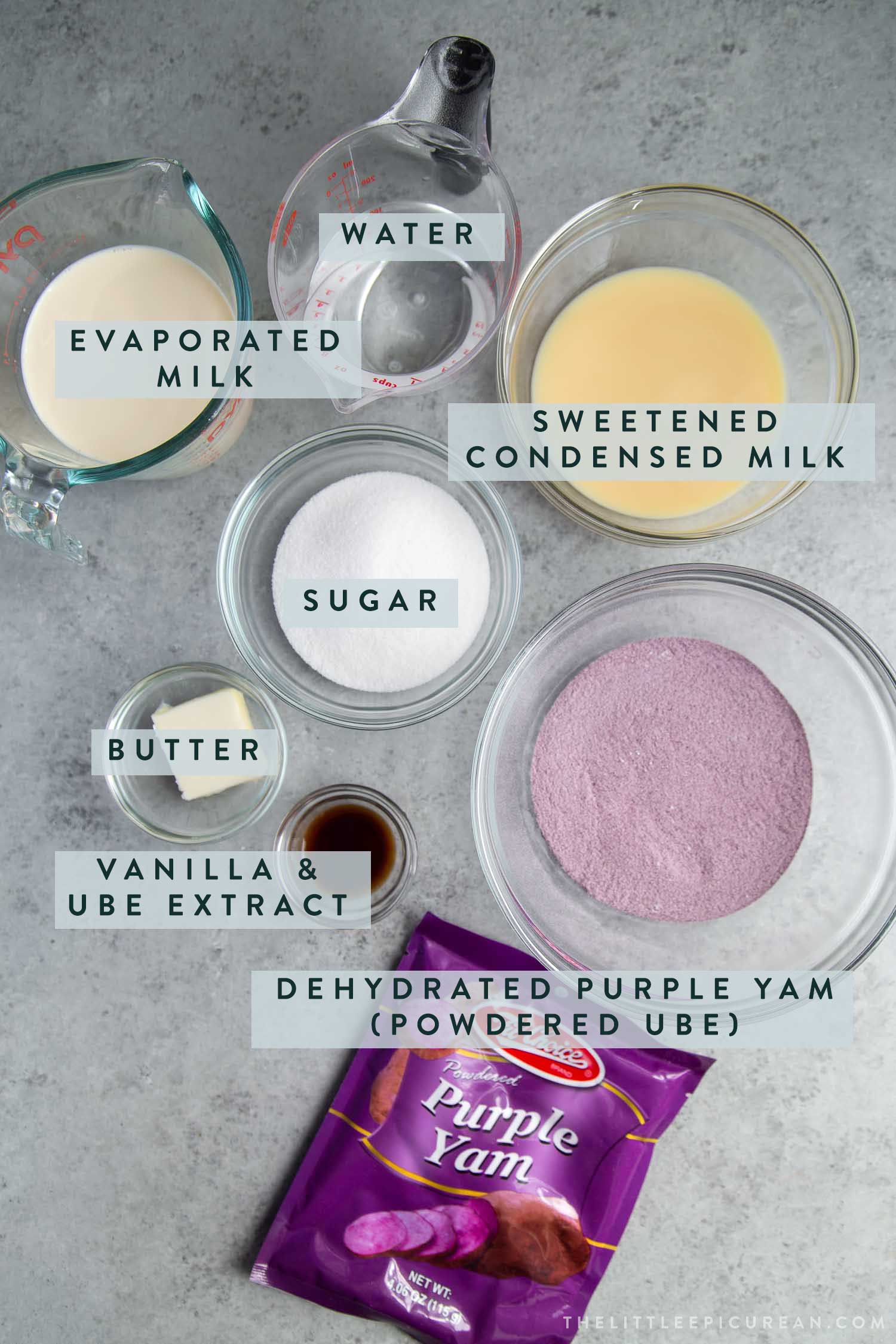 Quick Homemade Ube Halaya
Fresh purple yam is very difficult to find in the contiguous United States. America's climate isn't suitable for this tropical tuber.
Frozen purple yam is much easier to find. Filipino markets and many Asian supermarkets sell frozen packets of grated purple yam.
However, I didn't want to deal with the defrosting and long cooking time. I wanted the EASIEST recipe for ube halaya.
Powdered purple yam is the next best option! It's all natural and made from ground 100% dehydrated ube (purple yam).
More importantly, powdered purple yam is easily accessible for purchase online through Amazon. Keep in mind, it is much cheaper at Filipino supermarkets (like Seafood City or Island Pacific) and various Asian supermarkets.
I followed the recipe on the back of the package (with some tweaks).
Mix all the ingredients (except butter and vanilla extract) in a heavy bottom sauce pot. Whisk until smooth and set over low-medium heat.
It takes about 20 minutes to cook and thicken.
Add the butter and vanilla into the mix. Then, transfer the hot ube halaya to a heat-safe container and allow to chill in the fridge. That's it!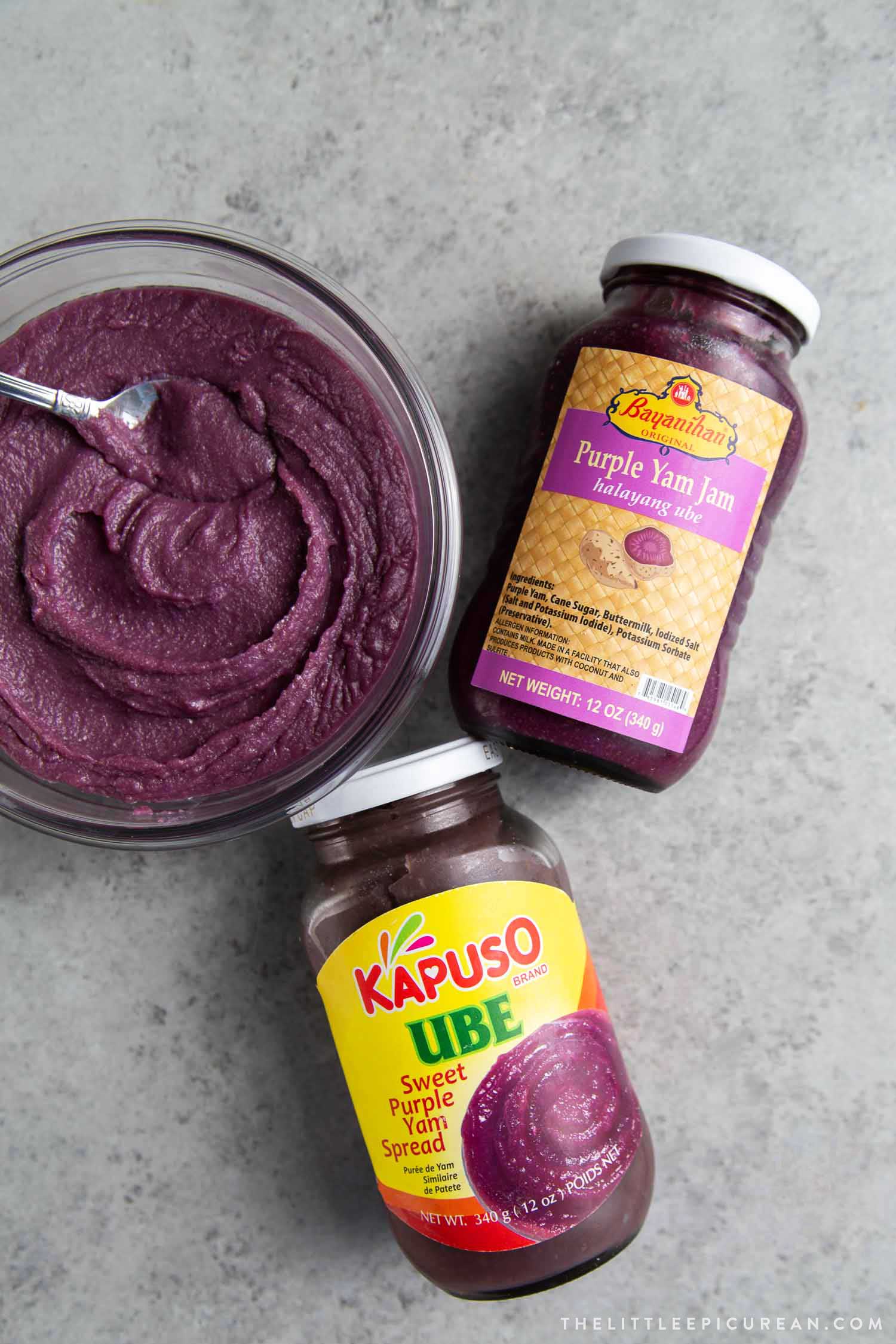 Other Ube Halaya Options:
Filipino supermarkets carry a variety of different ube halaya options. They are often sold in glass jars labeled as purple yam jam, sweet purple yam spread, or purple yam pudding.
Color and sweetness varies depending on the brand. Out of the two brands photographed above, I recommend the Bayanihan brand. I prefer it's flavor, texture, and vibrant color.
If you have access to frozen grated purple yam, here are some ube halaya recipes I recommend: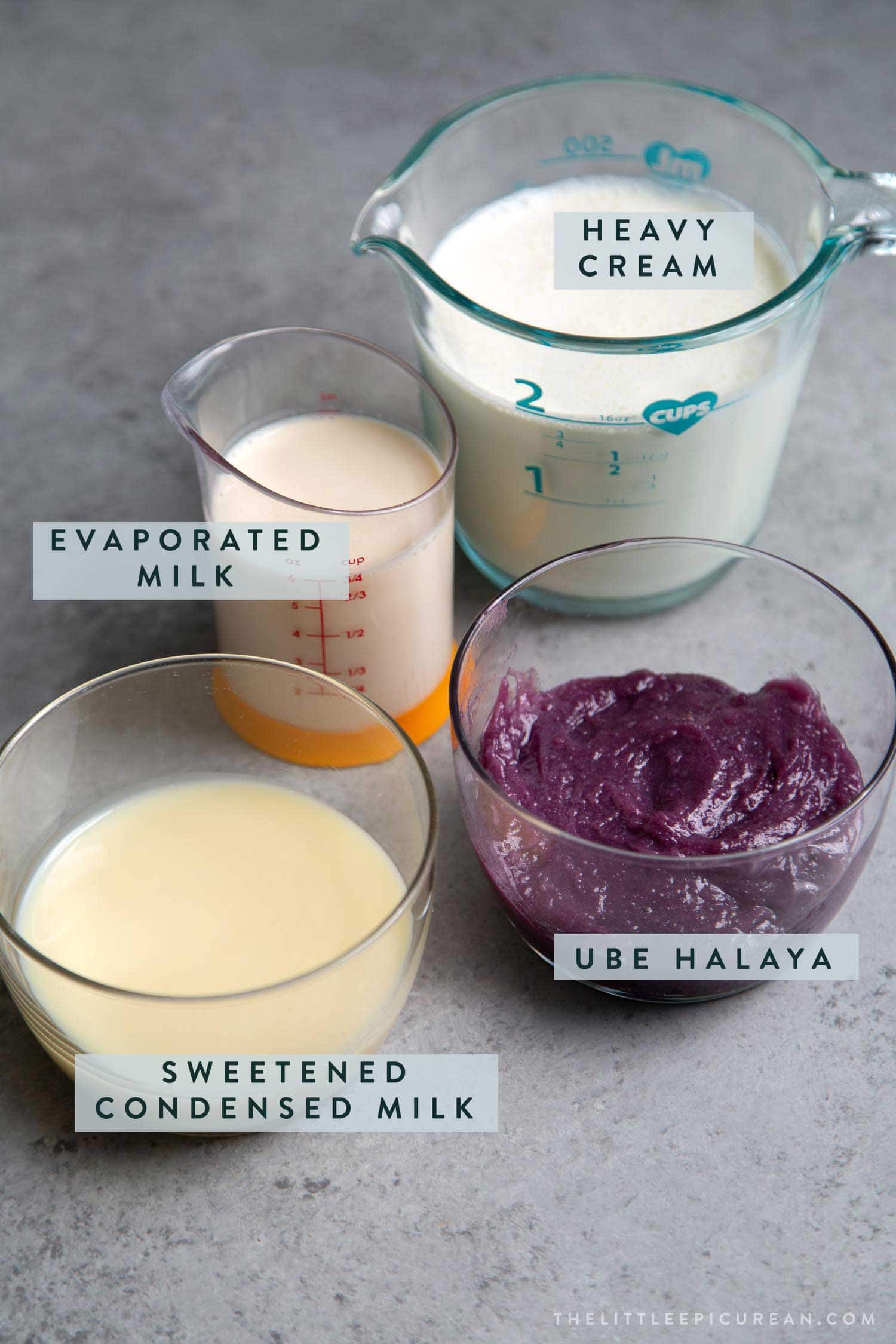 Now that you've got ube halaya ready, it's time to make some no churn ice cream!
No Churn Ice Cream Ingredients:
Heavy cream
Evaporated milk
Sweetened condensed milk
Ube halaya
Heavy Cream:
What's the difference between heavy cream versus whipping cream? The amount of fat.
Heavy cream and heavy whipping cream can be used interchangeably. Based on labeling standards, both are required to have at least 36% milk fat.
Whipping cream or light whipping cream has less fat, usually around 30% milk fat.
Why doesn't this matter? Heavy cream will produce stronger whipped cream.
*Another type of cream- manufacturing cream, which has more milk fat than standard heavy cream. This is usually only sold at restaurant supply stores.
Evaporated Milk:
Not to be confused with standard refrigerated milk, evaporated milk is slightly thicker and creamier. This is because much of the water has been removed. As a result, it also tastes sweeter.
It is a shelf-stable milk product that is widely used in Filipino cuisine.
Sweetened Condensed Milk:
Similar to evaporated milk, sweetened condensed milk has water removed from the product. As the name suggests, sweetened condensed milk contains added sugar to make it sweet.
Sweetened condensed milk is popularly used through Asian and Southeast Asian cuisine. It is often added to tea and coffee.
Ube Halaya:
Purple yam jam adds flavor and color to this tropical flavor ice cream.
Ube Extract:
While not listed in the core ingredients, ube extract is a powerful ingredient that helps to enhance the ube flavors of the ice cream.
Simply omit if you cannot find it. However, the resulting ice cream will not as violet in color and the ube flavor will not be as pronounced.
I stock up on ube extract whenever I visit the Philippines. It costs about $1 per bottle. Unfortunately, it's not that cheap in the United States.
Ube extract is available for purchase through Amazon and it is widely available at Filipino and Asian supermarkets. Find it in the baking section along with other extracts.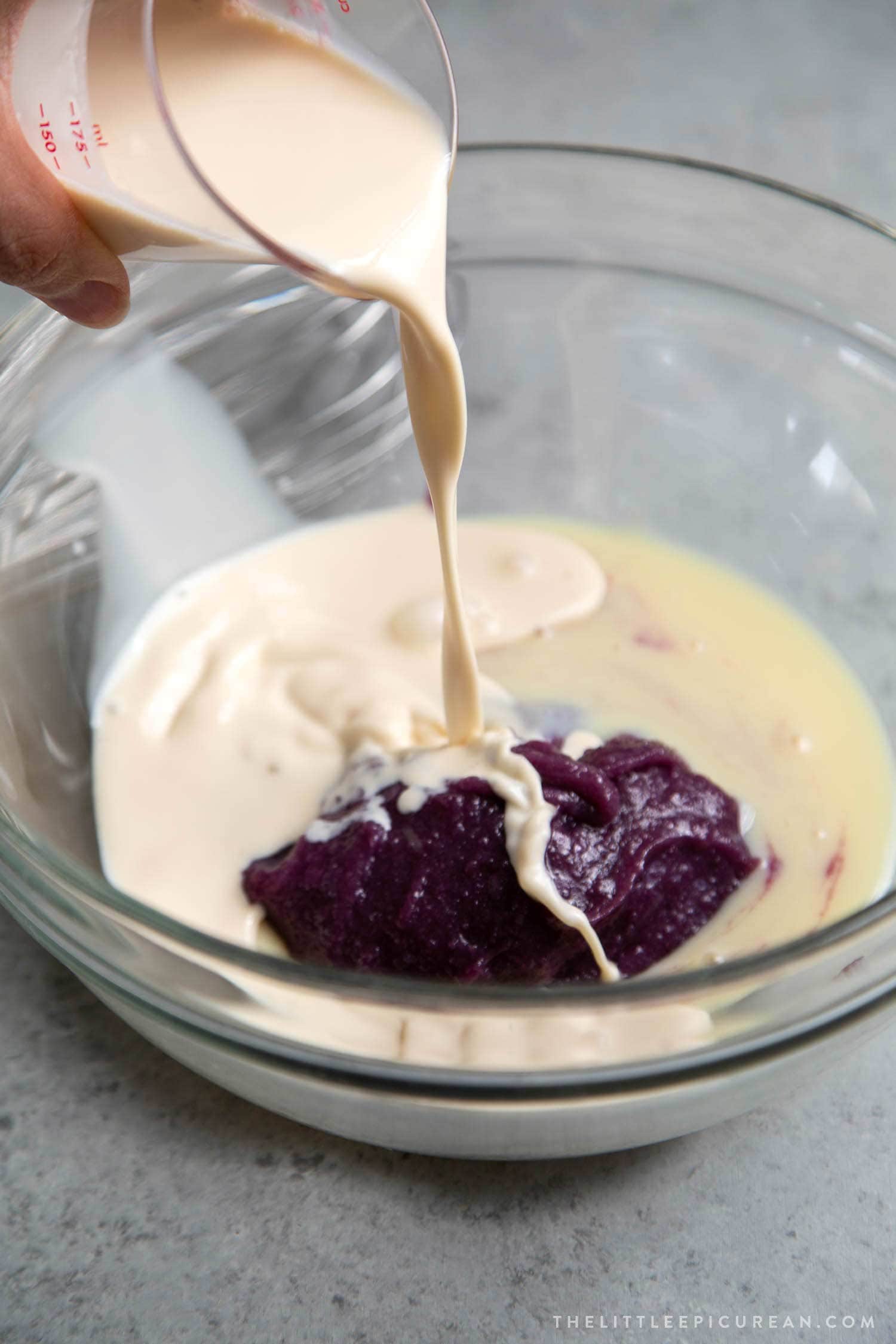 Ice Cream Base:
To make the ice cream base, evaporated milk, sweetened condensed milk, and ube halaya are whisked together until smooth.
How to make ice cream without fancy machine
All you need an electric hand mixer or a stand mixer fitted with a whisk attachment.
In a pinch, you may also make this ice cream by hand using a standard whisk and a ton of arm strength.
This no churn method has become very popular over the years. It is versatile allowing you to make a variety of different ice cream desserts.
Here are some favorite no churn ice cream recipes: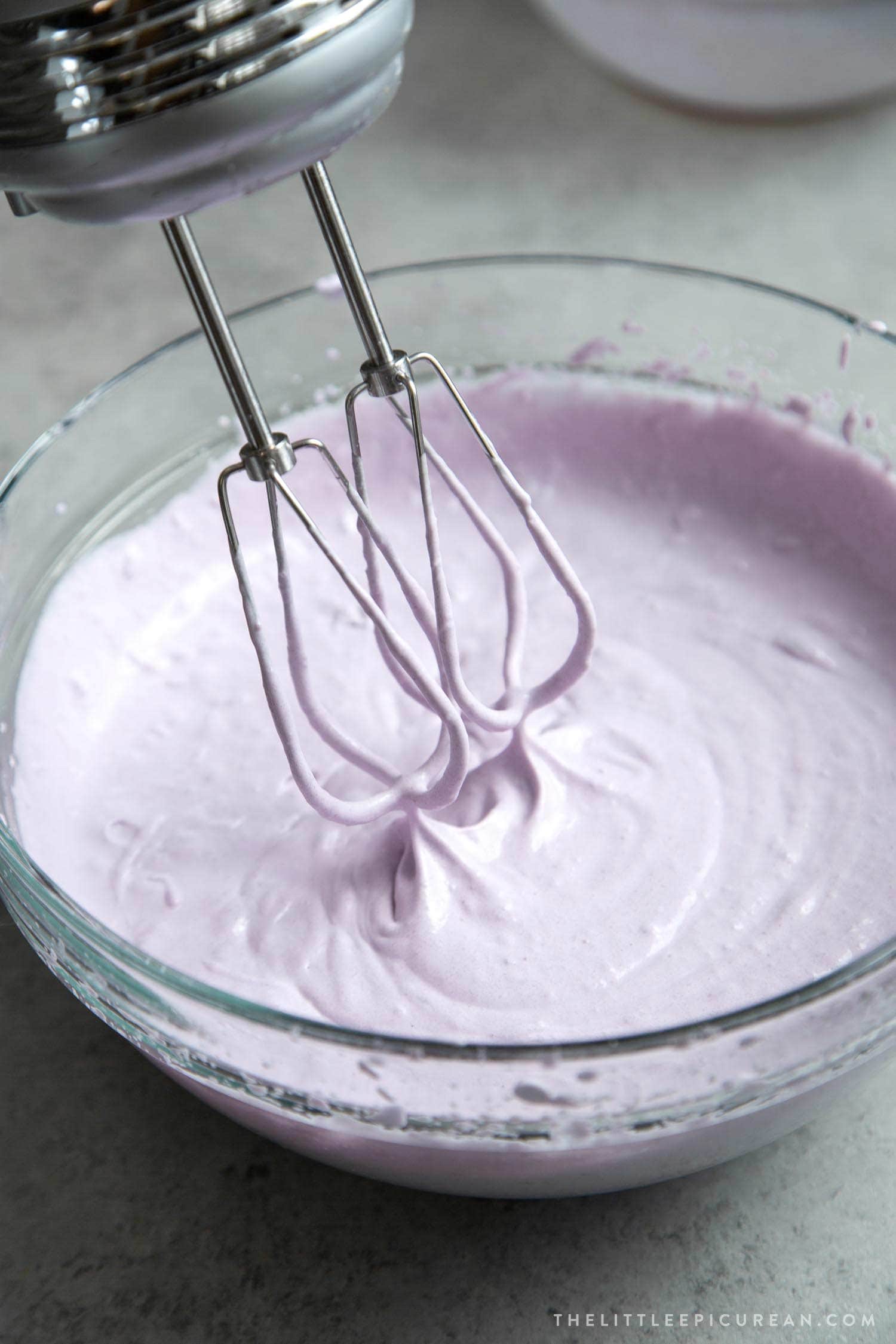 Why this no churn method works?
Every no churn ice cream recipe has heavy cream and sweetened condensed milk. There's a reason for this!
The air from the whipped heavy cream gives the ice cream volume and texture.
The amount of sugar in the sweetened condensed milk makes the ice cream luscious and creamy. Also, the sugar prevents the ice cream from freezing into a solid block.
NOTE: Be sure to whip just until you reach stiff peaks. Stiff or firm peaks is photographed above. It's when the peaks stand up and the mixture is rather thick.
Don't over whip and go beyond that. The whipped cream will separate, fall apart, and turn grainy!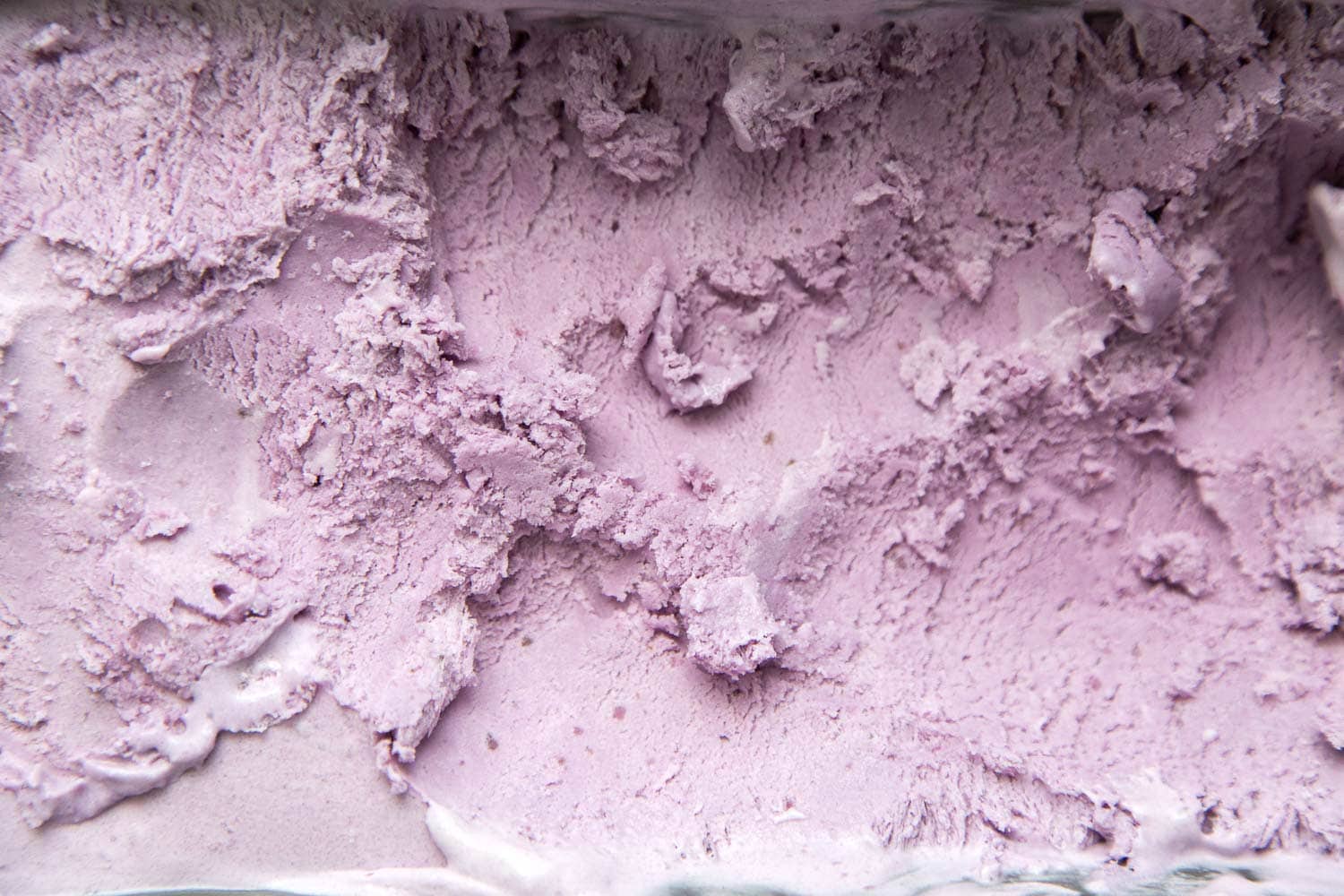 What does ube ice cream taste like?
Don't confuse ube (purple yam) with taro or Okinawan sweet potato. They're not the same!
On it's own, straight ube tastes rather bland. The flavor we have come to associate with ube is the sweetened version.
Once prepared purple yam is sweetened, it tastes on a faint toasted coconut-like flavor. It's a little tropical, a little exotic, and super tasty!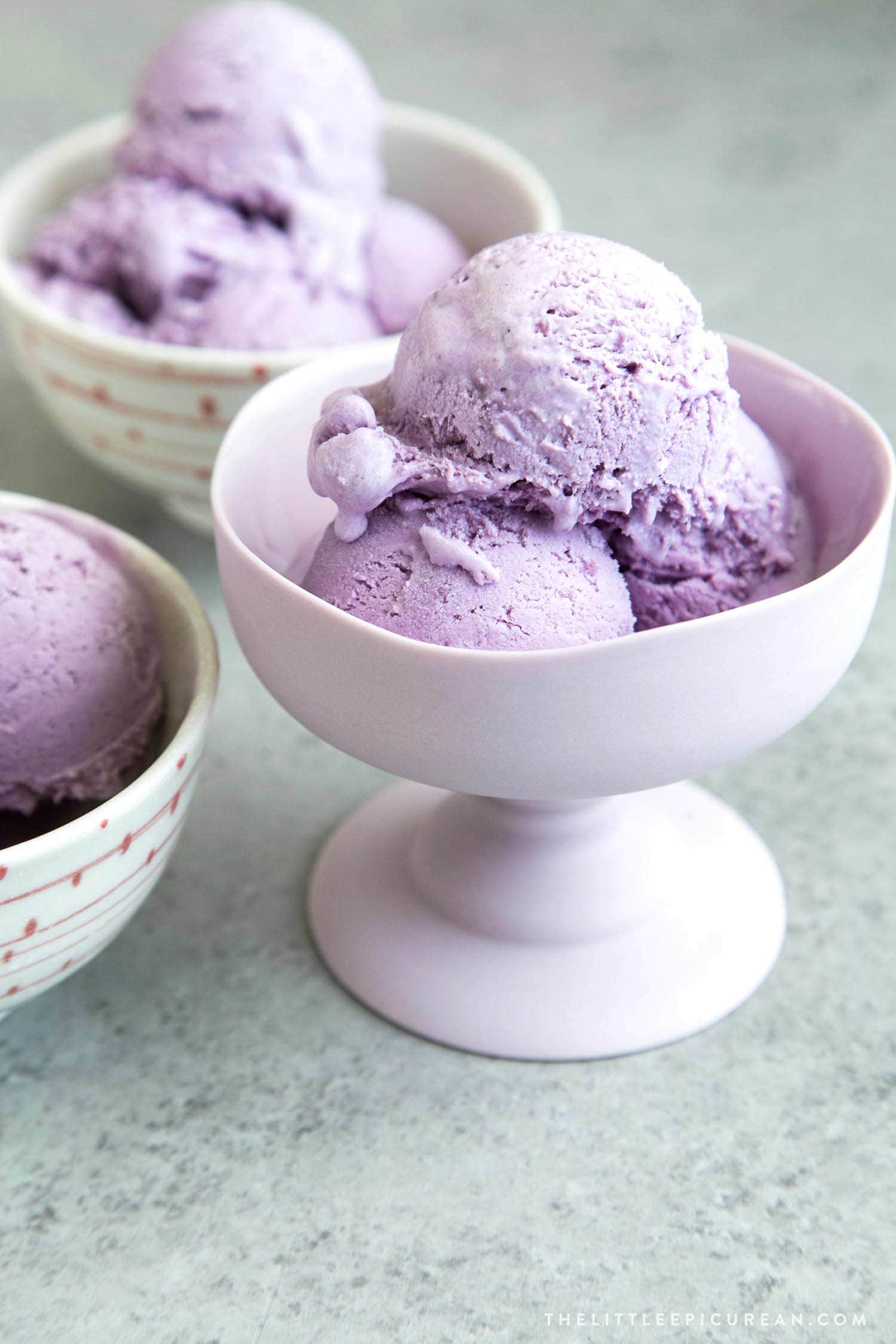 What to do with leftover Ube Halaya?
Leftovers can be stored in the fridge in an airtight container for up to a week.
Spread it on toast or bread, like this brioche or pan de sal. Mix it into oatmeal or smoothies.
Or, use it to make this ube chiffon cake.
No Churn Ube Ice Cream
No ice cream machine necessary. All you need is a hand mixer to make this rich and creamy no churn ube ice cream!  Yield: about 1 quart
Ingredients
Ube Halaya:
1

packet

(4.06 oz) powdered purple yam

(116 g)

1/2

cup

(3.5 oz) granulated sugar

(99 g)

3/4

cup

(6.7 oz) evaporated milk

(192 g)

1/2

cup

(6 oz) sweetened condensed milk

(170 g)

1/2

cup

(4 oz) water

(113 g)

1

Tablespoon

unsalted butter

(14 g)

1/2

teaspoon

vanilla extract

3/4

teaspoon

ube extract
Ube Ice Cream:
2/3

cup

(7 oz) ube halaya

(200 g)

3/4

cup

(6.7 oz ) evaporated milk

(192 g)

1/2

cup

(6 oz) sweetened condensed milk

(170 g)

2

cups

(16 oz) heavy cream,

very cold (454 g)

1

teaspoon

ube extract
Instructions
Ube Halaya:
In a medium heavy bottom sauce pot, whisk together ube powder, sugar, evaporated milk, sweetened condensed milk, and water until smooth.

Set over low-medium heat. Stir frequently to ensure mixture does not burn along the sides. Cook for 15-20 minutes until mixture has thickened to a paste-like consistency.

Remove from heat. Stir in butter, vanilla, and ube extract. Transfer to a heat safe container. Allow to cool. Cover and let chill in the fridge for at least 4 hours, or overnight.
Ube Ice Cream:
In a medium bowl, whisk together ube halaya, evaporated milk, and sweetened condensed milk until smooth. Set aside.

In a large bowl, whip chilled heavy cream to soft peaks. Add liquid mixture and ube extract. Continue to whip to firm or stiff peaks.

Transfer mixtuer to a freezer safe container. Spread into an even layer. Cover. Freeze for at least 6 hours, overnight is ideal.

Allow ice cream to sit at room temperature for 5 minutes before scooping and serving.
Notes
Ingredient Notes:
Use homemade ube halaya or store-bought version. See blog post for links to homemade ube halaya using frozen grated purple yam.
I have tested this recipe using the ube halaya recipe in post as well as two store-bought ube halaya. Both work fine. 
Do not use regular milk in place of evaporated milk. Resulting ice cream will be icy because of the water content of milk.
Ube (purple yam) is not the same as taro or Okinawan sweet potato! 
Storage:
Ice cream will keep covered in the freezer for up to two weeks. 
Store leftover ube halaya in the fridge in an airtight container for up to a week. Spread it on toast, biscuits, or bread. Mix it into oatmeal or smoothies.