There are over 300 varieties of Japanese Kit Kat flavors. Here is a small sampling of the special Kit Kat flavors I was able to find during our recent trip.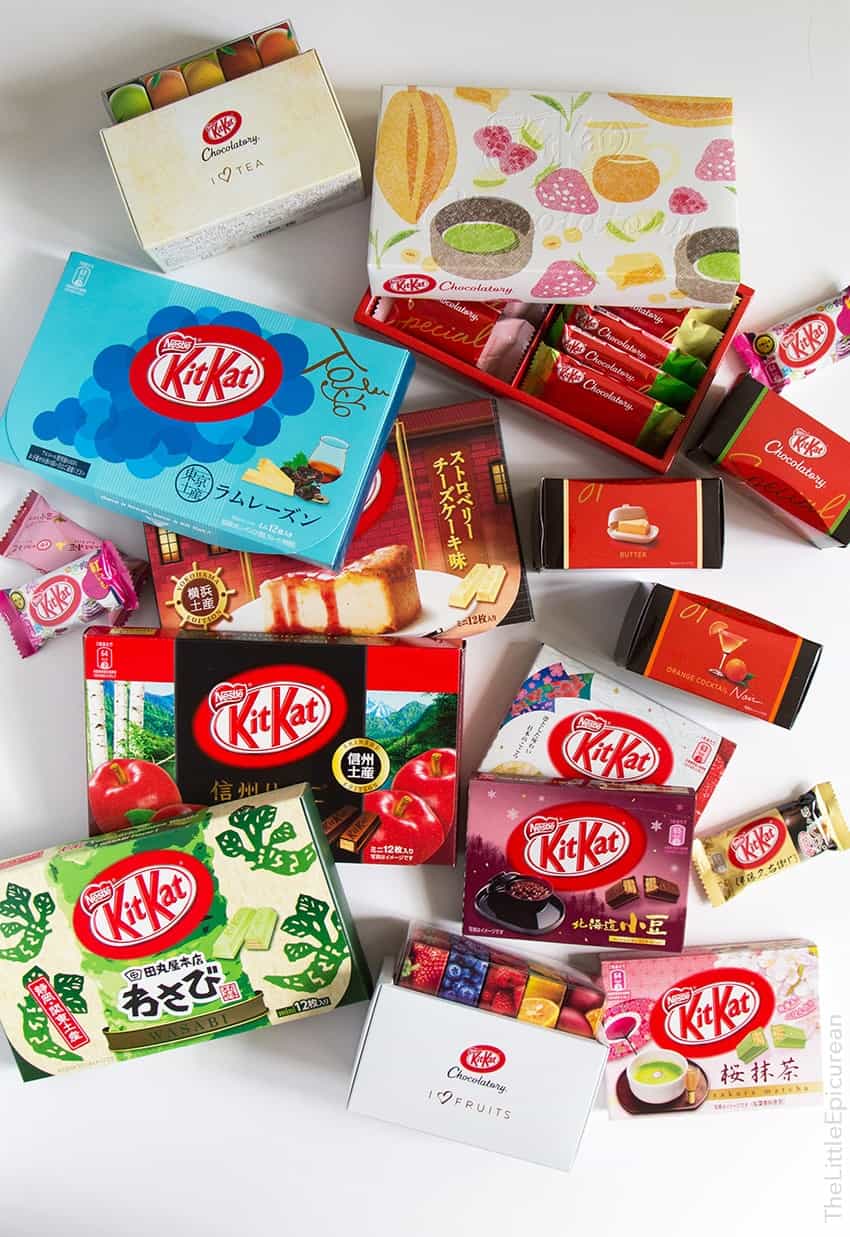 Some people collect stamps. Some collect baseball cards. I collect Japanese Kit Kats.
For the past ten years, I've been growing my collection.
To date, I have over 75 different Kit Kat boxes and packages. This is a portion of the loot from my recent Japan trip.
If my luggage could fit more (and my wallet allowed), I would have purchased even MORE.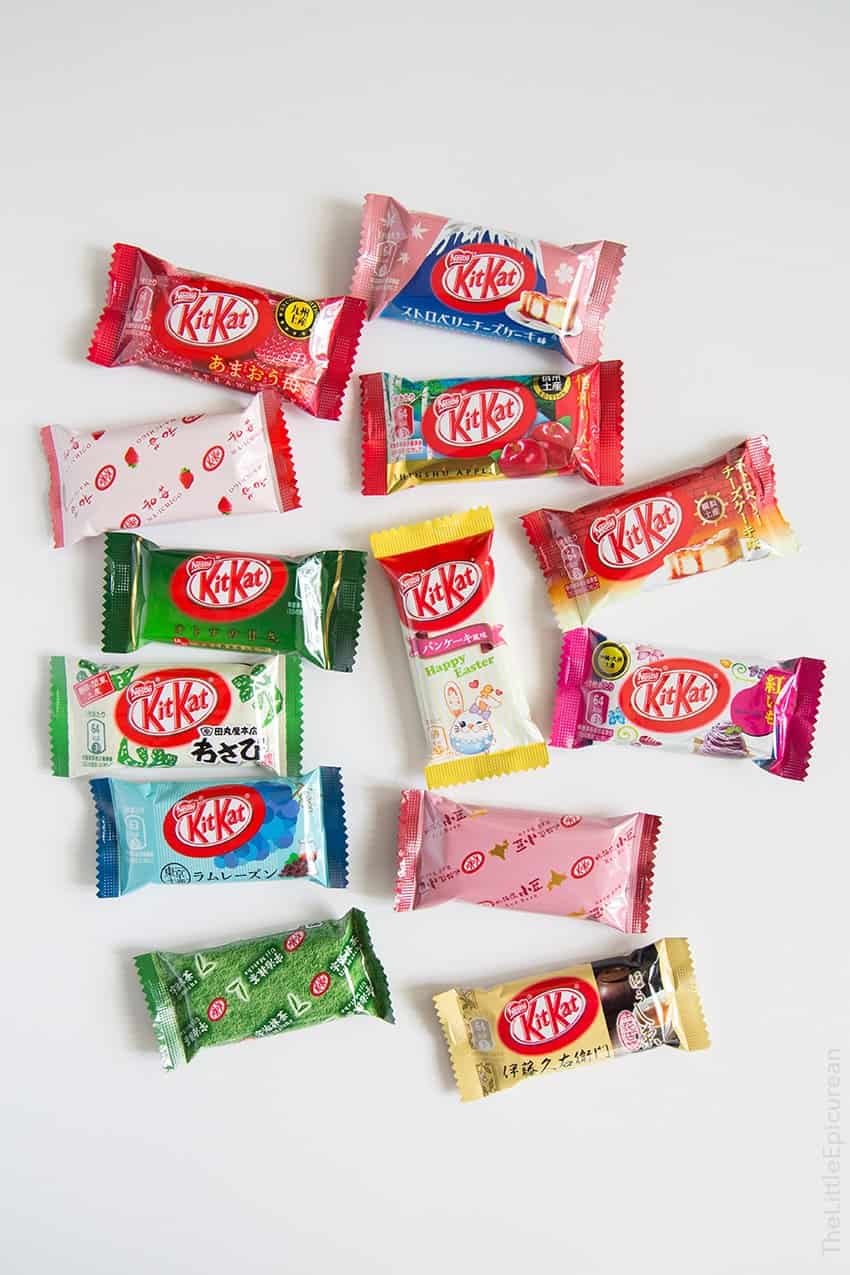 Japanese Kit Kat Flavors
It's really difficult to collect food. It's hard to save something that you want to eat.
Sometimes I'll buy two packages, one to eat and one to keep.
But most of the time, they end up getting eaten and I just save the packaging. (I love the branding and product design.)
There are countless Kit Kat varieties in Japan. Each region of Japan has its own unique flavors that are popular to that area.
There are also seasonal flavors for holidays and special occasions.
While some flavors are staples (like matcha), most of them are only available for limited time and then are retired for the season.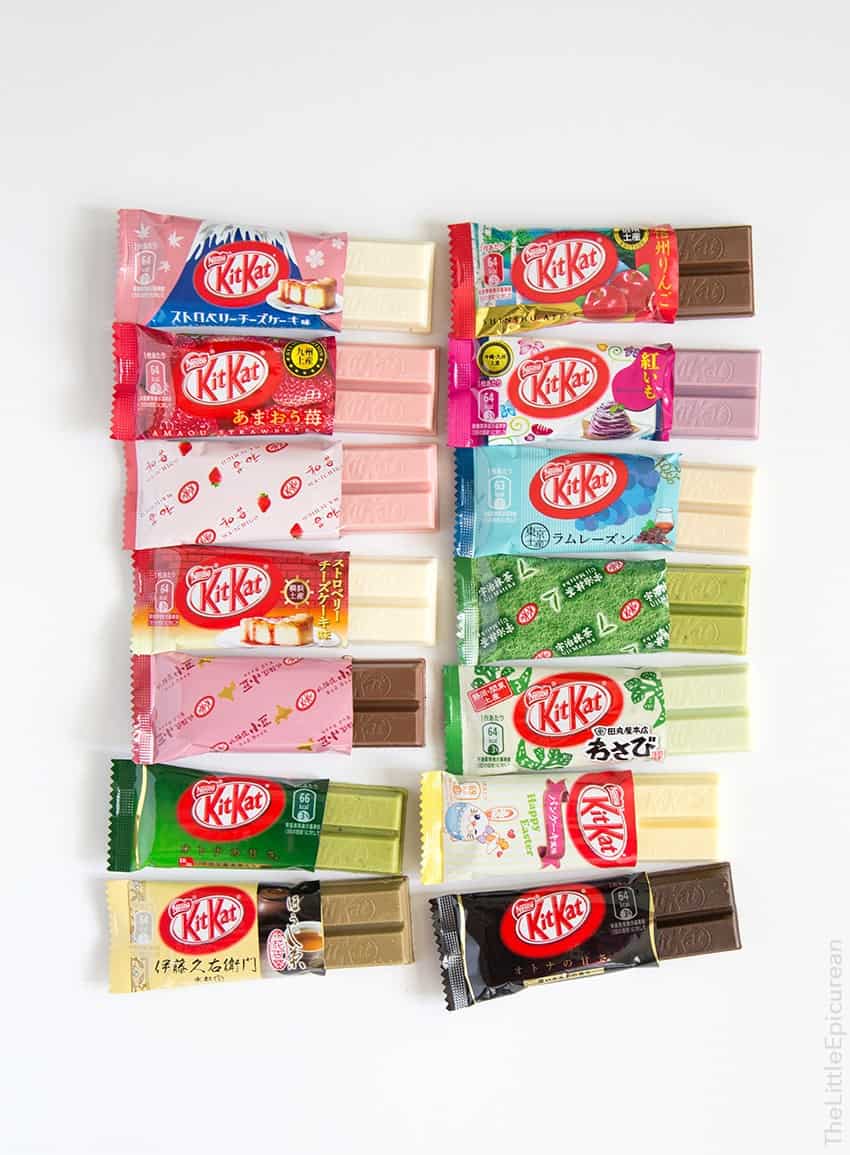 Flavors from top to bottom, left to right: Strawberry Cheesecake, Shinshu Apple, Amaou Strawberry, Beni-Imo* (purple sweet potato), Wa-Ichigo (Tochiotome strawberries), Rum Raisin*, Yokohama Edition Strawberry Cheesecake, Uji Matcha, Red Bean*, Wasabi, Otona no Amasa Green Tea, Maple Pancake*, Houjicha* (Kyoto roasted green tea, Otona no Amasa Black* (Dark Chocolate) [* indicates my favorite flavors]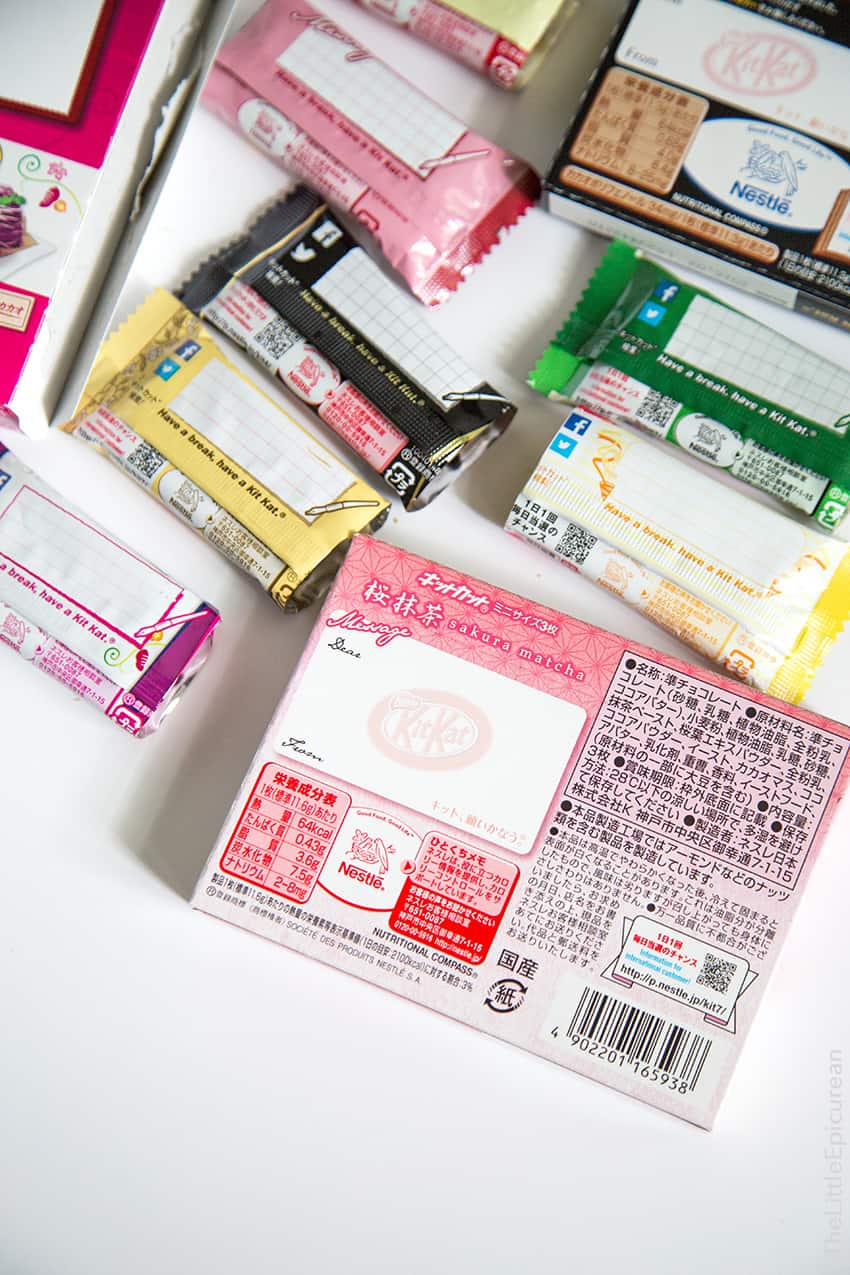 What does Kit Kat mean?
The English"Kit Kats" translates to "kitto katsu" in Japanese Katakana.
This roughly translates to a gesture of good luck, literally meaning "you will surely win."
Asides from being a tasty little treat, Kit Kats have evolved to become a good luck charm. It's not unusual to gift one to a friend before a test, an interview, etc.
On the back of each package, there is a blank space to write little messages of encouragement and support.
My Kit Kat obsession really flourished when I was a college student in Tokyo. Every weekend, I'd go all over the place in search of new flavors.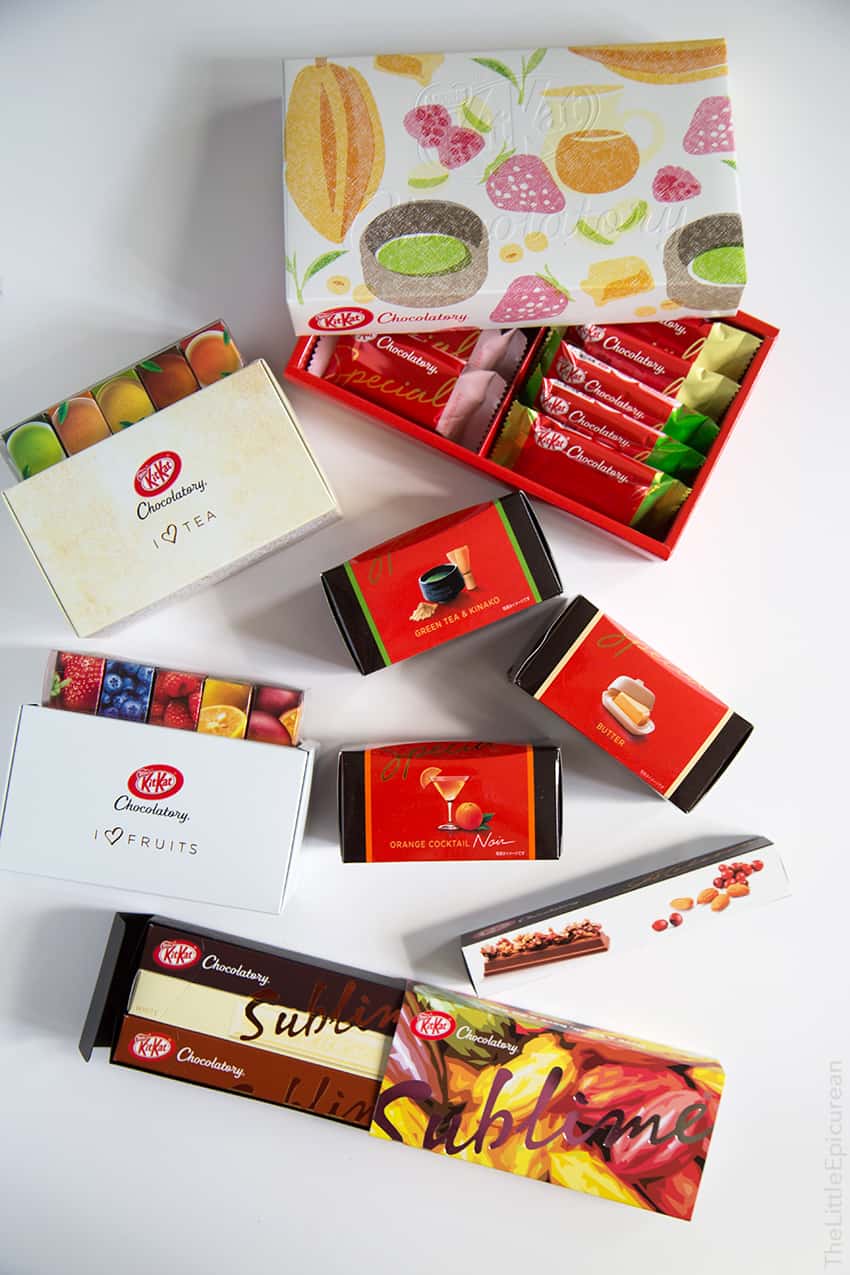 Where to buy Japanese Kit Kat?
In Japan, Kit Kats are available at convenience stores (like FamilyMart, Lawsons) and markets.
If you're looking for seasonal specials and unique flavors, you'll likely find the best selection at major train stations. Within the train stations, you'll find gift shops selling boxes and boxes of KitKats.
Airports gift shops also have a large selection of Kit Kats packaged to give as gifts and souvenirs. However, if you want the super premium stuff, it's best to visit a KitKat Chocolatory.
KitKat Chocolatory:
There are a handful of KitKat Chocolatory locations throughout Japan.
The layout of these stores are similar to a Godiva Chocolate store. The chocolates are displayed like little treasures behind glass.
They have a curated selection of flavors depending on the season.
However, I must warn you. They're quite expensive. I definitely had a little moment of sticker shock when I saw my bill.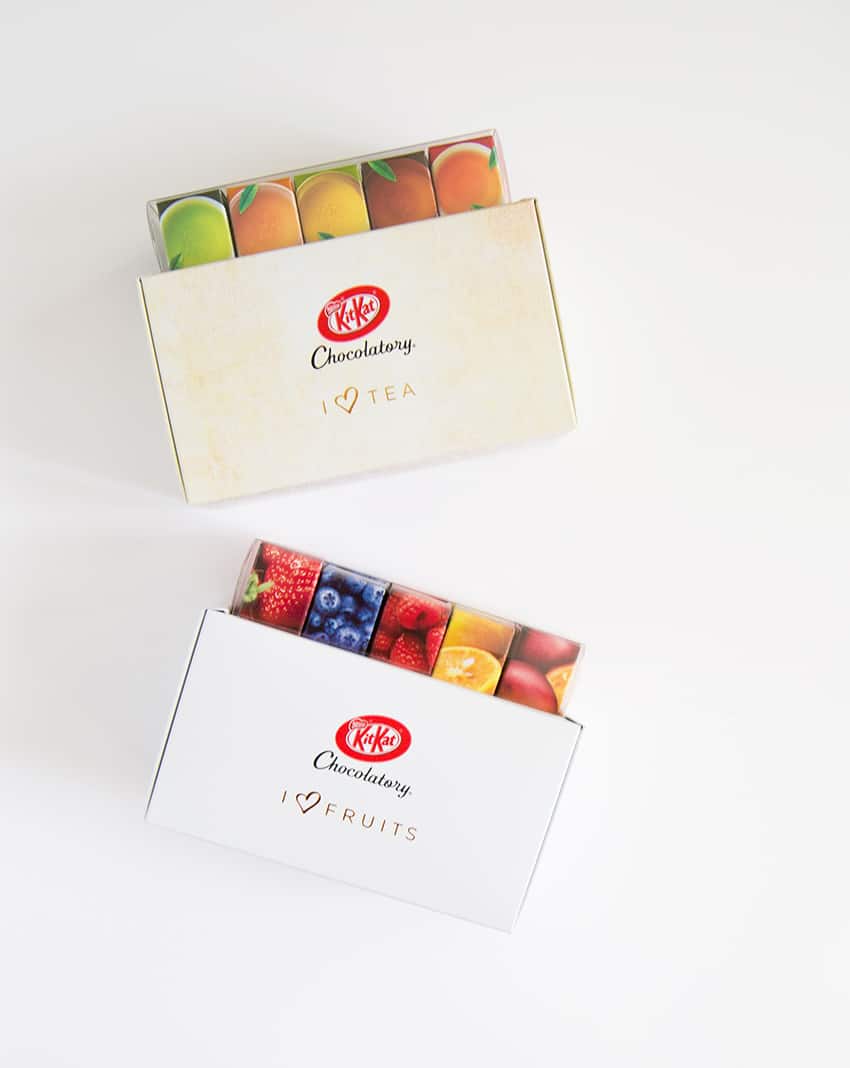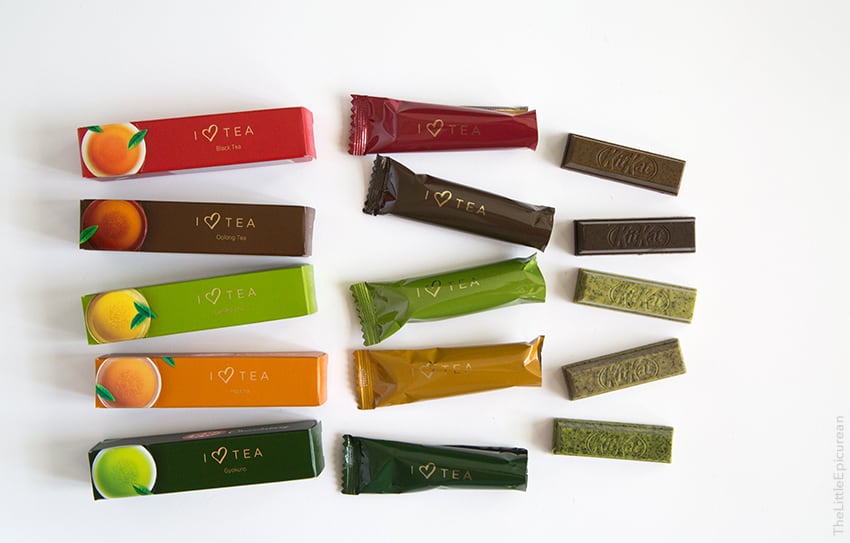 Special Fruit & Tea Collection:
During my visit, I was most interested in sampling the special Tea and Fruit collections.
These KitKats are individually wrapped and boxed. And because they're premium, they also come at a price.
Though a bit expensive, I really enjoyed the tea collection. The flavors were spot on and very recognizable. As a tea lover, I was quite impressed.
The flavors from top to bottom are: Black Tea, Oolong Tea, Genmaicha, Hojicha, and Gyokuro.
Matcha flavor is the most common Japanese Kit Kat you will find in the United States.
If you've never had matcha, I suggest you try these popular recipes to familiarize yourself with the flavor: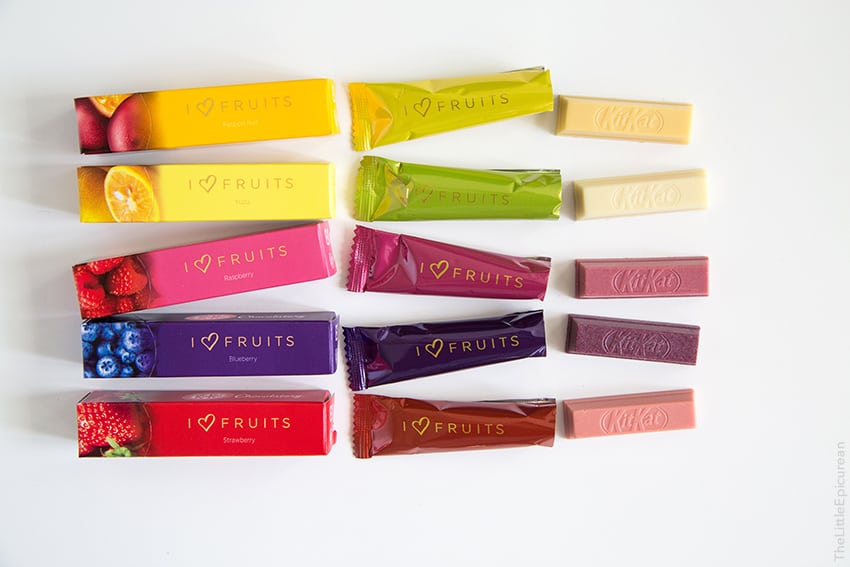 I was a bit more skeptical of the fruits collection. The passionfruit and yuzu were my favorites. The other three flavors kind of threw me off. As pretty as the colors looked, I prefer the taste of the real fruits.
The flavors from top to bottom are: Passionfruit, Yuzu, Raspberry, Blueberry, and Strawberry.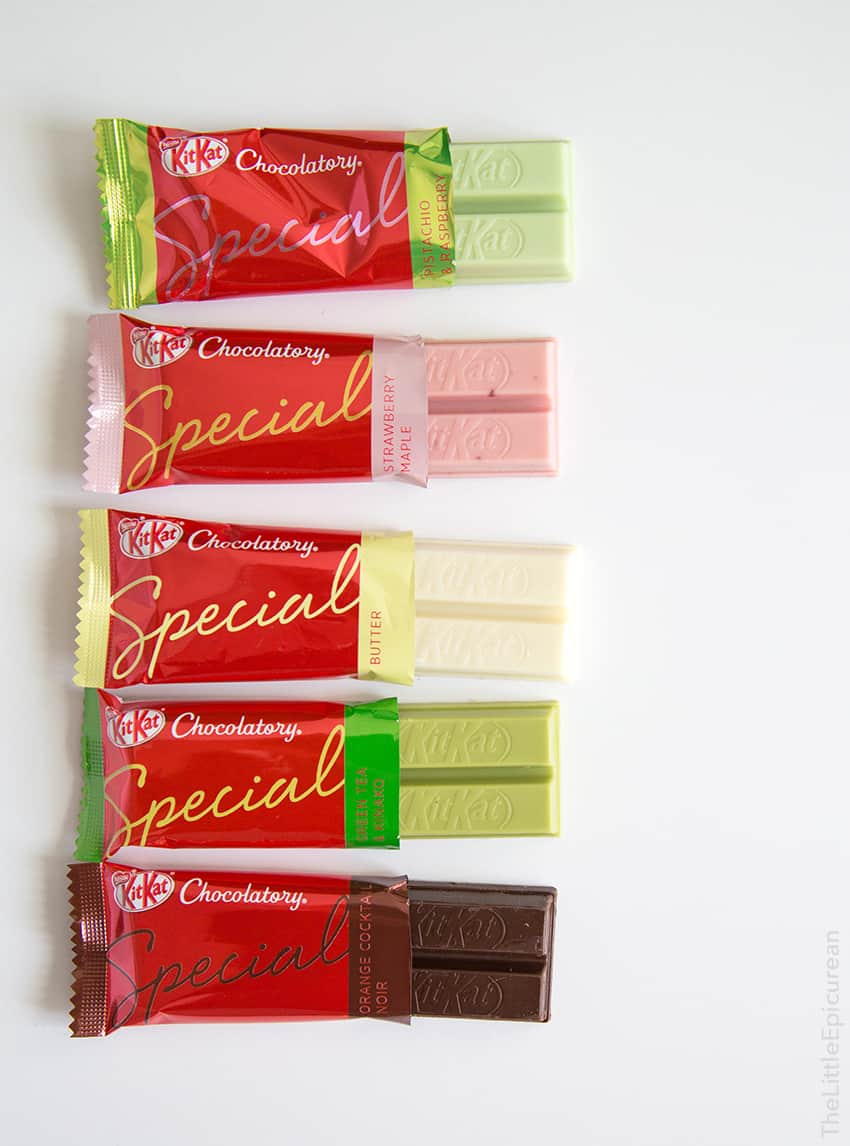 I also tried the special flavors: Pistachio & Raspberry, Strawberry Maple, Butter, Green Tea & Kinako, and Orange Cocktail Noir.
The standouts for me was the Butter and Orange Cocktail Noir. The butter smelled like freshly popped popcorn. It actually tasted like sweet cream butter, in a good way. As a fan of dark chocolate, I liked the Orange Cocktail Noir. It had a nice combination of sweet and bitter.
Obviously these Kit Kat flavors are artificial. Some flavors like the teas use natural flavorings. I like to collect and taste the different flavors.
I love how Japanese Kit Kats attempt to replicate distinct, well known flavors and pack them into these little chocolate wafer candies.
While these chocolates may not impress chocolate aficionados, I think they're so fun!
Where to find Japanese Kit Kat flavors in America
H-Mart : With locations all in 14 states including California, New Jersey, New York, and Texas, H-Mart is a Korean supermarket that often carries numerous Kit Kat flavors. You can always find matcha ones here.
Nijiya Market : This Japanese supermarket chain has locations in California and Hawaii. From my experience, this is the best place in Southern California to find unique Kit Kat flavors at decent prices.
Misuwa Marketplace : Japanese supermarket with locations in California, Hawaii, Texas, and Illinois. Another great place to find unique flavors, especially during the holiday season.
Amazon : You can find nearly anything online these days! Amazon often has a several flavors available at any given time. However, there is a crazy mark up. A small pack of matcha Kit Kat will cost you at least $15 (it should cost around $5 at the supermarket).