All the energy and caffeine kick without the coffee crash. This honey matcha soy latte will soon be your favorite pick-up-me beverage!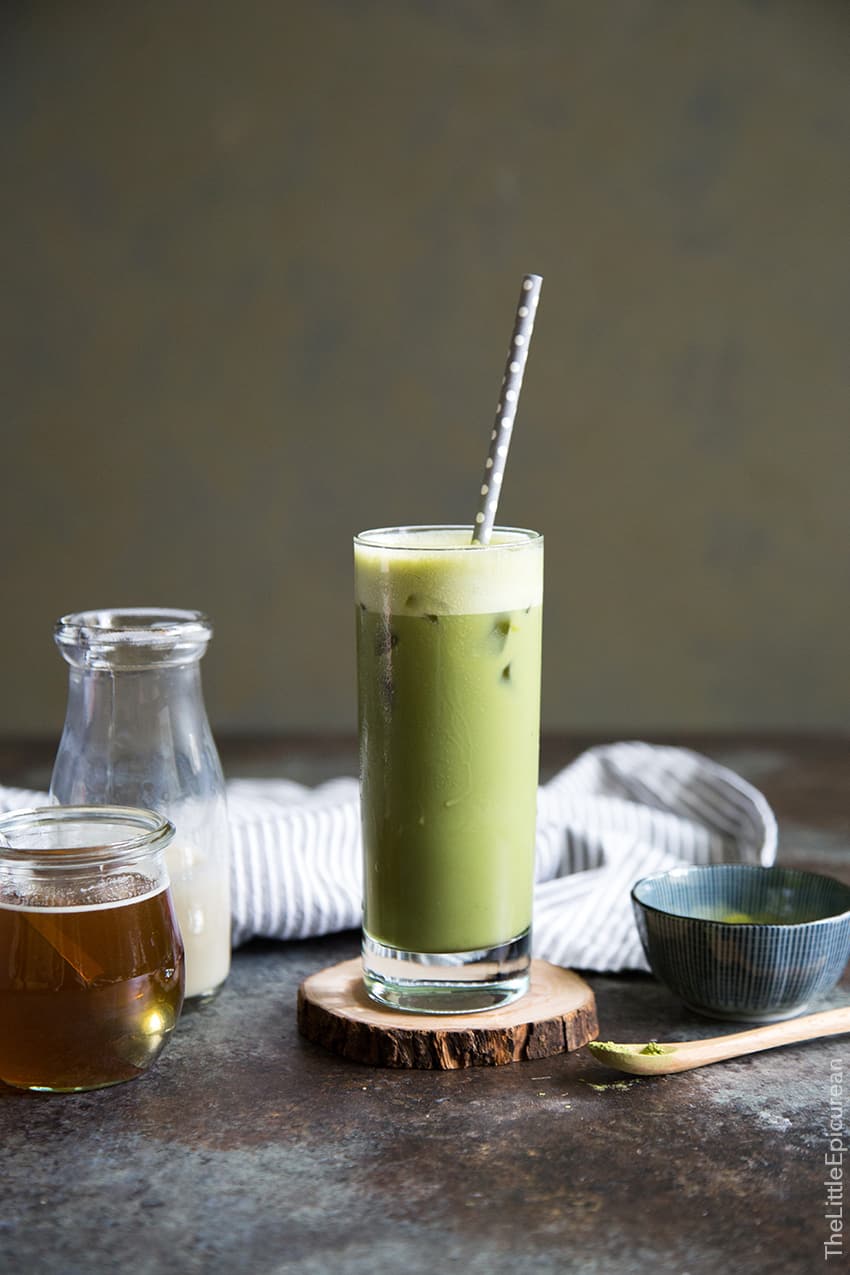 Iced Matcha Latte
When you need a break from coffee, this iced honey matcha soy latte definitely hits the spot.
In attempts to limit my coffee intake (limit- I can't ever quit coffee, but I do need variety here and there), I've been making this iced honey matcha soy latte.
I've made it so much since returning from Japan last month that I've wiped through all the matcha I bough while abroad.
Luckily, matcha is now readily available at numerous supermarkets.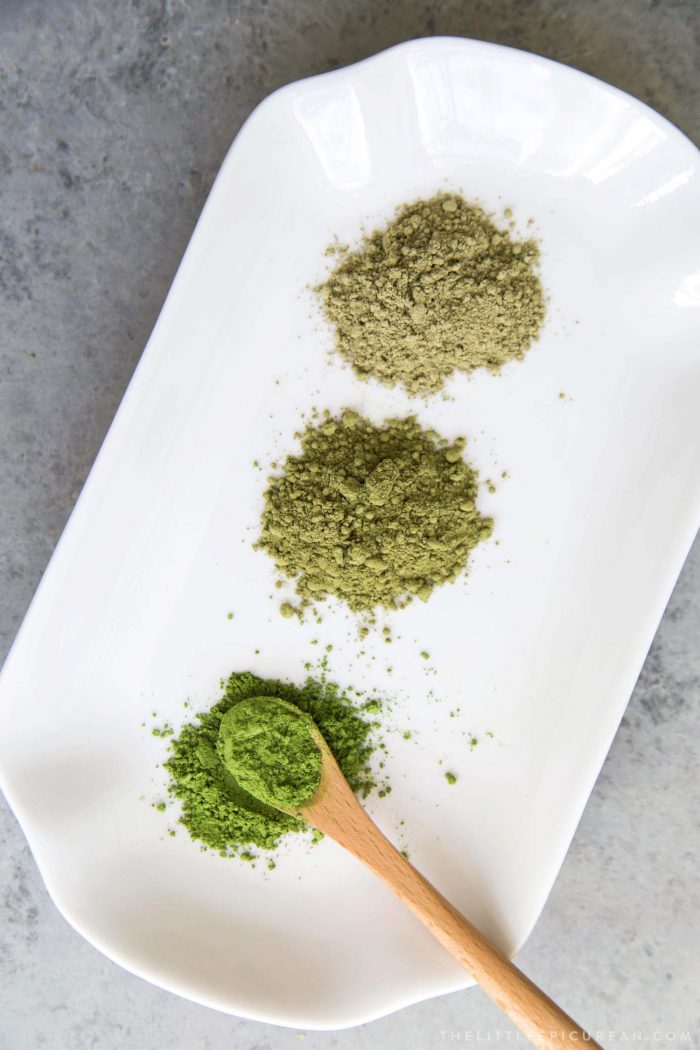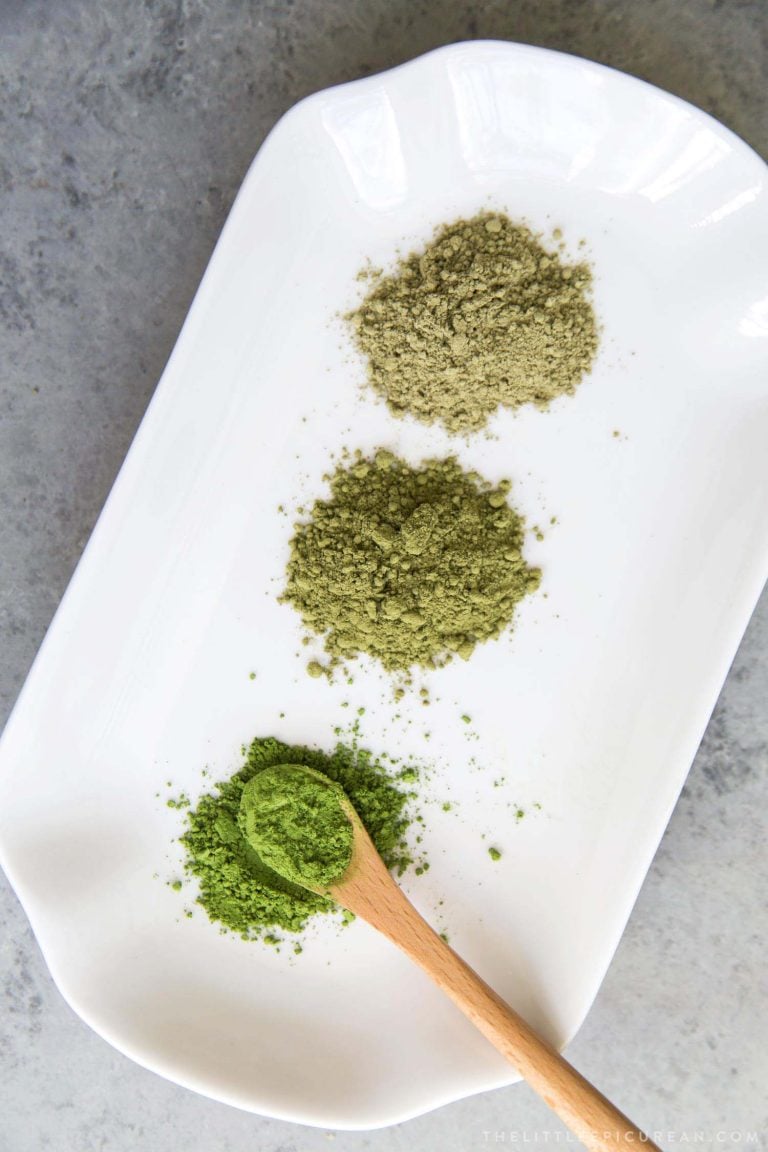 What does matcha taste like?
Use high quality matcha. It should taste pleasantly smooth with slightly sweet earthy or grassy not.
Lower, poor quality matcha will rather bitter in flavor.
Not all matcha powders are created equal. Some are much more greener than other. Some are more grassy, some are rather bland.
Read up on my matcha recommendation in this matcha sugar cookie recipe.
Matcha: Great Coffee Alternative
This latte gives me the kick of energy I need post lunch during that sleepy afternoon lull when I all I want to do is crawl onto the couch and take a nap.
Matcha gives you same kick of energy as coffee without the crash.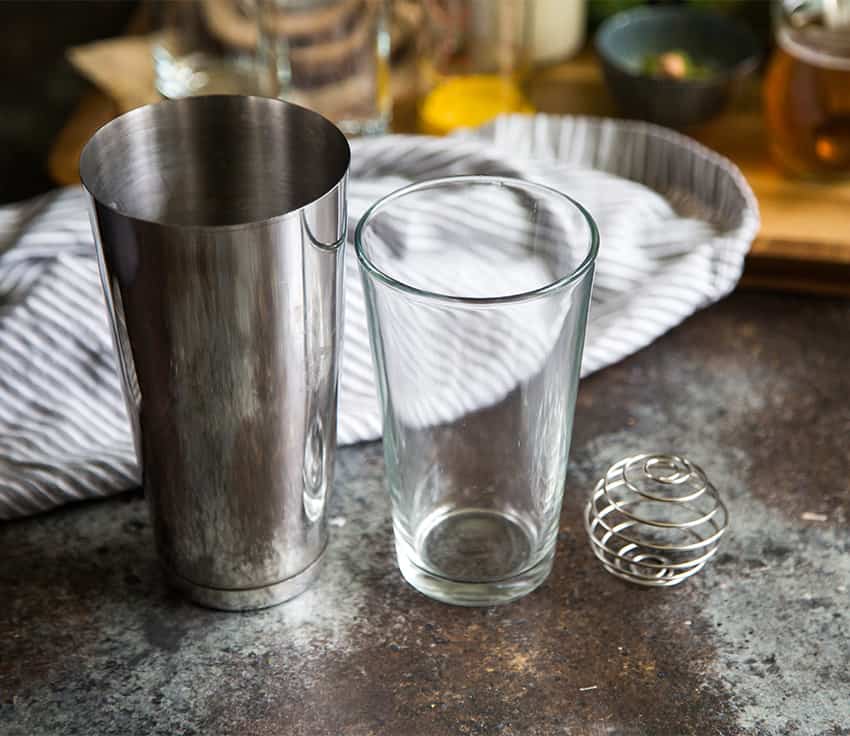 How to make Iced Soy Green Tea Latte
There are two secrets to making this quick and easy drink:
#1: Tools
Secret number one are the tools photographed above: a bar shaker, pint glass, and a metal mixing ball.
Do you drink protein shakes? Or have a roommate/boyfriend/workout buddy that uses a shaker to mix protein shakes? Sure, you do. Borrow that metal shaker/mixing ball.
It's the perfect little gadget for breaking up clumps of matcha powder. It also helps shake up the soy milk to make the drink nice and frothy.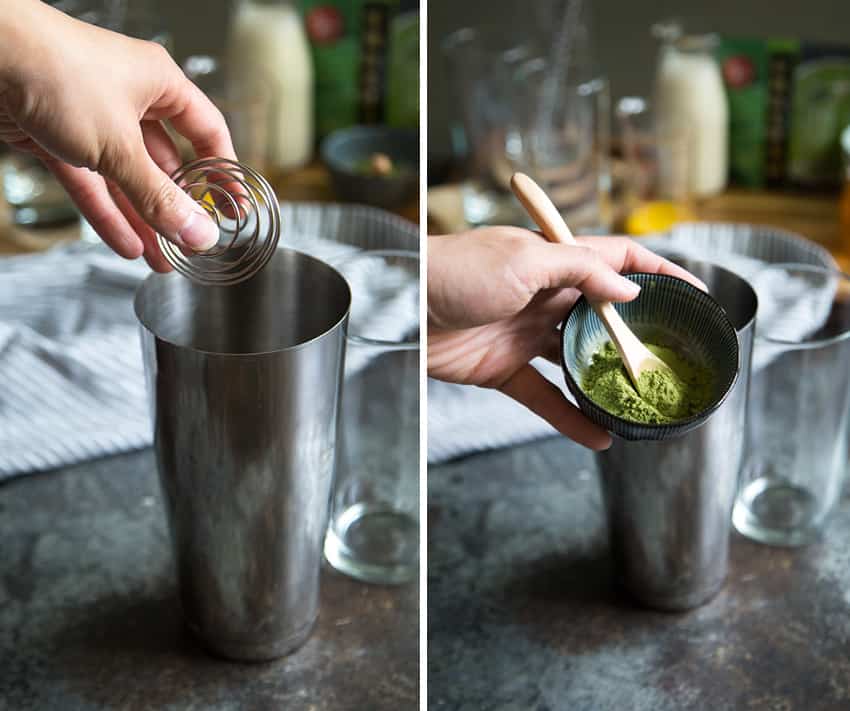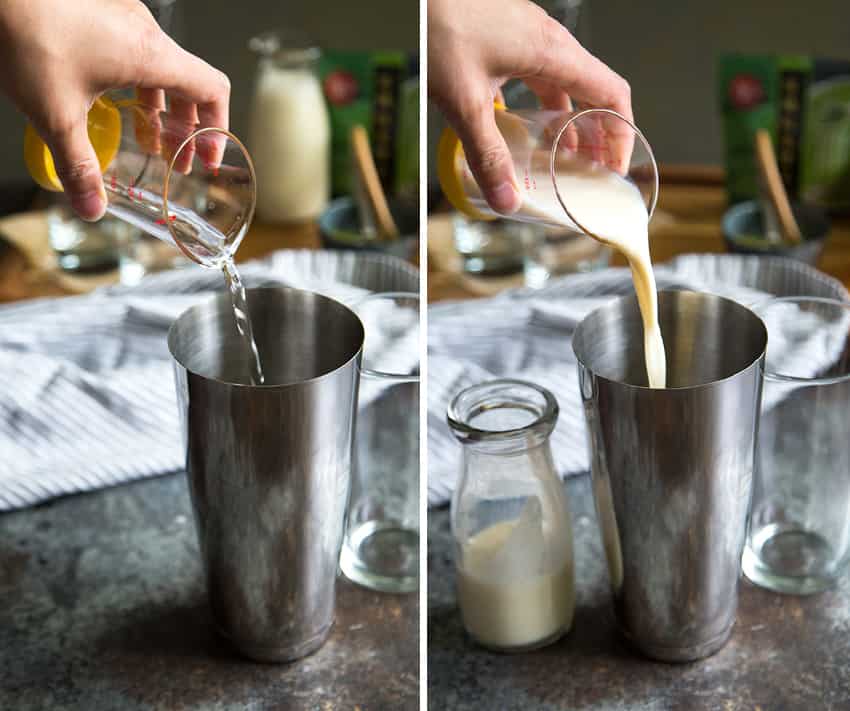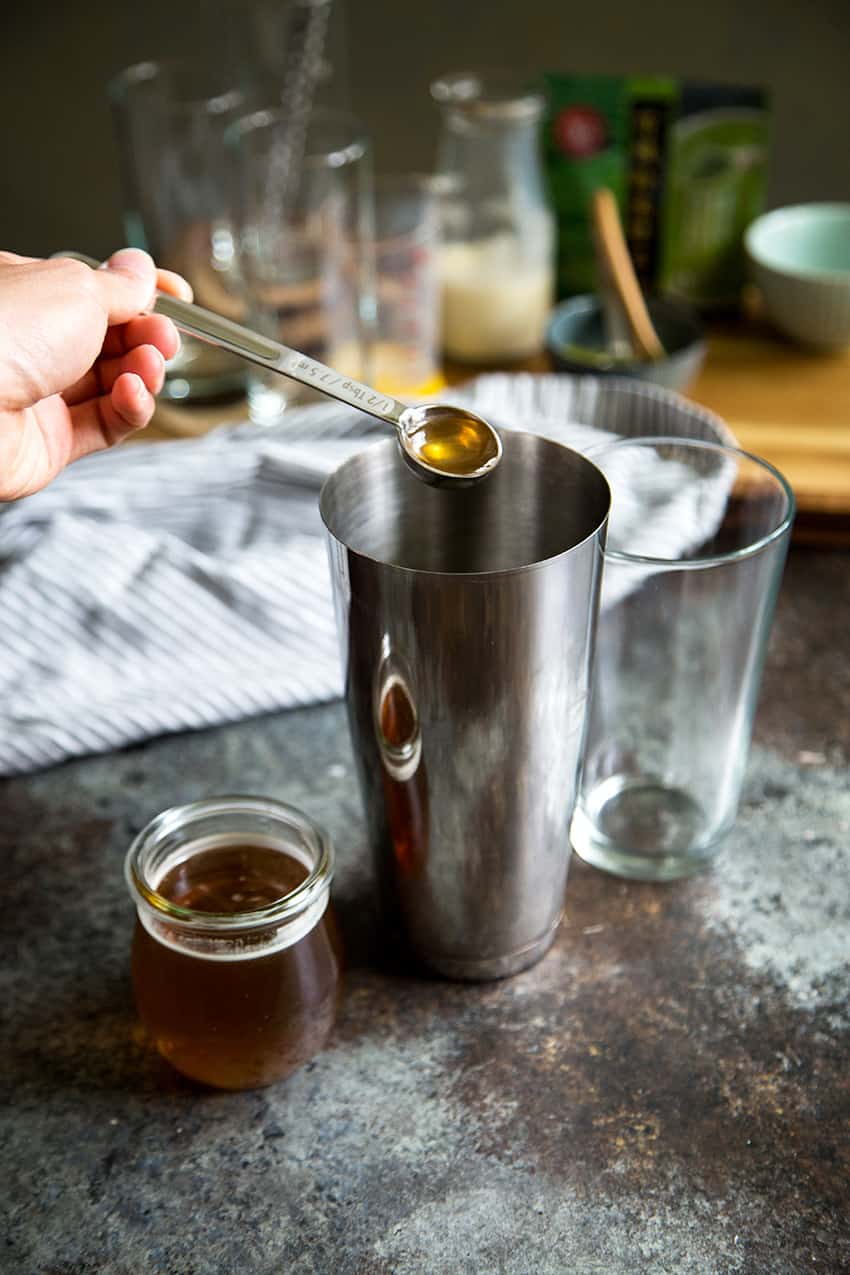 #2: Honey Syrup
Have you ever tried mixing honey into cold drinks? It's a mess.
The honey doesn't dissolve. You end up with globs of honey.
Honey syrup is the answer and it's simple to make!
Ask anyone that has been to my kitchen. There is always a jar of honey syrup on the counter.
To make honey syrup combine 2 parts honey with 1 part water. Set over medium heat and stir until honey dissolves.
That's it! Add honey to your cold beverages with ease and smile.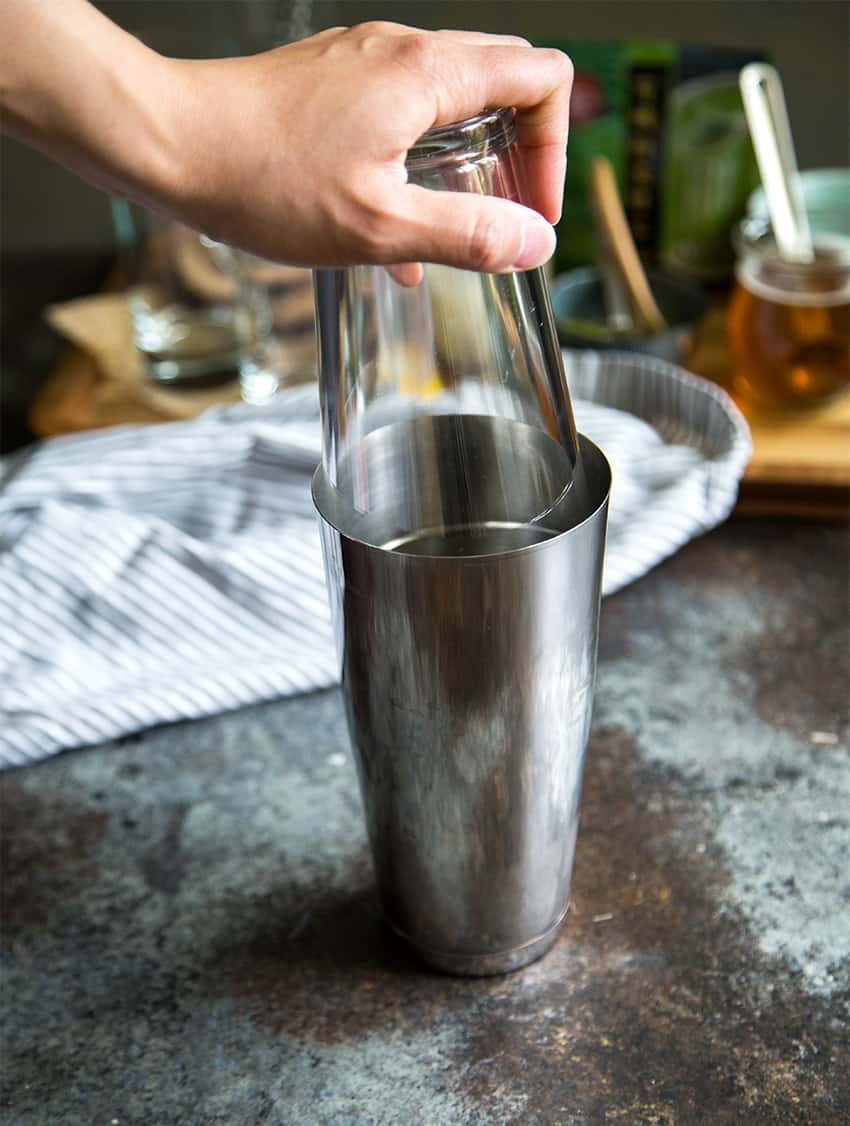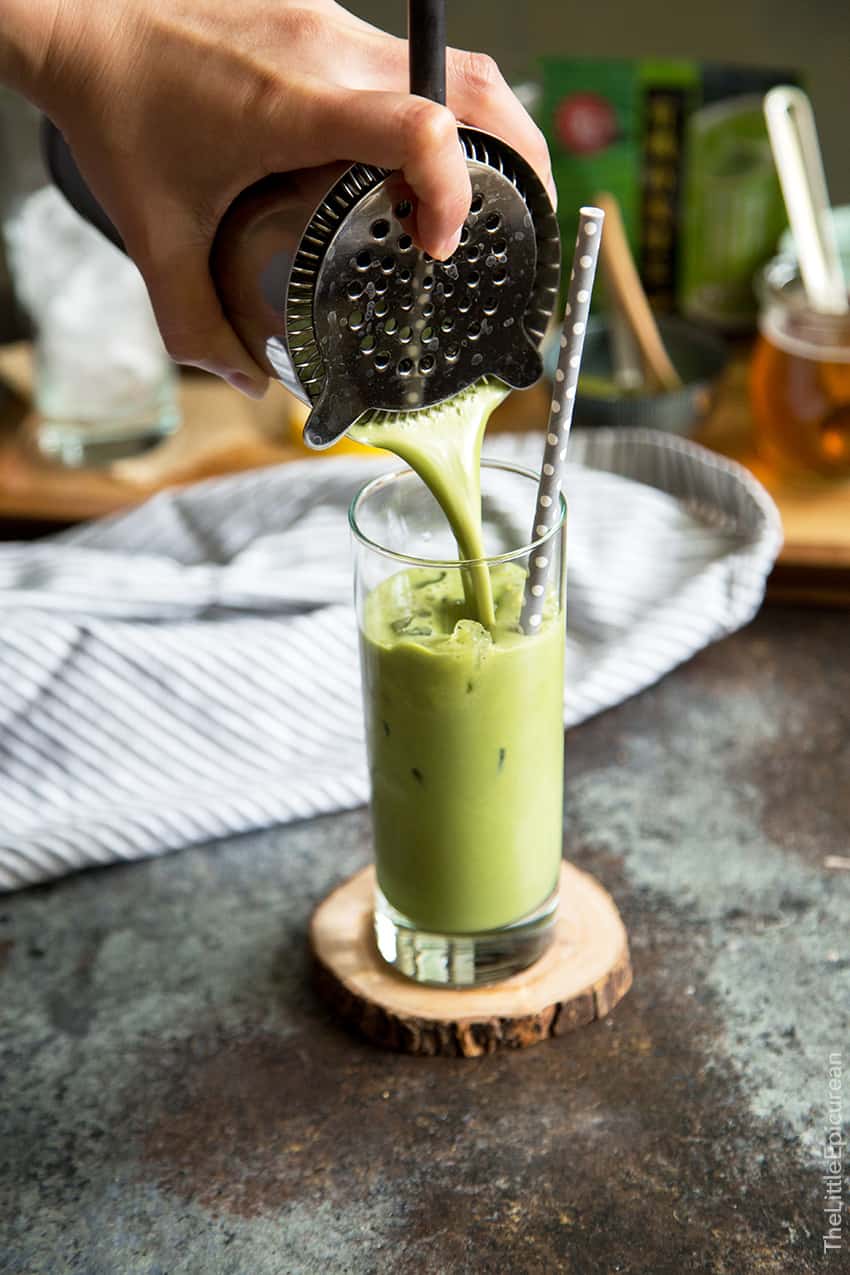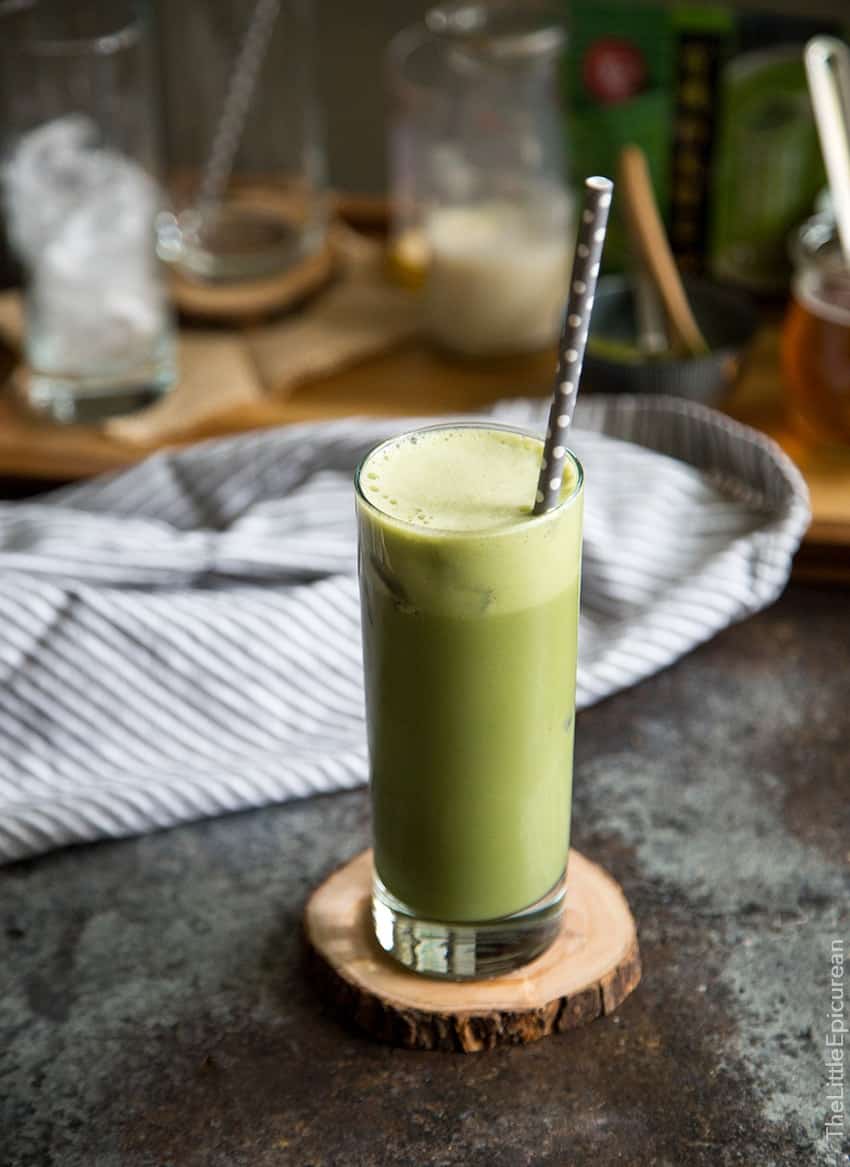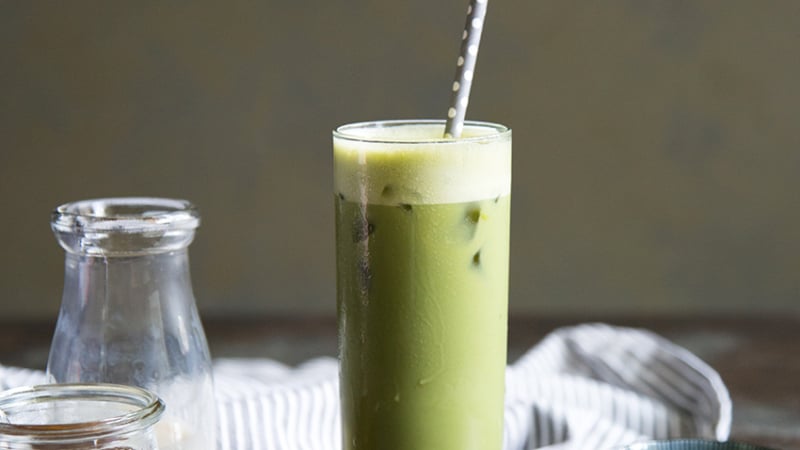 Iced Matcha Latte
All the energy and caffeine kick without the coffee crash. This iced matcha latte is made with soy milk and sweetened with honey syrup. Yield: serves 1, multiply as needed
Ingredients
2

teaspoon

matcha powder

⅓

cup

cold water

½

cup

unsweetened soy milk

1 ½

Tablespoon

honey syrup (recipe follows)

ice, for serving
Instructions
Add mixing ball to bar shaker. Add matcha, water, soy milk, and honey syrup. Cover shaker and shake for 10-15 seconds. Add a handful of ice. Continue to shake until the outside of the cocktail shaker is cold to the touch and the latte is foamy. Strain into a serving glass and add additional ice. Adjust sweetness according to preference.
Notes
Honey Syrup: Mix together 2 parts honey and 1 part water. Set over medium heat and stir until honey has dissolved. Remove from heat and transfer to an airtight container. Keep at room temperature.
Ingredient Notes:
I recommend Rishi "teahouse matcha" or Rishi "barista matcha" 
Use 100% matcha powder. Stay away from matcha powders that are pre-mixed with sweeteners, milks, or stabilizers.