Celebrate the start of the holiday season with an autumn harvest cocktail. This bourbon pumpkin cocktail features warm spices and homemade pumpkin butter.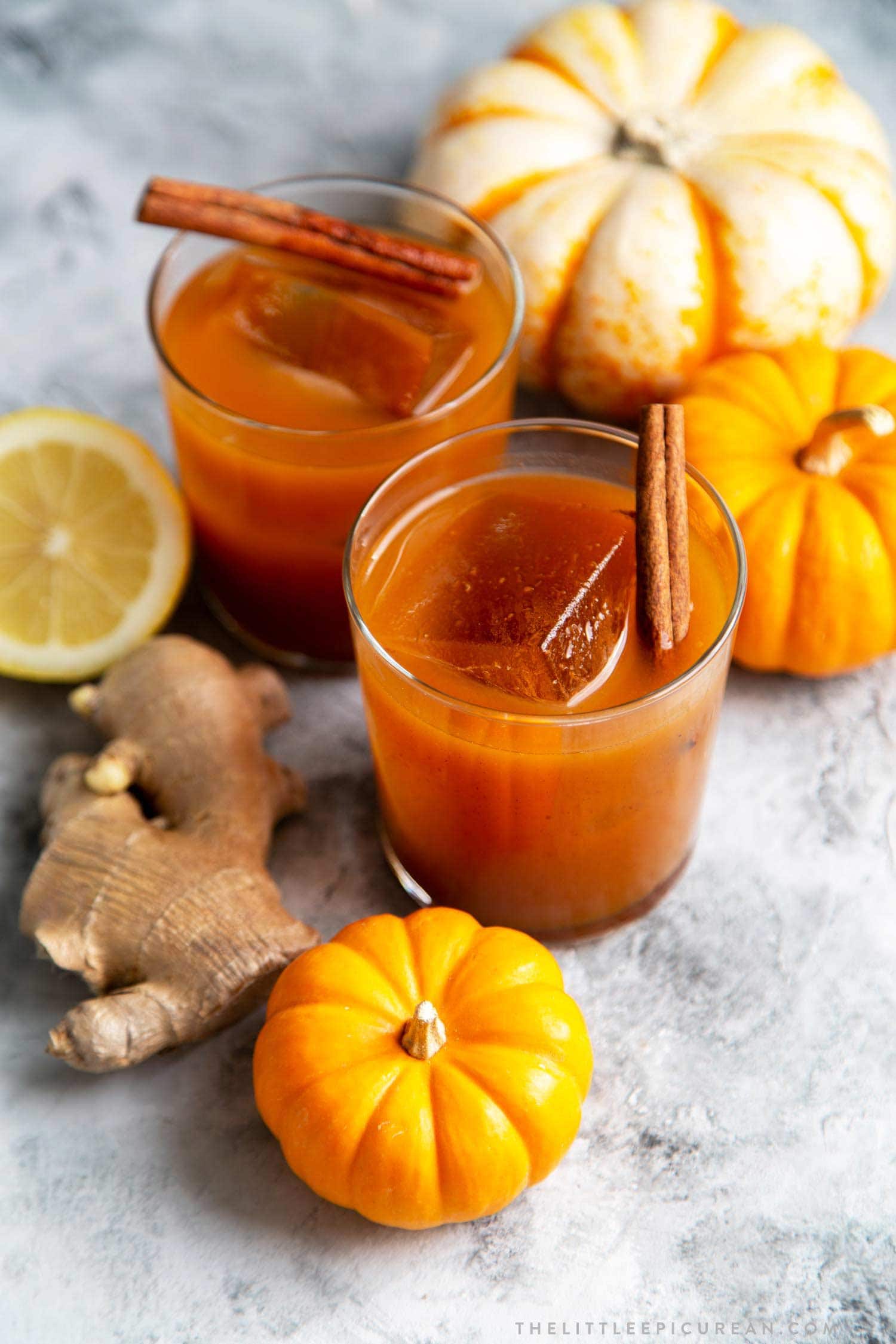 Bourbon and pumpkin are a perfect match during these cozy autumn nights. This recipe was inspired by one of the signature cocktails we offered to guests during our wedding reception. 
This is a festive pumpkin drink that can be served from Halloween through New Year's Eve.
It's the kind of cocktail that you can dress up or dress down depending on the occasion!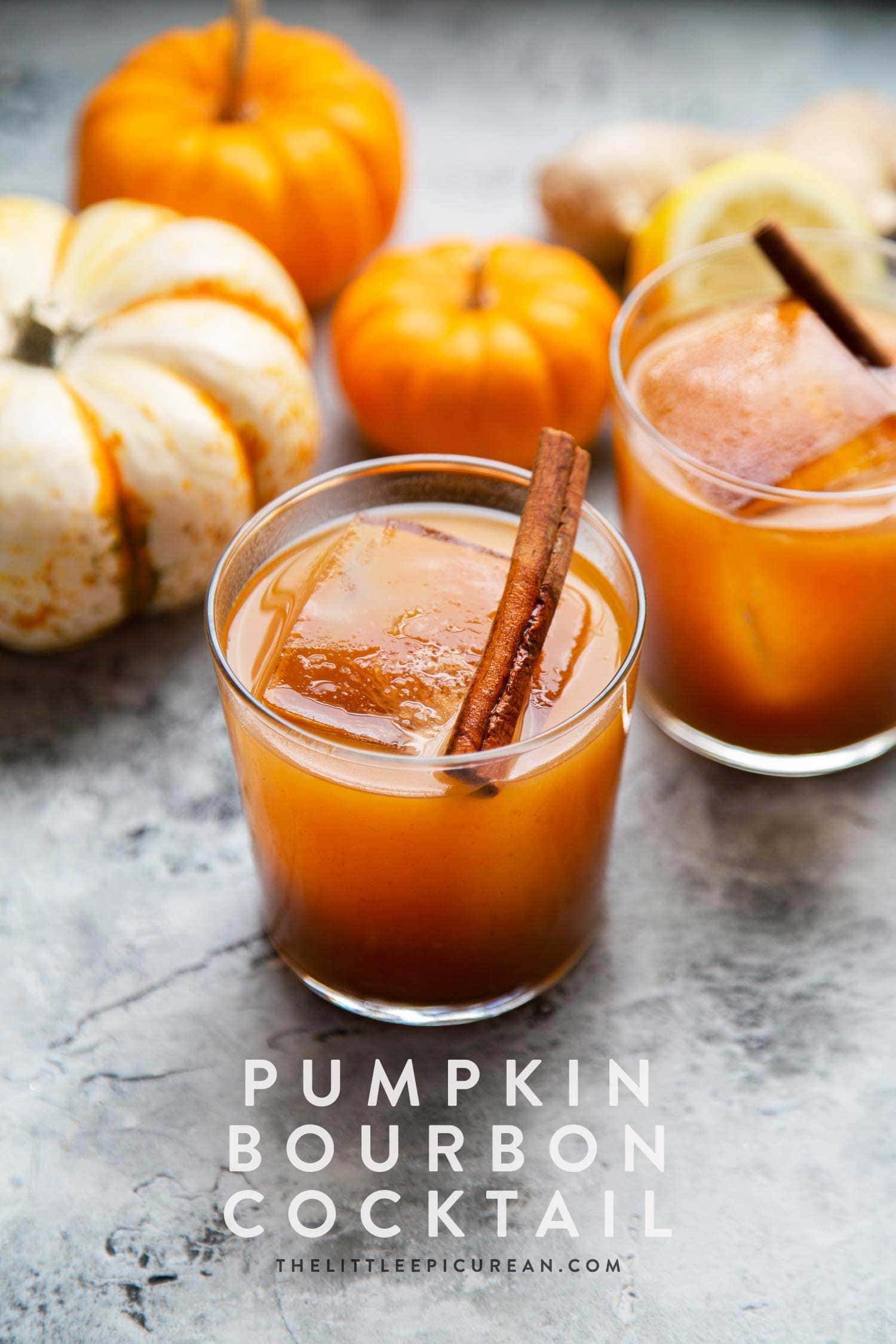 Let's sit back and relax by the fire with a delicious cocktail in hand. 
Bourbon based cocktails are a favorite during this time of year. There is something is warming and festive with bourbon or whiskey drinks in the fall.
Put on that chunky sweater, those warm boots, and wool scarves when serving cocktails like this cranberry orange bourbon cocktail, spiced hot toddy, or apple ginger punch.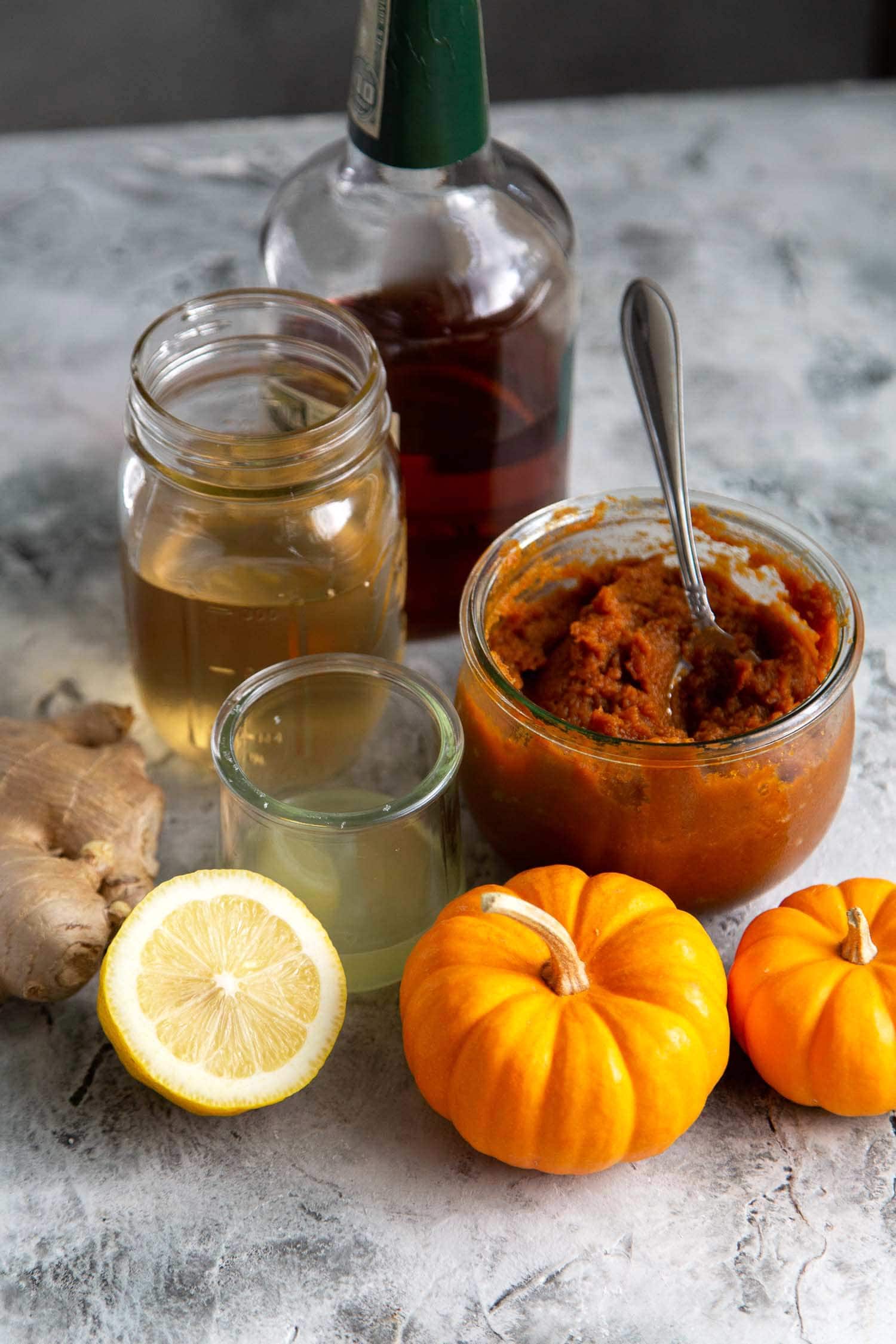 Cocktail Ingredients and Substitutions
Bourbon : Use your choice of bourbon or whiskey. I prefer using bourbon because of it's vanilla, caramel, and oak notes. 
Apple Cider : Fresh pressed apple cider is delicious. Regular apple juice works just as fine. Do not use sparkling apple cider- that is a different product that will make the resulting cocktail fizzy. 
Ginger Syrup : Boil equal parts water and sugar with slices of fresh ginger. Store this mixture in the fridge for several weeks! 
Lemon Juice : Always use fresh squeezed lemon juice for best flavor. At all costs, I try to avoid the bottled or from-concentrate lemon juice.
Pumpkin Butter : Use this homemade pumpkin butter recipe. Pumpkin butter is easy to customize with your choice of spices. Or, simply use store-bought pumpkin butter.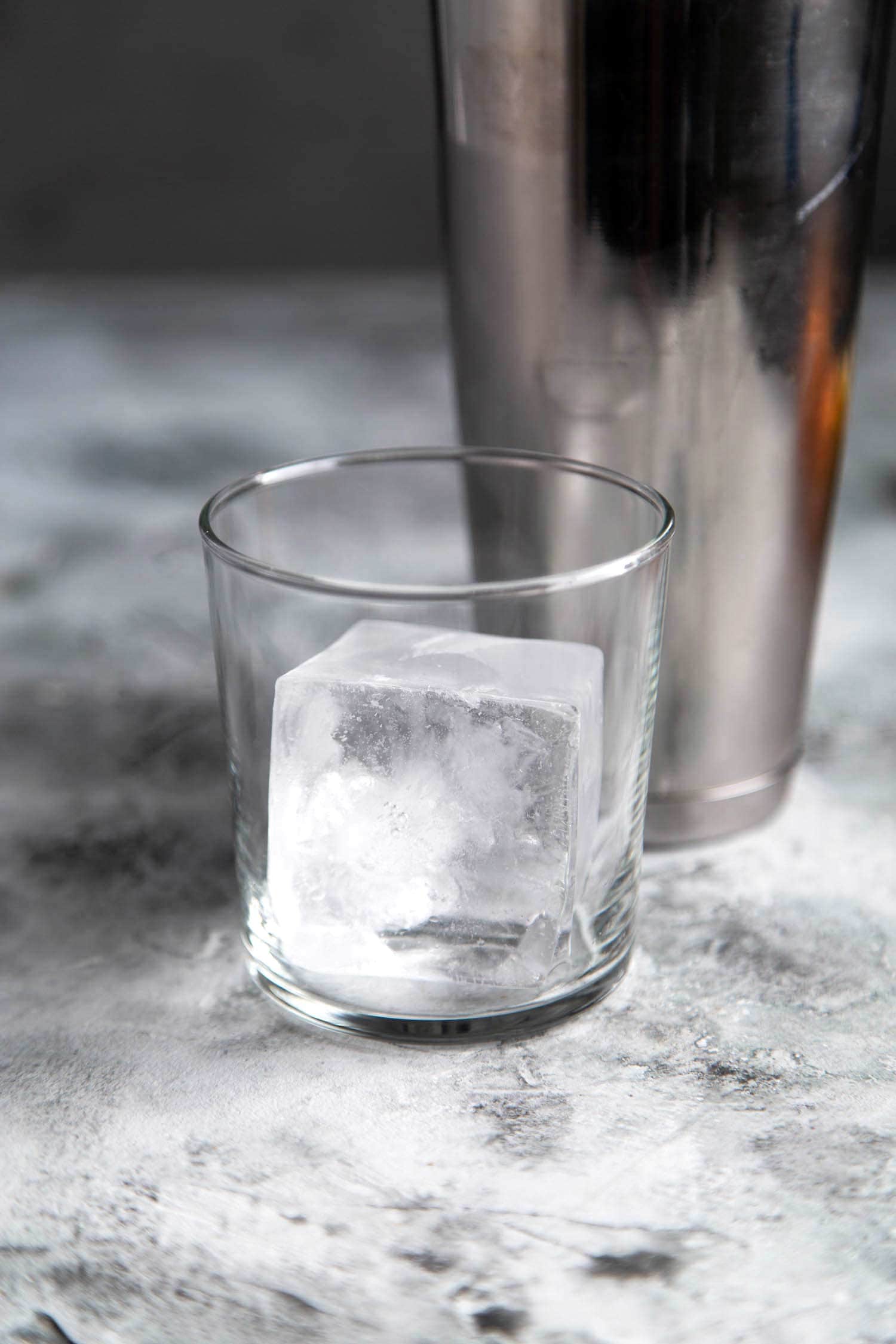 Build the Cocktail
Add a large ice cube to an old-fashioned glass. I recommend this extra large ice cube tray. 
Large ice cubes will melt slower. As a result, the bourbon pumpkin cocktail will not easily become diluted with water.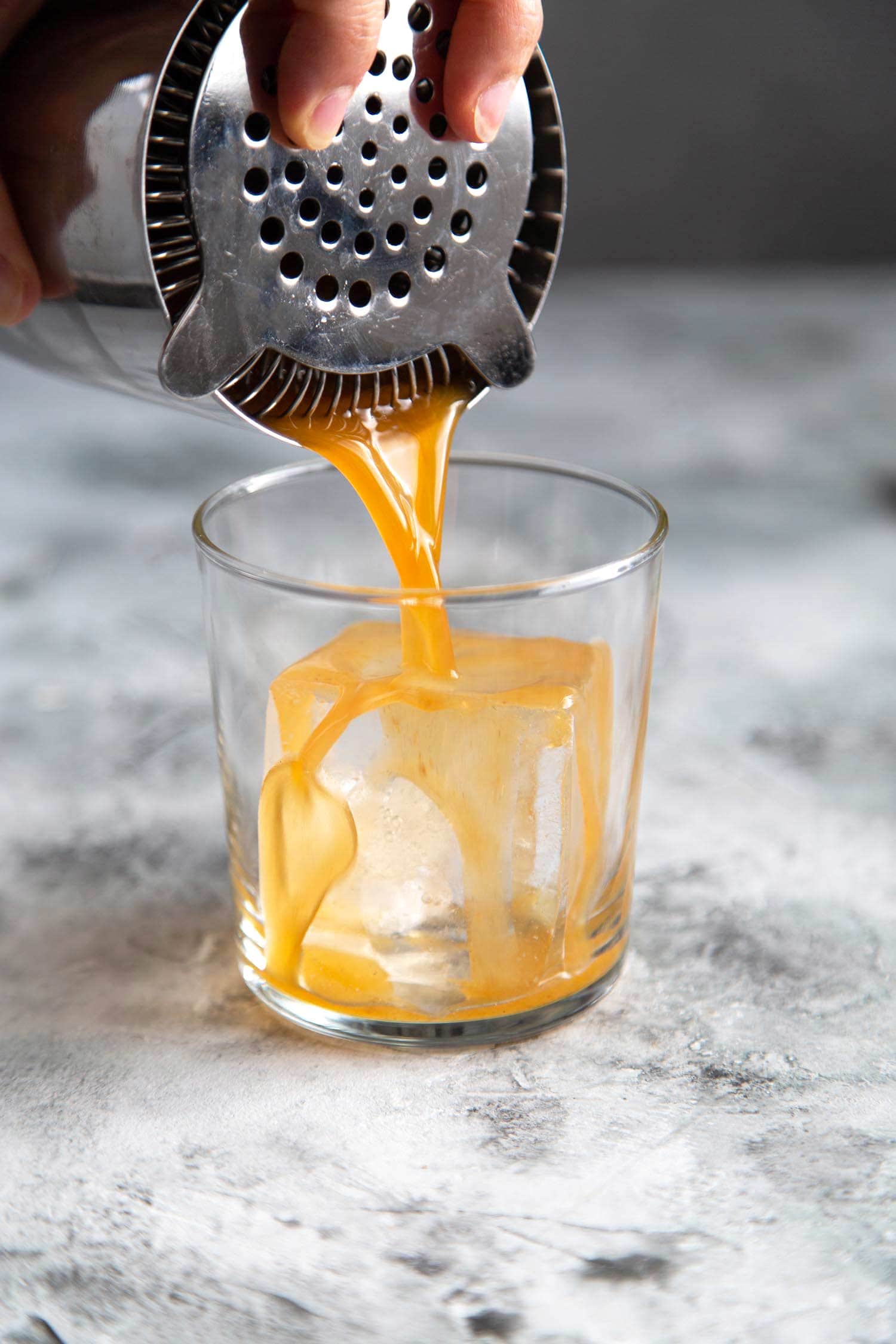 Add all the ingredients in a Boston shaker:
1.5 oz bourbon
1.5 oz apple cider
0.75 oz ginger syrup
0.5 oz lemon juice
1 tablespoon pumpkin butter
Fill the shaker half full of ice. Cover and shake until the mixture is chilled. Strain cocktail in the prepared serving glass.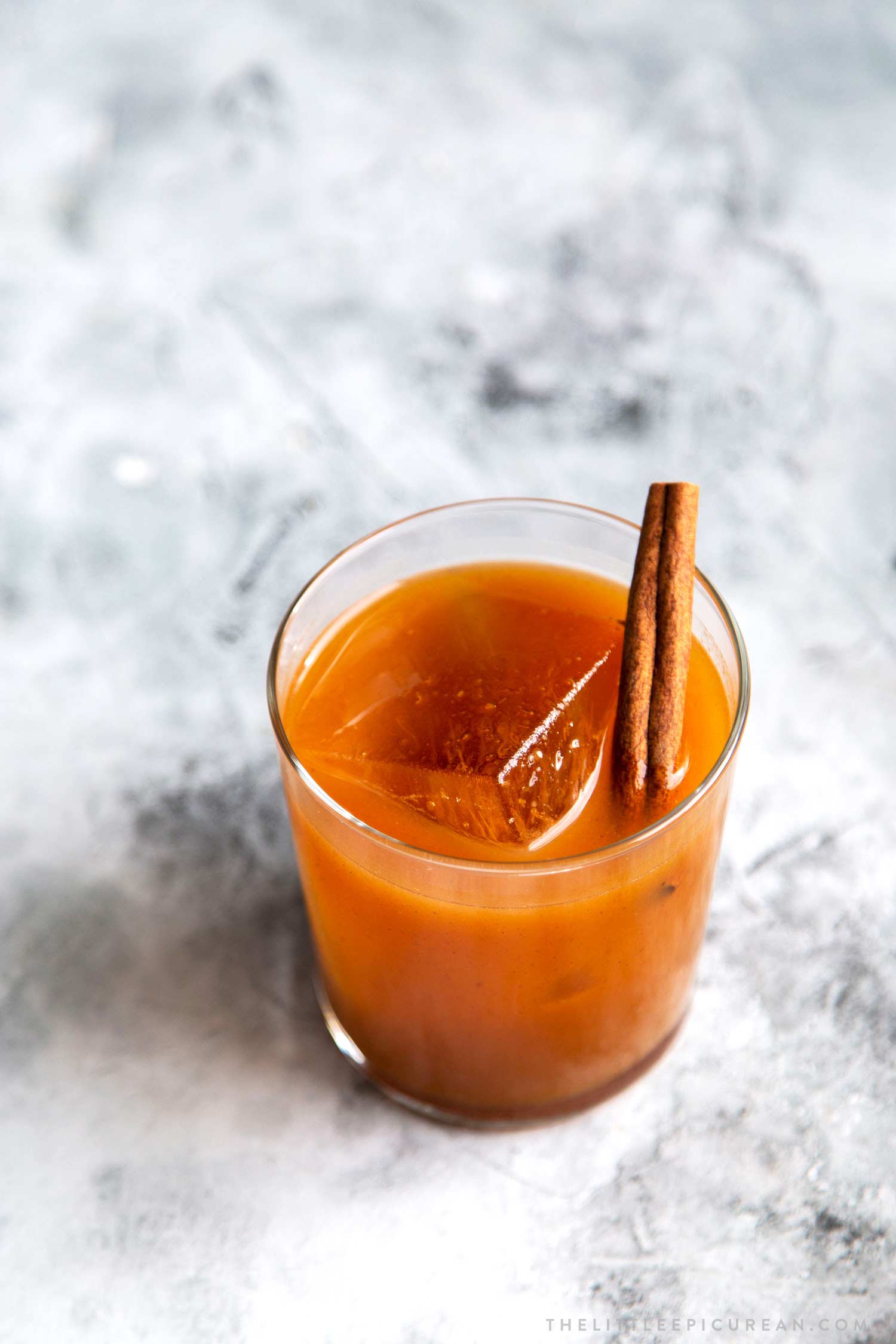 Serving Suggestions
Garnish with a cinnamon stick and enjoy! The autumn cocktail gets its striking orange color from the fresh cooked pumpkin butter.
Over time, the pumpkin butter will oxidize in the fridge and turn brown.
It will still taste great and make a delicious drink, but the cocktail will not be as vibrant in color.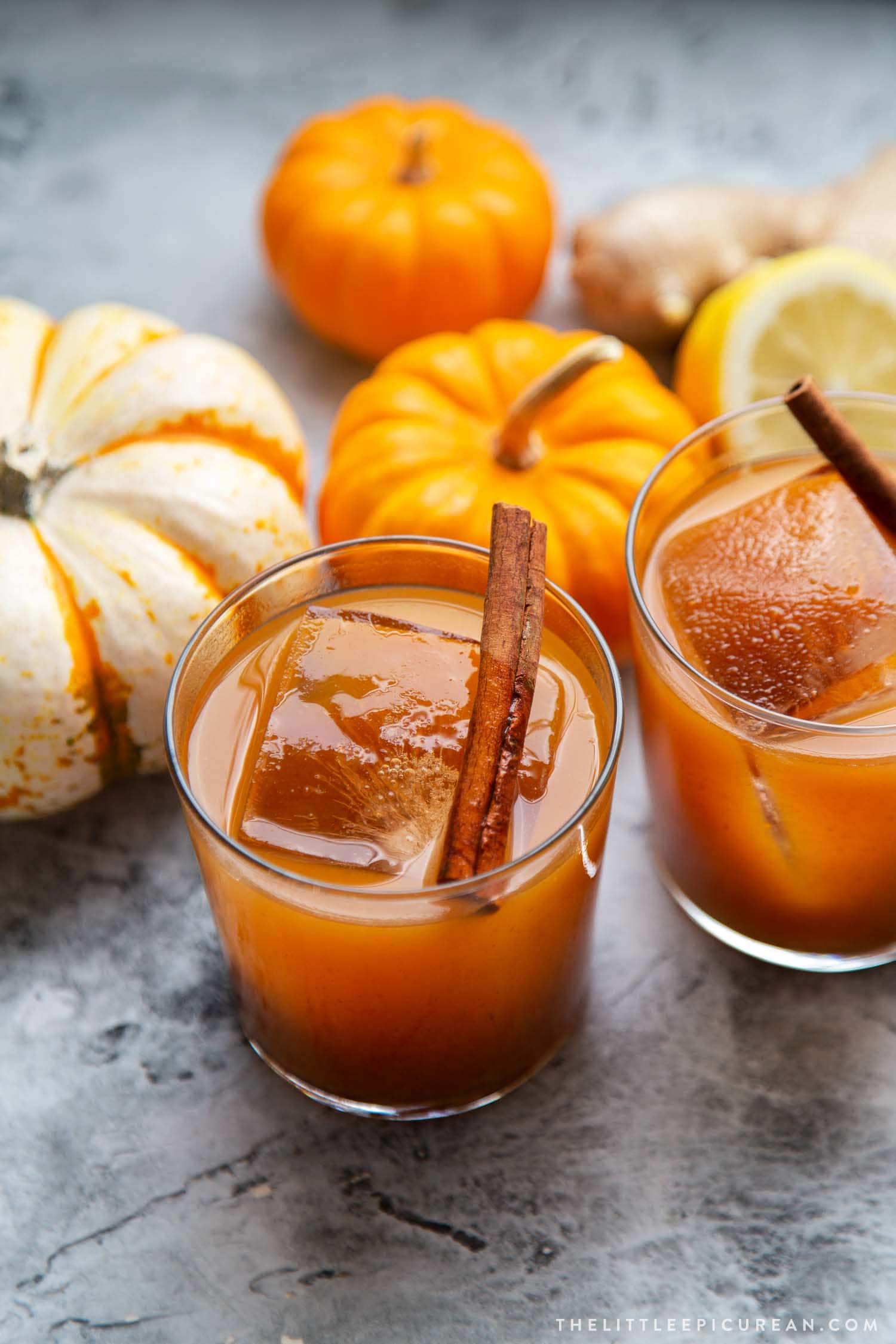 Serve this cocktail chilled over ice. Or, warm it up and serve in mug during chilly nights.
Multiply the recipe to make a large batch or punch version. When making a large batch, be sure to vigorously stir the cocktail before serving. 
Related Autumn Pumpkin Recipes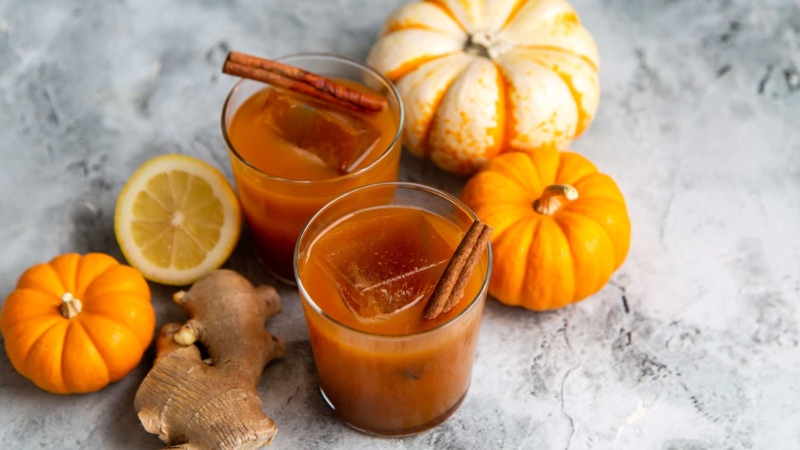 Bourbon Pumpkin Cocktail
This autumn harvest cocktail features warm spices, homemade pumpkin butter, bourbon, and a pop of lemon juice.
Ingredients
Cocktail:
1 ½

oz

bourbon

1 ½

oz

apple cider,

or apple juice

¾

oz

ginger syrup

½

oz

fresh squeezed lemon juice

1

Tbsp

pumpkin butter
Pumpkin Butter:
15

oz

canned pumpkin

¼

cup

+ 2 Tbsp maple syrup

¼

cup

apple juice,

or unfiltered apple juice

2

Tbsp

dark brown sugar,

packed

1

Tbsp

fresh squeezed lemon juice

1

teaspoon

ground cinnamon

¼

teaspoon

kosher salt
Ginger Syrup:
100

grams

(1/2 cup) granulated sugar

½

cup

water

2-inch piece ginger,

peeled, sliced into thin disks
Instructions
Cocktail:
In a Boston shaker (or stainless steel cocktail shaker) filled halfway with ice, add bourbon, apple cider ginger syrup, lemon juice, and pumpkin butter. Cover and shake until mixture is chilled.

Strain into serving glass filled with one large ice cube. Garnish with cinnamon stick.
Pumpkin Butter:
Add all ingredients to a small heavy bottomed sauce pot. Set over medium-high heat, stir ingredients together and bring mixture a boil. Allow to boil for about 30-45 seconds. Then, reduce to a simmer.

Allow mixture to simmer for 15-20 minutes, uncovered. Frequently stir to ensure mixture does not burn along bottom of pot. By this time, the mixture should have thickened. It will continue to thicken as it cools.

Remove from heat and cool to room temperature. Transfer pumpkin butter to an airtight container. Cover and store in the fridge until ready to use. Keeps for 1 week chilled.
Ginger Syrup:
Combine sugar, water, and ginger in a heavy bottomed sauce pot. Bring to a boil and allow to simmer until sugar has dissolved. Remove from heat and let ginger steep for 30 minutes.

Strain out ginger. Transfer syrup to an airtight container. Keep chilled in the fridge until ready to use. Syrup will keep in the fridge for up to 2 weeks.
Notes
Store-bought pumpkin butter can be used in place of homemade version.
Pumpkin butter recipe comes from Maple Pumpkin Butter Brioche Toast. Cooking time has been adjusted to make a smaller batch of pumpkin butter.