Thick slices of brioche bread are flavored with pumpkin puree and pumpkin pie spice mix to make this seasonal Pumpkin French Toast.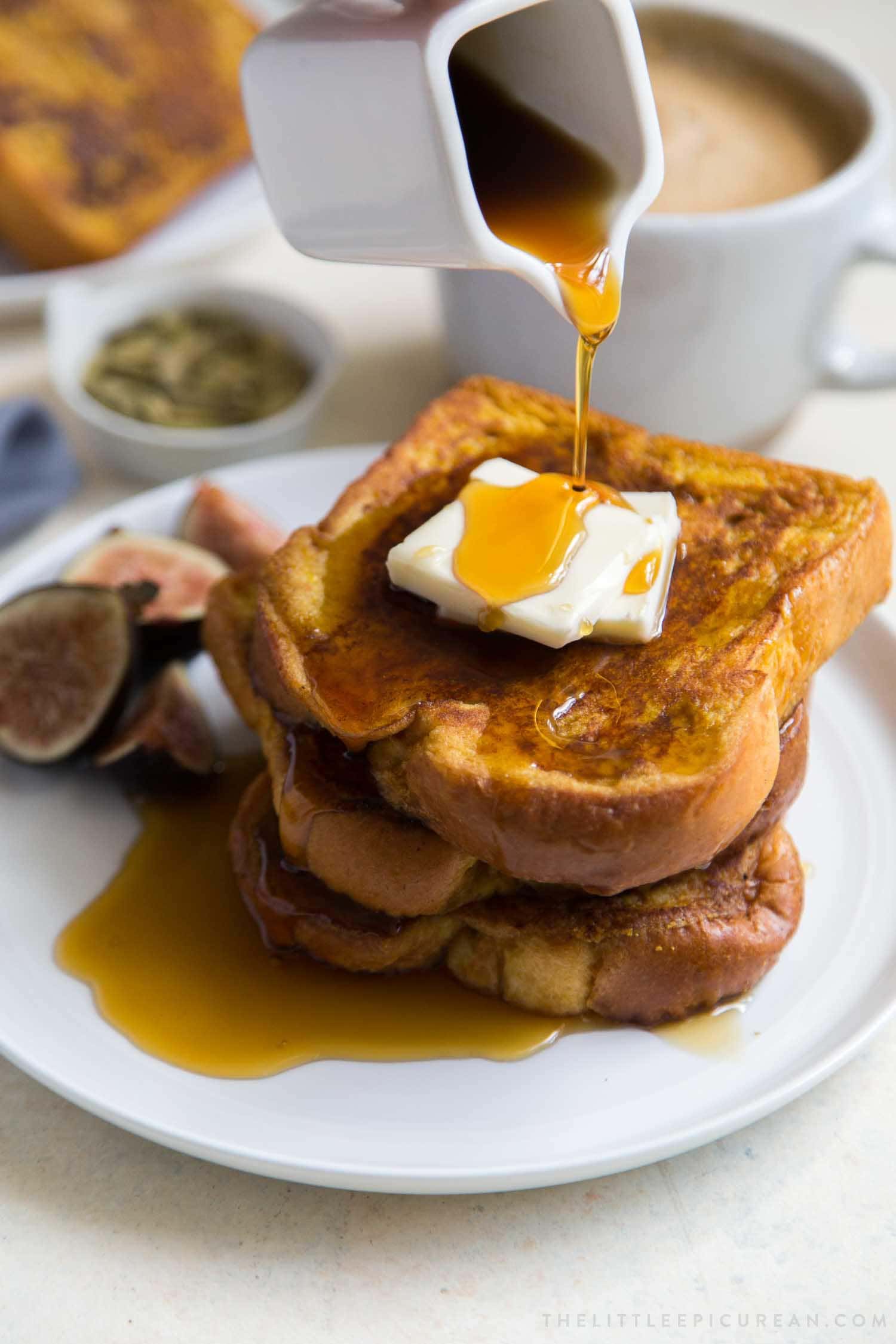 Pumpkin French Toast
What is French toast?
French toast is known by numerous names: eggy bread, pain perdu (which translates to "lost bread" in French), German toast, gypsy toast, etc.
Regardless of what you call it, French toast is essentially bread soaked in custard and cooked until golden brown.
It is usually served with maple syrup and a side of fruit.
Best breads for French toast
Thick slices of brioche, challah, and Japanese milk bread are perfect for French toast.
Stay away from thin slices of regular standard sandwich white bread. Unfortunately, thinly sliced bread will likely fall apart.
Ideally, you want to use bread suited for absorbing the custard batter.
When it comes to French toast and it's cousin, bread pudding, older drier bread is better!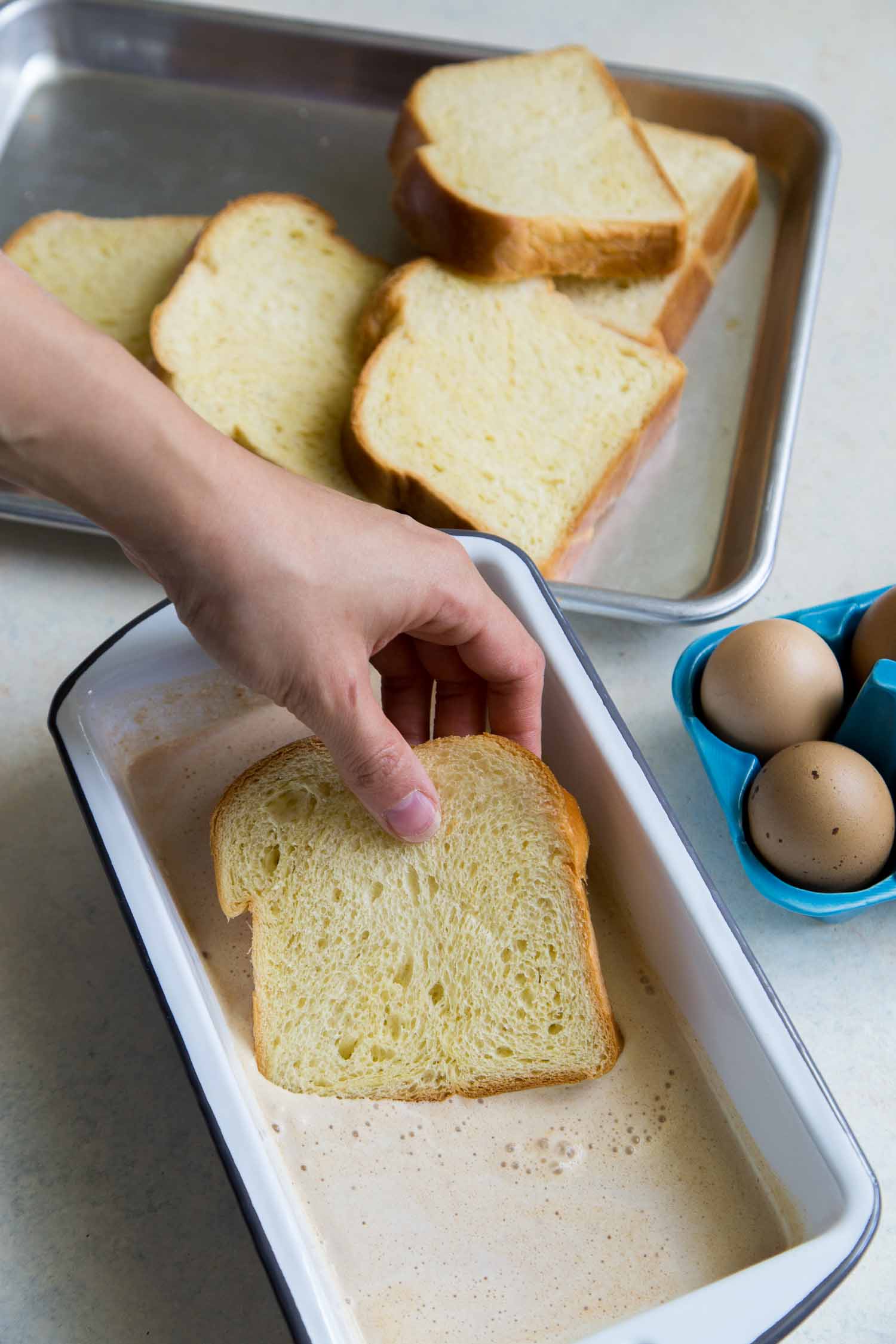 Pumpkin Custard Dipping Mixture:
Coat thick slices of bread in a custard mixture. Then, cook over a griddle until golden brown.
The pumpkin custard mixture is made from a combination eggs, milk, cream, pumpkin puree, and spices.
While you can easily mix together the custard by hand using a whisk or fork, I highly suggest using an immersion hand blender (or standard countertop blender).
Use of a blender ensures that the egg whites are thoroughly incorporated into the custard.
(There is nothing worse that getting a giant "eggy" piece on French toast. It ends up tasting more like an omelette!)
It is best to keep the custard mixture in a wide, shallow bowl (think pasta dishes and pie plates) to accommodate the width of the bread.
Lightly dip the bread into the custard mixture, ensuring both sides are coated.
However, be careful not to over-soak the bread. Otherwise it might fall apart and be difficult to transfer to the skillet.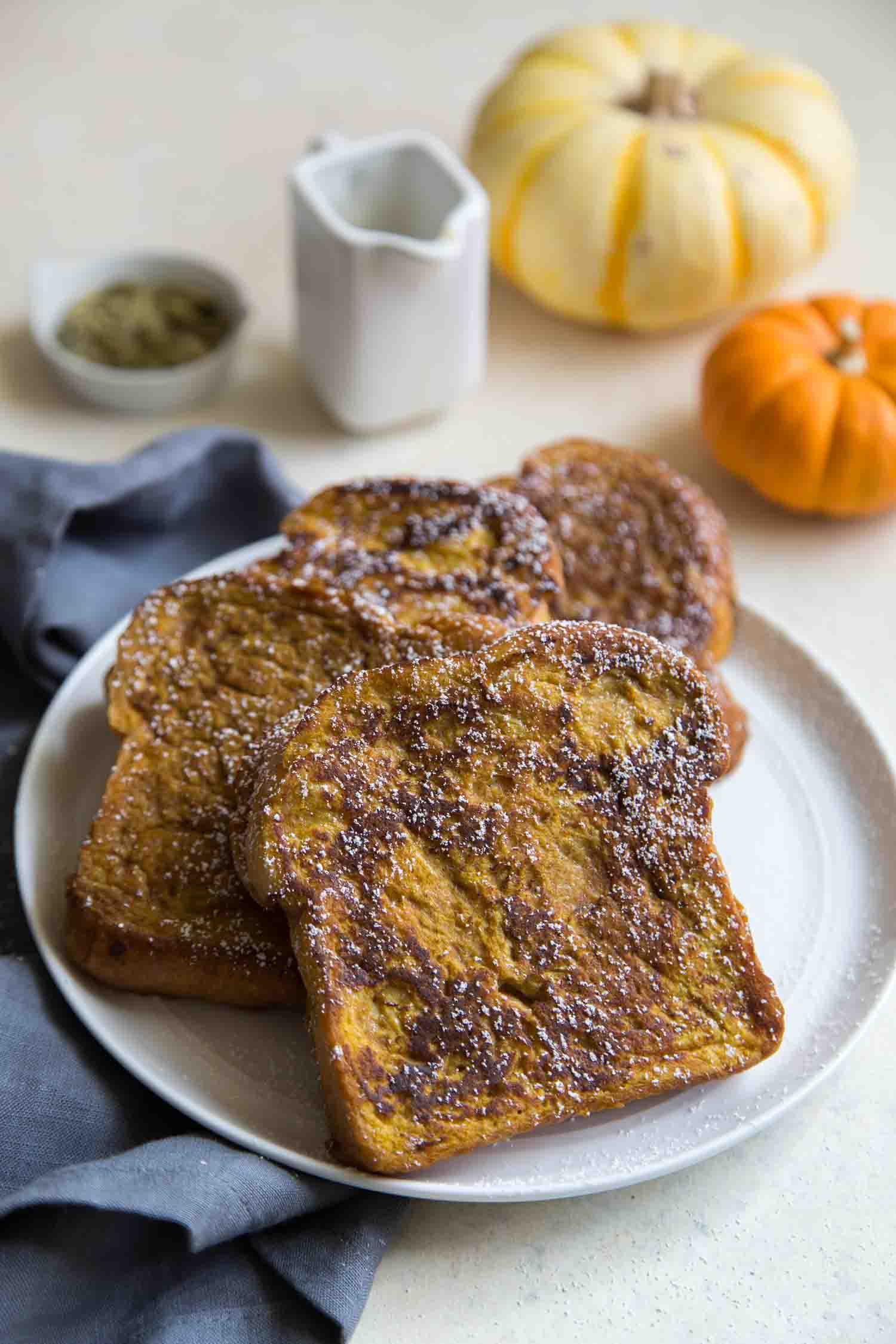 French toast is super simple to make at home. It's the kind of breakfast you can easy whip up anytime because it uses kitchen staples you already have: sliced bread, milk, and eggs.
This autumn pumpkin French toast adds a little something special- PUMPKIN! The custard dipping mix has the addition of canned pumpkin puree and pumpkin pie spice mix (cinnamon, nutmeg, cloves, ginger).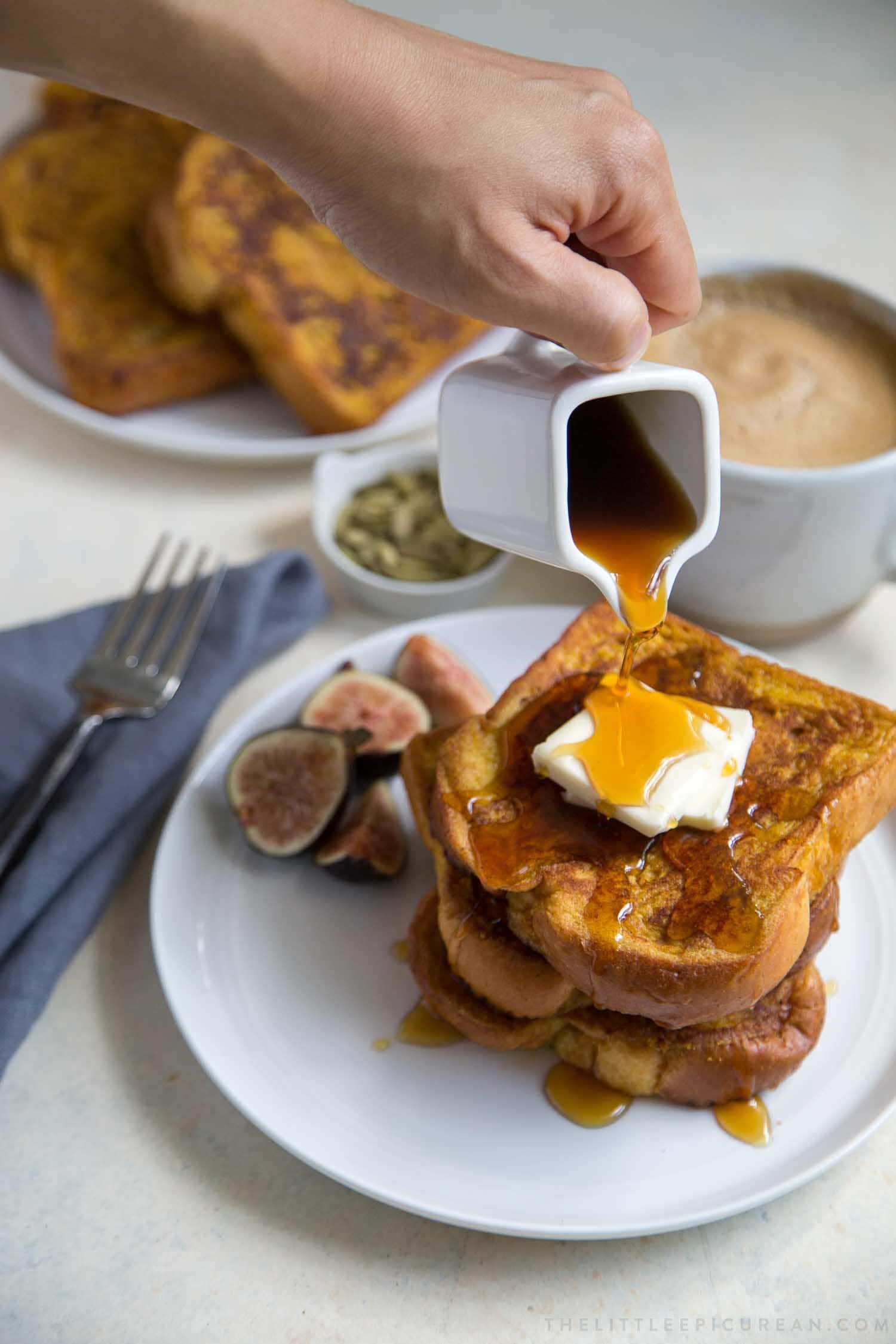 Go ahead and enjoy a stack of this pumpkin French toast with a pumpkin spice latte! Tis the season for all things pumpkin!
If you're ready for more interesting pumpkin recipes, I highly recommend trying these pumpkin sticky buns or pumpkin snickerdoodle cookies.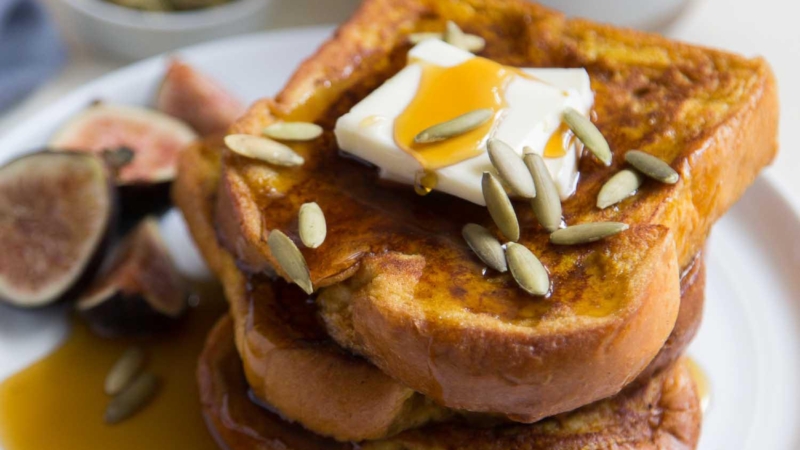 Pumpkin French Toast
This seasonal Pumpkin French Toast is made with thick slices of brioche bread, pumpkin puree, and pumpkin pie spice mix. It's perfect for any holiday gathering brunch! Yield: makes 8 toasts
Ingredients
4

large eggs

¾

cup

milk

¼

cup

heavy cream

½

cup

pumpkin puree

1 ½

Tablespoon

granulated sugar

½

teaspoon

pure vanilla extract

1 ¼

teaspoon

pumpkin pie spice mix*

¼

teaspoon

ground cinnamon

⅛

teaspoon

kosher salt

8

thick slices brioche bread*

unsalted butter or canola oil

, as needed for skillet

maple syrup

, as needed
Instructions
Use an immersion blender to combine eggs, milk, cream, pumpkin puree, sugar, vanilla, pumpkin pie spice mix, cinnamon, and salt. Alternatively, use a whisk or fork to mix until smooth and thoroughly blended. Pour into a shallow bowl wide enough for bread slices.

Set a large skillet over medium heat and melt about a tablespoon of butter (or heat oil). Working with one slice of bread at a time, dip bread into egg custard mixture. Turn to coat other side of bread. Allow any excess liquid to drain.

Cook bread on hot skillet until browned on one side, about 2 minutes. Flip and brown the other side, another 90 seconds-2 minutes. Repeat with remaining bread. Add additional butter to grease skillet as needed.

Serve pumpkin French toast warm with maple syrup.
Notes
Use store-bought pumpkin pie spice mix or make your own by mixing together: 3/4 tsp ground cinnamon, 1/2 teaspoon grated nutmeg, 1/8 tsp ground cloves, 1/8 tsp ground ginger. 
Make sure to used canned PURE pumpkin puree, not pumpkin pie mix.
I used Trader Joe's French Brioche. The bread is sliced thick and the bread is quite dense, making it perfect for French toast!