Pumpkin sticky buns made with a turmeric spiced pumpkin yeast dough topped with caramel, pumpkin seeds, and sliced almonds.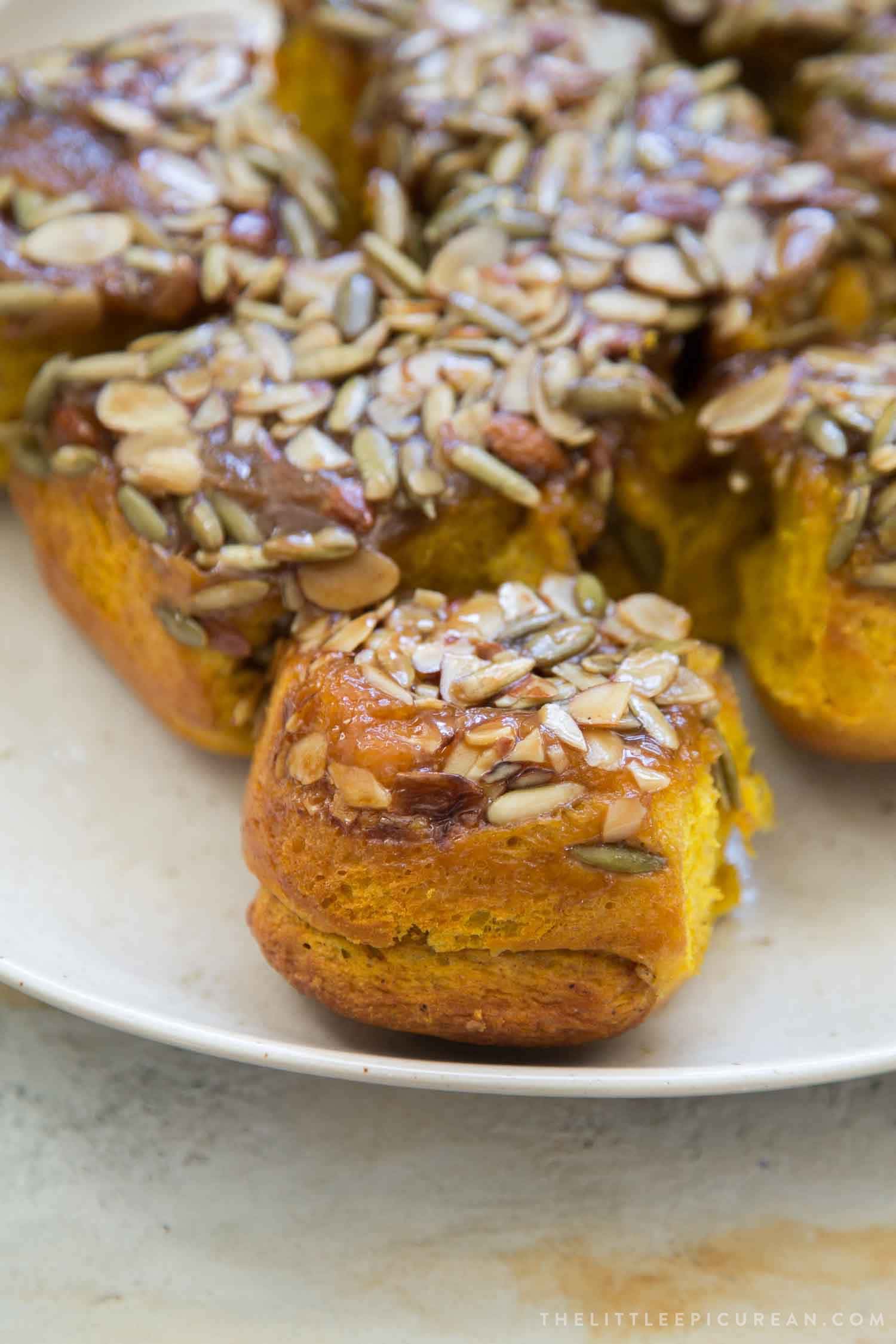 Let's be honest. Sticky buns are just an excuse to eat dessert for breakfast!
Autumn has finally arrived in Southern California.
There's a crispness in the air, the leaves are turning golden brown, and pumpkin patches are popping up.
That can only mean one thing. It's time for the annual #VirtualPumpkinParty.
Each year since 2015, Sara of Cake Over Steak has hosted a giant pumpkin celebration in which food bloggers from all over share an insane amount of pumpkin based recipes!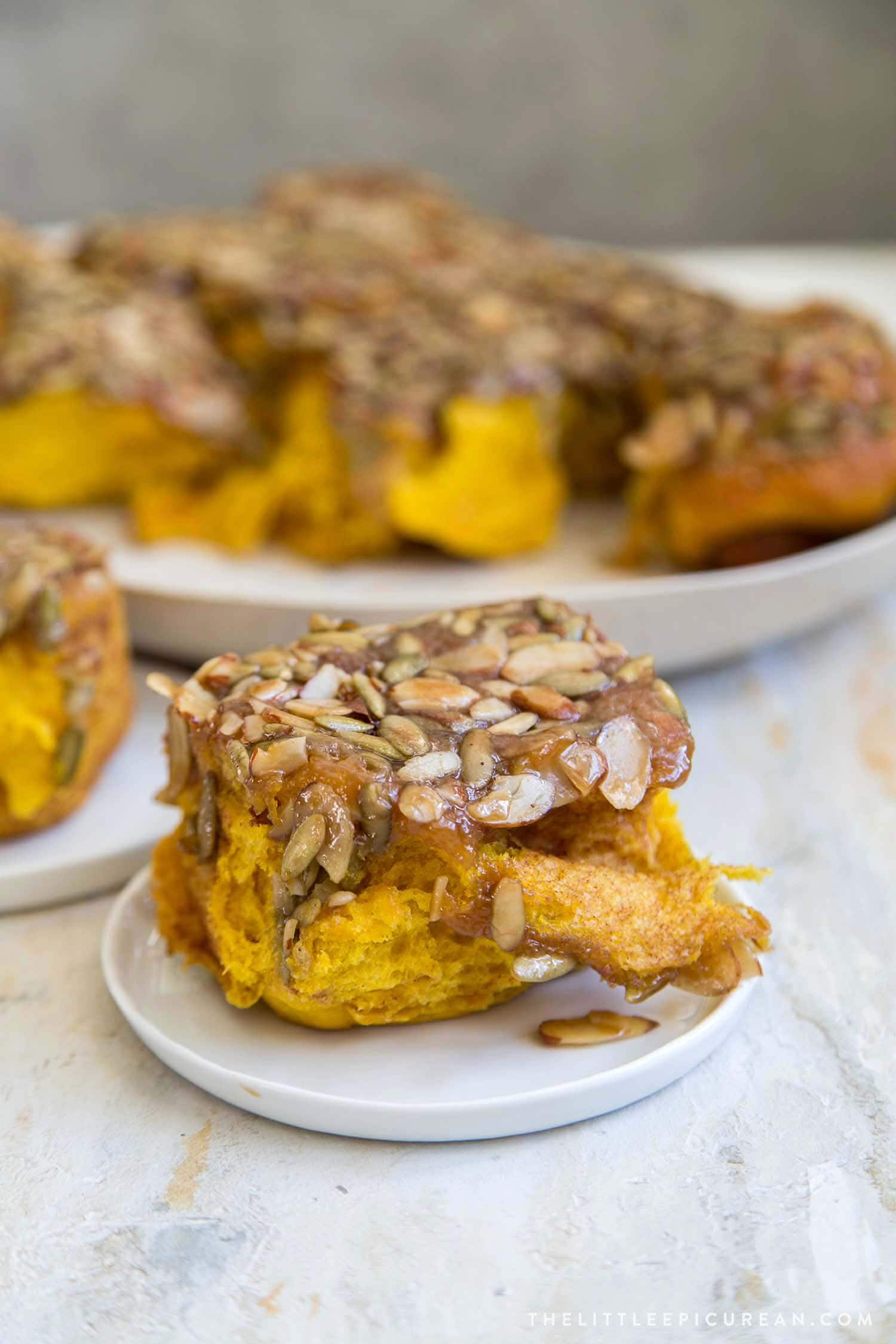 Ingredient Notes
For best results, measure dry ingredients by weight not volume. Otherwise use the "stir and spoon method" if you choose to measure flour by volume (cups).
Active Dry Yeast :  The most widely available yeast available on the market. It it primarily used by home bakers. Active dry yeast is sold as loose granules in envelope packets, jars, or bulk pouches. This beginner's guide to baking with yeast will answer all your yeast questions.
Pumpkin Puree : Use canned 100% pure pumpkin puree. Read the label! Don't get pumpkin pie puree, which already has added spices and sugar.
Turmeric : Ground turmeric gives this pumpkin yeast dough its vibrant yellow color. Turmeric adds a touch of earthy flavor to the dough. You may omit this spice or swap in pumpkin pie spice mix.
Pumpkin Pie Spice Mix : Pumpkin spice or pumpkin pie spice is a mixture of ground cinnamon, nutmeg, ginger, and cloves
Pumpkin Seeds : Also known as pepitas. Hulled pumpkin seeds range in color from bright green to brownish-green. They are available raw or roasted. Roasted versions are usually salted or have added seasonings. Use your choice of pumpkin seeds.
I'm a fan of cinnamon rolls, sweet buns, and above all, sticky buns! The combination of enriched dough swirled with sweet filling makes my taste buds jump for joy.
I pulled from previous recipes to create these Halloween sticky buns. The recipe is a combination of these cardamom pumpkin rolls and these caramel walnut sticky buns.
Assemble Sticky Buns Upside Down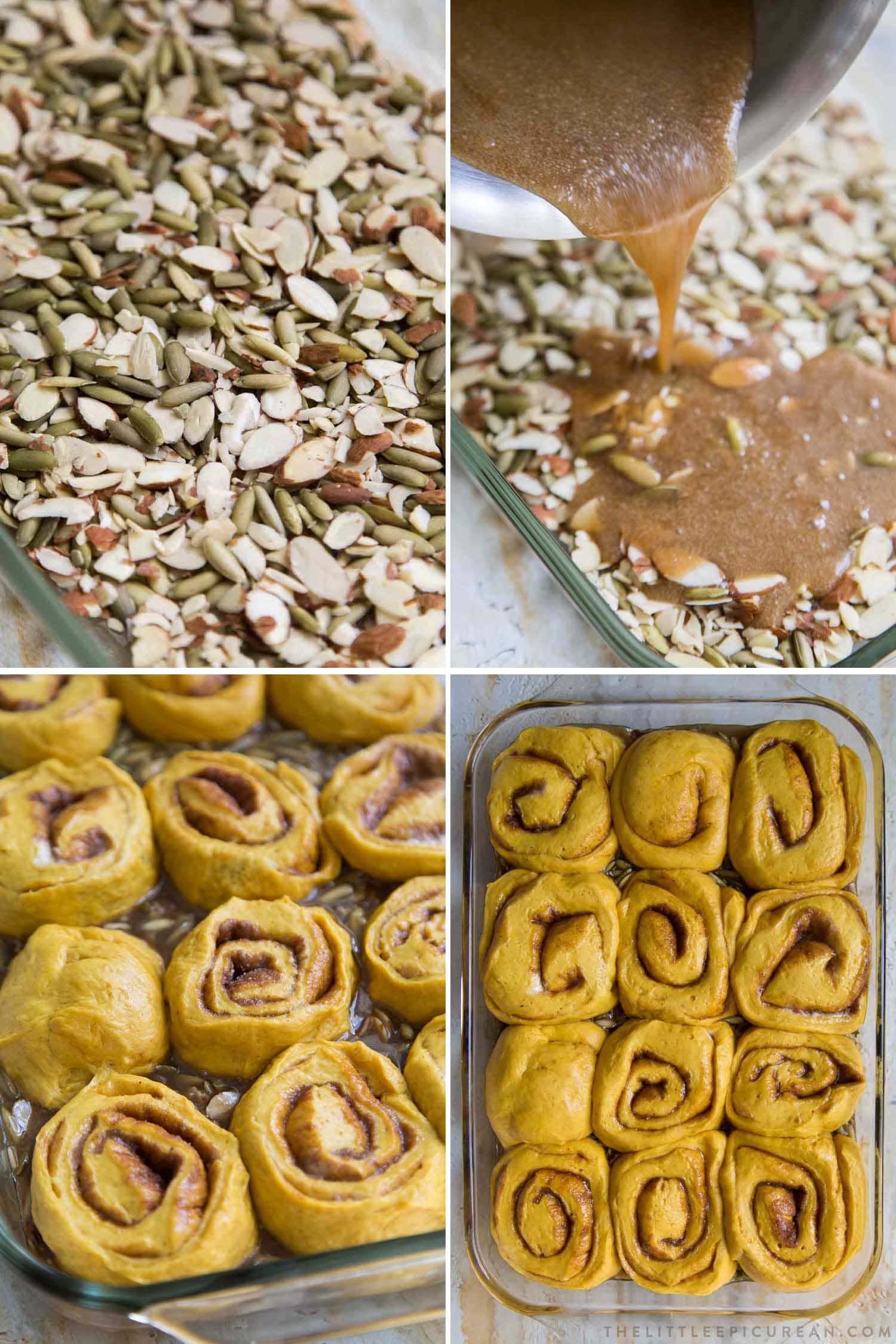 Sticky buns are assembled upside down and then inverted after baking.
The bottom of the baking dish is sprinkled with a mixture of sliced almonds and raw pumpkin seeds.
A super quick and easy caramel sauce simply consisting of cream and brown sugar is poured over.
Sliced pumpkin buns are placed on top of caramel and nuts.
Buns are left to rest and rise before baking!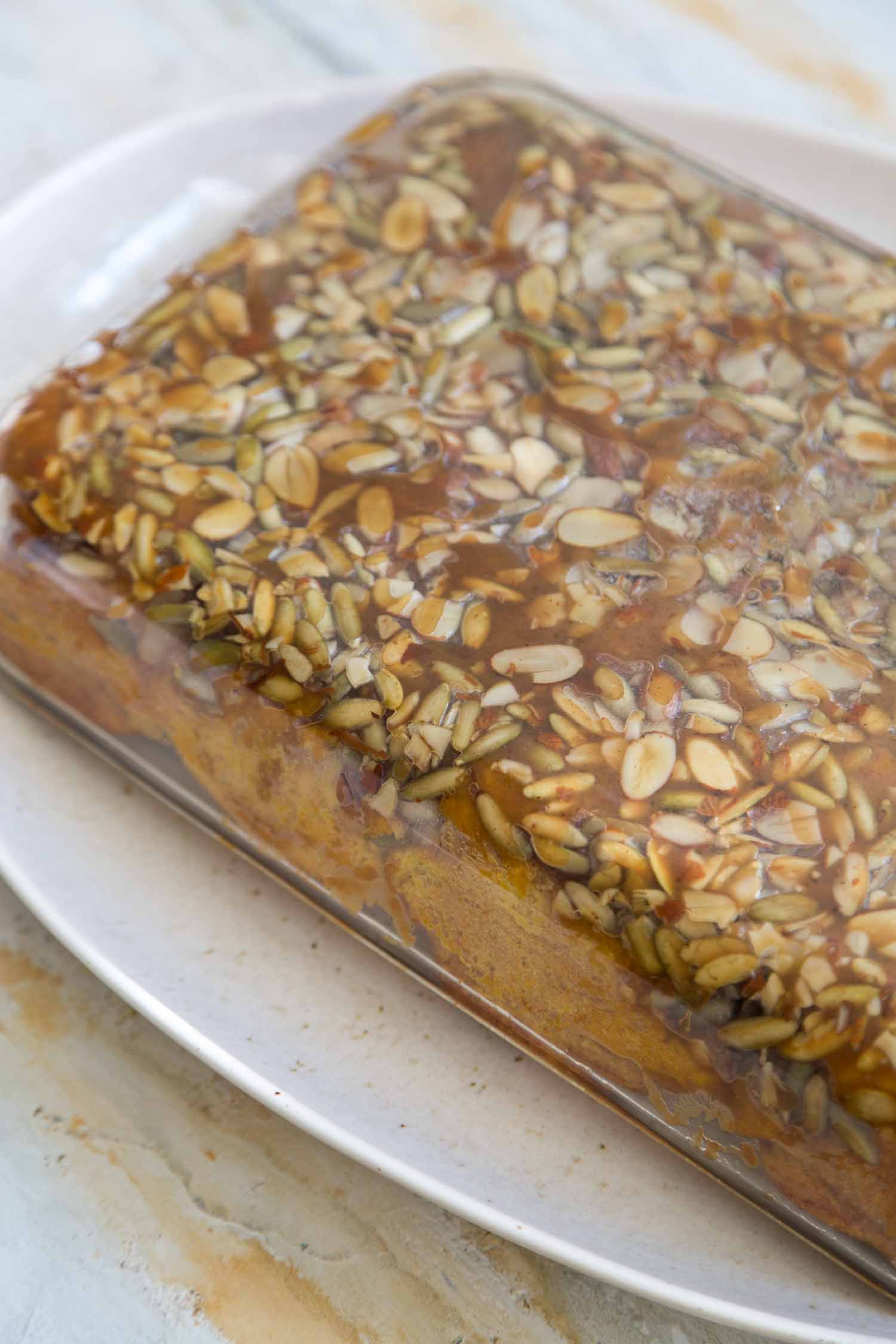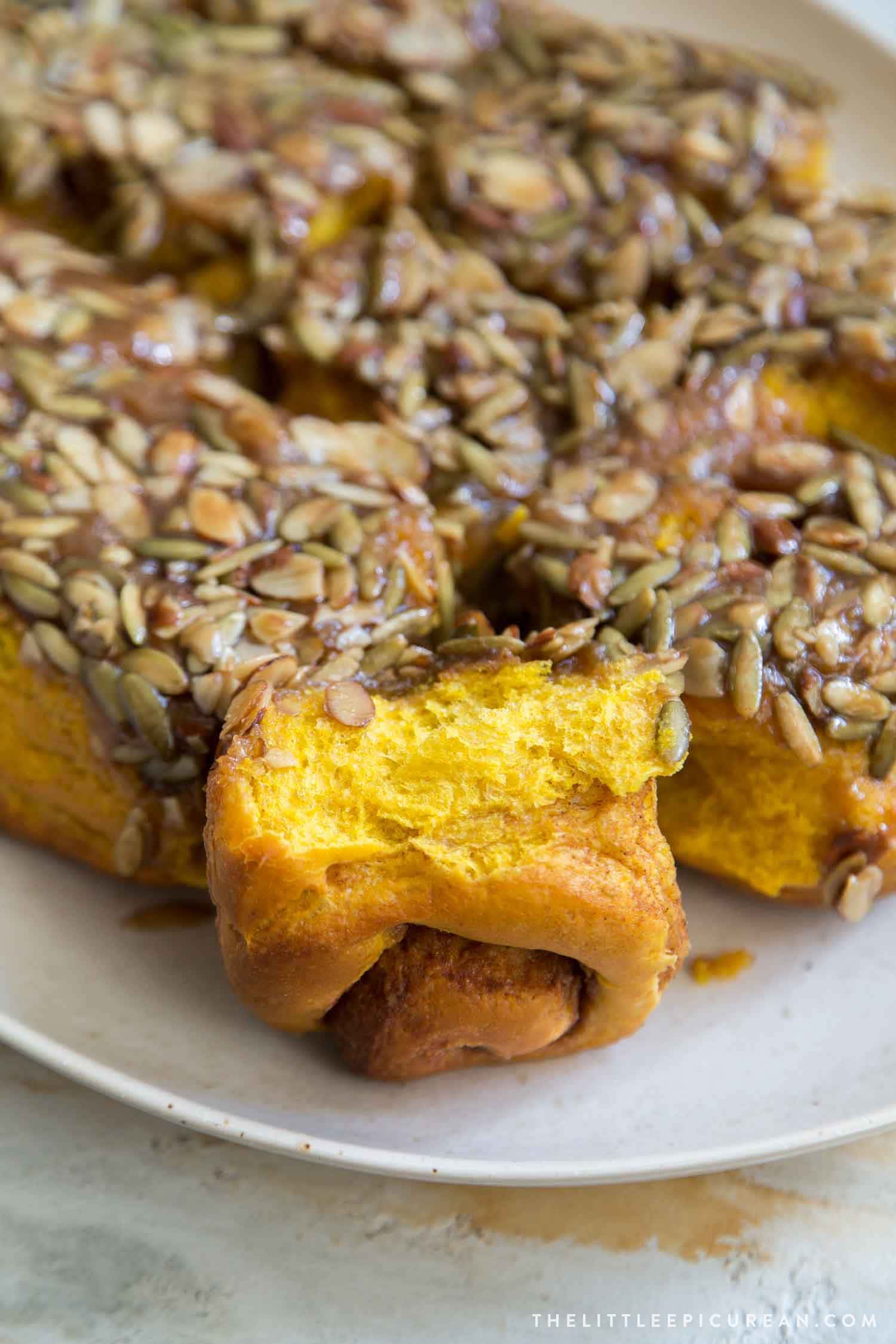 These pumpkin sticky buns are sweet, luscious, and decadent. The vibrant yellow hue is thanks to the touch of cardamom in the dough.
While these may not be the healthiest breakfast option, it's great for the occasional treat!
Serving Suggestions and Leftovers
Pumpkin sticky buns are best enjoyed the same day they are baked. Ideally, serve them warm or at room temperature.
However, these buns may last a room temperature for up to three days. Store leftover buns in an airtight container or tightly covered with plastic wrap.
Reheat in a toaster oven. Or alternatively, heat in the microwave. Place one pumpkin sticky bun on a microwave safe plate along with a mug filled with about 1/2 cup of water. Cook for 20 second intervals until bread is soft and warm. The water will prevent the bread from getting gummy or overcooking.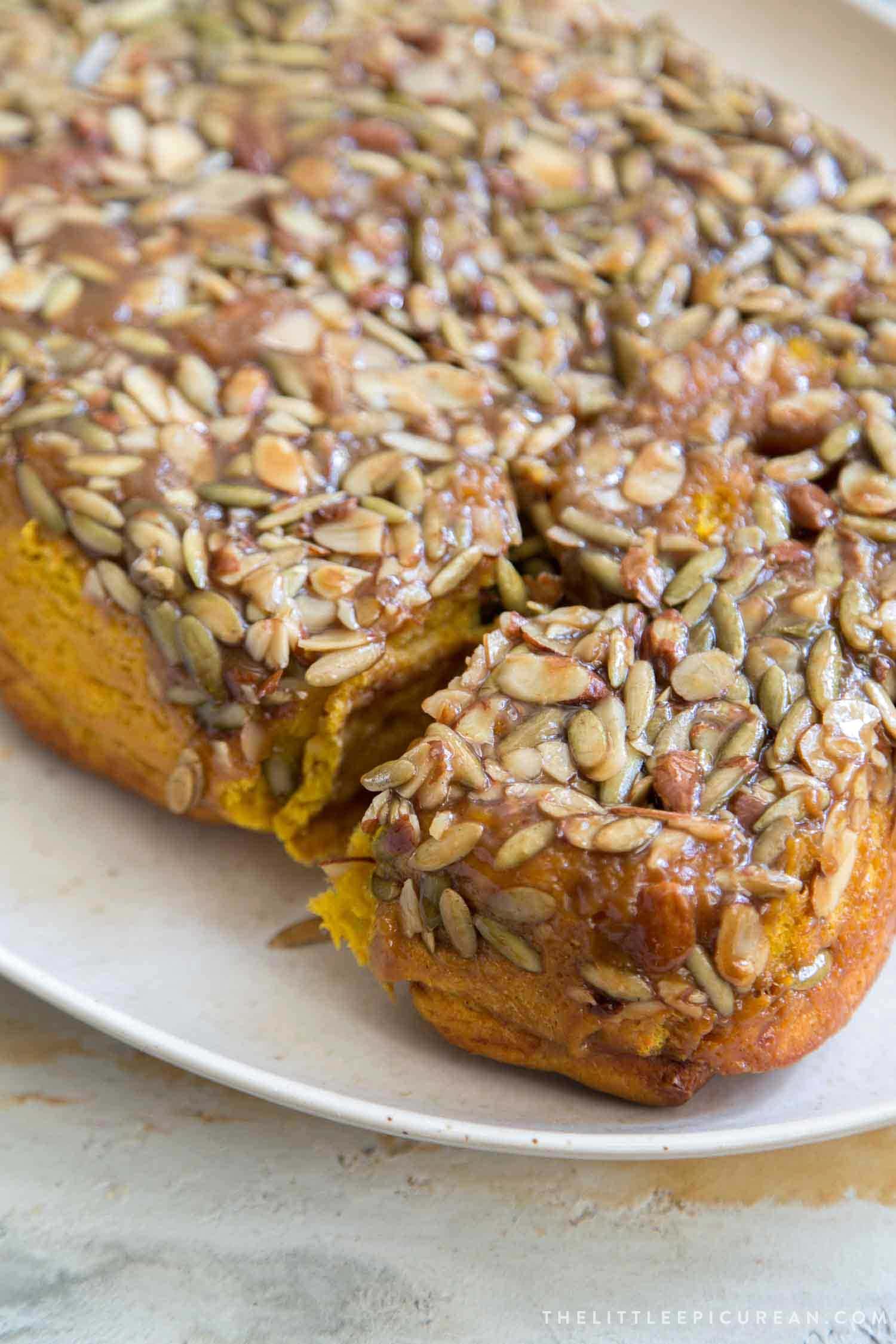 More Pumpkin Recipes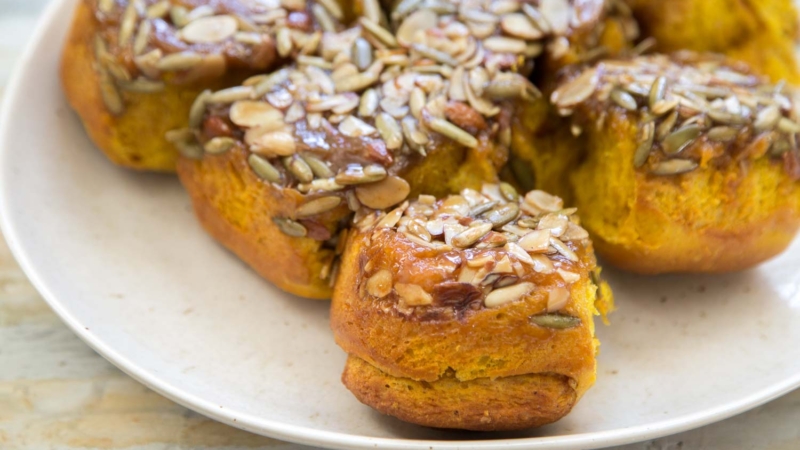 Pumpkin Sticky Buns
Pumpkin sticky buns made with a turmeric spiced pumpkin yeast dough and topped with caramel, pumpkin seeds, and sliced almonds.Yield: one dozen buns
Ingredients
Pumpkin Yeast Bread:
⅔

cup

warm water

, about 110°F

2 ¼

teaspoon

active dry yeast

1

teaspoon

granulated sugar

⅓

cup

light brown sugar

, packed

2

large eggs

½

cup

pumpkin puree

4 ½

cup

+ 2 Tablespoons all-purpose flour

1

teaspoon

fine sea salt

½

teaspoon

ground cinnamon

½

teaspoon

ground turmeric

7

Tablespoons

unsalted butter

, softened
Filling:
¼

cup

unsalted butter

, softened

2

Tablespoon

pumpkin puree

⅓

cup

granulated sugar

2

Tablespoon

light brown sugar

, packed

2

teaspoon

pumpkin pie spice mix
Caramel Topping:
¾

cup

pumpkin seeds

¾

cup

sliced almonds

1

cup

heavy cream

1

cup

light brown sugar

, packed

pinch fine sea salt
Instructions
DOUGH: Sprinkle yeast over warm water. Add teaspoon of sugar and stir to combine. Let sit for 5-7 minutes to allow mixture to bubble and activate.

In the bowl of a stand mixer, whisk together yeast mixture, brown sugar, eggs, and pumpkin puree. Add 2 cups of flour, salt, cinnamon, and turmeric to mixing bowl. Use the dough hook attachment to mix together. Add another cup of flour. Continue to knead on low speed until adding softened butter one tablespoon at a time. Add remaining flour and knead until dough is smooth and cleans the sides of the bowl.

Transfer dough to a lightly greased bowl. Cover with plastic wrap and let sit at room temperature for about an hour until dough has doubled in volume.

CARAMEL: In a medium sauce pot, combine cream and brown sugar. Stir to combine. Set over medium heat and bring to a boil. Once boiled, let simmer for 3-5 minutes. Remove from heat and add pinch of salt. Stir and let cool. Store in fridge until ready to use. Reheat as necessary.

FILLING: In a small bowl, mix together softened butter and pumpkin puree. In another small bowl, whisk together sugar, brown sugar, and pumpkin pie spice mix. Set aside until ready to assemble.

ASSEMBLY: Lightly grease a 9 x 12 inch baking dish. Sprinkle pumpkin seeds and sliced almonds over bottom of dish. Pour cooled caramel sauce into baking dish over seeds and nuts.

Punch dough risen dough. Transfer to a clean working surface. Roll dough into a 20 x 14-inch rectangle. Spread butter mixture over dough. Sprinkle spiced sugar mixture on top.


Starting at the long side, roll dough into a log. Slice log into 12 equal parts. Place rolls baking dish. Cover with plastic wrap and let rest for 30-45 minutes at room temperature to allow rolls to rise.

Preheat oven to 350 degrees F. Remove plastic wrap and bake rolls for 30-35 minutes until golden brown on top and the internal temperature of the rolls reach 185 degrees F. Let the rolls sit in the baking dish for 5 minutes before inverting into a serving dish. Serve warm with additional caramel sauce, if desired.
Notes
Make Ahead Option:
If you would like to make the sticky buns the night before, you can let them proof overnight in the fridge.
After placing the cut rolls in the baking pan, simply cover with plastic wrap and let chill in the fridge overnight.
Before baking, let it come to room temperature (about 30 to 45 minutes) and then bake according to normal instructions.
Storage & Leftovers:
Sticky buns are best enjoyed the same day they're baked.  
However, these can last up to 3 days at room temperature.  
Keep uneaten sticky buns tightly wrapped in plastic wrap.  Reheat in the microwave as necessary.