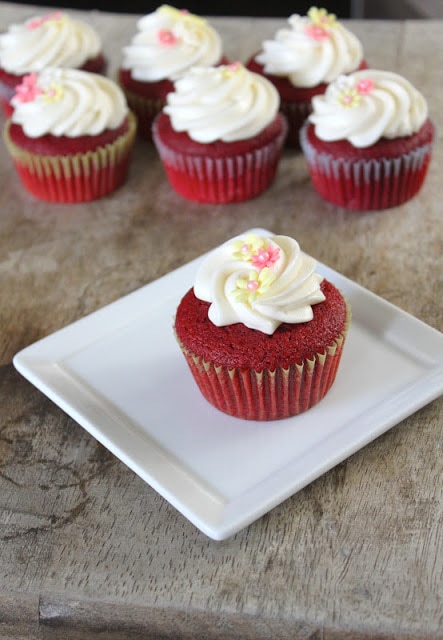 The famous red velvet cake. I'm still not sure whether to categorize it as a chocolate cake or a yellow cake flavored with a hint of cocoa.  Some people absolutely love it and others could care less about it.  I fall into the latter category but I'm always willing to try new recipes to change my mind.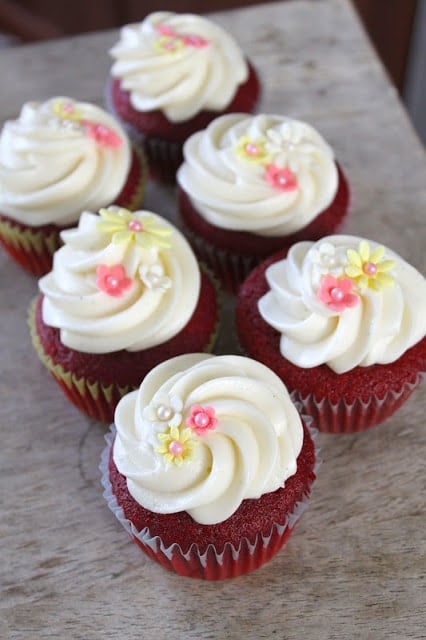 I found my mom this card that says: "Moms make the world a magical place…Laundry magically gets done, dinner magically appears, the house magically get cleaned up."
To celebrate my mom and all the wonderful other mothers out there, make a batch of these red velvet cupcakes!
Happy Mother's Day!
Red Velvet Cupcakes
makes 1 dozen
Ingredients


1 1/4 cup all-purpose flour
1/2 tsp baking soda
3/4 tsp fine sea salt
1 Tbsp unsweetened cocoa powder
3/4 cup granulated sugar
3/4 cup canola/vegetable oil
1 large egg, room temperature
1/2 cup low fat buttermilk, room temperature
1/2 Tbsp red food coloring
1/2 tsp vanilla paste
1/2 tsp distilled white vinegar
Method


1.  Preheat oven to 350 degrees F.  Line muffin pan with cupcake liners.  Set aside.
2.  Sift together flour, baking soda, salt, and cocoa powder.  Set aside.
3.  In the bowl of a stand mixer, beat together sugar and vegetable oil.  Add egg.  Mix until combined.
4.  In medium bowl, whisk together buttermilk, red coloring, vanilla, and vinegar.  Add half to mixing bowl.  Mix and then add half of sifted dry mixture into bowl.  Mix until almost combined.  Then add remaining wet ingredients followed by remaining dry mixture.  Mix until just combined.
5.  Divide batter among prepared cupcake liners.  Bake for 18-20 minutes until toothpick inserted in center of cupcake comes out clean.  Let cool in pan for 5 minutes before removing and allowing to cool completely on rack.
Vanilla Bean Cream Cheese Frosting

Ingredients


8 oz cream cheese, room temperature
1/2 cup unsalted butter, room temperature
1 vanilla bean, split and scraped
3 cups confectioners' sugar, sifted
Method


1.  In the bowl of a stand mixer with a paddle attachment, cream together cream cheese and butter.  Add vanilla bean scrapings.  Add sugar in 1 cup increments.  Mix until smooth and fluffy.
** Flower decorations are made out of a mixture of 60% gum paste/40% fondant mixture and pink sugar pearls.