Instead of whipped cream, this strawberry shortcake is filled with vanilla ice cream.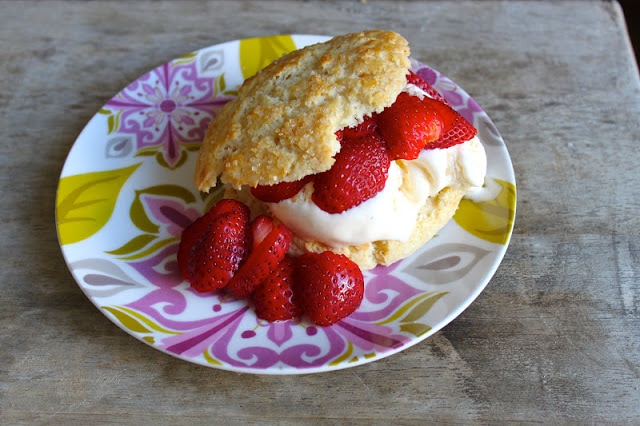 There are so many variations on strawberry shortcake. Some are more biscuit-like, others more cake-like, and even those that are more cookie-like.
Which one is correct? Is it supposed to be more like a biscuit, a cake, or somewhere in between?  Does it fall into its own category?  I tried looking it up on wikipedia but that was no help.
While I was studying abroad in Japan, strawberry shortcakes were made with light fluffy cakes and lots of airy whipped cream.
At the California Strawberry Festival I attended in Oxnard last weekend, the dessert consisted of pound cake and mounds of reddi-whip cream.
I've also seen them made with biscuits, corn muffins, and angel food cake at bakeries and restaurants.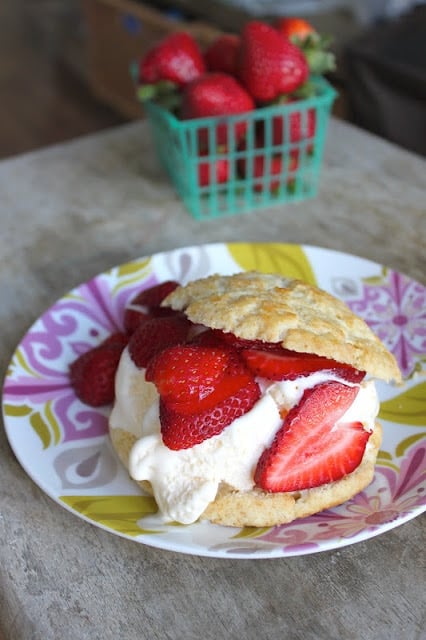 My first introduction to this famous dessert comes from the strawberry shortcake ice cream bar made by Good Humor.  When I was a kid, they were only available from the ice cream trucks that circled my neighborhood in the summer.  Now you can buy them at supermarkets anytime of the year.
Strawberry shortcake seems to be less of a precise recipe and more of a concept.  I think as long as it includes strawberries and cream in some sort of edible vessel, it can be called a strawberry shortcake.
This is my quick and easy version.  While I'm a fan of whipped cream, I am a devout devotee of vanilla ice cream.  My shortcake looks like a flat biscuit but resembles a cake in texture.
I used super ripe strawberries in order to omit adding extra sugar to the fruit.  I assembled the dessert while the shortcake was still warm.
Nothing beats the amazing contrast of temperatures when you eat the warm shortcake with the cold ice cream.  This a refreshing and simple dessert perfect for warm weathered nights.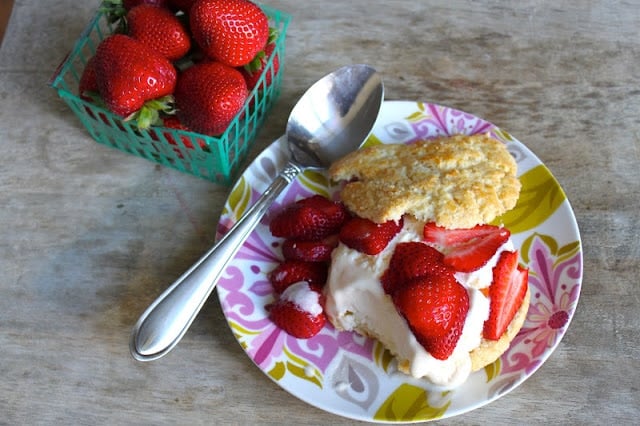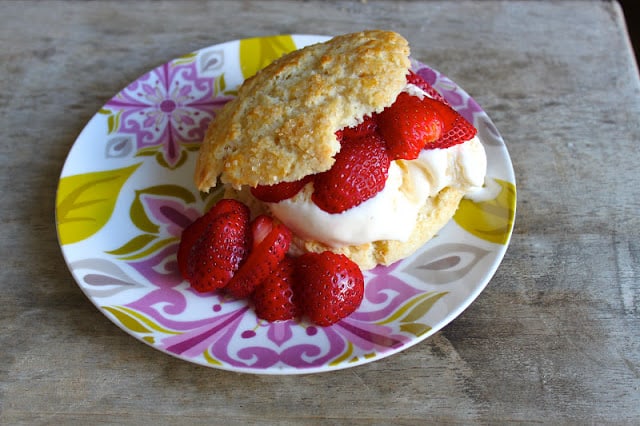 Strawberry Shortcake
Ingredients
1 1/2

cup

all-purpose flour

1/3

cup

granulated sugar

1

Tablespoon

baking powder

1

teaspoon

fine sea salt

1/2

cup

unsalted butter, cold, cut into small pieces

3/4

cup

buttermilk

1

teaspoon

vanilla extract

turbinado sugar, as needed

10

oz

strawberries, hulled and sliced

vanilla ice cream
Instructions
Preheat oven to 400 degrees F.

In a medium bowl, whisk together flour, sugar, baking powder and salt. Cut in butter with a pastry blender (knifes, forks, or with your fingers) until mixture looks like coarse sand.

Fold in buttermilk and vanilla extract until just combined. Turn dough out onto a lightly floured surface and pat into a rectangle about 6 by 4 inches. Cut the dough into 6 equal squares.

Transfer to a parchment lined baking sheet. Brush tops with buttermilk and sprinkle with turbinado sugar. Bake for 15-18 minutes until puffed and golden. Let cool slightly on wire rack.

If strawberries are not sweet or ripe enough, toss in some sugar. Cover and chill until ready to assemble.

Split the shortcakes in half horizontally. Scoop some ice cream onto the bottom half followed by some strawberries, then top with other shortcake half.