Arugula can be used beyond salads. Toss your favorite pasta in arugula pesto for a quick and easy meal!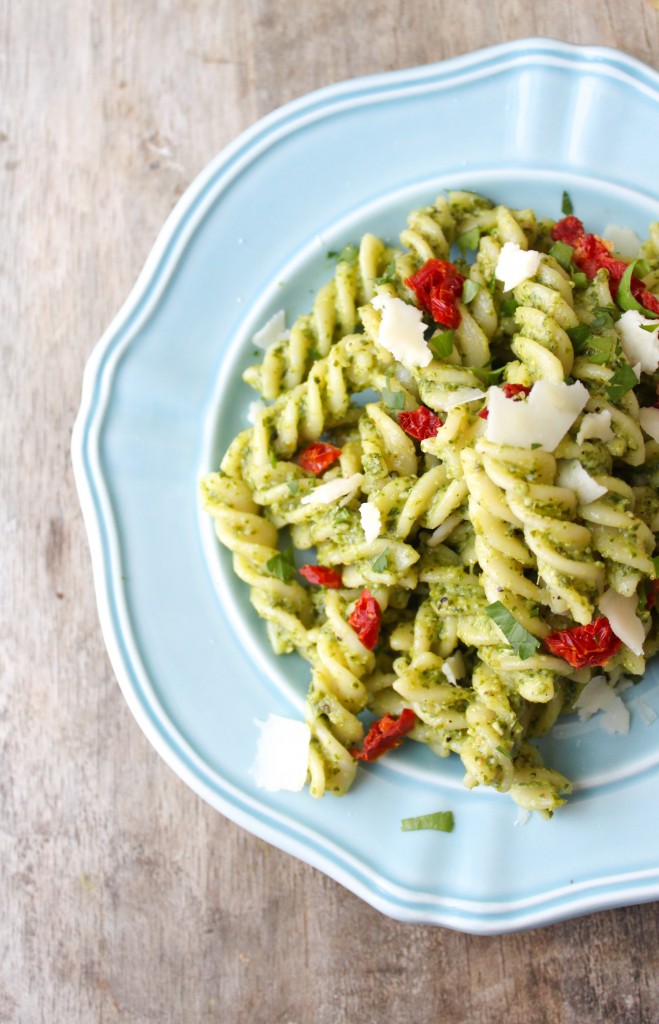 Have you ever bought a pair of jeans that was just a little too snug, but you tell yourself that you'll lose a couple of pounds and definitely fit into those jeans?  Yeah, I'm like that; except instead of jeans, I keep buying salad mixes.
I buy vegetables and greens in hopes that I'll eat healthier and cut down on my usual sugar filled diet.  But who am I kidding?  Am I really going to make myself a salad?  No, not today.  Today I have decided to pulverize my arugula into a nice, refreshing pesto.
Don't get me wrong.  I love vegetables.  I haven't met a vegetable I didn't like (this includes bitter melon), however salads are a completely different story.  I will occasionally order salads at restaurants, but for some reason I just have the hardest time making it at home.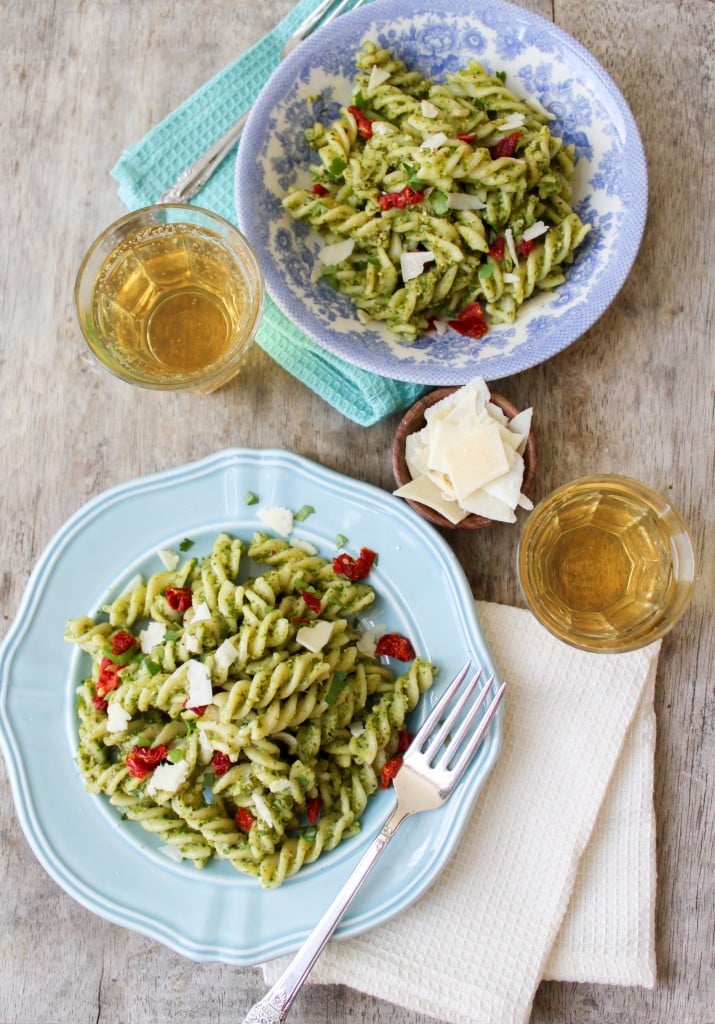 Every time I opened the fridge last week, the arugula stared at me.  I was hoping that the boyfriend would want to order in pizza so I could top it off with the greens.  It didn't happen.  Time was ticking and I had to find a way to use up the darn arugula.
Chocolate is normally the answer to any problem.  But in this case, pasta saved the day.
While the assertive and acidic pesto would have worked wonderfully with grilled shrimp or fresh burrata and tomatoes, I went the simple route with pasta.  I used fusilli because the little twists of the pasta has lots of crevices to catch the delicious sauce.  I also use fusilli for my mac-n-cheese instead of the usual elbow pasta for the same reason.
This arugula pesto is quite versatile.  You can blend it with mayo to make a sandwich spread, use it as a base for pizza, or use it as a filling for dinner rolls.  This pesto can also be made vegan by omitting the cheese and loading up on black pepper for more taste.
Now that I've found this pesto, there's no way arugula will ever be left sitting my fridge.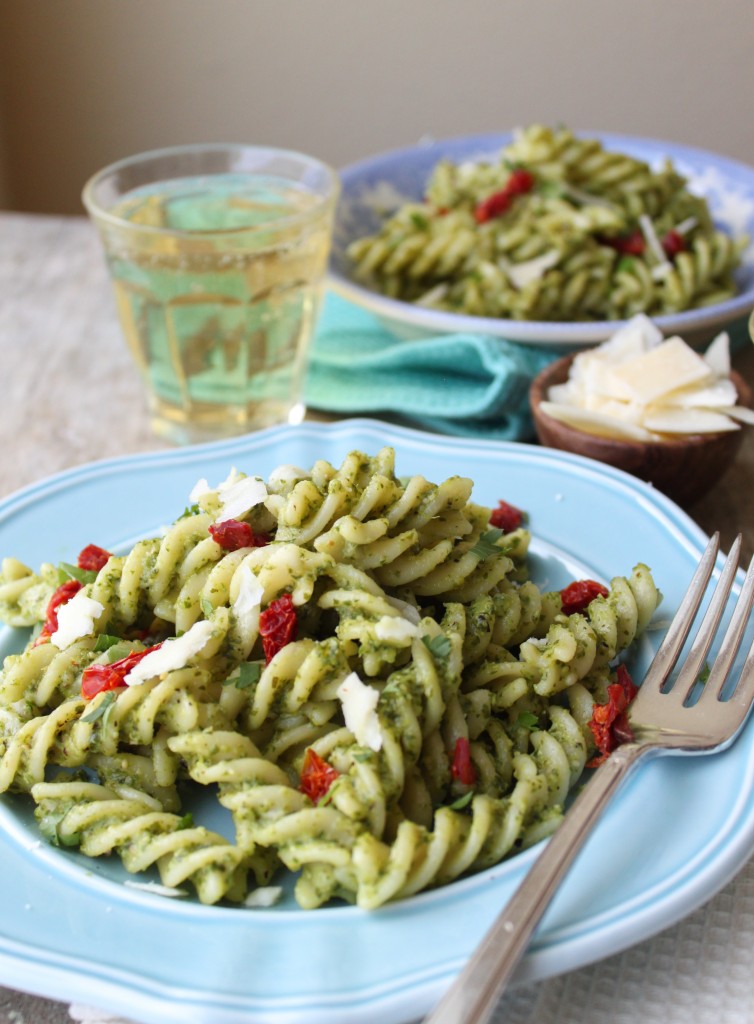 Fusilli with Arugula Pesto and Sun Dried Tomatoes
Yield: serves 6
Ingredients
Arugula Pesto:
3

garlic cloves, peeled

1/2

cup

pine nuts, lightly toasted

4

cups

arugula, packed

5

Tablespoons

extra virgin olive oil

juice from 1 lemon

freshly ground black pepper, to taste

kosher salt, to taste
Remaining components:
16

oz

dry fusilli pasta

1

cup

reserved pasta cooking water

6

Tablespoons

grated parmesan cheese

handful of sun-dried tomatoes, coarsely chopped

shaved pecorino romano cheese, to garnish
Instructions
Fill a large pot with water. Salt to taste. Bring to a boil.

In a food processor, mince garlic. Add toasted pine nuts and 1 cup of arugula. Pulse machine until arugula has broken down. Continue to add arugula in batches until finely minced.

With the food processor running, add the olive oil in a steady, slow stream. Scrape down bowl as needed to ensure even mixture. Add lemon juice. Season with salt and pepper. Continue to process until mixture is smooth

Cook fusilli in the boiling salted water according to package directions. Before draining pasta, reserve 1 cup of pasta water.

In a large saute pan, toss the cooked pasta with arugula pesto. Add grated parmesan cheese. Add enough of the reserved pasta water to thin out pesto into a nice cream sauce. Toss until combined. Season with black pepper, to taste. Divide pasta into servings. Top with chopped sun-dried tomatoes and shaved pecorino romano cheese.