This mushroom kale pesto pizza can be made using all store-bought ingredients from Trader Joe's!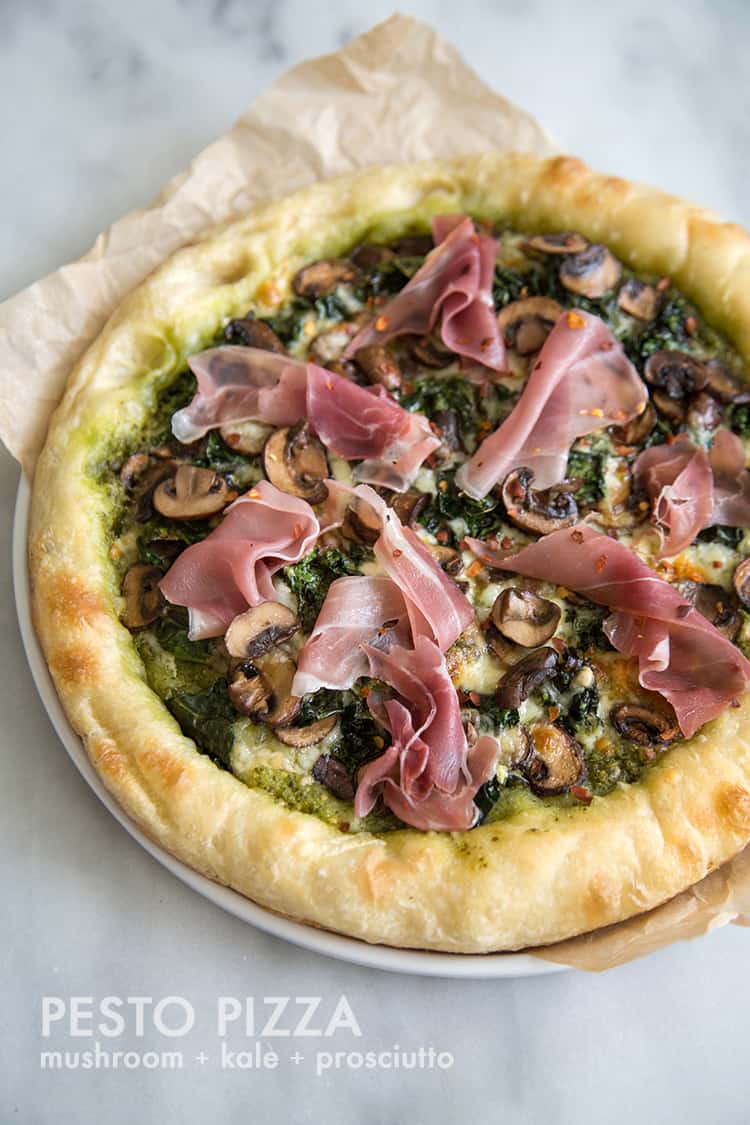 You really can't go wrong with pizza. No matter what time of day, regardless of the season, whether it's a scorching 100 degrees or there's a chilly blizzard, pizza is a good idea.
It's the pizza I wish I knew how to make during my college years. It's a pizza made entirely out of ingredients from Trader Joe's!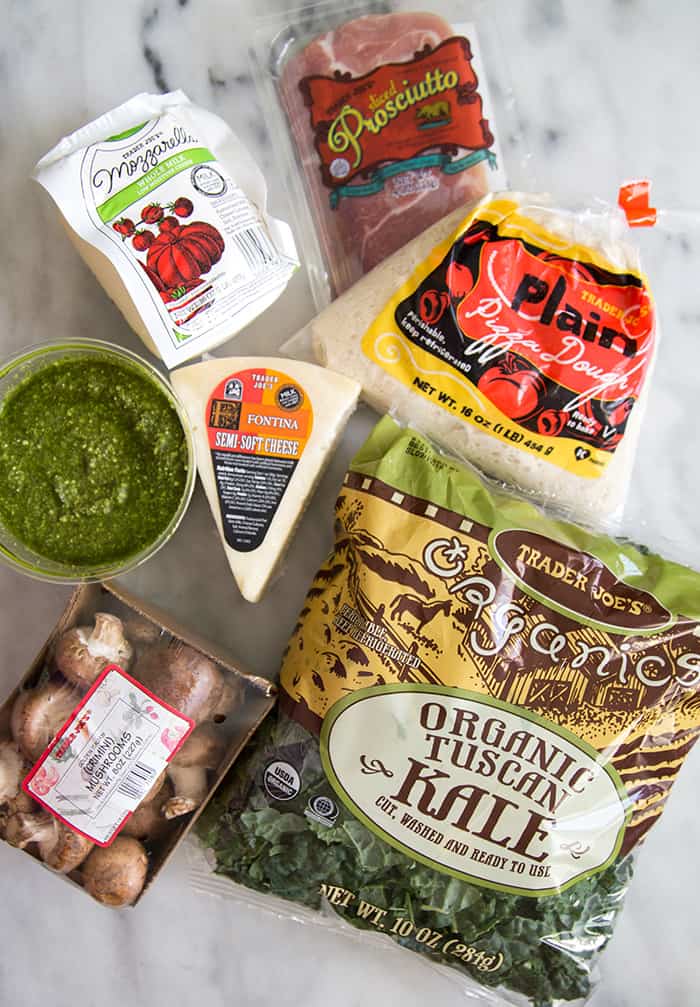 Semi-Homemade Pizza
My love for Trader Joe's knows no bounds. I've been shopping there for as long as I can remember. During elementary school, my mom had to lure me with promises of stickers or coloring pages.
Nowadays, I look forward to my weekly TJ's trip anticipating what new products I'd find.
[Note: Everything photographed above, with the except of the pesto (I happen to have homemade pesto in the fridge), is from Trader Joe's.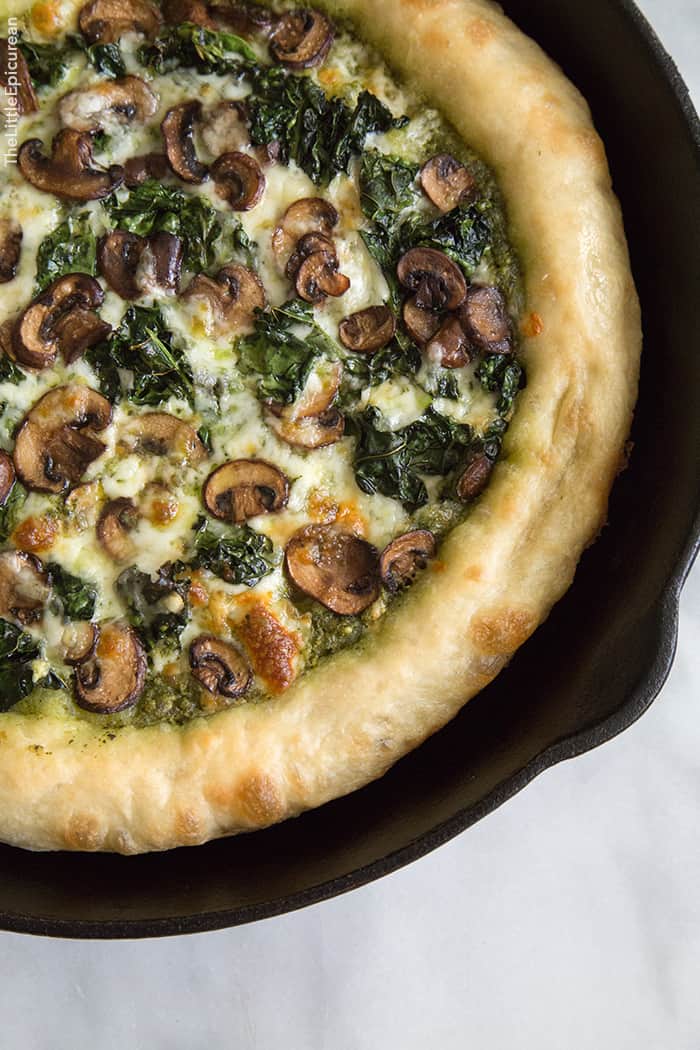 I talked all about how great it is to use cast iron skillets when cooking pizza when I made this ricotta and squash blossom pizza. You get the most amazing crispy crust. The dough cooks up like focaccia bread.
You could totally stop here and eat the pizza as is. It's a deliciously savory vegetarian pizza. Or…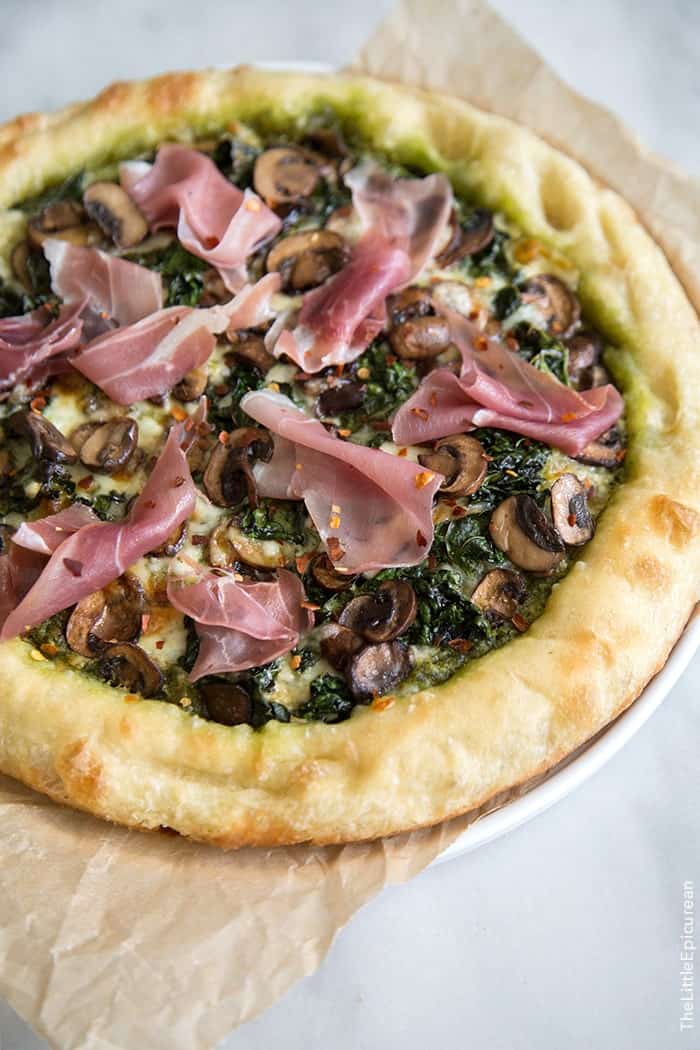 You could add some sliced prosciutto and make it absolutely fabulous.
Pop open a bottle of wine, call over some friends, and bake off a couple of these mushroom kale pesto pizzas…and you've got yourself the kind of party I'd happily attend.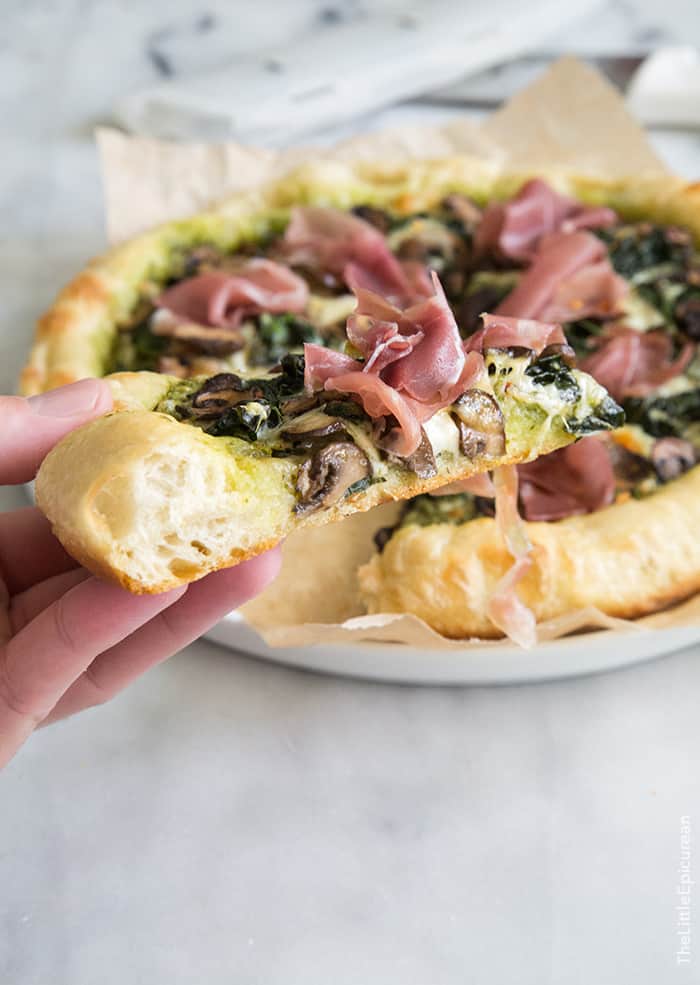 Best part about cooking this pesto pizza in a cast iron is being able to lift the pizza and eat it without a plate. Less dishes to wash is always a plus.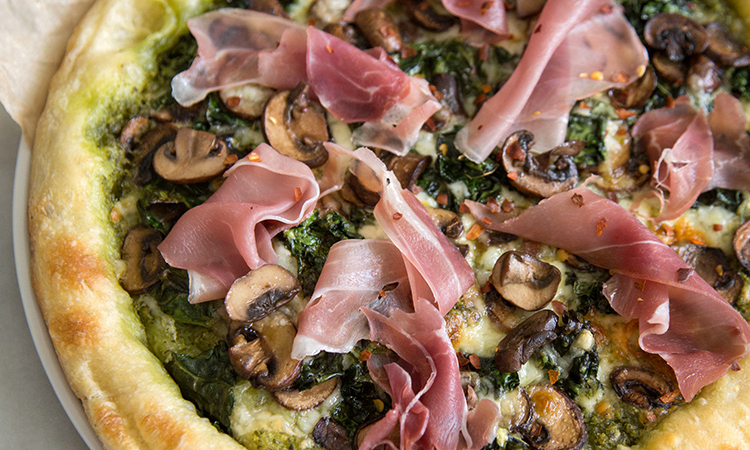 Mushroom Kale Pesto Pizza
Ingredients
1

pound

pizza dough, homemade or

store-bought

2 1/2

Tablespoon

olive oil

6

oz

cremini mushrooms,

cleaned and sliced

1

Tablespoon

reduced sodium soy sauce

2

handfuls

torn kale leaves,

stems removed

2-3

Tablespoon

pesto sauce, homemade or

store-bought

1/4

cup

shredded fontina cheese

1/4

cup

shredded mozzarella cheese

sliced proscuitto,

as needed
Instructions
If using store bought pizza dough, allow to come to room temperature.

Heat 1 tablespoon olive oil in skillet over medium heat. Add sliced mushrooms. Stir to coat mushrooms in oil. Cook for 2-3 minutes until mushrooms start to release moisture. Add 1 tablespoon soy sauce and continue to cook until all liquid is absorbed and mushrooms are soft. Stir frequently. Season with back pepper, if desired. Transfer mushrooms to clean bowl and set aside until ready to use.


Heat 1/2 tablespoon olive oil in skillet. Add torn kale leaves. Toss to coat kale in oil. Sauté kale for about 90 seconds, just until kale begins to wilt. Remove from heat and set aside until ready to use.


Preheat oven to 475 degrees F.


Spread remaining 1 tablespoon olive in a 12-inch cast iron skillet. Place room temperature pizza dough in oiled skillet. Using your hands, gently push and pull dough to fit skillet.


Spread 2-3 tablespoons of pesto on pizza dough, leaving about 1/2-inch border around the perimeter of pizza. Sprinkle mozzarella and fontina over pesto. Arrange cooked mushrooms and kale over cheese.


Transfer skillet to stove and set over medium-high heat. Warm up the skillet. Cook the pizza for about 3 minutes until the bottom of the crust has set and the oil is bubbling along the outer rim of the pizza.


Transfer hot skillet into preheated oven. Bake for 7-10 minutes until the cheese has melted.


Remove from the oven and let sit for 2-4 minutes before unmolding pizza. Add sliced prosciutto. Place pizza on cutting board and use a sharp knife or pizza wheel to cut into slices.

More Dinner Recipes with Pesto