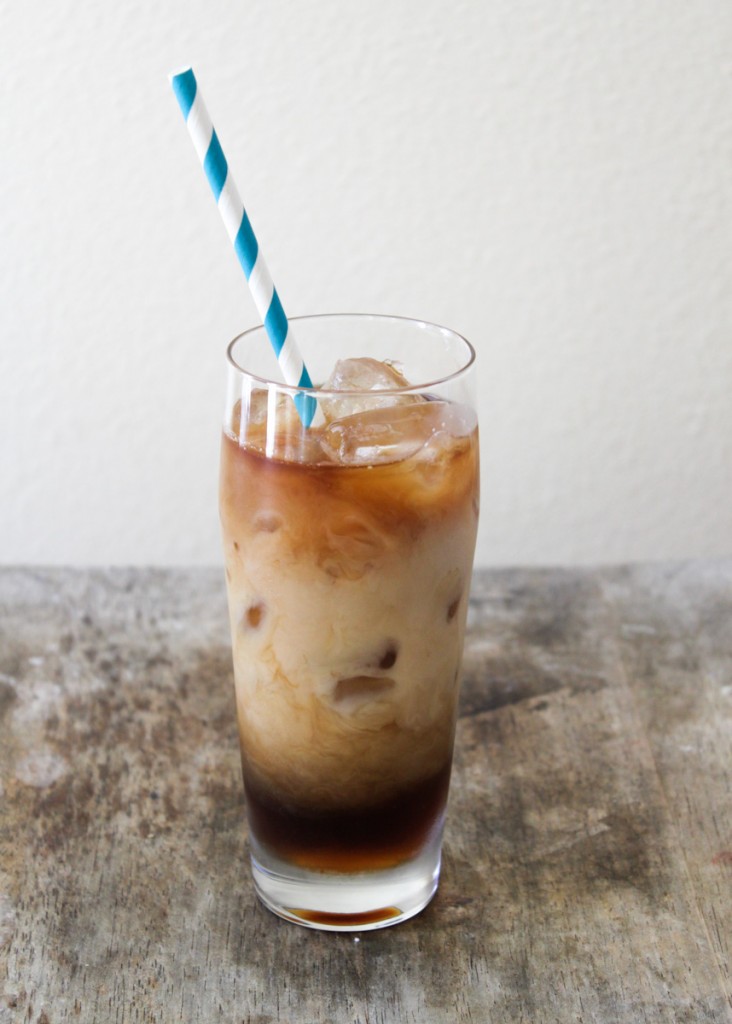 I drink coffee like its water.  I'm not a morning coffee drinker.  I am very much a morning person and I don't need coffee to wake up.  I am a mid-afternoon, if I don't get caffeine in my system I'm going to take a nap, coffee drinker.
I vary between espresso, coffee and tea.  But during this awful hot week, I am drinking plenty of iced coffee and staying in air conditioned rooms.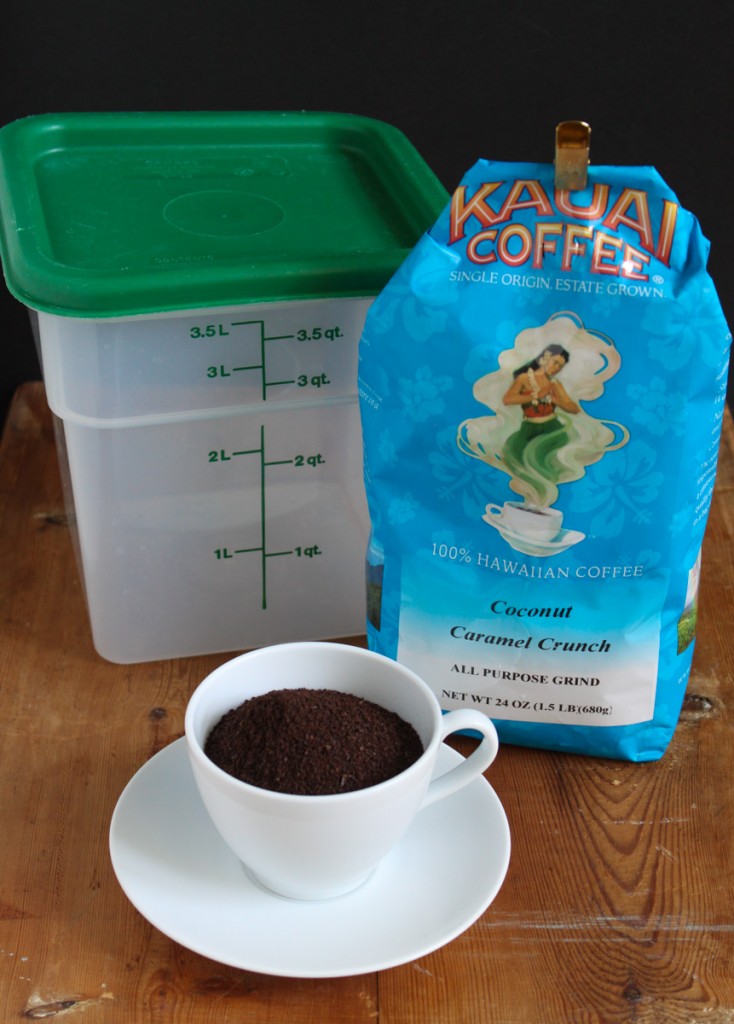 Luckily I have plenty of delicious coffee grounds thanks to my boyfriend's mom.  (Thanks, Mrs.B!)  She brought us back this coconut caramel crunch infused ground coffee from her Kauai trip earlier this summer.  This stuff smells like a freshly baked dessert of some sort.  I'm usually not a fan of flavored coffees, but this one won me over.  It doesn't need much sweetener and tastes like a vacation.
Overnight Cold Brewed Coffee
Ingredients
3 quarts (12 cups) cold filtered water
1 1/2 cups coffee grounds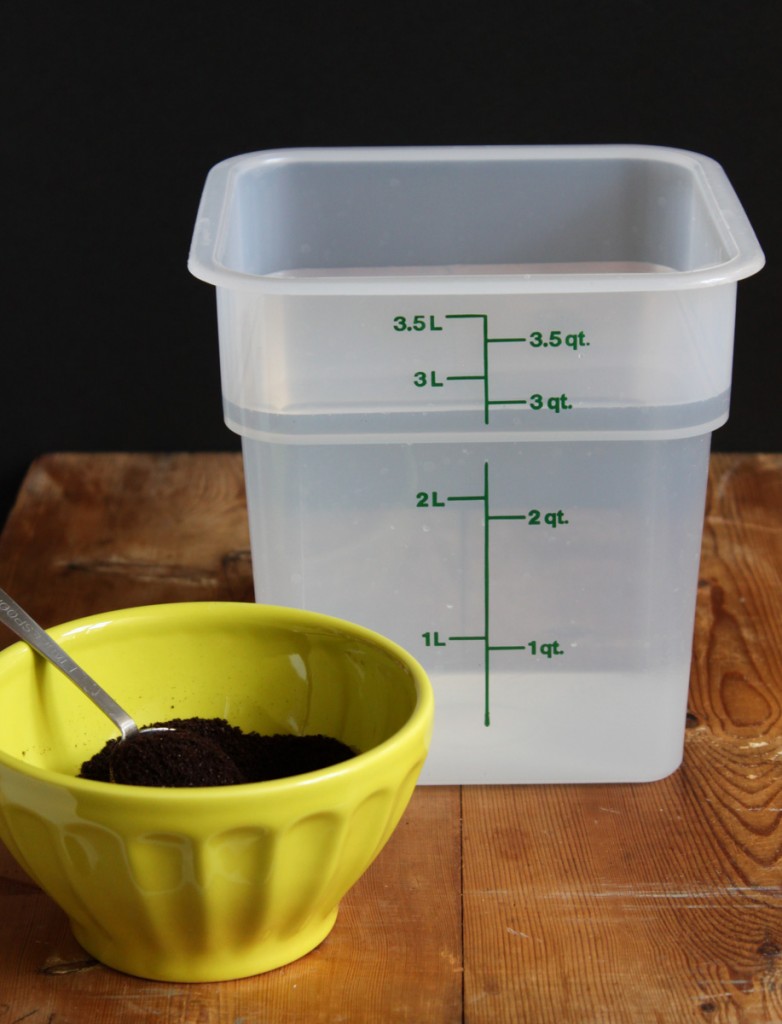 Any kind of coffee beans will work in this recipe.  Freshly ground coffee beans, ground coffee beans from the store, or flavored coffee grounds like the one I'm using.
Pour three quarts (12 cups) of cold filtered water in a large container.  (These 4 quart Cambro containers are my favorite.  I use them for coffee making as well as flour and sugar storage.)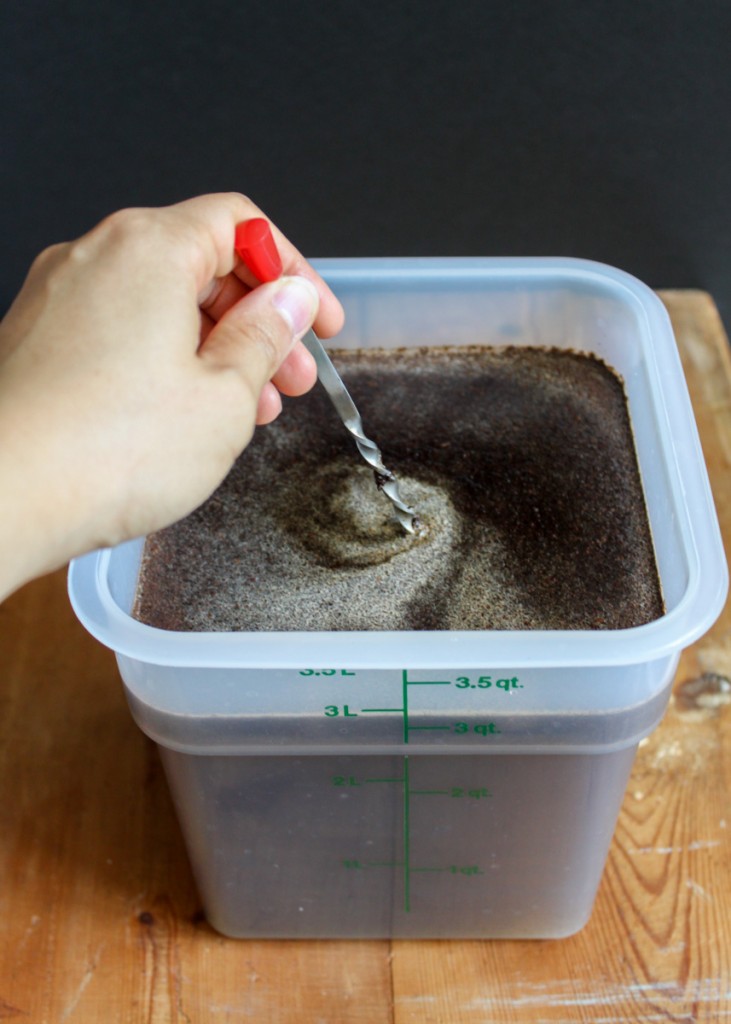 Warm up ground coffee in the microwave for 15-30 seconds to get the oils warmed up and the flavors to release.  Add 1 1/2 cups of ground coffee beans to water.  Stir to combine coffee grounds.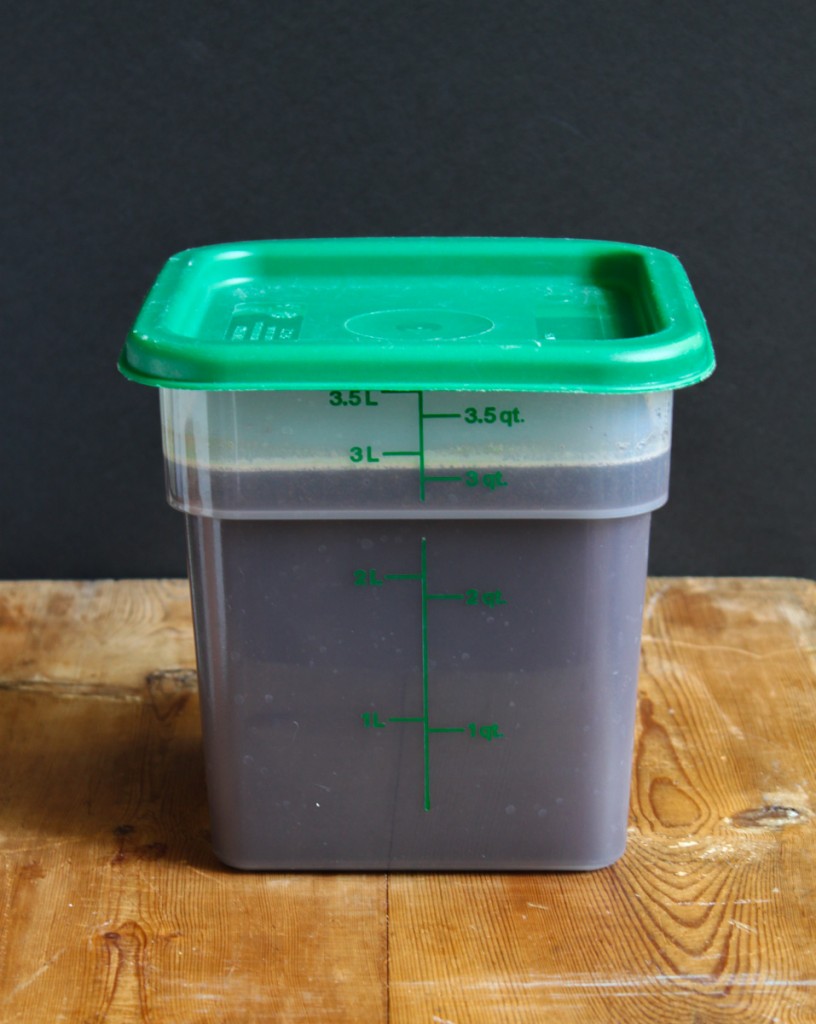 Cover container.  Let steep at room temperature for at least 12 hours and up to 24 hours.
Line strainer with coffee filters and place over large container.  I used three coffee filters to line my strainer.  I am really picky about coffee grounds in my drink, so sometimes I like to double the filters just to be safe.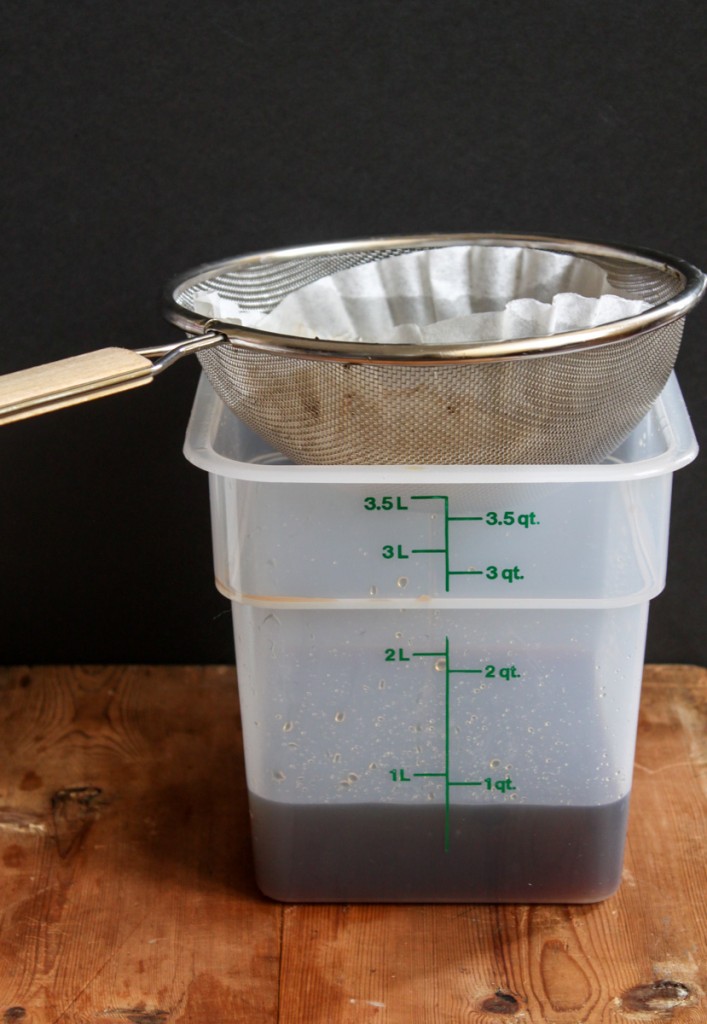 Slowly pour coffee into prepared strainer-filter.  The coffee will pass at a slow stream.  If desired, change coffee filters as necessary.  Discard coffee grounds. Transfer cold brewed coffee to a pitcher and keep chilled in the fridge until ready to use.   This coffee is a little concentrated, so I don't suggest just drinking it pure.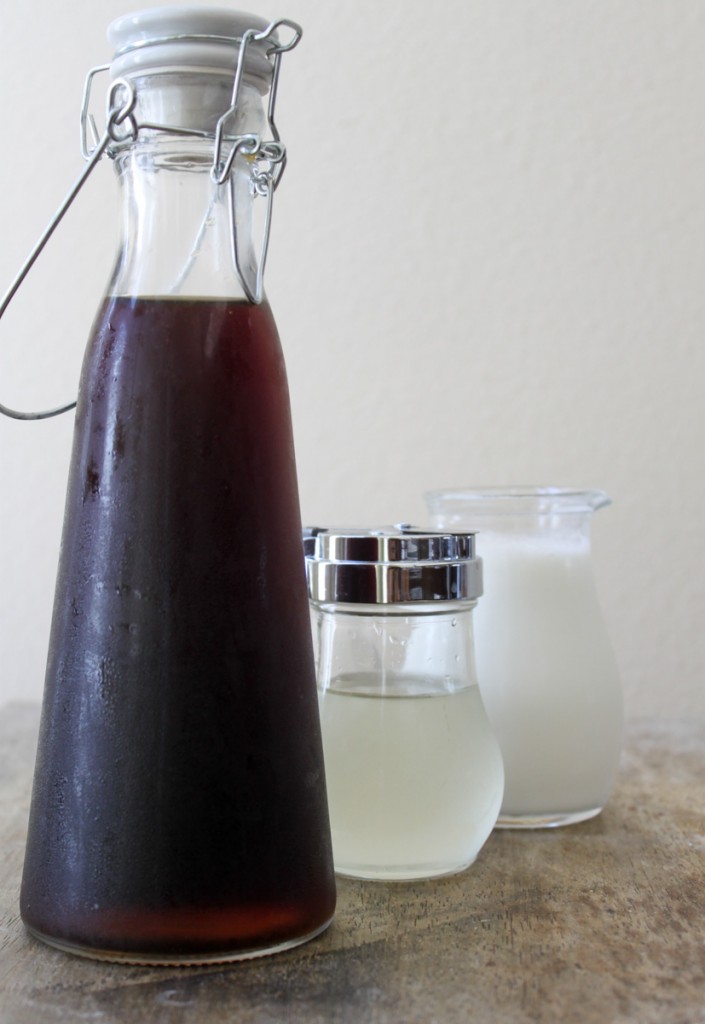 Iced Coffee Components
overnight cold brewed coffee
simple syrup (1 part water + 1 part sugar. bring to a boil and cook until sugar dissolves.  cool to room temperature.  keep chilled in fridge.)
milk, cream, half-and-half, or water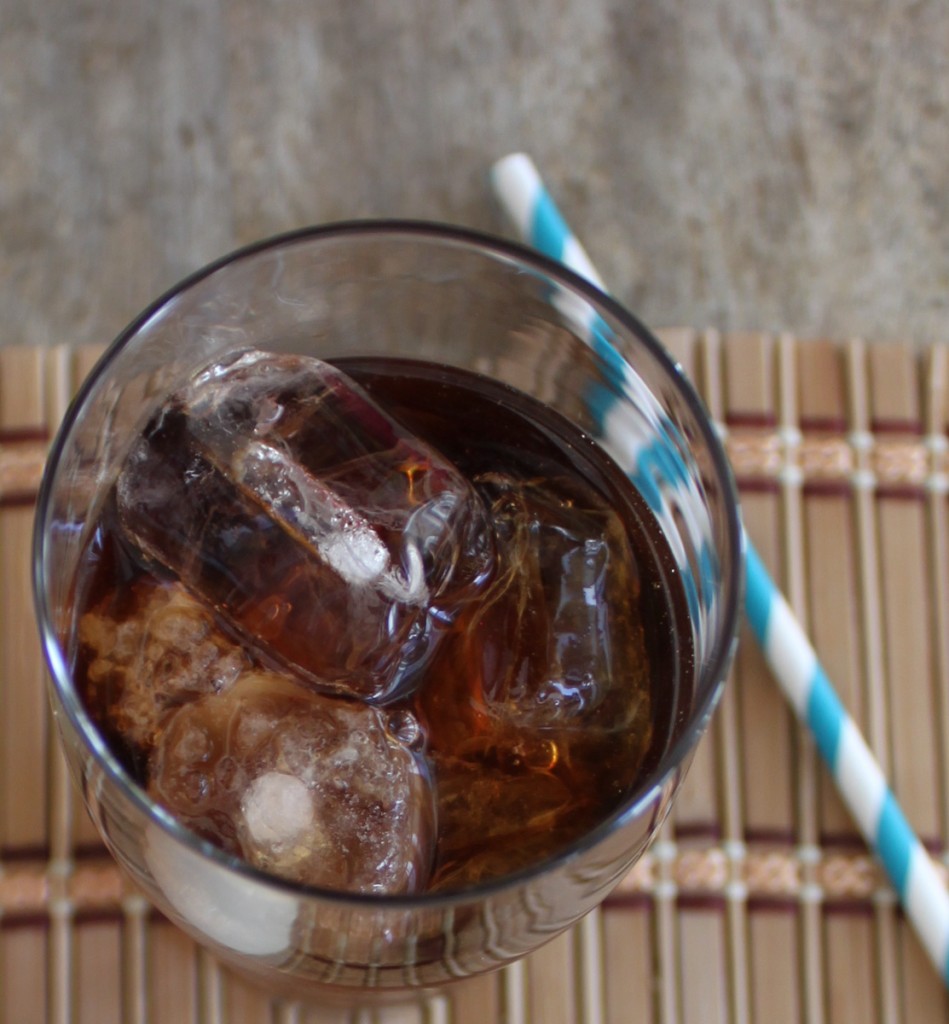 To serve, fill a tall glass with ice.  Pour in chilled coffee.  I prefer my iced coffee black with a splash of simple syrup.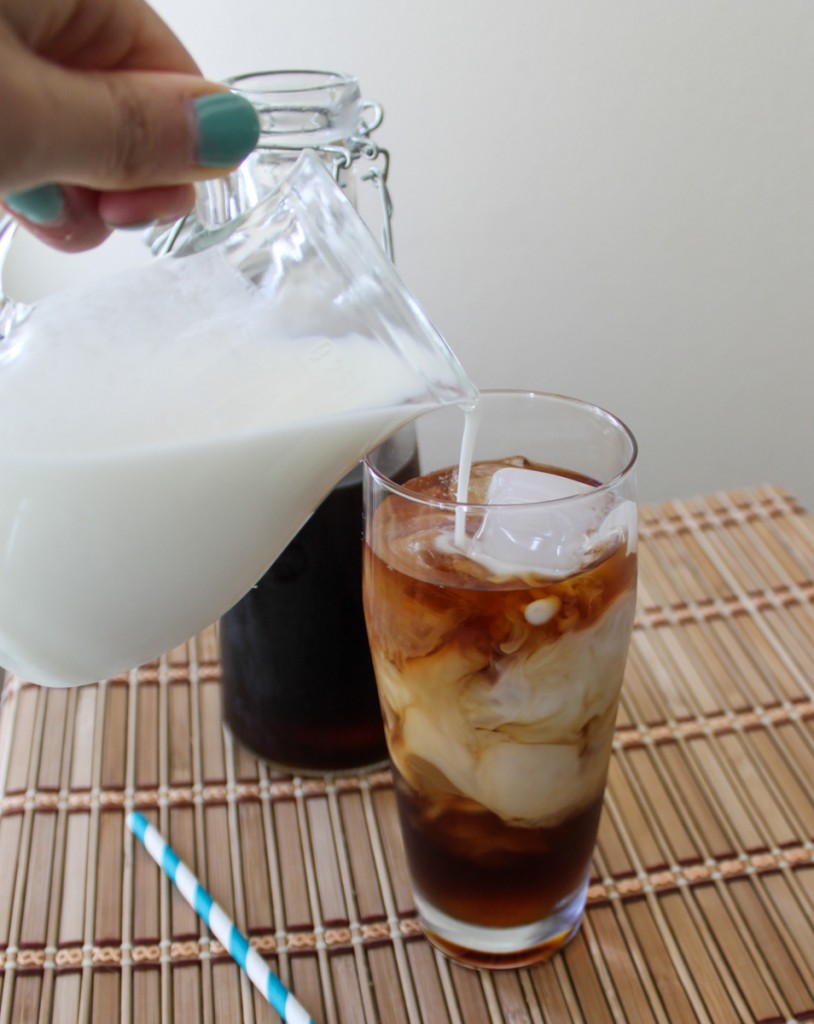 However, if this is too strong for you, dilute the coffee with a little milk and add simple simple according to your preferences.
Voilà.  Iced coffee at home!  (Think of all the money you could save by not going to a coffee shop!) Cheers!