Make chocolate dipped frozen banana like the ones you enjoy at county fairs, amusement parks, and theme parks!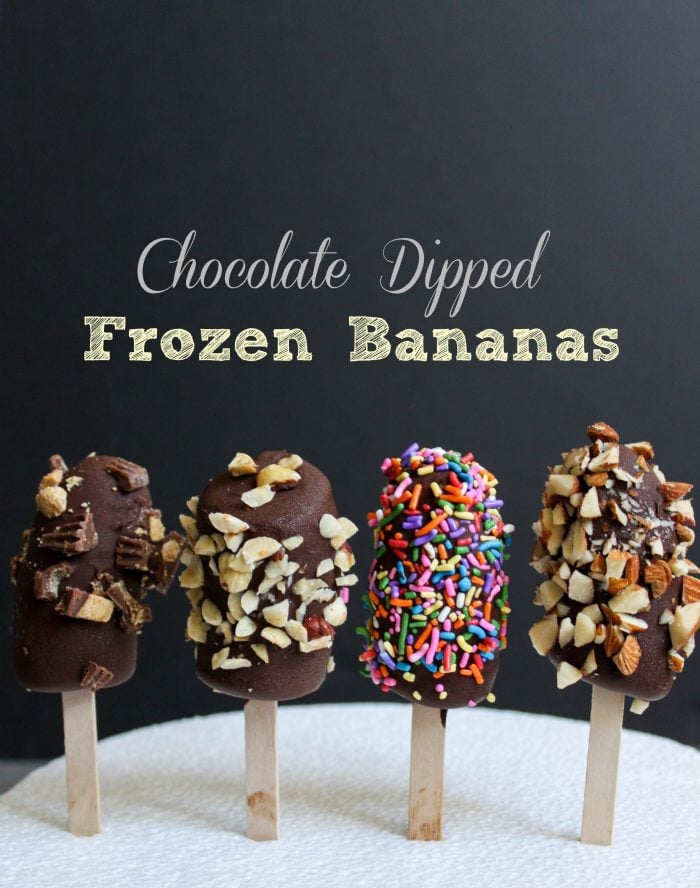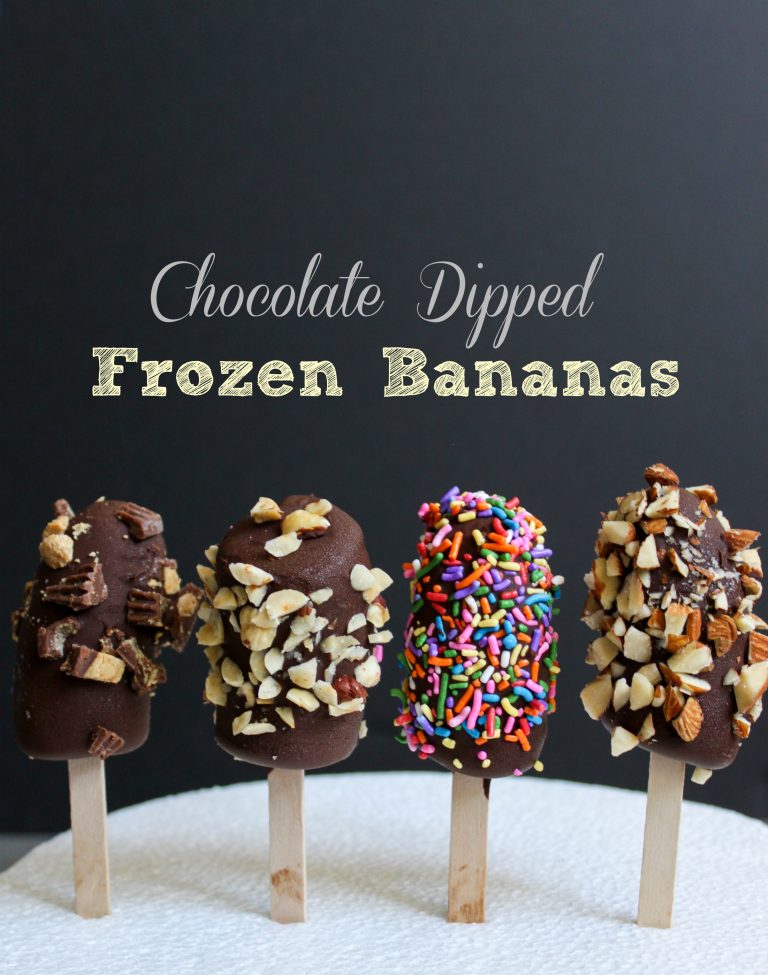 Homemade Chocolate Frozen Bananas
I cannot visit Disneyland without getting a chocolate dipped frozen banana. I LOVE frozen bananas.
As soon as I enter the park, I wait in line to buy my chocolate dipped, peanut sprinkled frozen banana. It doesn't matter what time of the day it is, or whether its cold outside.  I need my treat in hand as I walk down Main Street.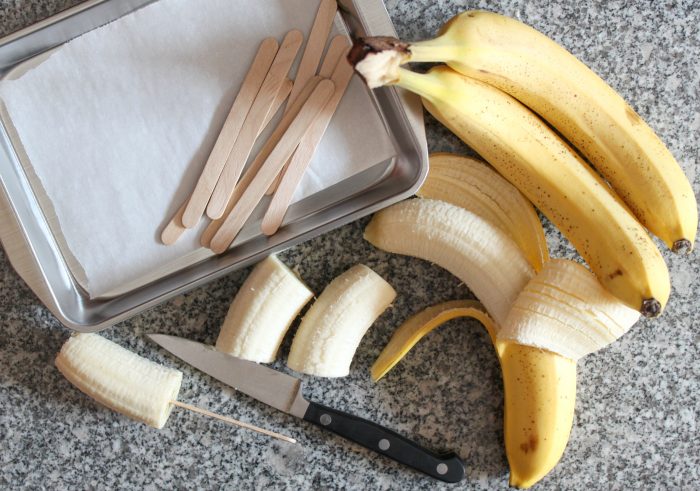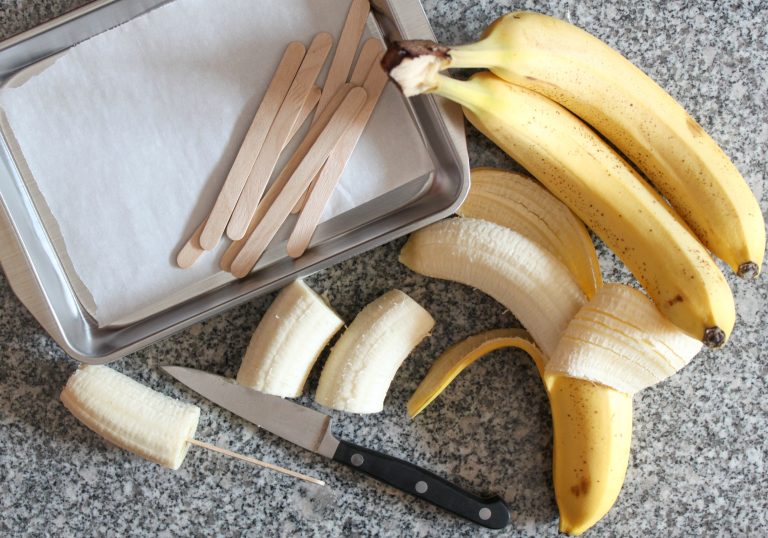 How to Freeze Bananas
Line baking sheet tray with parchment paper or wax paper.
Slice ripe bananas into thirds. This will make the mini frozen bananas shown in this post. Otherwise, keep the bananas whole or slice in half, depending on your desired portion.
Insert wooden stick halfway into one end of the sliced banana. Alternatives to wooden sticks include: bamboo sticks, silicone sticks, or plastic sticks.
Place assembled bananas on prepared baking sheet. Cover with plastic wrap and place in the freezer until bananas are frozen, about 1 hour.
Secret to Melted Dipping Chocolate:
I'm gonna let you in a on a little culinary secret.  A secret that will make dipping frozen bananas in melted chocolate a breeze!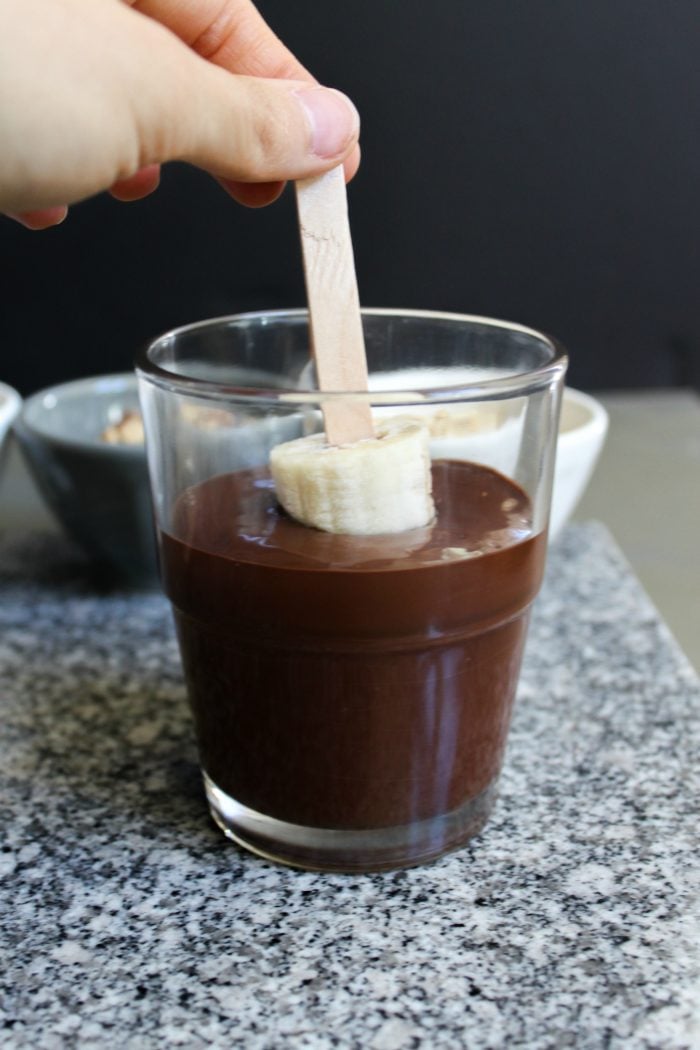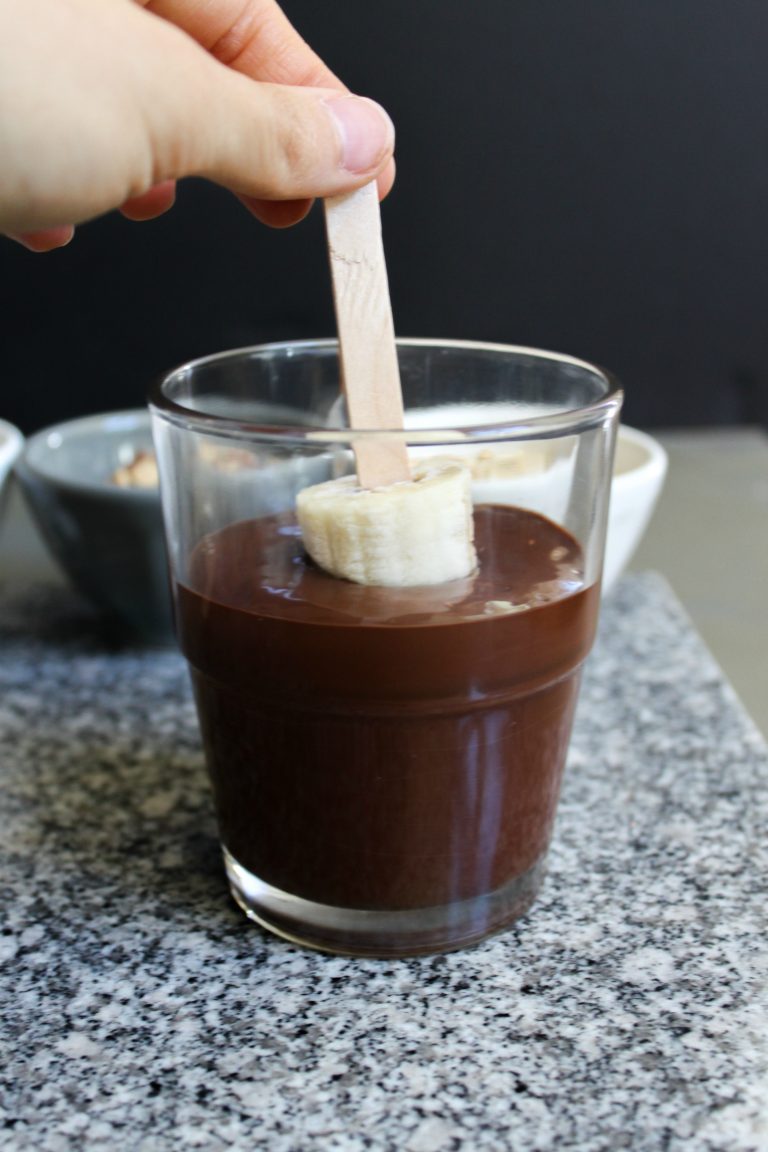 Place your melted chocolate in short drinking glass, a glass deep enough for your frozen banana.  Dip the frozen banana in and you get a nice, even, and smooth coating.
There are two types of dipping chocolate. For a thick chocolate shell, simply melt chocolate.
If you want a thinner chocolate shell, use chocolate magic shell. The magic shell chocolate is featured in the recipe for these almond mocha ice cream bars.
The magic shell is a mixture of melted chocolate and coconut oil. This creates a silky, luscious chocolate sauce that instantly hardens and solidifies when introduced to to the frozen banana.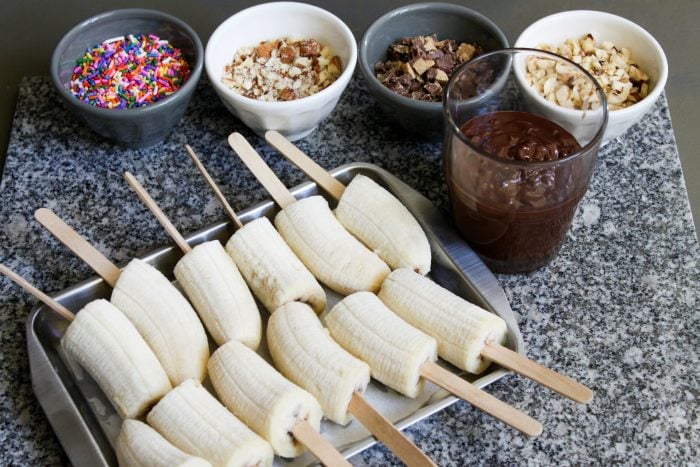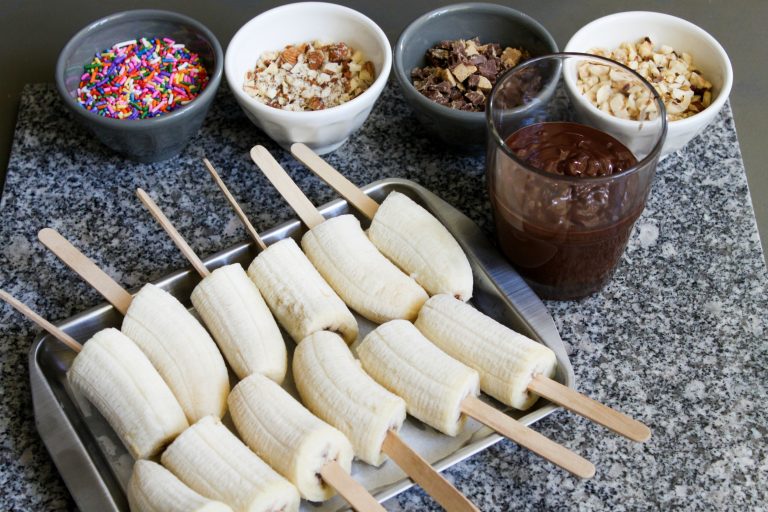 Set up a frozen banana station
Have you frozen bananas and melted dipping chocolate ready. Set up little bowls with your desired toppings.
There are so many different choices for toppings. Some options include:
Chopped nuts (hazelnuts, walnuts, almonds, etc)
Chopped chocolate candies (Reese's peanut butter cups, Crunch bars, Milky Ways, etc)
Toasted shredded coconut
Freeze dried fruits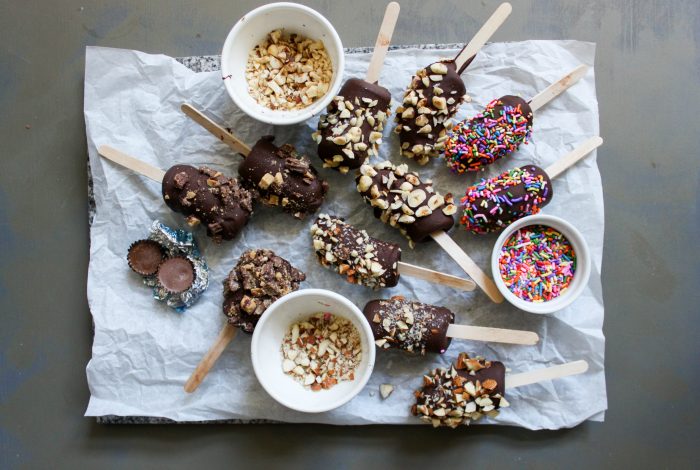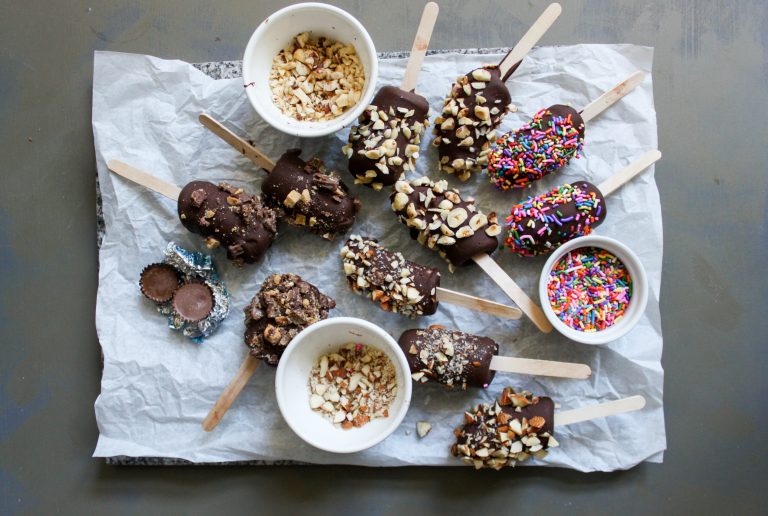 Storage & Leftovers
Keep assembled chocolate dipped frozen bananas in an airtight container in the freeze for up to two weeks. Or, tightly wrap in the plastic wrap in the freezer.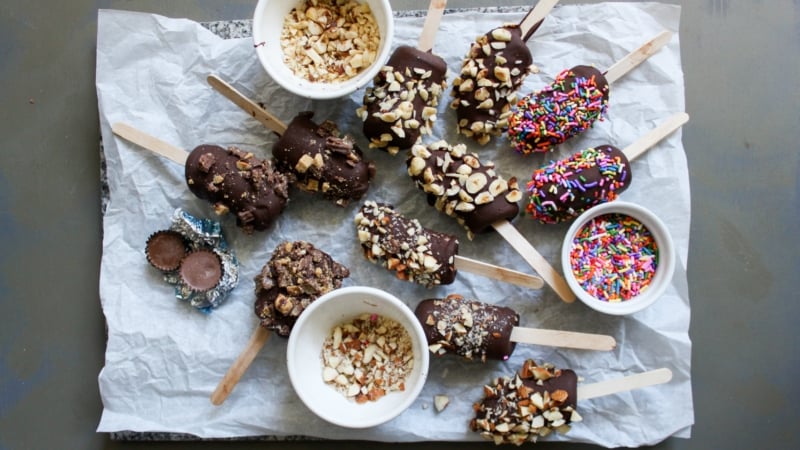 Chocolate Dipped Frozen Banana
Make chocolate dipped frozen banana like the ones you enjoy at county fairs, amusement parks, and theme parks! Coat the bananas in your choice of toppings. Yield: 12 frozen pops
Ingredients
4

large bananas,

ripe, peeled, and cut into thirds

12

popsicle sticks

(wooden, bamboo, plastic, or silicone)

2

cups

good quality semi-sweet or dark chocolate,

roughly chopped
Topping Choices:
rainbow sprinkles

chopped roasted hazelnuts

chopped roasted almonds

chopped peanuts

chopped mini Reese's cups
Instructions
Insert wooden stick into one end of each banana piece. Place bananas on a parchment lined plate or baking sheet and let chill in the freezer until wooden stick is set in banana.

Place chocolate in a microwave safe bowl or glass. Heat in microwave on half power at 15-20 second intervals. Stir each time. Continue to heat until melted and smooth.

Working with one banana at a time, dip banana into the warm chocolate. Let any excess chocolate drip off. Then sprinkle chosen toppings all over. Place banana back on parchment lined sheet. Continue with remaining bananas. Once completed, let banana rest in freezer to harden.
Notes
To make chocolate magic shell: 
Combine 16 oz finely chopped dark chocolate and 2 Tbsp coconut oil in a large bowl. Place bowl over a pot of simmering water, making sure bowl does not touch the water. Gently melt and stir often. Once mixture is smooth, pour into a tall drinking glass. 
For more sweet frozen treats, check out: