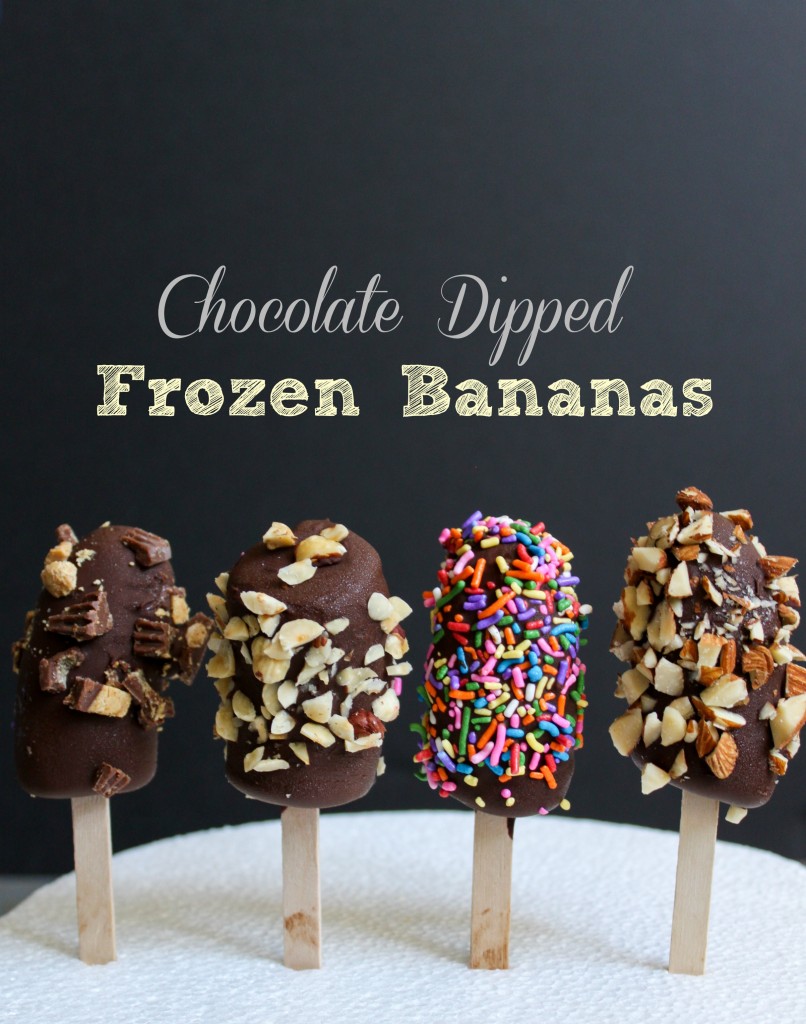 I cannot visit Disneyland without getting a chocolate dipped frozen banana.  I LOVE frozen bananas.  If you do not share the same sentiment, I don't know if we can be friends.
It's a deal breaker.  Just ask my boyfriend.  He loves these treats almost as much as me.  It was a pre-requisite that he was well aware of when we first started dating (almost 4 years ago!).
As soon as I enter the park, I wait in line to buy my chocolate dipped, peanut sprinkled frozen banana. It doesn't matter what time of the day it is, or whether its cold outside.  I need my treat in hand as I walk down Main Street.
However, the ones they sell at Disneyland are massive, and I often cannot finish them alone (because I have to save room in my stomach for a scoop of mint chocolate chip ice cream in a waffle cone after lunch).
That's when the boyfriend has to finish it for me.  Hence, the much needed frozen banana requirement (which also applies to state/county fairs, food festivals, and the sort).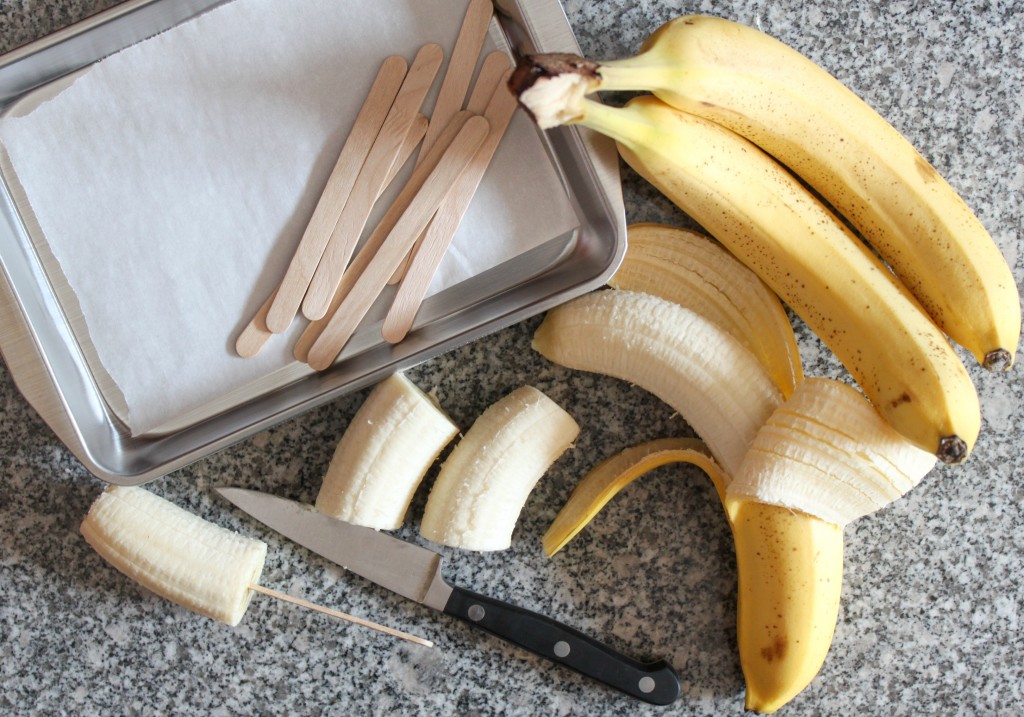 As a kid, I loved this little place in Balboa Beach that sold ice cream bars, cheesecake on a stick, and frozen bananas.  This place was special because they hand dipped their frozen goodies in chocolate when you order.  AND they have a plethora of toppings to coat your treat in.  But once again, it was another place that gives you the entire banana.
And so, I made these uber cute, mini frozen bananas.  I cut each banana into three small parts to make the perfect little snack sized portions.
I'm gonna let you in a on a little culinary secret.  A secret that will make dipping frozen bananas in melted chocolate a breeze.  Are you ready?  Okay, it's a secret so don't go around just telling anyone.
You have to be selective in your secret sharing.  I trust you, and I really appreciate you reading my blog so of course I'd tell you.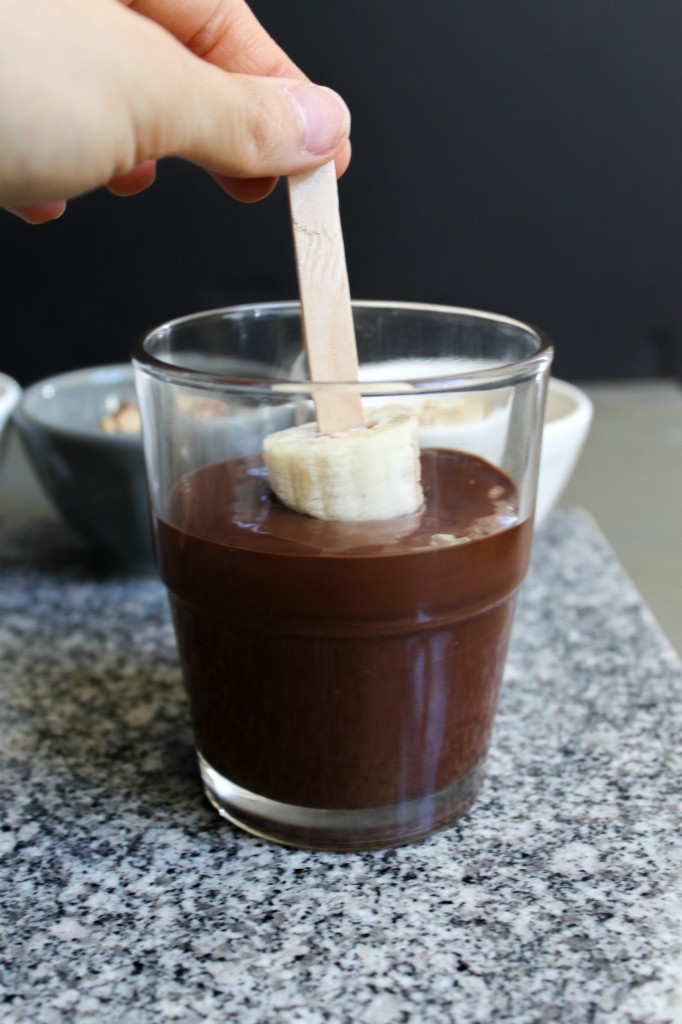 Place your melted chocolate in short drinking glass, a glass deep enough for your frozen banana.  Dip the frozen banana in and you get a nice, even, and smooth coating.
If the chocolate starts to cool, simply place it in the microwave for a couple of seconds (be sure to use a microwave safe glass).  It also makes clean up a breeze.  I have enough bowls to clean.  Cleaning a small glass is so much easier and takes up less space.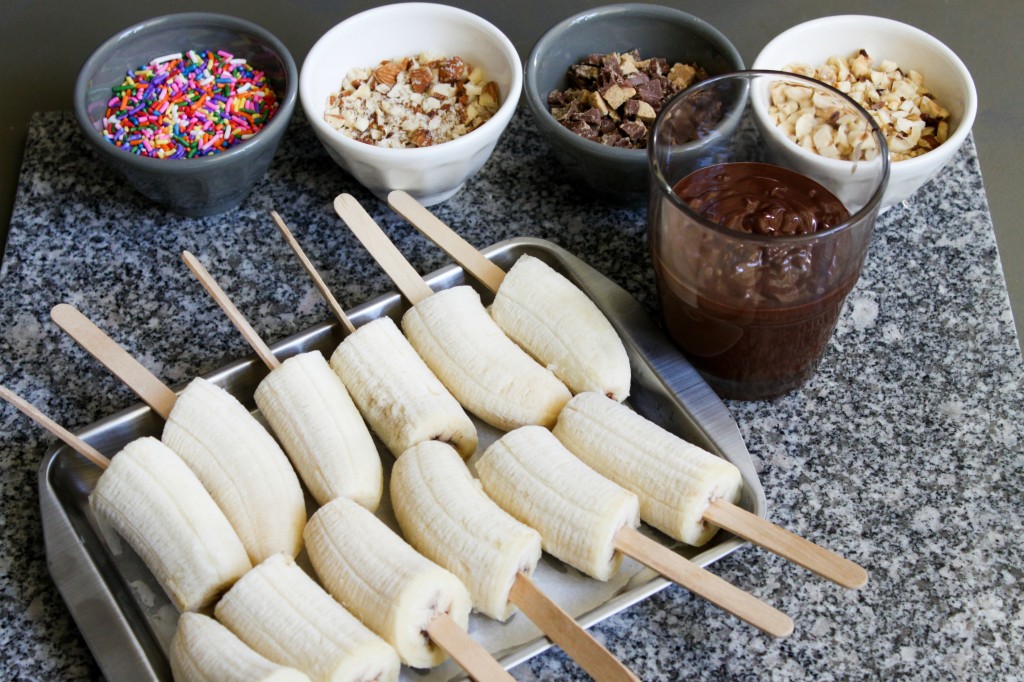 Rather than the usual chopped peanuts, I went crazy with four random toppings: rainbow sprinkles (because they are so pretty and fun!), chopped hazelnuts and almonds, and chopped Reese's peanut butter cups (those are not mine, those are for the mentioned boyfriend).
I don't need to wait to go to Disneyland to get my frozen banana fix.  I have a bunch ready for me at a moment's notice in my freezer.  Now, let's have a frozen banana dipping party!  What toppings do you want?
Note:  Have you entered my first giveaway?!  There is still time.  Check out my breakfast sandwich and leave a comment.  The winner will be chosen at random this weekend.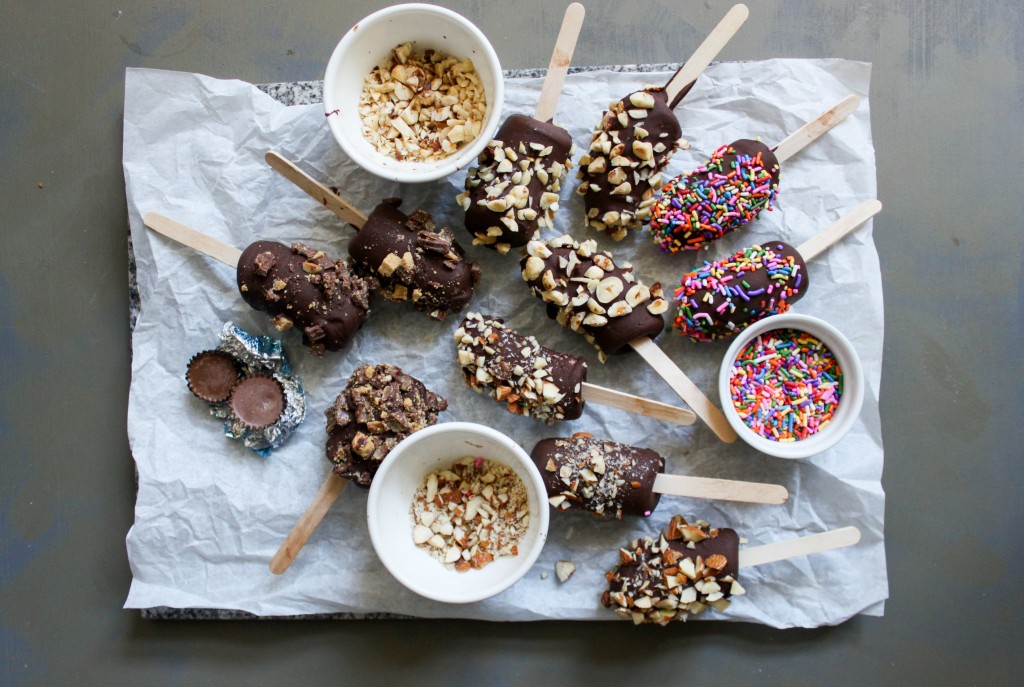 Chocolate Dipped Frozen Banana
Ingredients
4

large bananas, ripe, peeled, and cut into thirds

12

wooden

popsicle sticks

2

cups

good quality semi-sweet or dark chocolate, roughly chopped

rainbow sprinkles

chopped roasted hazelnuts

chopped roasted almonds

chopped mini Reese's cups
Instructions
Insert wooden stick into one end of each banana piece. Place bananas on a parchment lined plate or baking sheet and let chill in the freezer until wooden stick is set in banana.

Place chocolate in a microwave safe bowl or glass. Heat in microwave on half power at 15-20 second intervals. Stir each time. Continue to heat until melted and smooth.

Working with one banana at a time, dip banana into the warm chocolate. Let any excess chocolate drip off. Then sprinkle chosen toppings all over. Place banana back on parchment lined sheet. Continue with remaining bananas. Once completed, let banana rest in freezer to harden.