Almond mocha ice cream bars feature no churn mocha ice cream dipped in melted chocolate studded with chopped almonds.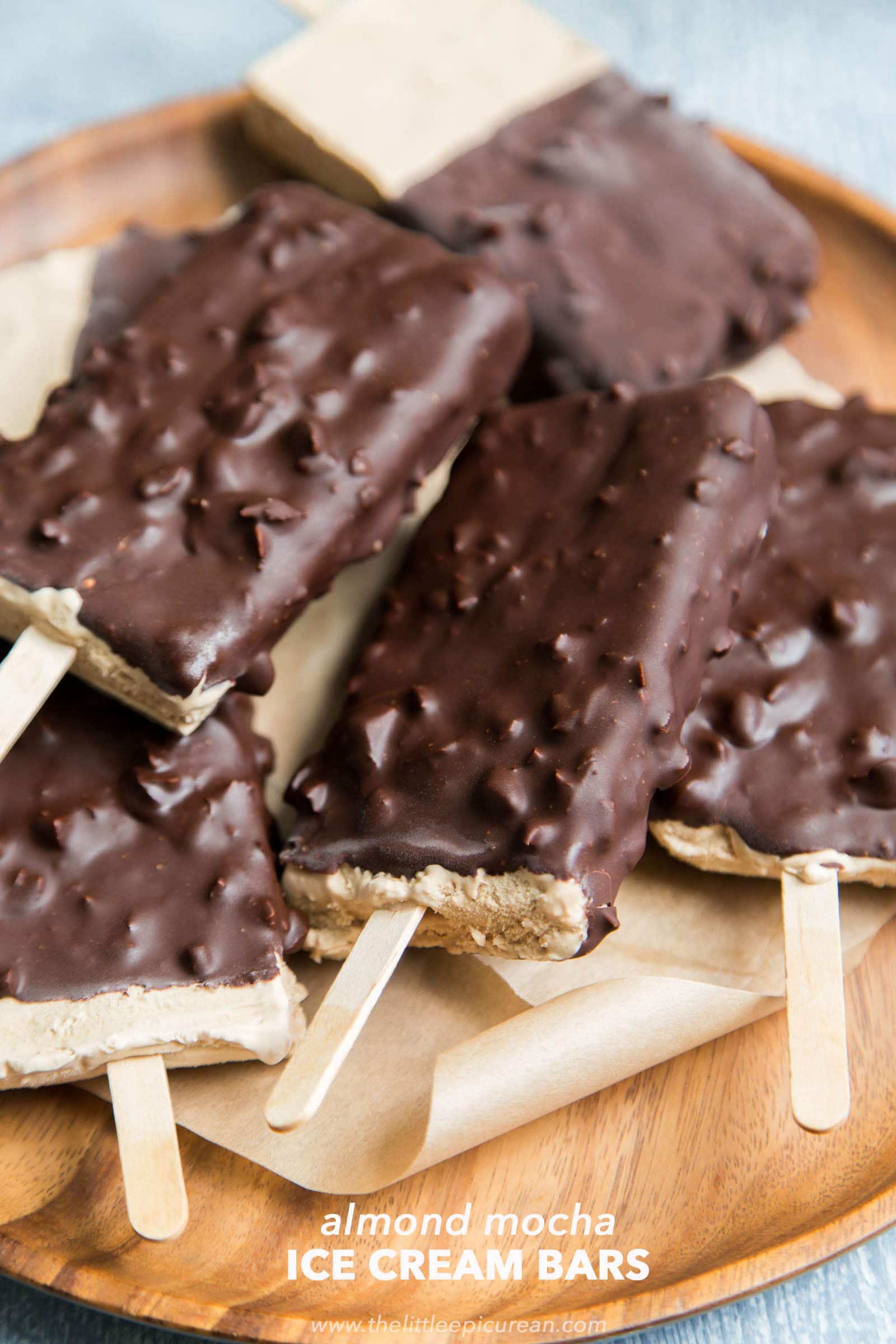 This is proof that you don't need fancy tools and equipment to make chocolate dipped ice cream bars at home.
It doesn't matter how experienced or inexperienced you are in the kitchen.
You, yes YOU, can make these almond mocha ice cream bars!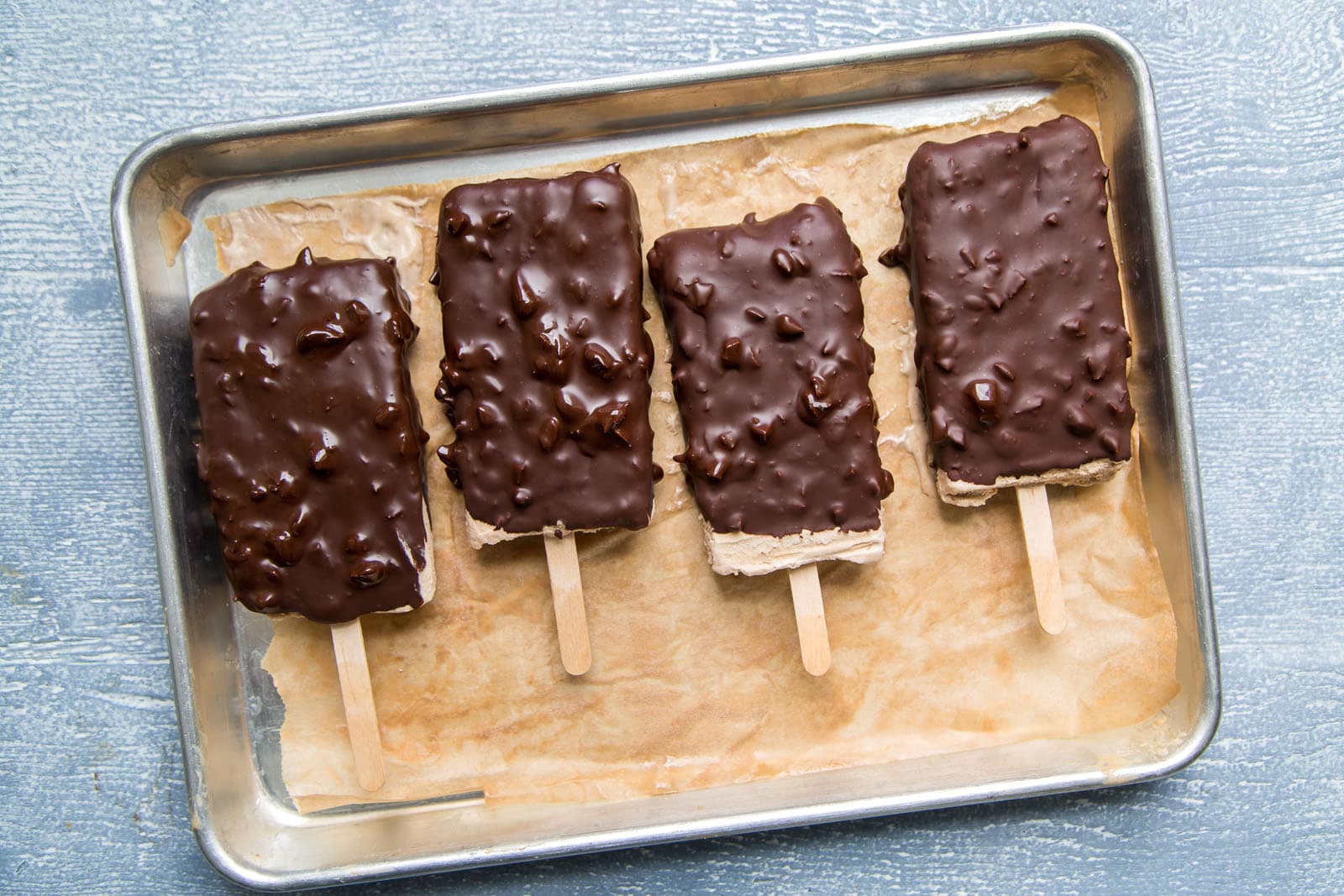 Chocolate Dipped Almond Mocha Ice Cream
Here are the tools you will need: a hand mixer, standard quarter size baking sheet tray, plastic wrap, and popsicle sticks.
(This is assuming everyone has a freezer, stove top, a couple mixing bowls and a knife.)
Coffee and espresso run through my veins. I drink them up like water. I also consume a hefty amount of chocolate.
Mix them together with a little milk, and you get one of my favorite flavors- MOCHA!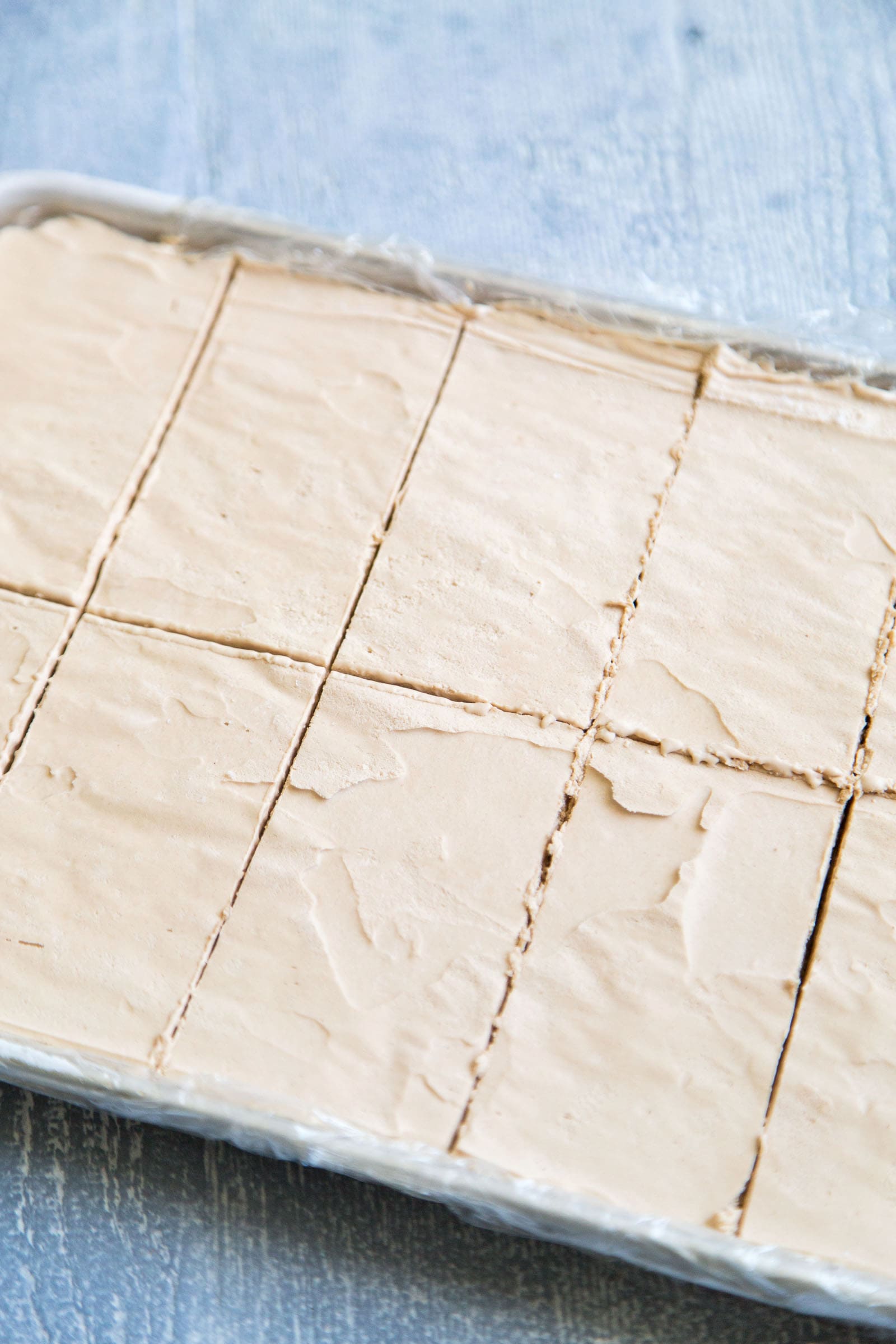 These bars are made with no churn mocha ice cream and then dipped in a luxurious mixture of chopped almonds and melted dark chocolate.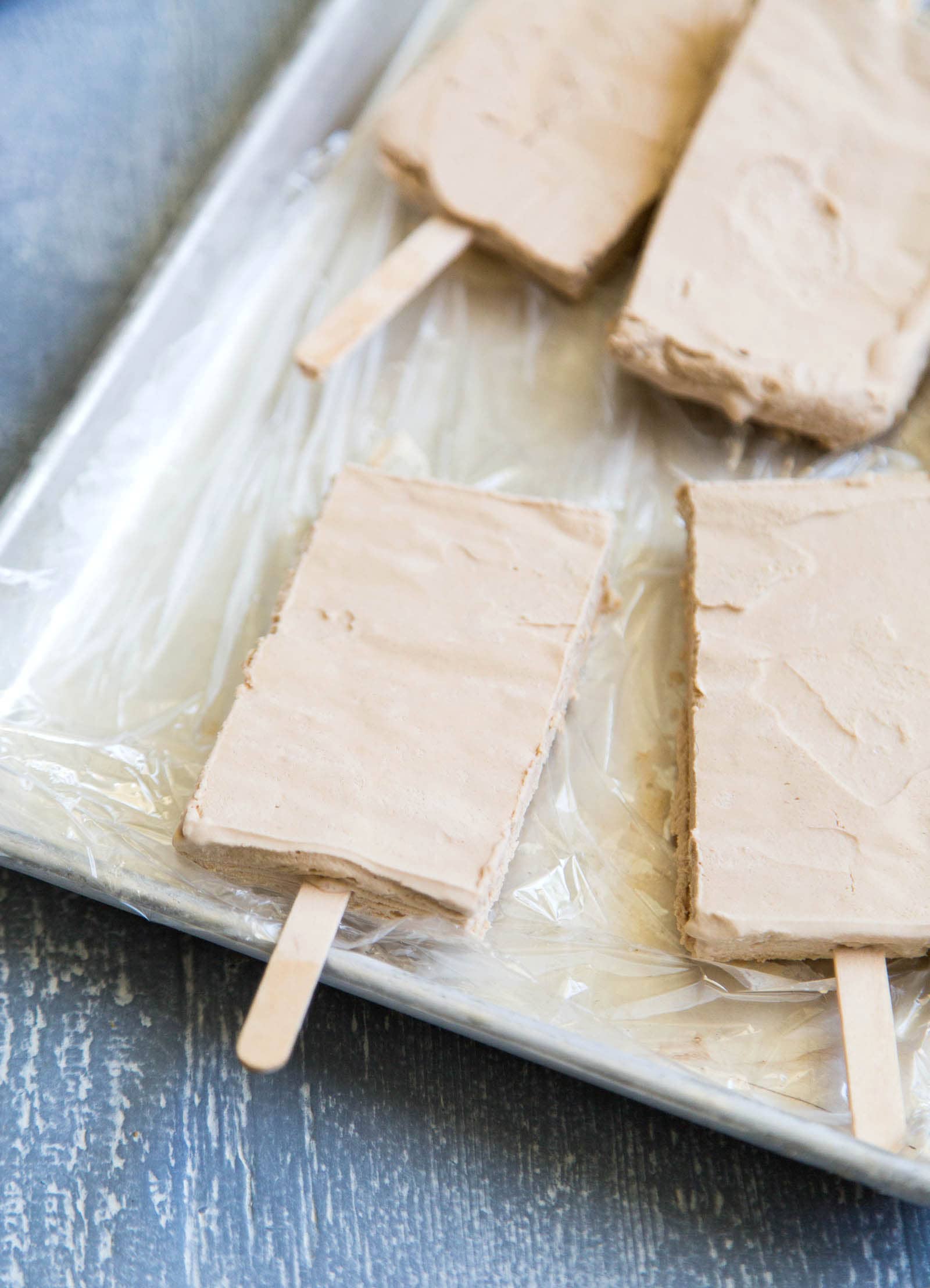 No Churn Ice Cream
No churn ice cream is an amazing thing. Using chilled heavy cream and sweetened condensed milk, you can whip up all sorts of different no churn ice cream flavors.
Examples of all the things you can with no churn ice cream: White Chocolate Blueberry Ice Cream, S'mores Ice Cream Bars, and Espresso Dulce de Leche Ice Cream
How to make easy ice cream bars:
Simply whip heavy cream to soft peaks. Add condensed milk and any other flavors. Continue to whip to stiff peaks.
(This post from Fine Cooking provides you with a great visual to understand the differences between soft, medium, and stiff peaks.)
Evenly spread whipped mixture into a baking sheet lined with plastic wrap. Pop it in the freezer for at least 6 hours (overnight is best) until the ice cream is solid.
Use a knife to divide the frozen ice cream into 10 equal rectangle bars. Work quickly! You don't want the ice cream to get too soft. If the ice cream starts to soften, pop them back in the freezer until solid.
The tricky part is adding in the wooden popsicle stick, but I have secret. Soak one end of the wooden stick in water before inserting it in the cut mocha ice cream bars.
The moisture from the wooden stick will help adhere to the ice cream better. Pop them back in the freezer until the sticks are firmly frozen to the ice cream.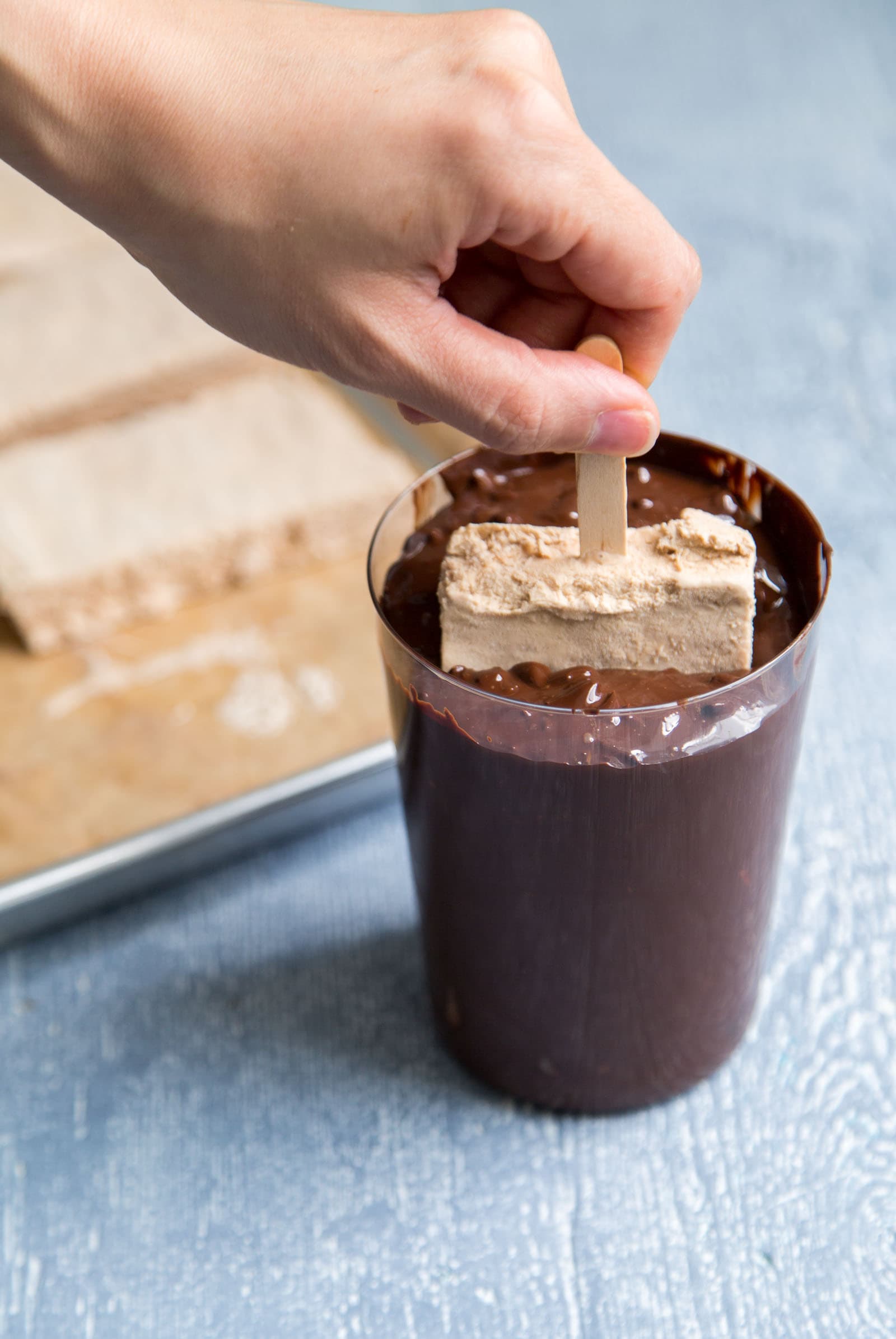 Magic Shell Chocolate Dipping Sauce
Coconut oil is the secret ingredient when it comes to coating frozen treats in chocolate.
Coconut oil has a rather low melting point, turning into a liquid around 75 degrees Fahrenheit. On the other end of the spectrum, coconut oil begins to solidify around room temperature.
Melted chocolate mixed with coconut oil creates a silky, luscious chocolate sauce.
When frozen ice cream is introduced to the melted chocolate mixture, the coconut oil solidifies and hardens- thus, creating that nice chocolate "magic shell."
I mixed in the chopped almonds in the melted chocolate. If you'd like, you can sprinkle on the almonds after coating the mocha ice cream bars in the chocolate.
And there you have it, homemade ice cream bars!
Now you know the secret, check out these other ice cream bars:White Chocolate Blueberry Ice Cream, S'mores Ice Cream Bars, and Espresso Dulce de Leche Ice Cream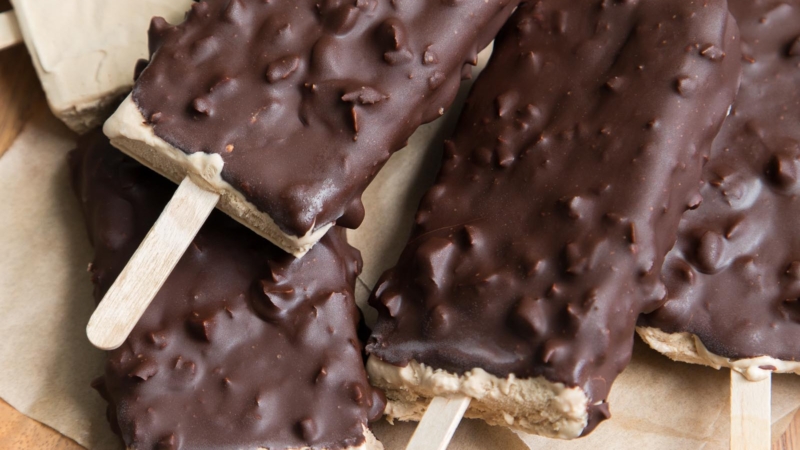 Almond Mocha Ice Cream Bars
These almond mocha ice cream bars feature no churn mocha ice cream dipped in melted chocolate with chopped almonds.
Yield: Makes 10
Ingredients
No Churn Mocha Ice Cream:
2

cups

heavy cream,

very cold

1 ½

Tablespoons

unsweetened cocoa powder,

sifted

2

teaspoons

instant espresso powder

1

teaspoon

vanilla extract

14 oz

can sweetened condensed milk
Almond Chocolate Shell:
16

oz

72% dark chocolate,

roughly chopped

5

Tablespoons

coconut oil

3

oz

chopped almonds
Instructions
Whip chilled heavy cream to soft peaks. Add cocoa powder, espresso powder, vanilla, and condensed milk. Continue to whip to stiff peaks.

Line a standard quarter baking sheet (13 x 9-inches) with plastic wrap, allowing plastic wrap to hang over all the edges. Line bottom of plastic wrapped baking sheet with parchment paper. Pour whipped mixture into prepared baking sheet. Spread into an even layer and place parchment paper on top. Cover with plastic wrap and freeze overnight, at least 6 hours until mixture is solid.

Working quickly, slice frozen ice cream into 10 equal parts. (Divide in half longways. Slice each half into 5 equal parts until you have a total of 10 rectangles). Insert wooden stick into each rectangle. Cover with plastic wrap and return to freezer. Keep frozen until wooden stick is firmly attached to ice cream bar.*

Prepare almond chocolate shell. Combine chopped chocolate and coconut oil in a large bowl. Place bowl over a pot of barely simmer water, making sure that bowl does not touch water. Gently melt mixture and stir often to ensure even melting. Once mixture is smooth, remove from heat and wipe away any moisture from bottom of bowl. Fold in chopped almonds. Pour melted mixture into a tall drinking glass (wide enough to dip ice cream bars).

Dip frozen ice cream bars into melted chocolate mixture. Chocolate will hardly upon contact with cold ice cream. Enjoy immediately, or individually wrap in plastic wrap and keep frozen until ready to eat. Chocolate dipped bars will keep in the freezer for up to two weeks.
Notes
It may help to lightly soak wooden sticks in water before inserting in ice cream bar. This will help wooden stick adhere to ice cream.
The chocolate dipping mixture will result with a thick chocolate shell. If you want the shell to be thinner, add additional tablespoons of coconut oil. To test thickness, dip a cold butter knife in chocolate mixture.
Substitute chopped nuts of your choice in place of almonds.