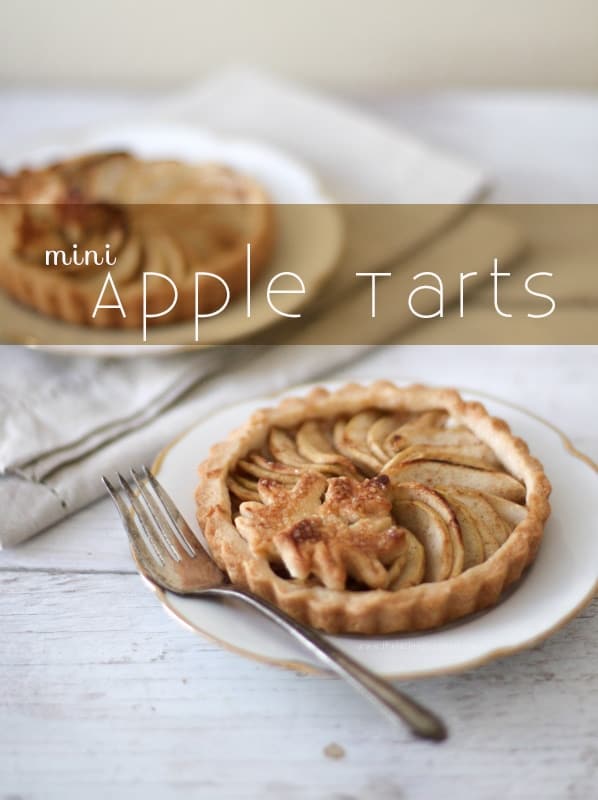 Serve these semi-homemade mini apple tarts with a scoop of vanilla ice cream!Simplicity is key.
I often have to remind myself that. Sometimes I get so carried way with ideas and plans- that end up overboard.
While I am all about homemade and I prefer making things from scratch, sometimes that's not always possible. There is nothing wrong with getting a little help from store-brought, pre-made items.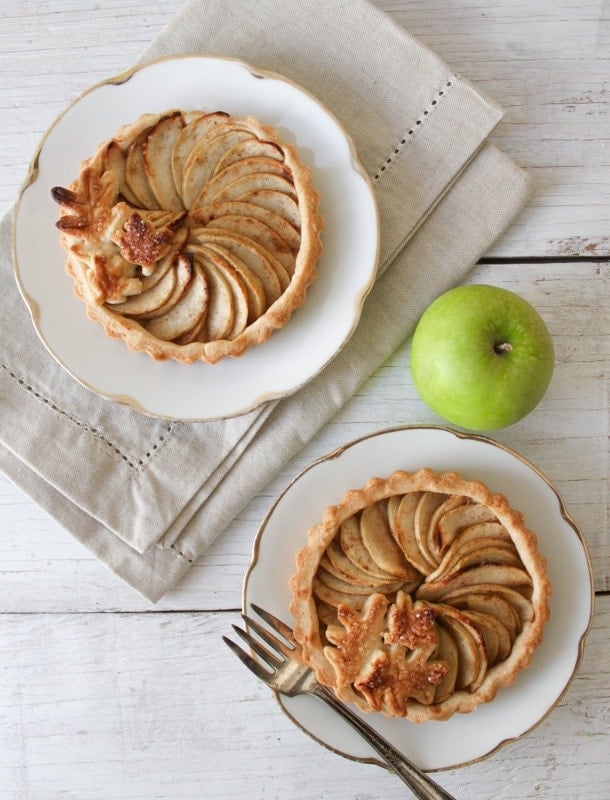 A couple of week ago, I bought this box of frozen pie crust dough. I planned on using it for a dinner party- but I ended up making my own pie dough for fear that my guests would taste the difference.
It's about time I learn to accept help. Even if that help is from frozen pie dough.
I have oodles and oodles of apples. It is apple season, after all.
These mini apple tarts are the perfect little dessert.  Serve it with a hefty scoop of your favorite ice cream.
Ice cream is the ultimate compliment to this simple dessert.  These apple tarts are just what I need on a cool autumn afternoon.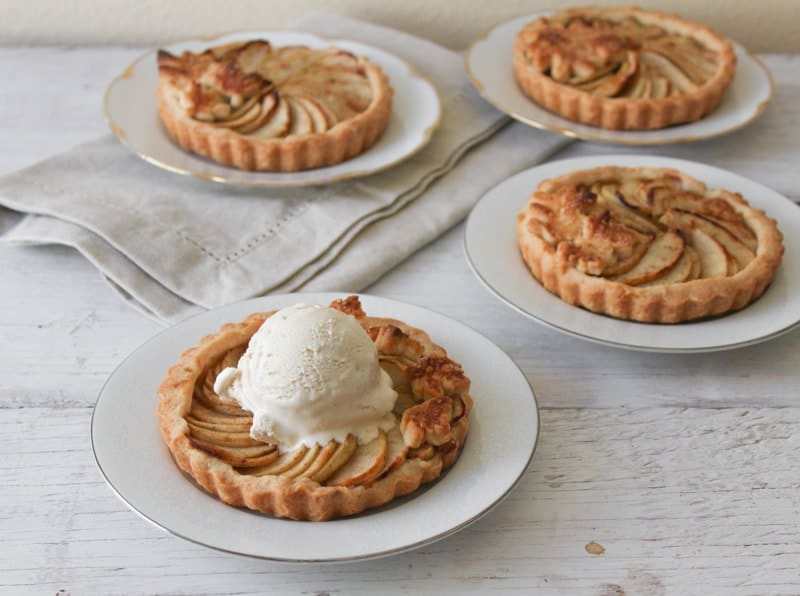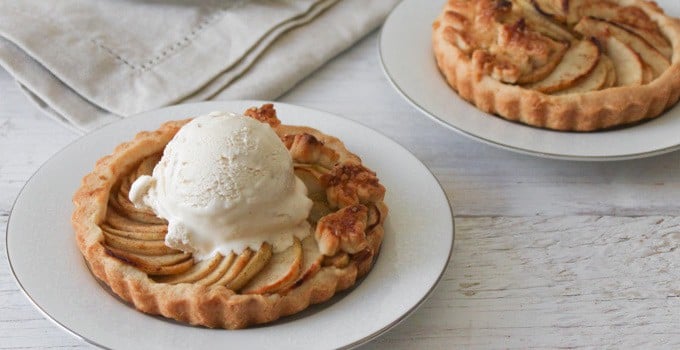 Mini Apple Tarts
Yield: makes six 5-inch tarts
Ingredients
1

package

frozen pie dough*

3

medium

Granny Smith apples, peeled, cored, sliced thin

1/4

cup

granulated sugar

1

teaspoon

ground cinnamon

1/4

teaspoon

fine sea salt

1

Tablespoon

fresh lemon juice

turbinado sugar, as needed for sprinkling
Instructions
Defrost pie dough as indicated in package instructions.

Preheat oven to 400 degrees F.

Roll out dough to about 1/4 inch thickness. Line 5-inch tart shells (with removable bottoms) with dough. Gather excess dough and pat together. Roll out to 1/4-inch thickness. Using a small leaf cookie cutter (or desired shapes) cut out decorative pieces to lay on top of tart. Set aside.

In a medium bowl, toss together sliced apples, sugar, cinnamon, salt, and lemon juice. Adjust with additional sugar or cinnamon, according to taste. The mixture will get sweeter after baking. Cover mixture with plastic wrap and let sit for 5-10 minutes to allow apple to expel a little moisture.

Arrange apple slices on prepared tart shells. Add decorative pie dough cut-outs on top. Sprinkle turbinado sugar as desired. Bake for 30-40 minutes until crust is golden brown and cooked through. To check for doneness, lift crust and check if bottom is golden brown. Let cool slightly before serving.

If desired, drizzle with caramel, add a scoop of ice cream, or add a dollop of whipped cream. Apple tart can be served warm, at room temperature, or chilled.
Notes
I used the 22 oz (2-crust) pie dough from Trader Joe's