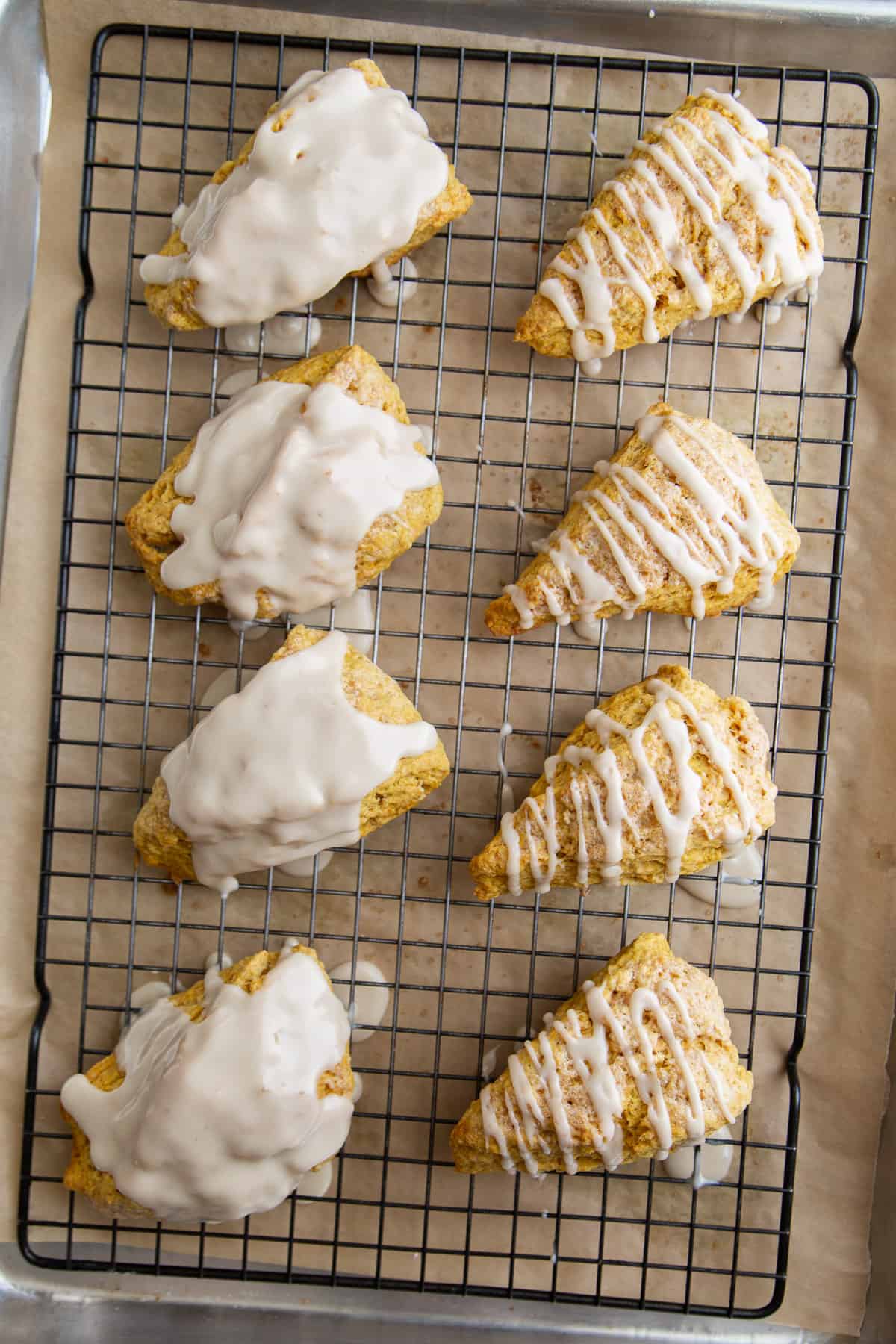 It's that time of the year.  Pumpkins have taken over!
I love ingredients that can be used for both sweet and savory applications.  Maybe that's why everyone loves pumpkin so much– pumpkin ravioli, roasted pumpkin, pumpkin beers, pumpkin pie, pumpkin bread.  For my obligatory pumpkin post, I made these super fluffy, moist and flavorful pumpkin scones.  I drizzled them with a sweet maple glaze (that I colored orange).  These definitely are not your typical dense and dry scones.  These are about to become your favorite autumn scone to enjoy with a nice warm latte.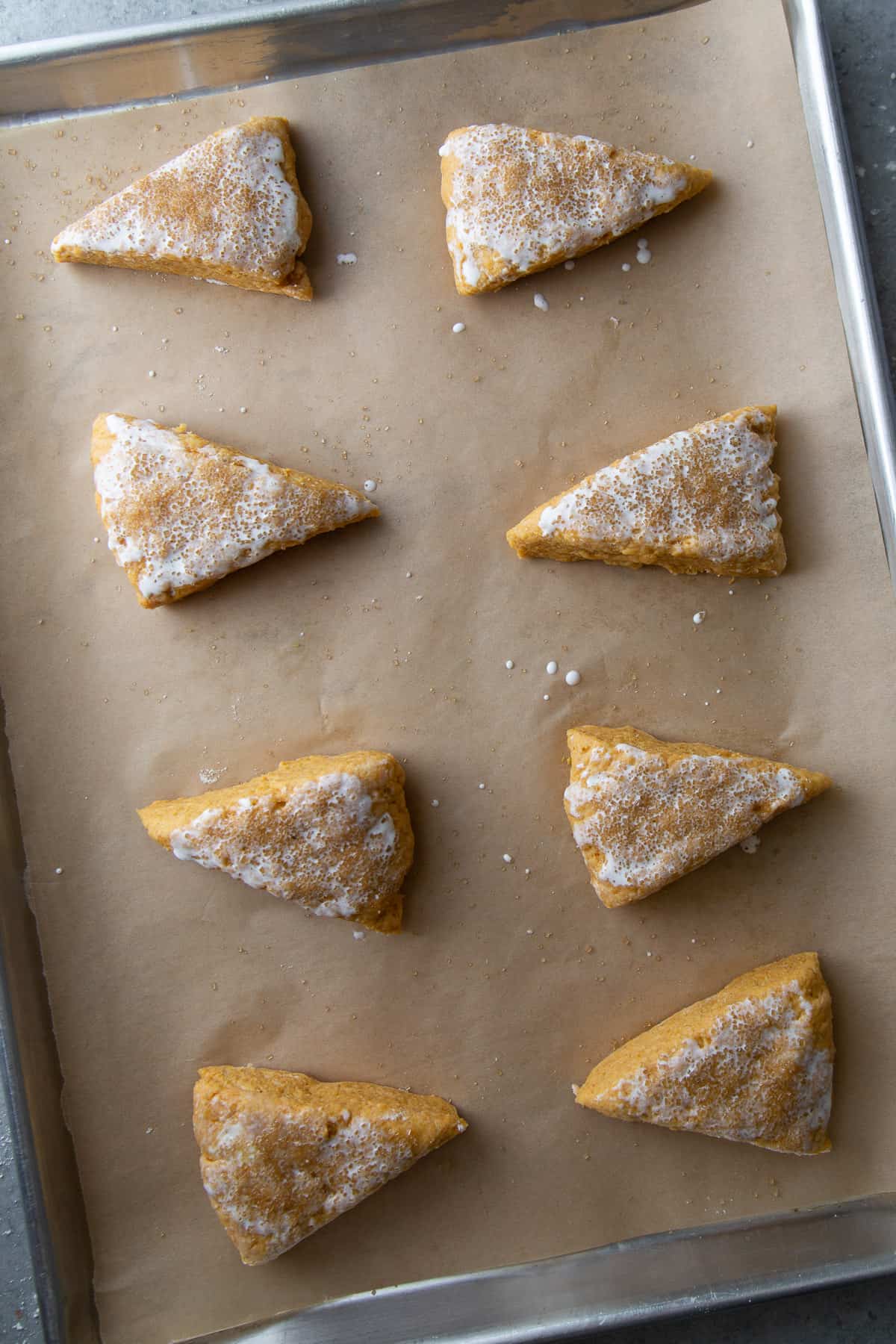 So…I have some exciting new to share with you all!  Changes will be happening on my site soon.  I am finally updating my look and getting a cleaner and sleeker design.  It's going to be more organized, especially in terms of my recipe index.  For the past three years, I have done little makeshift updates here and there piecing together whatever coding and plug-ins I understood.  I can't wait to show it you all.  I hope you like it as much as I do.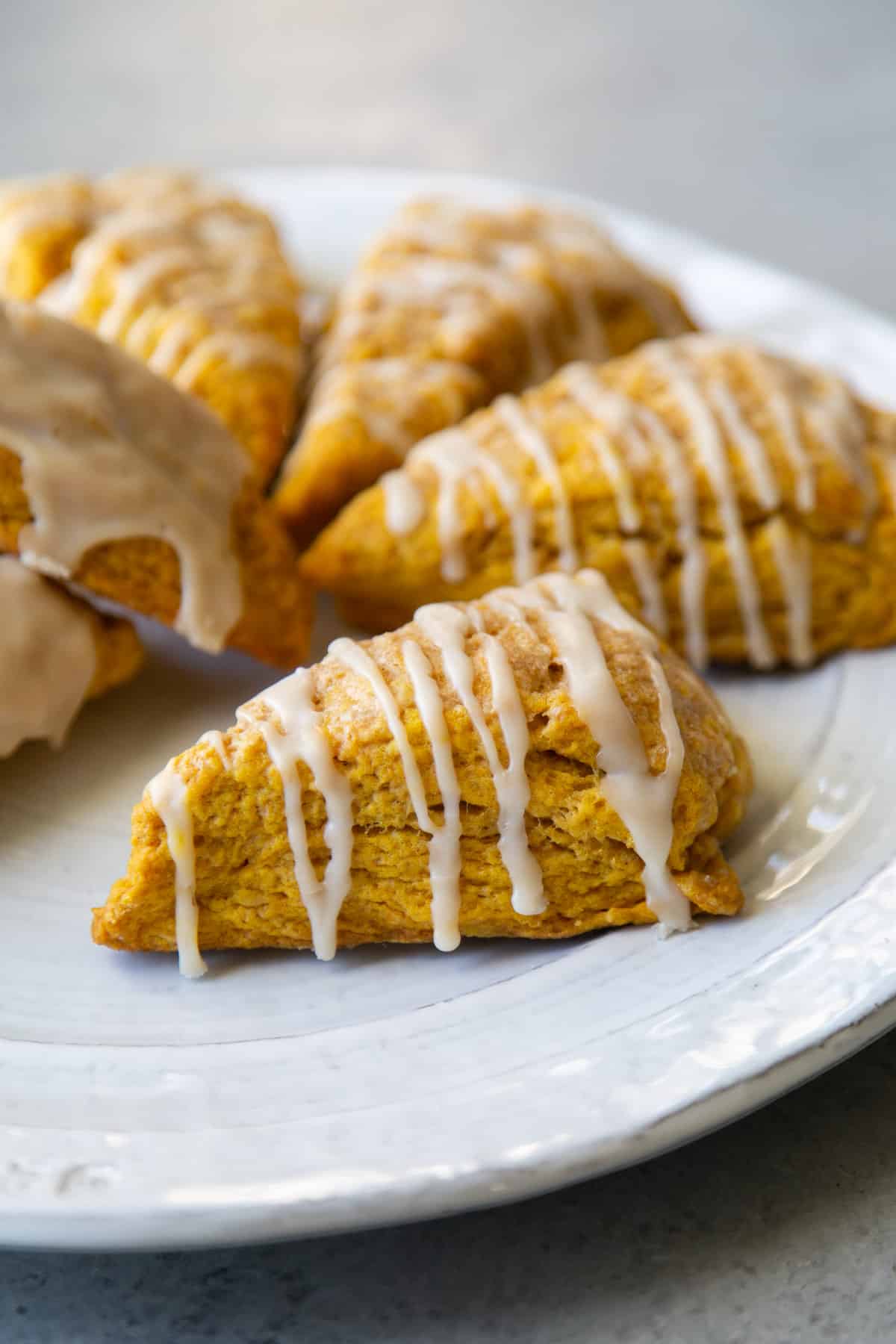 Once pumpkins have had their day, its only a matter of time until peppermint makes its move.  I'm ready. I have plenty of peppermint ideas stewing in my head.
Pumpkin Scones with Maple Glaze
Ingredients:
Pumpkin Scones:
2 cups all-purpose flour
1 Tbsp baking powder
1/2 tsp fine sea salt
1/2 tsp ground cinnamon
1/2 tsp pumpkin pie spice
1/3 cup granulated sugar
1/2 cup unsalted butter, cut into small cubes, chilled
2/3 cup pumpkin puree
2 Tbsp heavy cream, for brushing
turbinado sugar, for sprinkling
Maple Glaze:
4 cups confectioners' sugar, sifted
1 Tbsp light corn syrup
1/4 tsp fine sea salt
1/4 tsp maple extract
2 Tbsp dark maple syrup (Grade B)
1/3 cup hot water, plus more to thin out
orange food gel coloring, optional
Directions:
Pumpkin Scones:
Preheat oven to 350 degrees F. Line a baking sheet with parchment paper. Set aside.
In a large bowl, whisk together flour, baking powder, salt, cinnamon, pumpkin pie spice, and sugar.
Add chilled butter. Cut into dry mixture using a pastry bender (or fork or your fingers) until mixture resembles coarse sand.
Make a well in the center of the dry ingredients. Add pumpkin puree and fold to combine until add the dry ingredients have been hydrated.
Turn out dough onto a lightly floured surface. Pat the dough into a circle about 1 inch thick. Using a sharp knife (or a bench scraper) cut the circle into 8-10 equal slices.
Transfer slices to prepared sheet tray. Brush each scone with a little heavy cream and sprinkle generously with turbinado sugar. Bake for 20-30 minutes until golden brown in color. Let cool on sheet tray for about 5 minutes. Once cool to the touch, enjoy! Or wait until scones are about room temperature and pour glaze over scones.
Maple Glaze:
Place sifted confectioners' sugar in the bowl of stand mixer fitted with a paddle attachment. Add corn syrup, sea salt, maple extract, maple syrup and 1/3 cup hot water. Mix together on low speed until smooth. Add a couple drops of orange food gel color, if desired.
Add additional hot water, a little under 1 Tbsp at a time until desired thickness is achieved.
Drizzle glaze over cooled scones. Let sit for 15-20 minutes to allow glaze to set.