Sweet, fluffy, and flavorful pumpkin scones topped with maple glaze.
It's that time of the year. Pumpkins have taken over!
Pumpkin is super versatile ingredient that works well in sweet and savory applications. It's also amazing in drinks and cocktails!
Perhaps that why everyone loves pumpkin so much: pumpkin pie, pumpkin bread, pumpkin ravioli, chocolate pumpkin cake, and bourbon pumpkin cocktail.
Add these moist and fluffy pumpkin scones drizzled with sweet maple glaze to the list!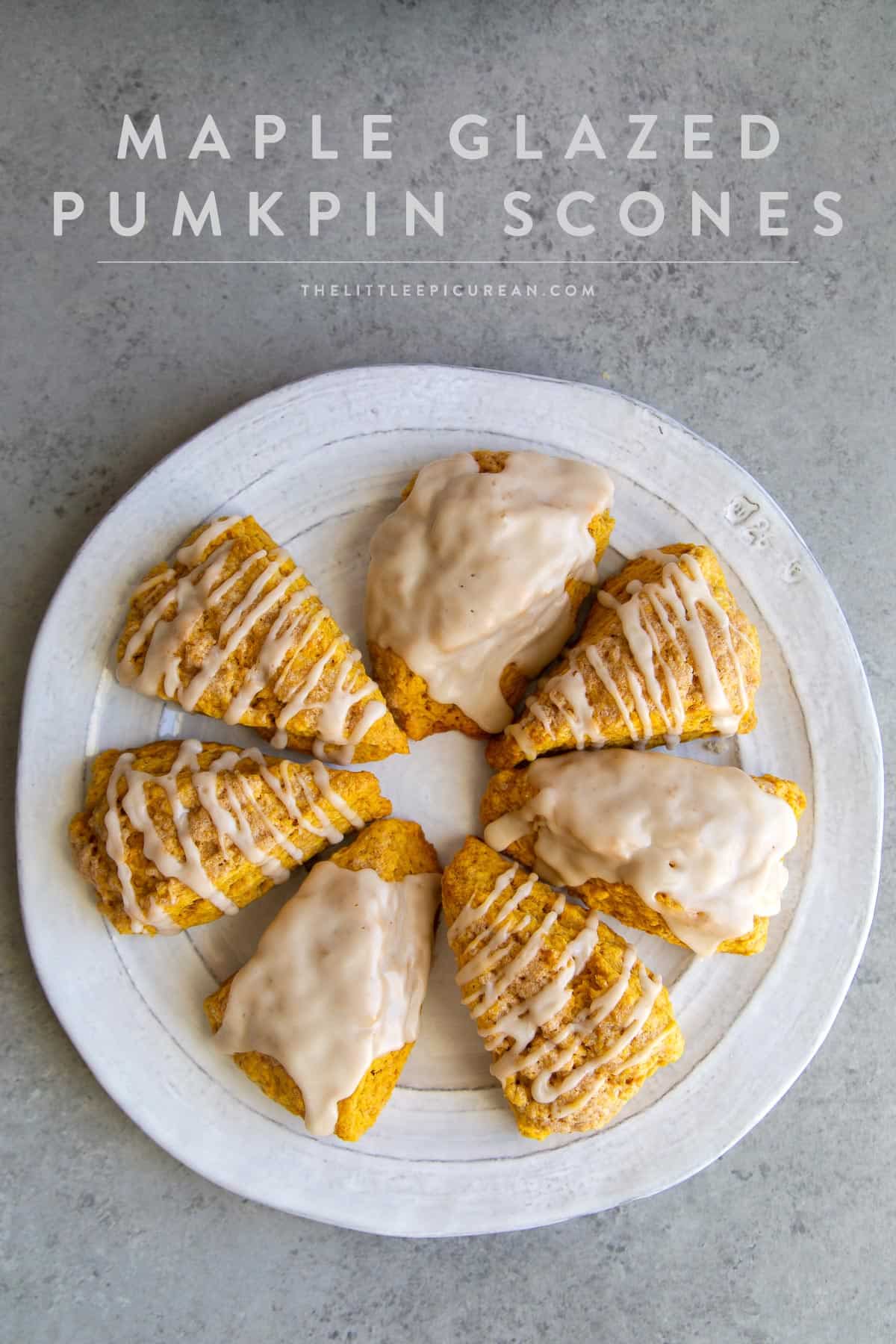 Pumpkin Scones
These definitely are not your typical dense and dry scones. The addition of pumpkin puree makes these scones a bit more fluffy and moist.
No need for clotted cream or jam, these scones are perfect on their own!
The texture of these scones are similar to traditional Scottish scones. It has a golden crust with a soft, delicate interior.
When the butter is property cut throughout the dough, you will be able to see distinct layering like the image above.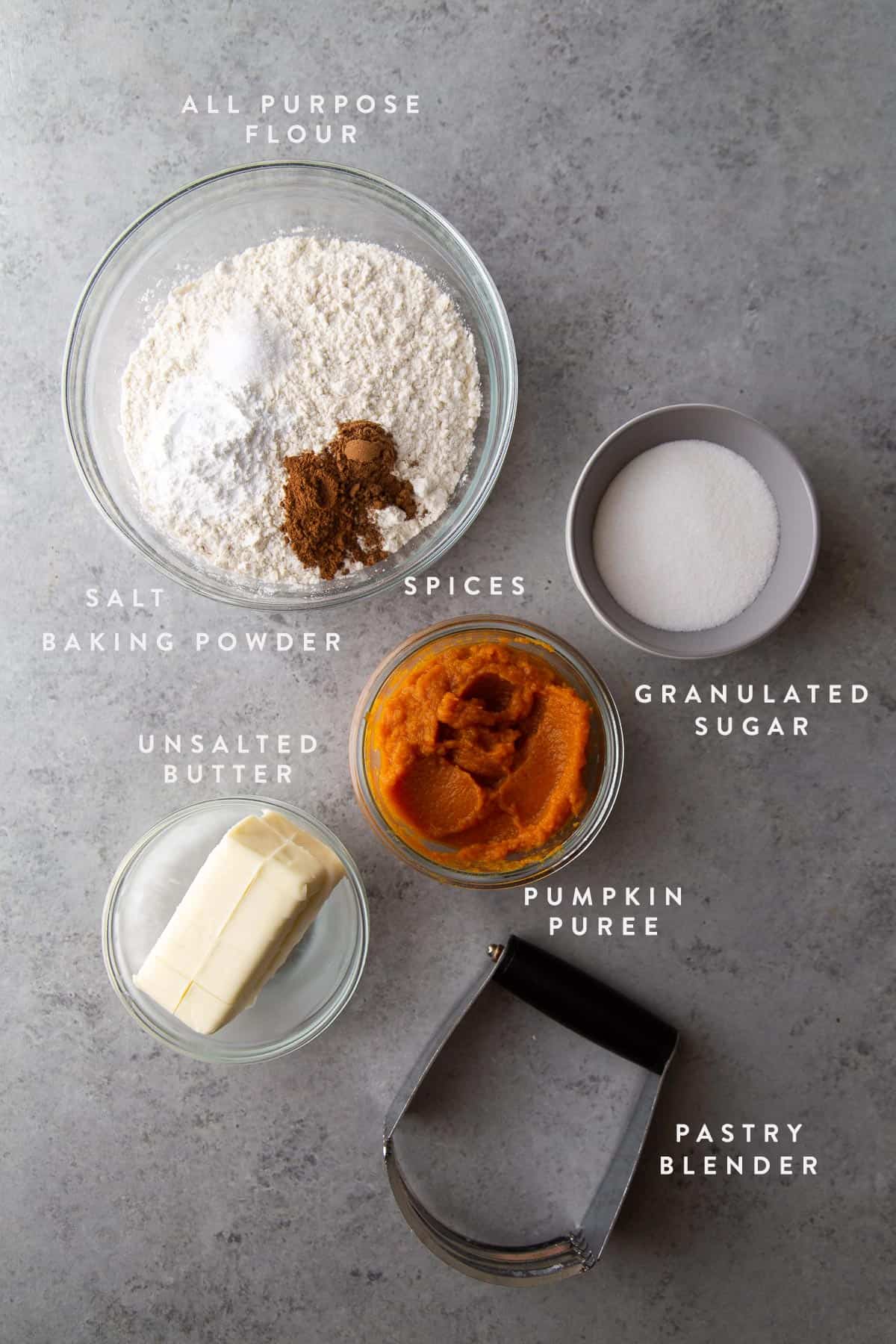 Ingredients and Tools
All-Purpose Flour: For best results, measure flour using a kitchen scale. Otherwise, use the stir and spoon method. For consistency, I test and create all my recipes using King Arthur Baking Company all-purpose flour.
Baking Powder: Opt for double acting baking powder with NO ADDED aluminum or aluminum-free.
Salt and Spices: Recipe uses Diamond Crystal Kosher Salt. Diamond Crystal is less salty and dissolves quickly compared to Morton Kosher salt. Spices include a mixture of ground cinnamon and store-bought pumpkin pie spice mix.
Sugar: Use your choice of granulated sugar or brown sugar.
Butter: Use unsalted butter. If you choose to use salted butter, omit the salt in the recipe. Butter should be VERY COLD.
Pumpkin Puree: Make sure to use 100% pure pumpkin canned puree. Stay away from "pumpkin pie mix" which has other ingredients added in.
Pastry Blender: Also known as a dough blender, this tool easily cuts butter or shortening into dry flour mixture. You may use fork tines in place.
Whisk: Use any whisk (balloon, dough, French, ball) to stir together all the dry ingredients. Or, use a fork.
Ruler: Of course you can estimate and eye-ball the measurements. However, if you want equal sized portions, use a ruler! I recommend one of these clear acrylic rulers.
Knife: Use a long sharp knife, ideally a chef's knife (8-inches in length) to score and slice the scone wedges. Alternatively, use a bench scraper.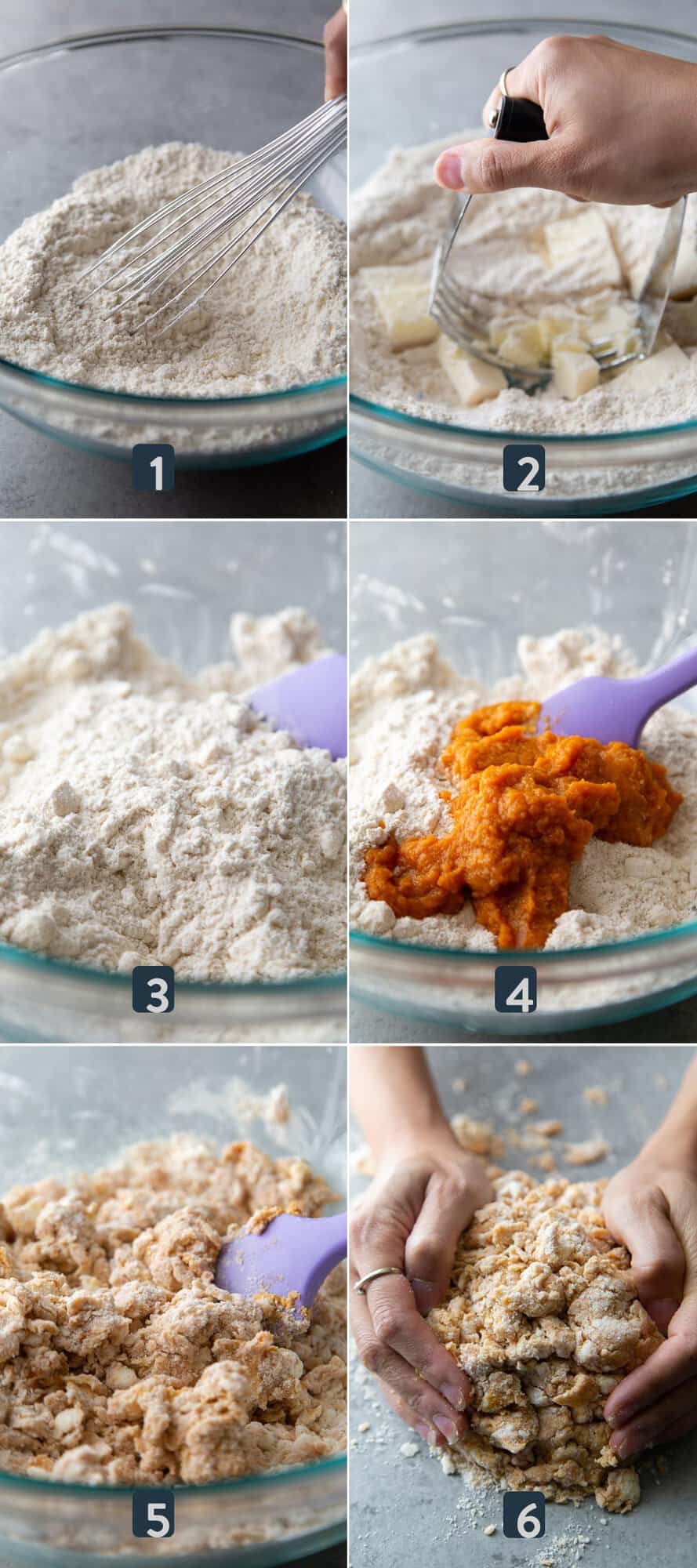 How to Mix Scone By Hand
In a large bowl, whisk together flour, baking powder, salt, spices, and sugar.
Add in very cold butter cubes. Use a pastry blender to cut butter into dry flour mixture.
Butter-flour mixture should resemble coarse pebbled sand.
Add in pumpkin puree.
Fold to combine until the puree has been well distributed. The mixture should look like a "saggy mess" as shown in IMAGE 5.
Dough mixture into a clean work surface. Quickly and gently knead dough together until it becomes a cohesive mass.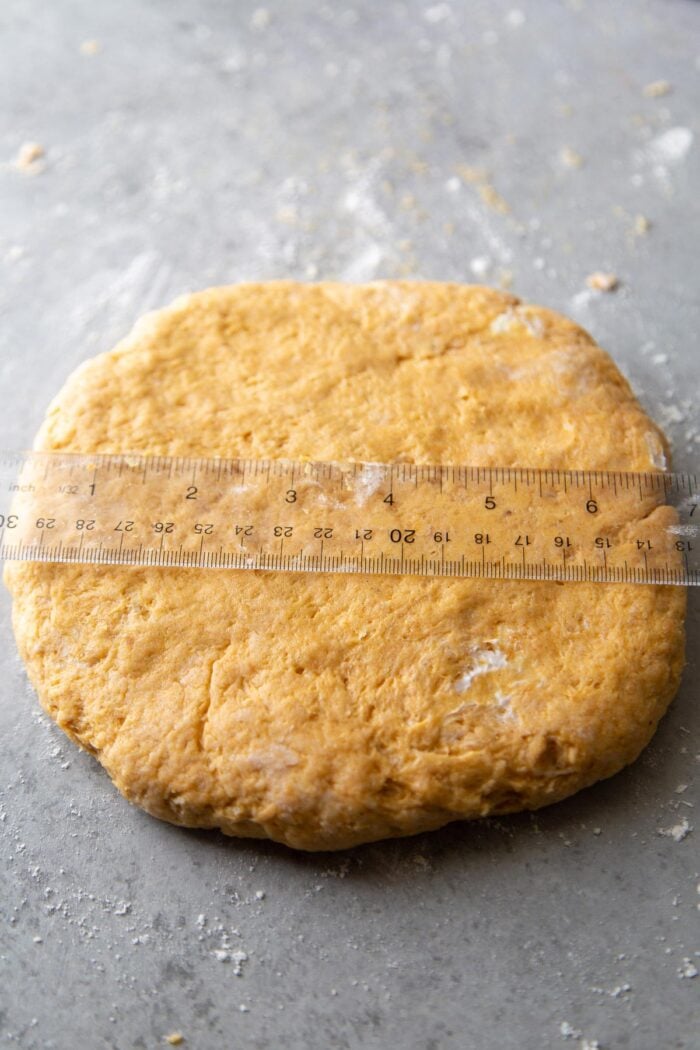 Pat dough into an 7-inch circle, about half an inch in thickness. Then, use a knife to score and slice into 8 equal sized wedges.
Place cut scones onto a parchment lined baking sheet, spacing them about 2-inches apart.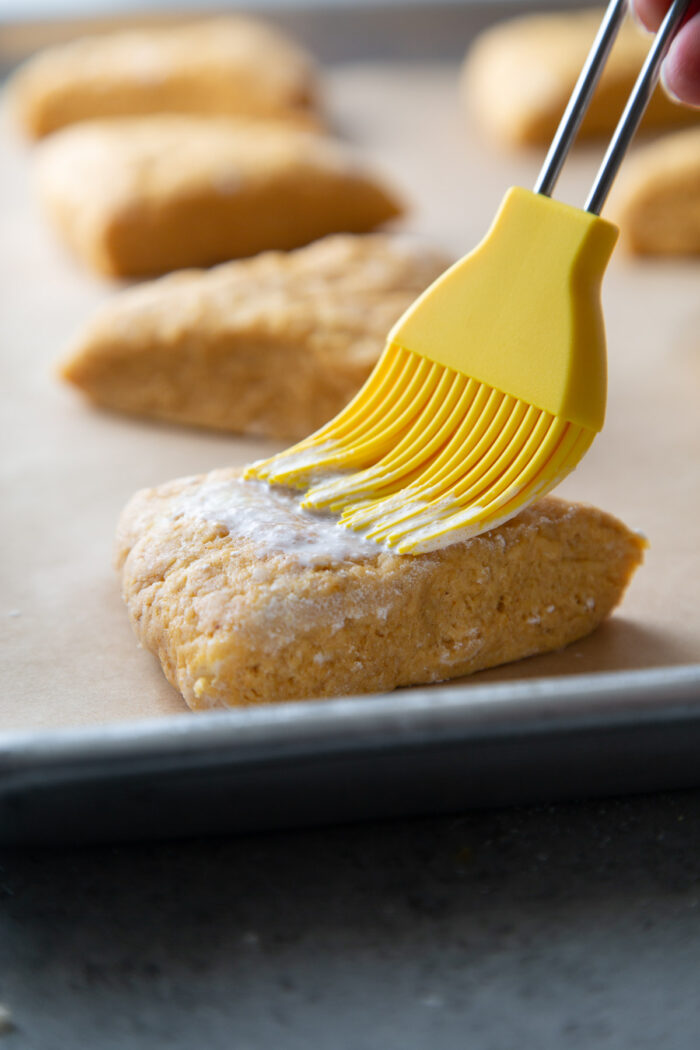 Brush scone tops with heavy cream. Then, generously sprinkle tops with turbinado sugar. These two steps are optional, but highly recommended. The cream and sugar add additional flavor and crunch.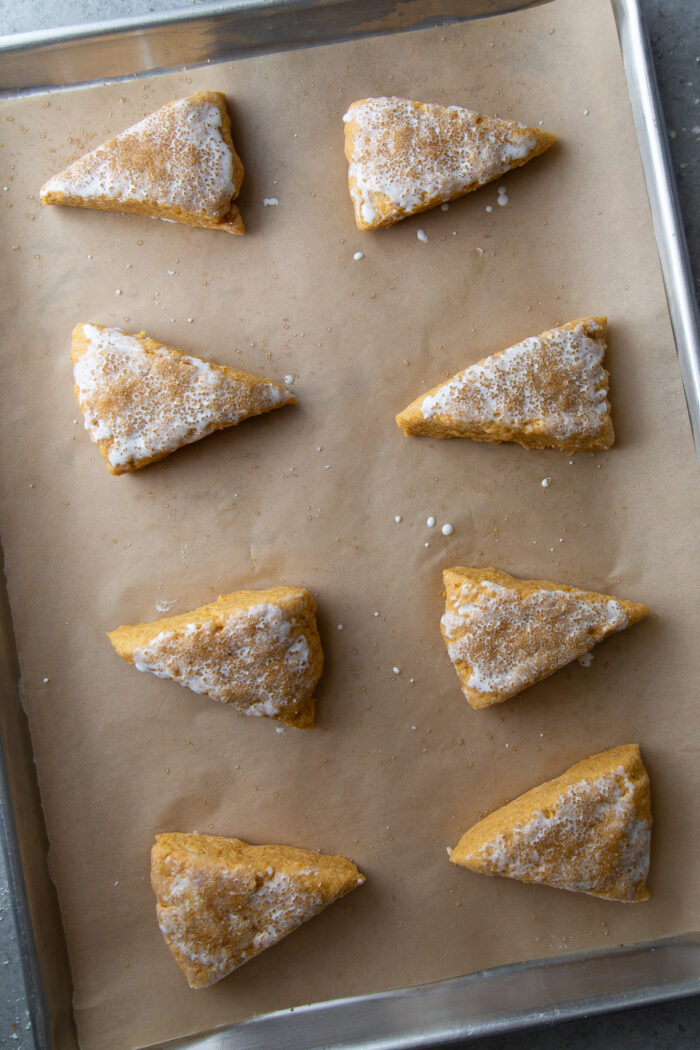 Key Notes and Tips
Space the raw scones at least 2-inches apart on the baking sheet. This allows the hot oven air to evenly pass through and cook the scones.
There are two ways to add glaze: 1) spoon a generous amount of maple glaze over the scone and let gravity do the job, or 2) drizzle maple glaze over the scones.
Use COLD INGREDIENTS! It's a good idea to keep the butter cubes in the freezer for 10-15 minutes before mixing. You could also, chill the dry ingredients in the fridge before mixing.
For best results, weight out the ingredients. Weight is far more accurate than volume (such as cups).
Scones 101
The important of cold ingredients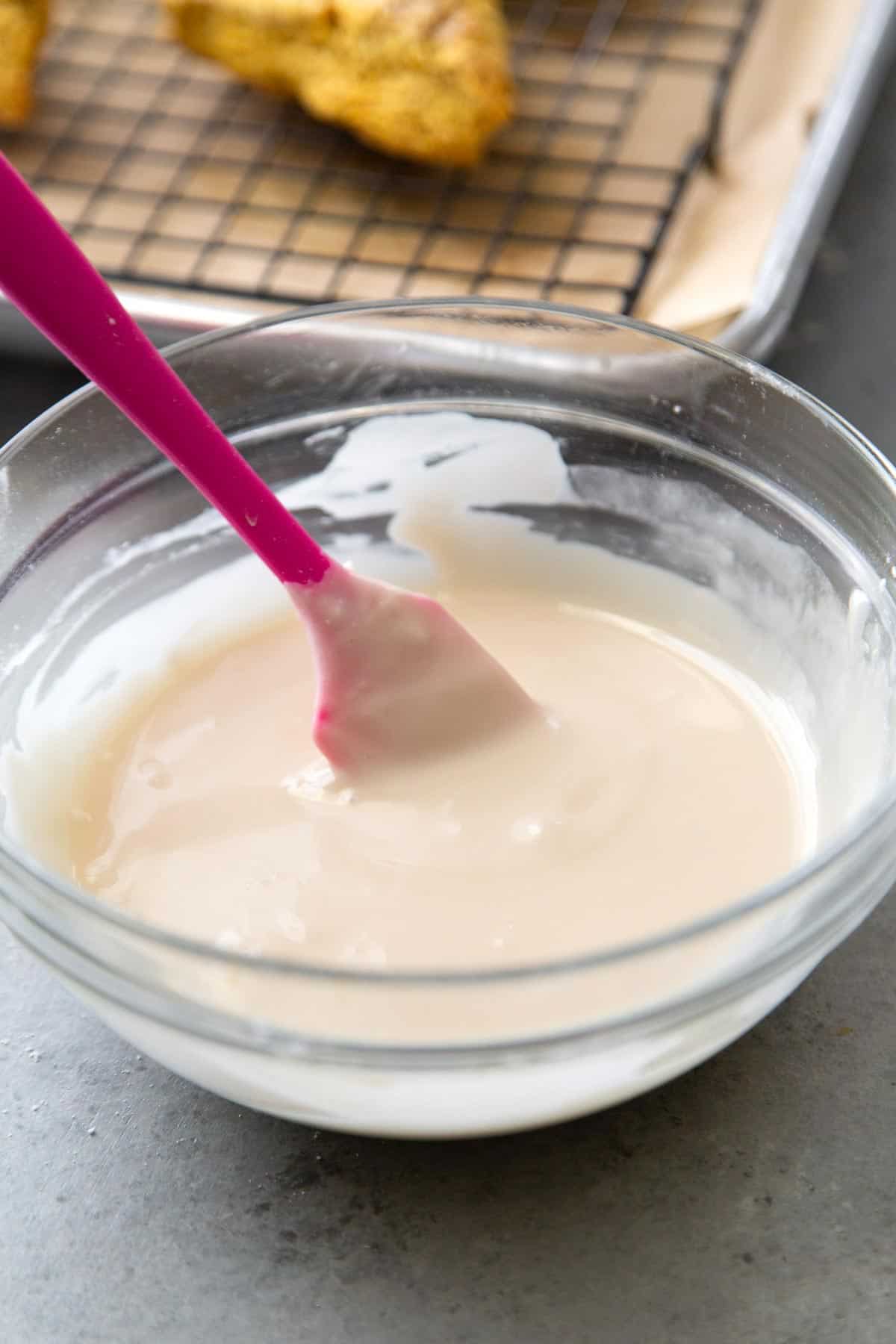 Maple Glaze
Super simple maple glaze combines together confectioners' sugar, light corn syrup, maple extract, maple syrup, and hot water.
Corn syrup keeps the glaze shiny and prevents unwanted crystallization. You may omit this ingredient, if you'd like.
Maple extract is a key ingredient! Boyajian maple flavor is highly recommended. It adds a strong maple flavor with just a few drops! McCormick maple extract is another great option that is available at most supermarket chains.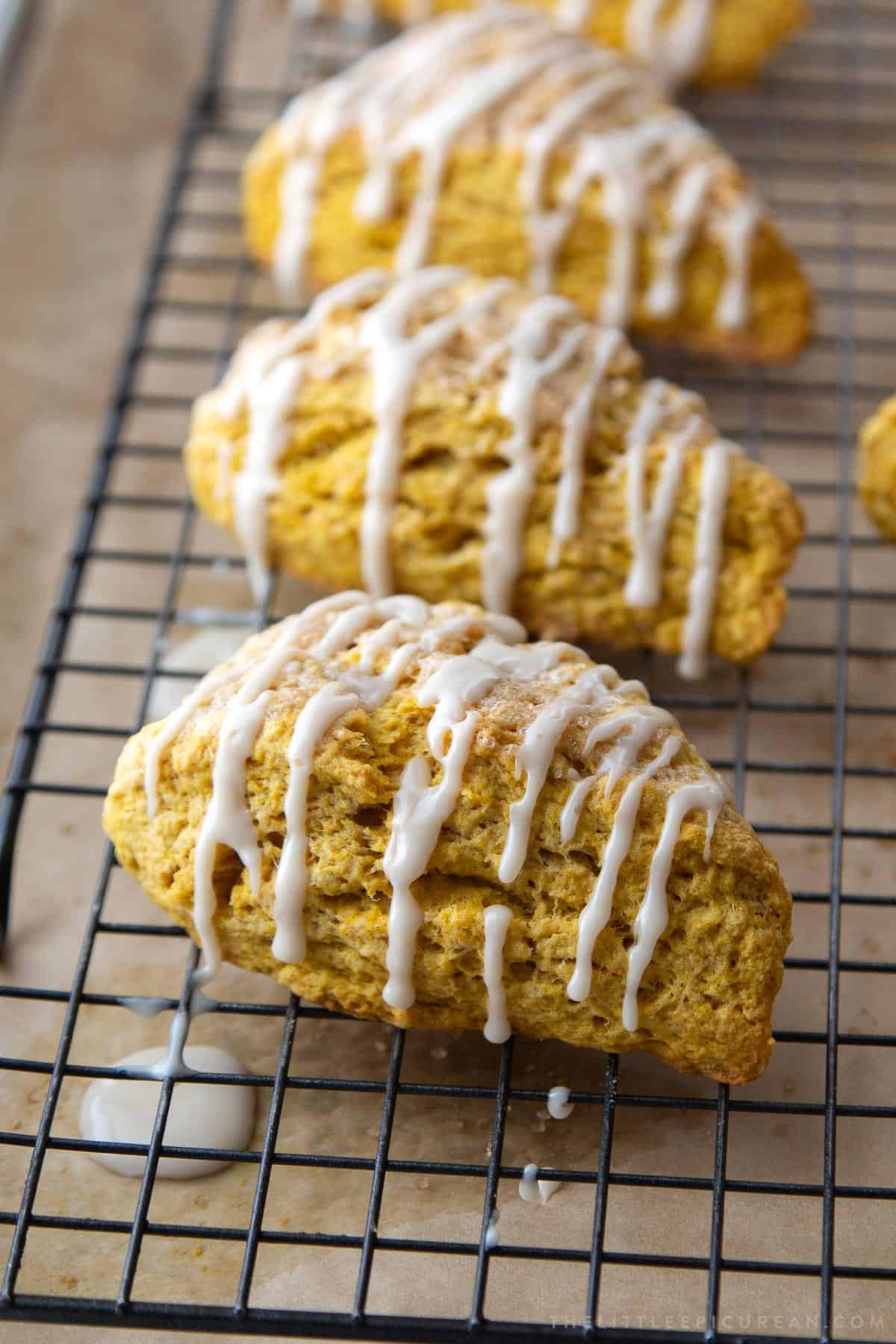 Drizzle the maple glaze over the cooled scones using a spoon or piping bag. Adjust the consistency of the glaze by adding more hot water, if necessary.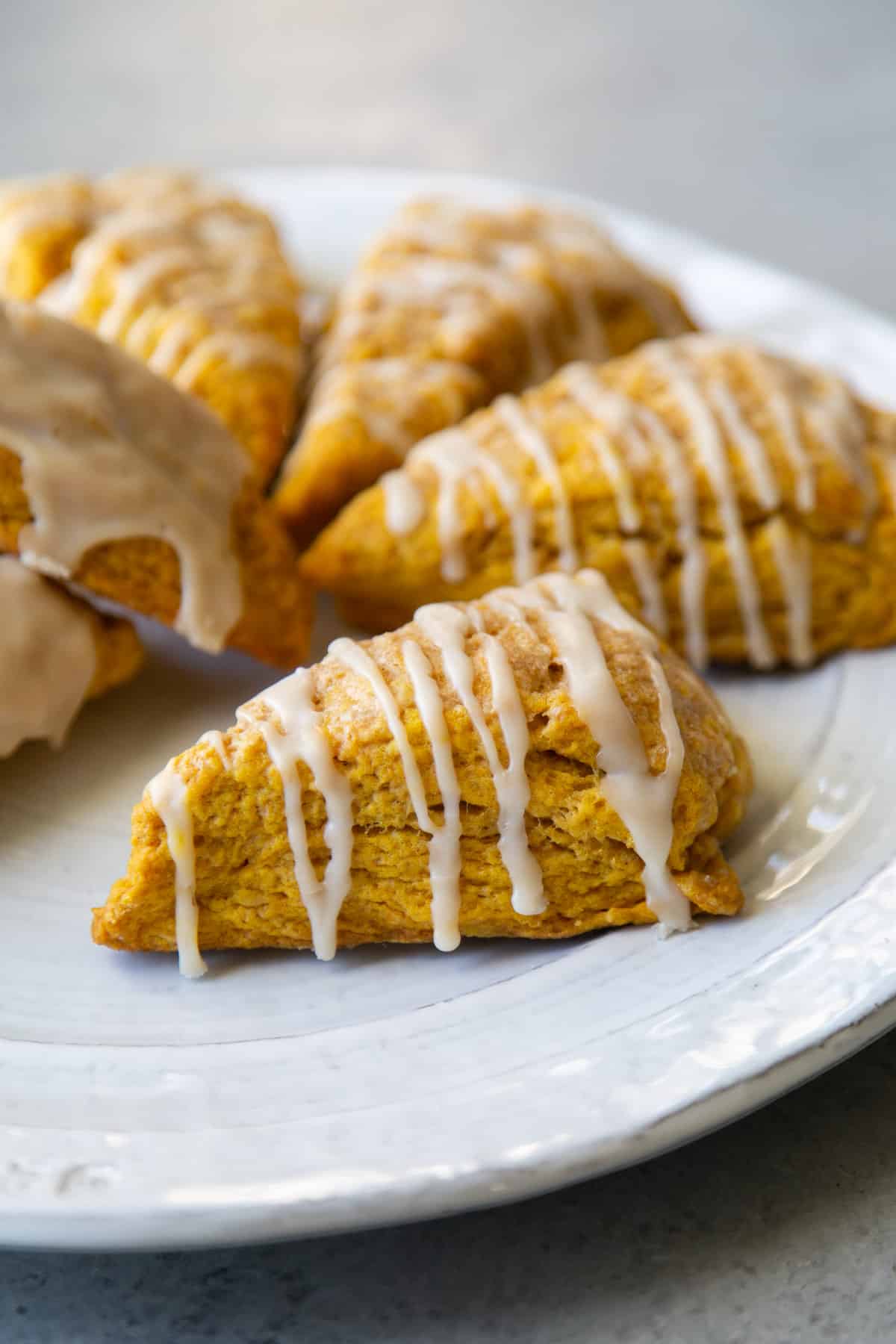 Storing and Reheating Scones
Store scones in an airtight container at room temperature for up to three days.
Unfortunately, it's difficult to reheat glazed scones. Reheating glazed scones in the oven or microwave will end in a messy disaster.
Try these unglazed pecan pumpkin scones that can be reheated with ease!
More Scone Recipes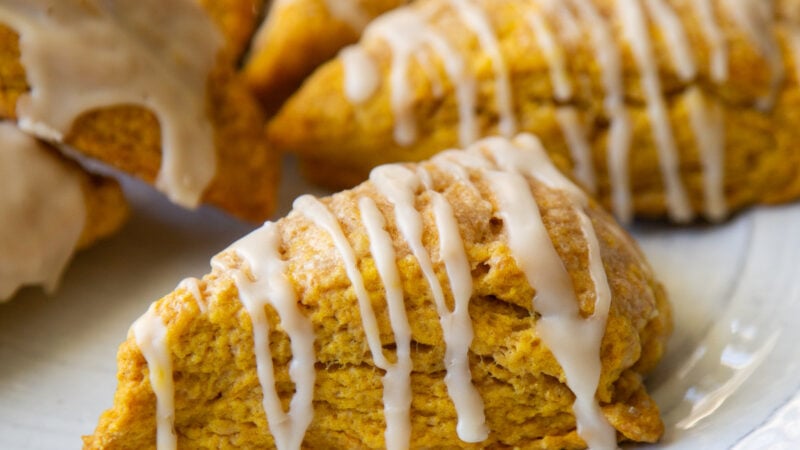 Pumpkin Scones with Maple Glaze
Sweet, fluffy, and flavorful pumpkin scones topped with maple glaze.
Ingredients
Pumpkin Scones
2

cups

all-purpose flour

(260 g)

1

Tbsp

baking powder

½

tsp

fine sea salt

or kosher salt*

½

tsp

ground cinnamon

½

tsp

pumpkin pie spice

⅓

cup

granulated sugar

(70 g)

½

cup

unsalted butter

(113 g), cut into small cubes, very cold

⅔

cup

pumpkin puree

(155 g)

2

Tbsp

heavy cream,

for brushing

turbinado sugar,

for sprinkling
Maple Glaze:
2

cups

confectioners' sugar

(227 g) unsifted

½

Tbsp

light corn syrup

(10 g)

pinch

fine sea salt

¼

tsp

maple extract

or more to taste

2

Tbsp

dark maple syrup

(40 g)

2

Tbsp

hot water,

or more depending on desired thickness
Instructions
Pumpkin Scones:
Preheat oven to 350℉. Line a baking sheet with parchment paper. Set aside.

In a large bowl, whisk together flour, baking powder, salt, cinnamon, pumpkin pie spice, and sugar.


Add chilled butter. Cut into dry mixture using a pastry bender (or fork or your fingers) until mixture resembles coarse sand.


Add pumpkin puree and fold to combine until add the dry ingredients have been hydrated.

Turn out dough onto a lightly floured surface. Pat the dough into a circle about ½-inch thick. Using a sharp knife (or a bench scraper) cut the circle into 8 equal sized wedges.

Transfer slices to prepared sheet tray. Brush each scone with a little heavy cream and sprinkle generously with turbinado sugar. Bake for 20-30 minutes until golden brown in color. Let cool on sheet tray for about 5 minutes. Transfer to wire rack to cool to room temperature before adding glaze.
Maple Glaze:
Whisk together confectioners' sugar, corn syrup, salt, maple extract, maple syrup and hot water. Mix together until smooth.

*Add additional hot water, about 1 teaspoon at a time until desired thickness is achieved.

Drizzle glaze over cooled scones. Let sit for 15-20 minutes to allow glaze to set.