Take all the components of the classic candy bar and transform them into these super rich Almond Joy Brownies!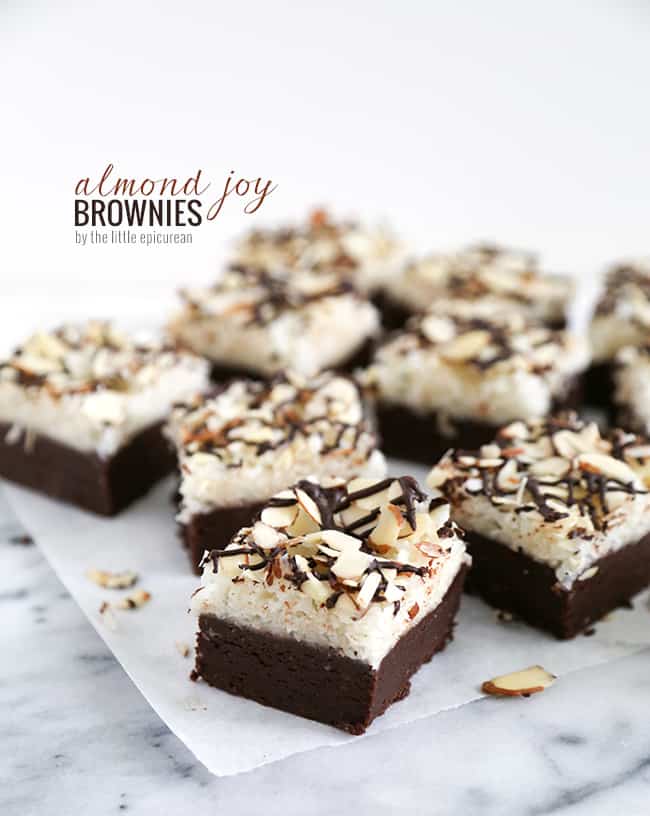 I hated Almond Joy candy bars as a kid.  I figured it was about time I changed that.  Taking all the components of the classic candy bar, I transformed them into these super rich Almond Joy Brownies!
I was in second grade the first time I had an Almond Joy.  My elementary school teacher had passed out candies for Halloween.  I found the name of the candy very alluring: Almond JOY.
The candy bar's name tricked me into believing it was candy bar oozing with so much almonds that I would jump for joy, or something similar to that reaction.
I ripped open the pretty blue wrapper and took a big bite of the bar. All I got was a mouthful of coconut.
I inspected the rest of the candy bar and found only ONE almond.  One measly almond.  Naturally, I was disappointed.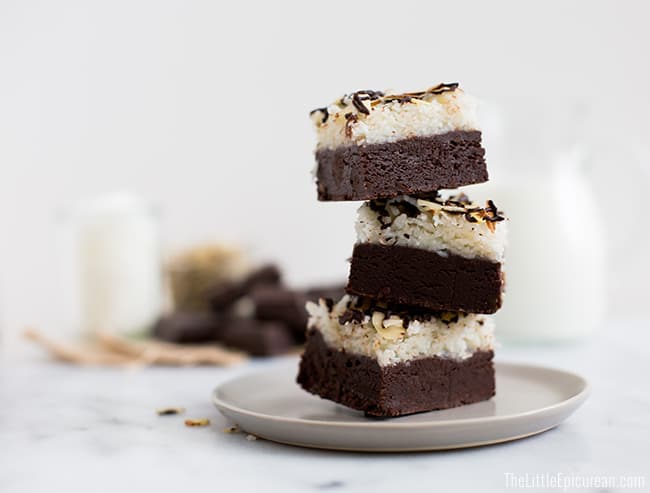 After that incident, every time I had an Almond Joy from trick-or-treating, I would trade.
I can't hate Almond Joy forever.  It contains one of my favorite combinations: coconut, almond, and chocolate.
When it comes down to it, I just didn't like the proportions used in the candy bar.
These Almond Joy Brownies are jam packed with chocolate and almonds.  I think it truly is an almond JOY.  While I sprinkled the almonds on top of the coconut, you can also add another layer of almonds underneath the coconut for an added surprise.
I don't suggest adding almonds to the brownie batter because the almonds end up getting soggy during baking.  Another option for more almonds: substitute almond meal (ground almonds/almond flour) for all-purpose flour in the brownie batter.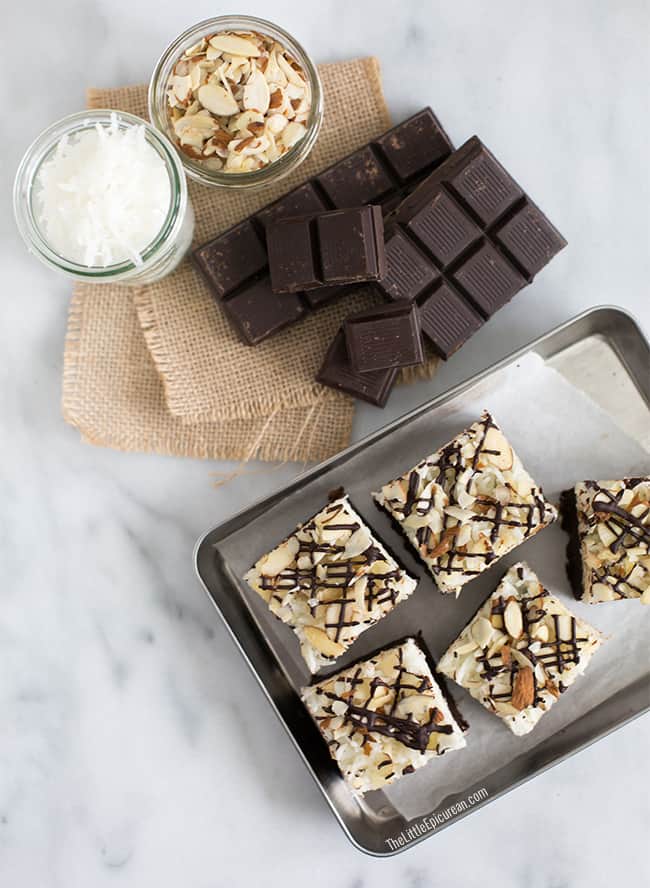 Almond Joy Brownies
An adaptation of a classic candy bar. These rich and decadent brownies are topped with sweetened coconut and sliced almonds. They truly are an almond JOY treat!
Yield: makes 9"x13" pan
Ingredients
Fudge Brownies:
3/4

cup

unsalted butter, cut into tablespoons

1

pound

72% dark chocolate, finely chopped

5

large eggs

1 3/4

cup

light brown sugar, packed

1/2

teaspoon

fine sea salt

1

cup

all-purpose flour
Coconut Topping:
14

oz

bag sweetened shredded coconut, about 4 1/3 cups

3/4

cup

sweetened condensed milk
Almond Topping:
1 1/4

cup

sliced almonds

4

oz

dark chocolate melted
Instructions
Preheat oven to 350 degrees F. Line a 9"x13" baking pan with parchment paper. Butter sides of pan. Set aside.

Fill a pot with about 1-inch of water. Bring to a simmer. Place a large heat-proof bowl over simmer water. Add butter and chopped chocolate in bowl. Slowly melt chocolate and butter until smooth. Be careful not to overheat the chocolate. Stir as needed to ensure the chocolate melts evenly. Remove from pot and let sit at room temperature as you prepare remaining ingredients.

Combine eggs, brown sugar, and salt. Use a hand mixer or stand mixer to mix ingredients together. Mix for 4-5 minutes until mixture is thick and pale in color. Mix until ribbon stage is achieved.

Add melted chocolate to egg mixture. Fold to combine. Add flour and gently fold until there are no longer any dry streaks of flour.

Pour mixture into prepared baking pan. Spread into an even layer. Bake for 25-30 minutes until the top of the brownies crack. No need to test with a toothpick. The brownies will be wet and fudge-like until it cools. Let brownies cool in pan while you prepare toppings.

Coconut Topping: In a large bowl, fold together coconut and condensed milk. Spread coconut mixture over slightly cooled brownies.

Almond Topping: Sprinkle sliced almonds over coconut. Gently press to ensure almonds stick to coconut. Drizzle melted chocolate over almonds. Place brownies in the fridge to set up. Chill for 1 hour (or overnight).

Slice chilled brownies to desired portions. Let chilled brownies sit at room temperature for 10-15 minutes before serving. Store brownies in an airtight container. To extend life of brownies, keep stored in the fridge.
Notes
It is best to cut brownies while they are cold to ensure clean slices.  Use a sharp knife and wipe knife clean after each slice.