My dad is so predictable. Every year he wants me to make him the same thing for his birthday. Actually, come to think of it, he requests the same dessert for any holiday, weekend, special occasion I can think of:  Cinnamons Rolls.  
Where doughnuts are my weakness, my dad's kryptonite is a warm, freshly baked cinnamon roll smothered with cream cheese.
However, this year I wanted to make him a proper birthday cake. I made him a walnut banana rum cake with cinnamon cream cheese icing and white chocolate numbers.
This week my family celebrated my dad's 70th birthday!  (Yes, if you do the math, my dad was in his 40s when I was born.) As a kid, I used to complain that my dad was a lot older than the other kids' parents, but at this age, I'm super thankful.
Throughout my life, my dad has always been a great source of wisdom.  He has experienced so much life before having kids that he knows the answer to pretty much any question I ask him. (Think about it: he was in his late 20s-mid 30s living in Los Angeles during the 1960s and 70s.  You bet he has stories to tell…)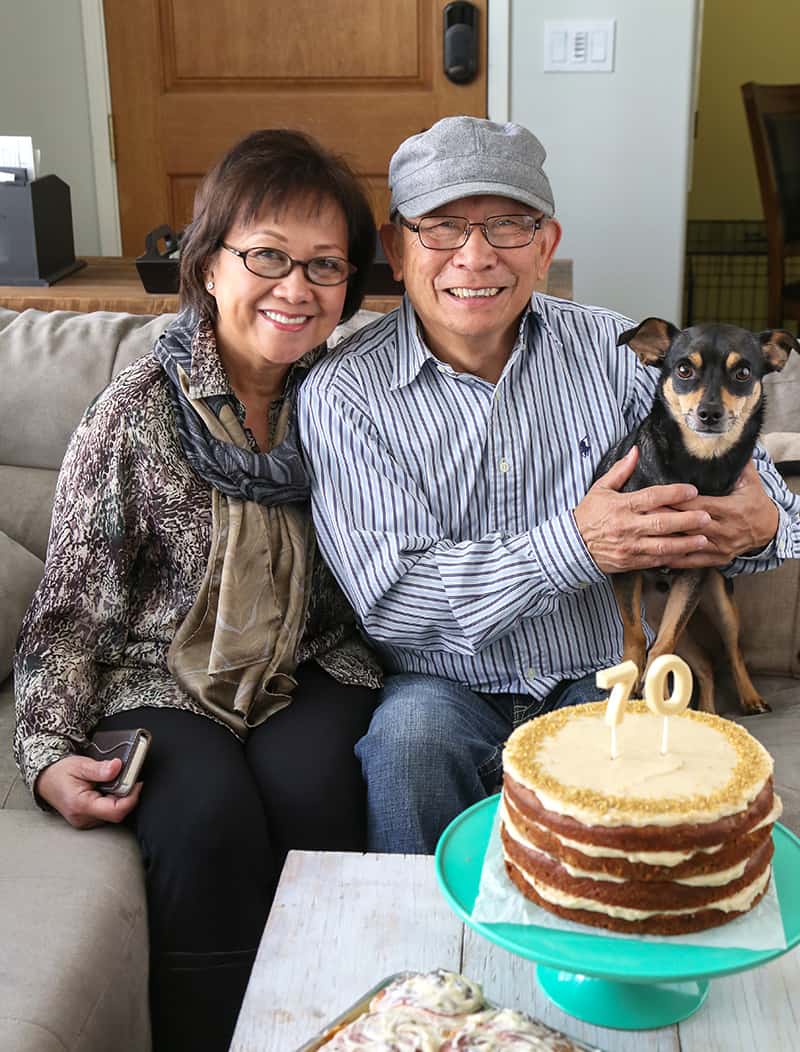 My dad is a constant source of inspiration. He embodies everything I want to be like when I get older. He is always changing for the better.
Whether its eating healthier or being open to trying new things, he is always working on becoming a better person. My dad is the greatest man I know. (If I ever got to meet my grandfather, I'm sure I would understand where he gets it from.)
The older I get, the more I appreciate and value him. With each year, he seems to get happier and happier. He smiles more, laughs louder, and gives back more than ever.
I've always feared getting older. The idea of wrinkles and white hairs throws me into a frenzy. (I get slightly offended when I am not carded for a drink, even if I turned 21 almost eight years ago.)
But seeing how much fun my parents are having, growing old seems like something to look forward to.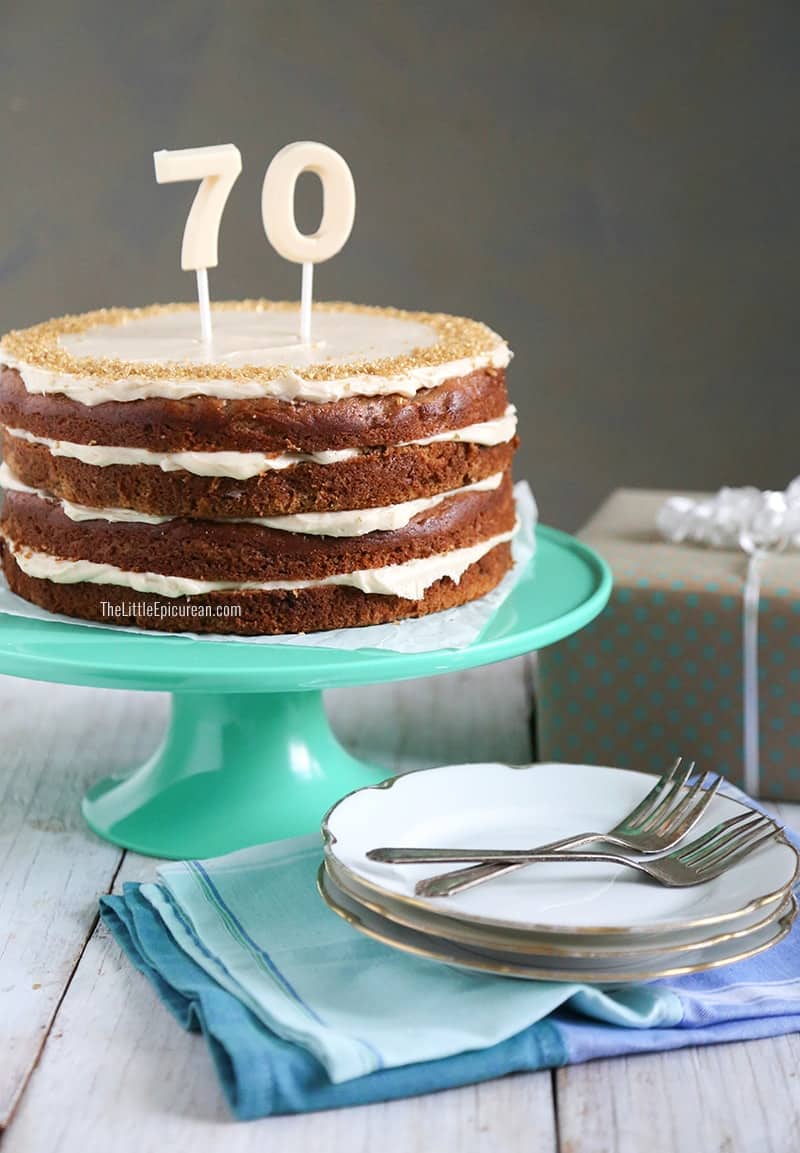 So this banana cake has everything you could ever want in a birthday cake…sugar, booze, and sprinkles. It's a festive approach to traditional banana bread.
I'm really loving the "naked cake" look right now, so I left the sides of the cake bare. To me, it makes the cake look more appetizing and inviting. Frosted cake look so perfect that I often feel guilty slicing into it and messing it up.
Instead of a boring cream cheese frosting, I added a little ground cinnamon and splash of rum to liven it up. If this cake was for myself, I would have gone for pink sprinkles.
To make the cake a tad more classy for my dad, I used these gold sugar sprinkles. Not only are the sprinkles pretty, they provide a nice crunch to an otherwise soft cake.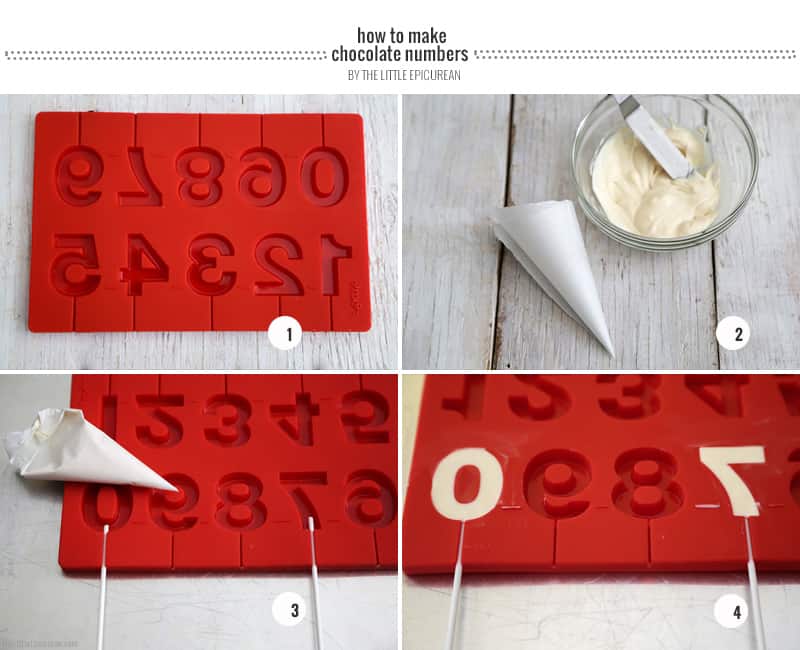 I found this number lollipop mold during my travels in Italy last summer.  You can purchase the same mold here. I love it!  Not only is it great for melted chocolate, but you can also use to freeze ice numbers or bake little number cakes.
I melted about 3 Tbsp of chopped white chocolate.  Any type of chocolate will do, you can also use these white candy melts (from Wilton).  Once the chocolate is melted and smooth, transfer it to a small piping bag.  I like to make small paper cone piping bags using parchment paper.  Here's a quick video tutorial for the paper cone piping bag.
Slip lollipop stick in desired number mold.  Then fill numbers with melted chocolate.  Fill cavity all the way.  Don't worry if excess chocolate spills over the edges.
Use a mini offset spatula to level the melted chocolate with the mold.  Let chocolate sit at room temperature until chocolate is solid.  Gently pop out chocolate numbers.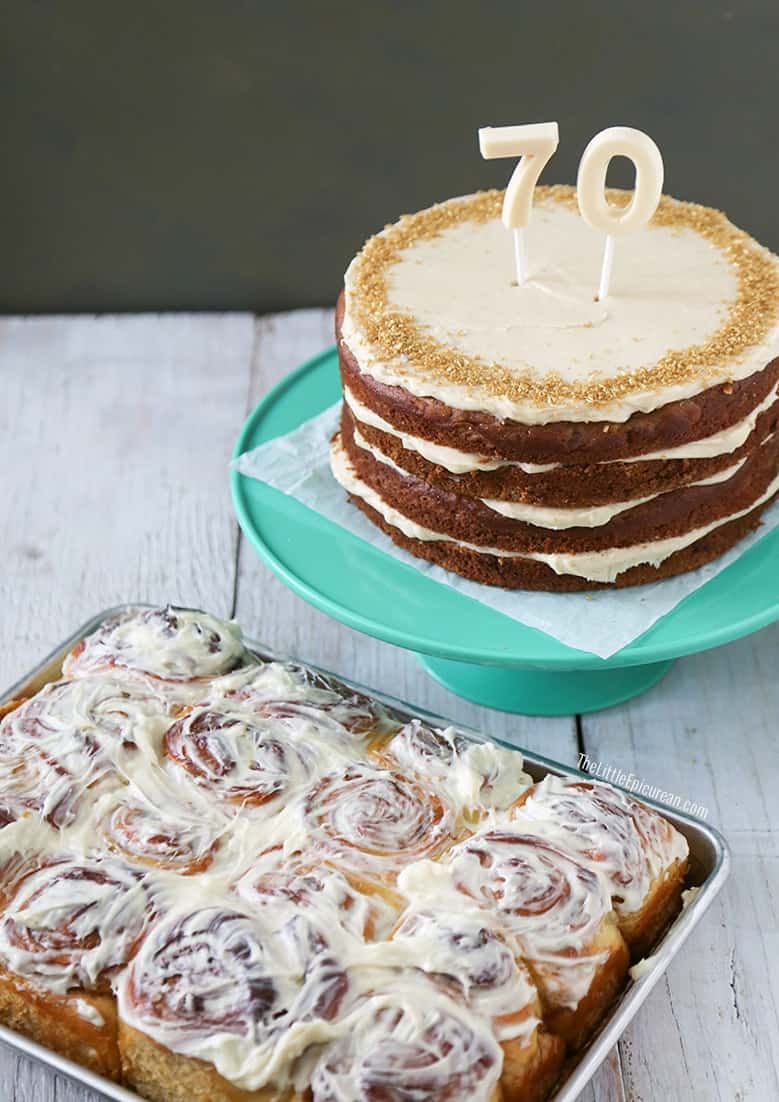 A birthday isn't a birthday without cake. But it's not a party or celebration unless you have more than one dessert. I couldn't leave my dad hanging on his birthday.
Of course I made him the batch of cinnamon rolls he asked for. Recipe coming soon…however, if you are in dire need of cinnamon rolls asap, check out my banana cinnamon rolls.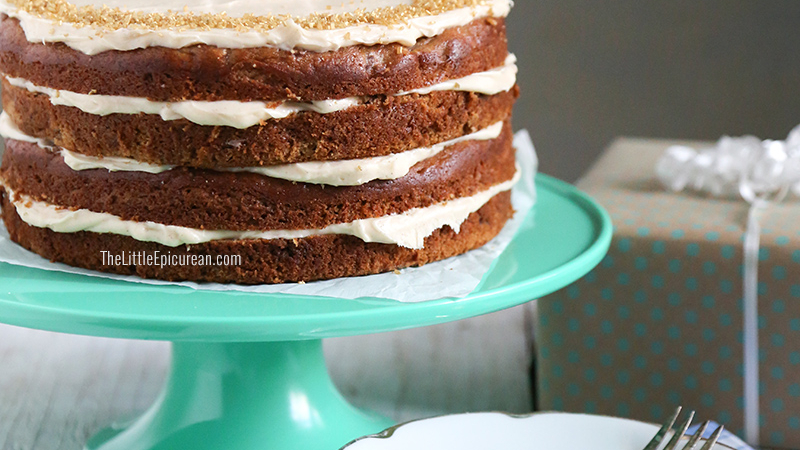 Walnut Banana Rum Cake
Yield: makes two 8-inch round cakes
Ingredients
Walnut Banana Rum Cake:
3

cups

all-purpose flour

2

teaspoons

baking powder

1

teaspoon

baking soda

1

teaspoon

fine sea salt

2

teaspoon

ground cinnamon

3/4

cup

unsalted butter, softened

1 3/4

cup

light brown sugar, packed

3

large eggs

1/2

cup

+ 2 Tablespoons buttermilk, room temperature

4

large bananas, very ripe, mashed

1/4

cup

aged rum (dark rum)

3/4

cup

walnuts, lightly toasted, chopped
Cinnamon Cream Cheese Icing:
2- 8

oz

packages cream cheese

1/2

cup

unsalted butter, softened, room temperature

1/2

cup

light brown sugar, packed

1 1/2

cup

confectioners' sugar, sifted

1/2

teaspoon

fine sea salt

1/2

teaspoon

ground cinnamon

1

Tablespoon

aged rum (dark rum)
Instructions
Walnut Banana Rum Cake:
Preheat oven to 350 degrees F. Butter two 8-inch cake pans and line with parchment paper. Set aside.

In a bowl, whisk together flour, baking powder, baking soda, salt and cinnamon. Set aside.

In a bowl of stand mixer fitted with a paddle attachment, cream butter. Once smooth, add brown sugar and mix until combined. Add eggs one at a time, making sure each egg is incorporated before adding the next.

Alternate adding the dry flour mixture and the buttermilk. Start with 1/3 of the flour mixture. Mix on low speed until almost combined. Add 1/2 of the buttermilk. Mix until almost combine. Repeat and end with the dry mixture.

Add the mashed bananas, rum and walnuts. Stir until walnuts are distributed.

Divide cake batter evenly between the two prepared cake pans. Bake for 30-35 minutes until toothpick inserted in center of cake comes out clean and cake springs back to touch. Let cakes cool in pan for 15 minutes. Then run an offset spatula or knife around the perimeter of cake and invert cake onto cooling rack. Allow cake to cool to temperature.
Cinnamon Cream Cheese Icing:
In the bowl of a stand mixer fitted with a paddle attachment, whip cream cheese until smooth. Scrape down bowl as necessary to ensure thorough mixing.

Add butter and mix until incorporated.

Add light brown sugar, confectioners' sugar, salt, cinnamon and rum. Mix until smooth.
Assembly:
Once cakes have cooled to room temperature, if desired, slice cake into two layers. You will end up with 4 layers.

Place first layer on cake stand. Scoop about 1/2 cup of cream cheese icing on cake. Smooth into an even layer using an offset spatula. Place next cake layer on top. Add another 1/2 cup of icing and smooth into an even layer. Continue until all cake layers have been used.

Keep cake in the fridge until ready to serve. Take cake out 20 minutes before serving and let sit at room temperature to slightly soften. Garnish cake with sprinkles if desired.