More over banana bread. We have a new favorite banana recipe: banana cinnamon rolls!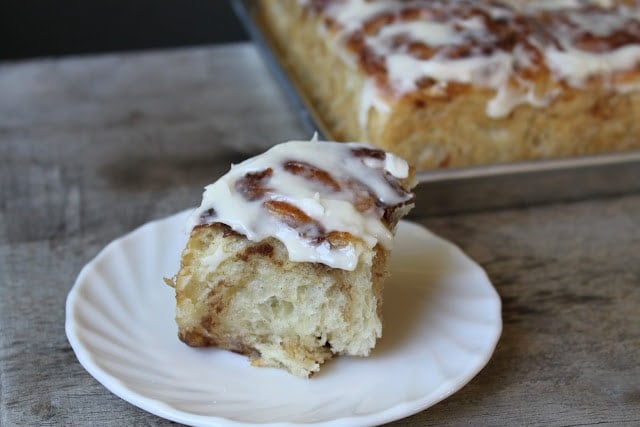 What do you do when you have overripe bananas sitting on the kitchen counter? If you're like me, you end up making the usual, same old banana bread. Well, I've had enough and I want to break that habit.
I usually reserve cinnamon rolls for the colder autumn and winter months. I love making them using a buttery and soft brioche dough.
However, all that fat and sugar is not good for the summer. I can't get away wearing cute sweaters and blazers during this 90 degree weather.
These banana cinnamon rolls are made with a leaner dough, giving you a little freedom to eat a couple and still manage to wear that bikini. (well, that's what I tell myself)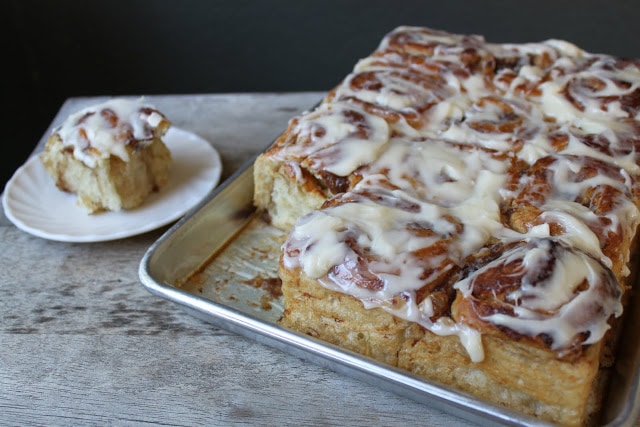 Banana Cinnamon Rolls
The dough is airy and fluffy. Allowing the dough to rest in the refrigerator slows down the rising, creating a more delicate and even texture in the rolls.
Sometimes, doughs that are allowed to proof too fast (because they are placed in too warm of an environment) don't have the necessary time to develop its structure and flavors.
I used regular mashed bananas, but if you're feeling adventurous, I suggest roasting, caramelizing, or even flambe-ing the bananas with a little rum.
The ripe bananas provide a nice rounded sweetness that you can't attain from plain sugar. Plus, bananas work so well with cinnamon.
This is a great recipe to make on one those less exciting Saturday nights when you decide to stay in. You'll wake up whoever you're living with to an intoxicating delicious aroma come Sunday morning.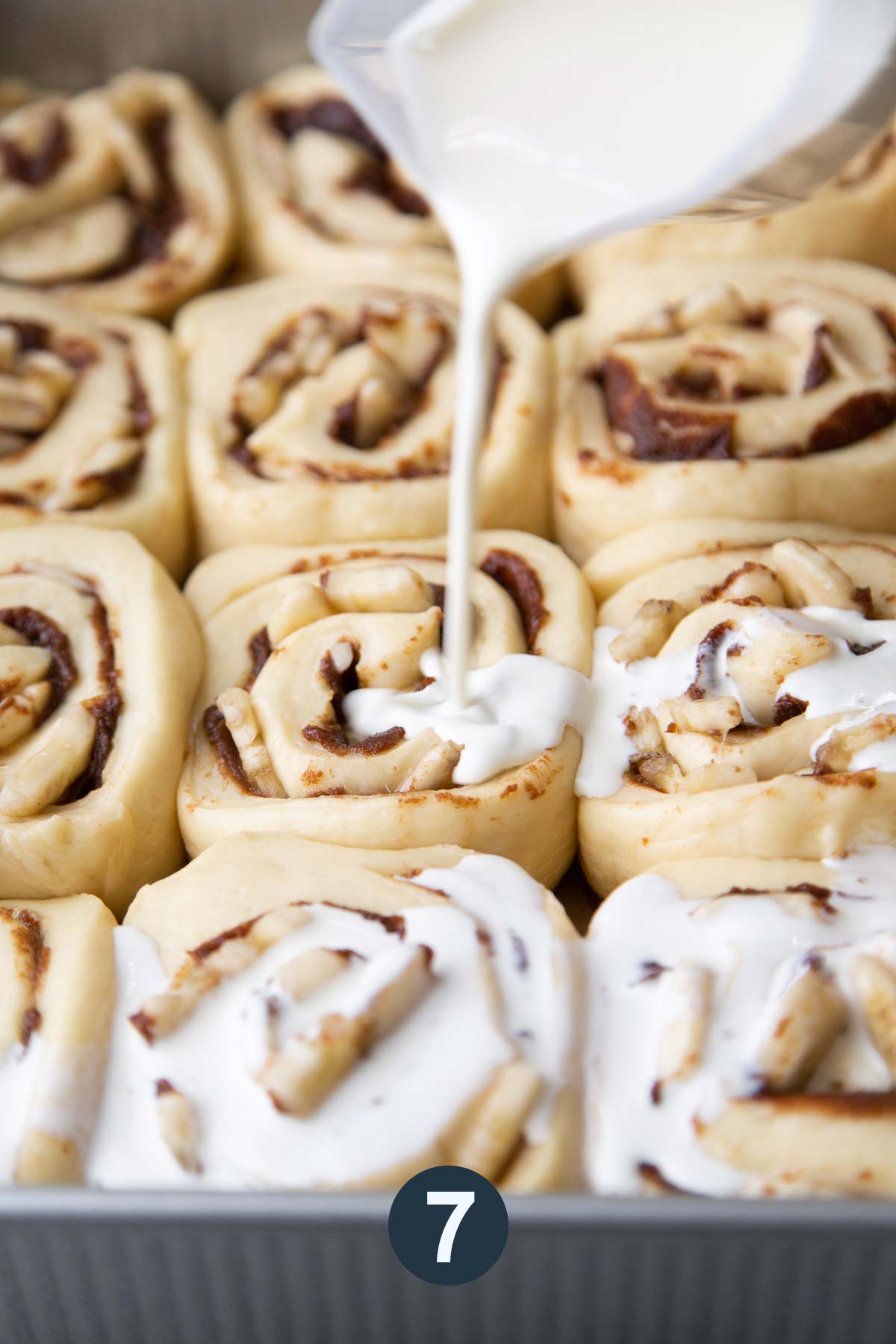 It might be a little tricky to roll up because of the filling, but take whatever goo that spills out and smear on top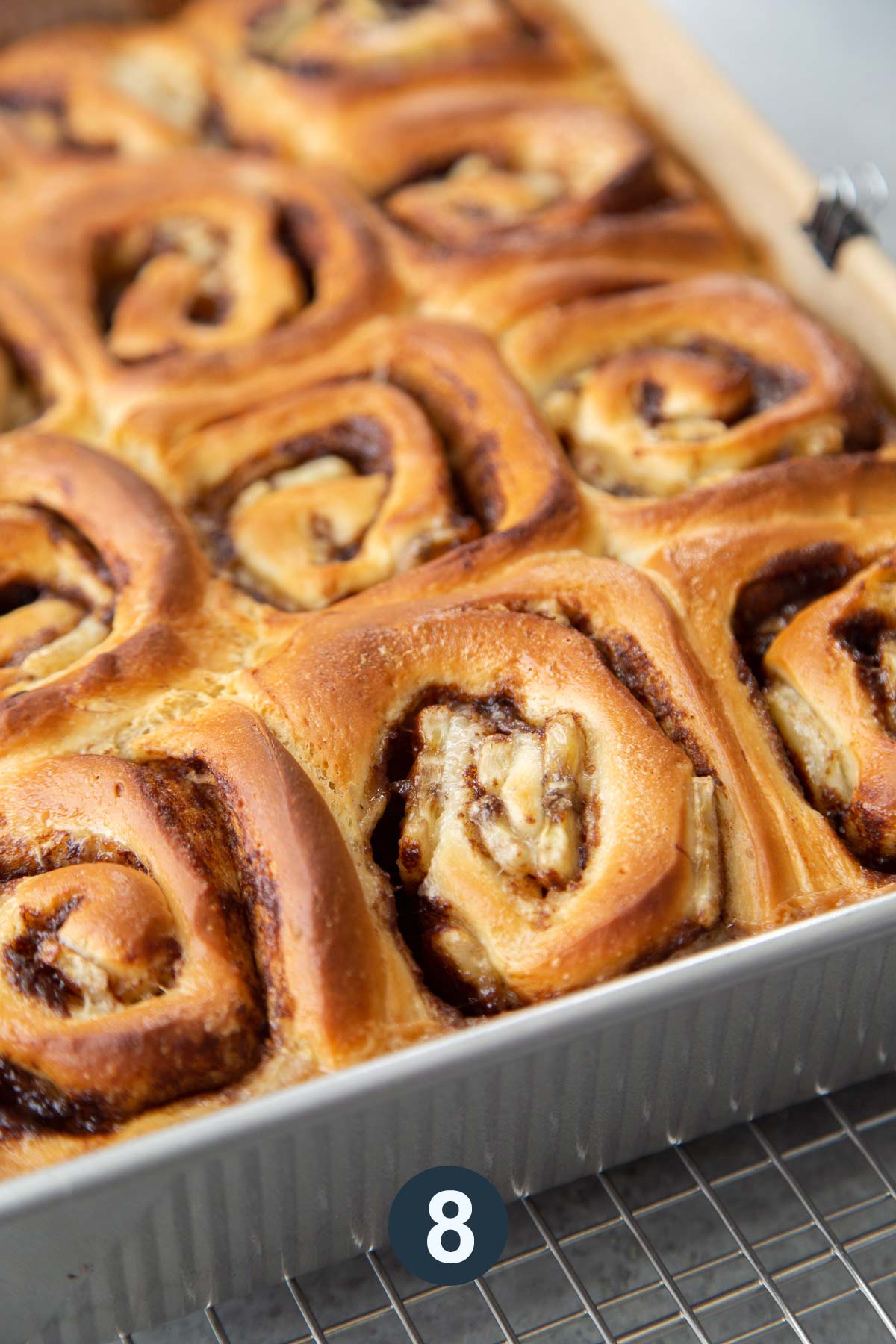 I prefer baking these in a quarter sheet pan with extenders, but you can easily use a 13×9 in baking pan.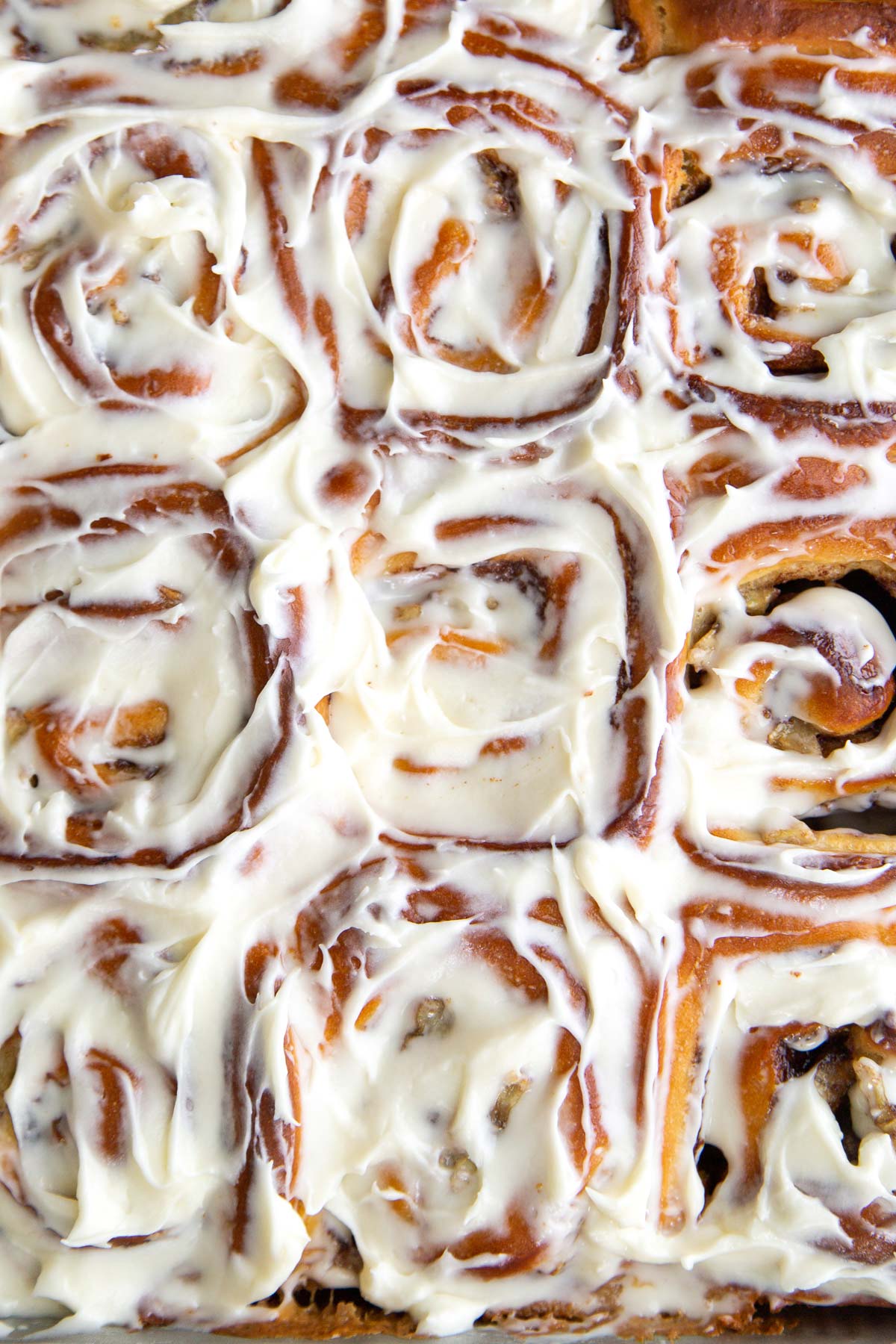 Banana Cinnamon Rolls with Cream Cheese Glaze
Ingredients
2 1/2

cups

all-purpose flour

1/2

cup

cake flour

1

Tablespoon

active dry yeast

1/3

cup

granulated sugar

1/4

cup

dry buttermilk powder

1

teaspoon

fine sea salt

1

cup

warm water, about 110 degrees F

5

Tablespoons

unsalted butter, cut into small cubes, room temperature
Banana Cinnamon Sugar Filling:
2

ripe bananas, mashed

1/4

cup

unsalted butter, softened, room temperature

1/4

cup

granulated sugar

1 1/2

teaspoons

ground cinnamon

1/2

teaspoon

instant espresso powder
Cream Cheese Glaze:
4

oz

cream cheese, softened

4

oz

unsalted butter, room temperature

1

cup

powdered sugar

1

teaspoon

pure vanilla extract
Instructions
Combine 1 cup of the all purpose flour, all the cake flour, yeast, granulated sugar and buttermilk powder in a stand mixer with the paddle attachment. Add the warm water and beat on medium speed for one minute. In a small bowl, whisk together remaining all purpose flour with the salt.

Add the butter one piece at a time to the stand mixer. Add 1 cup of the remaining flour mixture and continue to mix for one minute.

Switch to a dough hook attachment. Add in the remaining flour a little bit at a time, until the dough pulls away from the sides of the bowl. Knead on med-low until the dough is soft, smooth and springs back to touch.

Transfer dough to a lightly greased bowl. Cover with plastic wrap and let rise at room temperature for about an hour, or until almost doubled in size.

Turn out the dough into a lightly floured surface. Roll dough to a 15 x 10 inch rectangle.

To making filling: Mix together soft butter and mashed bananas. Spread evenly over dough. Whisk together sugar, cinnamon, and espresso powder. Sprinkle evenly over dough.

Starting with 10 inch side, roll up tightly, pressing the edges to seal. Cut into 12 equal slices and place in a greased 13 x 9 inch pan. Cover with plastic wrap and refrigerate overnight.

Let sit at room temperature 20-30 minutes before baking. Place the rolls in a cold oven and turn the heat to 350 degrees F. Bake until golden brown, about 20-30 minutes.

To make glaze: Cream together cream cheese and butter. Add powdered sugar and vanilla. Mix until smooth. Spread over warm banana cinnamon rolls. Put remaining glaze in airtight container and keep refrigerated.
Notes
Dough recipe adapted from 

The Williams-Sonoma Baking Book 

 (Jelly Gem Breakfast Rolls)

Leftover rolls should be placed in the fridge.  Pop them in the microwave for 30 seconds and they're as good as fresh.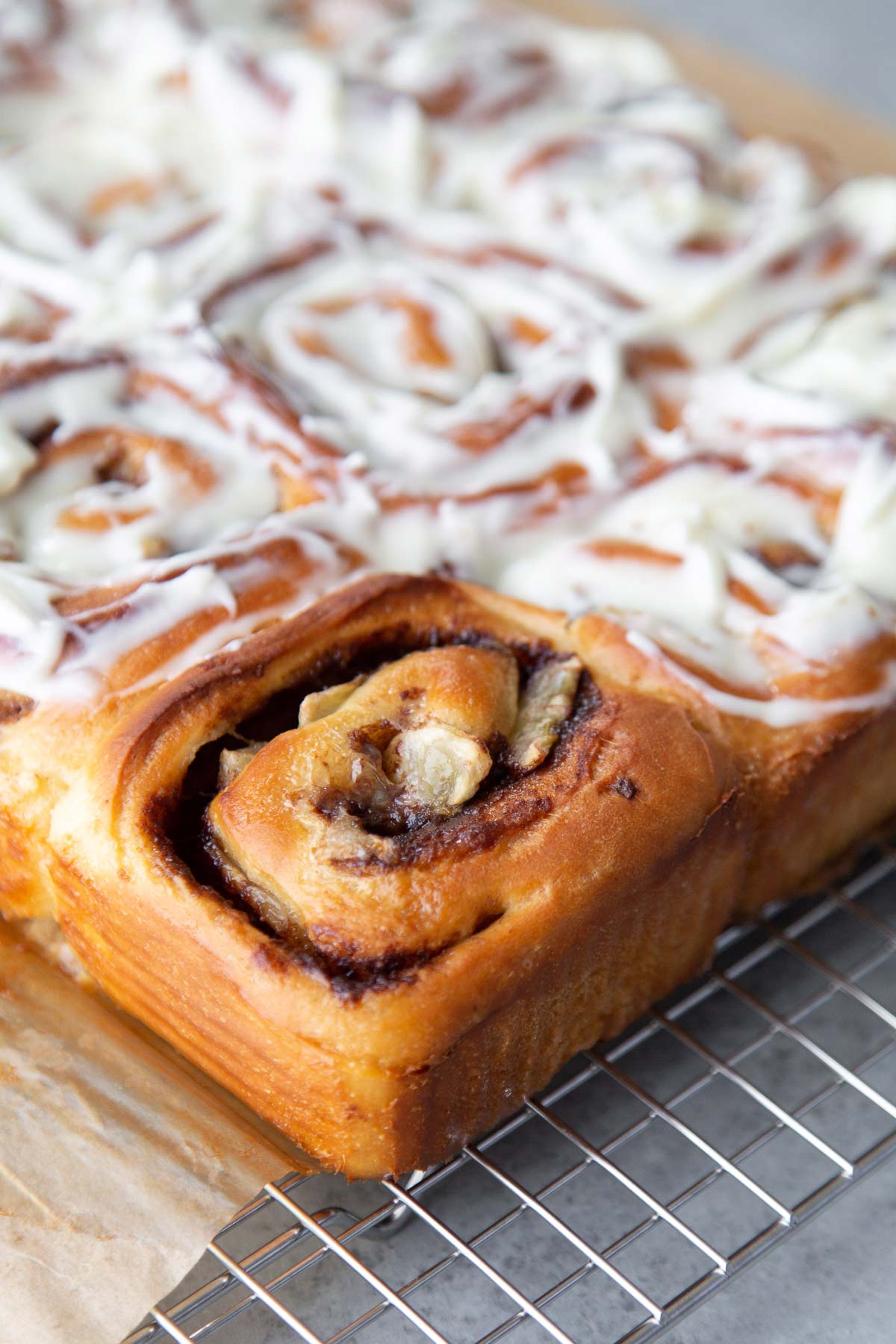 Leftover rolls should be placed in the fridge. Pop them in the microwave for 30 seconds and they're as good as fresh.