The combination coconut milk, coconut sugar and toasted dried coconut brings a punch of tropical flavors to this refreshing and addicting coconut almond chocolate chip ice cream!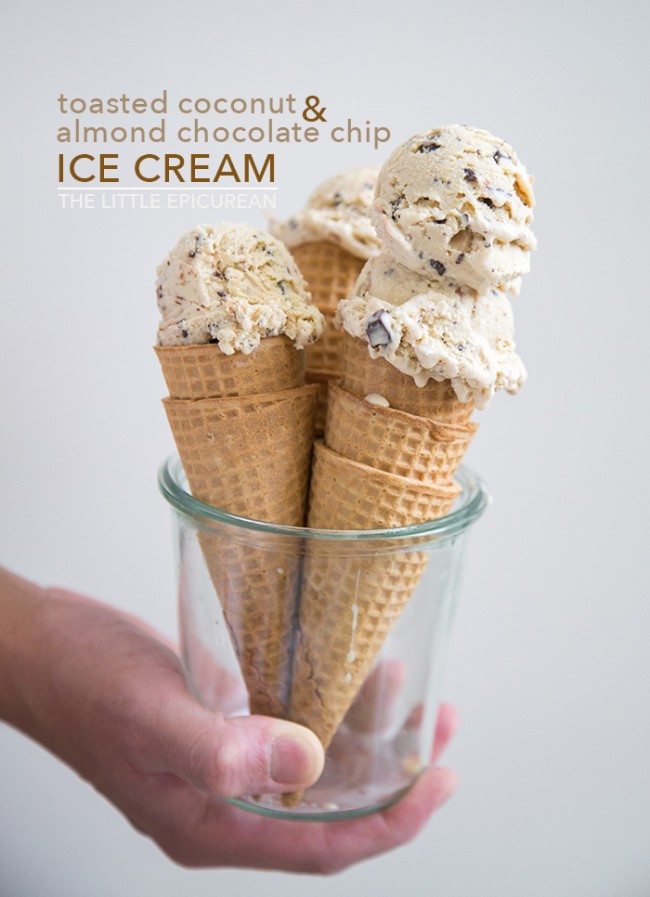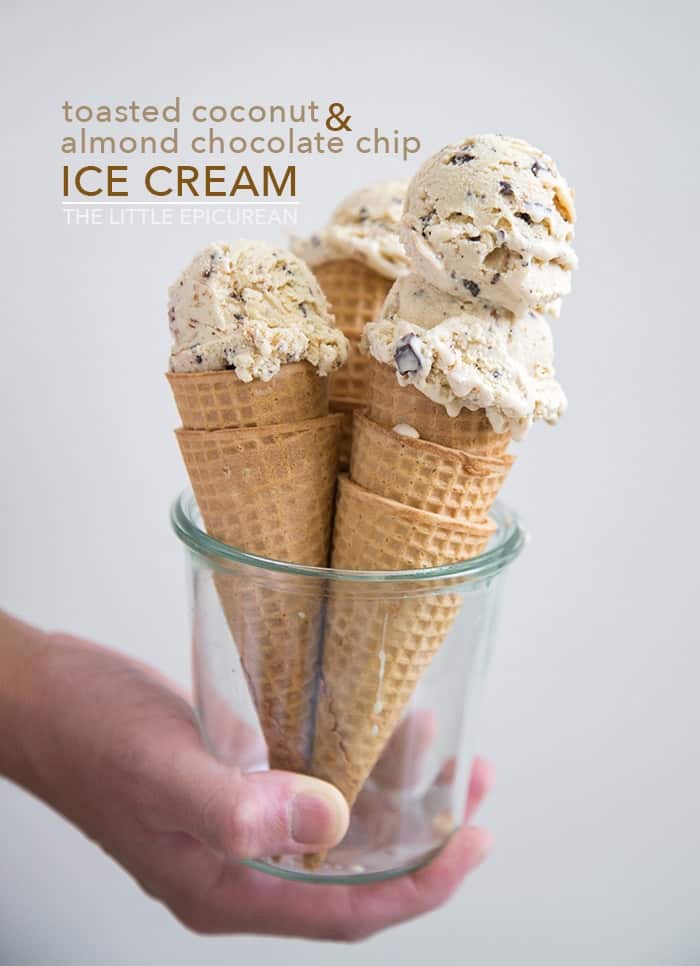 Rain or shine.  Hot or cold.  I want ice cream.  Even my lactose-intolerance can't keep me away from the stuff.
A couple of weeks ago, Alex and I attended his cousin's wedding in Santa Barbara.  A trip to SB isn't complete without a couple scoops from McConnell's Fine Ice Cream.
During our little weekend trip, I got ice cream twice.  (Of course I documented them on Instagram here and here.)  My favorite out of the two was the toasted coconut almond chip.  As soon I finished my scoop, I was sad that didn't order a double.
One scoop was not enough.  Once  I returned home, I was on a mission to recreate it.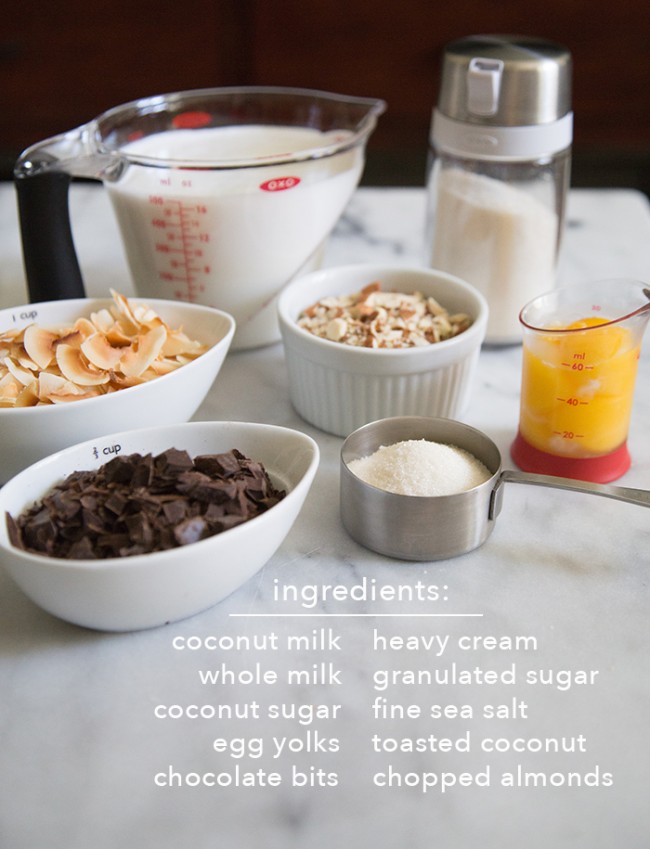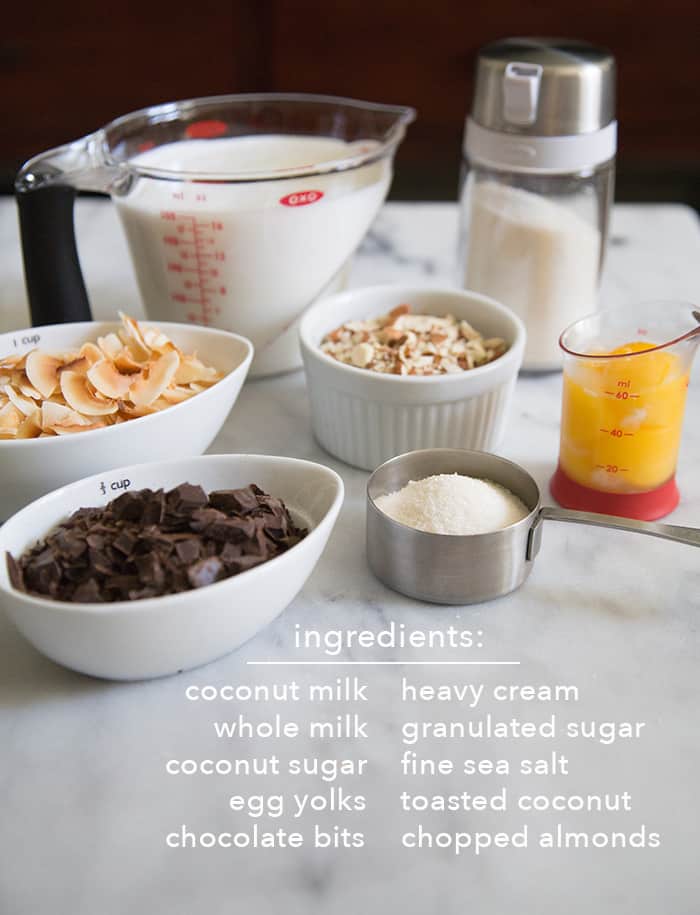 And here it is! My version of toasted coconut almond chocolate chip ice cream!  (Yes, the name is a mouthful, but I felt I had to fully disclose all the goodness included in the ice cream.)
The secret to my coconut almond chip ice cream is coconut sugar.  Have you heard of it?  It's also called palm sugar, coco sugar, or coconut sap sugar.  It is widely used in Southeast Asia, especially in the Philippines (where I first tried it).
Coconut sugar comes from the sap of coconut trees.  The coconut sap is collected similar to that of maple trees.  Asides from coconut sugar, coconut sap is also used to make coconut vinegar and a boozy coconut wine.
Coconut sugar tastes similar to muscovado sugar, a very dark brown molasses sugar.  Because coconut sugar is minimally processed, its color can vary to different shades of brown.  Coconut sugar was once only available at Asian markets, but nowadays it can be found at many natural food markets.  Trader Joe's also recently released their brand of coconut sugar.
This coconut almond chip ice cream has it all.  Asides from the usual ice cream qualities I look for (rich, creamy, and dense), I love the crunch from the toasted chopped almonds, the dark chocolate bits that melt in your mouth, and the chunks of toasted coconut that remind me it's summer.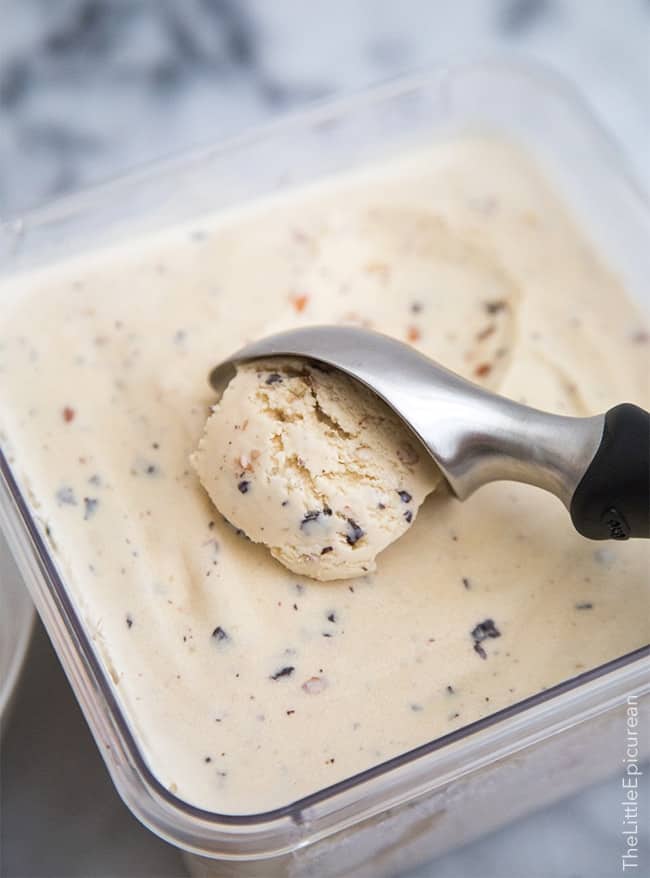 Thanks to my friends at OXO, I had a bunch of new kitchen tools to help me in my summer ice cream making adventures.
Over the years, I've gone through quite a number of ice cream containers.  I have a tiny freezer so I'm always on the lookout for something compact and stackable.  For the most part, most containers I've used end up cracking, making them useless.
This freezer-safe container  can withstand freezing temperatures and takes up little space.  It holds up to 1 quart of ice cream.  Plus, it's locktop helps prevent nasty freezer burns.  To get perfect ice cream scoops (like the ones from an ice cream shop), this ice cream scoop works like magic.
But my favorite OXO tool is the mini chopper.  No need to take out a knife and cutting board.  The mini chopper is great for chopping chocolate and nuts.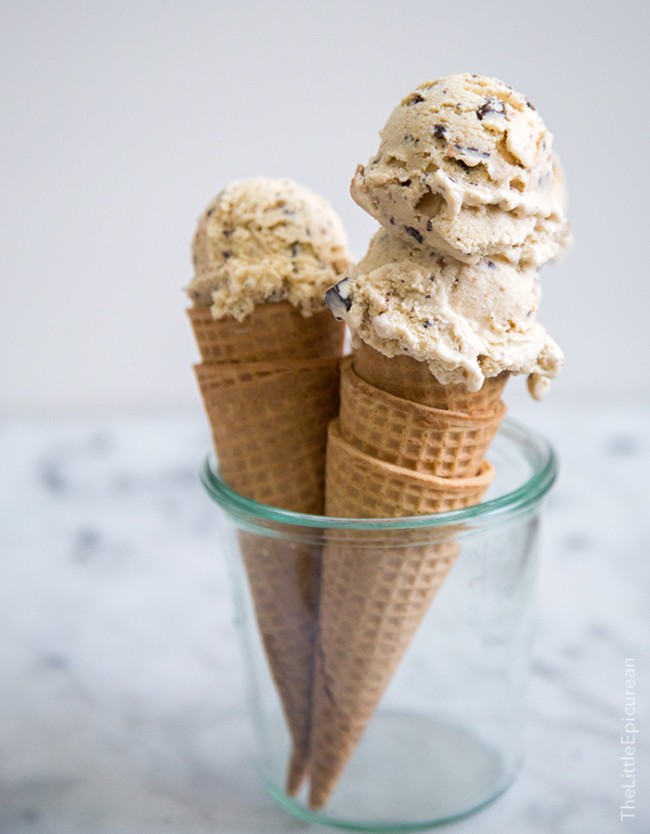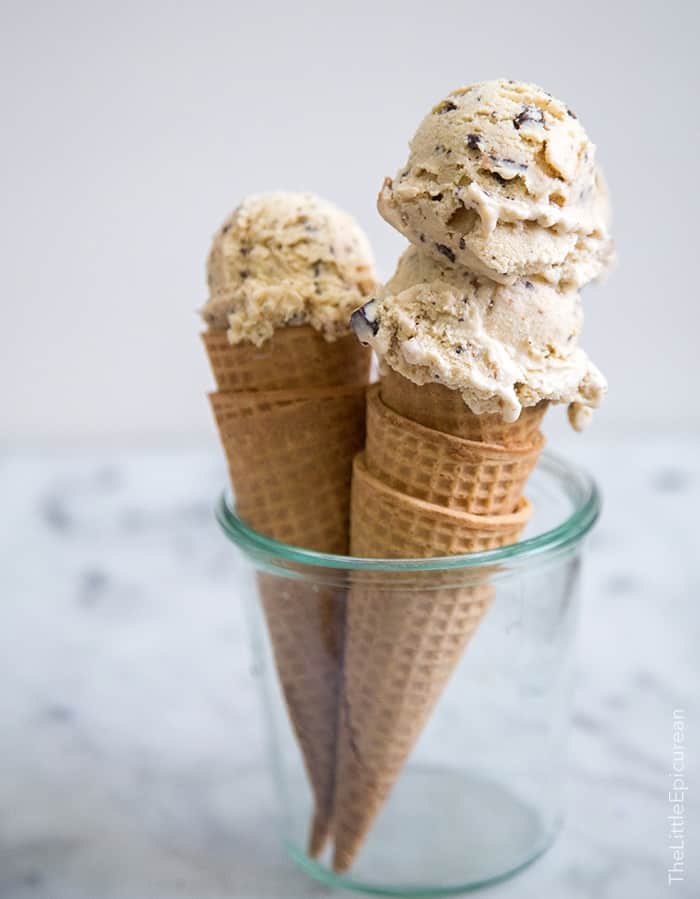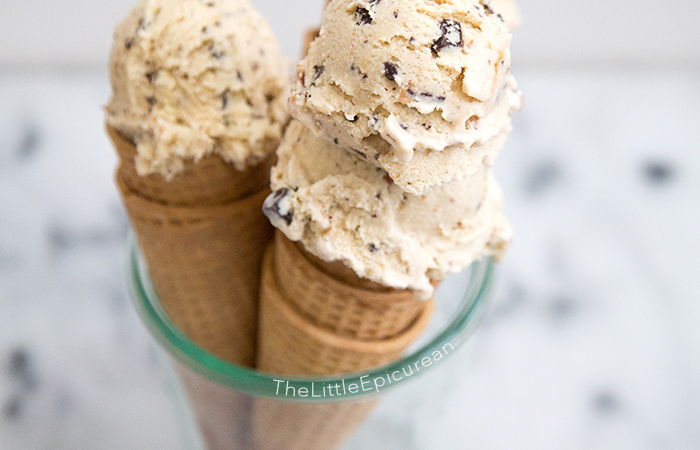 Toasted Coconut Almond Chip Ice Cream
The secret to this rich, creamy and flavorful ice cream is coconut sugar. The combination coconut milk, coconut sugar and toasted dried coconut brings a punch of tropical flavors to this refreshing and addicting coconut almond chocolate chip ice cream!Yield: about 1 quart
Ingredients
1

cup

canned coconut milk, full-fat, well-shaken

1

cup

heavy cream

1

cup

whole milk

5

large egg yolks

1/3

cup

granulated sugar

1/3

cup

coconut sugar

1/2

teaspoon

fine sea salt

1/2

cup

toasted almonds, chopped

1/2

cup

unsweetened dried coconut, lightly toasted

1/2

cup

dark chocolate, roughly chopped
Instructions
In a medium sauce pot, combine coconut milk, heavy cream, and whole milk. Set over medium heat and slowly bring to a simmer.

Meanwhile, in a large bowl whisk together egg yolks, granulated sugar, and coconut sugar.

Temper hot milk mixture into sugar yolk mixture. Slowly add hot milk into yolks about 1/4 cup at a time, whisking continually to distribute heat. Once all the milk has been added to the bowl, transfer everything back into the pot.


Stir over medium-low heat until mixture thickens to nappe consistency, or 180 degrees F on a kitchen thermometer. Let mixture sit at 180 degrees F for 3 minutes to pasteurize egg yolks. Remove from heat and whisk in salt.


Let mixture sit for 5-10 minutes and allow to cool slightly. Transfer to an airtight container and let mature in the fridge overnight.

Freeze mixture in ice cream maker according to your unit's instructions. Once the volume has increased by half and has reached a soft serve consistency, add almonds, coconut, and chocolate to ice cream maker. Allow to mix for 5 minutes or so until all of the mix-ins has been evenly distributed. Transfer ice cream into an airtight container and let harden in the freezer for at least 30 minutes before serving.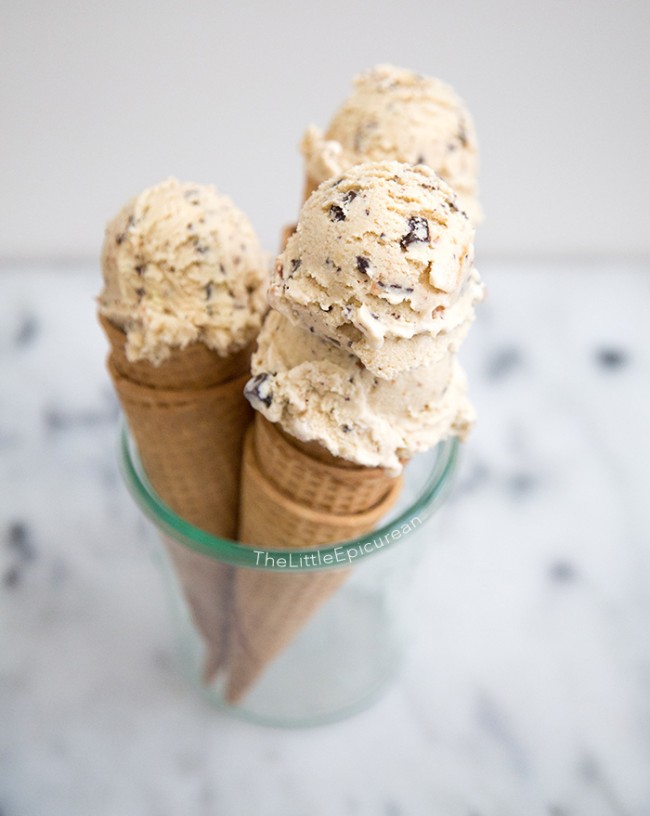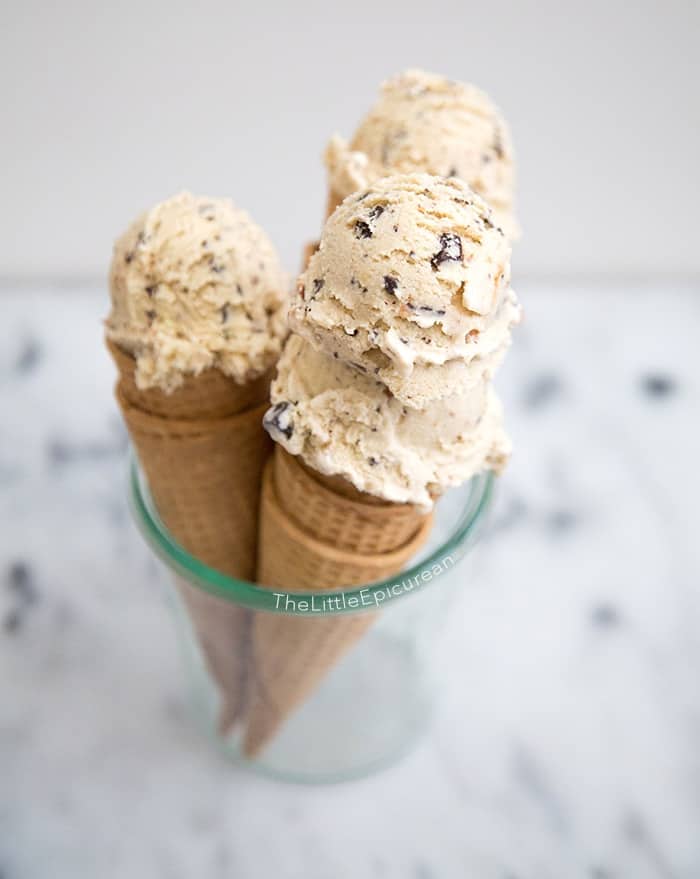 Disclosure: OXO provided me with products for their #IceCreamforOXO campaign.  Recipe and opinions are my own.  Amazon Affiliate links are used in this post.