Dark chocolate mint ice cream is dark chocolate ice cream infused with fresh mint and churned with bits of chopped dark chocolate.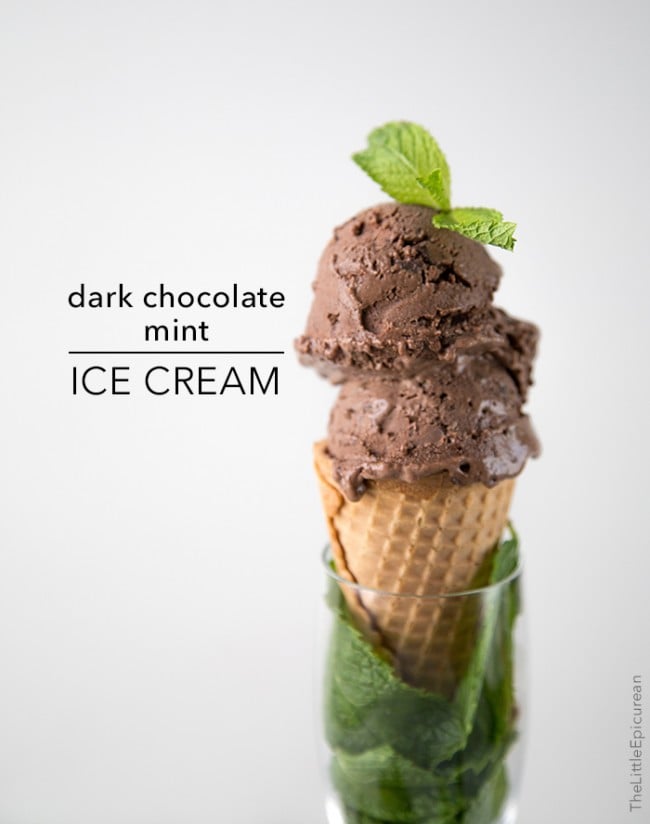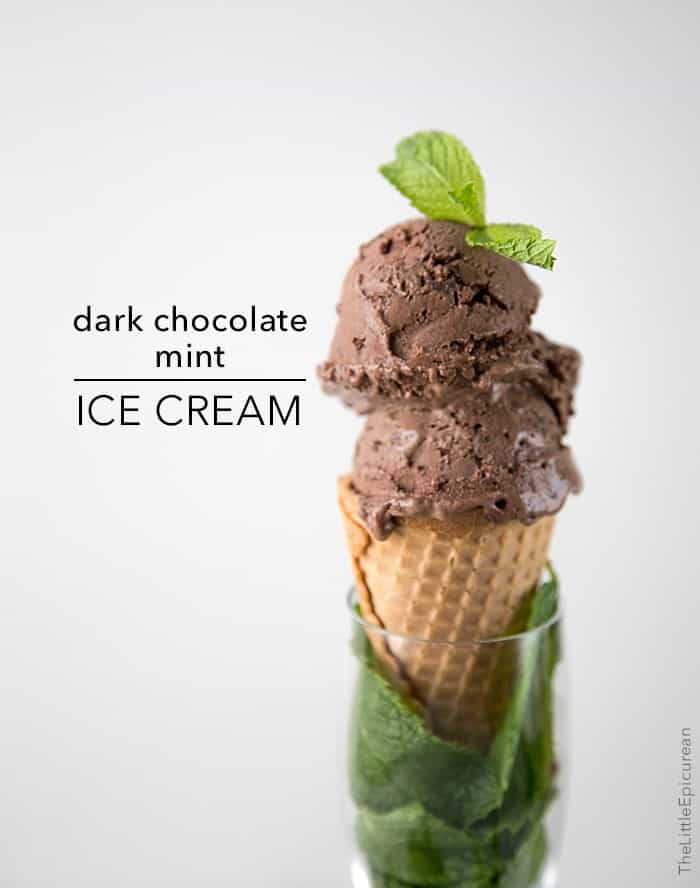 Mint chocolate ice cream (aka mint chip ice cream)- that's the norm. Mint flavored ice cream with chunks of chocolate. Who wants to be ordinary? I prefer to be different, unique, and sometimes a bit irrational.
This ice cream features dark chocolate ice cream infused with fresh mint and churned with bits of chopped dark chocolate.
Upon initial inspection it looks like a regular old chocolate ice cream, but one taste and you immediately know it's something special!
Dark Chocolate Mint Ice Cream
This ice cream tastes quite similar to a Thin Mint cookie. (Check out my homemade Thin Mint recipe if you're a fan of Girl Scout cookies!).
I don't like regular chocolate ice cream because I find it flat. The mint infusion and the chunks of chocolate really helps to bring dimension and life into this ice cream.
I was inspired to make this ice cream after reading the new CoolHaus cookbook. Last week, I attended a UCLA Alumni event (Go Bruins!) to listen to CoolHaus co-founder Natasha Case speak.
I received a free copy of the new cookbook from attending the event. Score! It's one great ice cream cookbook with plenty of delicious ideas and delectable cookies. Plus, I love reading about all the architects that the ice cream sandwiches are named after.
Ever since I moved to Pasadena I've been frequenting the CoolHaus brick and mortar a lot. Maybe because it's been so darn hot and their store is so close to my house.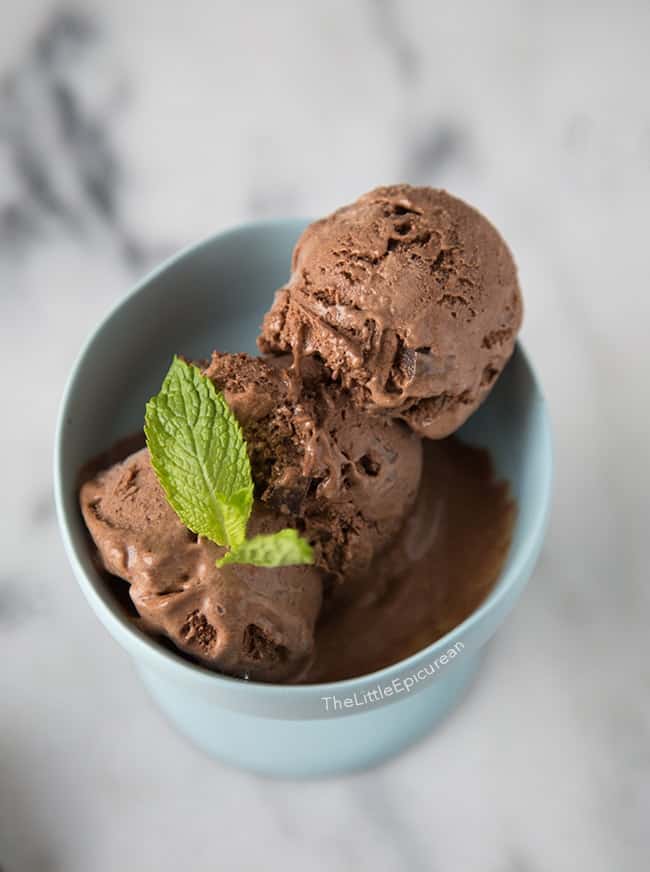 Recommended Ice Cream Makers:
Over the years, I have used a variety of different ice cream machines. Here are my top two favorites:
This ranks number one in my books! Most ice cream machines require you to freeze the canister ahead of time. This one doesn't.
Simply pour the liquid mixture into the machine. The compressor will automatically chill the canister. Within 30 minutes, you'll have fresh churned ice cream ready!
This was my first electric ice cream maker. It's great for starters and those that don't make ice cream often.
The mixing bowl requires freezing ahead of time before use. Other than that, it's simple and easy to use!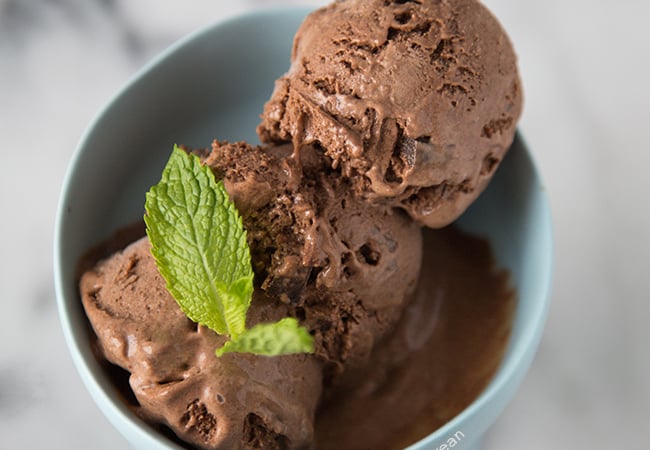 Fresh Mint Dark Chocolate Ice Cream
Dark chocolate ice cream infused with fresh mint and churned with bits of chopped dark chocolate.Yield: about 1 quart
Ingredients
2

cups

whole milk

2

cups

heavy cream

1

cup

fresh mint, chopped

1

cup

granulated sugar

7

large egg yolks

8

oz

72% dark chocolate, finely chopped

4

oz

72 % dark chocolate, roughly chopped
Instructions
In a medium pot, bring milk and cream to a boil.  Remove from heat and add chopped mint.  Cover pot and let steep for 20 minutes.

Place 8 oz chopped chocolate in a large bowl. Set aside.


Strain mixture and discard mint leaves. Place pot over medium heat and add 2 tablespoons of sugar. Bring to a boil.


Meanwhile, in a large bowl, whisk together egg yolks with remaining sugar. Once milk begins to boil, lower heat.


Temper hot milk into sugar yolk mixture. Slowly add hot milk into yolks about 1/4 cup at a time, whisking to distribute heat. Once all the milk has been added, transfer everything back into the pot.


Stir over medium-low heat until mixture reaches nappe consistency, or 180°F on a kitchen thermometer. Let sit at 180° F for 3 minutes to pasteurize eggs.

Pour hot mixture into bowl of chopped chocolate. Cover with plastic wrap and let sit for 3 minutes. Remove plastic wrap and stir to combine. Continue to stir until chocolate has melted and mixture is smooth and homogenous. Transfer mixture to an airtight container and let mature in the fridge overnight.


Freeze mixture in ice cream maker according to your unit's instructions. Once the volume has increased by half and mixture has reached a soft serve consistency, add in 4 oz chopped chocolate.


Once chopped chocolate has been distributed, transfer ice cream to an airtight container and let rest in the freezer for at least 30 minutes before serving.