This mint hot chocolate recipe features real deal ingredients: milk, cream, and chocolate!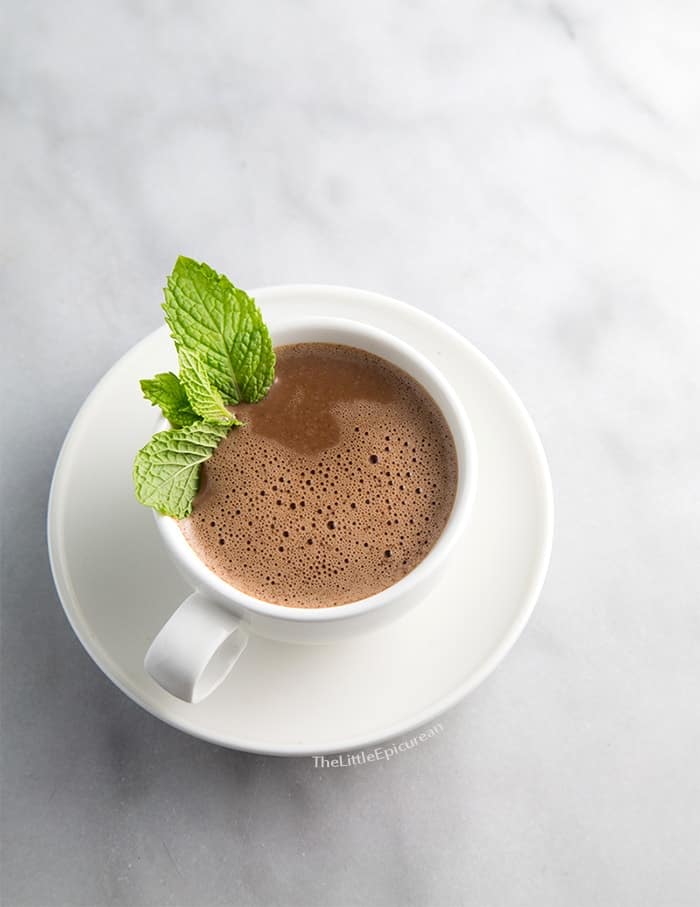 On chilly nights, there is nothing quite as comforting as a mug of hot chocolate.  None of that instant powdered hot cocoa that you mix with water.
I'm talking about real deal hot chocolate made with milk, cream, and chocolate.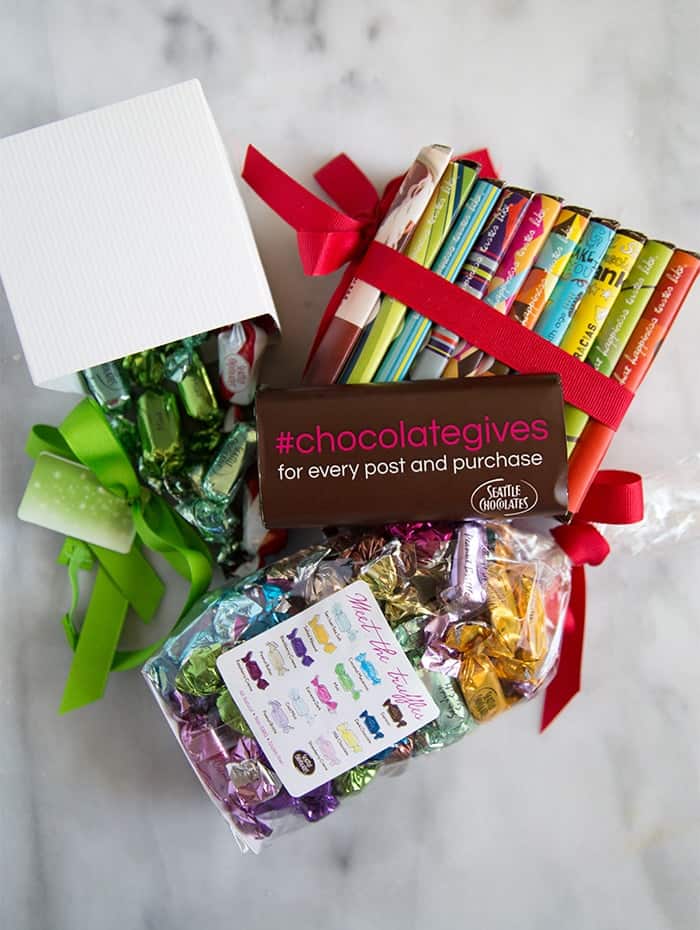 Earlier this month, Seattle Chocolates reached out to tell me about their #ChocolateGives campaign this holiday season.
From November 1st until the end of the year, for every item purchased online/in stores and each #ChocolateGives post, Seattle Chocolates will donate a serving of fresh food to a local food bank.
The chocolate junkie in me jumped for joy when I opened my box of chocolates.  I had no obligations to write a post or create a recipe, but I was really impressed with Seattle Chocolate's quality and range of products.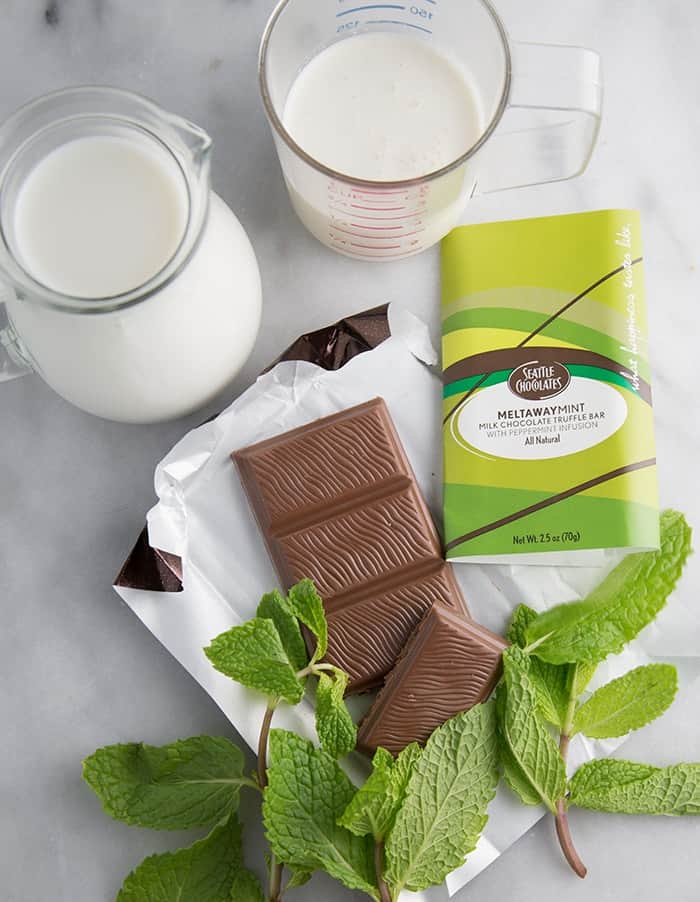 Mint Hot Chocolate
Homemade hot chocolate is super simple to make.  What is more holiday than mint?  I used Seattle Chocolates Meltaway Mint Truffle Bar.  It's a creamy milk chocolate bar with peppermint infusion.
(It's funny because the side of the chocolate bar says "what happiness tastes like." Yes, it's exactly what I was thinking.)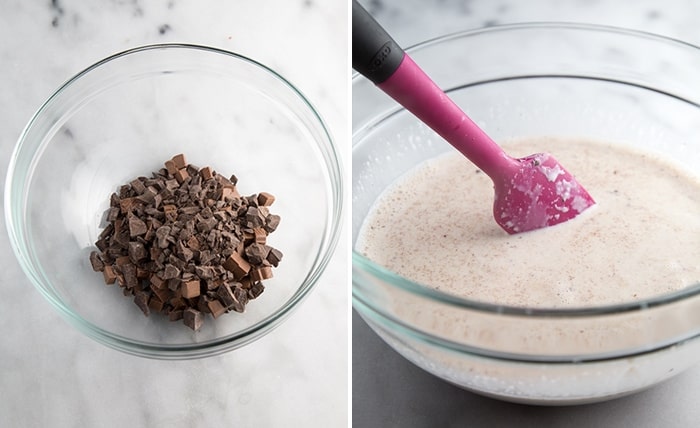 To make this mint infused hot chocolate, place milk and cream in a pot and bring it to a simmer. Remove from heat and add crushed/torn mint leaves. Cover the pot and let the mint steep.
How to get the most mint flavor:
In order to get the most flavor out of mint, it's best to bruise them.  Essentially you want the oils in the leaf to meet the milk mixture.  (It's similar to why mint leaves are crushed in mojitos.)
Chop up the mint truffle bar.  To balance out the sweet milk chocolate, I also added chopped 72% dark chocolate.  Once mint has steeped, bring milk mixture back to a simmer.
Pour hot milk over chopped chocolate.  Stir or whisk to combine until chocolate melts.  That's it.  It's time to drink up.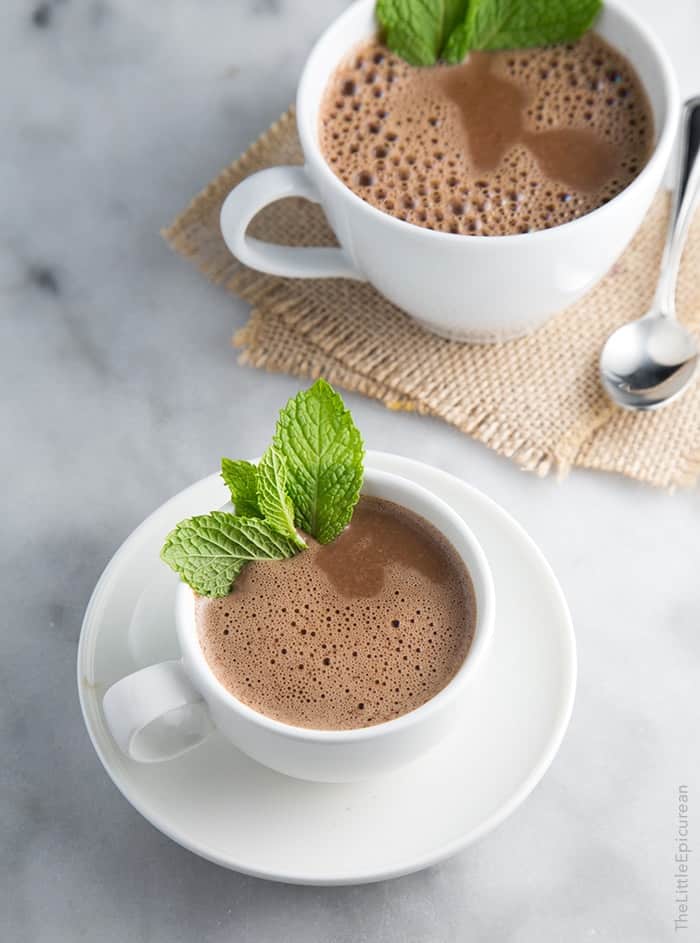 If you're going be stocking up on chocolates this holiday season, you might as well do some good while you're at it.  Seattle Chocolates makes a bunch of different chocolates to satisfy everyone's sweet tooth.
My personal favorites are the Extreme Dark Truffle, Pike Place Espresso, and Kris Kringle Crackle (it's dark chocolate with sea salt and half-popped popcorn!).
Best of all Seattle Chocolates practices responsible sourcing, uses non-GMO ingredients, and is a nationally certified Women's Business Enterprise!
Do good and help others, plus have your mint hot chocolate, too!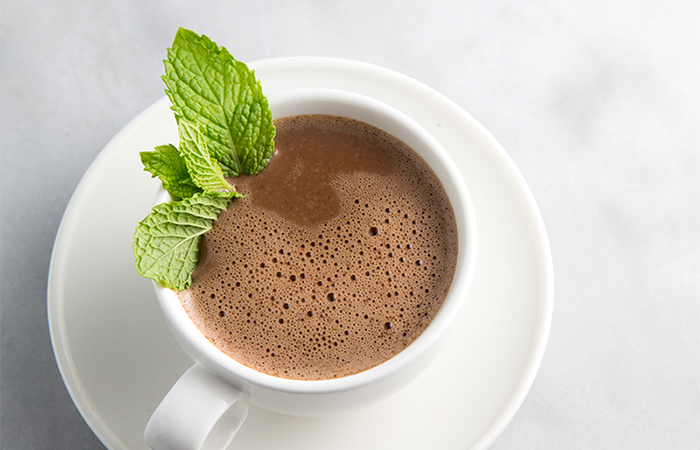 Mint Hot Chocolate
Yield: makes 2 cups
Ingredients
1 1/2

cup

whole milk

1/2

cup

heavy cream

10-12

large mint leaves, torn

2.5

oz

Seattle Chocolate Meltaway Mint Truffle Bar, roughly chopped

1.5

oz

dark chocolate (72%), roughly chopped
Instructions
In a medium sauce pot, bring milk and cream to a simmer. Add torn mint leaves. Cover with lid and let steep for 10-15 minutes. Strain mint and reheat to a simmer. Pour liquid into a medium bowl with chopped chocolates. Let sit for 2 minutes. Stir to combine until all chocolate as melted. Divide mint hot chocolate between serving glasses. Garnish with fresh mint leaves. Serve warm.