Cool down this summer with this sweet and creamy frozen treat. Mint mojito coffee ice cream is sure to become a summer favorite!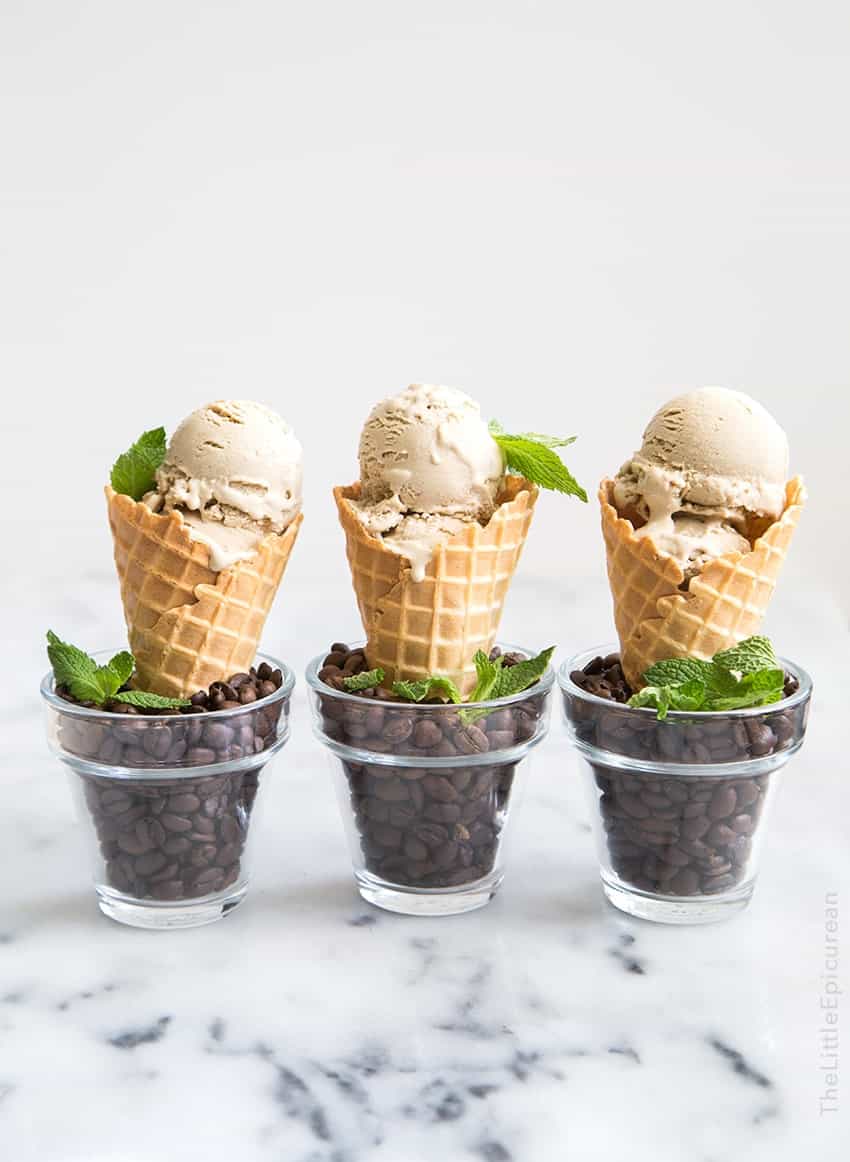 Why Make this Recipe
Have you heard of Philz Coffee and their super popular sweet and creamy mint mojito ice coffee? (Here's a homemade version of the mint mojito coffee!)
Don't let the name fool you. This mint mojito coffee ice cream is alcohol free.
I know the combination of mint and coffee may sound strange. But, don't knock it until you've tried it!
The mint balances out any bitterness in the coffee. It makes the coffee taste super smooth and mellow. Fresh mint tastes a world of difference better than any of that artificial mint flavorings.
Think about this way: if you like peppermint creamer in your coffee, you'll enjoy this ice cream!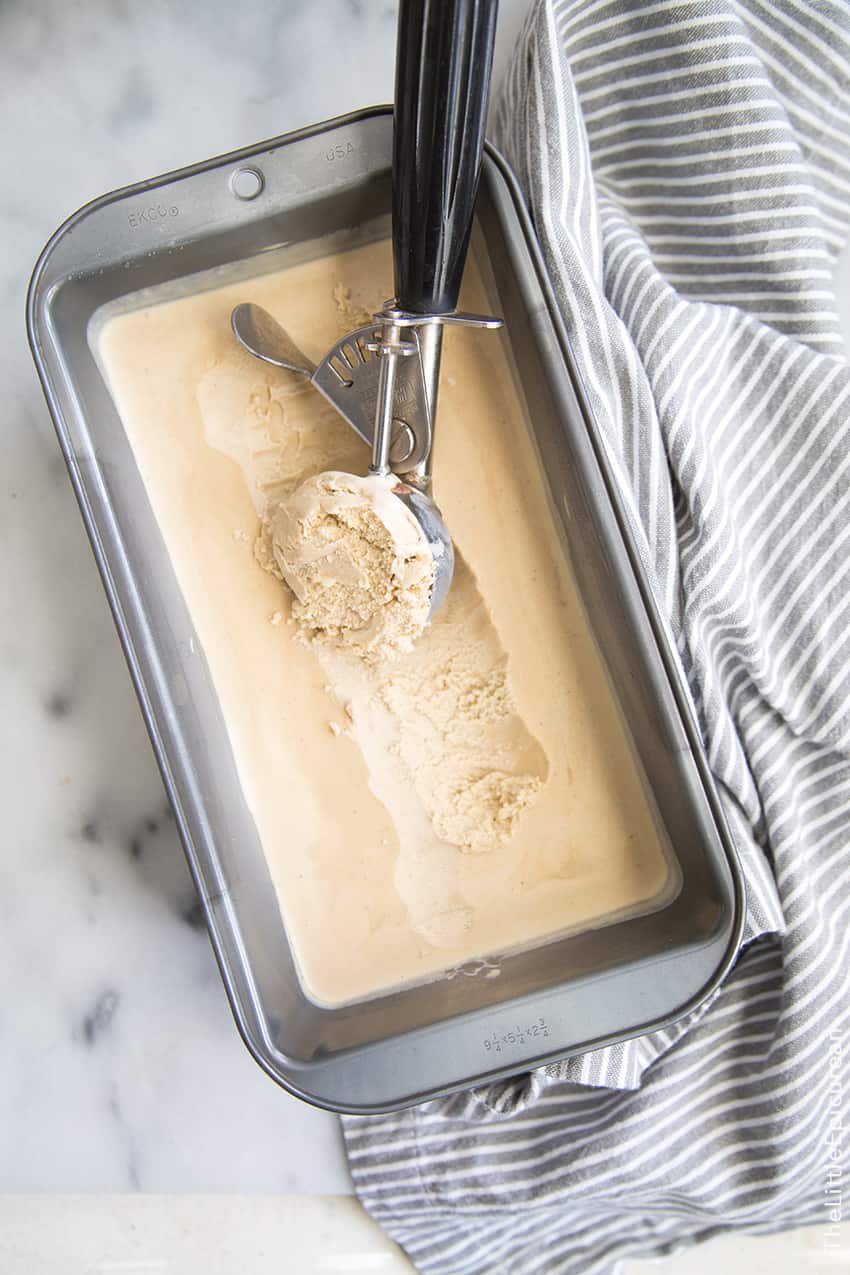 Ingredient Notes
Heavy Cream : Also labeled as heavy whipping cream. Whipping cream has a slightly lower fat content. Either will work for this recipe.
Milk : Whole milk has 5% milk fat. It may be substituted with reduced fat (2%) milk. Do not use non-fat milk. Non-fat milk will create an icy texture.
Fresh Mint : Any kind of fresh mint variety will work. Spearmint and peppermint are the most commonly available. If you don't have access to fresh mint, mint extract is the very last resort. I don't recommend mint extract.
Whole Coffee Beans : Any kind of coffee beans will work. Light roast, dark roast, espresso beans, it all works. It's easier to steep whole beans instead of ground beans.
Instant Espresso Powder : This adds more depth to coffee flavor. Simply, omit the powder if you don't have it.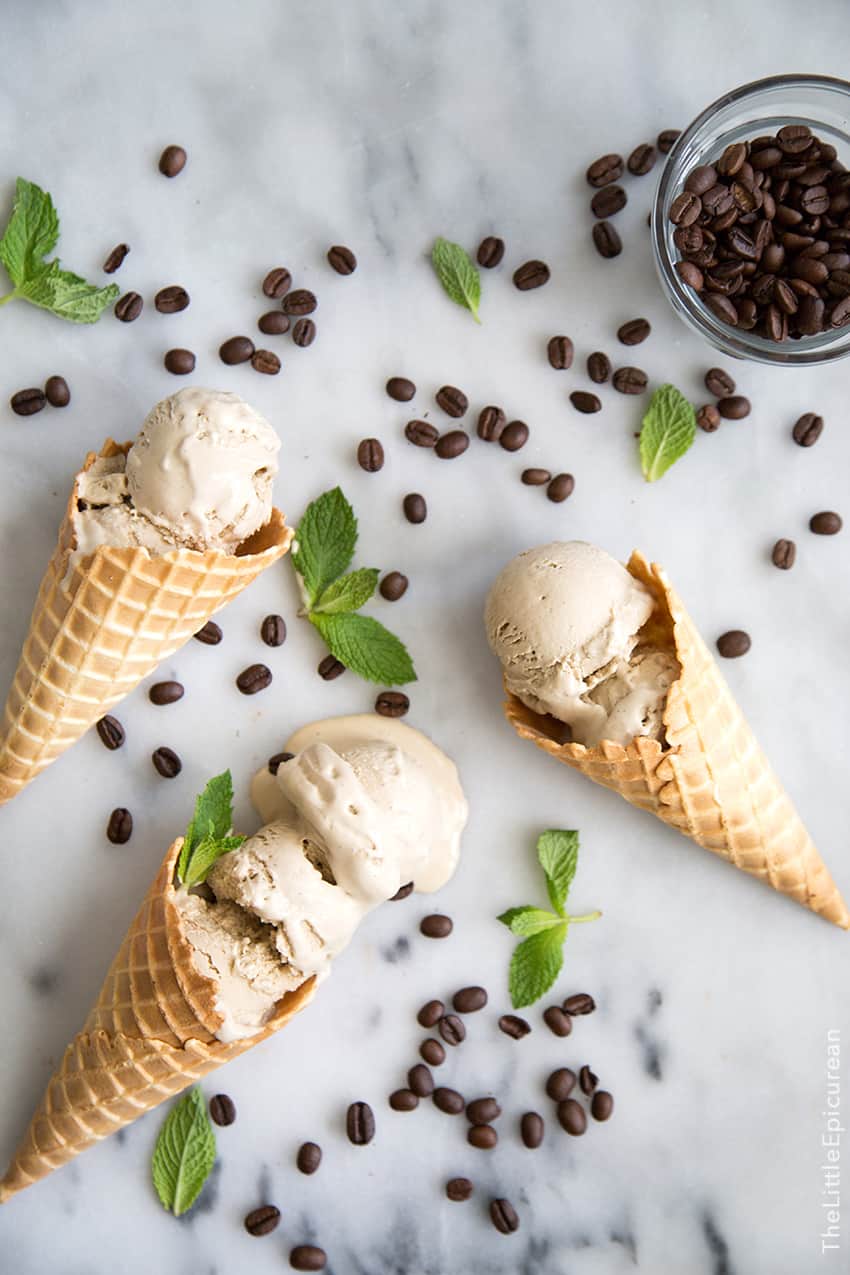 Recommended Ice Cream Machines
There are three main types of ice cream makers: electric makers, freezer canisters, and brine bucket machines.
I personally use and highly recommend this compressor ice cream maker (an electric maker). It may be a little pricier than other ice cream machines. However, it is well worth the price if you make ice cream or frozen custards often.
Freezer canisters are the most common version for home use. It requires you to freeze the separate churning canister ahead of time. Examples: KitchenAid ice cream attachment and Cuisinart Frozen Yogurt Ice Cream Maker.
The compression machine doesn't require any extra prep. Simply pour the chilled ice cream mixture into the machine. Within 35 minutes, you'll have real deal churned ice cream!
Churned ice cream may be eaten straight from the canister. However, it will have a soft serve consisteny.
Spread the churned ice cream into a freezer safe container. Freeze for a few hours to thicken for better texture.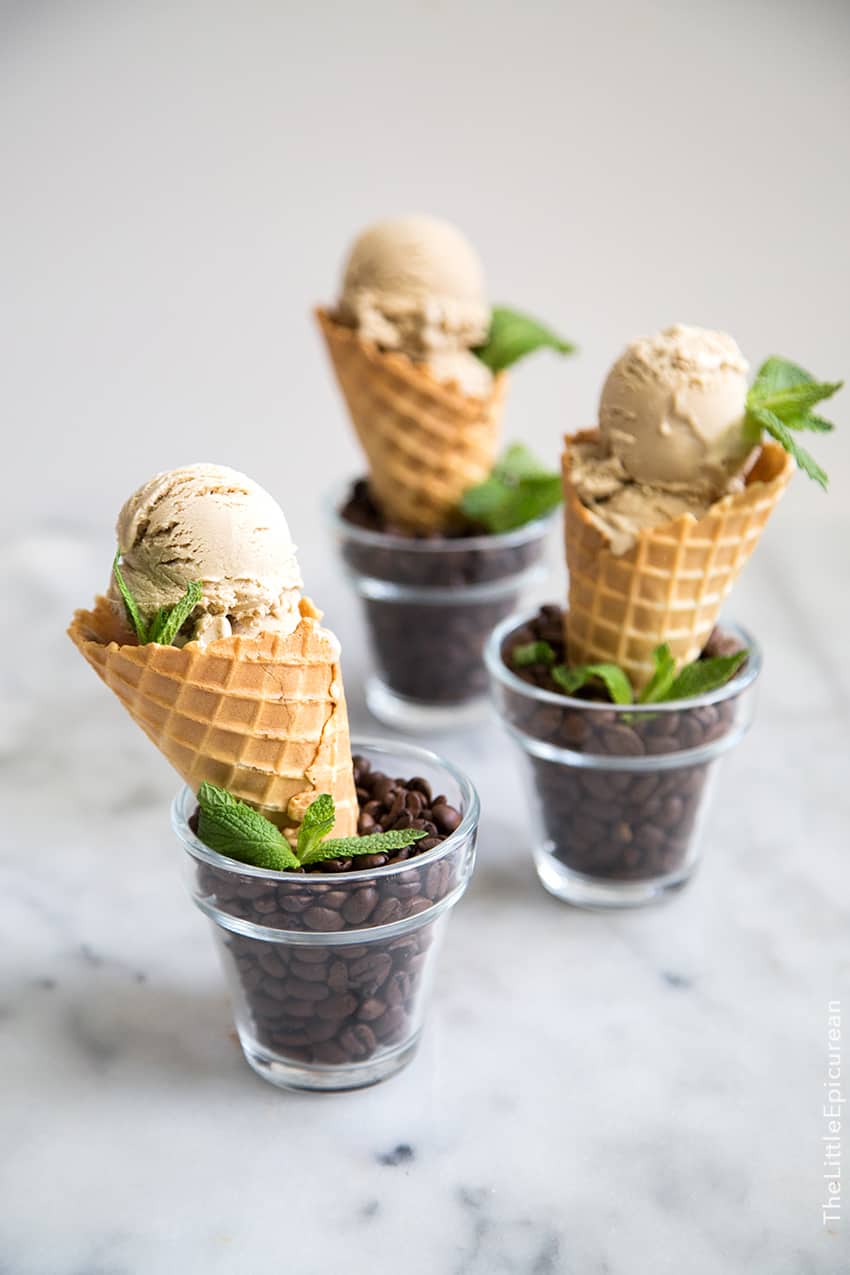 How to Store Ice Cream
For best results, keep homemade ice cream covered in an airtight container stored in the coldest part of the freezer.
I recommend using this 2 quart Cambro container .It's a durable, stackable container. It's great for homemade ice cream and sorbet recipe since it can hold up to 2 quarts.
This reusable ice cream tub or tight fitting silicone lid freezer storage container are also great options.
Keep ice cream for up to two weeks. Overtime, it will inevitability develop freezer burn, dry out, or absorb other flavors from the freezer.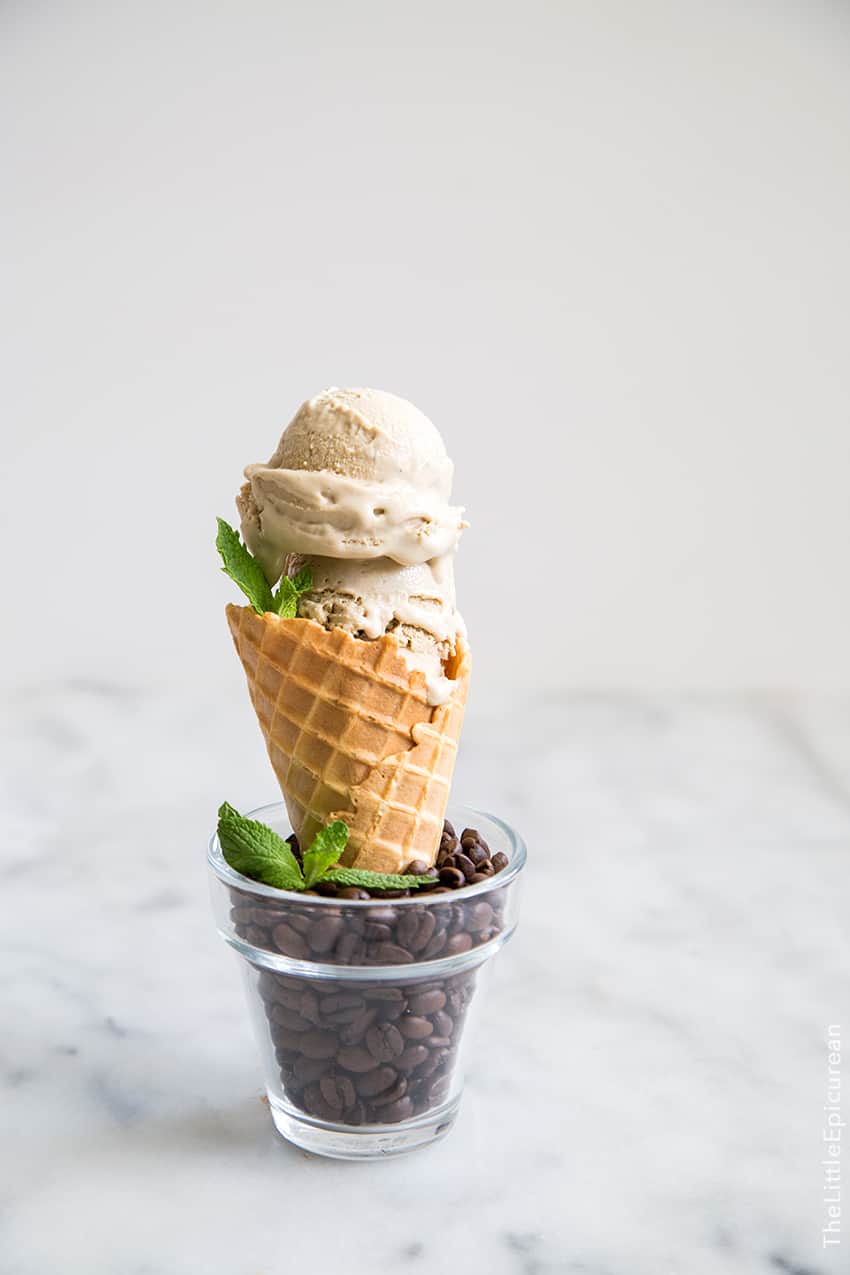 More Mint Dessert Recipes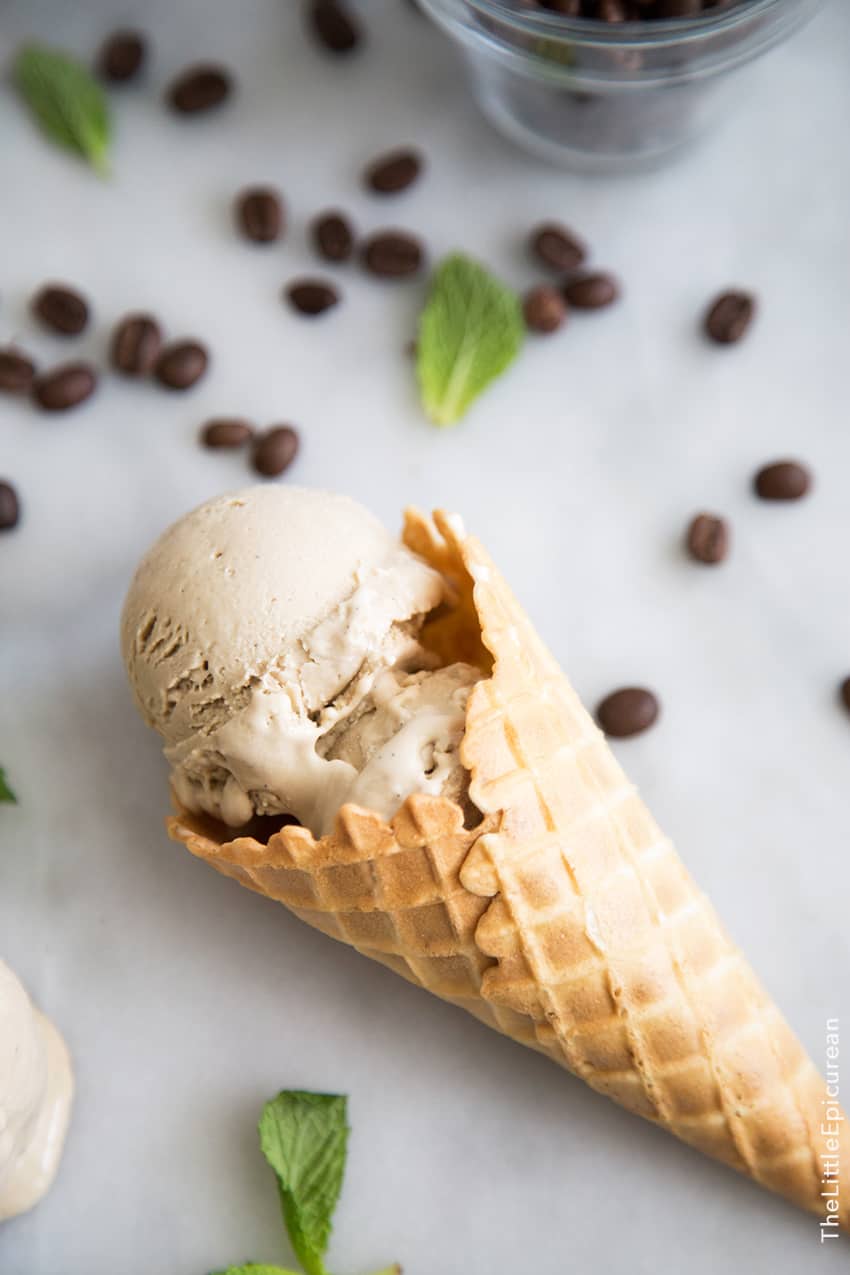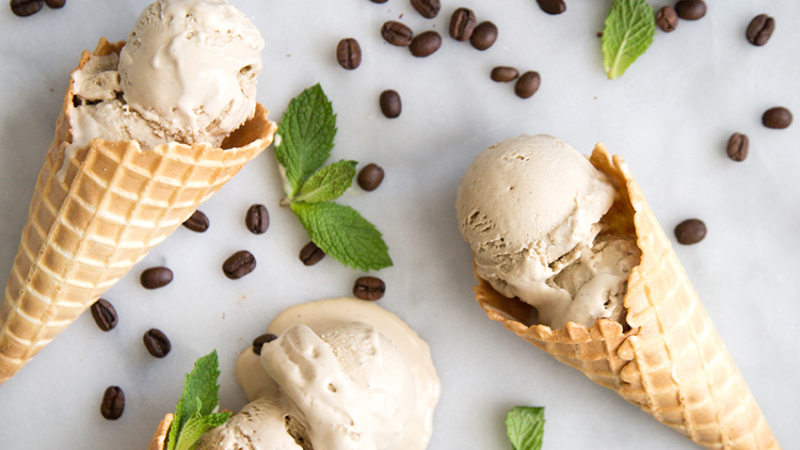 Mint Mojito Coffee Ice Cream
Don't let the name fool you. This mint mojito coffee ice cream is alcohol free. It's basically coffee amped on mint. Inspired by the popular drink at Philz Coffee.Yield: about 1 quart
Equipment
instant read digital kitchen thermometer

Ice Cream Maker/Machine
Ingredients
2

cups

heavy cream

1

cup

whole milk

2

Tablespoons

granulated sugar

⅓

cup

fresh mint leaves,

torn

⅓

cup

whole coffee beans*

6

large egg yolks

¼

cup

granulated sugar

3

teaspoons

instant espresso powder

2

teaspoons

pure vanilla extract*
Instructions
In a medium pot, bring cream, milk, and 2 Tbsp sugar to a boil. Microwave coffee beans for 30 seconds. Once milk boils, remove from heat. Add warmed coffee beans and torn mint leaves. Stir together. Cover pot and let steep for 45 minutes.

Strain liquid mixture and discard coffee beans and mint leaves. Place pot of milk over medium heat and bring to a boil.

In a large bowl, whisk together egg yolks and ¼ cup sugar. Once milk begins to boil, lower heat. Temper hot milk mixture into sugar-yolk mixture. Slowly add hot milk into yolk mixture about ¼ cup at a time, whisking to distribute heat. Continue to add milk into the yolks. Once all the milk has been added, transfer everything back into the pot.

Continually stir over medium-low heat until mixture reaches nappe consistency, or 180°F on a kitchen thermometer. Let mixture sit at 180-185°F for a few minutes to pasteurize eggs. Remove from heat. Add espresso powder and vanilla. Stir until espresso powder has dissolved.

Pour mixture into a plastic wrap lined sheet tray. Spread over the tray and cover with plastic wrap. Let cool in the freezer for 5-10 minutes until mixture has cooled to room temperature. Transfer to an airtight container and let mature in the fridge overnight.


Freeze mixture in ice cream maker according to your unit's instructions. Once the volume has increased by half and has reached a soft serve consistency, transfer mixture into a freezer safe container. Let chill in the freezer for at least 2 hours before serving.
All images and text © The Little Epicurean

Notes
Ice cream will keep in the freezer in an airtight container for up to two weeks. 
Ingredient Notes:
Any kind of coffee beans will work. It's easier to steep whole beans instead of ground beans.
Instant espresso powder adds more depth to coffee flavor. Omit if you don't have it.
Vanilla bean adds a cleaner, warmer flavor compared to pure vanilla extract. Use half a vanilla bean. Split and scrape the insides. Vanilla paste is another great option.