Dogs are part of the family! Treat them like one with these super easy to make sweet potato dog treat biscuits!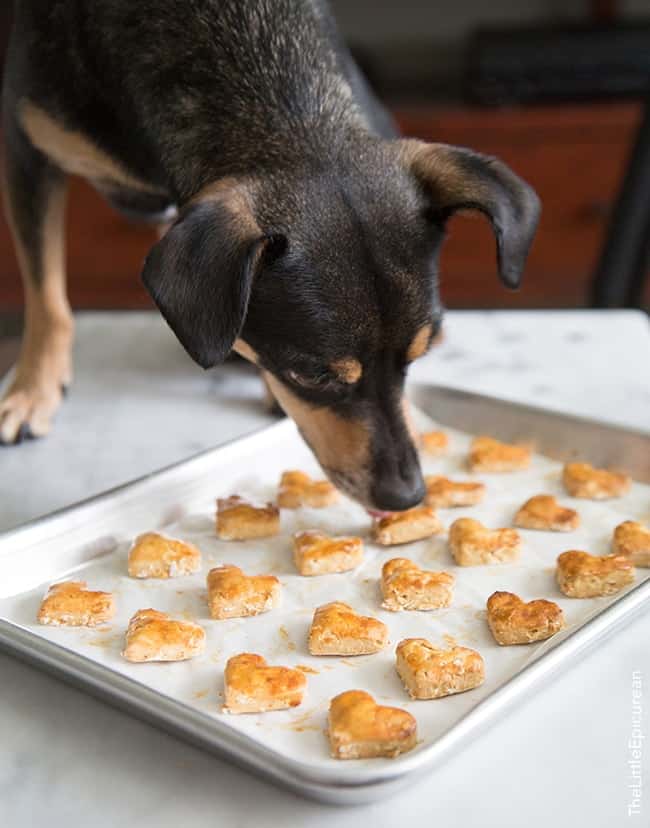 Get ready.  Today we are going to talk DOGS! (At the end of the post, sign up for a chance to win an Abound Prize Pack and a Kroger Gift Card!)
Is it unusual to make your dog homemade treats?  No.  Am I crazy?  No.  Do I have too much free time?  No.  Trust me, this super easy sweet potato dog treat biscuits recipe will have you baking a batch before you know it.
Last month at the Kroger Abound Pet Food event, I met Capree of Dog Milk.  We started talking about homemade dog treats and she told me about the ingenious idea of using baby food.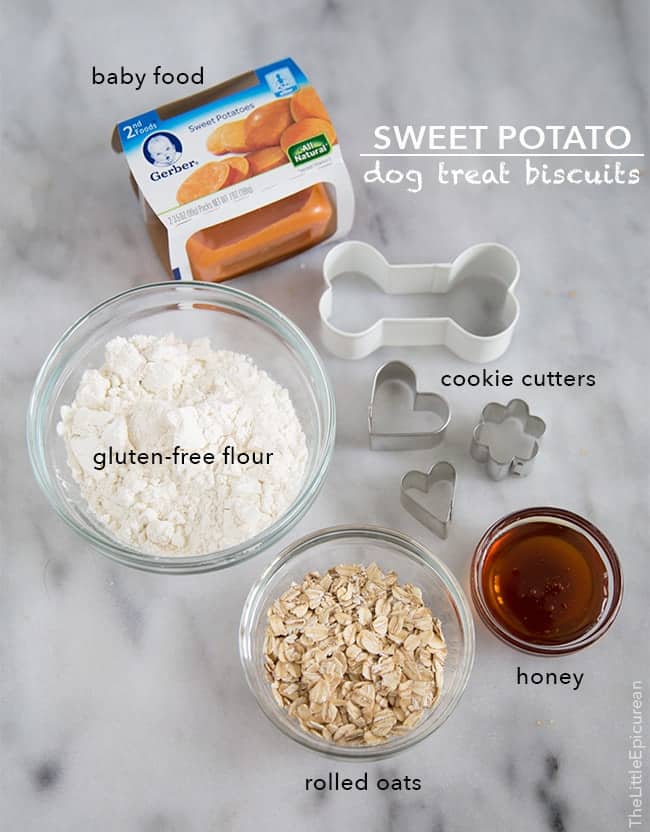 Homemade Sweet Potato Dog Treats
Baby food is the perfect base for dog treats.  For the most part, it's made out of pureed fruits and vegetables with a little water to thin it out.
Today's treats are made with sweet potato.  Instead of spending half an hour cooking a sweet potato and then pureeing it and waiting for it to cool, buy baby food!
I got two 3.5 oz containers for $1.  Those two small containers will make 4 dozen treats!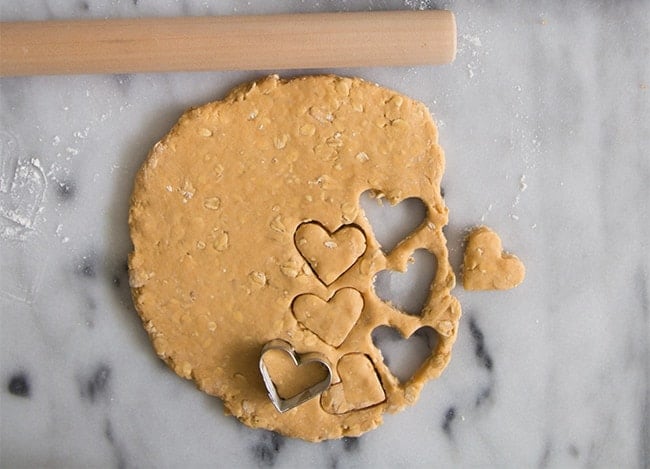 Using four ingredients (gluten-free flour, rolled oats, honey, and sweet potato baby food), I created these little heart shaped biscuit treats for Charlie.
I opted for a gluten-free flour, but all-purpose flour and whole wheat flour is perfectly acceptable if your furry friend has no wheat allergies.  (I used the heart from this metal cookie cutter set.)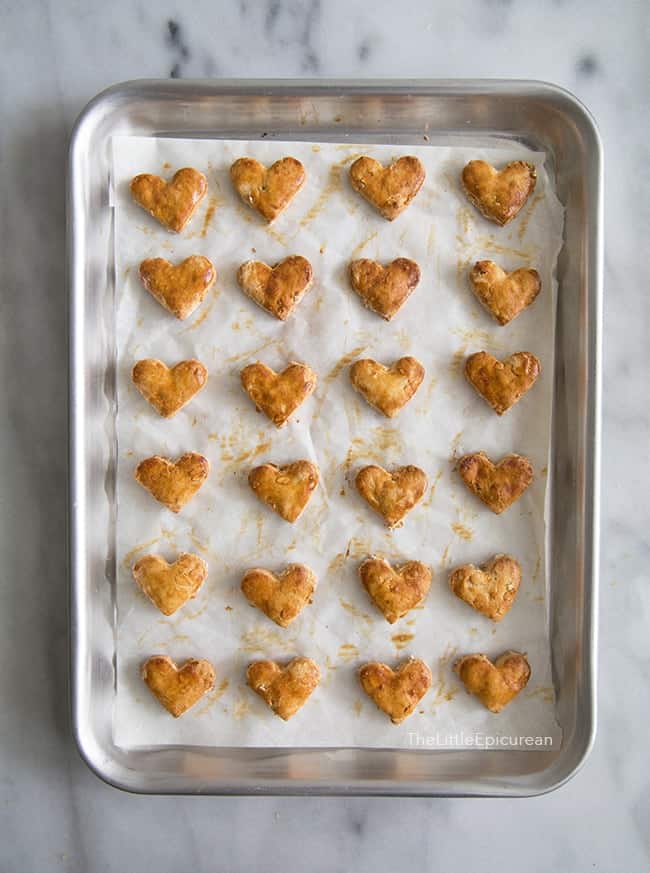 I've made other treats in the past that were complete failures, but these treats had his attention the second I opened the baby food package.  Just like the cakes, cookies, and other desserts I make for my family, I like to know what's in the treats I feed Charlie.
For me, there's nothing worse than not knowing what the heck you're eating.
To make these treats crunchy, they are baked until crisp.  If you want that nice shiny golden coating, brush a little egg wash before baking.
And yes, Alex and I sampled a little to make sure they taste fine.  The honey adds just a tiny bit of sweetness that makes Charlie love them!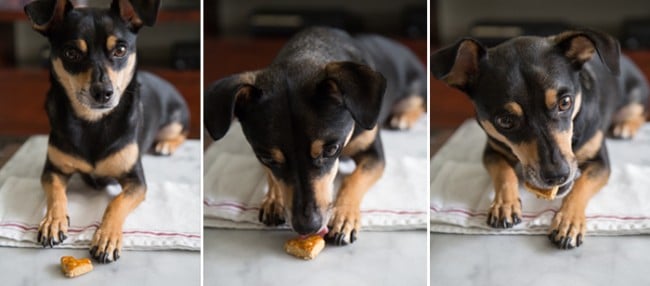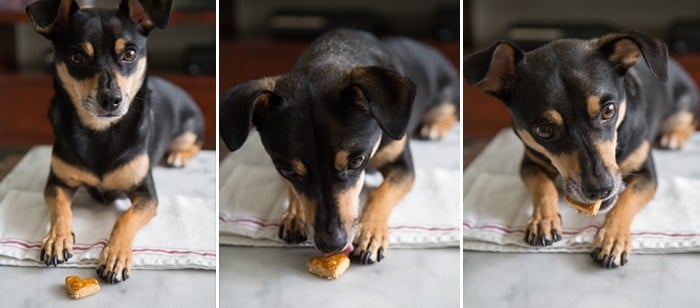 Homemade Sweet Potato Dog Biscuit Treats
Dogs are part of the family! Treat them like one with these super easy to make sweet potato dog biscuits!
Yield: about 2 dozen heart biscuits
Ingredients
3.5

oz

container sweet potato baby food

3/4

cup

+ 1 Tablespoon gluten-free flour*,

(like Cup4Cup)

1/4

cup

rolled oats

1

Tablespoon

honey

1

large egg,

beaten
Instructions
Preheat oven to 350 degrees F. Line baking sheet with parchment paper and set aside.

In a medium bowl, combine sweet potato baby food, flour, rolled oats and honey. Use a sturdy spatula to combine everything together. Dump contents to a lightly floured working surface and knead dough together.

Pat or roll dough to a thickness of about 1/4 to 1/2-inch. Use desired cookie cutters to punch of shapes. Stick to one or two similar sized shapes to ensure even baking.

Place cutouts on prepared baking sheet. Lightly brush the tops of cutouts with beaten egg wash.

Bake for 25-30 minutes until biscuits are crisp and golden in color. Rotate pan midway through baking. Let treats cool in pan before treating your dog.
Recipe Notes
If your dog has no wheat/gluten allergies, you can use all-purpose flour or whole-wheat flour.  Make sure sweet potato baby food is free of salt.
The treats can be kept in an airtight container at room temperature for a few days. For longer storage, I suggest keeping them in the fridge or freezer.
The back story on Charlie:
I waited some 20+ years for Charlie.  My entire childhood, I begged and pleaded my parents for a little puppy.  Each year my parents said no and I received another stuffed animal dog to add to my already enormous collection.
I can't blame my parents.  They gave me many valid reasons: who is going to take care of him while you are at school, when you leave for college, when you go on vacation?  Who is going to take him to the vet, buy his food, pick up after him?  Obviously the answers were against me.
Finally, at 26 I met my match.  From the beginning of my furry friend search, I scoped out shelters and rescue groups.  As a child, I only knew about pet stores where you "buy" animals.
Cuddly Canines:
I read article after article about the amount of cats and dogs at shelters just waiting for a home.  I visited a handful of shelters around my area and finally I found Charlie (then named Little Hobbs) at a pet adoption fair hosted by Cuddly Canines, a local rescue group.
Obviously when getting a pet, you have to find the right one for you.  It's a longtime commitment of 10+ years.  Pets are not just toys that you can simply return when you tire of them.  Everyday, more than 9,000 animals are killed in America's shelters.
Best Friends Animal Society:
That's nearly over 3 million animals a year, simply because they don't have a home.  I am pleased that Abound has partnered with Best Friends Animal Society to help save the lives of shelter animals.
Best Friends was among the first no-kill advocates.  Best Friends hopes to makes Los Angeles a no-kill city by 2017.  Since their efforts in 2012, this year marks a record low in the number of shelter deaths for the Los Angeles Animal Services.
If you have a dog (or cat), Abound is a great option for affordable pet food.  And here's your chance win this hefty Abound Prize pack: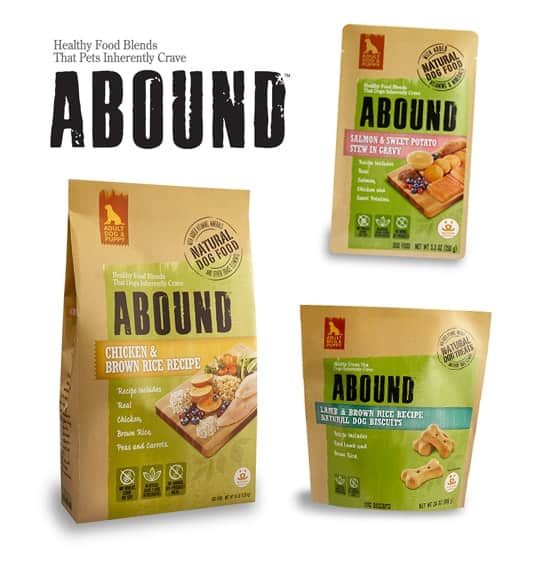 Included in the Abound Prize Pack:
14 pounds of dog or cat food, a week's supply of wet food, and 2 bags of treats, plus a $50 Kroger gift card to shop for the rest of your family. (The Kroger Company spans many states and operates under numerous banners.  For California readers, you may know Kroger as Ralphs.)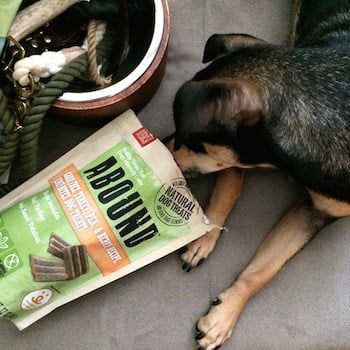 Charlie absolutely loves the turkey, pea and berry jerky bites!
Abound is made with high quality ingredients, with proteins as the first ingredient.  Best of all, it is available at the grocery store making it easy to shop for your entire family in one stop.  Plus, compared to other speciality and premium pet foods, it is very reasonably priced.
All Abound products are wheat, corn, and soy filler free, making it a great choice for pet's with allergies or sensitive stomachs.
To enter giveaway leave a comment below.  Tell me your furry friend's name and their favorite treat! [CLOSED]
Disclosure: The Abound Prize Pack and Gift Card is provided by Kroger.  I received the same products for Charlie to try.  All opinions are my own.