This homemade apple cinnamon pop tart is a sophisticated take on a favorite childhood breakfast treat. This version is made with all natural, real ingredients!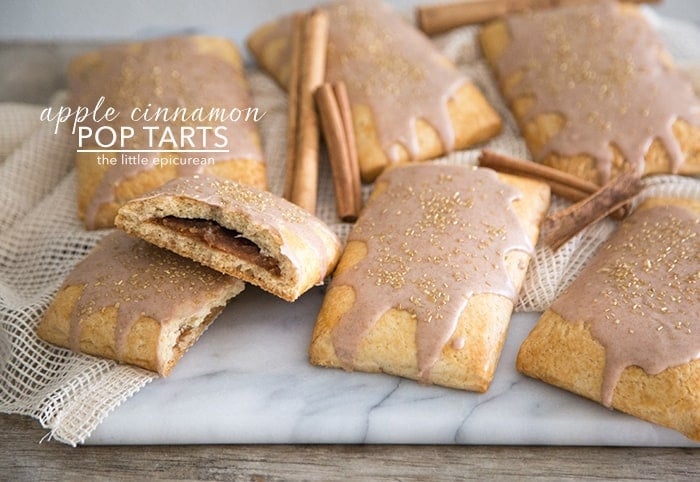 It's kind of embarrassing to admit to people that I love Pop Tarts. No matter how old I get, I doubt my love for that toaster pastry will ever fade.
However, I hardly ever buy Pop Tarts anymore. It's only on those dire situations when I'm starving at the market that a box of cinnamon sugar Pop Tarts miraculously make their way into my cart.
Usually when I walk down that breakfast cereal aisle, a very convincing voice inside my head tells me to walk away. If that doesn't work, a quick peek at the ingredients label is enough to make me return the box to its shelf.
The story is completely different when I'm around kids. If my little niece or nephew is eating one, heck yeah, I want one too. I rip open that silver wrapper and stuff my face with no remorse at all.
It's time that my childhood favorite pastry got a much needed makeover. I love makeovers! I may not know anything about hair, makeup, or fashion, but I sure know how to revamp recipes.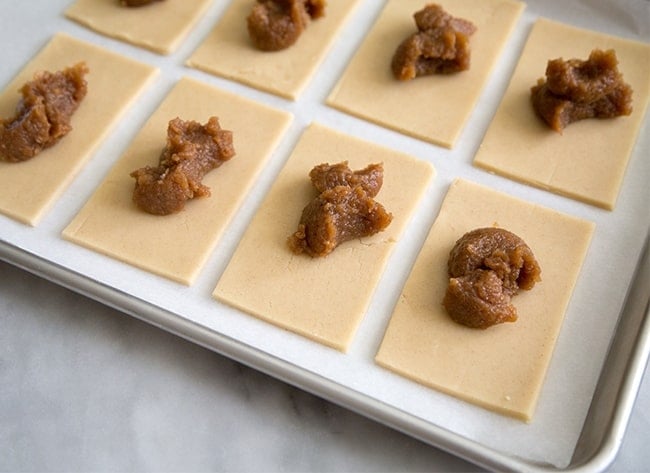 Apple Cinnamon Pop Tarts
If I had a bakery, these homemade apple cinnamon pop tarts would definitely be on the menu.
I'm painfully critical of food I make. I always find something wrong with it: it needs a tad bit more salt, I should have baked it for a couple more minutes, it's too sweet, etc.
But I found absolutely nothing to complain about with these pop tarts.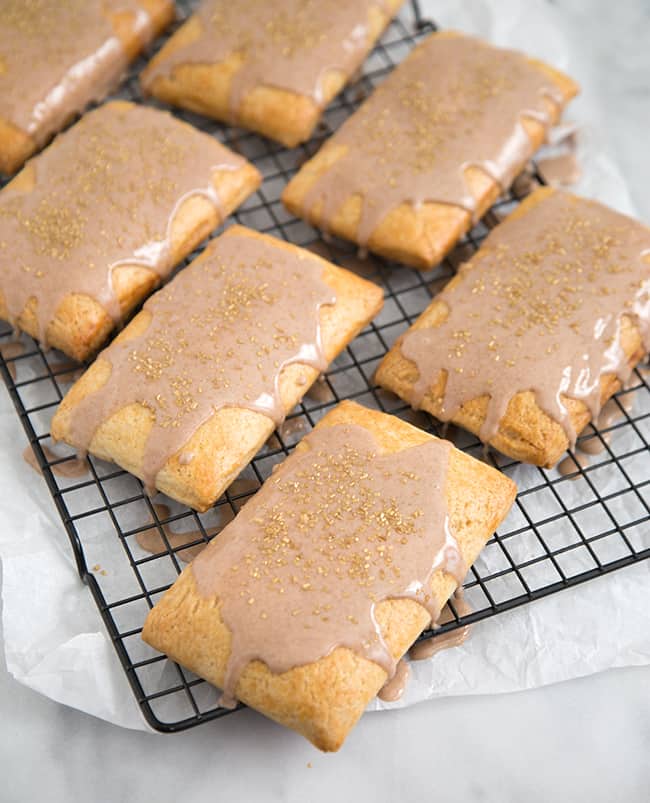 Dough:
I set out to create a crumbly pastry dough. I wanted a slightly tart filling packed with cinnamon, similar to the flavors of an apple pie. And because everything is better with a little sparkle, I finished the pop tart with a sweet cinnamon glaze and a touch of gold sprinkles.
The dough is similar to the one I used for these cherry pop tarts. The dough is super forgiving, meaning it's nothing like puff pastry or pie dough. You can bunch up scrape dough and re-roll it numerous times.
Just be careful when filling the pop tarts with the apple cinnamon mixture. Don't overfill it. A little goes a long way.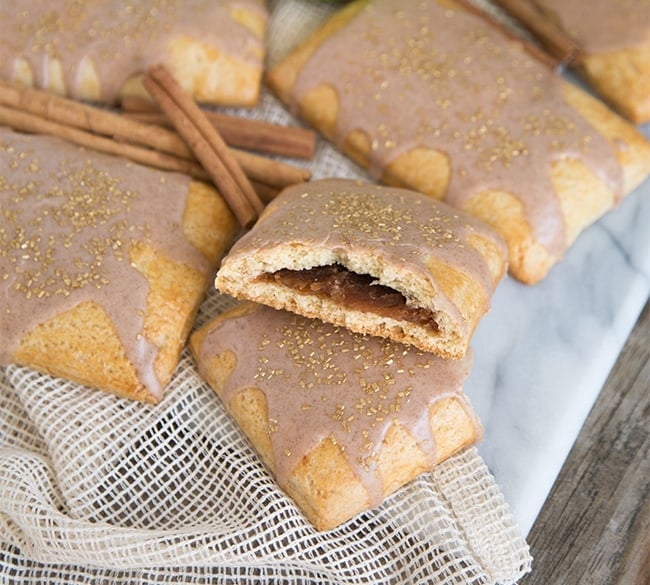 Reheating Tips:
I don't suggesting sticking these in the toaster. The glaze will melt and likely create a big mess. These apple cinnamon pop tarts taste great at room temperature.
But if you really must eat them warm, a couple seconds in the microwave should do the trick.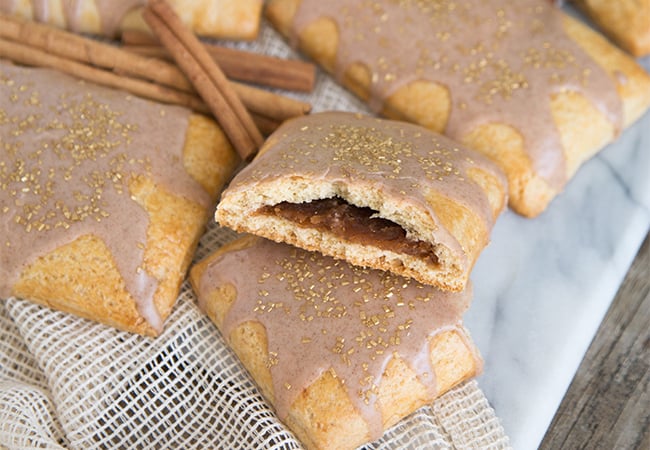 Apple Cinnamon Pop Tarts
This homemade apple cinnamon pop tart is a sophisticated take on a favorite childhood breakfast treat. It's made with real ingredients (no artificial stuff!)
Ingredients
Dough:
3 ½

cup

all-purpose flour

½

cup

cake flour

2

teaspoon

baking powder

1

teaspoon

baking soda

½

teaspoon

fine sea salt

1

cup

unsalted butter, room temp

½

cup

granulated sugar

¼

cup

dark brown sugar, packed

1

large egg

6

Tablespoon

heavy cream
Apple Cinnamon Filling:
4 ½

cup

Granny Smith apple, peeled, cored, chopped

1

cup

dark brown sugar, packed

¼

cup

granulated sugar

1

Tablespoon

ground cinnamon

1

Tablespoon

lemon juice
Egg Wash:
1

large egg

1

Tablespoon

water

¼

teaspoon

fine sea salt

1

Tablespoon

heavy cream
Cinnamon Glaze:
1 ½

cups

confections' sugar

1

teaspoon

vanilla extract

1 ½

teaspoon

ground cinnamon

3

Tablespoon

whole milk
Instructions
To make dough: whisk together flour, cake flour, baking powder, baking soda, and salt. Set aside. In the bowl of a stand mixer fitted with the paddle attachment, cream butter, sugar, and brown sugar. Add the egg and mix until just combined. Scrape bowl as needed.

Add half of dry mixture to creamed butter. With the mixer running, slowly add cream. Add the remaining dry mixture and mix until just incorporated.


Turn dough out onto a clean working surface. Divide dough into two equal parts. Wrap in plastic wrap and chill in the fridge for at least 1 hour (up to overnight).

Filling: While the dough is chilling, make apple cinnamon filling. Place chopped apples, brown sugar, sugar, ground cinnamon, and lemon juice in a medium sauce pot over medium heat. Stir to combine until sugar dissolves. Let simmer until apples are soft and tender, about 10-15 minutes. Strain apples, reserving liquids. Transfer apples to a food processor. Add 1 Tbsp of reserved liquids. Pulse until mixture resembles jam. Add additional reserved liquids (1/2 Tbsp at a time) until mixture resembles thick jam. let cool to room temperature before filling the pop tarts. Alternatively, transfer to an airtight container and let chill in the fridge until ready to use.


Egg Wash: Whisk together egg, water, salt, and cream. Set aside.


Once dough has chilled, remove one piece of dough from fridge. Roll to 1/4-inch thickness on a lightly floured surface. Cut dough into rectangles 3×5 inches in size. Repeat with second dough. Press and knead together scraps and roll dough out again, until you end up with 20 rectangles (10 tops and 10 bottoms).


Spoon a rounded 1 1/2 tablespoons of apple cinnamon filling into the center of 10 rectangles. Spread filling leaving a clean frame around the filling for sealing the edges of the pop tart. Lightly brush egg wash along the clean frame. Place the remaining rectangles over the filled rectangles. Line up the edges of the top and bottom piece, then press the edges to seal. Be careful not to overfill the pop tarts.


Place pop tarts on a parchment lined baking sheet. Freeze pop tarts for at least 1 hour until solid.


Preheat oven to 350 degrees F. Lightly brush the tops of the pop tarts with egg wash. Bake for 10 minutes, rotate pan, and continue baking for another 10 minutes until pop tarts are golden brown in color. Let sit in baking sheet for 3-5 minutes before transferring to a wire rack to cool to room temperature.


To make cinnamon glaze: whisk together confectioners' sugar, vanilla, ground cinnamon, and milk until smooth. Let glaze sit for 5 minutes to slightly thicken. Drizzle glaze over cooled pop tarts. Garnish with sprinkles, if desired. Serve at room temperature or microwave for a couple seconds to warm up.