Individual servings of fried apple pie made with a mixture of Granny Smith and Gala apples.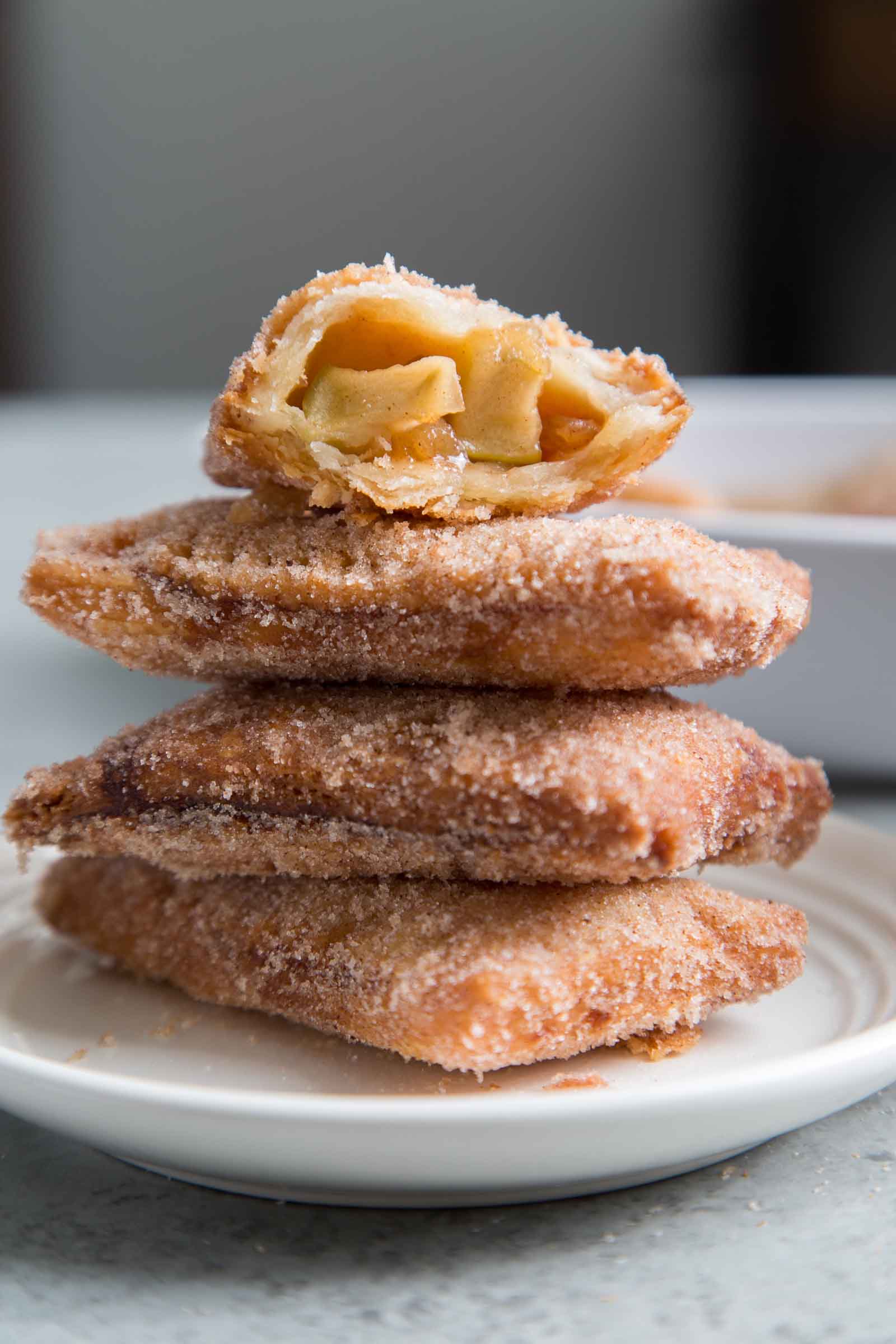 What's better than baked apple pie? Fried apple pie!
Frying pie dough results in a crispier crust.
Traditional apple pies and this salted caramel apple pie can take close to an hour of baking time.
This handheld apple pie fries up in about 5 minutes!
It's evenly cooked and oh so crisp and flakey.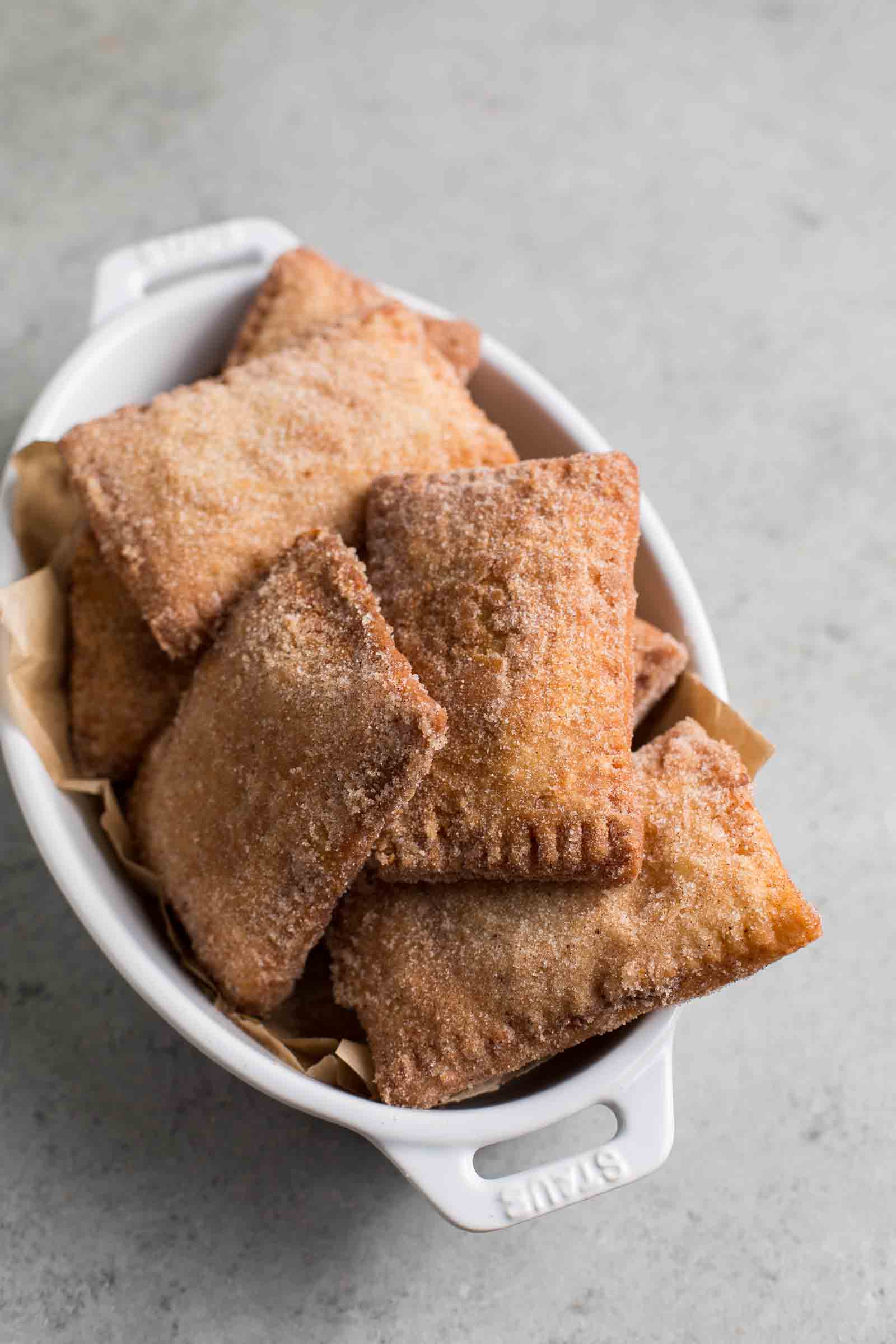 Apple Hand Pie
It's like the McDonald's apple pie, but BETTER!
This recipe uses a combination of Granny Smith and Gala apples.
Granny Smith apples are also known as green apple or sour apple. They are known for their slight tart flavor and their ability to withstand high temperatures (baking and frying).
Granny Smith apples may be paired with Gala, Fuji, Honeycrisp, or Jonagold to produce a well balanced slightly tart, slightly sweet combination.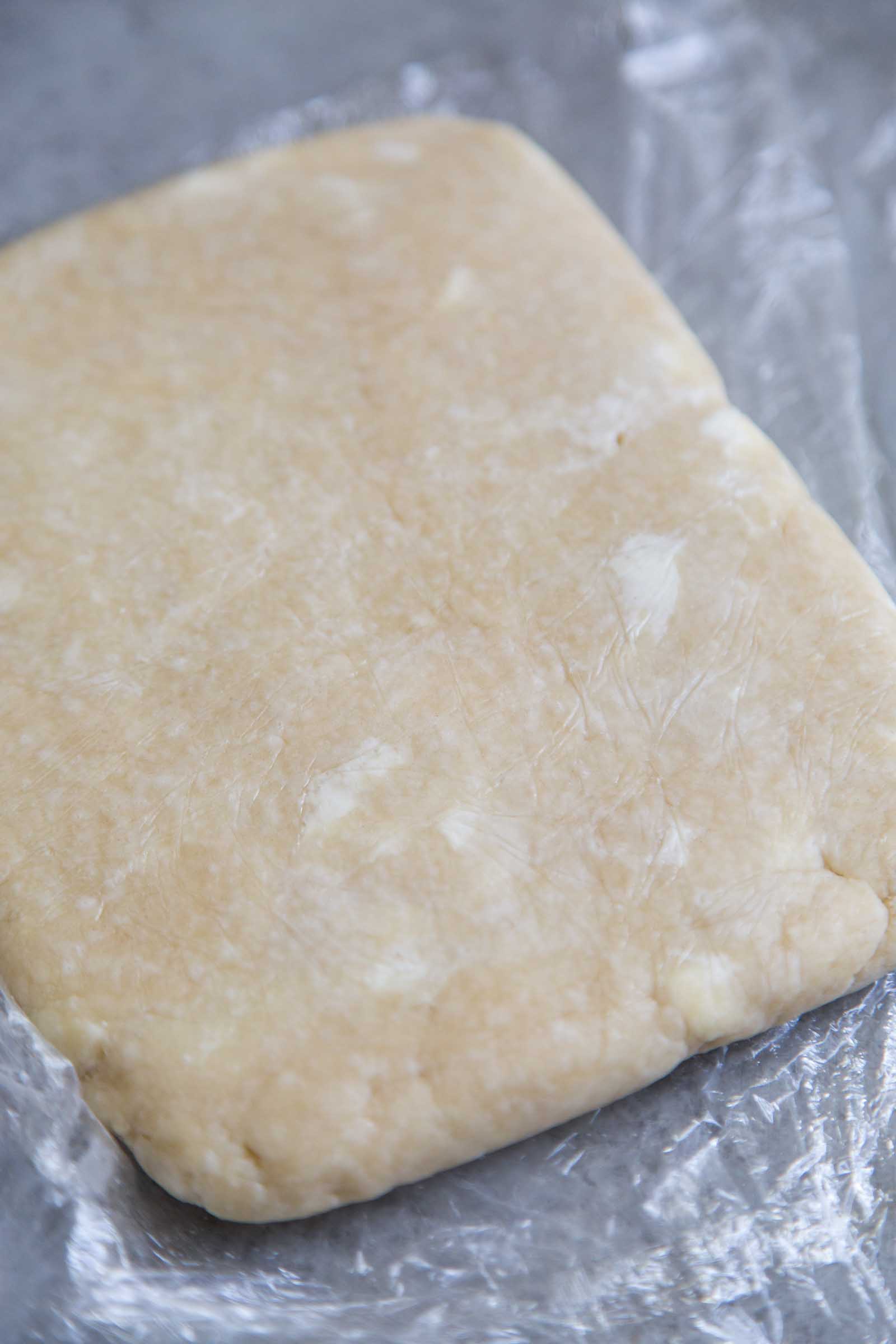 Markings of a great pie dough
Can you see those little pockets of fat marbled throughout the pie dough?
Fat! Fat is the key to flaky pie crust.
Your choice of butter, shortening, or lard will determine the level of pie crust flakiness.
When making pie dough, it is VERY important to work with chilled ingredients. Cold flour, cold butter, ice cold water.
Butter vs shortening
While I'm a fan of the flavors of all-butter crusts, shortening does a wonders for pie dough.
Commercially sold unsalted butter is about 80% milk fat, 18% water, and 2% milk solids. Shortening is 100% fat.
There are a ton of shortening options. I stick to Spectrum Shortening. The 100% vegetable shortening is my favorite. It's not hydrogenated and it is made from organic palm oil.
Shortening adds fat without additional moisture, making for a much flakier crust.
I use a combination of butter and shortening. This way, you still get the flavors of butter with the added flakiness from the shortening.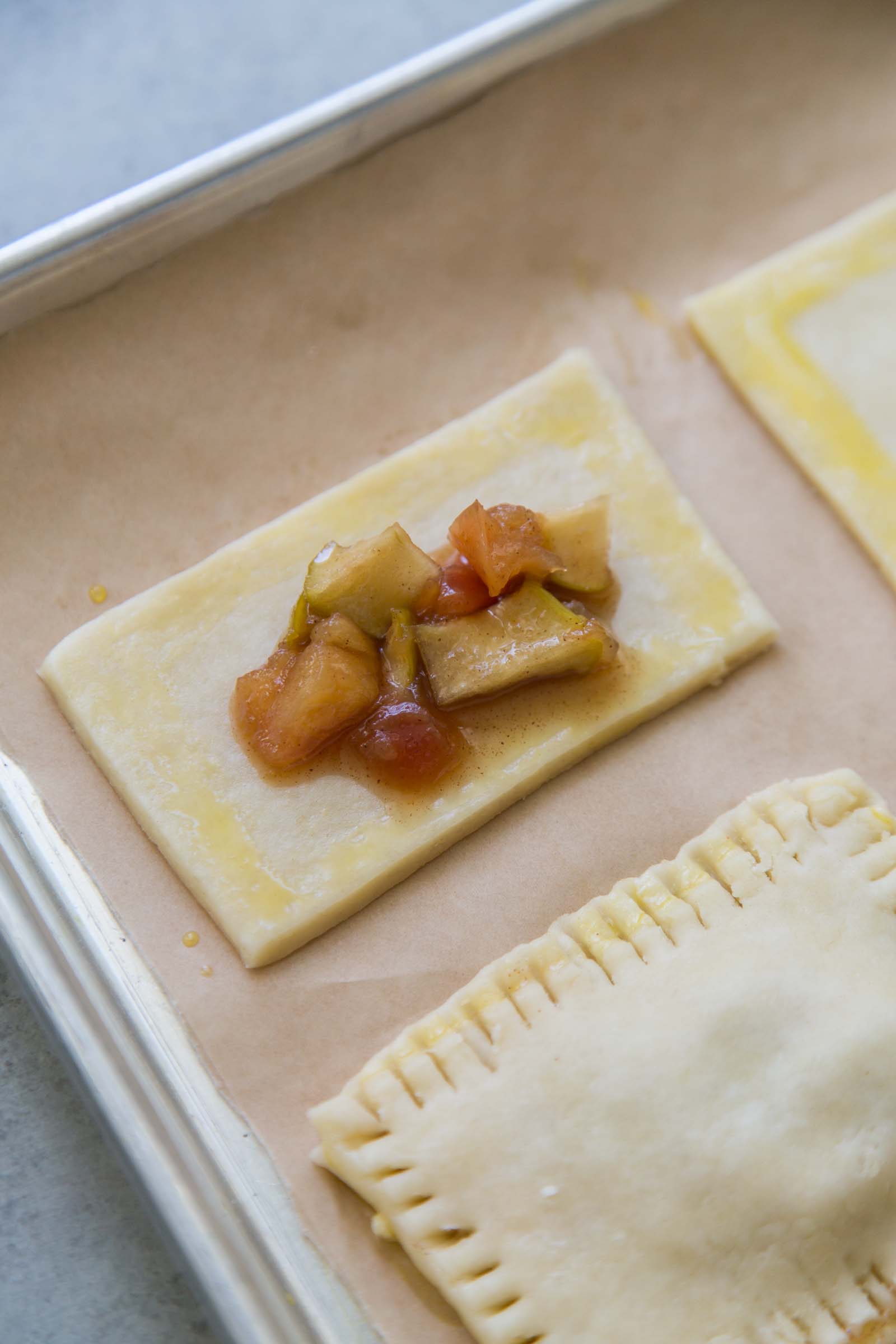 How to assemble hand pies:
Roll out chilled pie dough to about 1/4-inch thickness. To ensure the pie dough is evenly rolled out, I suggest using these dough strips.
Cut the dough into 10 cm by 6.5 cm rectangles. Gather any dough scrapes and re-roll ONCE. I don't suggest re-rolling more than once. [You should have at least 20 rectangles (10 tops and 10 bottoms).]
Brush egg wash along the perimeter of the rectangles. This will serve as border so the apple filling won't ooze out (as much) during assembly. The egg wash also ensures that the top and bottom pieces stick together.
Use fork tines to seal the edges together. Pop the assembled apple pies in the freezer while you heat the frying oil.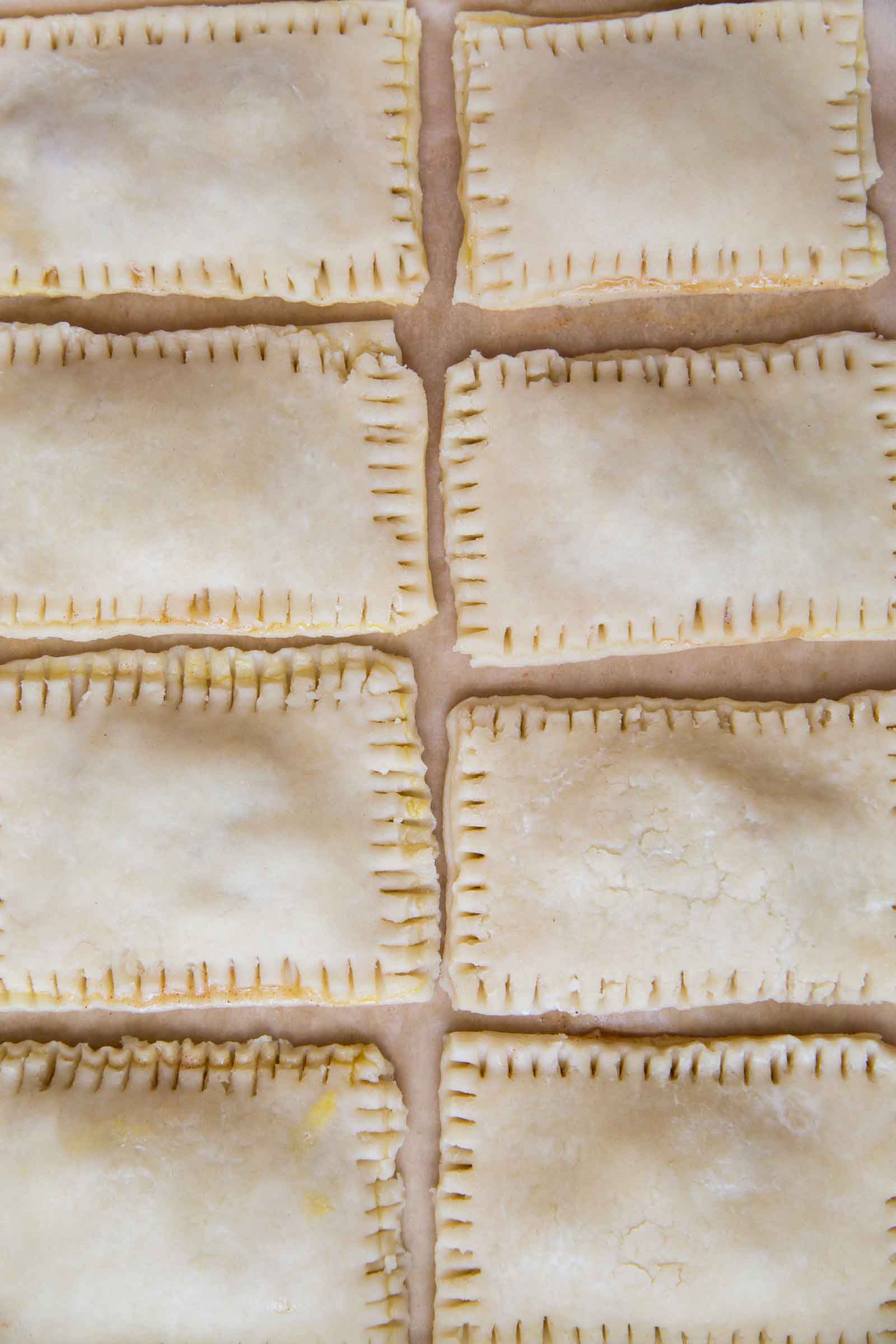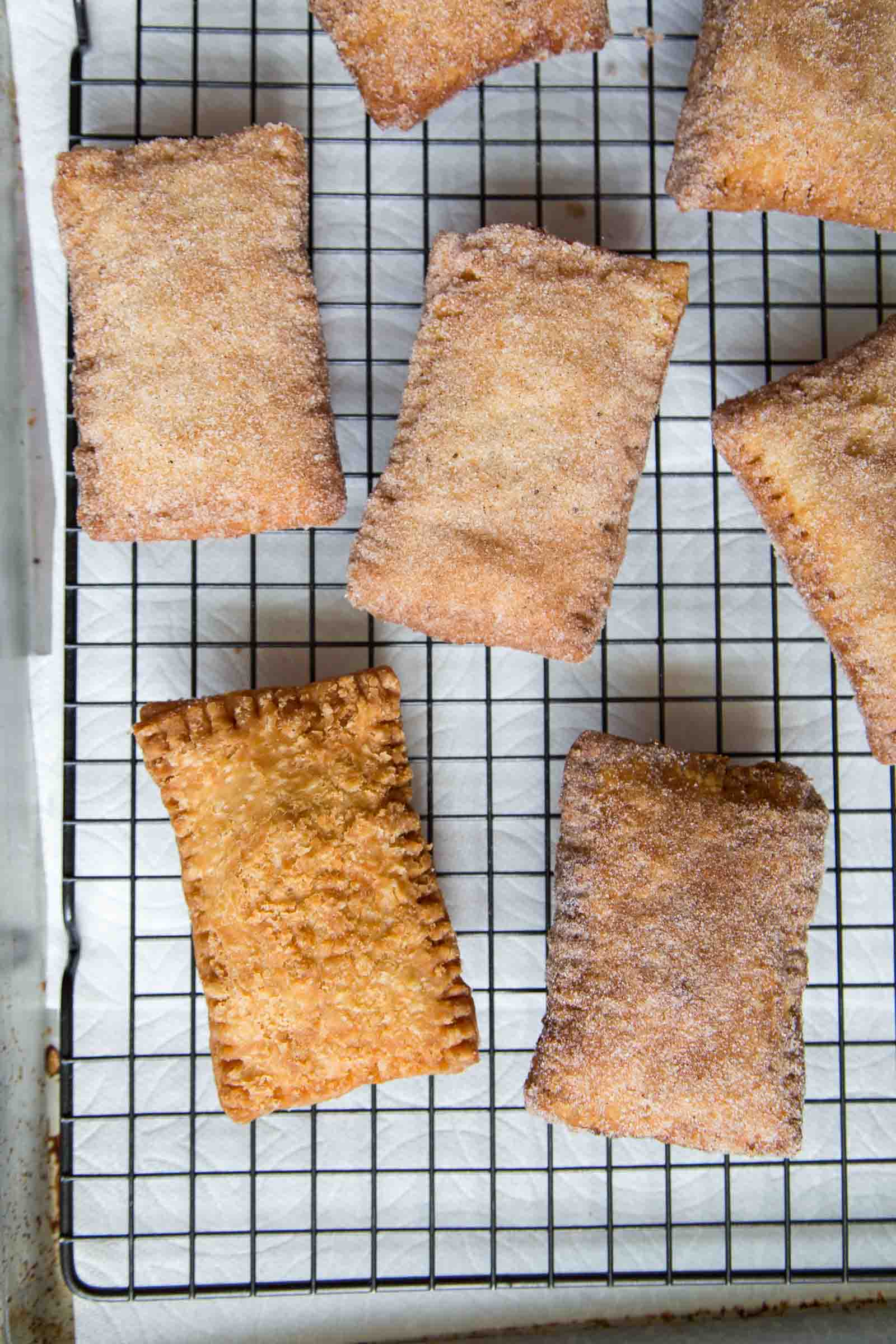 Deep Fried Food Safety:
Frying 101
Deep Fried Food Safety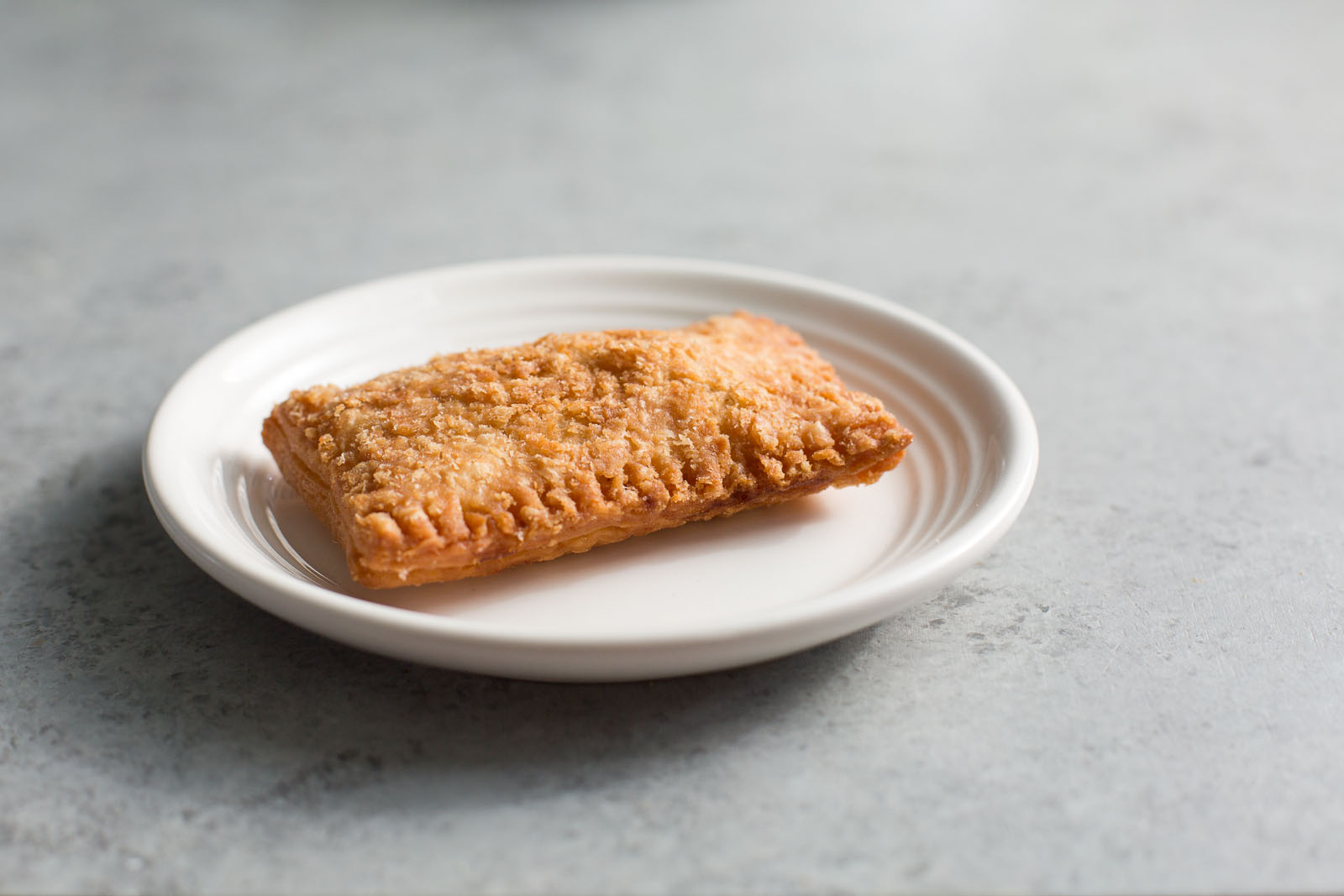 The resulting fried apple pies are crispy, flaky, and oh so delicious.
Eat them as is or toss them in cinnamon sugar.
If you're feeling super decadent, eat them with a scoop of ice cream!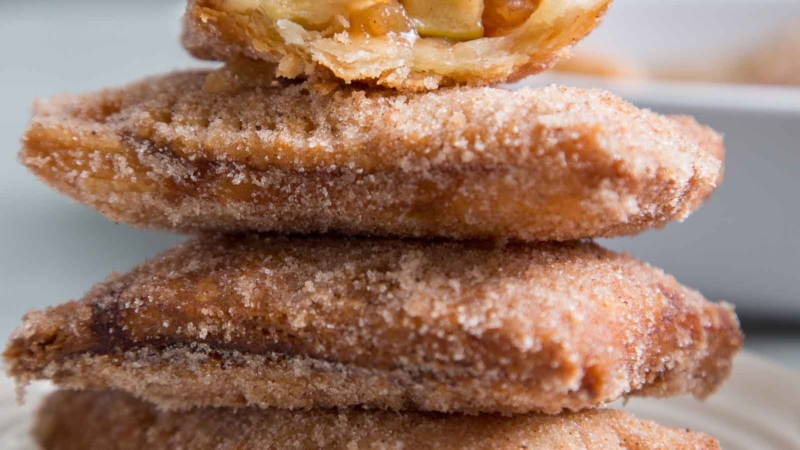 Fried Apple Pies
Fried apple hand pies are crispy, tender, and so delicious. Enjoy them as is or toss in cinnamon sugar. For the ultimate treat, serve with a scoop of ice cream!
Ingredients
Pie Dough:
3

cups

all-purpose flour

(360 g)

2

Tablespoon

granulated sugar

(30 g)

1

tsp

fine sea salt

½

cup

unsalted butter,

(113 g) cut into small cubes

½

cup

all vegetable shortening*

(92 g)

1

tsp

apple cider vinegar

6

Tablespoon

ice water
Cinnamon Apple Filling:
1 ¼

cup

Gala apple,

chopped in ½-inch pieces

1 ½

cup

Granny Smith apple,

chopped into ½-inch pieces

¼

cup

granulated sugar

¼

cup

light brown sugar,

packed

1

tsp

lemon juice

½

tsp

ground cinnamon

¼

tsp

kosher salt

1 ½

tsp

cornstarch
Egg Wash:
1

large egg

pinch

fine sea salt

1

tsp

water
Cinnamon Sugar:
⅓

cup

(68 g) granulated sugar

1

tsp

ground cinnamon

pinch

ground nutmeg
Instructions
Pie Dough:
In a large bowl, combine flour, sugar, and salt. Add cubed butter and shortening. Cover and let chill in the freezer for 5-8 minutes until ingredients are cold.

Using a pastry blender (or two forks), cut cold butter and shortening into flour mixture until mixture resembles coarse, pebbled sand. Add vinegar and ice water. Fold to combine until dough is a shaggy mess.

Dump dough onto a lightly floured work surface. Gently knead until mixture comes together. Pat dough into a thickness of about 1/2-inch. Cover with plastic wrap and let chill in the fridge for at least 2 hours (overnight is best).
Cinnamon Apple Filling:
In a small sauce pot, combine chopped apples, sugar, brown sugar, lemon juice, cinnamon, and salt. Set over medium heat and stir often until sugar has dissolved and apples have softened, about 5 minutes. Stir in cornstarch and bring to a boil. Allow mixture to boil for 1 minute and then remove from heat.

At this point, the Gala apples will have significantly softened while the Granny Smith apples should be soft but still retain their shape. Remove from heat and allow to cool. Transfer to an airtight container and keep chilled in the fridge until ready to assemble.
Assembly:
Allow chilled dough to rest at room temperature for 5 minutes. Cut dough into 4 portions. Working with one portion at a time, roll dough out to 1/4-inch thickness on a lightly floured surface. Cut out as many 10cm x 6.5 cm rectangles. Save any scrapes for later use.

Repeat rolling out dough with remaining 3 portions. Gather scrapes and knead together. Re-roll out to 1/4-inch and cut out additional rounds.* You should have at least 20 rectangles (10 tops and 10 bottoms).

Egg Wash: whisk together egg, salt, and water until well combined.

Use a pastry brush to apply egg wash to the perimeter of pie dough rectangles (tops and bottoms). Spoon one tablespoon of cinnamon apple filling into the center of 10 rectangles.

Invert remaining egg washed rectangles over filling. Ensure the egg washed portions are facing each other. Line up the edges of top and bottom pieces. Use the tines of a fork to seal edges together.


Place assembled pies on a parchment (or wax paper) lined baking sheet. Cover and keep in the freezer while frying oil heats up, about 12-15 minutes.

Fill a large pot (dutch oven or heavy bottomed pot works best at retaining heat) with 3-inches of vegetable oil or vegetable oil. Use a candy thermometer to measure and maintain temperature. Heat oil to 365 degrees F.

Carefully place 2-3 chilled hand pies into hot oil. Do not overcrowd the pot. Cook for 2-3 minutes on each side, until golden in color. Keep an eye on candy thermometer and adjust heat accordingly to maintain constant cooking temperature.

Drain fried hand pies on wire rack or paper towel lined baking sheet. Allow to cool for 2 minutes before tossing in cinnamon sugar mixture.

Cinnamon Sugar: Whisk together sugar, cinnamon, and nutmeg.

Apple hand pies can be served warm or at room temperature. These pies are best enjoyed the day they are cooked.
Notes
The combination of Gala and Granny Smith apples creates a slightly sweet, slightly tart flavor profile. The gala apples will soften and break down faster, while the Granny Smith will retain it's shape. 
Apples can be peeled or unpeeled. 
I use this organic all vegetable shortening made from palm oil.
These fried pies are best served the same day as frying.
Frying in shortening results in an crispier exterior. Those fried in shortening will feel less greasy than oil-fried version.
Use a candy thermometer to maintain proper cooking temperature.
There will be leftover cinnamon apple filling. Use as dipping sauce or spoon over ice cream, pancakes, biscuits. Keeps covered in the fridge for up to three days. 
I do not suggest re-rolling the dough more than once. Fry up any remaining dough scrapes to make "pie chips" that you can dip in leftover apple filling!