Homemade calzones are easier than you'd think. With the help of store-bought pizza dough, you can have these spicy chicken sausage and spinach calzones ready to eat in about 30 minutes!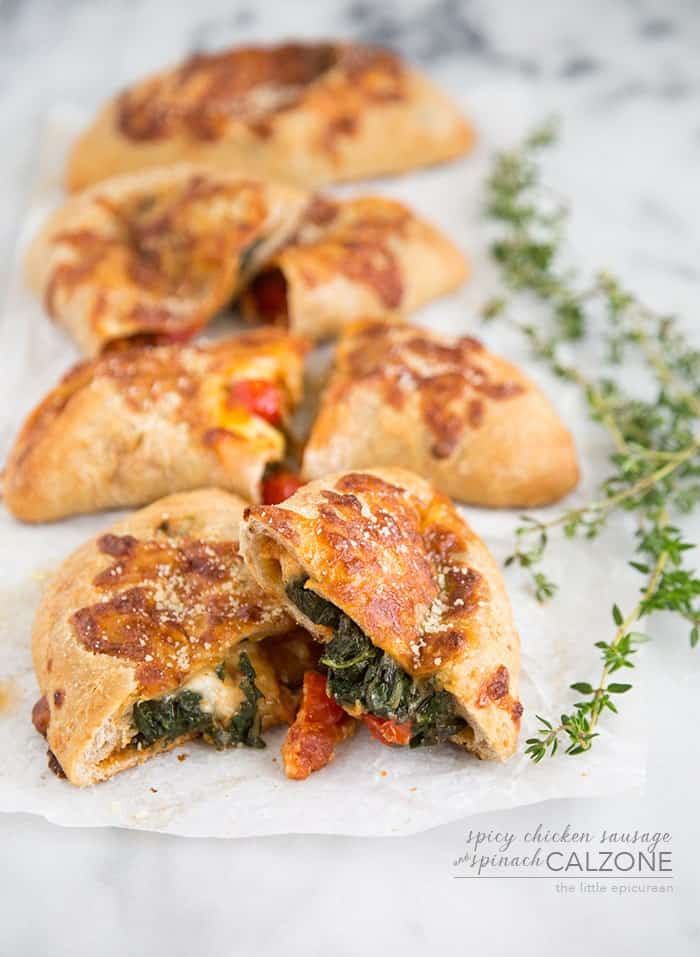 I think after a certain age, you have to give up Hot Pockets and move on to calzones.
It's one thing to be in your early 20s, stumbling into your kitchen after a night of drinking and cooking whatever you happen to find in the freezer.
But once you're an adult, you don't want to admit microwaving Hot Pockets at 2am.  Should you find yourself attending a 30th birthday party in the evening, plan ahead and have a couple of these spicy chicken sausage and spinach calzones waiting in the fridge.
Your taste buds will surely thank you.  AND you will totally impress all your inebriated friends. You'll be voted the most responsible one in the group and everyone will think you have your life all put together (even if it's not).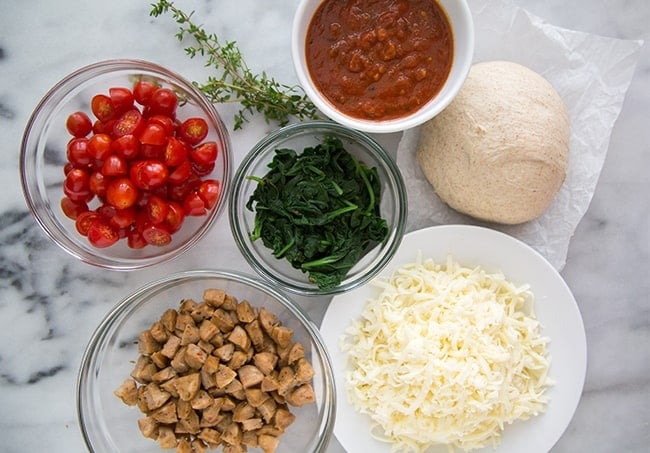 Chicken Sausage and Spinach Calzones
Making calzones is easy peasy.  It's even easier when you gather everything from one store.
I purchased all my ingredients from Trader Joe's.
I love their roasted garlic tomato sauce.  It's super flavorful and almost as good as homemade.  When I don't feel like making pizza dough from scratch, I turn to the whole wheat dough at TJ's.
And I used their spicy Italian chicken sausage.  Since it's already cooked, I like to brown it in a pan for more flavor.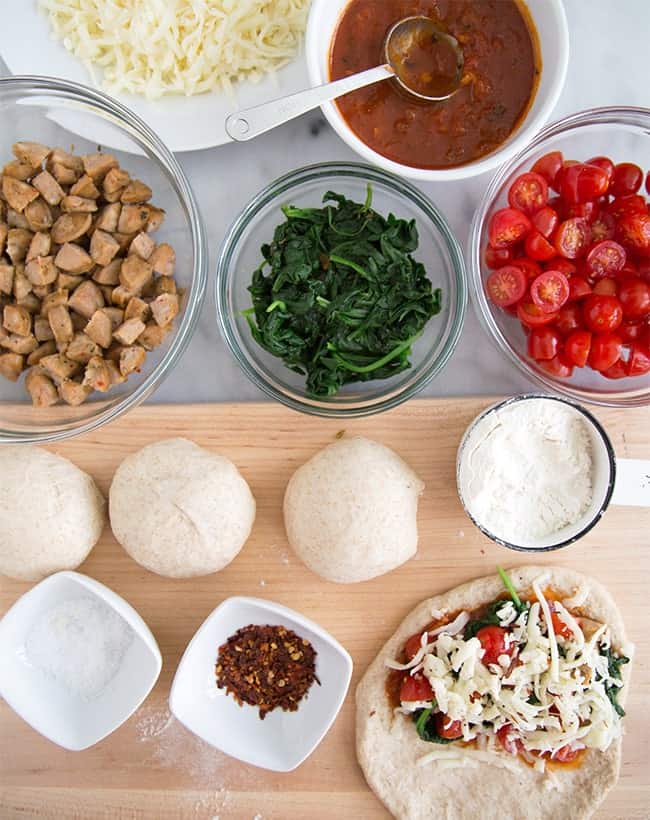 This recipe calls for one pound of pizza dough and makes 4 calzones.  Should you want massive calzones, split the dough into two.
(If Alex was making this for me, that's how he'd make it. Two super sized calzones.)  I'm a fan of small, petite portions because it saves me room for dessert.
Roll the dough into small circles about 7-inches in diameter.  Pile on all the topping on half of the circle.  Season with kosher salt and a touch of red pepper flakes.  Then fold up the other half of the circle and pinch the edges together to close the seams.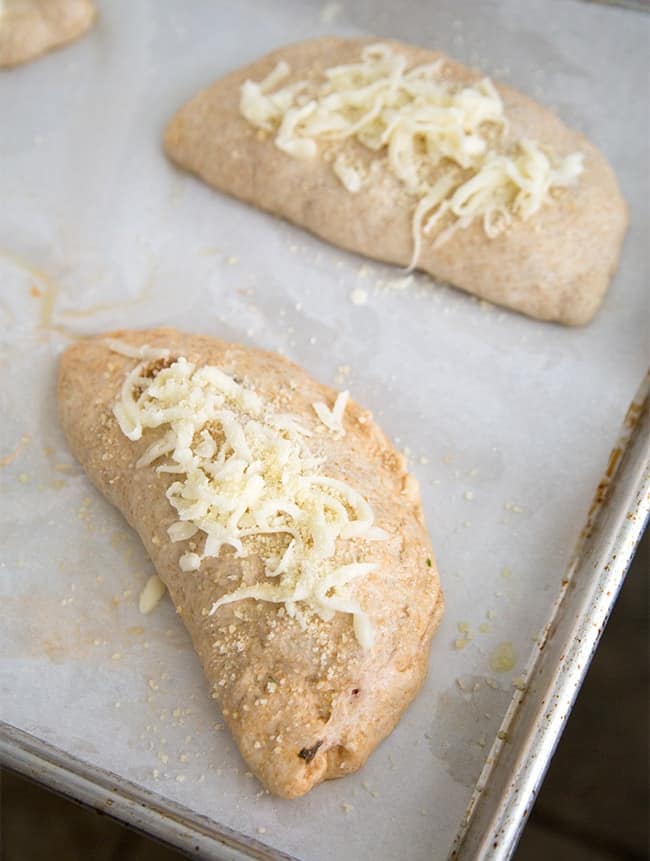 Sprinkle grated parmesan and additional shredded mozzarella over the formed calzones.  The more cheese, the better!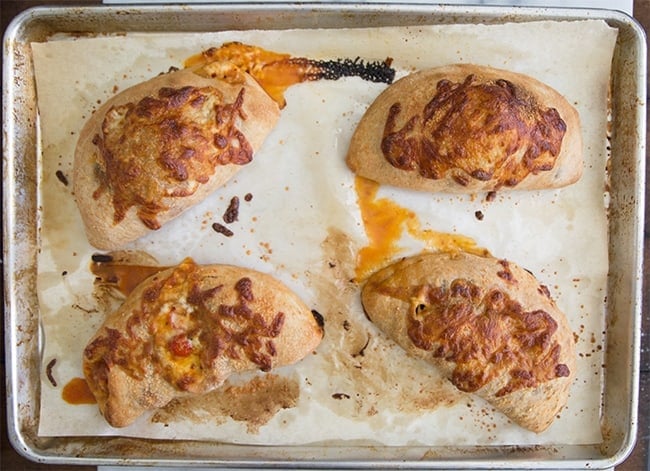 After 20 minutes of baking, you'll get these wonderful pillows of tomato cheesy goodness.
Let the calzones rest for a couple minutes before digging in. The filling will be super hot.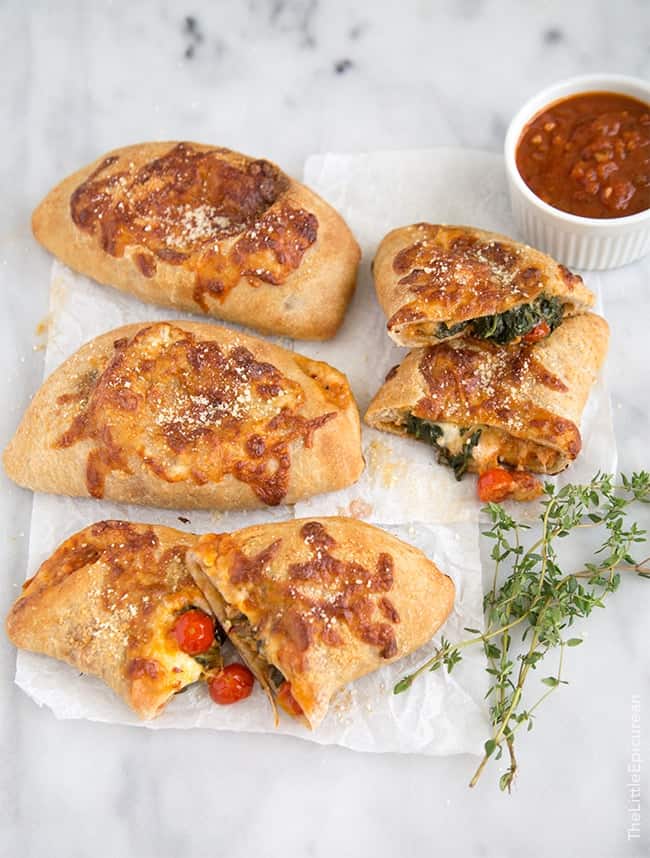 I like to split the calzones in half and dip it in the roasted garlic spaghetti sauce.  And because you can't have enough cheese, I also add just a little more grated parmesan on top.
I've made my peace and said goodbye to Hot Pockets years ago.  No regrets.  It was time.  I've moved on to better.  Don't ever settle.
You're old enough to make the right decision.  A batch of homemade spicy chicken sausage and spinach calzone is the right choice.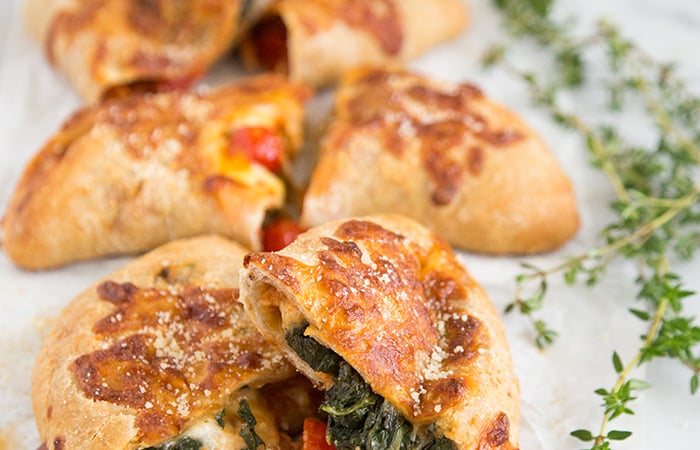 Spicy Chicken Sausage and Spinach Calzones
Yield: makes 4
Ingredients
1

pound

pizza dough, homemade or store-bought

8

oz

cherry or grape tomatoes, halved

9

oz

spicy Italian chicken sausage, sliced and quartered

6

oz

spinach

1/2

Tablespoon

olive oil

1

cup

pizza sauce or marinara sauce of choice

1 1/2

cup

shredded mozzarella cheese

1/3

cup

grated parmesan cheese

kosher salt, to season

crushed red pepper flakes, as desired
Instructions
Preheat oven to 450 degrees F. Line baking sheet with parchment paper. Set aside.

Heat olive oil in skillet over medium heat. Add sausage and cook until heated. Remove sausage and set aside. Add spinach to skillet. Cook until just wilted, about 1 minute. Remove and place in another bowl. Set side.


Divide pizza dough into four equal parts. On a lightly floured surface, roll dough to a circle about 7-inches in diameter. Spoon about 1 1/2 tablespoons of sauce onto half of dough. Top with sausage, tomatoes, and spinach. Season with salt and red pepper flakes, if desired. Sprinkle mozzarella cheese. Fold plain half of dough up over filling. Pinch edges together to seal. Place on prepared baking sheet.


Sprinkle grated parmesan cheese and shredded mozzarella cheese over calzones. Bake for 18-20 minutes until dough is brown and cheese has melted. Serve warm with additional sauce for dipping.