Peppermint ice cream is a crowd favorite holiday treat! It's vanilla ice cream mixed with crushed peppermint served in a chocolate dipped waffle cone.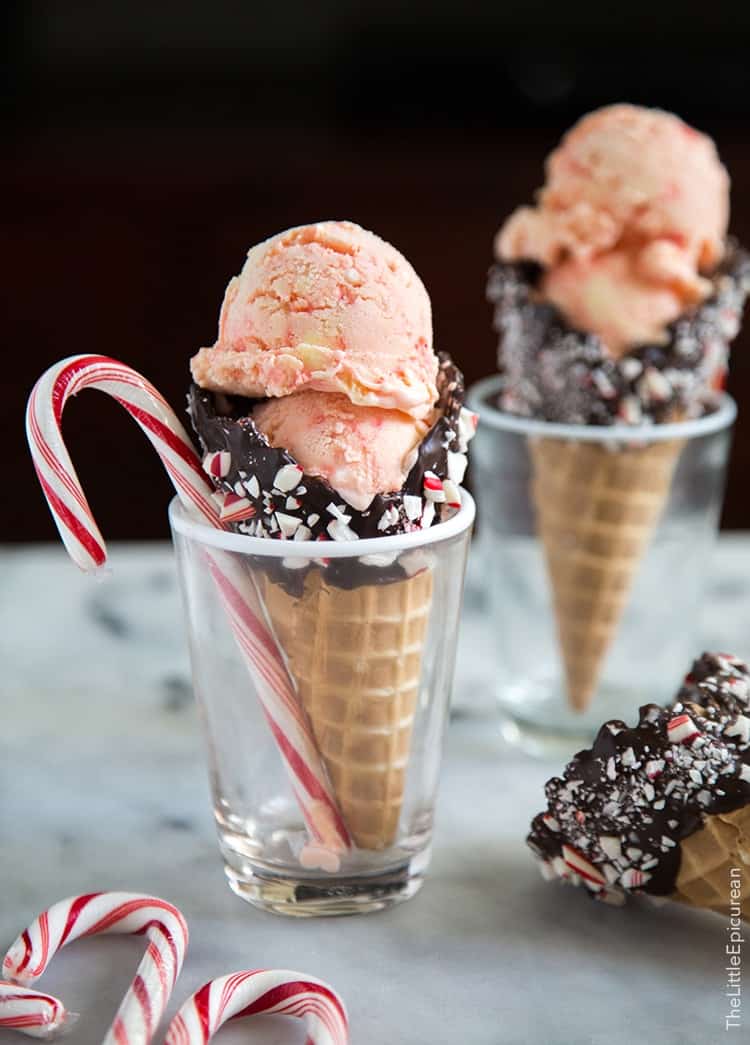 When I was a kid, I'd start counting down to Christmas as soon as Halloween was over.
It always seemed like Christmas and New Year's Eve couldn't come soon enough.
Nowadays, all I want a is pause button to slow down time.
Since that magical button is no where to be found, I will settle with peppermint ice cream.
But, it can't be just any ol' peppermint ice cream. It must be a double scoop served in a chocolate dipped waffle cone studded with crushed candy canes. (Just like the one at Disneyland!)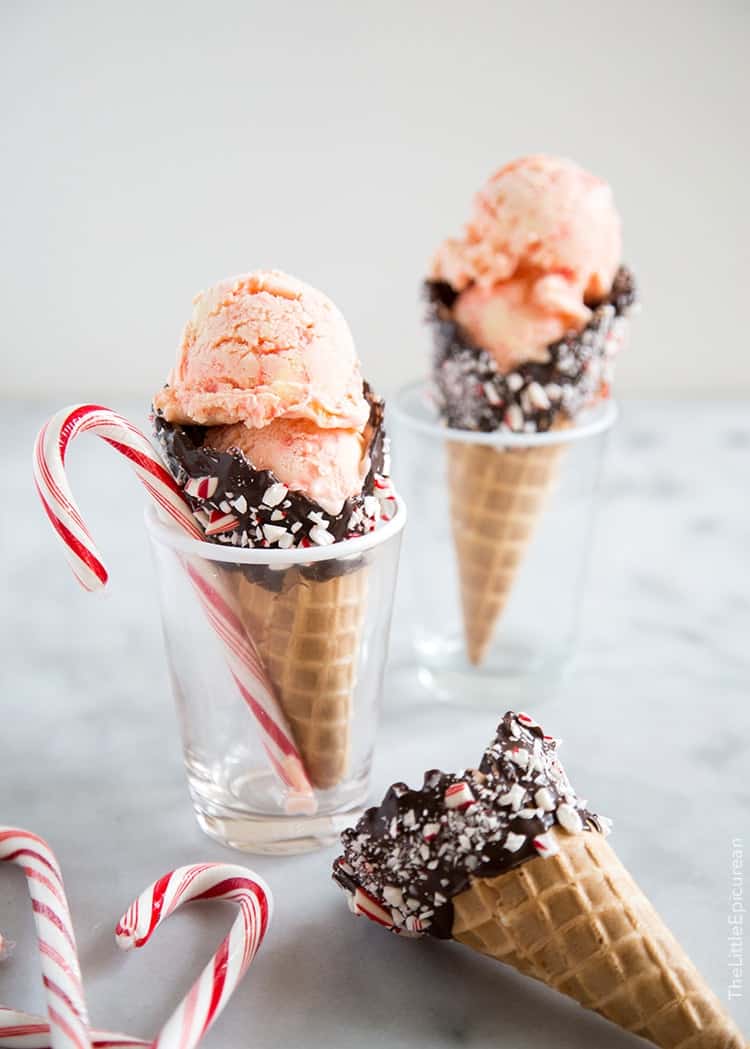 Peppermint Ice Cream Recipe
When is ice cream season?
That's a trick question. EVERY SEASON is perfect for ice cream!
You could go overboard eating everything peppermint in sight this winter season, or you could save this recipe and have peppermint ice cream any time of year!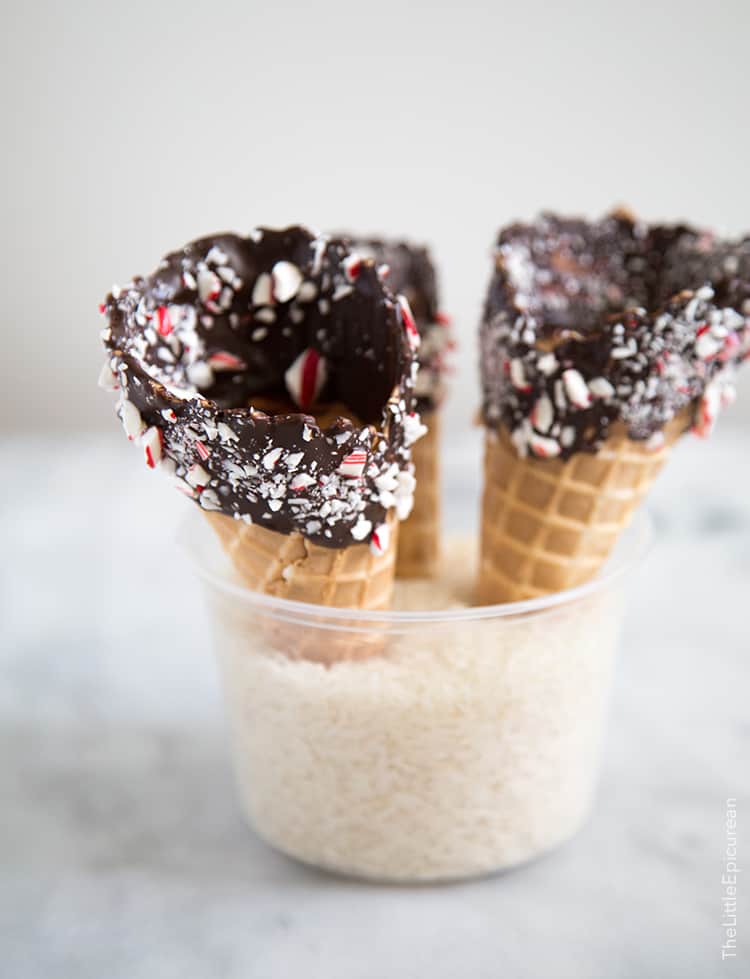 Homemade Chocolate Dipped Waffles Cones
Forget waiting to visit Disneyland for chocolate dipped cones.
I'm going to make my own ice cream AND my own chocolate dipped waffle cone!
Since I don't have a waffle ice cream cone maker yet, I opted for store bought waffle cones that I dipped in rich and silky dark chocolate.
Semi-homemade is more than appropriate during this hectic time of year.
Tip: Place chocolate dipped waffle cones in a container filled with uncooked rice (or beans) to allow cones to dry standing upright.
No Peppermint Extract Needed!
I had to consider all my options before tackling this recipe.
Should I infuse the crushed peppermint in the ice cream base? Should I use mint extract? How about peppermint extract?
I decided on making a super creamy vanilla ice cream base.
Crushed candy canes are added during the final minutes of churring.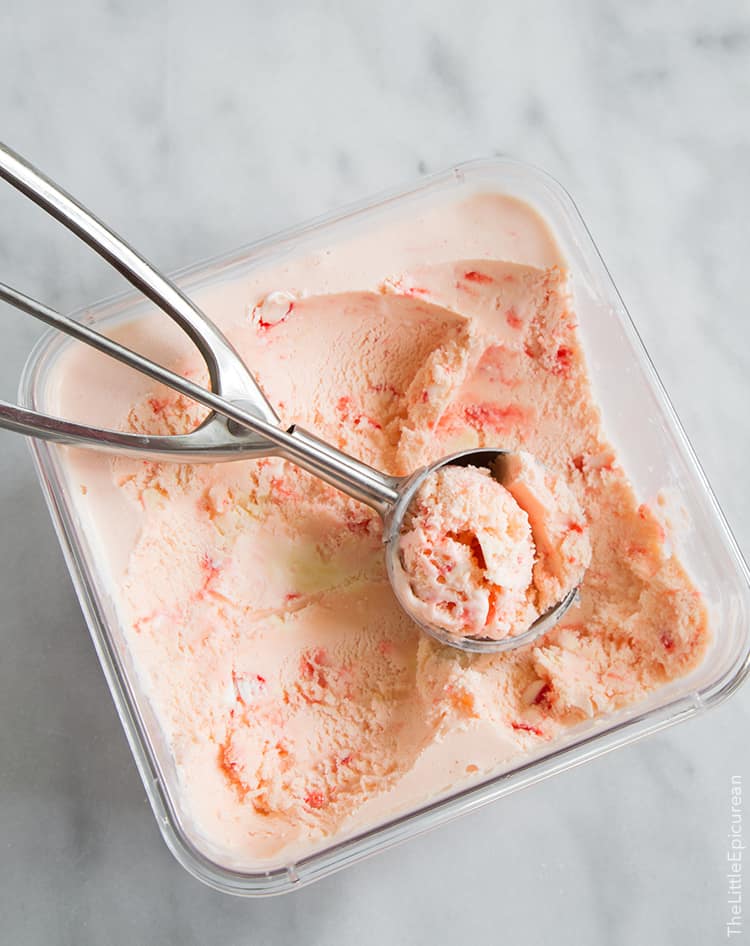 How does peppermint ice cream get that color?
The ice cream is initially pale yellow-white. After a few hours in the freezer, the vanilla ice cream takes on the light pink hues of the candy cane.
The peppermint flavor is forward, yet not overpowering. However, if you want a blast of peppermint, go ahead and add one to two teaspoons of pure peppermint extract.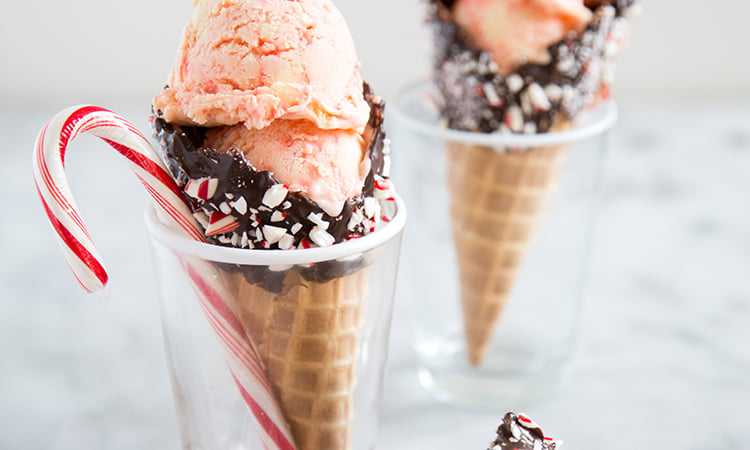 Peppermint Ice Cream
Rich vanilla ice cream with crushed peppermint served in a chocolate dipped waffle cone. It's a favorite holiday treat!Yield: about 1 quart
Ingredients
2

cups

heavy cream

1

cup

whole milk

¼

cup

+ 1 Tablespoon granulated sugar

7

large egg yolks

½

teaspoon

pure vanilla extract

1

cup

crushed candy cane (peppermint candies)
Instructions
In a medium pot, bring cream, milk, and 1 Tbsp of sugar to boil. Meanwhile, in a large bowl whisk together egg yolks and remaining sugar. Once milk begins to boil, lower heat.

Temper hot milk in sugar-yolk mixture. Slowly add hot milk into yolks about ¼ cup at a time, whisking to distribute heat. Once all the milk has been added, transfer mixture back into the pot.

Stir over low-medium heat until mixture reaches nappe consistency, or 180°F on a kitchen thermometer. Remove from heat and stir in vanilla. Transfer to an airtight container and let mixture mature in fridge overnight.

Freeze mixture in ice cream maker according to your unit's instructions. Once the volume has increased by half and has reached a soft serve consistency, add crushed candy cane. Continue to churn until candy cane has been distributed. Transfer ice cream to a freezer safe container. Freezer for at least 1 hour before serving.
Chocolate Dipped Crushed Peppermint Waffle Cones:
Melt 1 ½ cups dark chocolate.  Dip waffle cones into melted chocolate.  If desired use a spoon to coat the inside of the waffle cone with chocolate.  Immediately sprinkle crushed candy canes.  Set in a bowl with uncooked rice to allow chocolate cones to dry standing upright.
Looking for more peppermint desserts?
Peppermint Bark Rolls are filled with cocoa-sugar and chocolate peppermint bark! It's a chocolate-y holiday version of cinnamon rolls.
Chocolate Peppermint Cake features three chocolate cake layers enrobed in a sweet creamy peppermint buttercream frosting.
Peppermint Chocolate Sugar Cookies are dipped in melted chocolate and topped with crushed peppermint. These soft and chewy cookies are great for ice cream sandwiches!