How do you make chocolate dipped strawberries better? Attach it to a cheesecake, of course! This strawberry cheesecake is sure to win over any Valentine!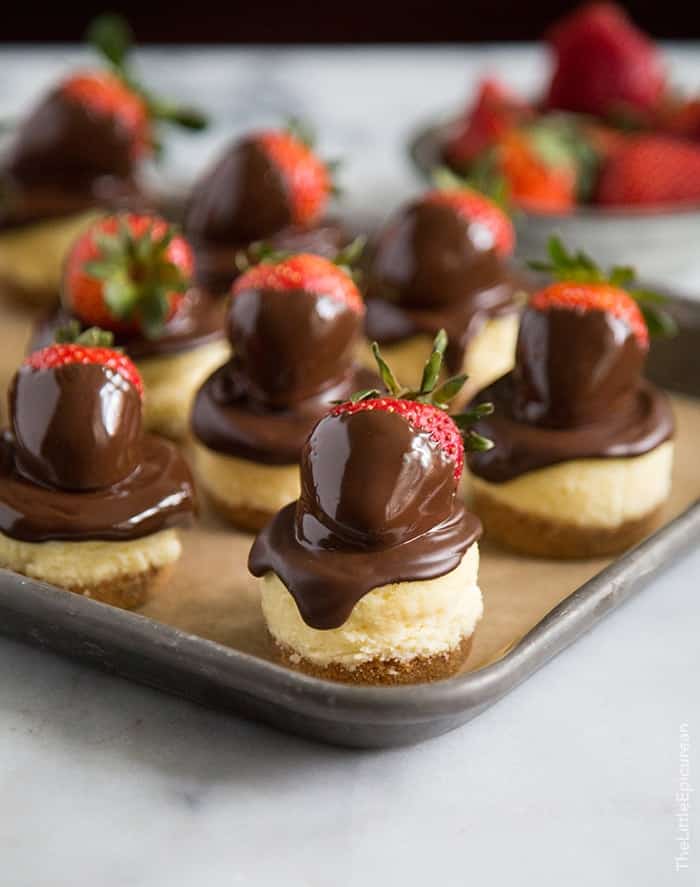 I miss elementary school years when Valentine's Day meant giving your friends and crushes a simple card and a lollipop.  That was it.
No pressure to get reservations at the hottest restaurant in town.  No need to order flowers and chocolates to be delivered.  No hoopla what so ever.  It was just a holiday like Halloween (minus the costumes) which gave you reason to eat chocolate.
But say you did want to go through the hassle of giving someone special a little Valentine treat.  If you're in the "like" stage, chocolate covered strawberries would be sweet.
If you "really like" them, a dozen roses with the strawberries would be super thoughtful.
But if you're head over heels, can't eat, can't sleep, totally in love with the person, well- you have to make them these chocolate dipped strawberry cheesecakes.
Why?  Because this homemade mini strawberry cheesecake screams I love you berry, berry much! (Sorry, had to insert another pun for Alex.)
Chocolate Dipped Strawberry Cheesecake
Once upon a time, chocolate dipped strawberries were enough.
Nowadays, you have the option to top your strawberries with just about anything… sprinkles galore, nuts of all sorts, and any crushed candy you want.
Driscoll's has tons of ideas and inspiration for you to elevate the classic chocolate dipped strawberry. But in my opinion, chocolate dipped strawberries' perfect match has got to be cheesecake.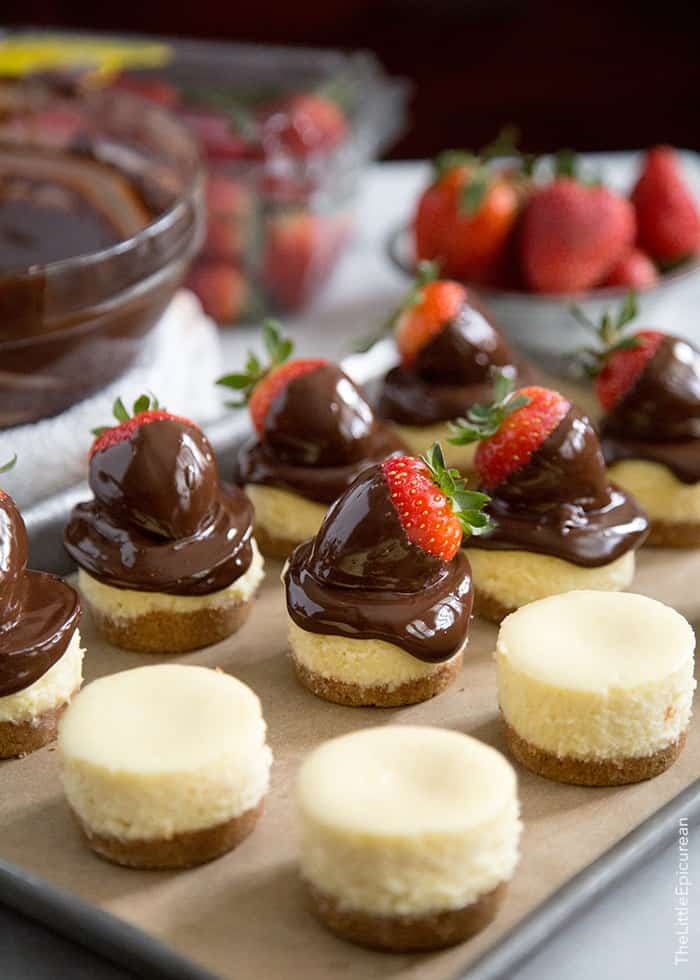 How to make mini cheesecakes:
I used this mini cheesecake pan with removable bottoms to bake the cheesecakes.  You could also bake the cheesecake in a regular 9-inch springform pan or several 4-inch springform pans.
I gently melted dark chocolate in a double boiler (bain-marie).  To prevent the chocolate from burning, bring to a boil a pot filled with about 2-inches of water.  Remove from heat and then place a bowl of chopped chocolate over pot.
The steam from hot water will gently and slowly melt the chocolate.  This method keeps the chocolate in temper and allows the melted chocolate to set up quickly without the use of the fridge.
Be sure to use good quality chocolate.  Chocolate chips are suitable, but you'll end up with a much thicker melted chocolate because chocolate chips have stabilizers and other added ingredients.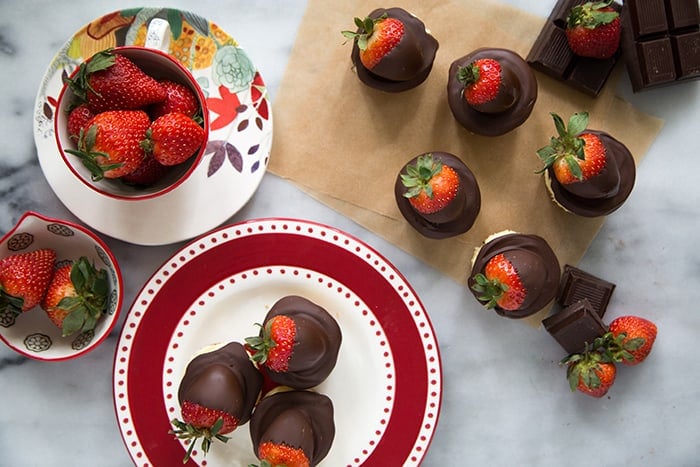 This strawberry cheesecake is best eaten the day they're made.  As you can tell from the photo above, the chocolate hardens as it sits out.
Happy (almost) Valentine's Day!
Chocolate Dipped Strawberry Cheesecake
How do you make chocolate dipped strawberries better? Attach it to a cheesecake, of course! This strawberry cheesecake is sure to win over any Valentine!
Yield: makes 18 mini cheesecakes
Ingredients
1 3/4

cup

ground graham crackers

6

Tablespoons

unsalted butter, melted

16

oz

cream cheese, softened

3/4

cup

granulated sugar

2

large

eggs

1

large

yolk

2

teaspoons

vanilla extract

1/2

teaspoon

fine sea salt

18

strawberries, rinsed and pat dry

8

oz

56% dark chocolate, melted
Instructions
Combine ground graham crackers and melted butter. Spoon about 1 1/2 tablespoon of mixture into each mini cheesecake mold cavity. Use a tamper or cocktail muddler to pack crust into mold. Set aside.

Preheat oven to 325 degrees F.

In the bowl of a stand mixer fitted with a paddle attachment, beat cream cheese until smooth. Add sugar while the machine runs on slow. Add eggs and yolk one at a time. Scrape down bowl as needed to ensure thorough mixing. Add vanilla and salt. Mix until smooth. Evenly divide cheesecake filling among molds. Smooth tops.

Bake for 20-25 minutes. Cheesecake will puff up slightly during baking, but will flatten once cooled. Let baked cheesecake cool to room temperature in pan. Transfer to fridge and let chill for at least 1 hour.

Once cheesecakes are chilled throughout, remove mini cheesecake from mold by pushing up on the removable bottoms. Spoon melted chocolate over each individual cheesecake. Dip strawberries in melted chocolate and place on top of chocolate covered cheesecake. Serve immediately.
Notes
Over time the chocolate will harden and set.  It is best to consume these desserts immediately.
I used this 
mini cheesecake pan
.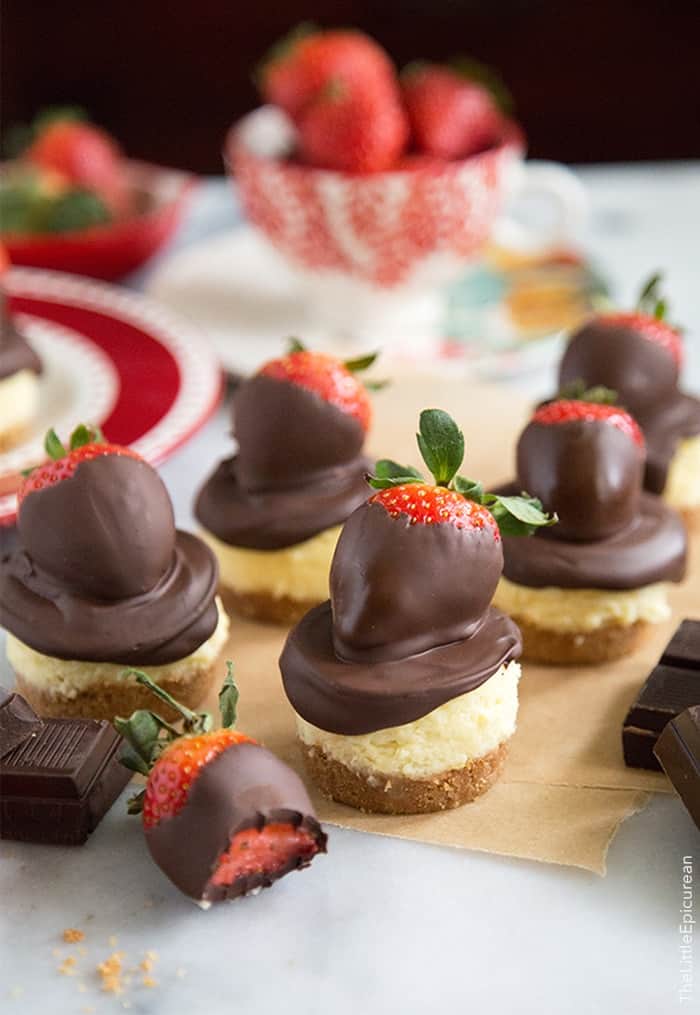 Disclosure:  Driscoll's provided me with berries and reimbursement for ingredients.  However, I was not compensated for this post.  And as always, all opinions are my own.