Disclosure: This Shrimp and Cheddar Oatmeal recipe post is sponsored by Pacific Foods.  As always, all opinions expressed here are entirely my own.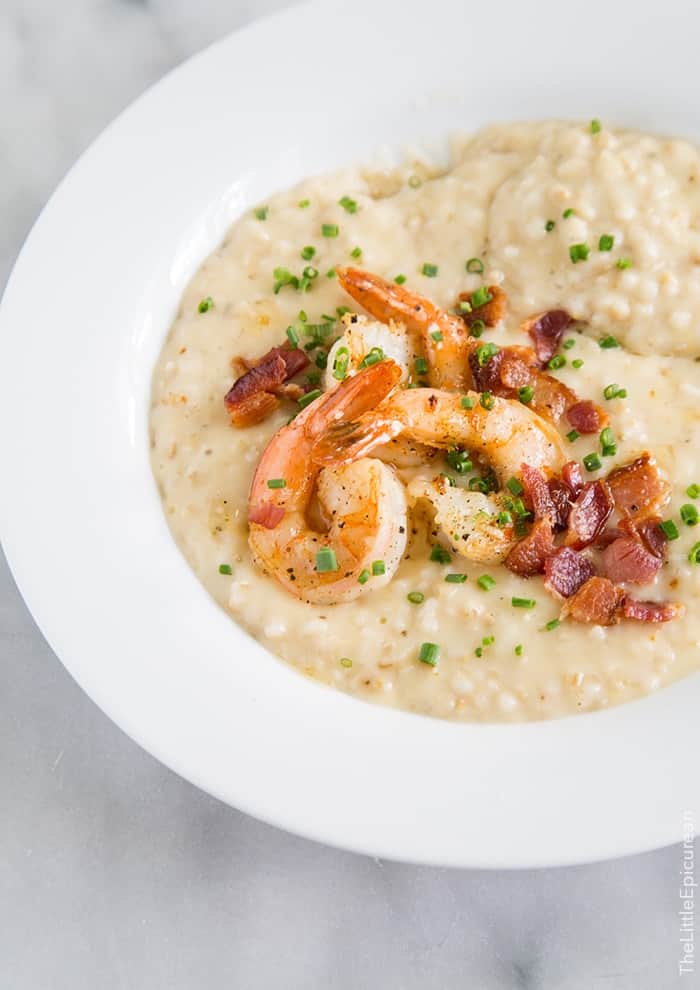 For the longest time, I refused to try savory oatmeals.  I have always associated oatmeal with sweet berries, dried fruits, honey and chocolate.  The idea of adding an egg on my oatmeal gave me goosebumps… until one day I finally tried it and fell madly in love. (Proof: my Asian congee-style oats that I shared last week.)
It's good to try new things.
You'll never know what you've been missing out on until you give it a try.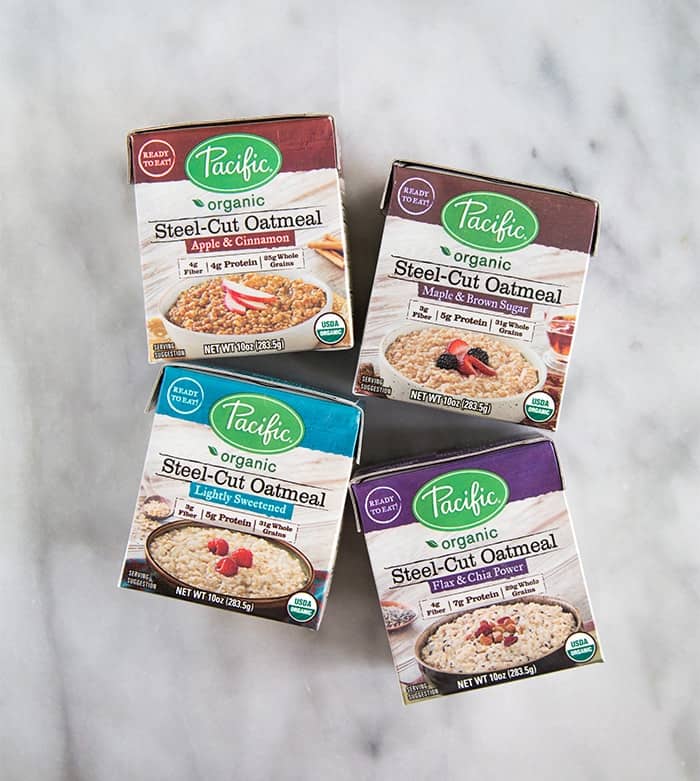 I'm a big fan of oatmeal, especially steel-cut oatmeal.  The only problem: steel-cut oats take a long time to cook.  Last year I learned about overnight steel cut oats.  The night before, you bring a pot of water to a boil, add the steel-cut oats, cover the pot, and let it sit overnight.  The following morning, simply reheat the pot until the oatmeal is warm, and you've got a quick steel-cut oatmeal breakfast!
I didn't think it could get any easier.  And then Pacific Foods send me samples of their new ready to eat steel-cut oatmeal.  They're pre-cooked, meaning you can eat it out of the box or take the little effort to reheat them.  The oatmeals come in five flavors.  My favorite is the unsweetened one because it affords me the most freedom and creativity.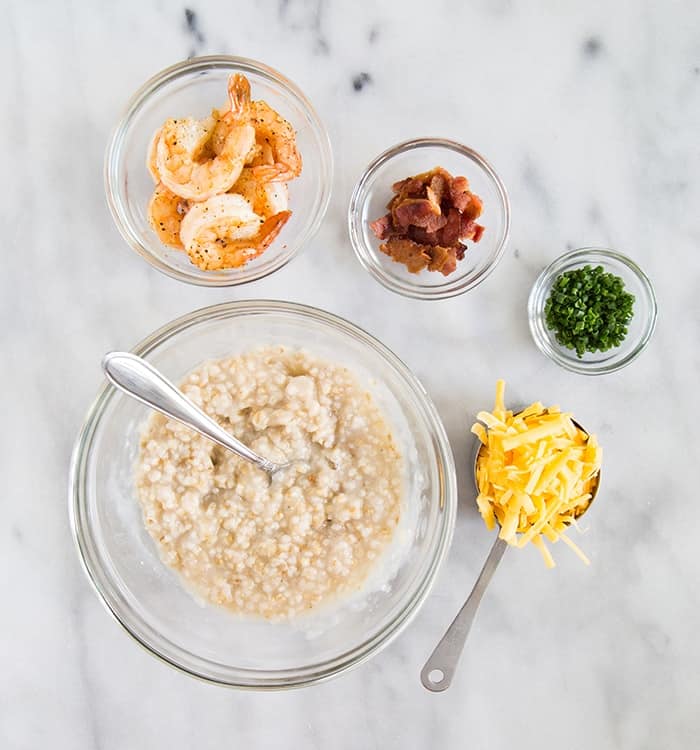 My newfound love of savory oatmeal prompted me to make this ultimate brunch oatmeal.  Ever since my trip last month to New Orleans, I have been wanting to make shrimp and grits.  Grits can take up to an hour to cook.  When hunger strikes during my lazy weekend mornings, I need food fast!  That's what led me to experiment with this easier (and healthier) shrimp and cheddar oatmeal.  It's my oatmeal take on cheesy grits.  Best part-it takes less than 15 minutes to make!
Yes, shrimp and cheesy oatmeal.  It may sound strange, but don't knock it down until you give it a try!
Ingredients needed are simple: unsweetened cooked steel-cut oatmeal, shrimp, bacon, garlic, chives, and shredded sharp cheddar cheese.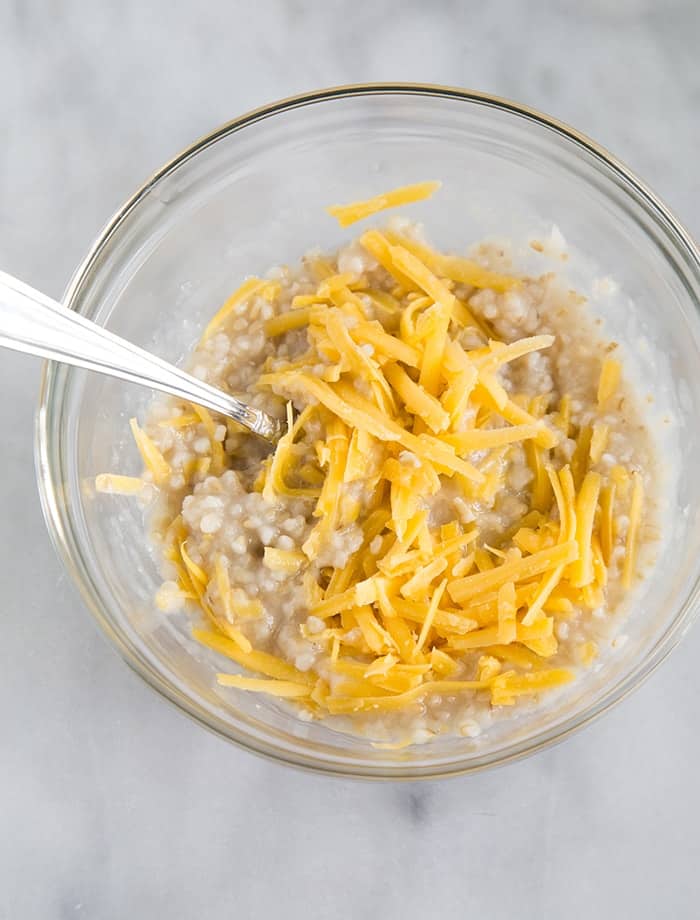 First, I cooked the bacon and used the rendered bacon fat to quickly sauté the shrimp with some minced garlic.  I saved the remaining rendered fat to drizzle on the finish oats.  Would you believe that cooking the bacon was the most time consuming part of the dish?  YES. I kid you not.
Heat up the oats and stir in the cheddar cheese.  It only takes seconds for the cheese to melt thus creating a super creamy oatmeal.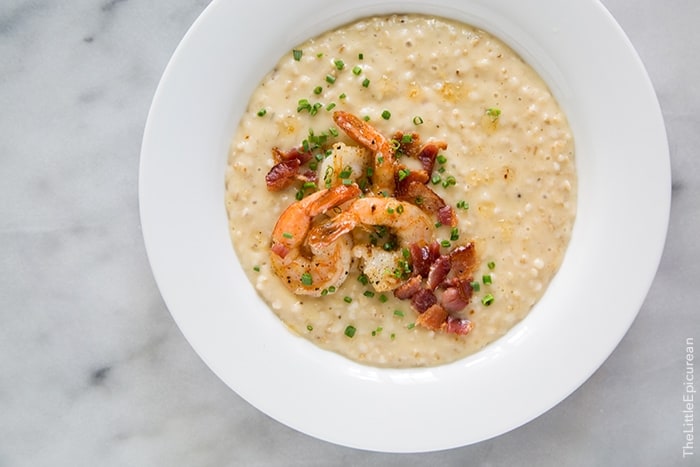 Top the cheddar oatmeal with bacon, shrimp, and chives.  Drizzle a tiny bit of the bacon/shrimp oil over the oats.  Enjoy immediately… preferably with a glass of mimosa.  This is by far one of the easiest brunch dishes I've ever made.  Make a large batch of this for a party and spend more time with your guests and less time in the kitchen!
Shrimp and Cheddar Oatmeal
Yield: serves 1
Ingredients
1

package

Pacific Organic Steel-Cut Oatmeal, unsweetened

1/3

cup

shredded sharp cheddar cheese

1

slice thick bacon

1

garlic clove, minced

4-5

medium

sized shrimp, fresh or frozen*

kosher salt and fresh ground black pepper, to taste

chopped chives, to garnish
Instructions
Place bacon slice in a cold pan. Set over low-medium heat and slowly cook. As bacon starts to curl, turn over and cook on the other side. Continue to cook and turn over, as needed until bacon is browned to your desired level of crispness. As the bacon cooks, it will render fat. Keep rendered fat to cook shrimp. Transfer cooked bacon to a paper towel lined plate and allow to slightly cool.

In the same pan you cooked bacon, add 1 Tbsp of reserved bacon fat. Set over medium heat. Once pan is hot, add garlic. Cook for 30 seconds until fragrant, then add shrimp. Season with salt and pepper. Allow to cook on one side 45-60 seconds. As shrimp starts to get pink, flip over to the other side. Cook for another 45-60 seconds until shrimp is pink. Remove from heat.

Pour oatmeal into a microwave safe container. Microwave for 2 minutes, or until warm. Add shredded cheddar cheese. Stir to combine. Transfer cheesy oatmeal to serving plate. Add cooked shrimp, crumbled bacon, and chives. Drizzle bacon oil, if desired. Season with salt and pepper, to taste. Enjoy immediately.
Notes
* I prefer to buy shrimp with shells.  Peel shell before cooking.  If using frozen shrimp, follow package instructions regarding defrosting shrimp.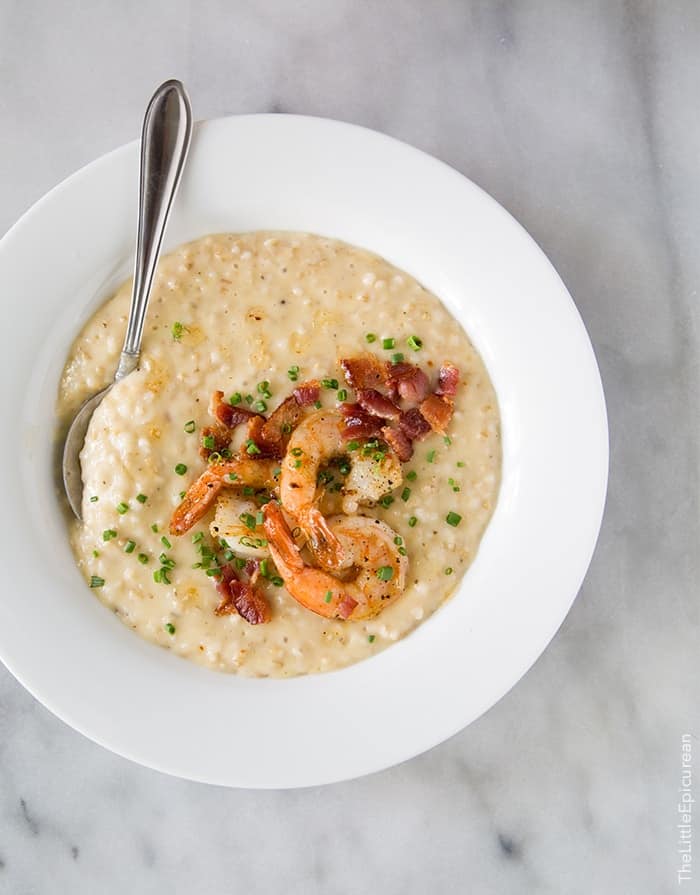 How do you enjoy your oatmeal?!
Post of photo of your dressed up oatmeal (any brand) on Twitter or Instagram.  Tag photo with @PacificFoods and #OatmealBowl to enter to win a daily prize and/or the grand prize.  All entires will be fed into a Tagboard app on Pacific Food's Facebook page.  From now until April 12, each day of the promotion, one winner will be selected at random to win a "Good Food, Good Morning Oatmeal Kit" from Pacific Foods featuring a selection of oatmeals and non-dairy beverages.  One grand prize winner will be selected to receive a variety case of Pacific's Steel-Cut Oatmeal and a case of non-dairy beverages.  Users may post as many images of their oatmeal bowls as they like for a chance to win.  Good luck and happy oatmeal eating!