This baked egg dish can be prepared in advance so all you have to do in the morning is pop in the oven!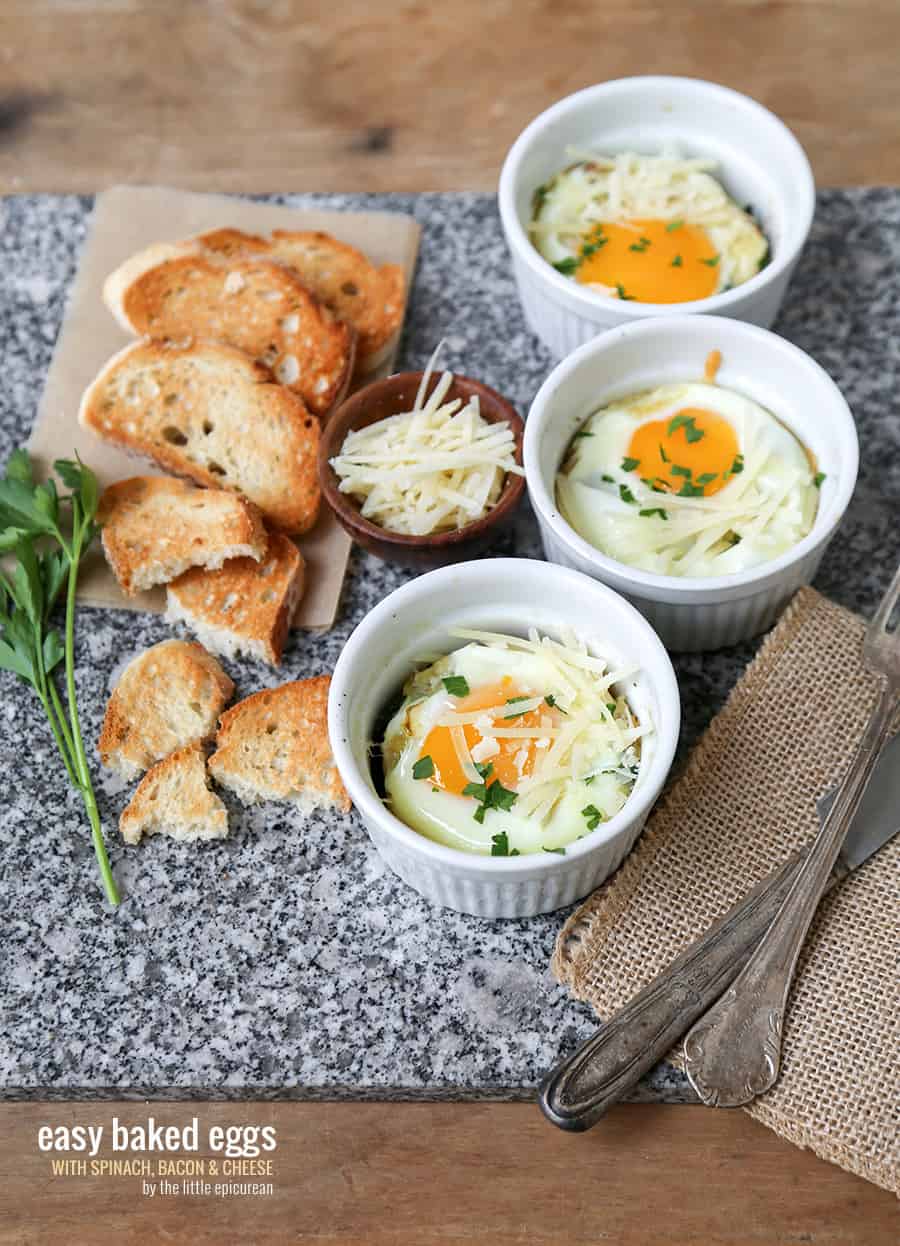 I look forward to weekend brunch all week long!  Give me bottomless mimosas and coffee cocktails every morning and I'll be a super happy and perky camper.
While I love exploring Los Angeles' excellent brunch scene, I'm too lazy to get all dolled up so early on a Saturday morning.  A girl needs her sleep.
Since I don't sleep much during the week, I gotta save it all up for the weekends.
Hence, this super easy baked egg dish!  Best of all, these baked eggs can be prepared ahead of time and popped into the oven when you wake up.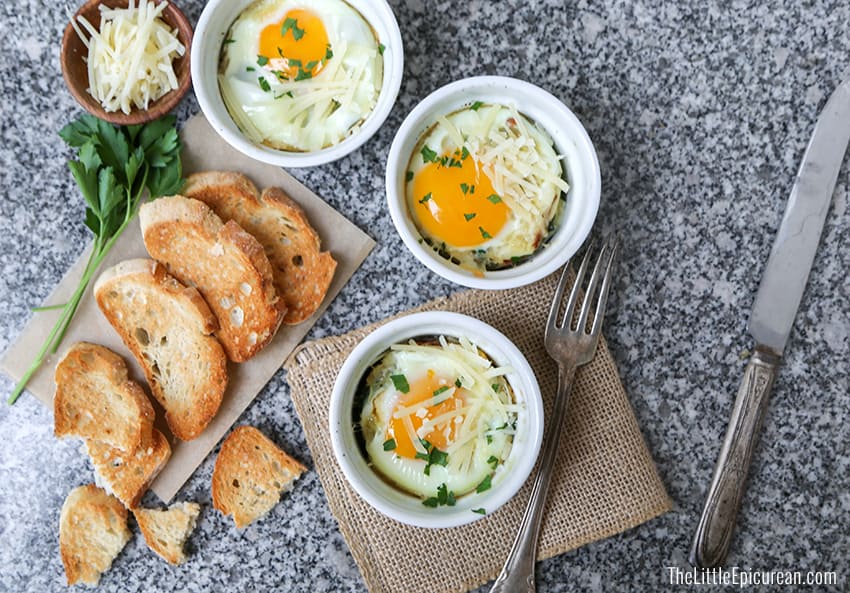 You can prepare this up to two days in advance.  Simply put everything together and keep in the fridge until you're ready to bake.  Yes, it's that simple.
Hidden underneath those perfectly cooked eggs are spinach, bacon, and a little shredded parmesan cheese.  If I had mushrooms, I would have added those too.
And during the summer months, when tomatoes are in season, I am totally gonna serve this with a nice fresh salsa.  YUM.
With Valentine's Day this Friday- this would be a nice thoughtful breakfast to suprise your loved one with.  (Although, if you really wanna go all out- make these doughnuts!)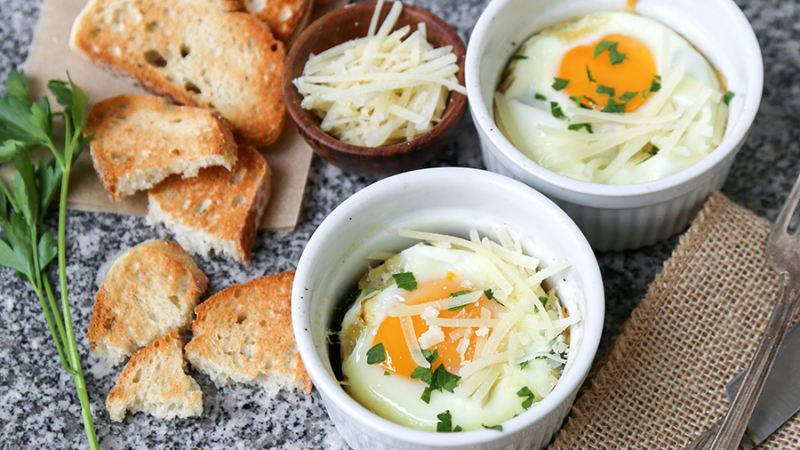 Baked Eggs with Spinach, Bacon, and Cheese
Ingredients
3

slices

thick-cut bacon,

cut into 2-inch segments

4

handfuls

baby spinach

1/4

cup

shredded parmesan cheese

4

large eggs

kosher salt and freshly ground black pepper,

to taste
Instructions
Preheat oven to 350 degrees F. Lightly butter 4 ramekins. Set aside.

In a skillet, cook bacon until crispy and browned. Transfer cooked bacon to paper towel lined plate. Reserve about 1 tablespoon of rendered bacon grease.


Over low-medium heat, at 1 tablespoon bacon grease. Add spinach to the pan, if necessary, add spinach in two additions. Cook until spinach has started to wilt and has significantly decreased in volume. Remove from heat. Drain any excess moisture. Distribute cooked spinach between prepared ramekins.


Crumble cooked bacon and distribute on top of spinach. Sprinkle shredded parmesan cheese over bacon.


Add one cracked egg into each ramekin. Season with a little salt and pepper.*


Place ramekins on a baking tray. Bake for 15-18 minutes until egg whites are cooked and set, but yolk is still a bit runny.


Serve with toasted crusty bread.

Notes
Season lightly with the salt because Parmesan cheese is already salty in flavor