This coconut raspberry cake is soaked with coconut vodka, has thin layers of raspberry jam, and is frosted with coconut cream cheese.
Happy birthday, Alex!
Last Thursday, we celebrated Alex's birthday the best way we know how. We ate this coconut raspberry cake for breakfast and then spent the entire day at Disneyland.
This coconut raspberry cake was an absolute HIT! Alex loved it. My parents tasted a slice and my dad was convinced I bought it at some bakery on the West side.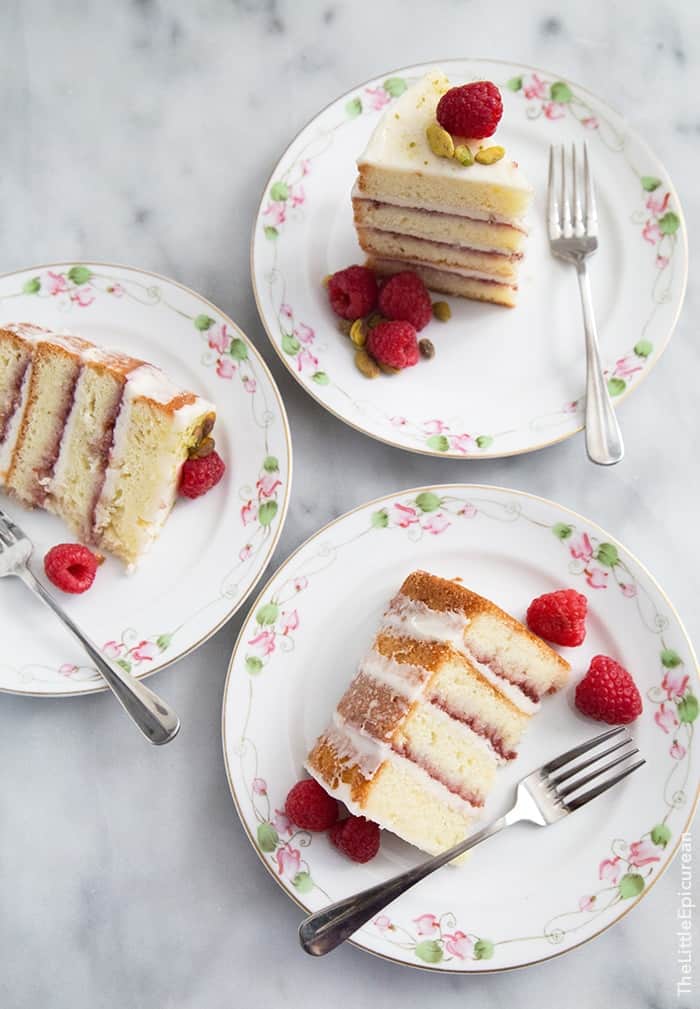 Coconut Raspberry Cake
This is definitely not your average coconut cake. First of all, it doesn't have coconut flakes all over the outside, coconut cake's most distinguishing feature.
Rather than put coconut on the outside, I packed it all on the inside. You could never guess this cake was full of coconut until you taste it, or you take a big whiff of it while it bakes.
I like to surprise people. I hate the obvious. Obvious is no fun. I didn't tell Alex what kind of cake this was. When I first presented it to him, he figured it was a simple white cake with raspberries and pistachios.
WRONG! When we took his first bite- BAM! The biggest smile of on his face. COCONUT!
all the coconut!
The layer cake is made with coconut milk, coconut oil, and unsweetened dried coconut flakes. If you want to go coconut crazy, you can sub in coconut sugar. I used regular granulated sugar because I wanted to keep the cake white.
When assembling the cake, I soaked the cake layers with simple syrup spiked with a little coconut vodka. Yes, coconut vodka!
It's this amazingly delicious and tropical vodka that is perfect for summer. I used this one by Ciroc. There are other coconut vodkas out there, but Ciroc makes my favorite one.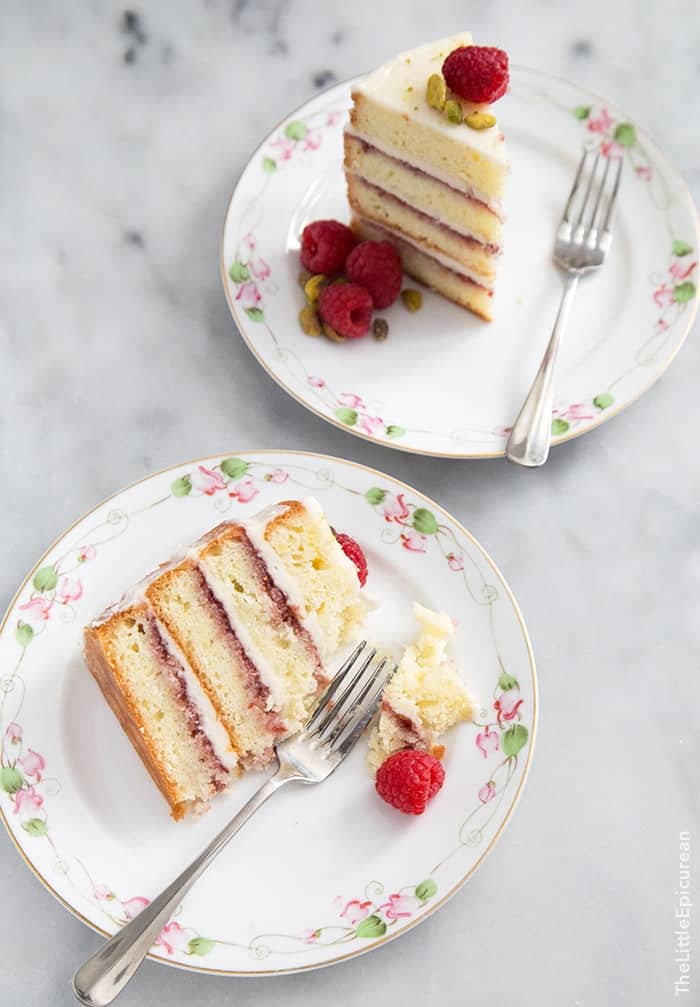 Raspberry Preserves
To balance out the coconut cake, I added a thin layer of raspberry preserves for a pop of tart flavor and a layer of coconut cream cheese frosting. I'm not one for tons of icing, so I left the outside of the cake unfrosted.
The cake is sweet enough on it's own. This is one of those instances where less is more.
Finally, the top of the cake is garnished with fresh raspberries and salted pistachios. Pistachios add a nice crunch and pistachio + raspberry + coconut is an excellent combination.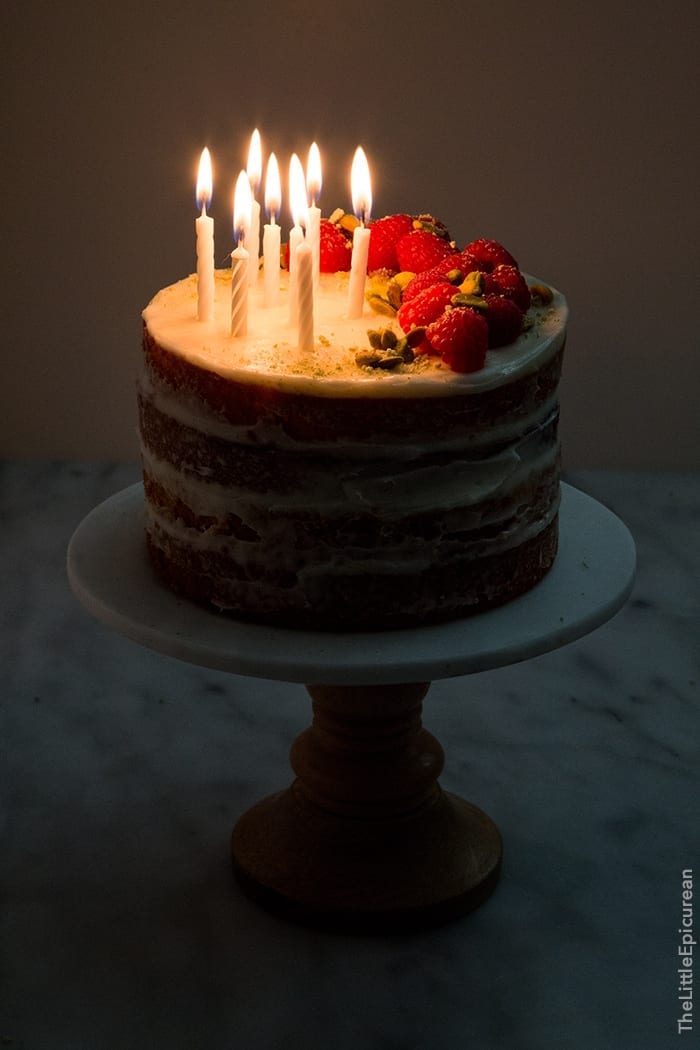 Alex LOVES coconut. Coconut macarons, coconut ice cream (Filipino macapuno ice cream!), coconut shrimp. It's only natural I make him a coconut cake for his birthday this year.
In previous years, I've made him a Dodgers baseball cap cake, lemon olive oil cake , and even cheeseburger cupcakes.
Now that his birthday is over… it's time to plan my birthday cake! (EEEK. I turned 30 in two weeks!)
Coconut Raspberry Cake
Yield: 6-inch layer cake
Ingredients
Coconut Cake:
2

cups

all-purpose flour

2

teaspoons

baking powder

1/2

teaspoon

fine sea salt

1/2

cup

unsalted butter, melted

1/2

cup

+ 3 Tablespoons coconut oil

1

cup

granulated sugar

4

large eggs, room temp

1/2

cup

well shaken full-fat coconut milk, canned, unsweetened

1/2

cup

dried unsweetened coconut flakes, or shredded coconut*
Coconut Cream Cheese Frosting:
1/2

cup

unsalted butter, softened

4

oz

cream cheese, room temp

3

cups

powdered sugar, sifted

2

Tablespoons

well shaken full-fat coconut milk, canned, unsweetened

1/2

teaspoon

vanilla extract

pinch fine sea salt
Topping and Assembly:
1/4

cup

simple syrup*

3

Tablespoons

coconut vodka*

1/2

cup

raspberry preserves, or jam

fresh raspberries, as needed

pistachios, as needed to garnish
Instructions
Coconut Cake:
Preheat oven to 350 degrees F. Line two 6-inch round cake pans with parchment paper. Grease lightly and set aside.

Whisk together flour, baking powder, and salt. Set aside. In the bowl of stand mixer fitted with a paddle attachment, combine melted butter, coconut oil and sugar. Add eggs and beat until mixture is pale in color. Scape down bowl as necessary to ensure thorough mixing.

Alternate adding flour mixture and coconut milk, beginning and ending with the flour. Mix on low speed until combined. Fold in dried coconut.

Divide batter between the two prepared cake pans. Level batter and bake for 35-40 minutes until cakes are golden brown and toothpick inserted in center of cake comes out clean. Let cool in pan for 5 minutes before unmolding. Allow to cool to room temperature on wire rack.

Coconut Cream Cheese Frosting:
In the bowl of a stand mixer fitted with a paddle attachment, cream together butter and cream cheese until smooth. Scrape down bowl as needed. Add sifted powdered sugar. Mix on low speed while adding coconut milk and vanilla extract. Add pinch of salt and mix until frosting is smooth.

Assembly:
Slice each cake into two layers so you end up with 4 layers of cake. Place one layer on a cake stand or cake plate.

Combine 1/4 cup simple syrup and 3 Tbsp coconut vodka. Lightly moisten the cake layer with coconut vodka syrup using a pastry brush.

Spread a thin layer of raspberry preserves over moistened cake. Add about 1/3 cup frosting and spread into an even layer. Place another cake layer on top. Moisten cake with syrup, follow with raspberry preserves, and top with frosting. Repeat until you finish with the top layer.

Spread any remaining frosting on the sides of the cake, if desired. Otherwise, smooth the top of the cake and finish my smoothing the sides the cake with an offset spatula. Garnish the cake with fresh raspberries and pistachios. Keep cake stored in the fridge until ready to serve. Let cake sit at room temperature for at least 45 minutes before serving to allow cake to soften.

Notes
Be sure to use 

unsweetened

 coconut flakes! Sweetened coconut will make this cake way too sweet.
I used Ciroc coconut vodka
To make simple syrup: bring equal parts water and sugar to a boil. Allow to cool to room temperature. Store in the fridge until ready to use.
All images and text © The Little Epicurean