Coconut cream cake features three layers of coconut cake filled with coconut pastry cream and frosted with lemongrass pandan Swiss buttercream.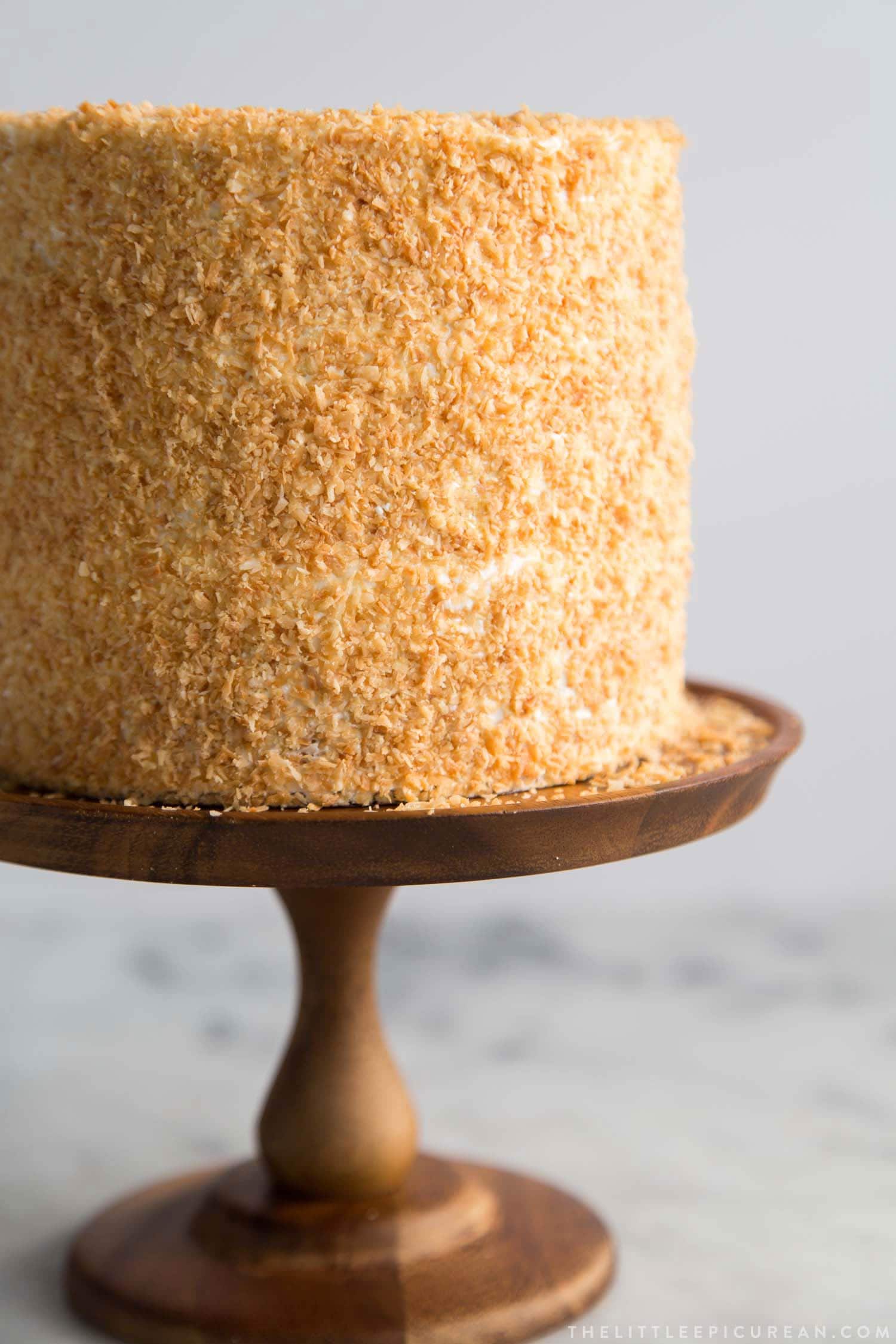 I've said it numerous times before. Coconut is the miracle fruit.
This one plant provides so many uses inside and outside of the kitchen.
Ingredient 101
The Many Uses of Coconut
Need further proof to explain the wonders of coconut? Look at this coconut cake!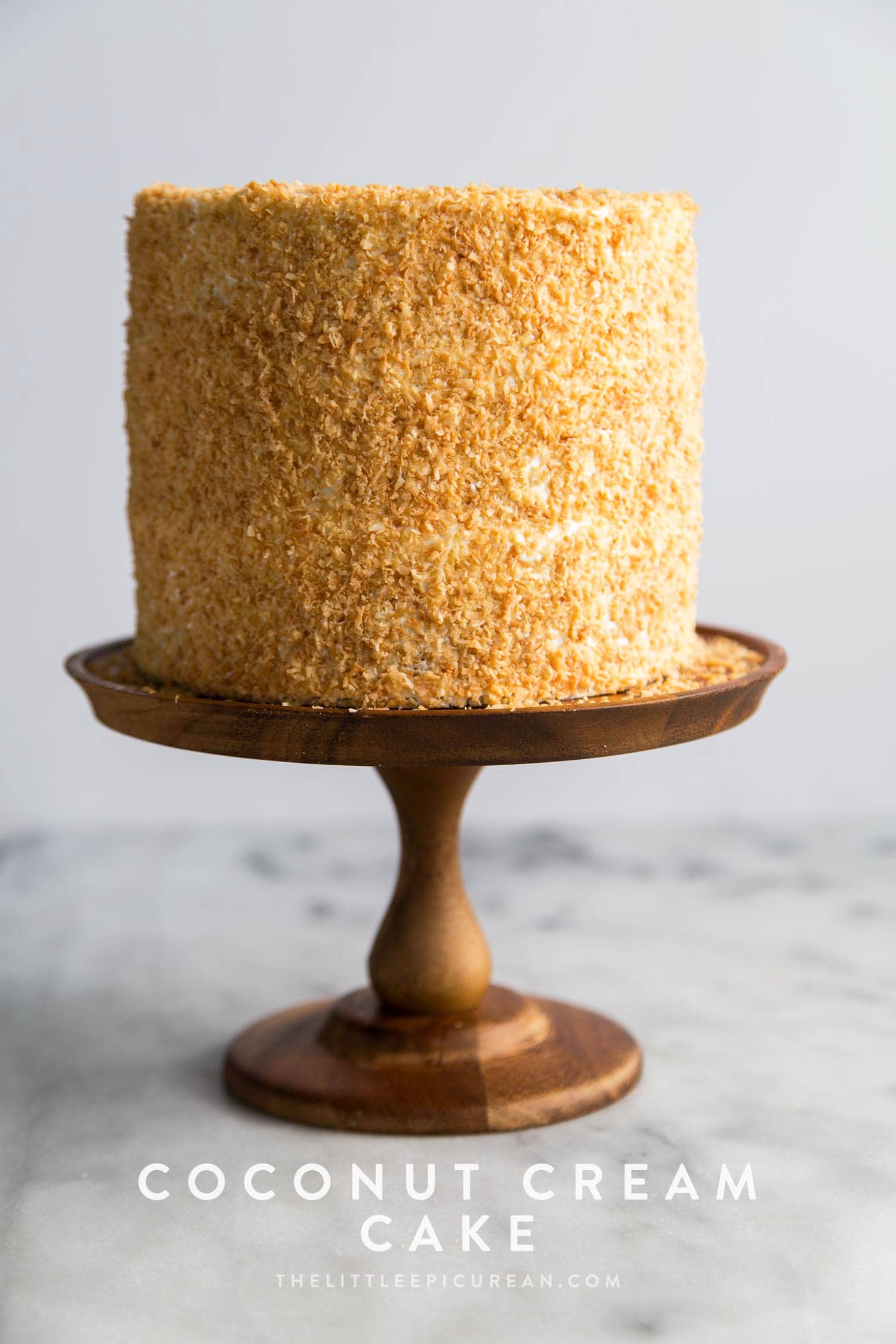 Toasted Coconut Cake
Obviously, my favorite way to enjoy coconut is in edible form.
From coconut walnut baklava and coconut ice cream to traditional coconut Filipino desserts like ginataang bilo-bilo and biko (also known as bibingkang malagkit), there is no shortage of coconut based recipes on The Little Epicurean.
This coconut cream cake combines several flavors to create one sweet harmonious note.
The coconut cake contains pandan and vanilla, while the buttercream has a touch of lemongrass!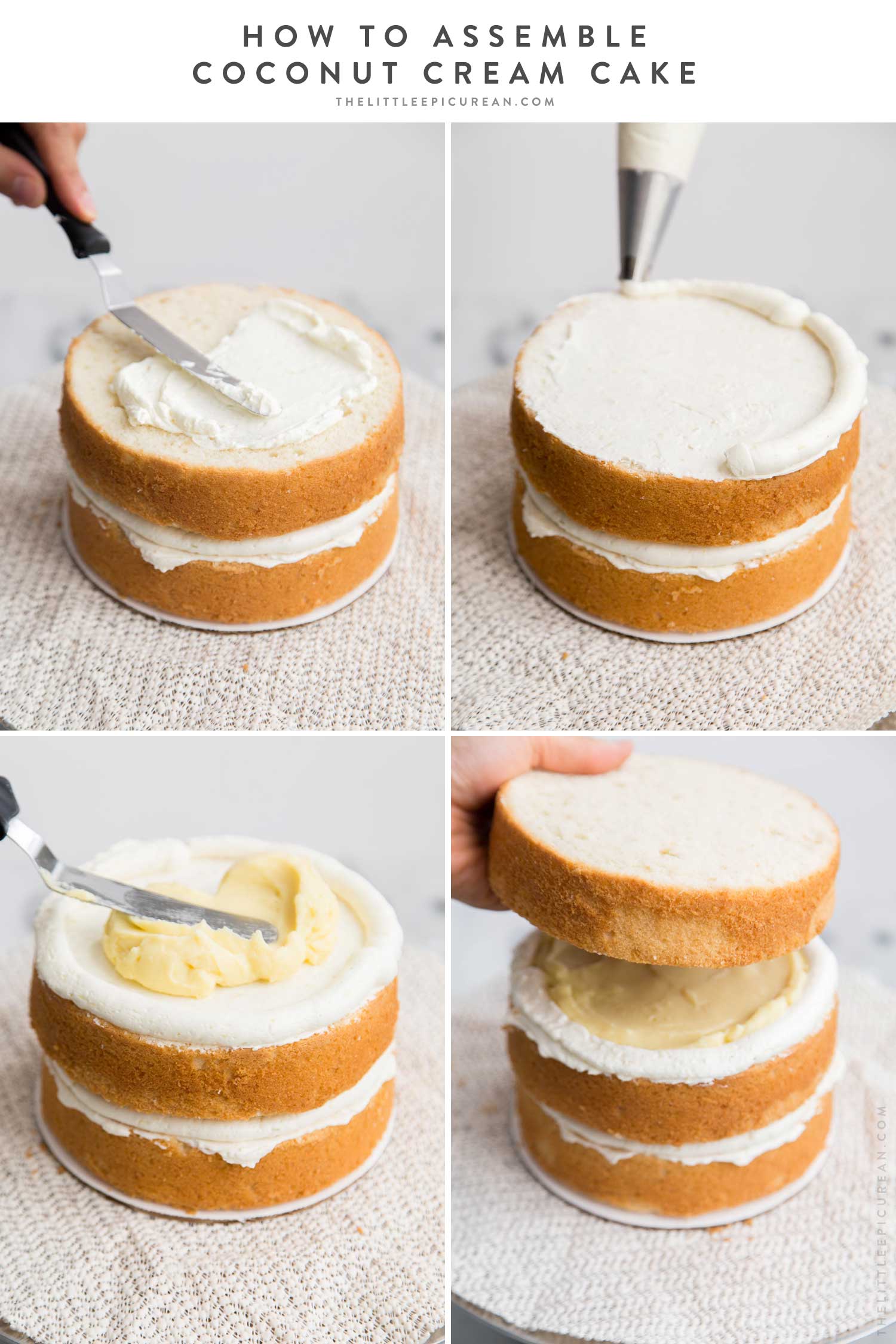 How to fill and assemble layer cake
This cake consists of three 6-inch coconut cake layers.
As is evident from the images above, the coconut cake layers are rather thick. You may slice each layer in half to create a total of six layers, if desired. 
Frost each layer cake with a thin layer of Swiss buttercream.
Pipe a ring of buttercream along the perimeter of the cake create a border. Use a piping bag fitted with a medium round tip.
Evenly spread coconut pastry cream within the buttercream border.
Add the final cake layer on top. Add a thin layer of buttercream to crumb coat the cake. Once set, add the final layer of buttercream frosting.
Super Easy Way to Decorate Cake
Cake decorating can be daunting and intimidating.
Luckily, there are tools like this icing smoother or icing comb set to help make frosting easier.
If all else fails, simply cover the entire cake with toasted shredded coconut! Obviously, this also works with sprinkles, rainbow nonpareils, or cookie crumbs.
Make use to use unsweetened shredded coconut for garnishing this particular cake.
Otherwise, you will end up with an absurdly sweet cake. I recommend this shredded coconut from Bob's Red Mill.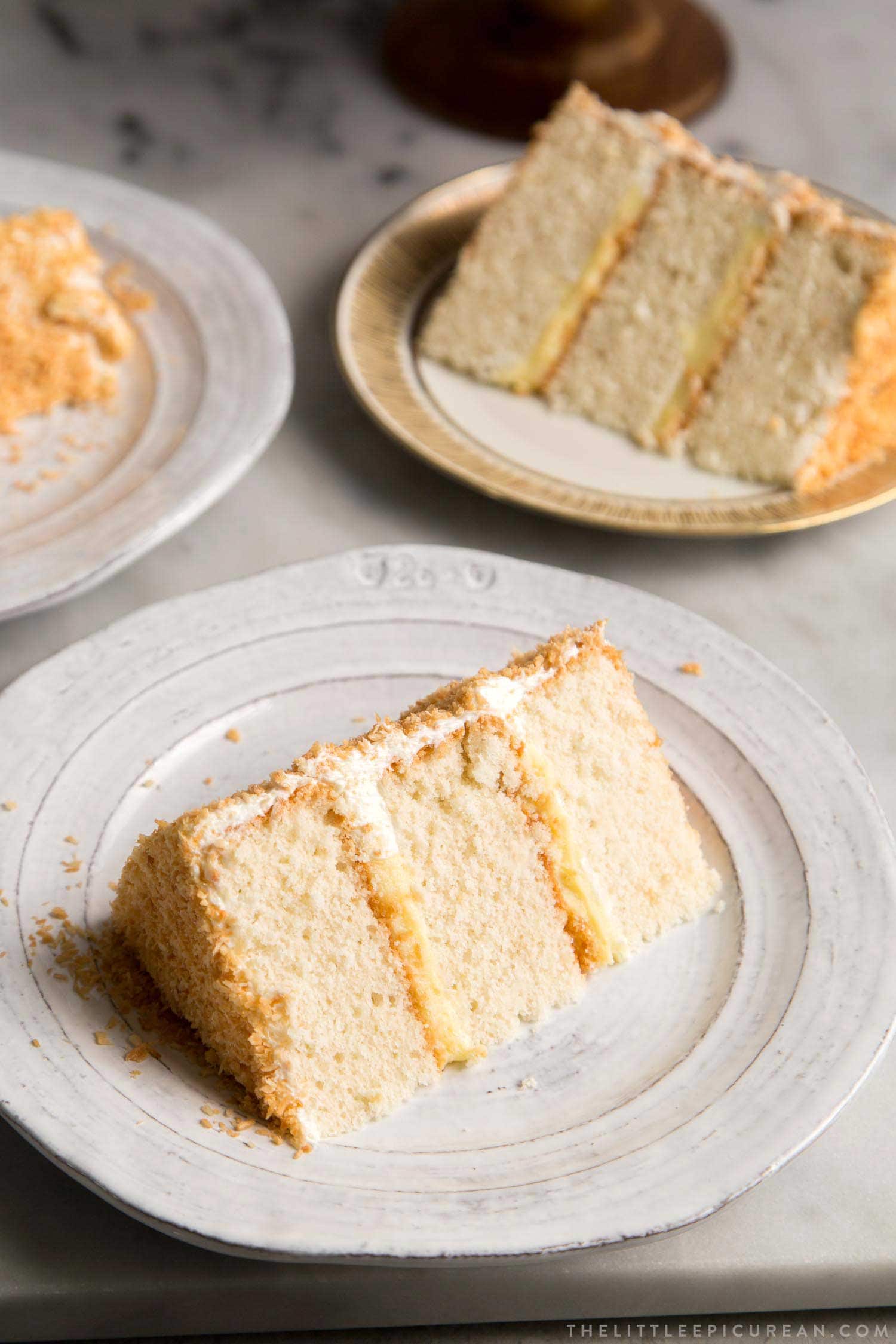 This cake is sturdy! The batter is made without egg yolks.
All you need are egg whites. Save the egg yolks to make the coconut pastry cream filling. 
However, this coconut cake is different from your average egg white based white cake. Instead of whipping the eggs to create a meringue, this cake batter relies on baking powder for leavening.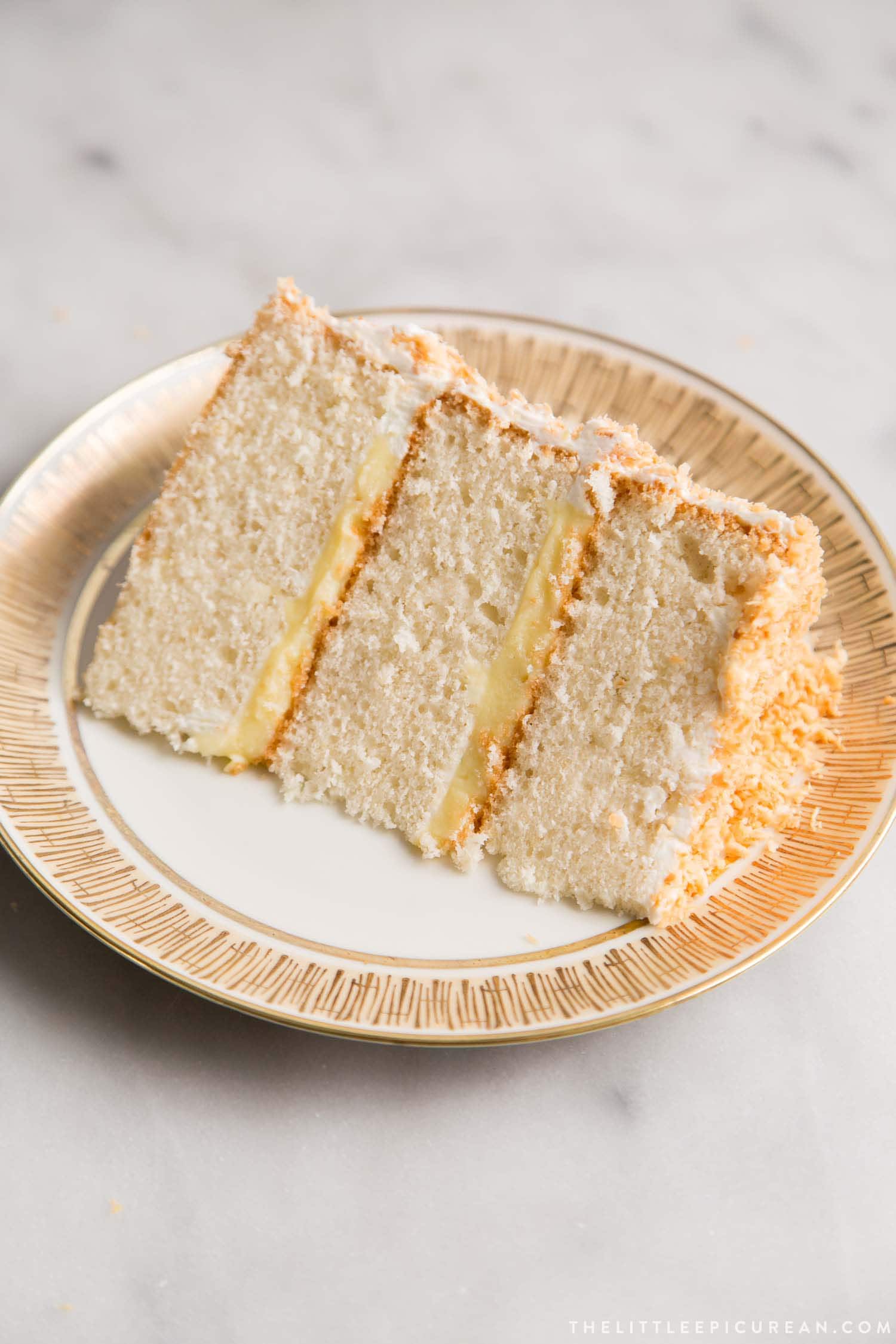 Winning Combination: Coconut, Pandan and Lemongrass
In Southeast Asia, coconut desserts are often enhanced with a touch of pandan. Traditionally, pandan leaves are infused in water or coconut milk to extract it's flavor.
Unfortunately, pandan leaves may be difficult to find in the US. It's much easier to simply use pandan extract.
If you can't find pandan extract, simply omit it from the recipe. The vanilla extract is enough.
Lemongrass is another flavor often mixed with coconut. For the ease's sake, I used this lemongrass stir-in paste. Find it at supermarkets in the refrigerated section along with the fresh herbs.
(I will make a tropical lemongrass cake once I get my hands a bunch of lemongrass!)
Have extra coconut milk? Try these delicious coconut milk recipes: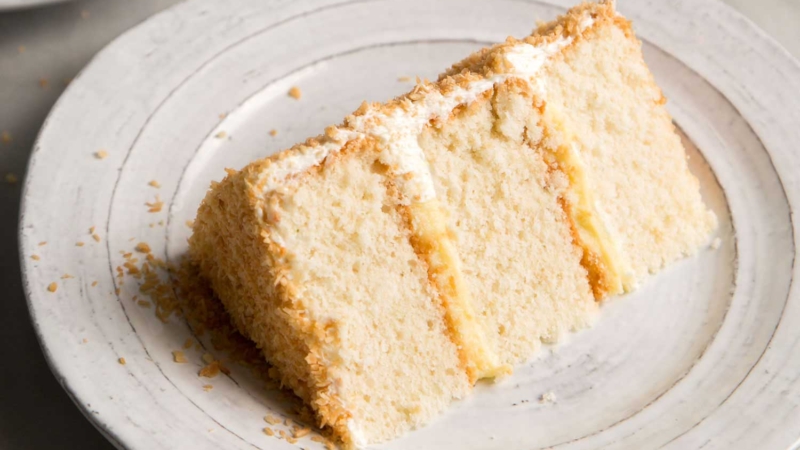 Coconut Cream Cake with Pandan and Lemongrass
This coconut cream cake features three layers of coconut cake filled with coconut pastry cream, and frosted with lemongrass pandan Swiss buttercream. Yield: three layer 6-inch cake
Ingredients
Coconut Cake:
3

cup

cake flour

(385 g)

1

Tablespoon

baking powder

1

teaspoon

kosher salt

1

cup

canned unsweetened coconut milk

(245 g), well-shaken

¾

cup

egg whites

, about 6 large egg whites

1

teaspoon

pure vanilla extract

½

teaspoon

pandan extract

12

Tablespoon

unsalted butter

(170 g), room temp

1 ½

cup

granulated sugar

(300 g)
Coconut Pastry Cream Filling:
¾

cup

canned unsweetened coconut milk

(185 g), well-shaken

1 ½

cup

whole milk

(340 g)

½

cup

granulated sugar

(100 g)

3

Tablespoon

cornstarch

(22 g)

4

large egg yolks

2

Tablespoon

unsalted butter

(28 g)

2

teaspoon

pure vanilla extract

¼

teaspoon

kosher salt
Lemongrass Pandan Swiss Buttercream:
½

cup

egg whites

, about 4 large egg whites

1

cup

granulated sugar

(200 g)

1 ½

cup

unsalted butter,

(339 g) cut into tablespoons, softened

¼

teaspoon

kosher salt

2

Tablespoon

lemongrass paste*

¾

teaspooon

pandan extract

1 ½

cup

toasted shredded coconut*

(175 g), unsweetened
Instructions
Cake:
Preheat oven to 350°F. Butter and lightly flour three 6-inch cake pans. Line bottom with parchment paper and set aside.

Sift together cake flour and baking powder. Stir in salt and set aside. In another bowl, thoroughly mix together coconut milk, egg whites, vanilla extract, and pandan extract. Set aside.

In the bowl of a stand mixer fitted with a paddle attachment, beat butter and sugar until smooth. Scrape down bowl as needed to ensure thorough mixing.

Add ⅓ of dry flour mixture. Mix on low speed while adding ½ of liquid mixture. Add another ⅓ of dry mixture, follow with remaining ½ of liquid mixture. Add remaining ⅓ of dry mixture. Mix batter is thick and well combined. Scrape down bowl as needed.

Divide batter evenly among prepared cake pans. Bake for 30-35 minutes until toothpick inserted in center of cake comes out clean. Let cake cool in pan for 5 minutes before unmolding. Allow cake layers to cool to room temperature on wire racks.

If necessary, use a serrated cake knife to level off cake layers once cooled.
Pastry Cream:
Line a quarter-sheet baking pan with plastic wrap, making sure the sides of the pans are covered. Set aside.

Pour coconut milk and 1 cup milk into a large heavy bottomed sauce pot. Whisk together and place of medium heat. Stir occasionally to ensure milk does not burn along the sides of bottom of pot. Bring to a simmer.

Meanwhile, whisk together sugar and cornstarch in a medium bowl. Add remaining ½ cup milk and egg yolks. Whisk until smooth.

Once milk is at a simmer, reduce heat. Slowly add about ⅓ cup of hot milk mixture into egg mixture. Whisk constantly to distribute heat. Continue to add milk in intervals until only about ⅓ cup of milk remains in sauce pot.

Pour all of the egg-milk mixture back into the sauce pot. Increase to medium heat. Stir often to prevent mixture from burning along sides of pot. Stir until mixture has thickened to custard like consistency. Allow mixture to come to a boil for 15 seconds to cook out any cornstarch flavor. Remove from heat.

Whisk in butter until smooth. Add in salt and vanilla. Stir until combined.

Pour hot pastry cream into prepared plastic wrapped sheet pan. Spread evenly. Directly cover surface of pastry cream with plastic wrap. Freeze for 10-15 minutes until pastry cream has cooled to room temperature. Remove from the freezer and transfer pastry cream to an airtight container. Keep chilled in the fridge until ready to use.
Swiss Buttercream:
In the bowl of a stand mixer, whisk together egg whites and sugar. Place bowl over a pot of simmering water to create a bain-marie or double boiler. Make sure the simmering water does not touch the bottom of the bowl. Whisk sugar-egg mixture until it reaches a temperature of 160°F.

*Alternatively, if you don't have a thermometer, heat the mixture until all the sugar has melted. Test this by dipping your pointer finger into the mixture and rubbing it against your thumb. The mixture should be smooth. You should not be able to feel the granules of sugar.

Return bowl to the stand mixer. Using the whisk attachment, beat mixture at medium speed until it has cooled to room temperature.

Switch to a paddle attachment. Add low speed, add butter one tablespoon at a time. Once all the butter has been incorporated, add salt, lemongrass, and pandan extract. Increase speed to medium-high and continue to beat until buttercream is light and fluffy.
Assembly:
Level cake layers as necessary. Fit piping bag with medium round tip. Fill piping bag with about ½ cup of buttercream. Set aside.

Place one cake layer on a 6-inch cake board and place on serving platter or cake turntable. Spread 1 ½ tablespoon buttercream over cake layer. Pipe a border along the perimeter of cake layer. Add about ⅓ cup pastry cream (equal to two #24 scoops) within buttercream borders. Use a mini offset spatula to spread into an even layer. Place second cake layer on top.

Repeat process of adding buttercream layer, border, and pastry cream.

Top with final third cake layer. Spread a thin layer of buttercream around cake to create a "crumb coat" to seal in any cake crumbs. Chill cake for 15-30 minutes to set buttercream.

Generously coat the chilled cake with additional buttercream. Return to fridge to chill for 15-20 minutes.

Meanwhile, spread cooled toasted coconut on a flat baking sheet.

Remove cake from fridge and place a 6-inch cake board on top of cake. Use an offset spatula to remove cake from plate or platter. Gently lay cake on its side into the coconut baking sheet. Keeping your hands on the top and bottom of cake, gently roll the cake around until all the sides are coated with coconut.

Place cake back on plate or platter. Gently remove cake board on top. Generously sprinkle coconut over top of cake to cover completely. Return to fridge until ready to serve.
Notes
Coconut Milk Notes:
The amount of coconut milk used in this recipe is equivalent to one 14 oz can.
Use well-shaken canned coconut milk. Use unsweetened, full-fat variety.
Coconut cream may use in place of coconut milk in the pastry cream recipe.
Pandan Extract Notes:
There are two version of pandan extract: a colorless one and a green one. I used the colorless one for this recipe.
Pandan extract can also be labeled pandan essense.
If you cannot find pandan extract, simply omit. 
Lemongrass Notes:
Lemongrass Stir-In paste can be found in the refrigerated section of the supermarket with the herbs, usually near the mushrooms. 
Toasting Shredded Coconut: Preheat oven to 325°F. Spread unsweetened shredded coconut in an even layer on baking sheet. Bake for 5 minutes. Remove from oven and stir coconut around. (The coconut along the edges of the pan will toast first.) Return to oven and bake for another 2 minutes. Remove and stir coconut. Keep repeating until coconut is golden brown. 
Toasted coconut can be kept at room temperature for several weeks in an airtight container.