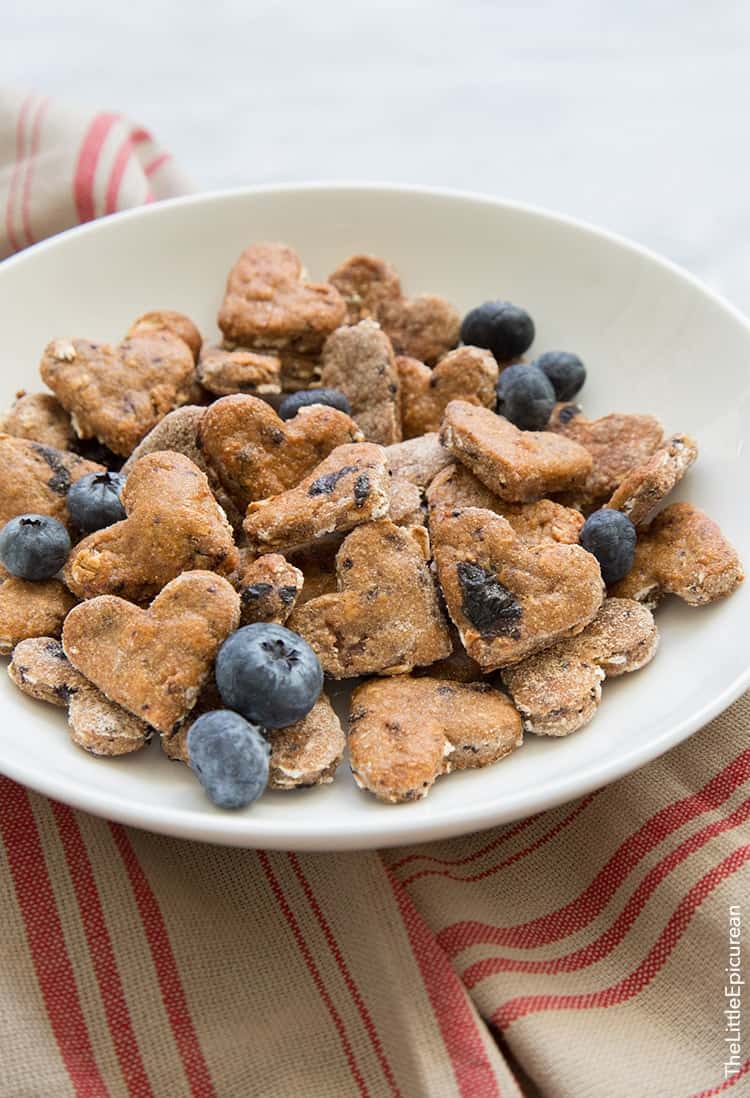 (At the end of the post, be sure to comment if you'd like to sample Abound's grain free dog and cat food!)
A great deal of what I learned in my adult years (I count those as ages 25+), came from my dog. My entire childhood, I begged and pleaded for a dog. But as my parents explained, I was so busy with school and extra-curricular activities that I had little to no time for care for a pet. (And their biggest reasoning, who was going to care for him/her when I went away for college? Touché, parents. Well played.)
Post-college, post-quarter-life crisis, I felt it was time to care for someone other than myself. I had friends that were very adamant about animal rescue. I knew that I wasn't going to find my future pup at a pet store or a breeder. I met Charlie (then known as Hobbs) from Cuddly Canines, a local non-profit group that rescues unwanted pregnant moms and puppies.
Since then, Charlie has forever changed my life. For Valentine's Day, I made these blueberry oatmeal dog treats for my two loves, Charlie and Taylor.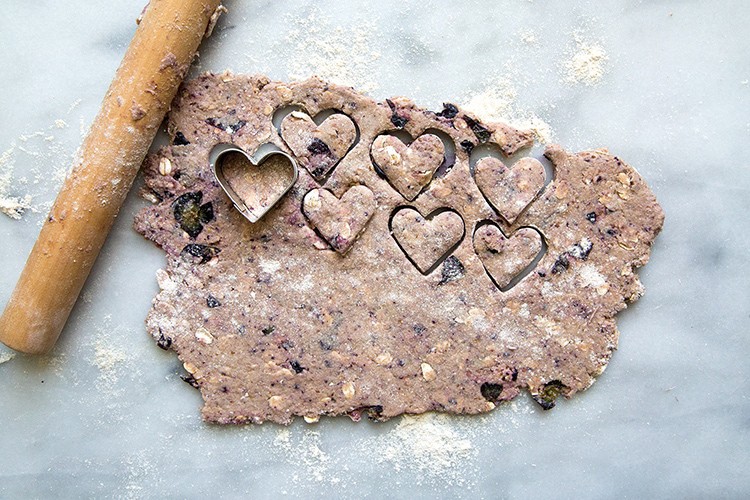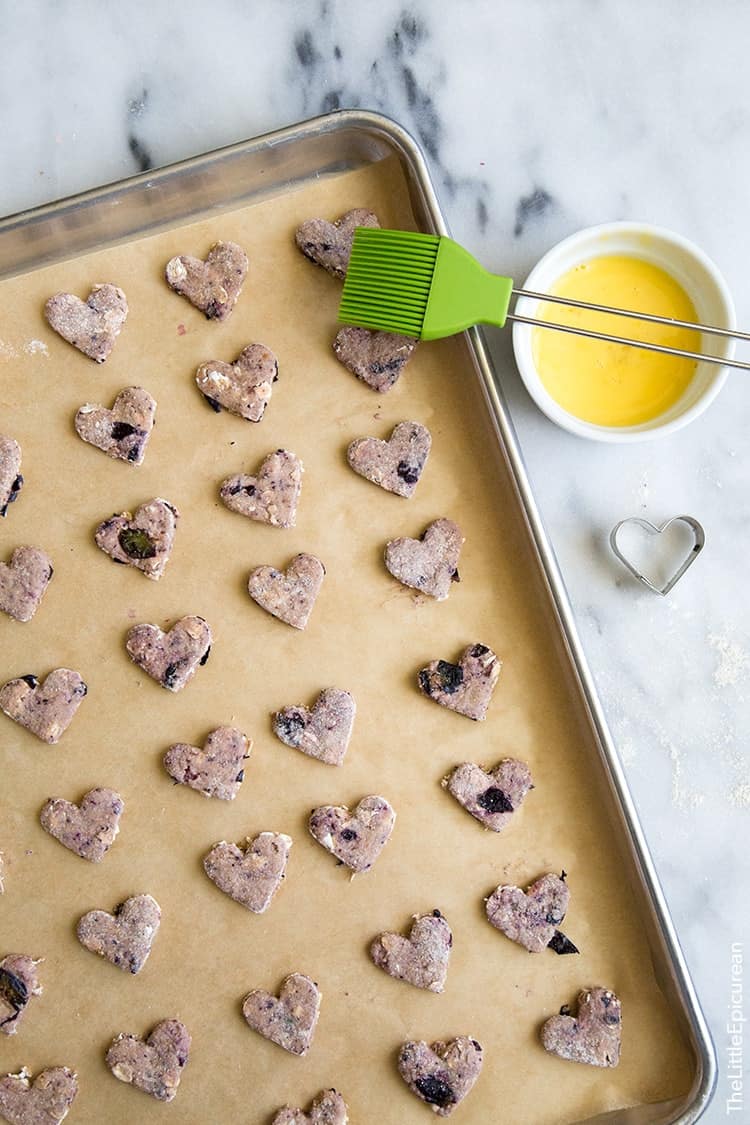 These dog treats are very similar to these sweet potato dog treats I've shared before. Thanks to my friends from Kroger, Charlie and Taylor were gifted a sampling of Abound's new superfood treats line. Charlie is in LOVE with these sweet potato sticks with blueberries. While Taylor will eat just about anything, Charlie is a bit more picky. One food he goes crazy for: blueberries. Hence the inspiration for these Valentine's treats.  (*More about Charlie and his favorite treats after the recipe.)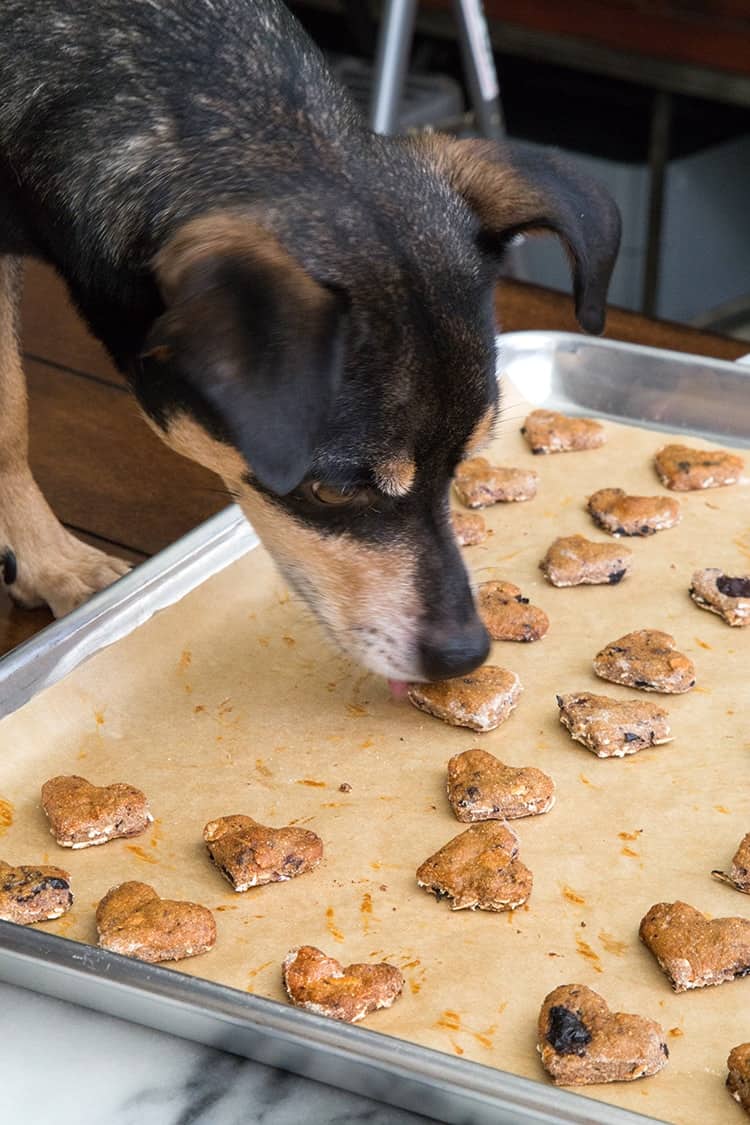 Lessons I learned from my dogs:
Forgiveness/Unconditional Love:
When Charlie was a little pup, he would chew everything in sight. From slippers to pencils to laundry baskets, nothing in the house was safe. One time he chewed up something I had borrowed from a friend. I was angry and furious. I yelled at him (for the first EVER). He immediately ran to his crate. I went online searching for a replacement. Within a few minutes, Charlie came out of his crate. Even though I was still fuming, he looked me straight in the eye, licked my face, and curled up under my arm.  No circumstance could ever make me hate Charlie. Material objects are replaceable. People and pets are not.
Obviously, humans and dogs do not speak the same language. There are some basic things we can understand from each other. Charlie knows commands like: sit, stay, wait, eat. I, in turn, know when his barks means he needs to potty or because he wants to play.
But Charlie has proven to understand me on an unspoken level. When my dad passed away, I was a mess. Sometimes I was fine, other times I was inconsolable. Tears would flow without warning, I'd explode with anger for no reason. During this turbulent time, Charlie could feel my pain. He understood the confusion, the sadness, the emptiness. He would change his breathing to match with mine when I would lay on the couch. He would try to comfort me in a way that a human would with a hug or a meaningful conversation.
Save for the future (Charlie), but remember to live in the moment (Taylor)
Charlie likes to save his treats, bury his food, and hide his toys. He like to store his favorites between the couch cushions and come back for them later when he's hungry/bored/etc. He seems to think about the future and prepare for what's to come ahead.
Taylor, on the other hand, he lives for the NOW. Why wait? Live life with no fear and do what you can right now. This is a big one for me. I'm such a planner. I like to have my days scheduled out. (I even prepare itineraries for vacations and such.) I like to be prepared at all times. Thanks to Taylor, I accept that sometimes I just have to let go and see what happens.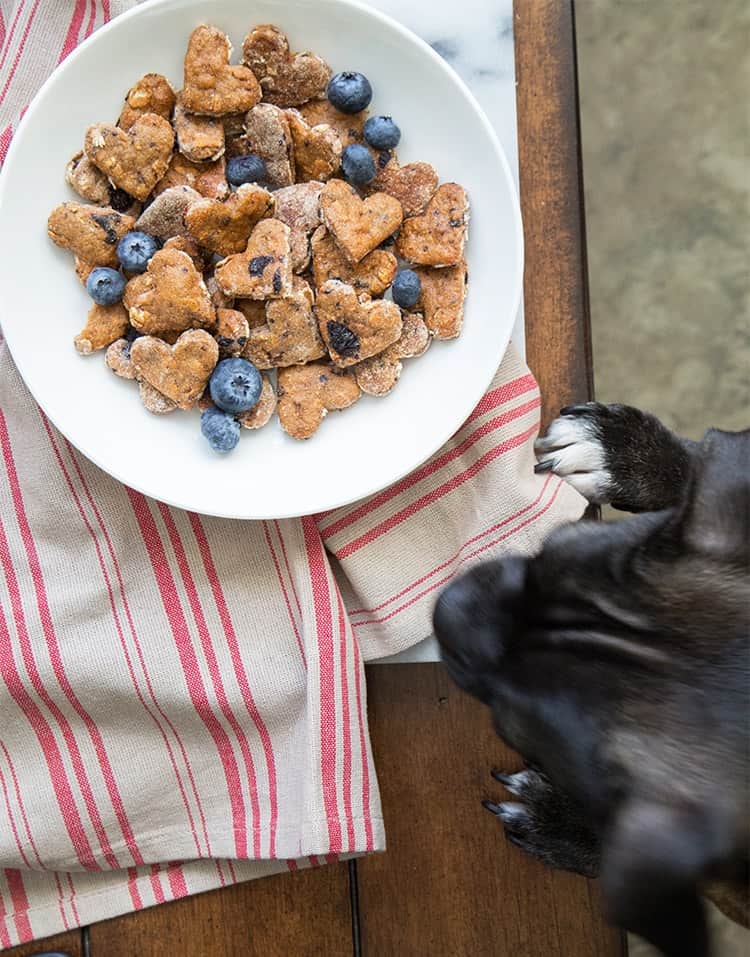 It's wonderful having two dogs with two very different personalities. I learn so much from them. At the same time, I think they learn from each other as well. Charlie's cautious and calculated ways keeps Taylor out of trouble. Taylor's fun loving nature and high energy keeps Charlie young and happy.
Happy Valentine's Day, friends! I hope your weekend is filled with kindness, love, and lots of treats!
Blueberry Oatmeal Dog Treats
Yield: makes about 45 heart biscuits
Ingredients:
4 oz container apple blueberry puree baby food
1/4 cup mashed blueberries
1 cup gluten-free flour, or whole wheat flour (if dog has no wheat/gluten allergies)
1 Tbsp ground freeze dried blueberries (optional, provides additional flavor and slight violet color)
1/4 cup rolled oats
1 Tbsp honey
1 large egg, beaten
Directions:
Preheat oven to 350 degrees F. Line baking sheet with parchment paper and set aside.
In a medium bowl, combine apple blueberry baby food, mashed blueberries, flour, rolled oats, ground freeze dried blueberries, and honey. Use a sturdy spatula to combine everything together. Dump contents onto a lightly floured working surfaced and knead dough together.
Roll out into a thickness of about 1/4 to 1/2-inch. Use desired cookie cutters to punch out shapes. Stick to one or two similar sized shapes to ensure even baking.
Place cutouts on prepared baking sheet. Lightly brush the tops of cutouts with beaten egg wash.
Bake for 25-30 minutes until biscuits are crisp and golden in color. Rotate pan midway through baking. Let treats cool before giving to your dog.
Note: If you dog has no wheat/gluten allergies, you can substitute for all-purpose flour or whole wheat flour. Make sure that the baby food is free of salt. 
I used the heart from this metal cookie cutter set.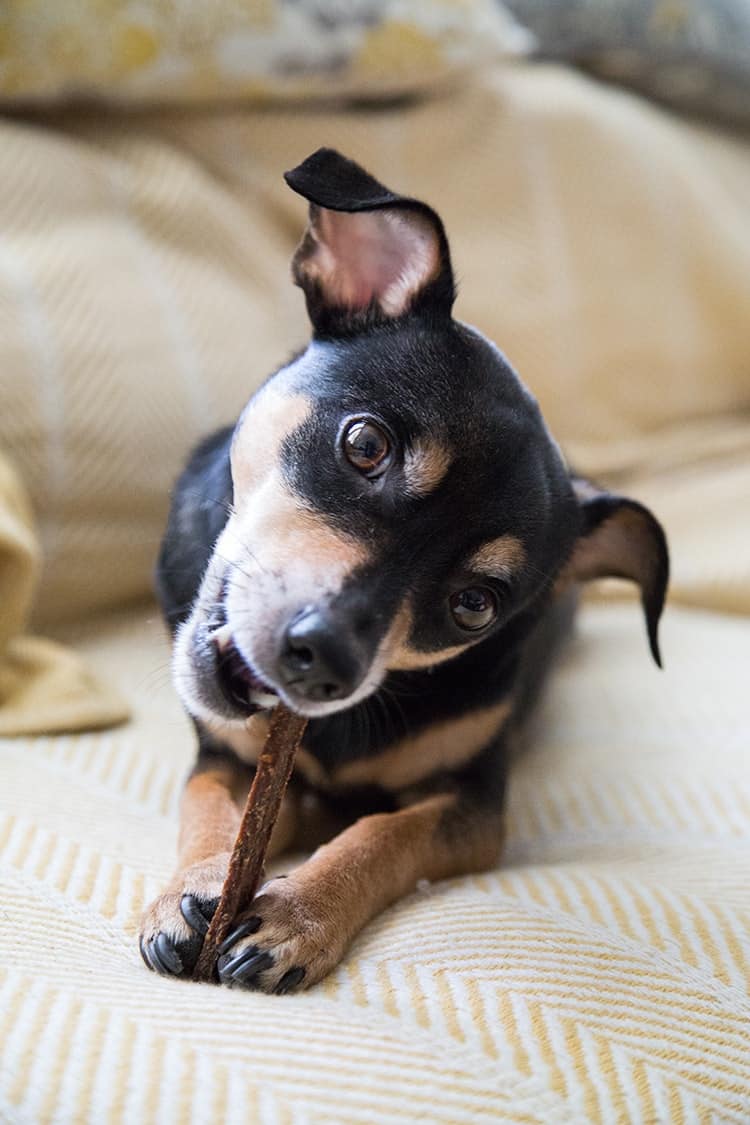 I've worked with Abound in the past. Read about my experiences here.  We're a fan of the quality of their foods, especially their treats. As you can see in the photo above, Charlie loves eating the grain free sweet potato sticks with blueberries.
If you are interested in trying out Abound's new grain free products, let me know by leaving a comment below.
I'll email the first four people interested and send you some coupons for your dog/cat to enjoy Abound!  (Note: Abound is exclusively available at the Kroger Co. family of stores.)
—
Disclosure: This is not a sponsored post. Kroger gifted me with products from Abound's new grain free line. Recipe and all opinions are my own.