Kiwi slices floating among a sea of coconut chia pudding. These kiwi coconut chia popsicles are a satisfying breakfast treat!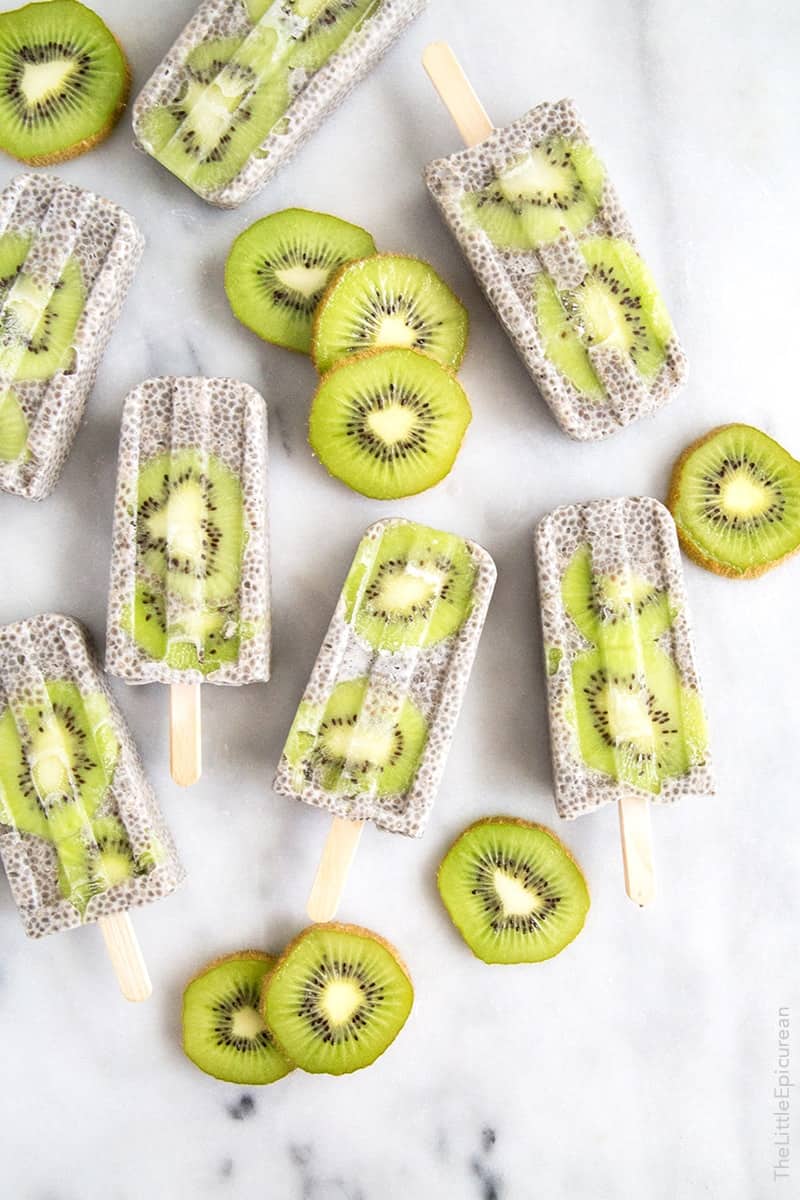 Kiwi Coconut Chia Popsicles
I eat chia pudding bowls on the regular. Like ALL the time regular. I crave it almost every morning. It never gets boring because I always switch up the fruits and toppings.
Often, I'll make it with almond or soy milk. But on days when I'm feeling particularly awesome, I'll make it with coconut milk.
Not the light coconut milk you find sold in cartons. I'm talking about the good stuff. Full fat coconut milk! The tasty, creamy, and fatty one. YUM.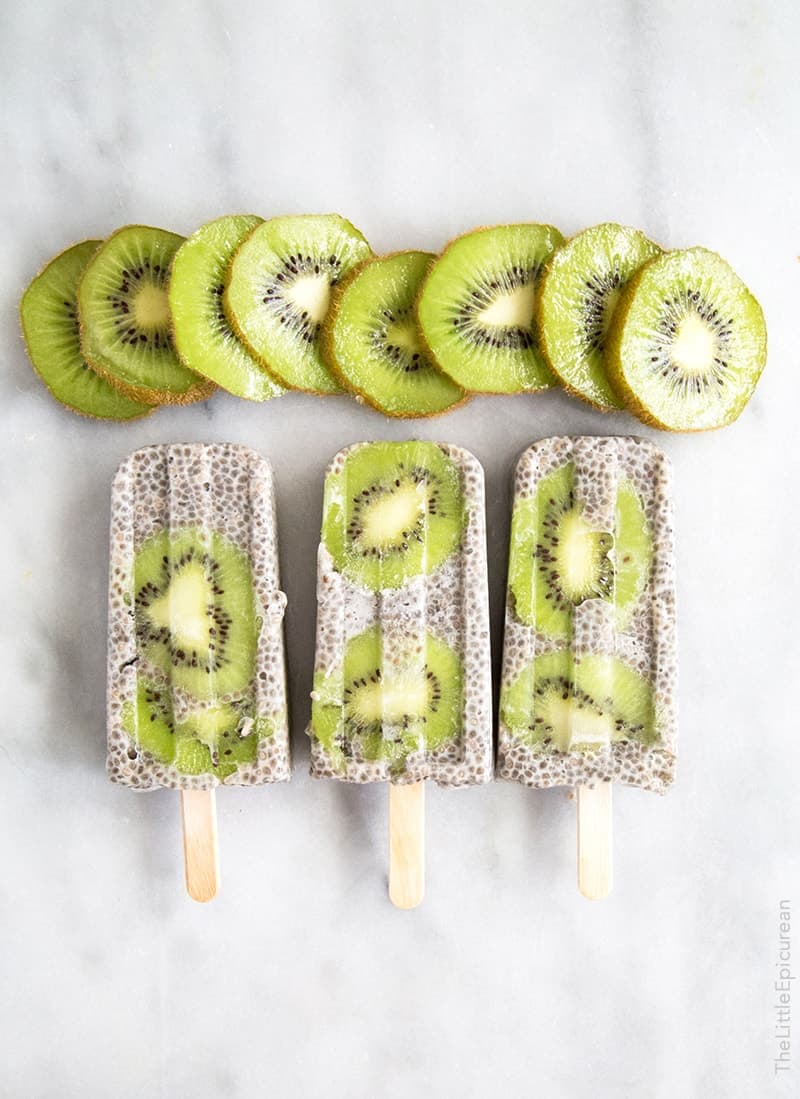 Why add chia seeds to frozen pops?
Chia pudding is magical. As the chia seeds soak and plump up in the delicious coconut milk, it absorbs its tropical flavors. The end result is this rich, silky pudding.
One day I made too much. Rather than store it in the fridge, I poured the chia pudding into popsicles molds and popped them in the freezer. Frozen chia? Is that good? YES. It's amazing. Slushy kiwi slices, tropical coconut, all frozen in a portable stick?
The rest is history. I've been making these chia popsicles will all sorts of fruits. Mix it up with pineapples, strawberries, or mango. I can't wait for stone fruit season so I can experiment with peaches, plums, and apricots!
Summer… are you here yet?
More fruit popsicle recipe for summer:
I highly recommend these popsicle molds sold on Amazon. They are easy to clean and easy to use! Here are a few more frozen pops recipes using the same popsicle mold:
Kiwi Coconut Chia Popsicles
Yield: makes 10
Ingredients
1 3/4

cup

canned coconut milk

3/4

cup

soy milk (or any milk alternative)

1/4

cup

+ 1 Tablespoon chia seeds

1/2

Tablespoon

agave syrup, or more to your liking

3

kiwis, peeled and sliced
Instructions
Stir together coconut milk, soy milk, chia seeds, and agave syrup. If desired, add additional sweetened to taste.

Place sliced kiwis in popsicle molds. Use chopsticks or the back of a spoon to press kiwi to the sides of the mold.

Gently pour liquid mixture into popsicle molds. Insert wooden popsicle sicks. Freeze for at least 4 hours until popsicles are solid.