Rich and creamy coconut avocado popsicles. The perfect any time treat!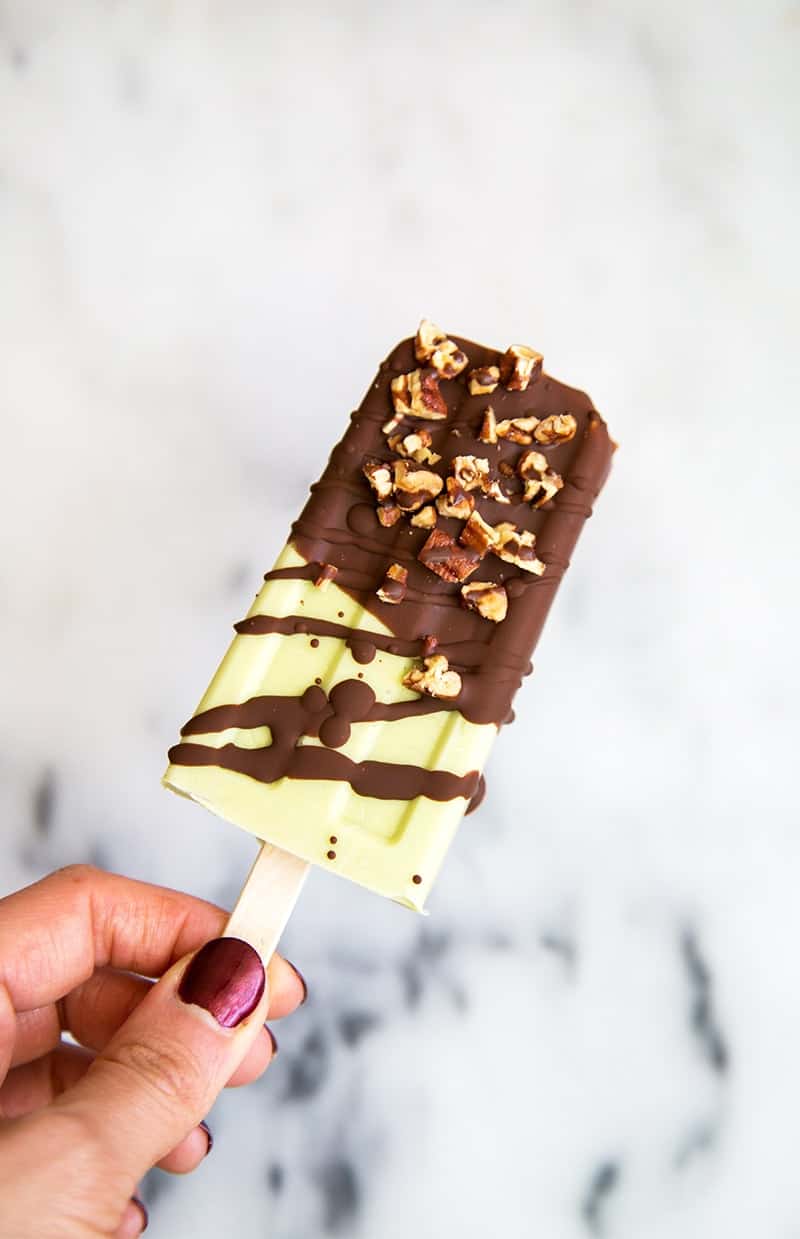 Avocado for dessert? Yes!
These popular fruits are just for avocado toast and guacamole.
Enjoying avocados as a sweet treat is common in many parts of the world, especially in Southeast Asia.
From avocado ice cream to avocado kale smoothie, avocado proves to a super versatile fruit!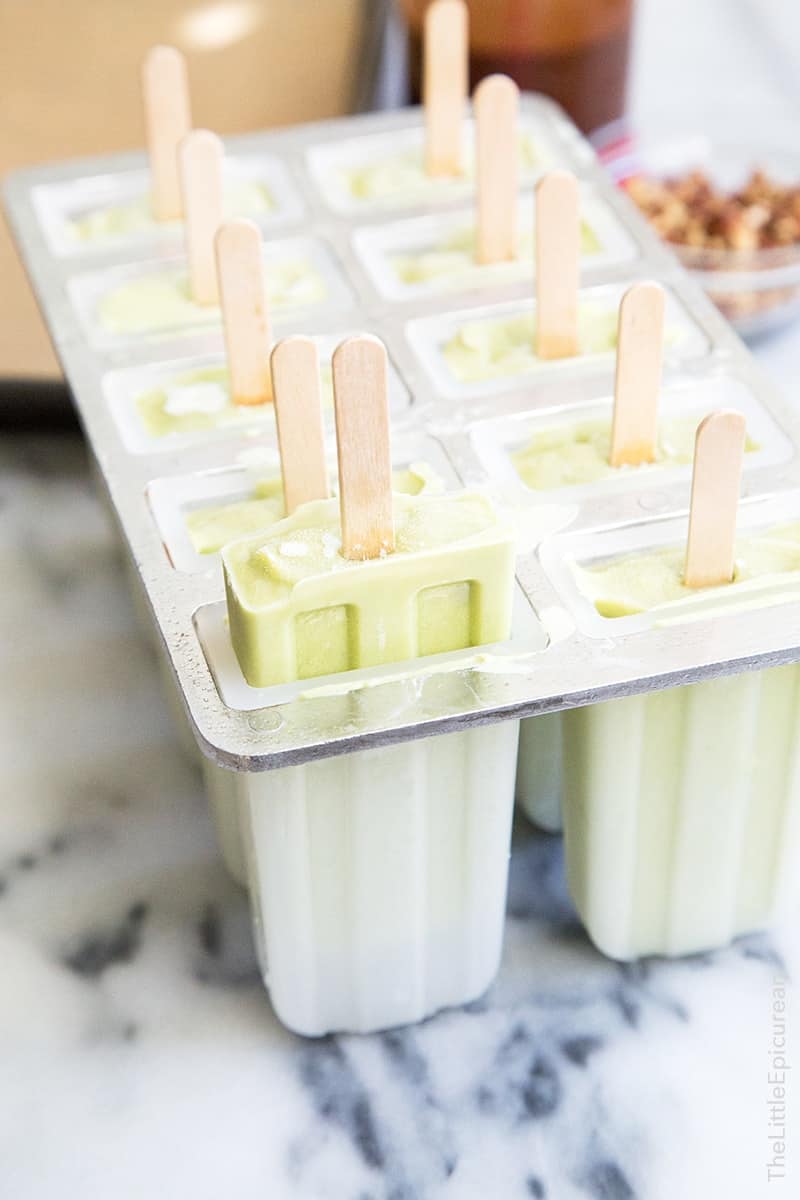 Avocado Popsicles with Coconut Milk
These are a dairy-free version of the chocolate avocado popsicles I shared two years ago.
Instead of my (favorite ingredient!) sweetened condensed milk, this variation uses coconut milk and honey.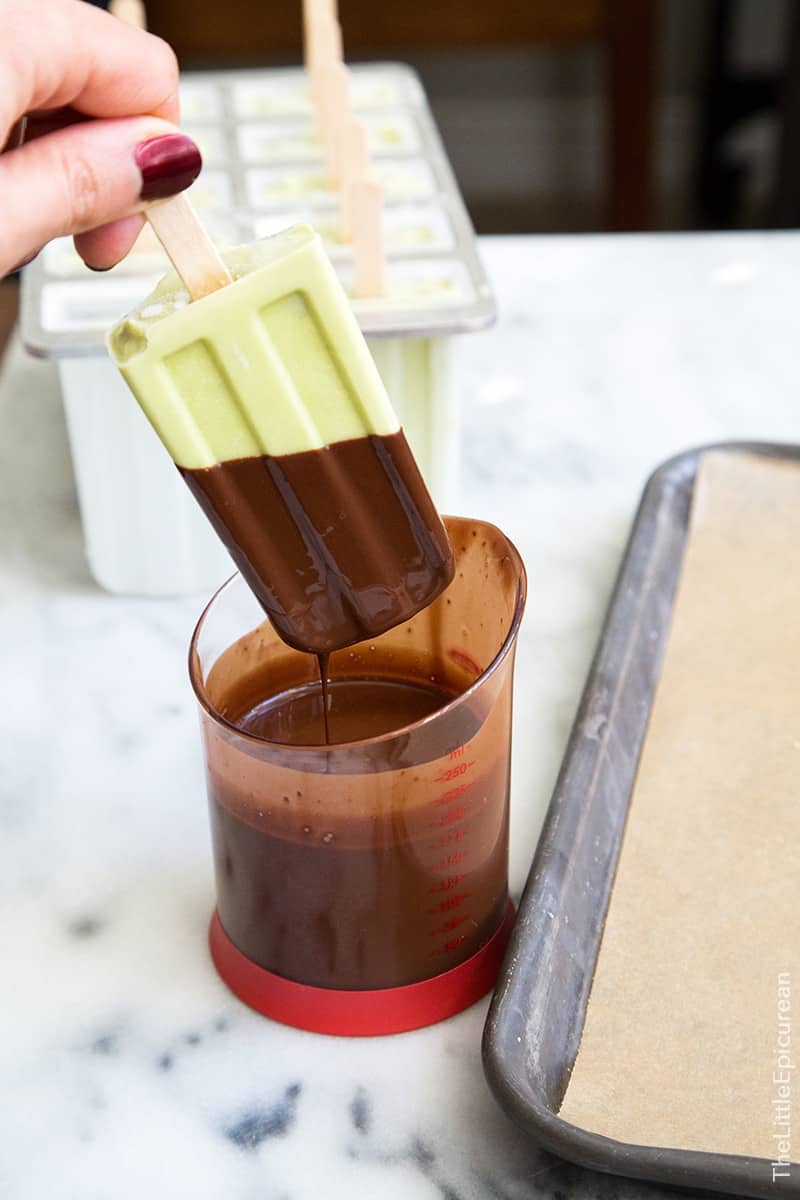 Have we talked about this magic chocolate shell?
It's something I learned from my friend Jee of Oh, How Civilized. I first mentioned it when I made these frozen peanut butter candy cane bars. It is amazing.
I love how quickly the chocolate hardens thanks to the coconut oil. It makes a world of a difference when you're working with frozen foods.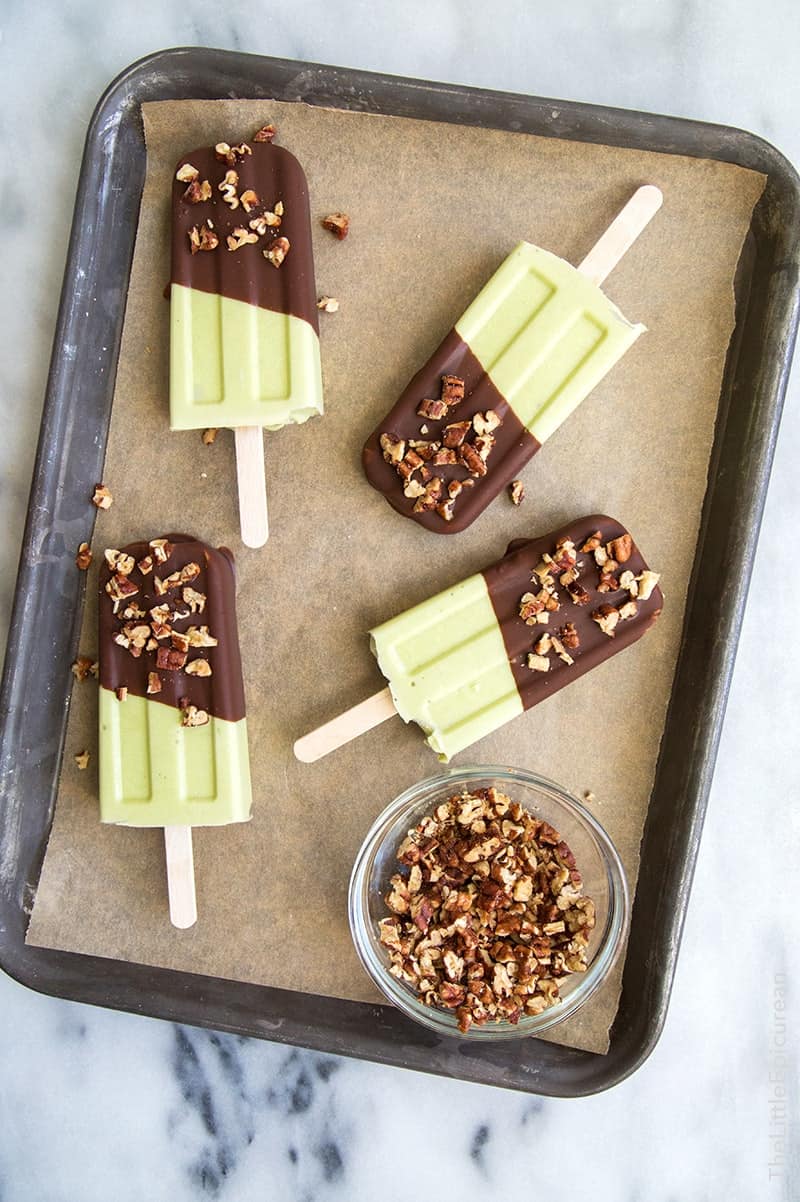 These coconut avocado popsicles border healthy and decadent. On one hand, it uses all natural ingredients. On the other hand, all these ingredients are fairly high in calories and fat. But then again, what dessert isn't?
These popsicles bring such fond memories of my dad. As I had mentioned in the original avocado popsicles post, when I was growing up, mashed avocado with sweetened milk was one our favorite things to eat for breakfast together. (It's a common Filipino treat.)
Every once in a while, my mom still gives me fruits from my dad's trees. It makes me smile that even though he's no longer here, he continues to feed me and inspire me in the kitchen.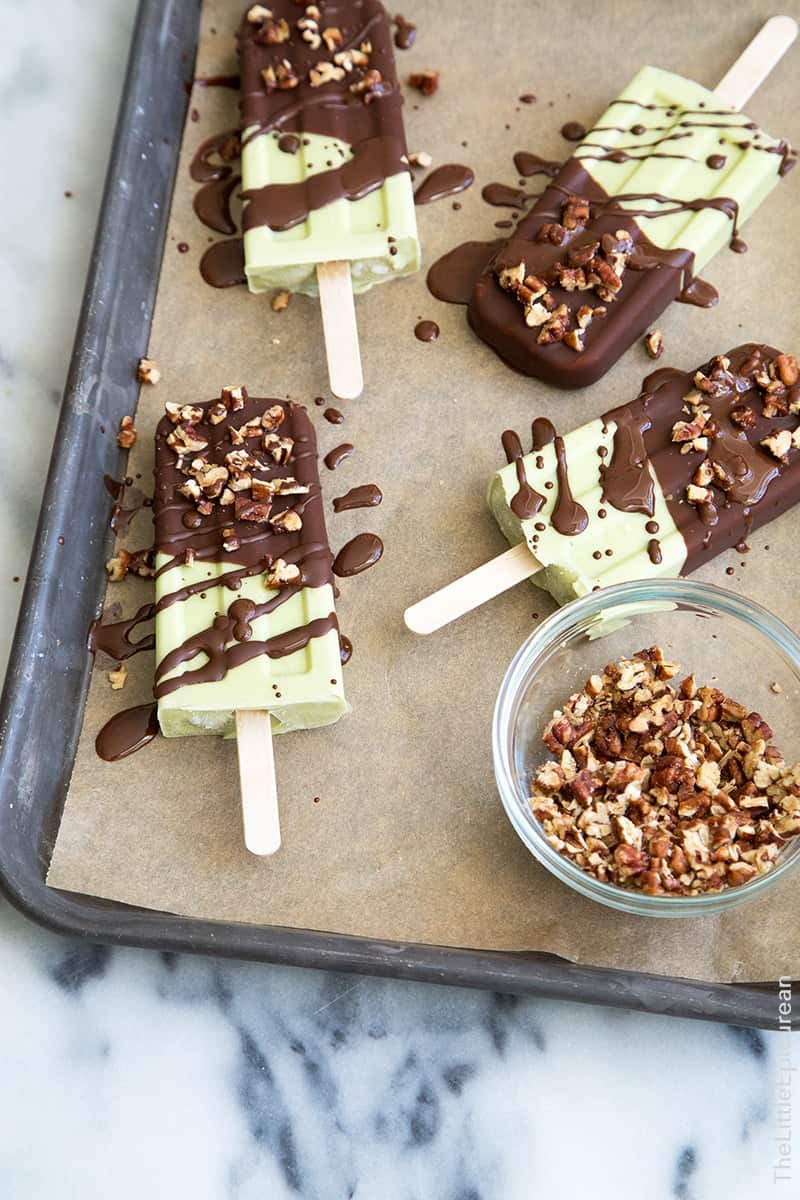 These coconut avocado popsicles are rich, creamy, and everything I look for in a frozen treat.
For an additional crunch, I added some chopped candied pecans over the chocolate coating. You can omit this step, or add whatever toppings you'd like. Think peanuts, dried coconut, cocoa nibs.
These frozen pops definitely gets me excited about summer!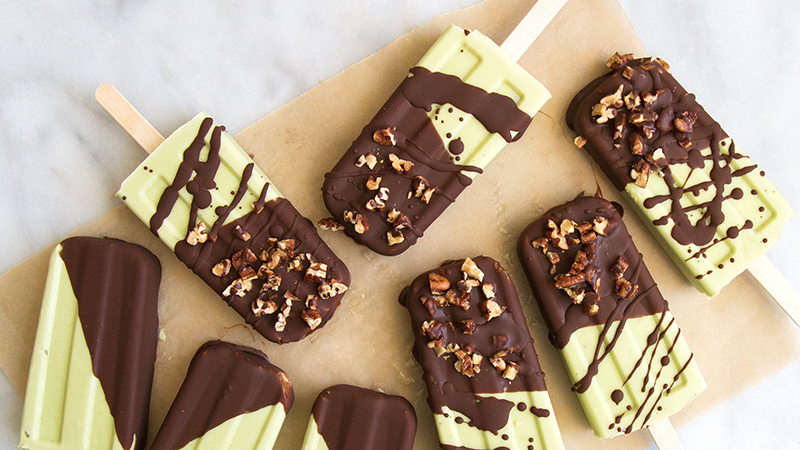 Coconut Avocado Popsicles
These coconut avocado popsicles are rich, creamy, and everything I look for in a frozen treat.Yield: makes 10 popsicles
Ingredients
Coconut Avocado Popsicles:
2

large ripe avocados,

or 3 small/medium sized

14

oz

canned coconut milk, full-fat, well shake

3

Tablespoon

honey,

or agave syrup (or sweetener of choice)
Chocolate Topping:
8

oz

70% dark chocolate,

chopped

½

cup

coconut oil

⅓

cup

chopped candied pecans,

optional
Instructions
In a blender or food processor, puree avocado meat, coconut milk, and honey. Taste mixture. If it is not sweet enough to your liking, add additional honey as needed.

Pour mixture into popsicle molds until almost full. Place a layer of foil over the popsicle mold, followed by the popsicle mold over. Insert wooden sticks into the mold.

Place filled molds in the freezer for at least 3 hours, or until the popsicles are solid.

Chocolate Topping: Over a double boiler (bain-marie), melt together chopped chocolate and coconut oil until smooth.

Unmold frozen popsicles. Dip coconut avocado popsicles in melted chocolate. Immediately sprinkle chopped pecans. If desired, drizzle additional melted chocolate over popsicles. Enjoy immediately, or store in the freezer until ready to serve.

Notes
An avocado is ripe and ready to eat when it yields to a firm, gentle pressure. It should feel slightly soft when squeezed, but not squishy or mushy.
Unripe avocado will not have the same rich, creamy flavor or texture you normally associate with the fruit.
Store leftover popsicles in an airtight container in the freezer for up to a month.
I use these popsicle molds purchased from Amazon