Passion fruit rose popsicles are fun and tasty way to cool down during the summer. Rose wine is blended with passion fruit, pineapple, and strawberry.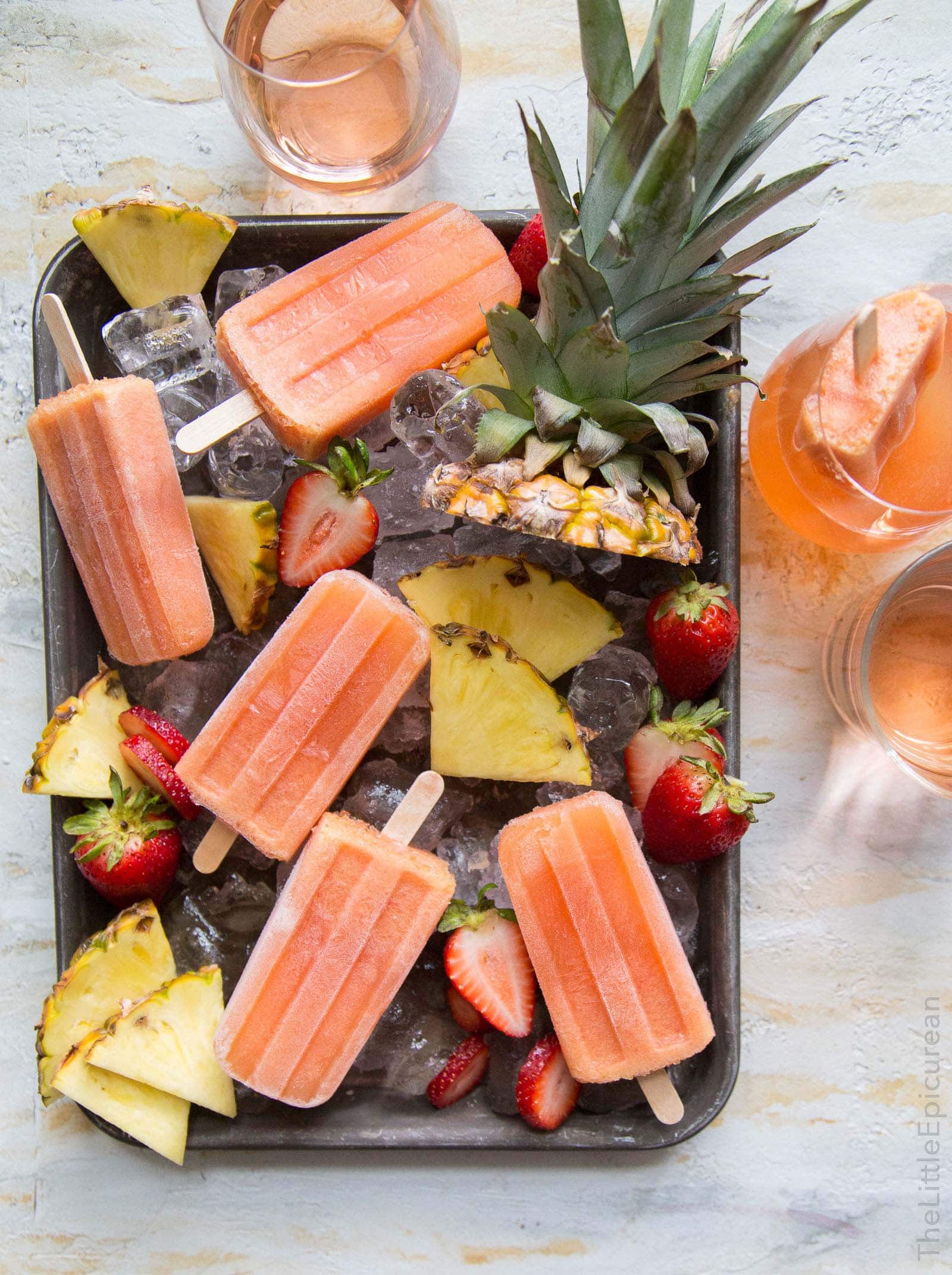 Reasons to Make Rosé Popsicles
It's that time of the year! Billy of Wit & Vinegar is hosting another Popsicle Week!
Last year I made these kiwi coconut popsicles. The year before that I made these Pimm's popsicles.
I'm back with another boozy ice pop- passion fruit rosé popsicles!
This summer (and for every summer after that), you can drink your rosé and eat it, too!
I'm a big fan of boozy popsicles. They're so fun to share with friends poolside or while your just lounging around trying to keep cool from the summer heat.
These passion fruit rosé popsicles are the perfect combination of tropical flavors.
Best of all, they're SO EASY to make.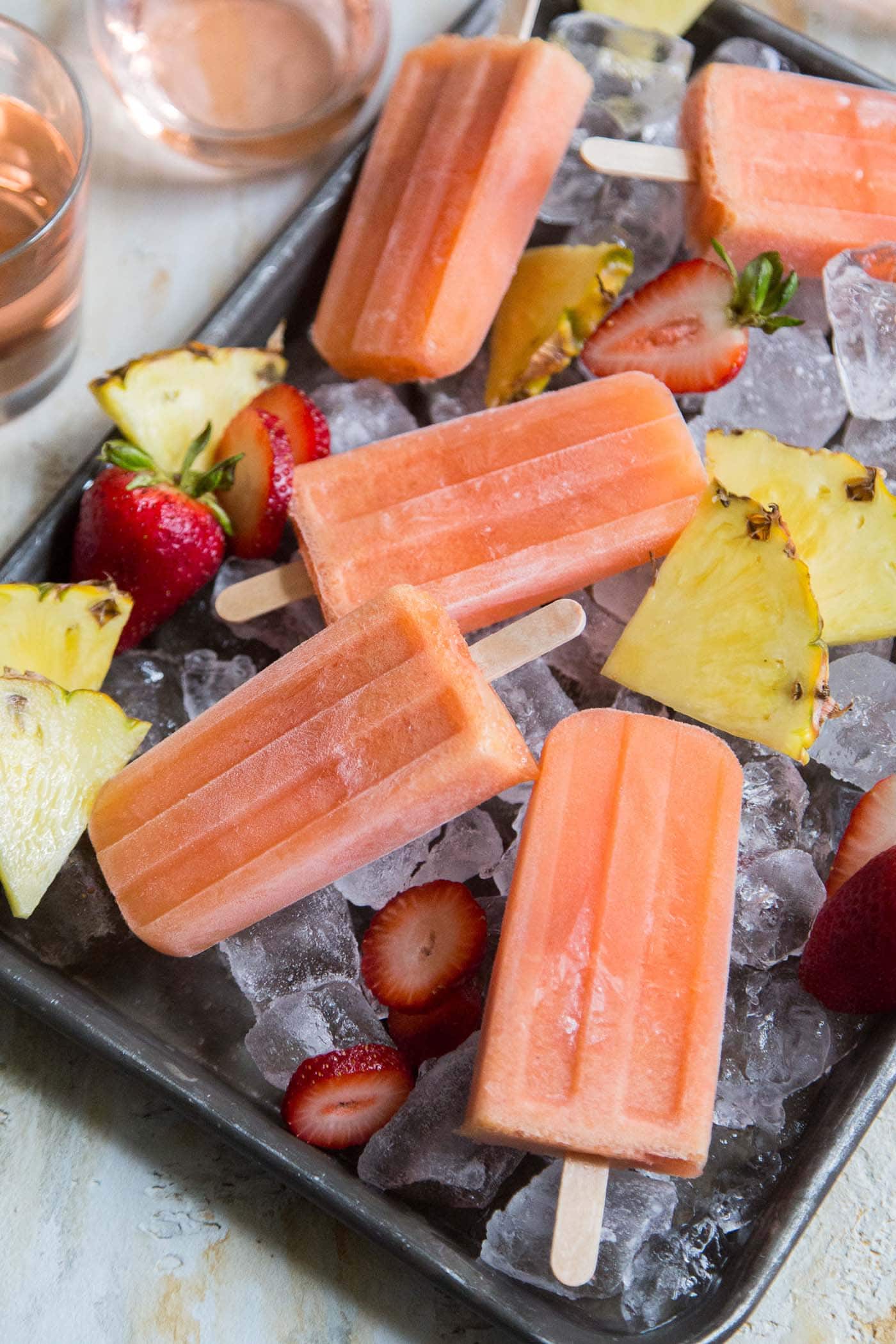 Ingredient Notes
Only a handful of ingredients are needed to make these sweet, refreshing rose popsicles. Use the listed ingredients as a guide. Feel free to swap in your choice of fruits to customize the frozen dessert to you liking.
Passion Fruit Puree : Passion fruit is a delicious tart tropical fruit. Fresh passion fruit is generally available all year long. If you are unable to find the fresh fruit, seek out frozen passion fruit puree. Scroll down for more detailed information.
Rose Wine : Use your choice of rose wine or dry white wine. Color of the finished popsicles will not be pink-orange with white wine.
Frozen Fruits : This recipe uses a combination of frozen pineapple and frozen strawberries. Many fruits pair well with passion fruit. Recommended frozen fruits include: mango, peaches, nectarines, and orange.
Simple Syrup : A mixture of equal parts water and sugar boiled to a thick liquid. This is used to sweetened the popsicles. Easily make it from scratch or purchase it bottled.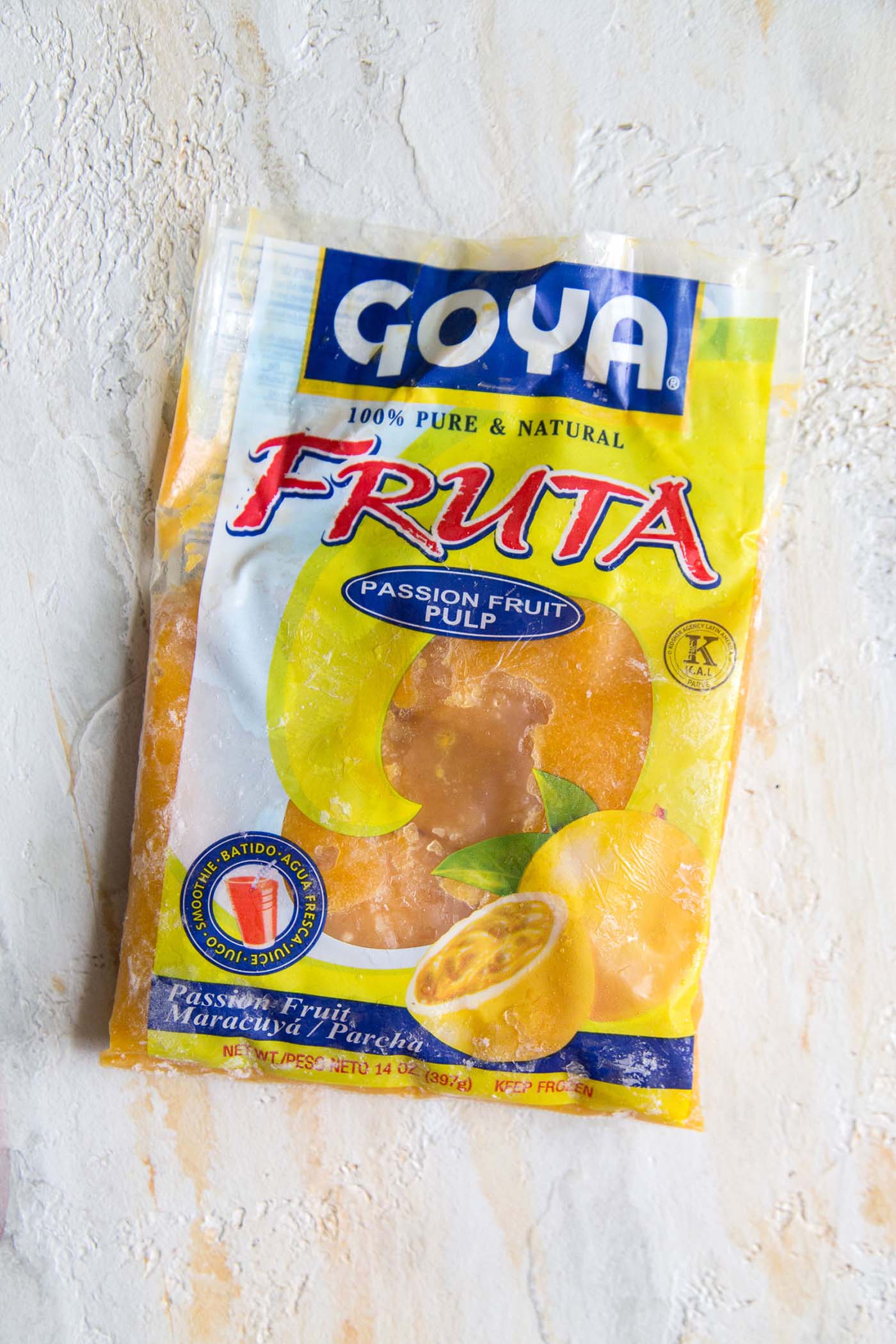 Passion Fruit
This delicious tart tropical fruit goes by many names. It is known as passion fruit in the most of the United States and it is called liliko'i in Hawaii.
Passionfruit is native to Brazil, but is now grown all over the world in tropical and subtropical climates. There are many varieties of this fruit with various skin colors ranging from purple to yellow.
If you are unable to find fresh passion fruit, use frozen passion fruit pulp (like the package photographed above). The frozen pulp should have one ingredient: just passion fruit!
Look for unsweetened pulp that is free of preservatives and other ingredients. Most chain supermarkets sell Goya frozen passion fruit.
Passion fruit by itself is rather tart and acidic. It makes the base for the most delicious fruit drink. Once you try passion fruit juice you'll be forever changed.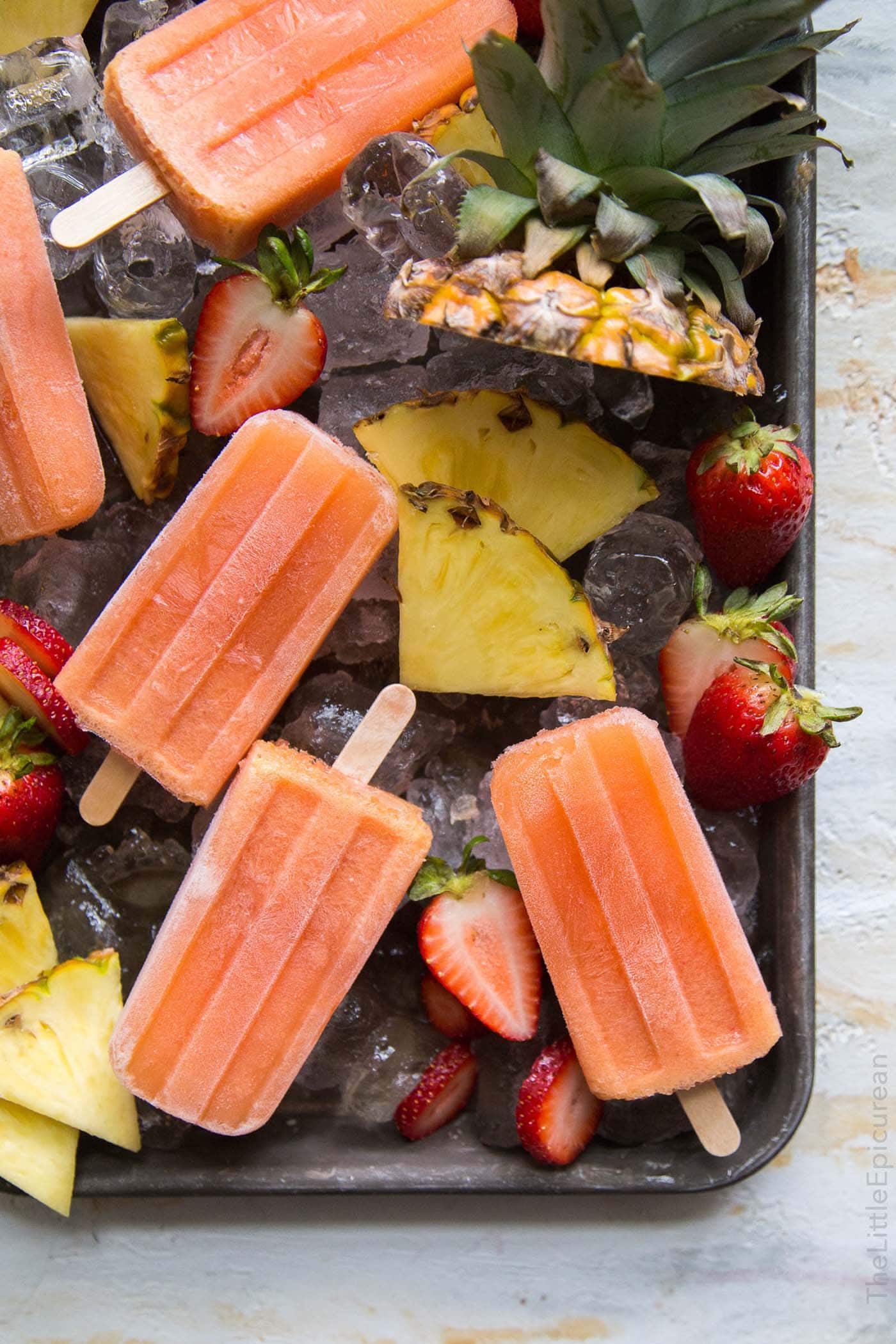 Recommended Popsicle Molds
I personally use this 10 cavity popsicle mold. It is easy to clean and easy to use!
However, there are plenty of other options. Here are some ideas:
Ice Cube Tray: pour the mixture into an ice cube tray and freeze. Once solid, process the cubes in a blender to make a slushy, frozen sangria!
Paper Cups: pour mixture into the paper cups, cover with foil, and pop a wooden stick in it. Freeze and then peel off the paper and eat.
Freezer Safe Containers: use a freezer safe container such a shallow plastic storage container. Fill the container, cover, and freeze. Serve the frozen sangria like a granita, or allow to soften slightly and then scoop like sorbet.
Assembly Instructions
Simply combine all the ingredients in a blender and process until smooth. Pour the mixture into popsicle molds. Pop them in the freezer until the liquid is solid.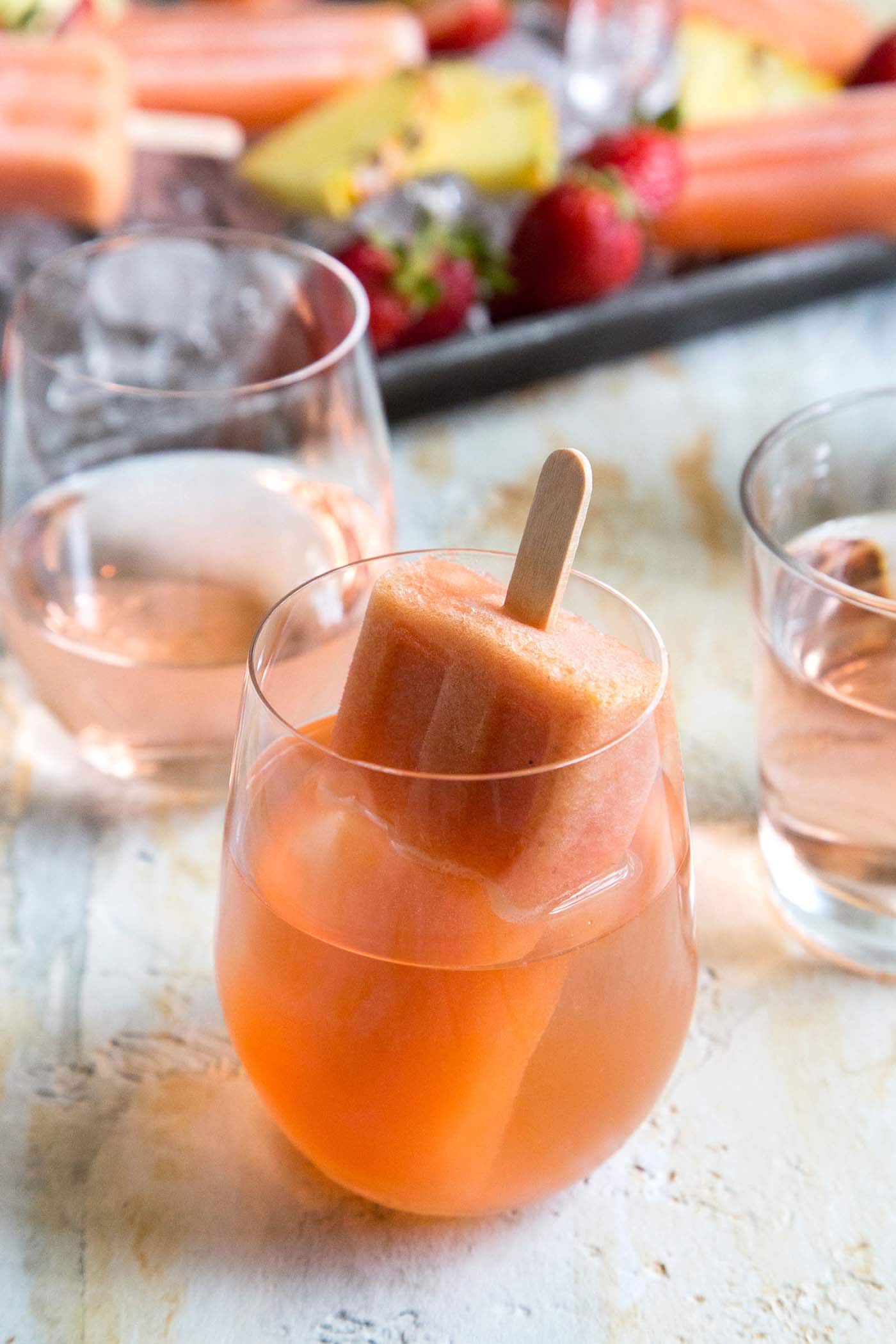 While these passion fruit rosé popsicles are more than enough on their own, you can definitely kick it up by serving it with a glass of chilled rosé.
Freezer Storage
Unmold passion fruit rose popsicles once solid. Serve immediately after unmolding.
For longer storage, individually wrap each ice pop in plastic wrap. Store wrapped popsicles in an airtight freezer ziptop bag for up to a month. Keep in the coldest part of your freezer.
More Passion Fruit Recipes
Passion Fruit Rosé Popsicles
These passion fruit rose popsicles are fun and tasty way to cool down during the summer. Rose wine is blended with passion fruit, pineapple, and strawberry.Yield: makes 10 popsicles
Ingredients
4

oz

passion fruit puree

1

cup

rosé wine

½

cup

frozen pineapple chunks

¾

cup

frozen strawberries

⅓ cup + 3 Tablespoons

simple syrup*
Instructions
Combine passion fruit puree, wine, pineapple, strawberries, and simple syrup in a blender. Process until smooth.

Pour liquid mixture into the popsicle mold. Insert wooden popsicle sticks. Freeze for at least 6 hours until popsicles are solid.
Notes
To make simple syrup: bring to a boil equal parts water and granulated sugar. Once sugar has dissolved, remove from heat and cool to room temperature. Keep simple syrup chilled in the fridge until ready to use.
All images and text ©The Little Epicurean