These are not your average chocolate chip cookies. These tahini chocolate chunk cookies are soft on the inside and crisp on the outside.
They're ooey-gooey addicting. And, they taste nutty without the use of any nuts!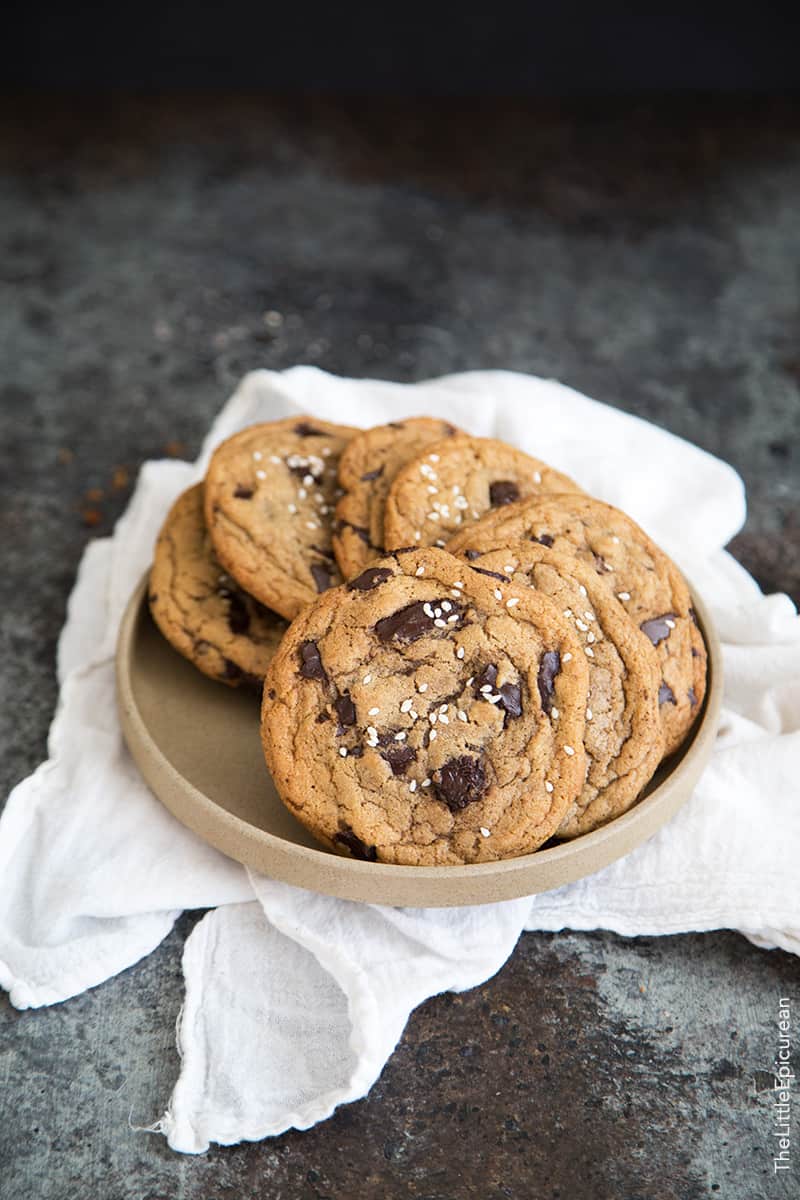 Last week, I confessed my tahini obsession (see tahini chocolate banana cake). I took a cookie recipe I already liked and substituted tahini for some of the butter. This is my NEW favorite cookie…I love it almost as much as a cookie from Levain Bakery.
While the tahini flavors are not very prominent, you do notice a sense of nuttiest with each bite. (It's pretty amazing that sesame seeds can provide "nutty" flavor without the use of actual nuts.)
These cookies are soft and chewy on the side with just the right amount of crisp along the edges.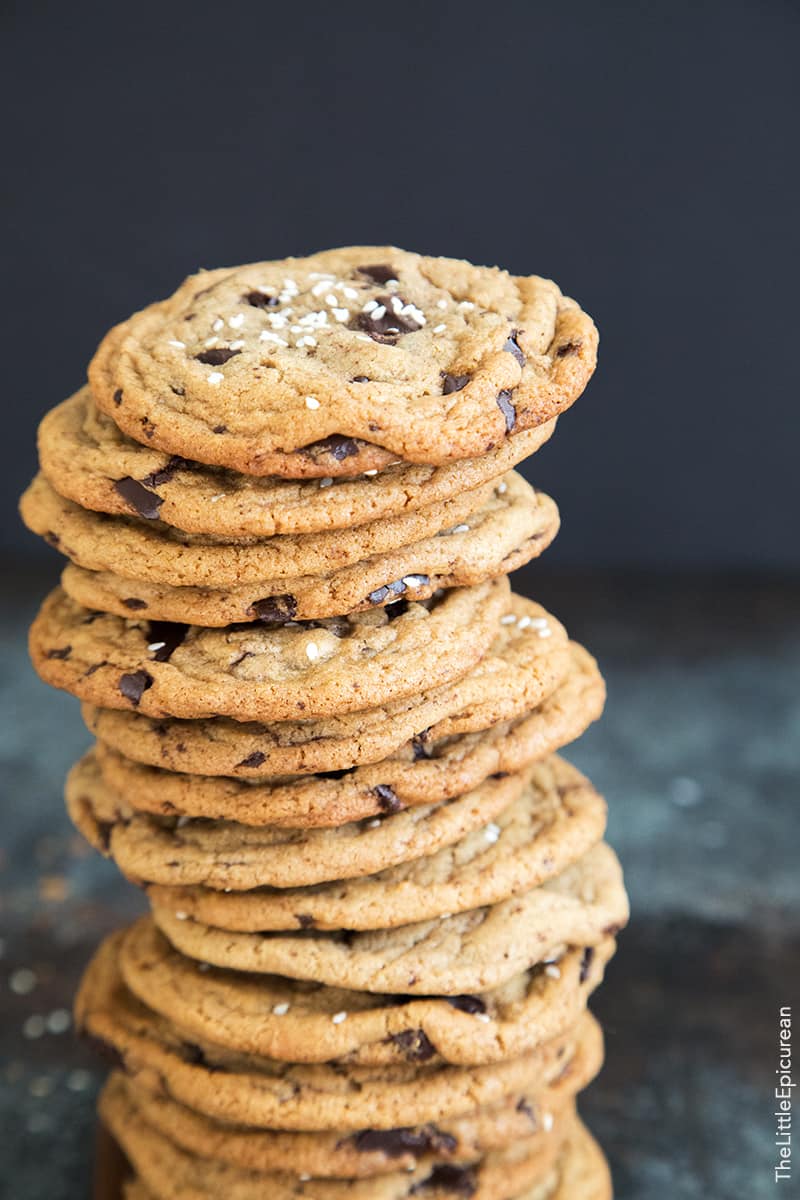 I had to immediately pack up these tahini chocolate chunk cookies and make Alex take them to work. If these are left alone with me, who knows how many I may eat in one sitting.
I love chocolate chip cookies of all sorts. Be it thin and crispy or soft and chewy, give me cookies any which way and I'll enjoy them. There's something about the combination of butter, sugar, flour, and chocolate that makes me lose all control.
I'm a bit of a cookie monster, which is why I try to avoid making cookies. They're my Achilles' heel.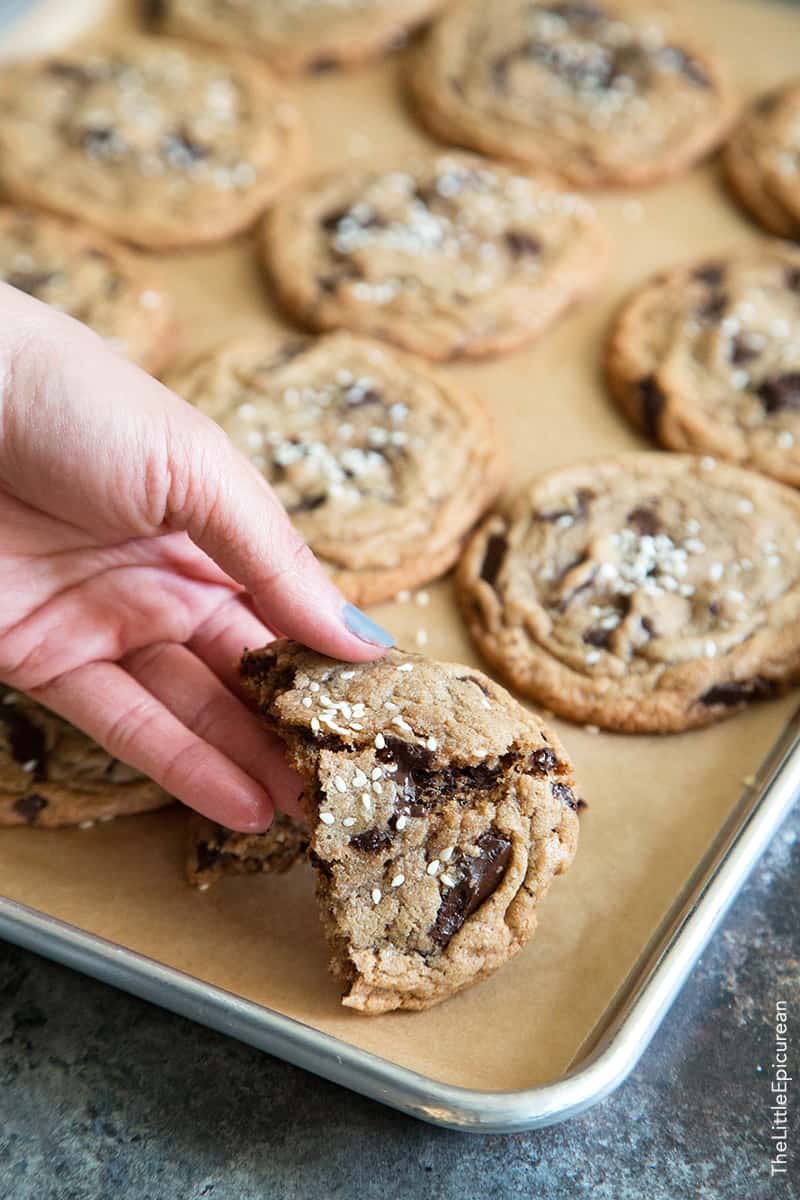 These tahini chocolate chunk cookies take me to my happy place. I'd like to take you guys there, too.
Tahini Chocolate Chunk Cookies
Yield: makes 22 cookies
Ingredients
1 3/4

cup

all-purpose flour

1

teaspoon

baking soda

1/2

teaspoon

baking powder

3/4

teaspoon

fine sea salt

3/4

teaspoon

ground cinnamon

1/2

cup

unsalted butter, room temp

1/2

cup

granulated sugar

3/4

cup

brown sugar, packed

2

large eggs, room temp

1/2

cup

tahini

10

oz

(2 cups) dark chocolate chunks

white sesame seeds, to top dough as needed
Instructions
Preheat oven to 350 degrees F.

Whisk together flour, baking soda, baking powder, salt, and cinnamon. Set aside.

Cream butter. Add granulated sugar and brown sugar. Mix until smooth. Scrape down bowl as needed to ensure thorough mixing. Add eggs and mix until incorporated. Add tahini and mix until combined.

Add flour mixture and mix until there are no longer any dry streaks of flour. Fold in chocolate chunks until evenly distributed.

Cover cookie dough with plastic wrap and place in the fridge. Allow to chill for an hour until dough is slightly cool to the touch.

Use a #24 cookie scoop to portion out the dough. Place dough on a parchment lined tray at least 2-inch apart from each other. Sprinkle sesame seeds over dough. Bake for 14-18 minutes until the edges of the cookies are crisp and the middle is still a bit soft. Allow to cool in pan until cookies are firm enough to move to a wire rack to cool .