These chewy walnut halva cookies remains soft days after baking. They're great for gift giving during the holidays!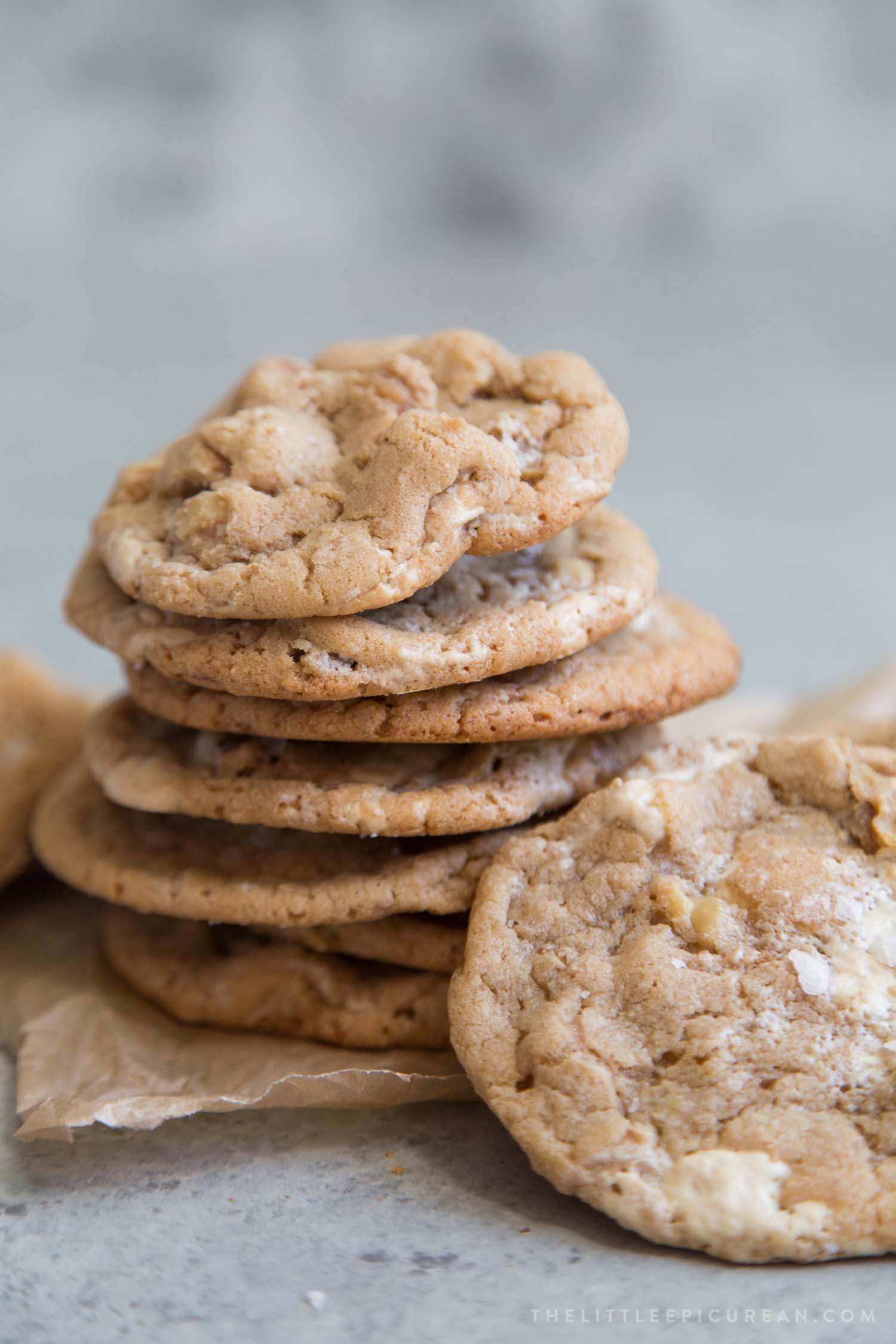 Thanks to Ottolenghi I have become obsessed with halva.
Ever since my husband bought me Ottolenghi's Sweet cookbook, I've made these tahini and halva brownies almost a dozen times.
Now that Halloween is over, holiday cookie season is on! For the next few weeks, I'll be making and testing a ton of different cookie recipes.
These walnut halva cookies use one of my old chocolate chip cookie dough recipes and transforms them into something new and exciting!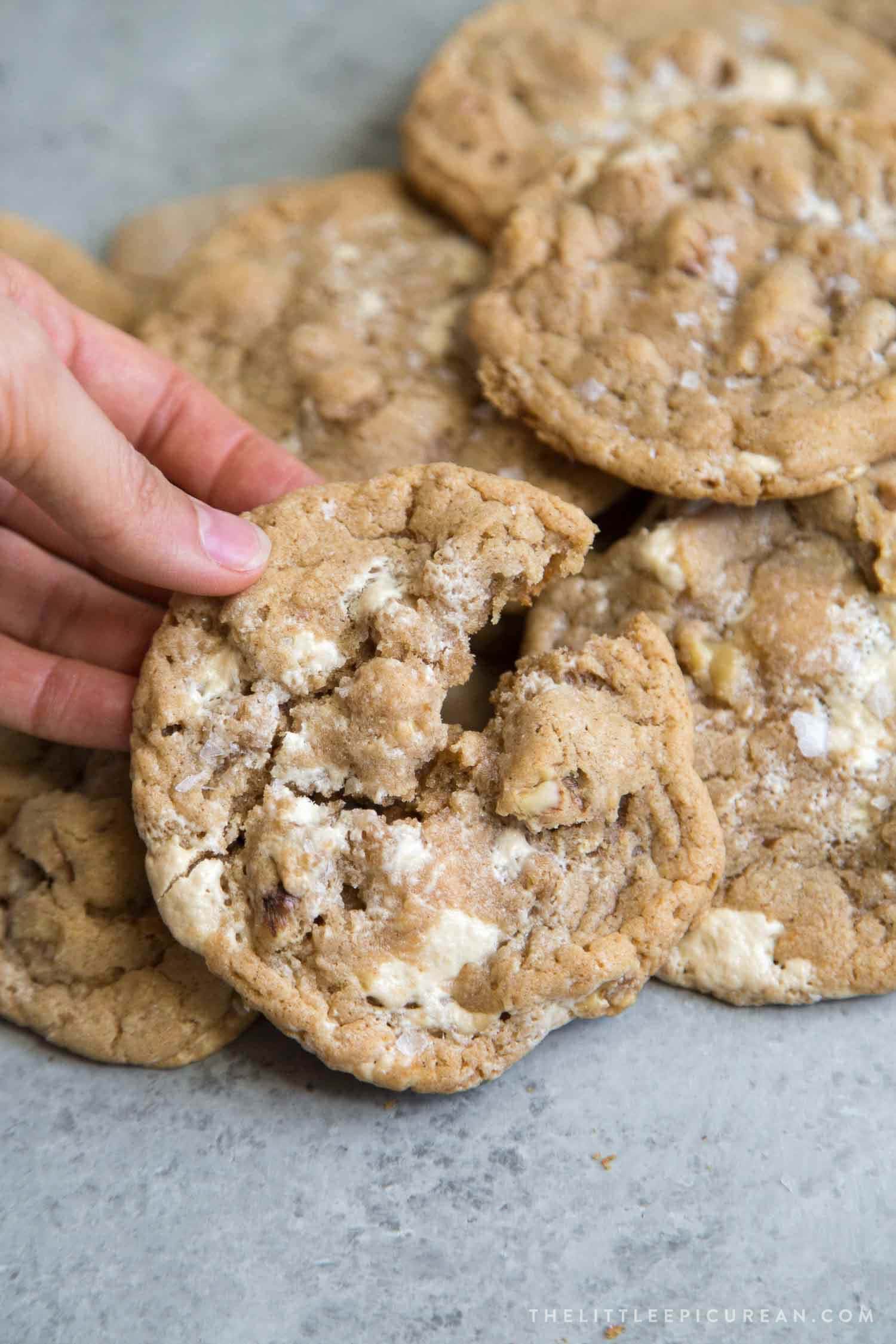 Walnut Halva Cookies
Are you on team soft and chewy cookies or team crispy and crunchy cookies?
If you prefer the former, keep on the reading. For crunchy cookie fans, I suggest: pecan caramel bark, tropical biscotti, and chocolate chunk oatmeal cookies.
I prefer a chewy cookie with crunchy elements. These halva cookies may have a soft base, but they're loaded with chopped toasted walnuts to add textural variety and bite!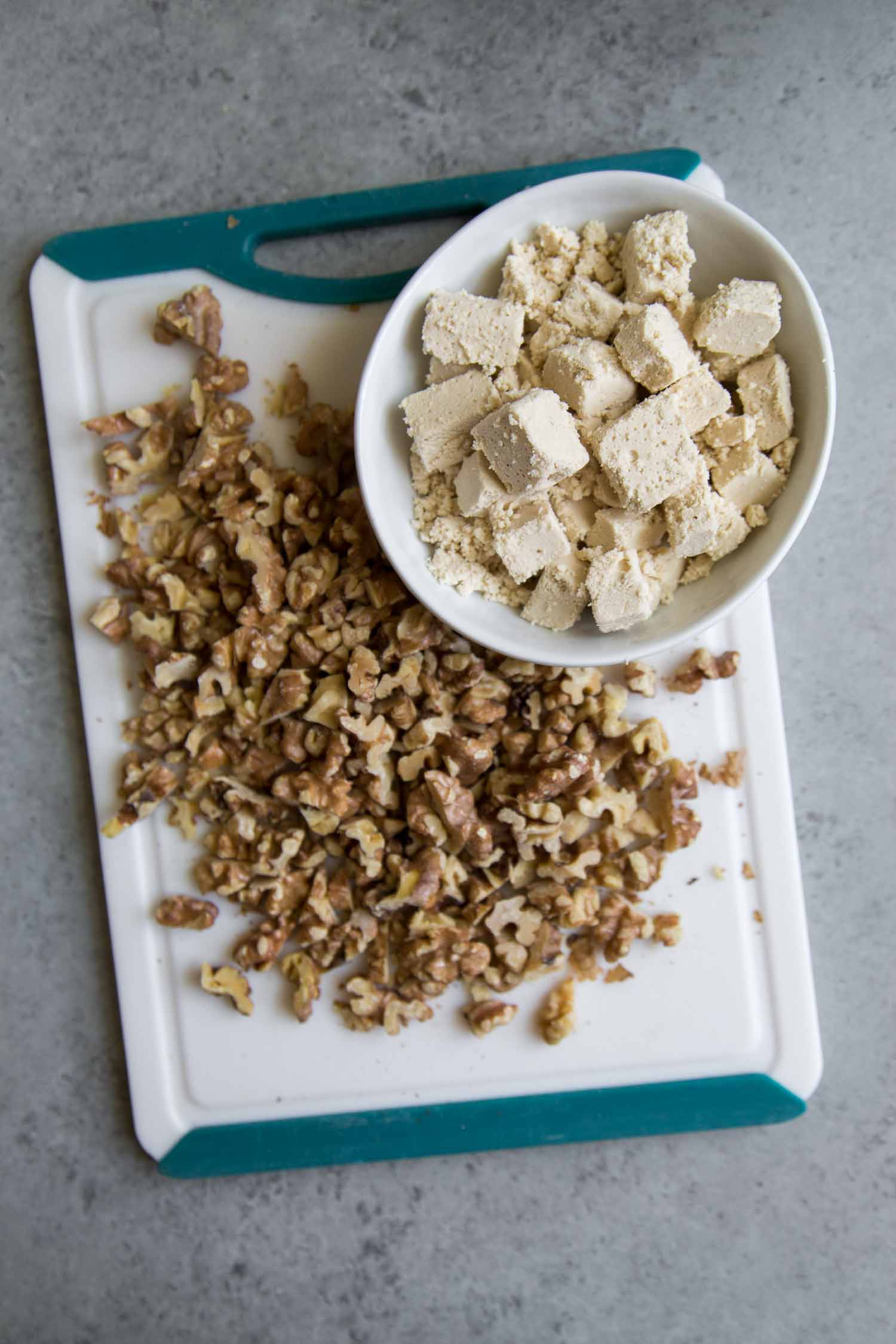 What is halva?
Halva is a dense, fudge-like confection made from seeds or nuts. It is most popularly made with sesame seeds (tahini) and sweetened with honey.
Other varieties of halva include floss halva (also known as Turkish Cotton Candy or shredded halva). There are also halvas made with grains, primarily semolina.
Known by numerous other names such as halawa, helava, halvah, halva is a sweet treat eaten all over the world from Middle Eastern countries to Eastern Europe and Asia.
Where to buy halva?
I bought mine at Super King. It's a giant international supermarket with chains all over Southern California. They have an entire wall selection of halva varieties from chocolate flavored ones to ones with pistachios and raspberries.
My local Ralphs and Vons also carry a few halva products. And if all else fails, halva is readily available for sale online. A quick Google search will lead you to dozens of options.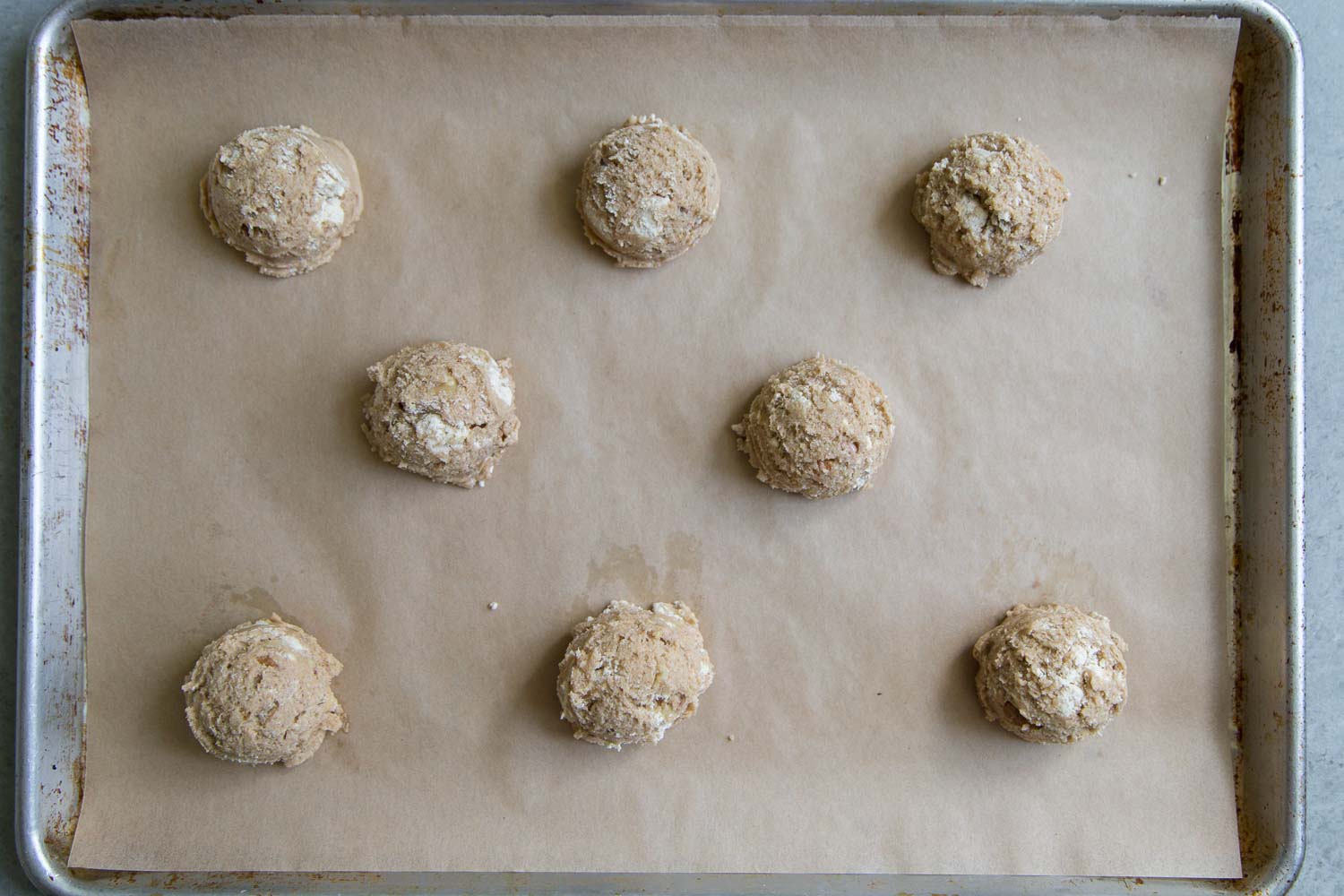 Halva comes in a variety of different flavors. For these walnut halva cookies, I stuck with the standard or "plain" tahini flavor. The nuttiness of the sesame seeds blends well with the walnuts and brown sugar.
If you love chocolate, chocolate halva would also be fantastic in this recipe!
Halva is usually sold in large slabs. The whole halva can be chopped into smaller pieces or broken in rough chunks by hand. It may be a little crumbly. Simply toss those sweet crumbs along with the cookie dough.
How long will these walnut halva cookies remain soft and chewy?
Kept in an airtight container at room temperature, these cookies will remain soft and chewy for at least 4 days! Although, I'm not sure they stay around that long. These cookies usually disappear within 24 hour of baking my house!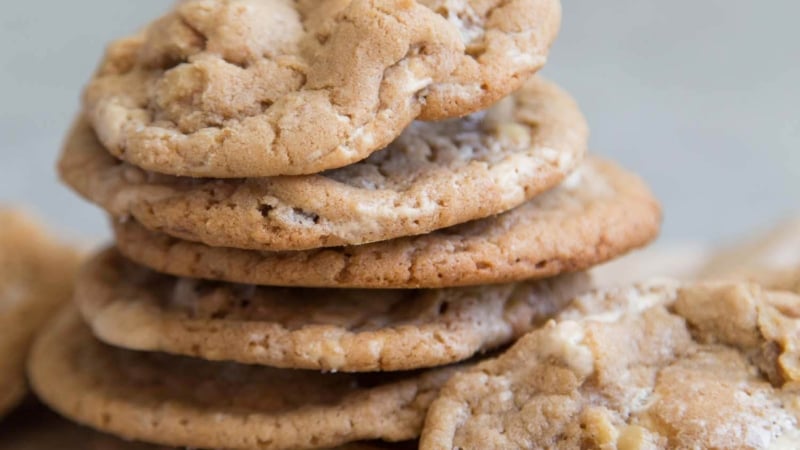 Walnut Halva Cookies
Soft and chewy walnut halva cookies. Halva is a dense, fudge-like confection made from seeds or nuts. It is most popularly made with sesame seeds (tahini) and sweetened with honey.Yield: makes 18 cookies
Ingredients
1 ½

cups

(180 g) all-purpose flour

1

teaspoon

baking powder

¼

teaspoon

baking soda

¼

teaspoon

kosher salt

1

teaspoon

ground cinnamon

½

cup

(115 g) unsalted butter

, softened

1

cup

(200 g) light brown sugar

, packed

½

cup

(70 g) confectioners' sugar

, unsifted

1

large egg

1

large egg yolk

2

teaspoon

vanilla extract

1

cup

(120 g) toasted walnuts

, roughly chopped

5

oz

(142 g) halva

, chopped into chunks

Maldon sea salt flakes

, for sprinkling
Instructions
Preheat oven to 350°F. Line baking sheets with parchment paper or silicone baking mat. Set aside.

In a large bowl, whisk together flour, baking powder, baking soda, salt, and cinnamon. Set aside.

In the bowl of a stand mixer fitted with a paddle attachment, cream together butter, brown sugar, and confectioners' sugar. Scrape down bowl as needed to ensure thorough mixing. Beat for about 3 minutes until mixture is smooth and creamy.

Add egg, egg yolk, and vanilla. Mix until incorporated.

With the mixer running on slow, add flour mixture in three additions. Mix until there are no longer any dry streaks of flour. Scrape down bowl as needed. Fold in walnuts and halva chunks until distributed.

Use a size 24 cookie scoop to portion out cookie dough. Place cookie mounds on prepared baking sheet, spacing them about 2-inches apart.

Bake for 12-15 minutes, rotating baking sheet halfway through baking, until edges of cookies are set. Immediately sprinkle sea salt flakes over cookies.

Cookies will be VERY soft directly from the oven. Allow cookies to cool on baking sheet for 8-10 minutes before transferring to wire rack.
Notes
Cookies will be very fragile while hot, but will regain their structure as it cools.
Storage & Leftovers:
Store cooled cookies in an airtight container for up to 5 days. They will remain soft and chewy for at least 4 days. To keep cookies super soft, add a slice of sandwich bread or use a terracotta sugar keeper.