A bright and refreshing combination of sweet and tangy, this mint hibiscus lemonade is ideal for spring and summer gatherings.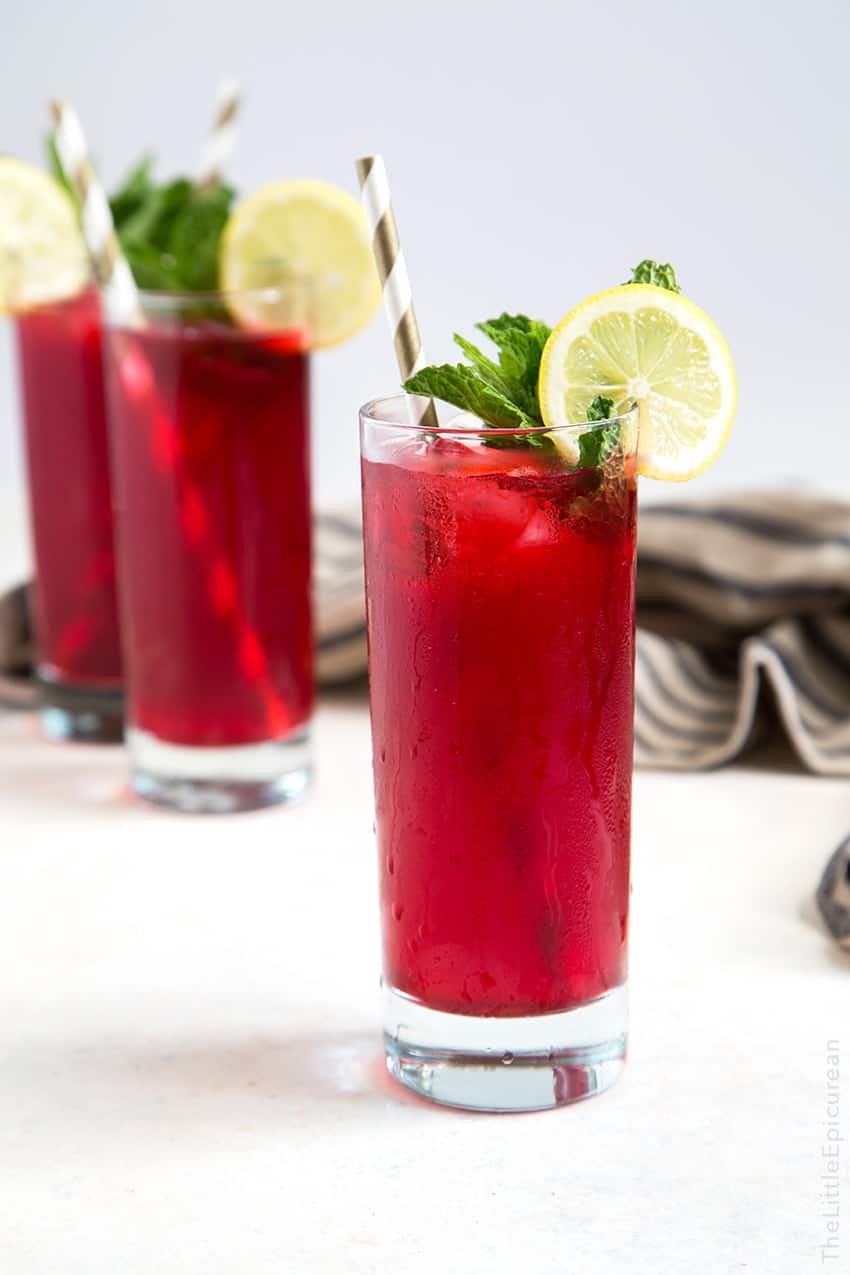 As a kid, I was only aware of three lemonades: regular lemonade, strawberry lemonade, and that strange pink lemonade that simply tasted like regular lemonade. Then I grew up and learned about the wide world of lemonades, limeades, and Arnold Palmers.
One of my favorite taco places in Los Angeles, serves a delicious agua de jamaica (hibiscus tea). It's this intense crimson red drink that's sweet, yet tangy, and oh so addicting.
I've shared several variations of cold brew hibiscus tea on the blog.  And today, I'm sharing quite possibilty the best variation. Mint Hibiscus Lemonade.
Similar to how an Arnold Palmer mixes lemonade and iced tea, this drink combines mint lemonade with mint hibiscus tea.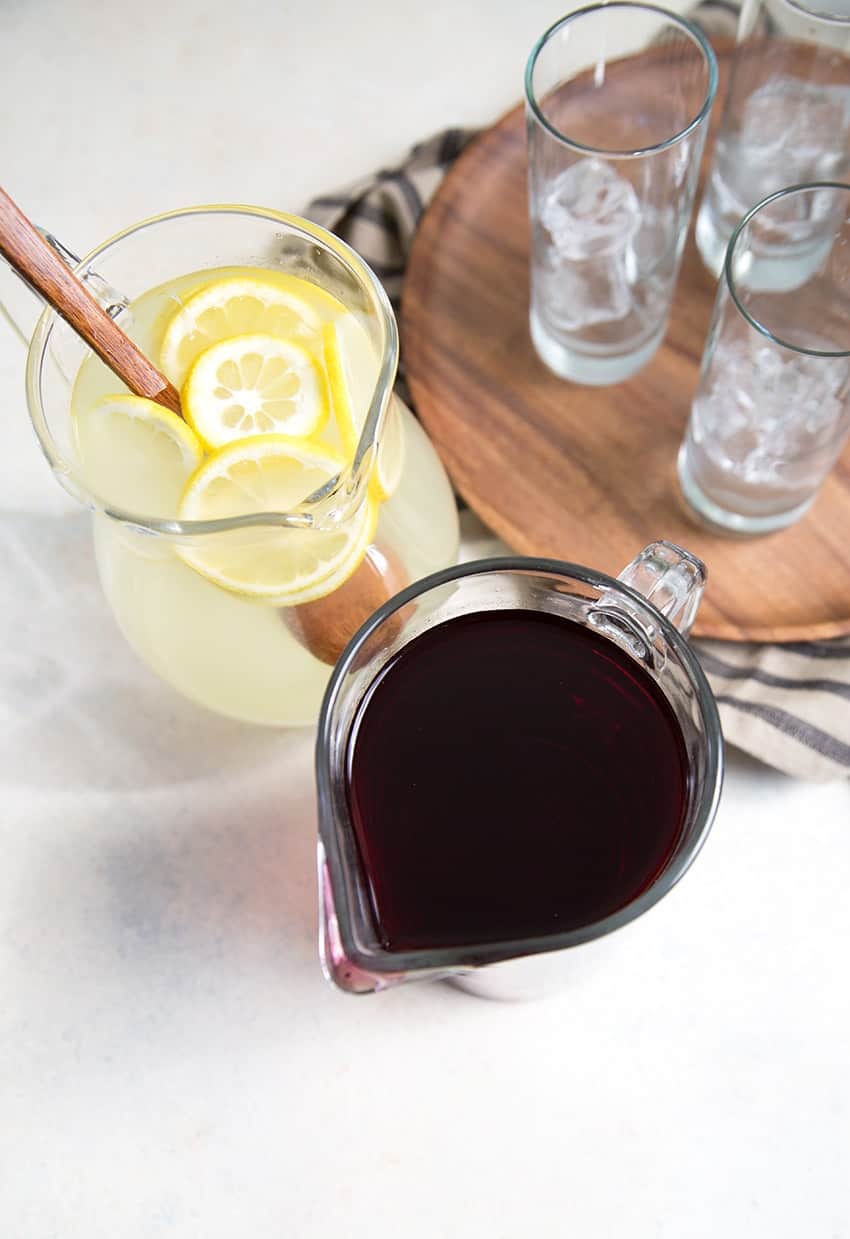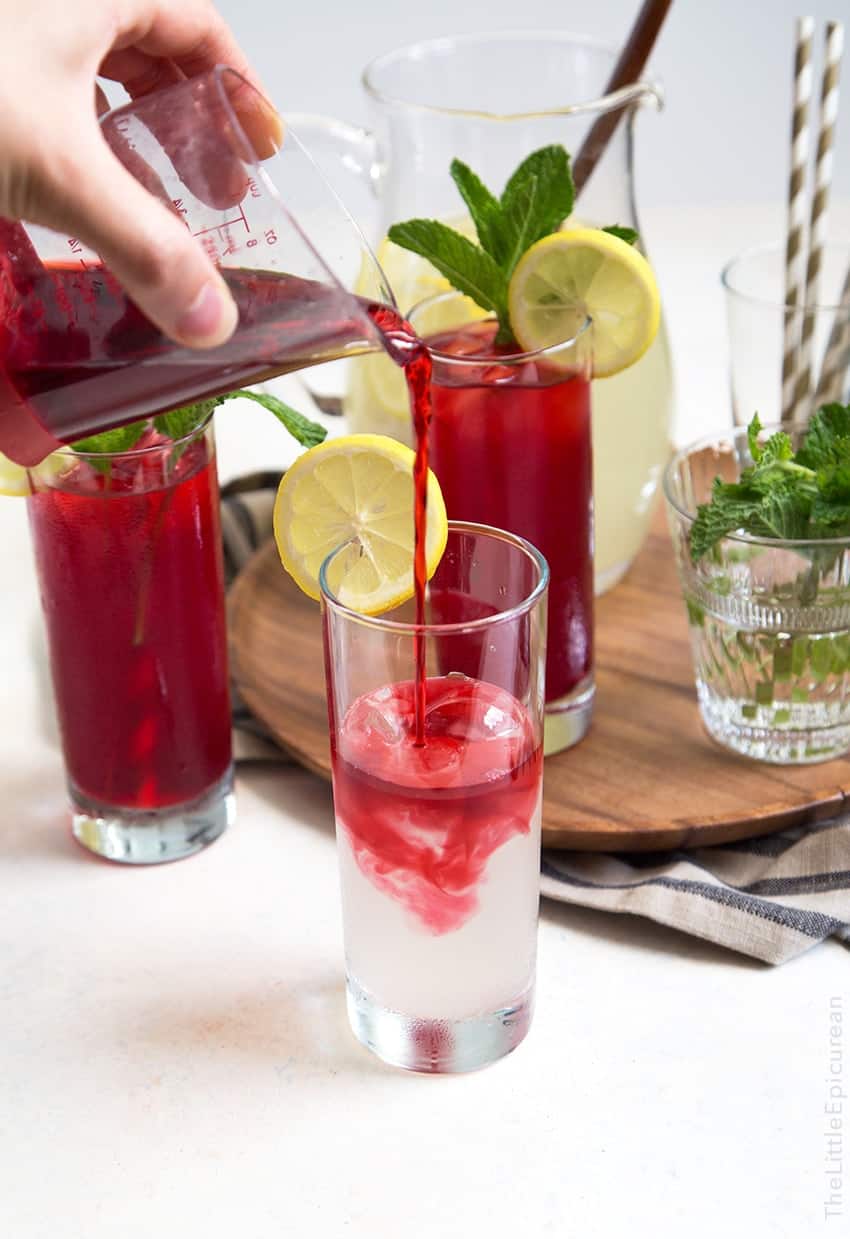 The resulting drink is sweet, sour, floral and herbal. It's so many things packed into one.
I foresee serving this at upcoming parties and gatherings. I'm always eager to a find a non-alcoholic mocktail that can please all tastes.
Best of all, this hibiscus lemonade is super easy to make for large crowds. (Not to mention, it's very inexpensive. You can buy bags of dried hibiscus flowers at Latin market for a great deal!)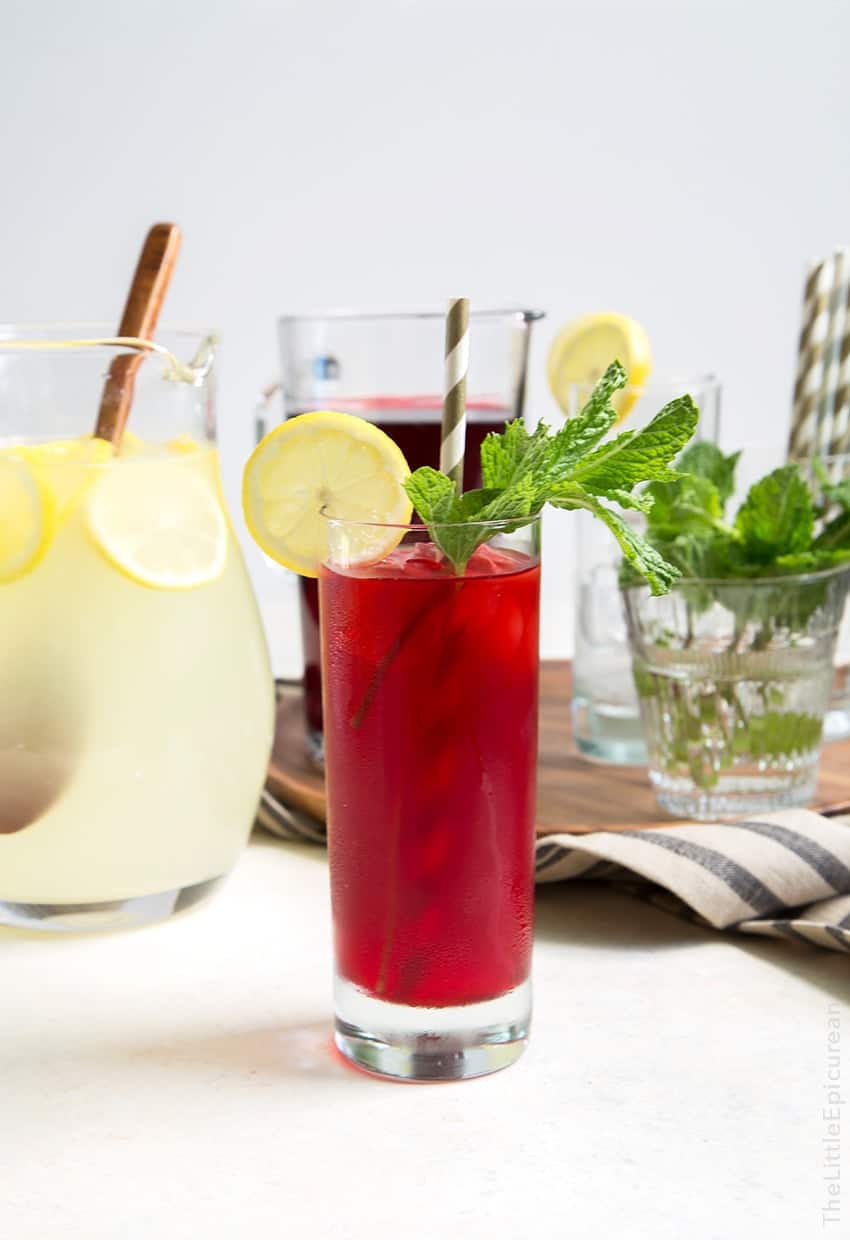 Mint Hibiscus Lemonade
Ingredients
Hibiscus Tea:
1/2

cup

dried hibiscus flowers

handful of torn mint leaves

4

cups

water

1/3

cup

- 3/4 cup mint syrup*
Lemonade:
1

cup

fresh squeezed lemon juice

4 1/2

cup

water

3/4

cup

- 1 cup mint syrup*
Mint Syrup:
1 1/2

cup

granulated sugar

1 1/2

cup

water

1/4

cup

torn mint leaves
Instructions
Hibiscus Tea:
Place dried hibiscus and torn mint leaves in a large pitcher. Pour in 4 cups water. Cover with lid and place in the fridge to steep overnight, or up to 24 hours.

Strain tea and discard hibiscus and mint.

Sweetened tea as desired with mint syrup. Start with 1/3 cup syrup for a lightly sweetened tea. Store in the fridge until ready to serve.
Lemonade:
Stir together lemon juice, water, and mint syrup. Add more syrup depending on taste preferences. Chill until ready to serve.
Mint Syrup:
In a medium sauce pot, combine sugar, water, and mint leaves. Bring to a boil until sugar has dissolved. Remove from heat. Cover sauce pot and let mint steep for 10-15 minutes. Taste, if syrup has enough mint flavor, strain out mint leaves, otherwise steep for another 5 minutes or so. Allow syrup to cool to room temperature. Transfer to air tight container and keep chilled in the fridge until ready to use.
Notes
Adjust sweetness according to your taste preferences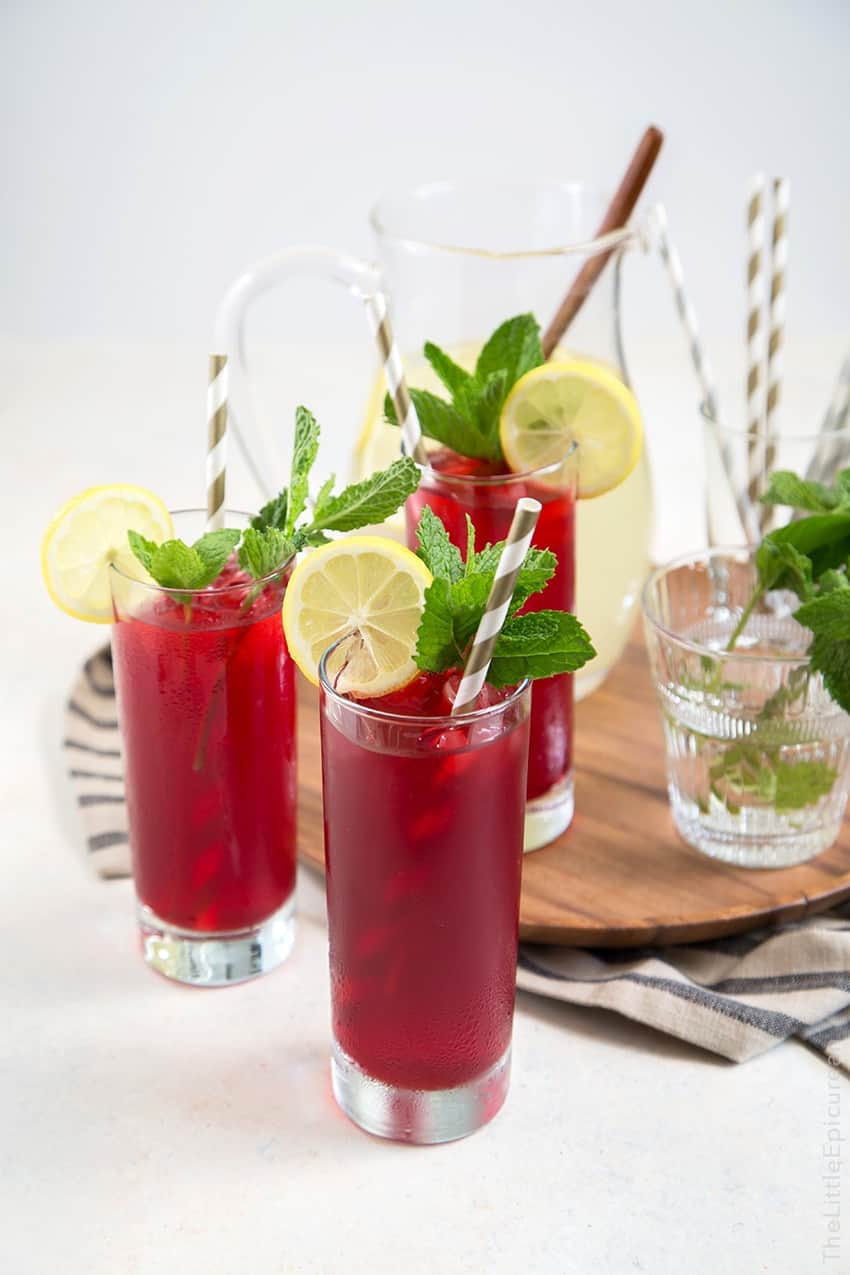 With the unofficial start of summer less than a week away, I've teamed up with a bunch of food bloggers to compile 50 summer cookout recipes! Whether you're looking for quick appetizers or stunning desserts, I hope you find a ton a inspiration from the recipes listed below! Cheers!
Appetizers
Korean BBQ Tofu Sliders with Kimchi Slaw by Hello Little Home
Corn, Black Bean, and Feta Dip by Lizzy is Dizzy
Crab, Bacon & Guacamole Crostinis by That Square Plate
Cocktails and Drinks
Blackberry Gin Slush by The Speckled Palate
Homemade Lemonade by Winstead Wandering
Blood Orange Mocktail by Body Rebooted
Fleur Collins Cocktail by Hungry Girl por Vida
Fourth of July Sparkler by Mixplorology
Black Stripe Cold Rum Cocktail by Honey and Birch
Fresh Watermelon Mojito by Twin Stripe
Mint Hibiscus Lemonade by The Little Epicurean
Entrées
Salt Plate Shrimp by The Mexitalian
Jamaican Jerk Chicken Burgers by Simple and Savory
Roasted Vegetable Grilled Pizza with Garlic Herb Oil by Ciao Chow Bambina
Memphis Style Pulled Pork by Two Places at Once
Balsamic & Honey Chicken Skewers with Strawberry-Kiwi Salsa by No Spoon Necessary
Amazing Basic Spice Rub for Grilling by An Oregon Cottage
Mediterranean Chicken Kebabs by PasadenaDaisy
Smoked Porchetta Pork Loin by Tasty Ever After
Pressure Cooker Pulled Pork by Appeasing a Food Geek
Peach Barbecue Sauce by The Beach House Kitchen
Tuna Stuffed Sweet Peppers by SugarLoveSpices
Herb Marinated Steak Gyros Plates with Tomato-Onion Salad and Green Tahini Sauce by Feed Me Phoebe
Marinated Skirt Steak with Sweet Corn and Cherry Salad by Domesticate ME!
Sweet & Sour Chicken Kebabs by Tastefully Frugal
Side Dishes
Caprese Pasta Salad by Club Narwhal
Cranberry Almond Broccoli Salad by Two Sisters Kitchens
Coconut Milk Mac & Cheese by A Little Gathering
Cherry Quinoa Salad by Food Lovin Family
Cheddar, Corn and Bacon Potato Salad by Family Food on the Table
Lemon Rocket Pasta Salad by Lauren Caris Cooks
Green Goddess Potato Salad by Love & Flour
Red White & Blue Watergate Salad by A Joyfully Mad Kitchen
Zesty Potato Skewers by Pamela Salzman
Quinoa Tabouli by A Fork's Tale
Desserts
Banana Pudding Ice Cream Cake by Feast + West
Strawberry Beer Floats by bethcakes
Cherry Cheesecake Dessert by The Little Blonde Baker
Light Berry Angel Food Cake by The Creative Bite
Lemon Cream Tarts with Berries by Girl Heart Food
Fresh Strawberry Muffins by Spiced
Lemon Pie Sundae by Flavours & Frosting
Strawberry Lemon Shortcakes by Dash of Herbs
Grasshopper Pie by 2 Cookin' Mamas
Berry Mango Smoothie Pops by HÄLSA Nutrition
Mixed Berry Vanilla Bean Cake by Cake 'n Knife
No Churn Cookies and Cream Strawberry Ice Cream by The Secret Ingredient Is
Coconut Blueberry & Vodka Ice Pops by Nik Snacks
Strawberry Key Lime Margarita Greek Yogurt Ice Pops by Beer Girl Cooks
Cherry & Rhubarb Tart by Crepes of Wrath