These cookies and cream rolls transform a simple yeasted bread dough into a magical and delicious treat!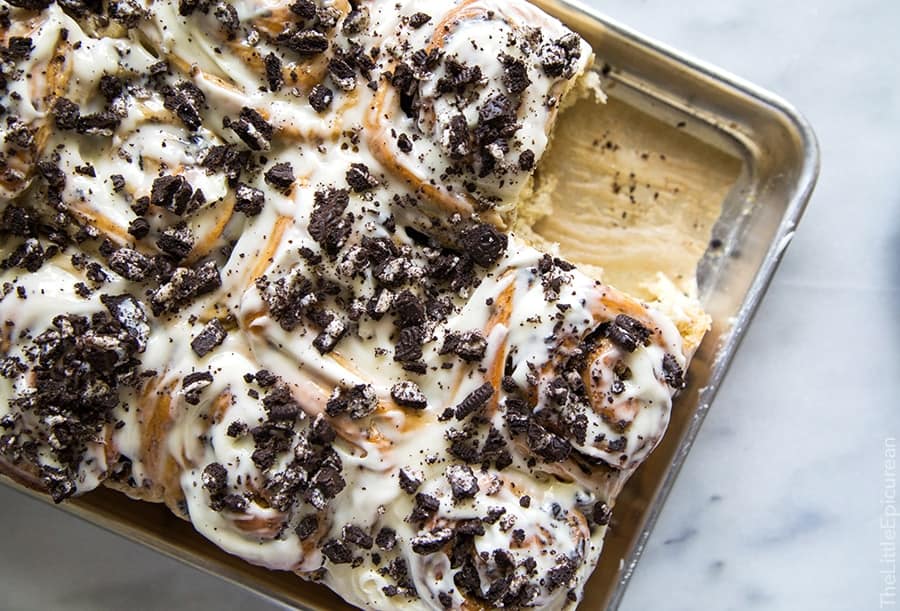 I have my wedding gown hanging in our guest room closet. I have my first fitting/alteration appointment in a month. I have these warm, fresh from the oven cookies and cream rolls sitting in the kitchen.
Any pre-wedding diet I had goes out the door this week. I'm done. These cookies and cream rolls win this battle.
For me, food has always been associated with memories. Tasting certain flavors, smelling familiar aromas sends me into a time machine.
A bowl of sugary cereal takes me back to elementary school. Seasoned curly fries and pumpkin pie shakes from Jack in the Box reminds me of late night food runs during my college years at UCLA.
The oh too familiar scent of cinnamon rolls baking in the oven makes me think of my dad.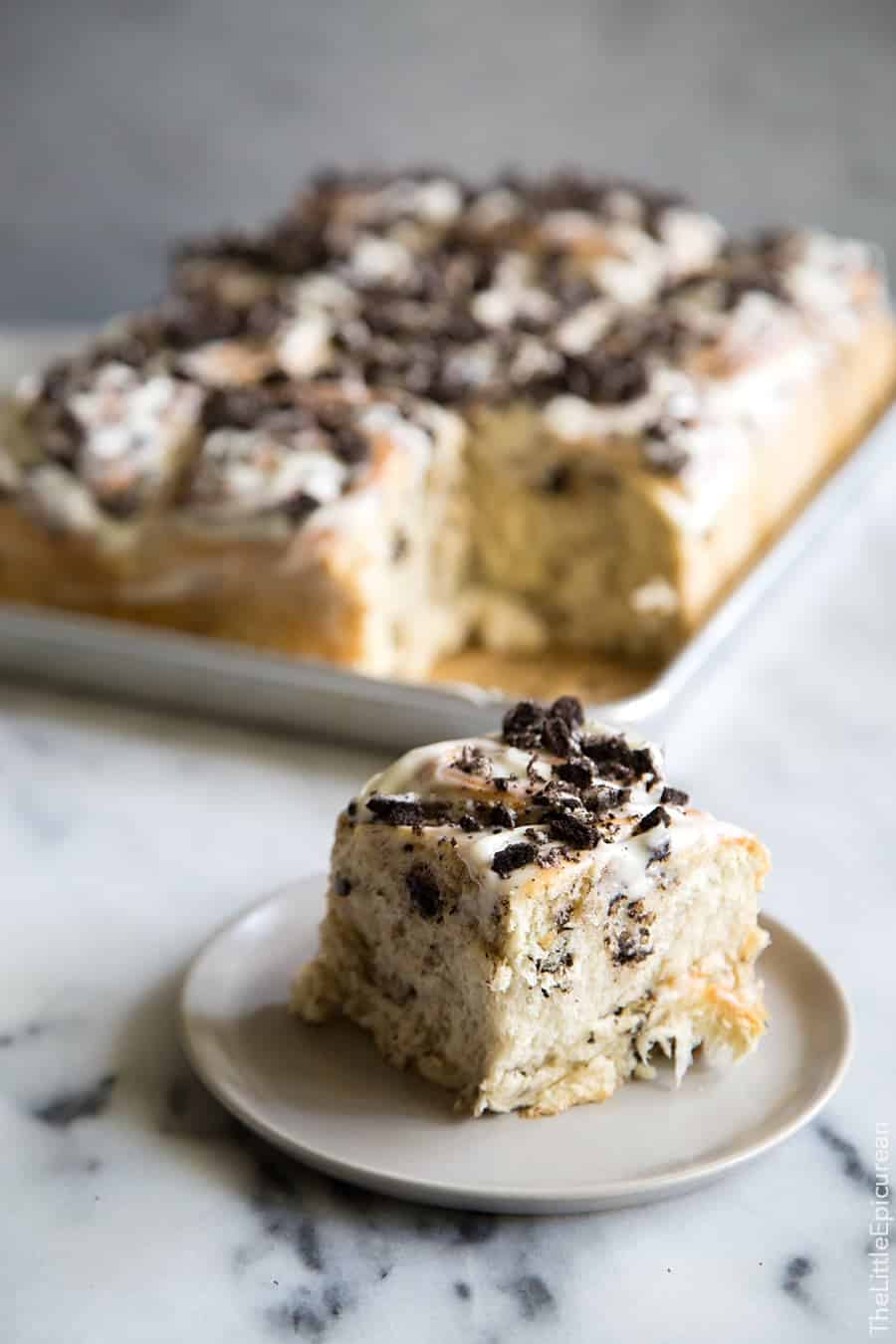 To say I miss my dad is understatement. With the wedding a few months away, the reality that he won't be there to walk me down the aisle still jabs at my heart. The fact that I have to repeat the same story again and again to vendors and acquaintances asking about my family still leaves me teary-eyed.
I accept that he's no longer with us, but I can't help but miss him like crazy. I'd like to think he's watching over me, reminding me to look both ways before crossing the street, warning me to fill my gas tank before the empty light turns on, and reminding me there's a new episode of Outlander/Game of Thrones/Arrow.
Why these cookies and cream rolls are meaningful to me:
During moments when I miss him the most, I bake his favorite cinnamon rolls. But because I've exhausted my cinnamon roll quota for the year, I'm moving on to these cookies and cream rolls; which are perfect, because my dad absolutely loved cookies and cream ice cream!
Just like traditional cinnamon rolls, these cookies and cream rolls are soft, fluffy, and oh so tasty. The vanilla cream cheese frosting is glorious. I suggest making a double batch because you'll want to spread a giant dollop on the rolls when devouring them. (No one will judge you. At least, I won't.)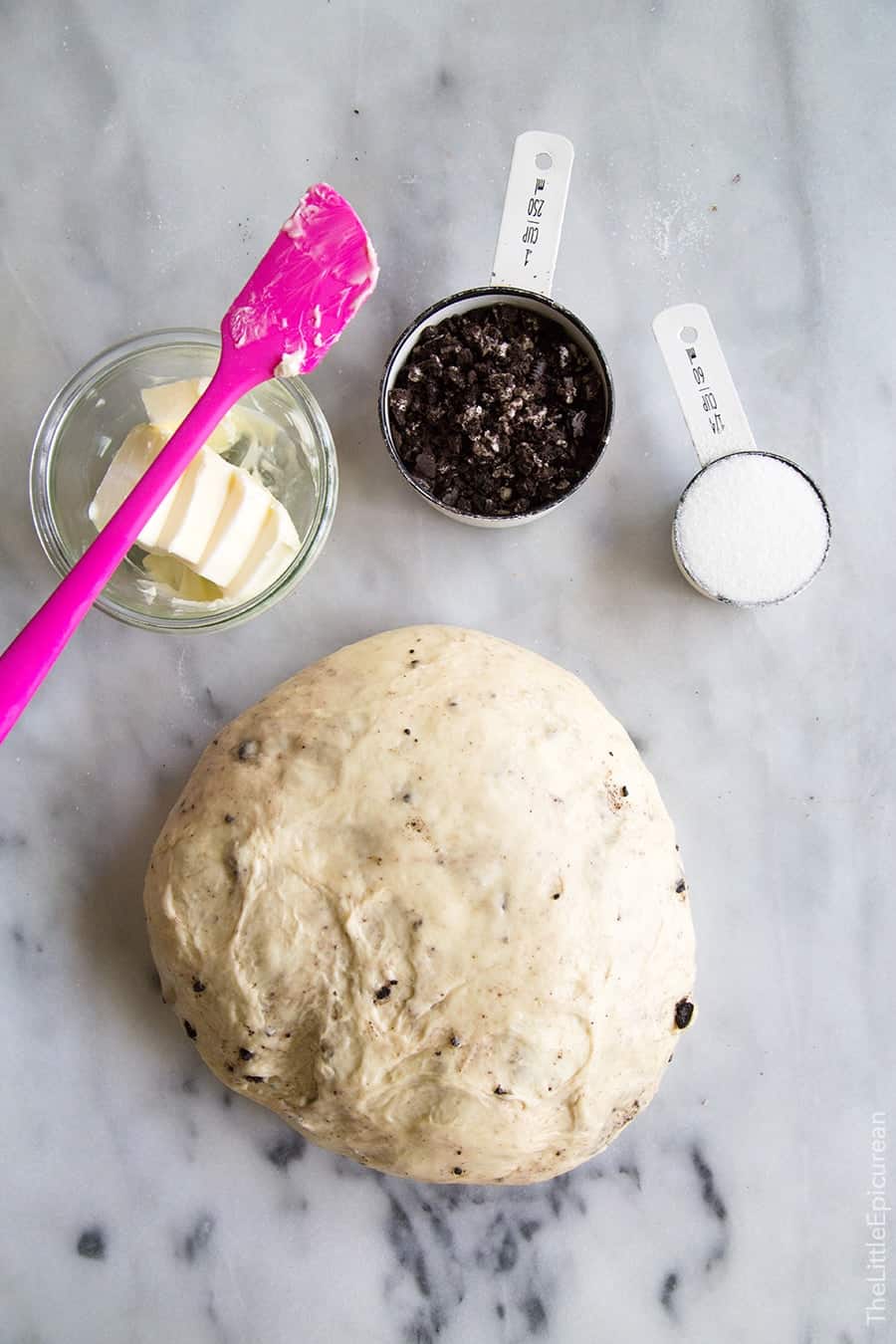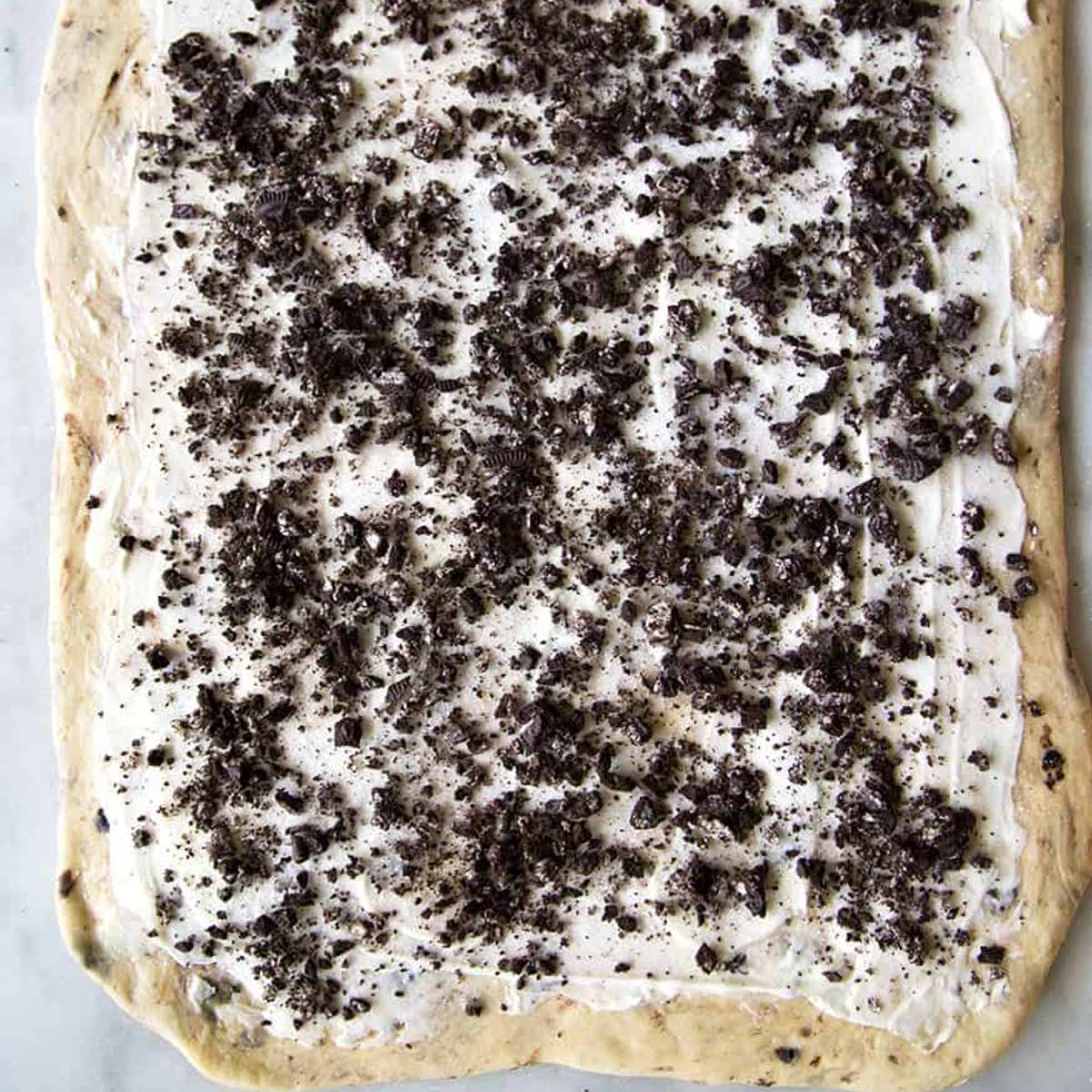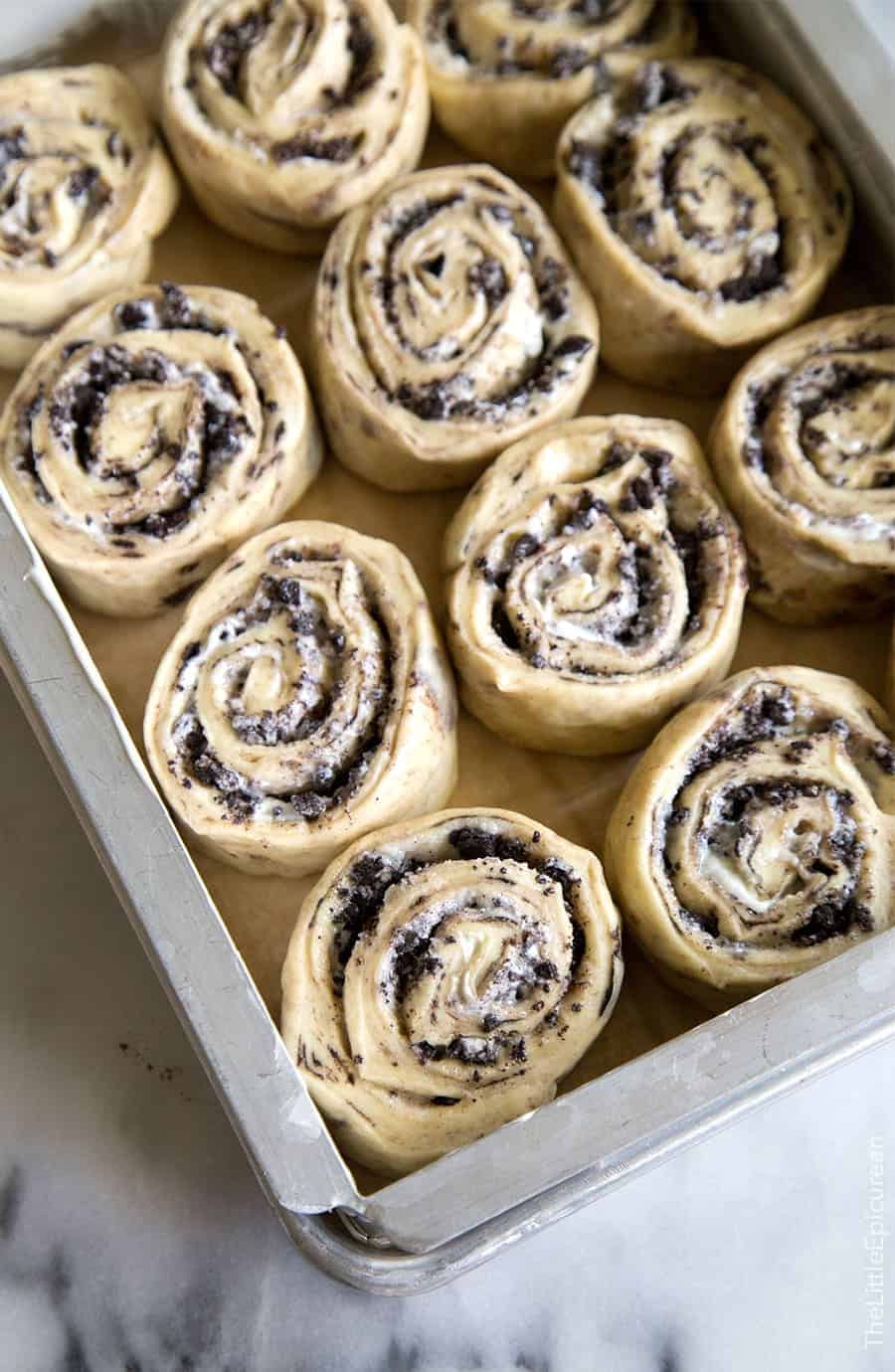 I've included Oreo cookies in all three components of these rolls: dough, filling, and topping. Just like the way I incorporated confetti sprinkles in my funfetti cinnamon rolls, I kneaded in chopped Oreo cookies into this dough.
My favorite part about making any kind of roll is slicing into the log. It's like the way I love photos of decorated pies before they get baked. Perhaps I like the anticipation of what's to come.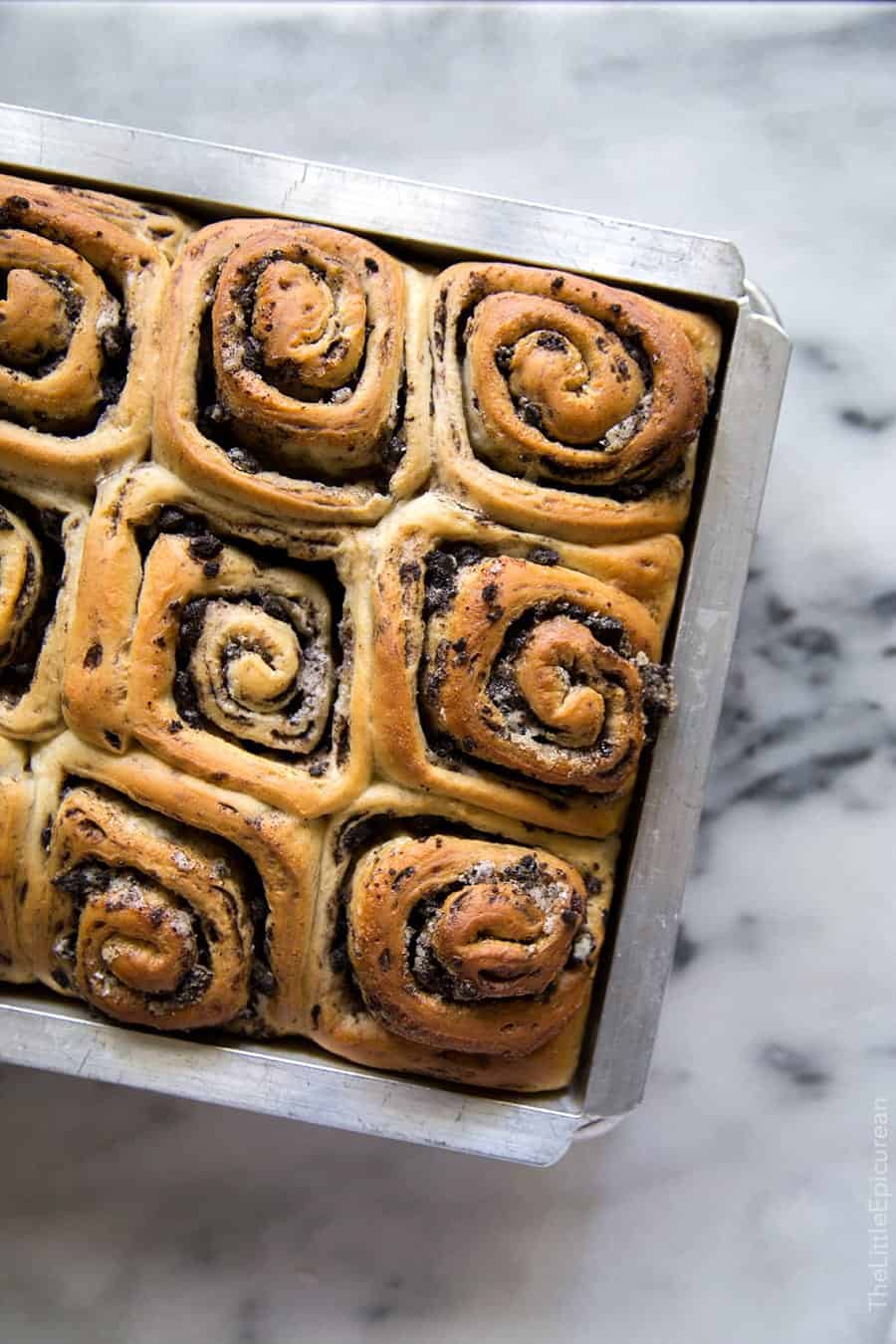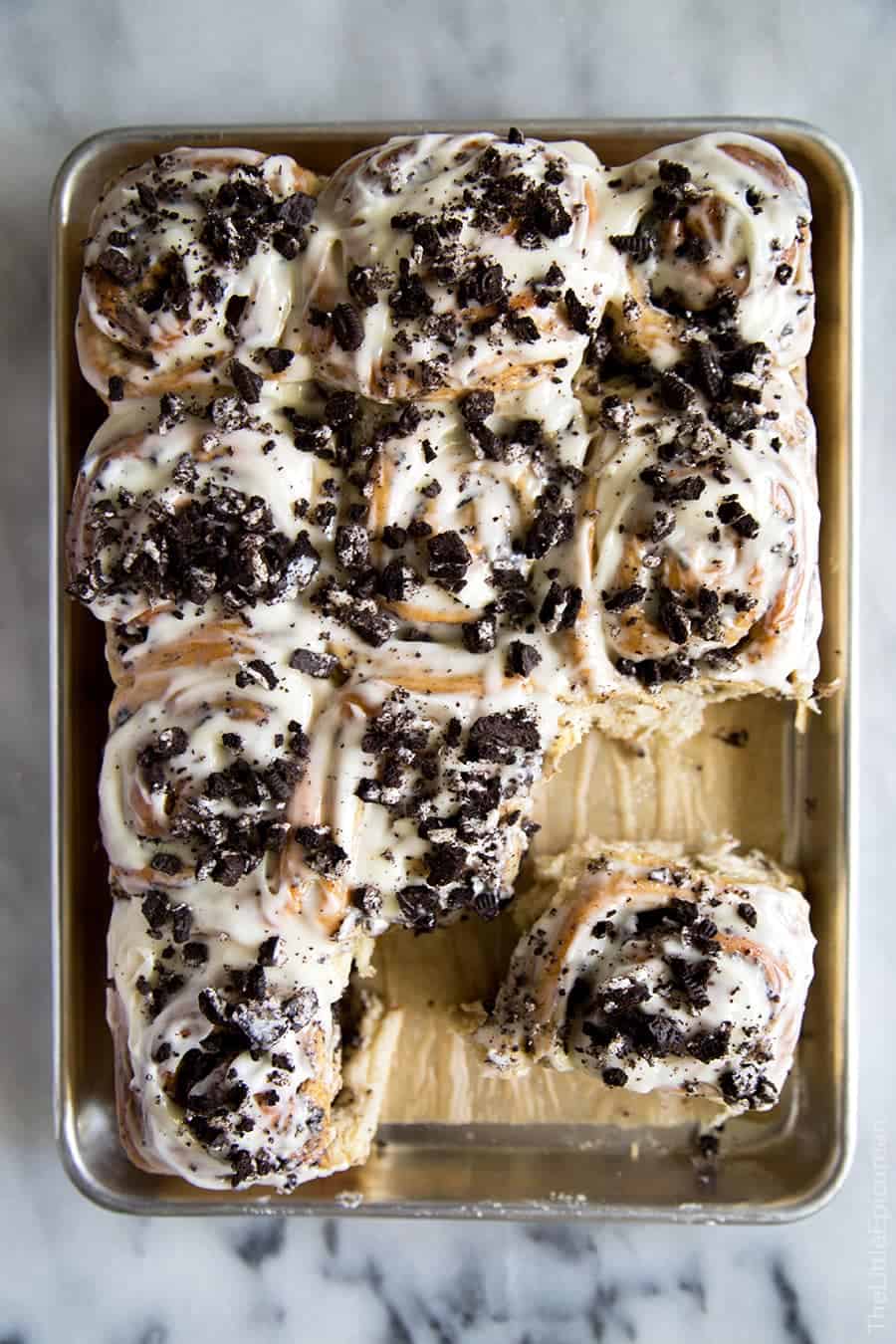 These cookies and cream rolls are rich, decadent and not for the faint of heart.
It's not meant for dieters, healthy eating advocates, or those training for marathons. It's a wonderful, extraordinary, once in a blue moon kind of treat that puts a giant smile on your face, makes your stomach happy, and then puts you into a sugar induced nap.
I've got a plan. Once I wake from said nap, I'll be sure to run a few miles around the Rose Bowl to balance things out.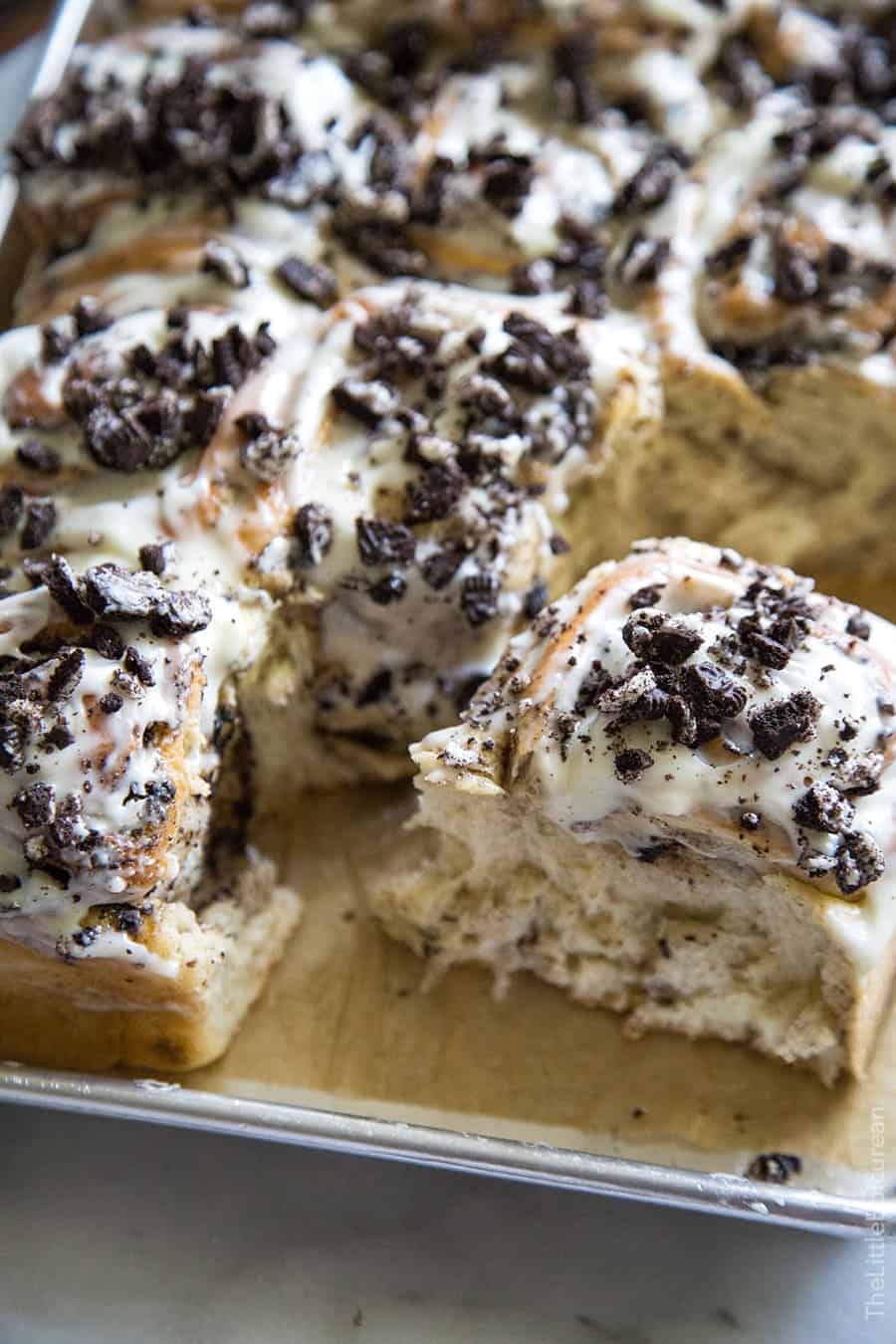 Cookies and Cream Rolls
Ingredients
Dough:
1/2

cup

warm water, 110 degrees F

2 1/4

teaspoon

active dry yeast

1/4 cup + 1 teaspoon

granulated sugar

1/2

cup

whole milk, room temperature

1

large egg

1

large yolk

4

cups

all-purpose flour

1

teaspoon

fine sea salt

5

Tablespoons

unsalted butter, softened, cut into tablespoons

1/2

cup

finely chopped Oreo cookies
Filling:
1/3

cup

unsalted butter, softened

3

Tablespoons

granulated sugar

1

cup

finely chopped Oreo cookies
Cream Cheese Frosting:
4

oz

cream cheese, room temperature

1/4

cup

unsalted butter, softened

1/2

teaspoon

vanilla extract

pinch

of fine sea salt

1 1/2

cup

powdered sugar

finely chopped Oreo cookies, to garnish
Instructions
DOUGH: Sprinkle yeast over warm water. Add 1 teaspoon of sugar and stir to combine. Let sit for 5-7 minutes to allow mixture to bubble and activate.

In the bowl of a stand mixer, whisk together yeast mixture, warm milk, remaining sugar, egg, and egg yolk. Whisk salt into flour. Add 2 cups of flour to mixing bowl. Use the dough hook attachment to mix together. Add another 1 cup of flour. Continue to knead on low speed while adding softened butter 1 Tbsp at a time. Add remaining cup of flour and knead until dough is smooth and cleans the sides of the bowl. Add chopped cookies and mix until evenly distributed.

Transfer dough to a lightly greased bowl. Cover with plastic wrap and let sit at room temperature for about an hour until dough has doubled in volume.

Punch down risen dough. Transfer to a clean working surface. Roll dough into a 20 x 14- inch rectangle.

FILLING: Spread 1/3 cup softened butter over dough. Sprinkle sugar and chopped cookies on top. Gently press until dough.

Starting at the long side, roll dough into a log. Slice log into 12 equal parts. Place rolls into a greased 9 x 13-inch baking pan (quarter sheet pan size) . Cover with plastic wrap and let rest for 30-45 minutes at room temperature to allow roll to rise.

Preheat oven to 350 degrees F. Remove plastic wrap and bake rolls for 30-33 minutes until golden brown on top and the internal temperature of the rolls hit 185 degrees F. Allow rolls to rest for 5 minutes to slightly cool before frosting.

CREAM CHEESE FROSTING: Beat together cream cheese and butter until smooth. Add vanilla, salt, and powdered sugar. Beat until smooth. Spread over warm rolls. Top with chopped Oreo cookies.
Recipe Notes
REHEATING NOTES: To keep the rolls moist, place a glass of water in the microwave along with the bread roll. Microwave for 30 seconds, or until bread is warm. The water prevents the bread from drying out. 
All images and text ©The Little Epicurean