This Peach Bellini Cake is made using standard boxed cake mix and sparkling wine. It's a fun and easy way to make cake in a snap!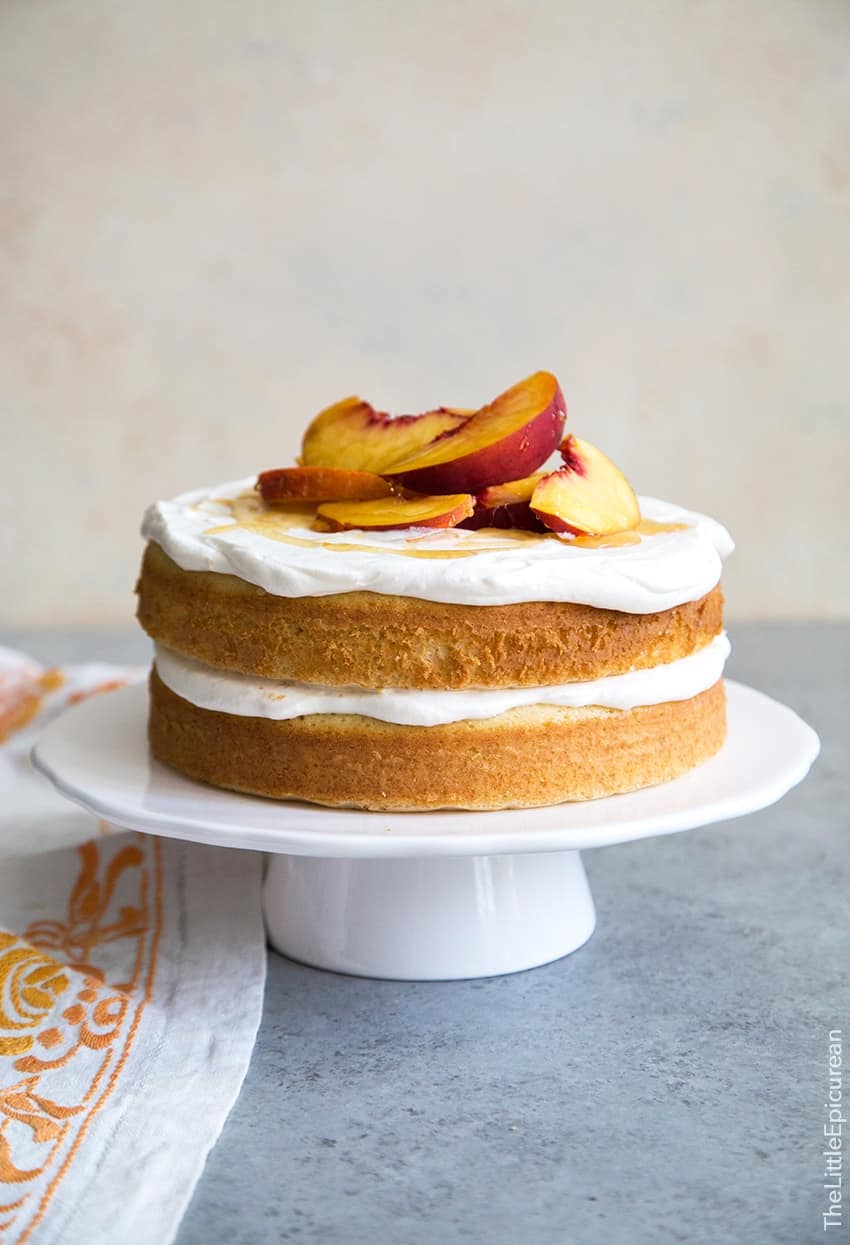 Drink your Peach Bellini and eat it, too!
This is the EASIEST CAKE I have ever made. No exaggeration. It uses a standard boxed white cake mix. I hardly ever use boxed mixes. I have nothing against them. They taste fine, they bake consistently, and they take the mess out of baking. But most of all, they're a big time saver because you don't have to measure and scale out the ingredients. However, since my baking time is sort of my relaxation session, I really don't mind the extra time it takes to make things from scratch. (That being said, I will eventually make a from scratch champagne cake. Stayed tuned!)
Because it's summer and the last thing anyone wants to do is clean the kitchen, let's take the shortcut route. Let's take cake mix and turn it into something outside of the box. I was super intrigued to test out this recipe. Sparkling wine in cake? Yes, please! I'm sharing this over at BHG's Delish Dish blog. The recipe was inspired and adapted from this champagne cake.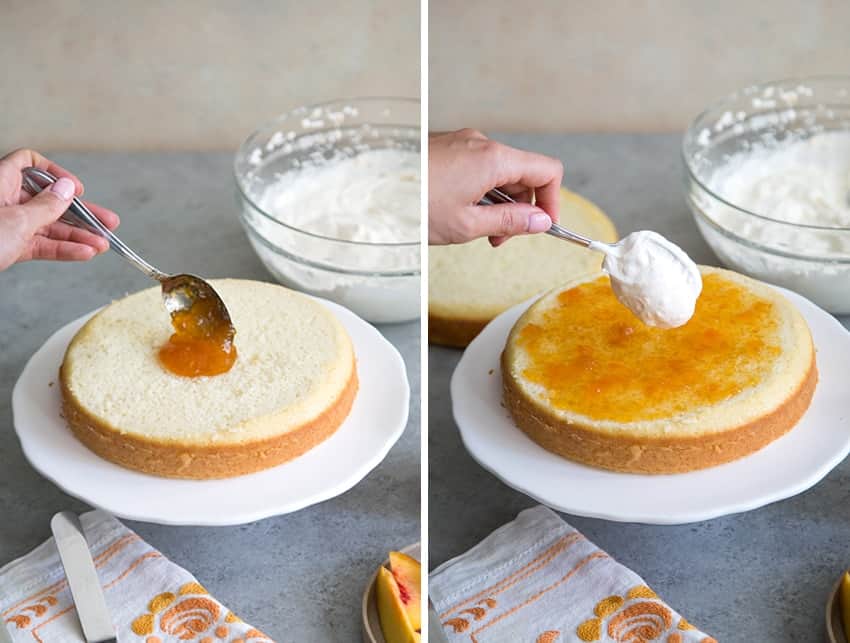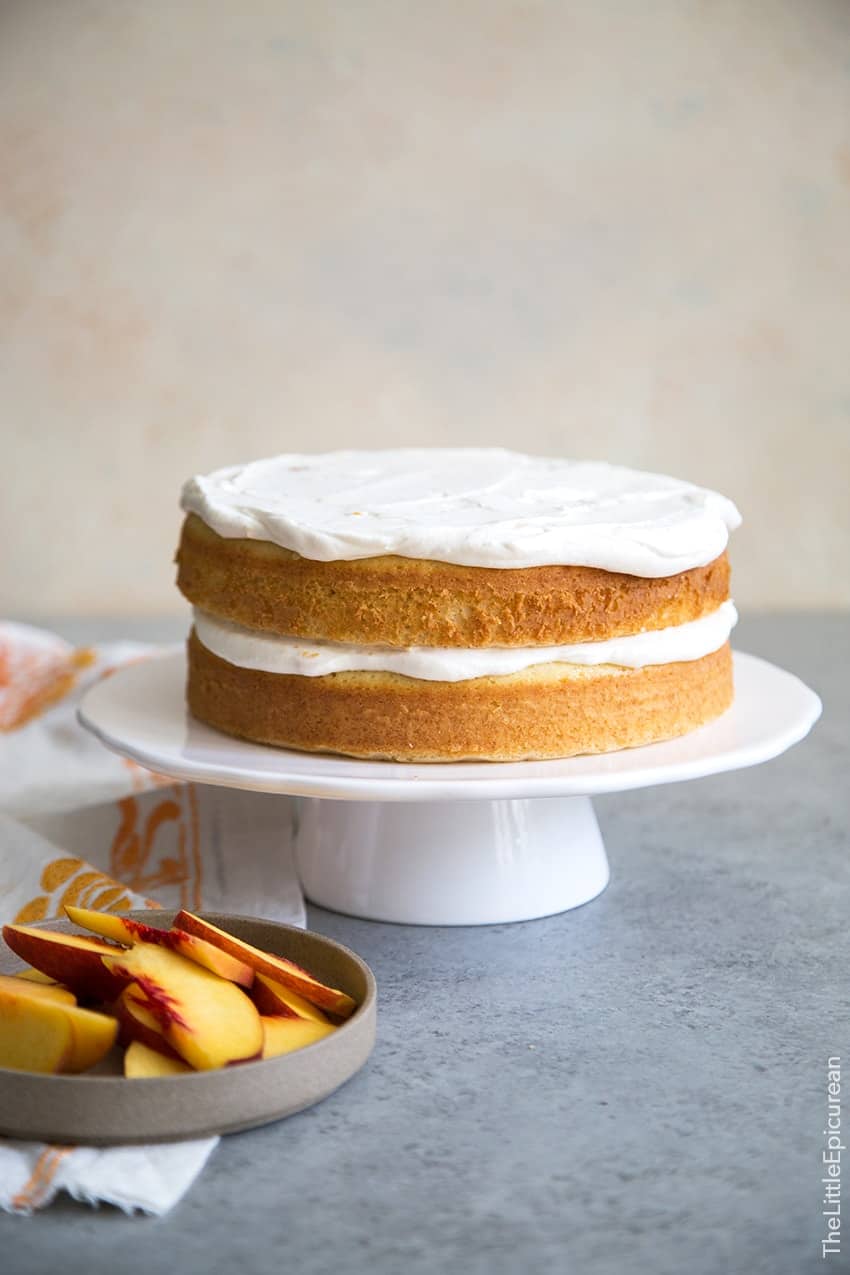 Instead of using water to combine the cake mix, simply substitute in equal part sparkling wine. No need to use any fancy, expensive sparkling wine. The resulting cake is very light and fluffy. The alcohol will cook out during baking but you'll be left with the lingering aroma of the sparkling wine.
Assembly couldn't be any easier. No turn table needed since I'm leaving this cake naked. I spread a layer of homemade peach jam in between the cake layers and frosted with the cake with a whipped cream (mixed with a dollop of peach jam). For the finishing touch, some fresh peach slices and a drizzle of honey to top the cake.
From start to finish, this Peach Bellini cake took an hour to bake, cool, and assemble. (!!!) This cake would be perfect for impromptu get togethers, bridal showers, afternoon tea, and everything in between. Or in my case, it's perfect to satisfy any sudden cake cravings.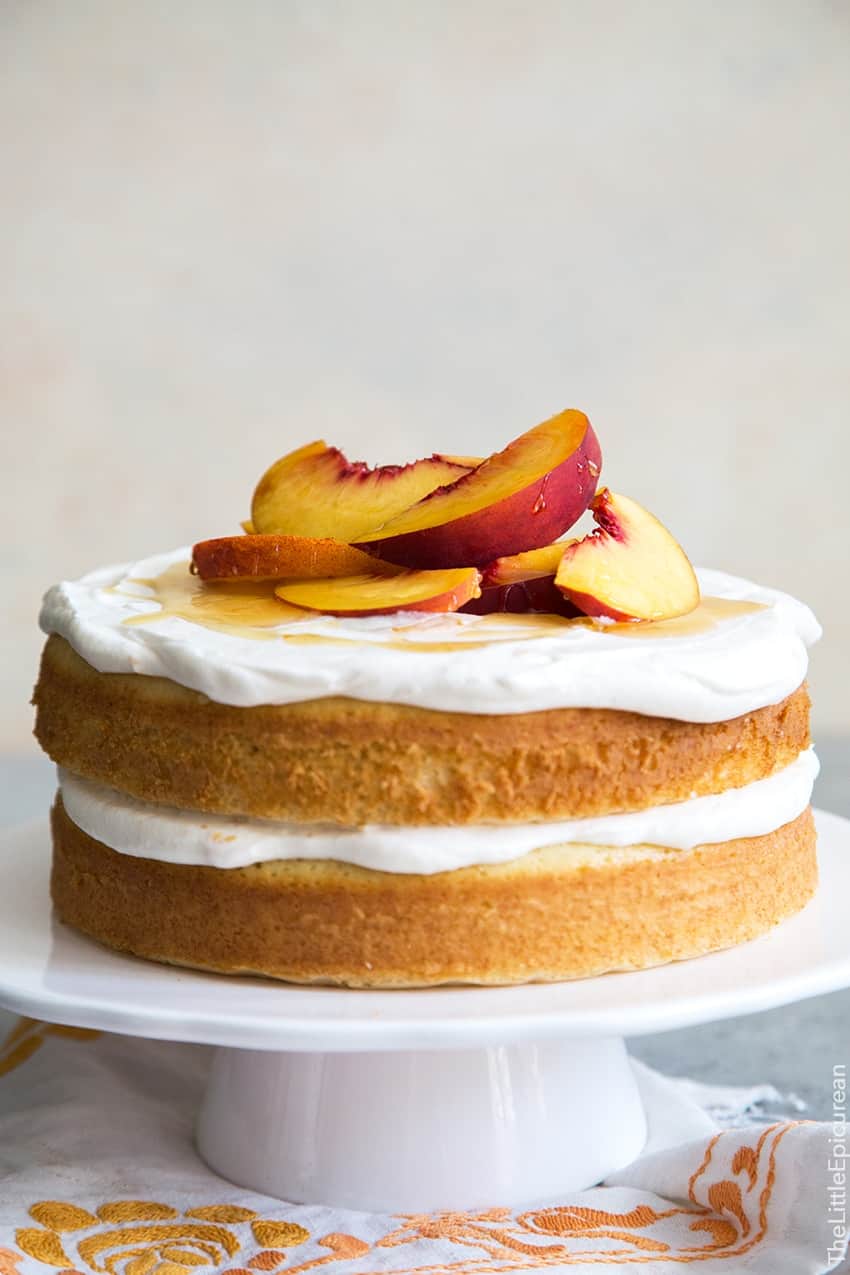 I'm calling this my Sunday Brunch cake. Sunday brunch isn't complete without a glass of bubbly. Perhaps my next champagne cake will be a mimosa cake!
Peach Bellini Cake
Ingredients:
1 package white cake mix
sparkling wine in place of water in cake mix directions
1 1/2 cups heavy cream, chilled
1/2 cup peach jam
2 Tbsp granulated sugar
sliced peaches, to garnish
honey, to garnish
Directions:
Follow boxed cake mix directions, substituting equal parts sparking wine in place of water.

To make peach whipped cream:

Whip chilled heavy cream with 2 Tbsp granulated sugar and 2 Tbsp peach jam.

To assembly:

Spread remaining peach jam between cake layers. Frost with peach whipped cream. Top with sliced peaches and honey drizzle.