This caramel coffee banana cake is comprised of two chocolate chunk banana cake layers soaked with a boozy coffee syrup. The cake is filled with a layer of salted caramel and coated with a coffee infused Swiss buttercream. 
Last week I talked about internet lingo along with this banana peanut butter jelly cake. Am I the last person to know that BAE means before anyone else?!
I thought it was just a misspelling of babe or baby. I don't know why I'm so intrigued by these abbreviations. Perhaps because I have a difficult time incorporating them into my normal vocabulary.
I'm trying to keep up with the times, but whenever I attempt to use such lingo, they always come out to forced, so contrived. I can't speak without smiling or laughing, and it ends up being a joke (when really, I'm trying to be serious).
Maybe I should just accept that I am a millennial that can't speak the language.
Oh well. One language I am fluent in- CAKE! I have been on a roll with the cake making these days. And I will continue to pop out cakes until I find "the one." I need to test out as many cake recipes and flavor combos until I find the three layers I'd like to make for the wedding.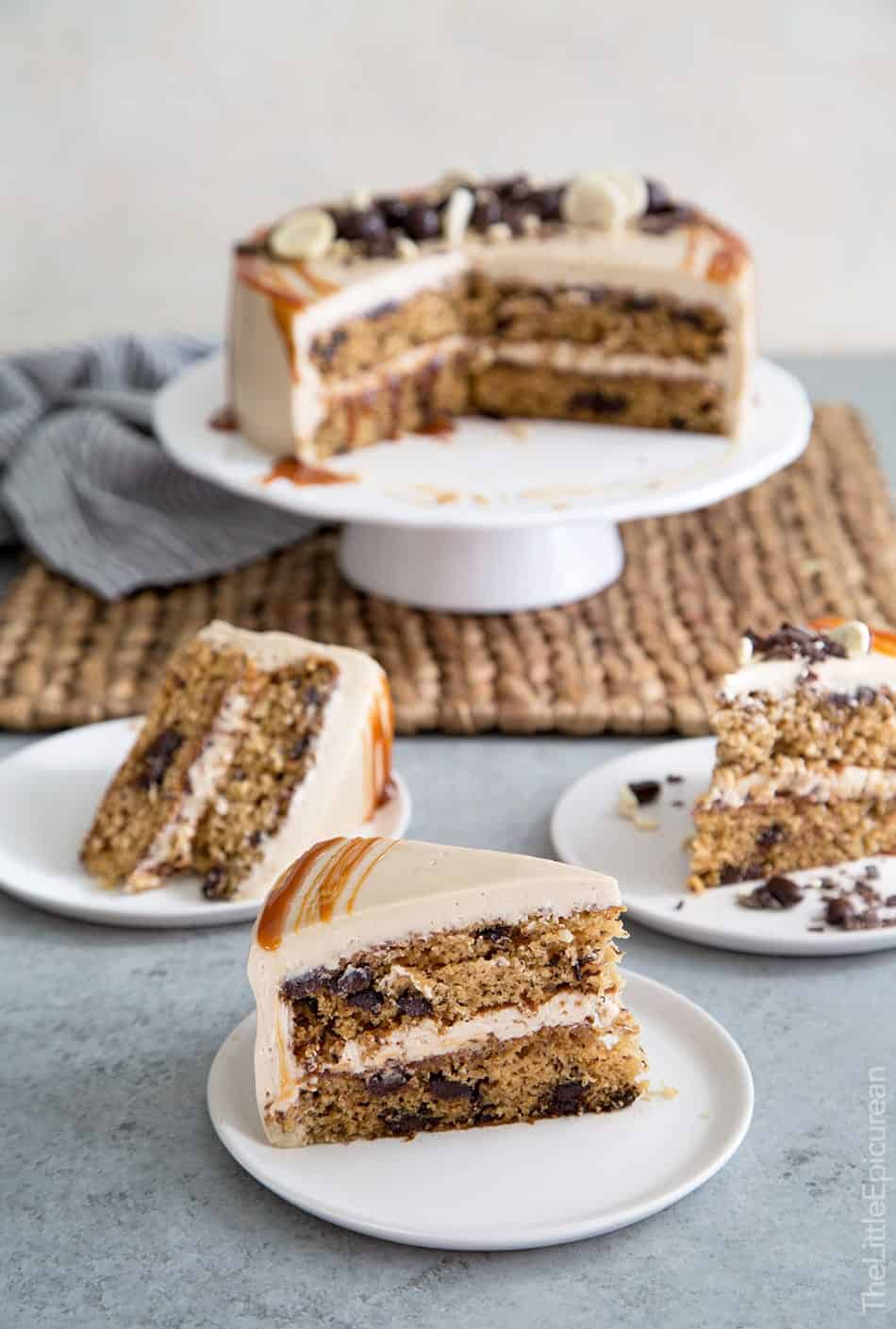 I loved last week's banana PBJ cake so much that I used the banana cake recipe again. I prefer to bake tall 6-inch round cakes, but I decided to switch it up today. While the original banana cake recipe makes three 6-inch cakes, it can also be used to make two 8-inch round cake layers.
Caramel Coffee Banana Cake
The only different between last week's banana cake recipe and this coffee banana cake is the addition of dark chocolate chunks.
The chocolate really adds another dimension. It takes it from a simple banana cake to a decadent dessert.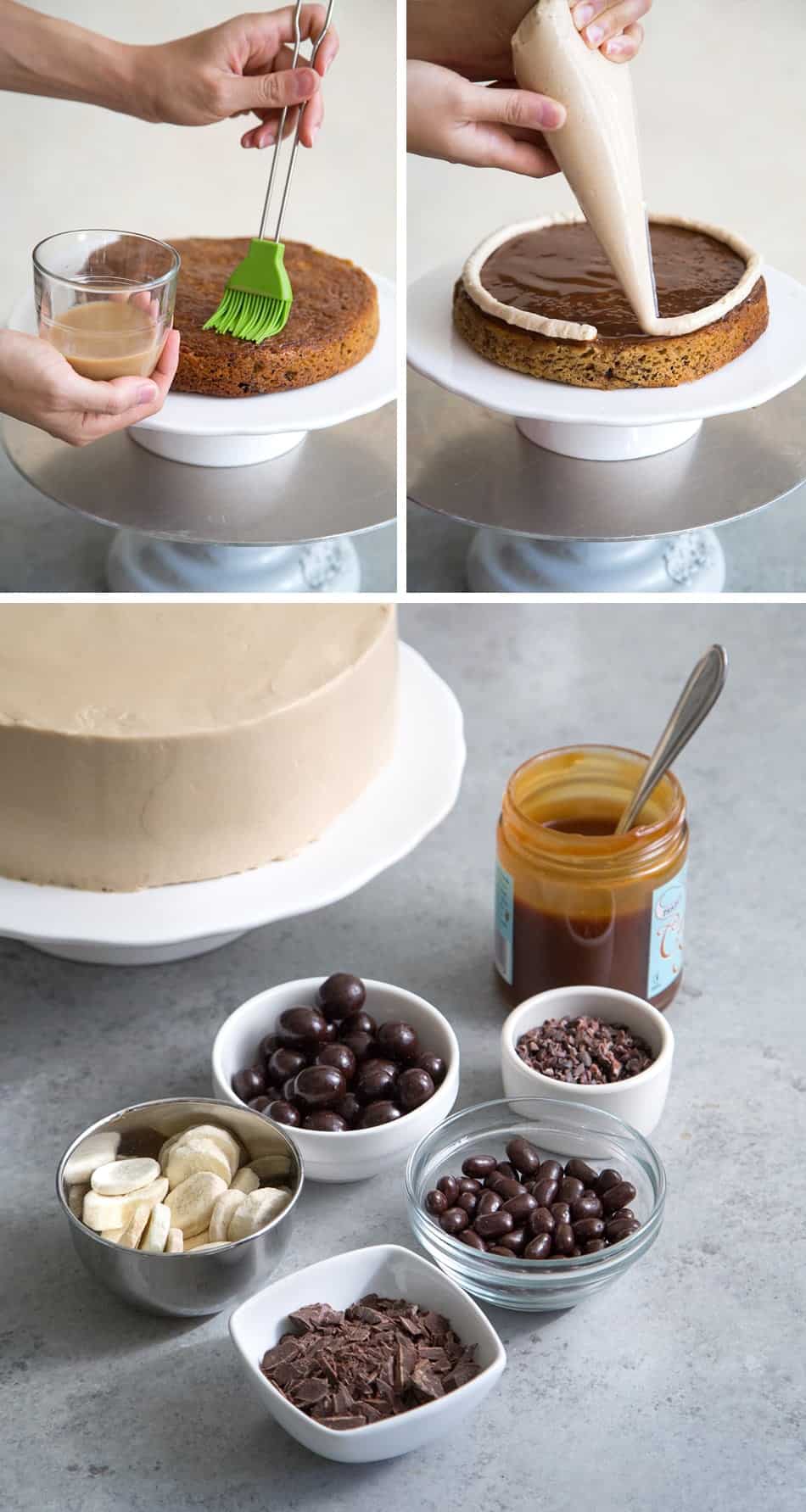 I soaked the bottom cake layer with a coffee liqueur mixture and followed up with a layer of salted caramel. There are numerous ways to frost and fill a cake.
In my opinion, the easiest and cleanest way to fill a cake is with a piping bag. Simply pipe a spiral of buttercream over the cake layer. You'll get a nice even layer without the use of cake turntable.
My favorite part of cake making is decorating. I took out all my chocolate goodies from the pantry to decorate this caramel coffee banana cake.
Photographed above we have: freeze dried banana slices, dark chocolate shavings/chunks, chocolate covered toffee espresso beans, cocoa nibs, and chocolate coffee peaberry coffee beans. Get creative with your chocolate decor!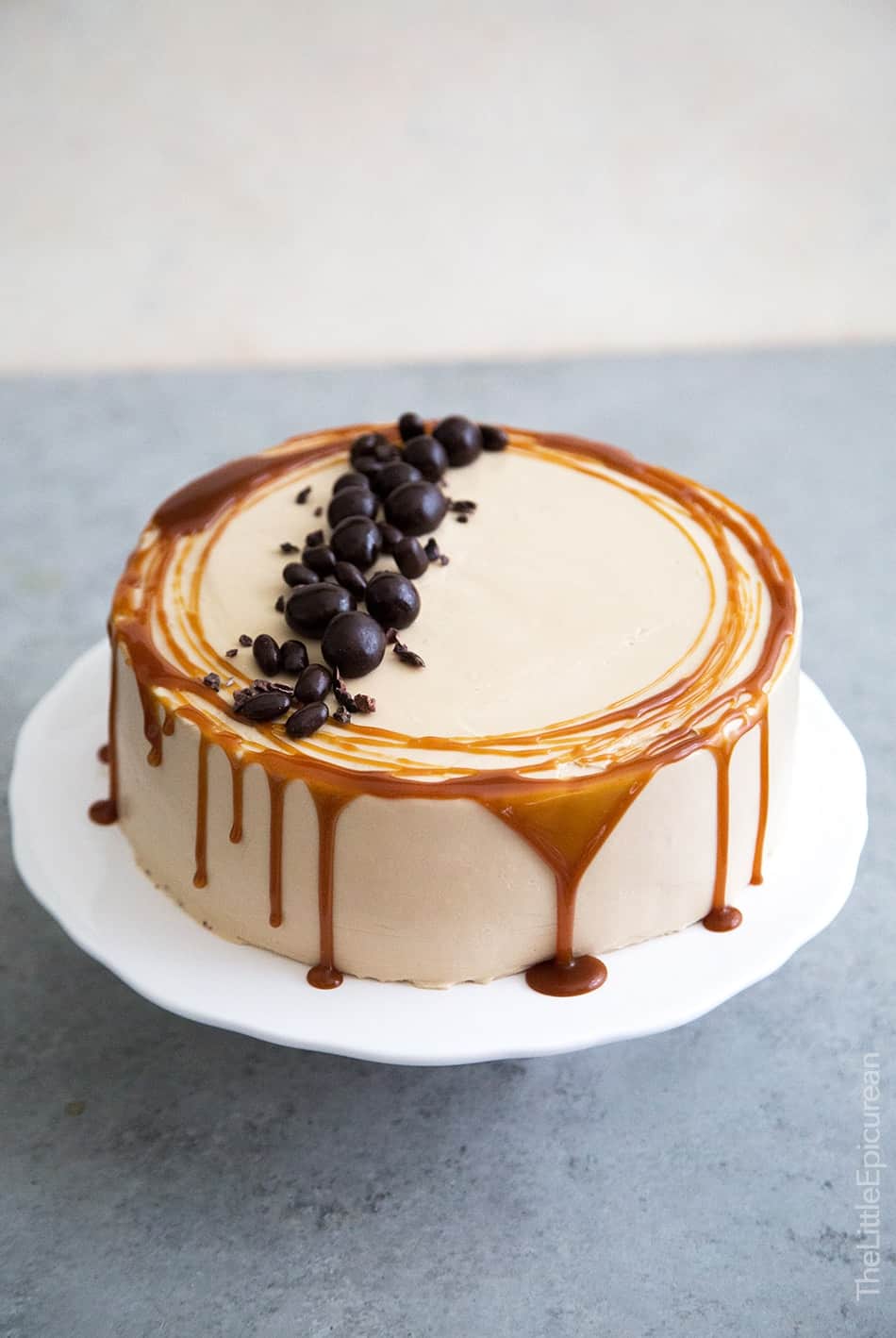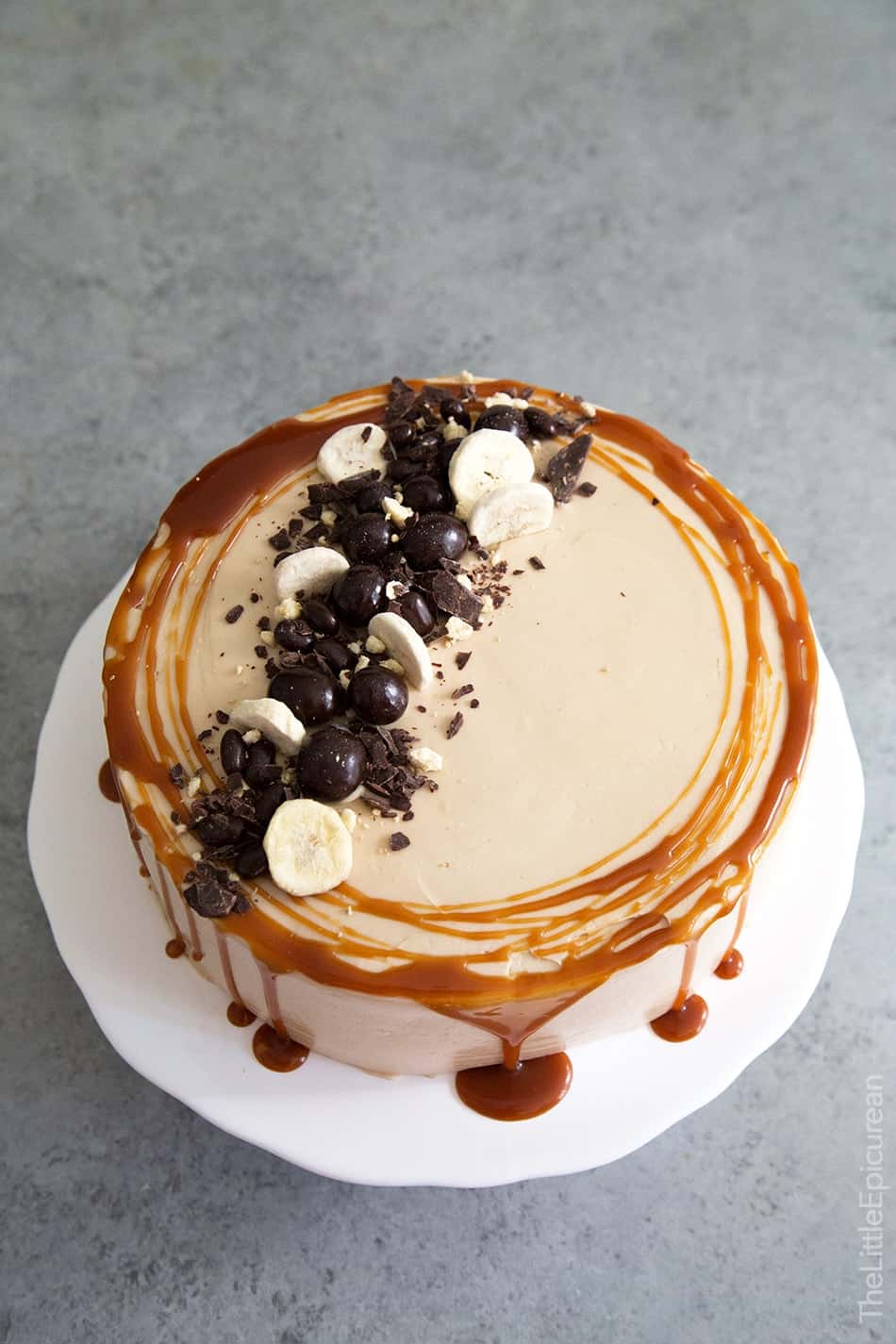 Caramel Coffee Banana Cake
Yield: 8-inch
Ingredients
Banana Cake:
1 1/2

cups

all-purpose flour

1/2

teaspoon

baking soda

1

teaspoon

baking powder

1/4

teaspoon

fine sea salt

1/4

cup

unsalted butter, room temp

1/2

cup

granulated sugar

1/2

cup

brown sugar, packed

2

large eggs, room temp

2

medium ripe bananas, mashed

1/3

cup

whole milk, room tem

1/2

cup

dark chocolate chunks, or chocolate chips
Swiss Buttercream (coffee flavored):
3/4

cup

egg whites (6 large egg whites), room temp

1 1/2

cup

granulated sugar

2

cups

(1 pound/16 oz) unsalted butter, cut into tablespoons, room temp

coffee concentrate mixture* (recipe follows)
Other Components:
coffee soaking syrup (1/3 cup strong coffee mixed with a splash of coffee liqueur)

sea salt caramel sauce (homemade or store-bought)

chocolate covered espresso beans, to garnish

cocoa nibs, to garnish

chopped chocolate, to garnish

freeze-dried banana slices, to garnish
Instructions
Banana Cake:
Preheat oven to 350 degrees F. Line two 8-inch cake pans with parchment and lightly grease the sides of the pan. Set aside.

Whisk together flour, baking soda, baking powder, and salt. Set aside.

In the bowl of a stand mixer fitted with a paddle attachment, cream butter. Add sugar and brown sugar and mix until well combined. Add eggs one at a time. Add mashed bananas. Scrape down bowl as needed to ensure thorough mixing.

Alternate adding flour mixture and milk. In three additions, start with the flour and end with the flour. Mix until just combined. Fold in chocolate chunks.

Divide batter evenly between the two prepared cake pans. Bake for 25-30 minutes until toothpick inserted in center of cake comes out clean. Let cool in pan for a few minutes before unmolding. Transfer to wire rack to cool to room temperature.

Coffee Swiss Buttercream:
In the bowl of a stand mixer, whisk together egg whites and sugar. Place bowl over a pot of simmering water to create a double boiler. Make sure simmering water does not touch the bowl. Whisk sugar egg mixture until it reaches a temperature of 160 degrees F.

Alternatively, if you don't have a thermometer, heat until all the sugar has melted. You can test test by dipping a finger into the warm mixture and rubbing it between your fingers. The mixture should be smooth. You should not be able to feel the granules of sugar.


Return bowl to the stand mixer. With a whisk attachment, beat mixture at medium speed until it cools to room temperature. Reduce speed to low and add butter one tablespoon at a time. Once all the butter is incorporated, add coffee concentrate mixture. Increase speed to medium-high and continue to beat until buttercream is light and fluffy
Assembly:
Place on cake round over a cake board (or serving plate). Using a pastry brush, lightly soak the cake with coffee soaking syrup. Spread a thin layer of caramel sauce (about 2 tablespoons) over soaked cake. Add a layer of coffee buttercream. You can use a piping bag or simply spread buttercream on top of cake.

Add second cake layer on top. Spread buttercream all over cake to seal in the crumbs (crumb coat). Let chill in the refrigerator for 15 minutes. Once chilled, coat the cake with another layer of buttercream. Return cake to refrigerator until ready to serve.

Before serving, drizzle caramel sauce over the top and sides of the cake. Decorate top of cake with chocolate espresso beans, cacao nibs, chopped chocolate, and freeze dried bananas. Allow buttercream to soften and allow cake to come to room temperature before serving.