Cinnamon Apple Pancakes: traditional pancake batter mixed with apples cooked in a brown sugar cinnamon syrup.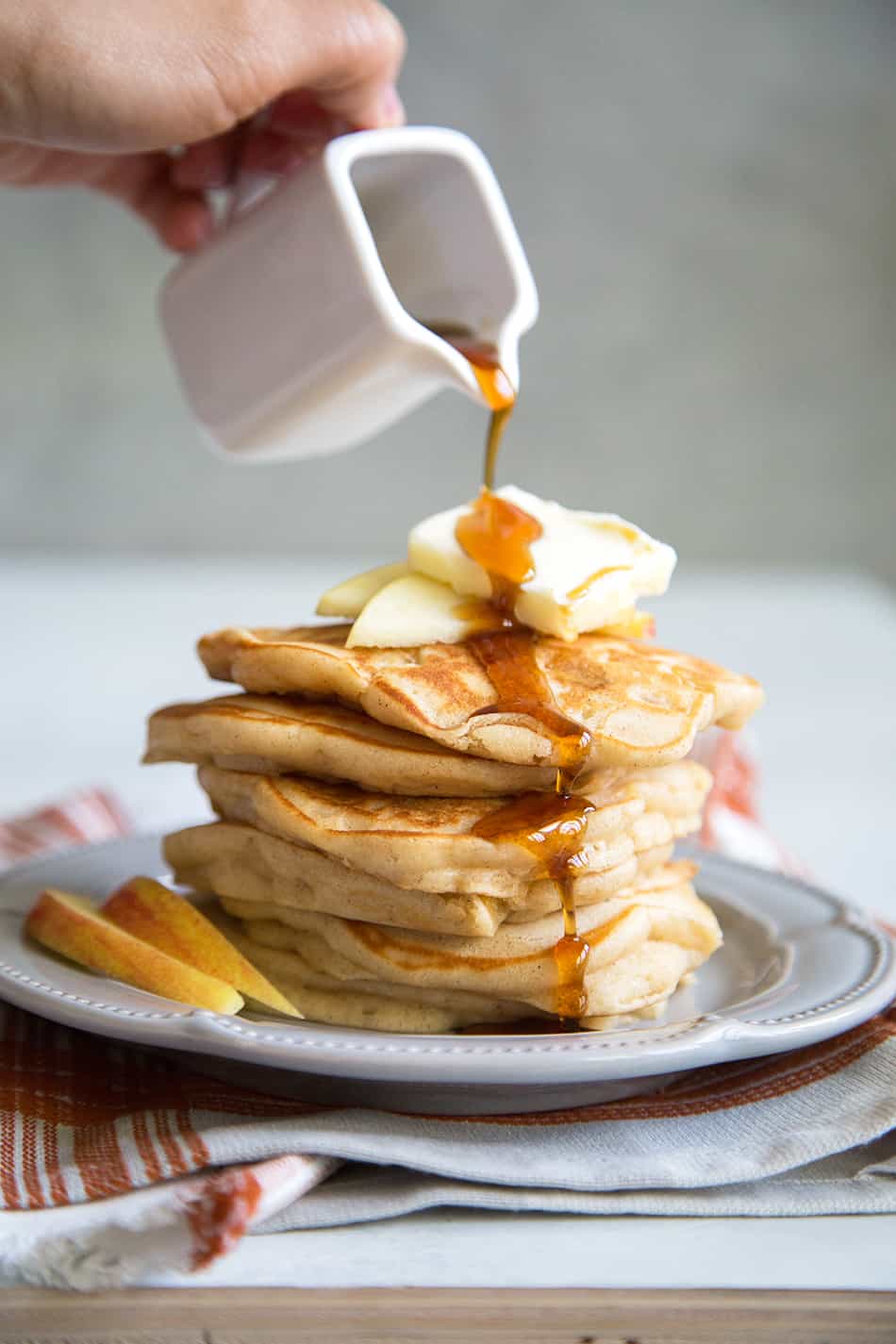 I didn't eat pancakes very much growing up. Our typical weekend breakfasts consisted of garlic fried rice, eggs, and some sort of meat (tapa, longganisa, tocino).
I loved (and still LOVE) Filipino breakfasts, but as a child, I wanted to be like the kids in the commercials with that ate cereal and milk, Pop Tarts, and Ego waffles.
It would take a lot of convincing, but every now and then, my parents would let me buy those "shake and pour" pancake mixes.
Cinnamon Apple Pancakes
Little did I know how easy it was to make pancake batter from scratch. Nowadays, pancakes and waffles are something I enjoy on the regular.
As soon as autumn rolls around, pancakes become a weekend staple. First up, these cinnamon apple pancakes.
(And as it gets closer to the holidays, it's time for gingerbread pancakes and eggnog pancakes!)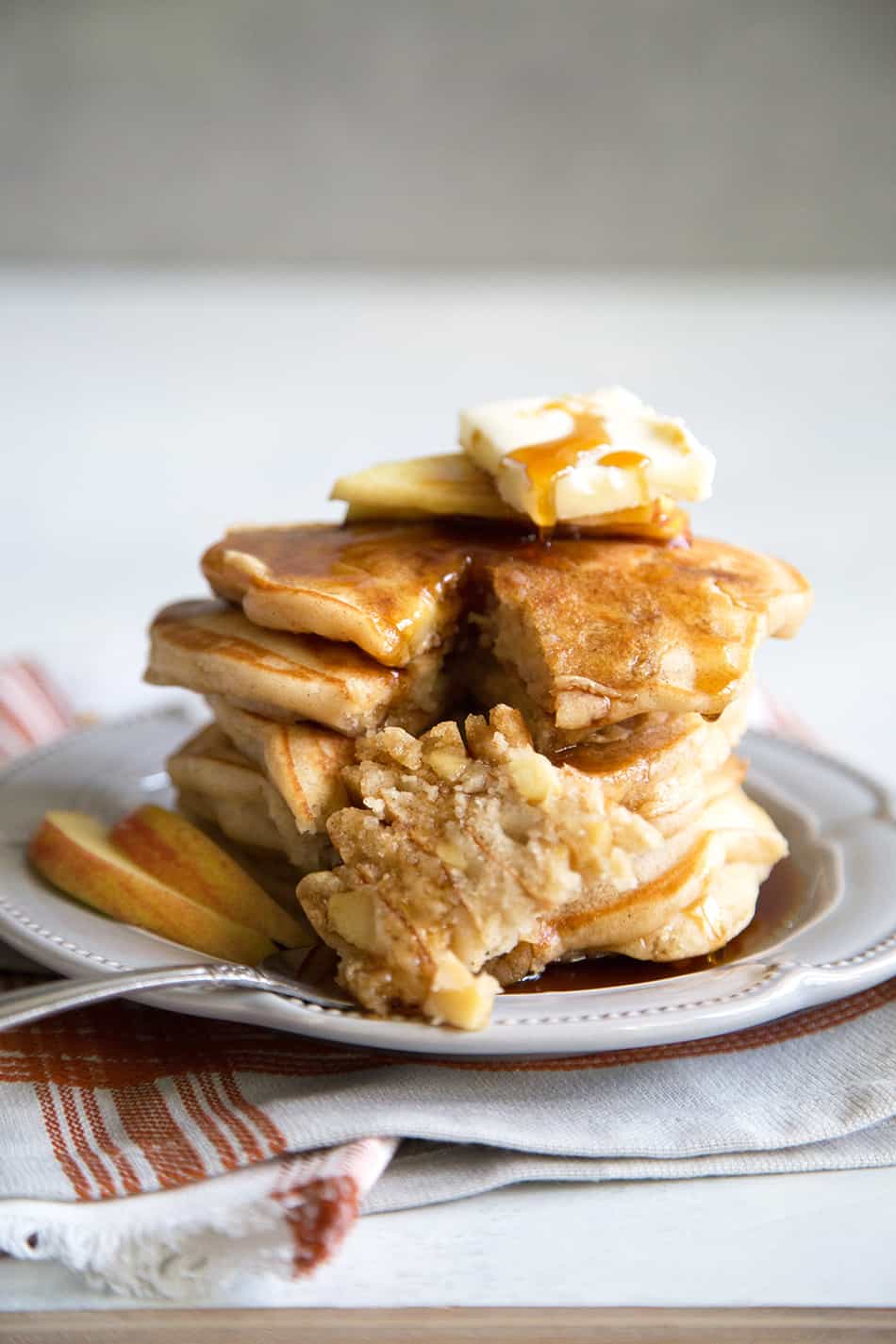 While I love going out for breakfast, it's just so much easier to make it at home. The handful of breakfast spots in Pasadena are ALWAYS packed on the weekends.
I can't bare to wait more than half an hour for a table when I'm hangry in the morning. In the same amount of time it takes to wait for a table and order, I can have these pancakes prepared and EATEN!
This recipe uses a standard pancake batter. It's the cinnamon apple mixture that's folded into the batter before cooking that makes this pancakes so delicious!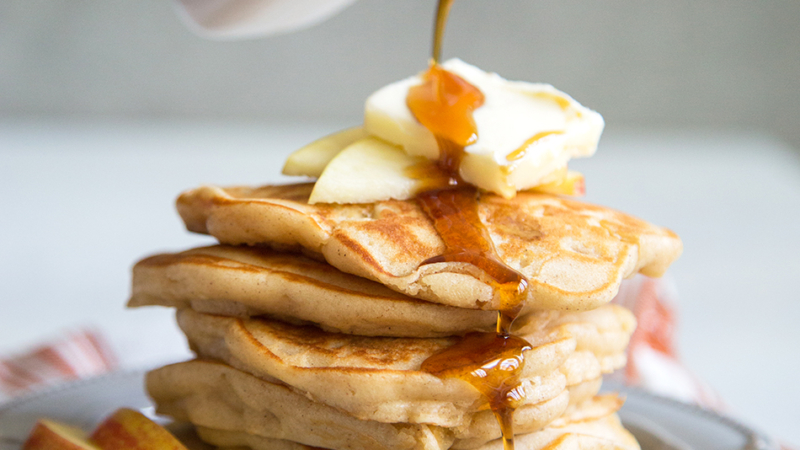 Cinnamon Apple Pancakes
Yield: ten 4-inch pancakes
Ingredients
Cinnamon Apple:
2

Tablespoons

unsalted butter

3

Tablespoons

brown sugar, packed

1 ¼

cup

chopped apple (1 medium apple, peeled, cored)

½

teaspoon

ground cinnamon

pinch fine sea salt

1 ½

teaspoon

lemon juice
Pancake Batter:
1 ½

cups

all-purpose flour

2

teaspoon

baking powder

½

teaspoon

fine sea salt

1

Tablespoon

granulated sugar

1

cup

whole milk

1

large egg

2

Tablespoons

melted unsalted butter

cinnamon apple mixture
Instructions
Cinnamon Apple:
In a heavy bottomed sauce pot, melt butter over medium heat. Add brown sugar and continue to cook until sugar dissolved. Add chopped apple, cinnamon, salt, and lemon juice. Stir to combine. Cook for 3-5 minutes until apples have softened. Remove from heat and allow to cool.
Pancake:
In a medium bowl, whisk together flour, baking powder, salt, and sugar. Pour in milk, egg, and melted butter. Stir to combine and mix until almost smooth. Fold in cinnamon apple mixture.

Lightly grease a griddle or skillet with butter and set over medium heat. Once griddle (or skillet) is warm, pour in ¼ cup portions of batter. Cook until bubbles begin to form on surface. Flip pancake with spatula and cook other side until lightly browned. Repeat with remaining batter. Adjust heat accordingly if pancakes are browning too fast.

Serve pancakes warm with maple syrup and a few apple slices, to garnish.
All images and text ©The Little Epicurean