Spiced Whiskey Cobbler: wintertime cocktail made with spiced whiskey, spiced simple syrup, and muddled orange.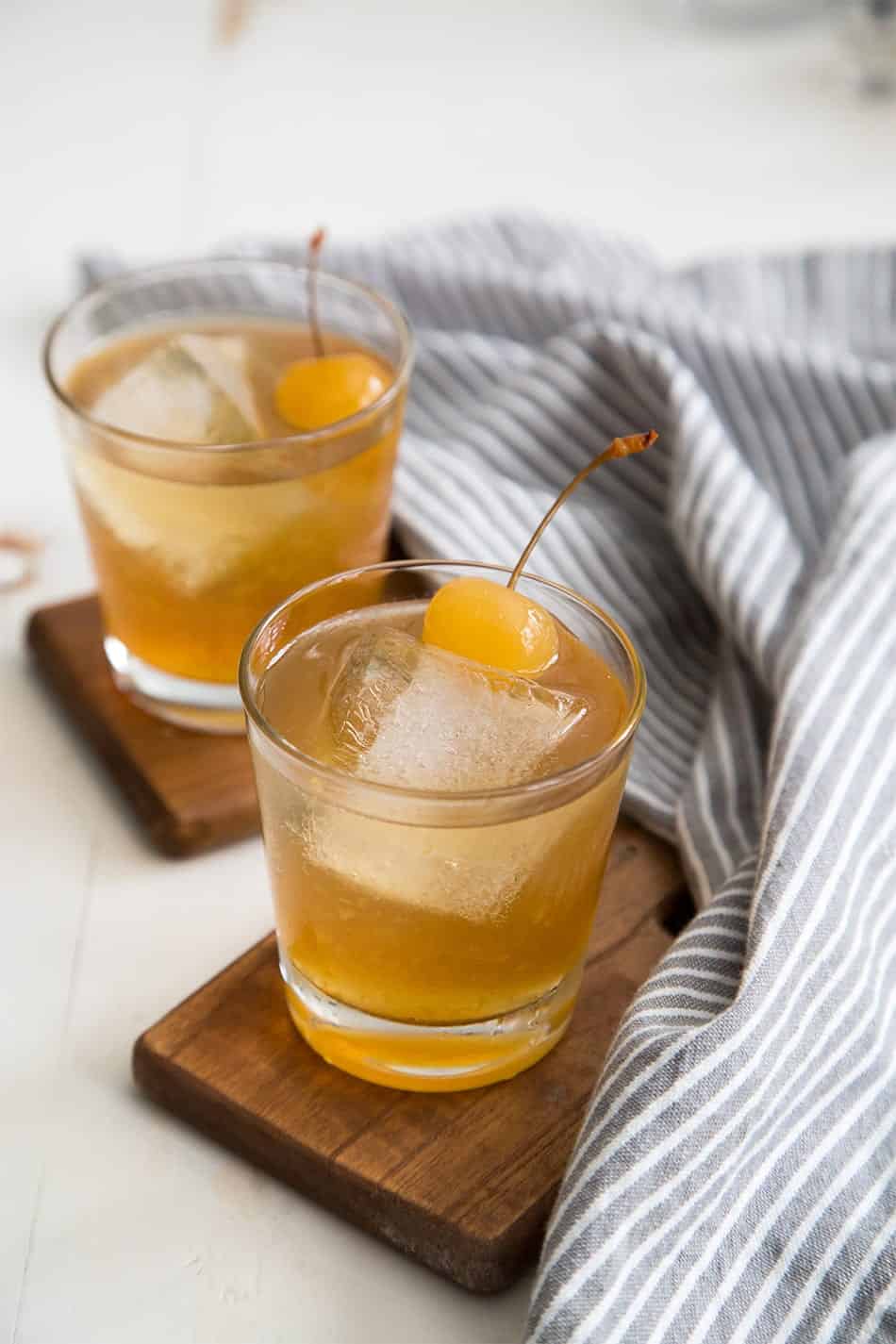 Can we talk about Gilmore Girls? Once all the turkey, stuffing, and desserts from our Thanksgiving feast was enjoyed, I spent the rest of the holiday weekend on the couch watching the four new episodes.
Immediately, after the last scene of the last episode, I was in dire need of a drink.
I wasn't shocked by those (now famous) last four words, I was more sad that I had burned through the episodes so quickly. I'm battling post-Gilmore Girls blues by rewatching the previous 7 seasons with Alex. (And believe it or now, he's enjoying it!)
I'm super fond of the show and all the characters. (I may be alone in this camp, but Emily is my favorite. That was further solidified by the reboot.)
Initially, I was drawn to the show because Rory was the same age/grade as me when it started in 2000. I ended up loving the show because of the fast dialogue, witty remarks, and all the pizza/pop tarts/takeout food/coffee.
Having lost my father last year, the first epsiode of the reboot (Winter) was a bit difficult for me to watch. Every time they mentioned Richard and the changes that come with dealing with a death of a family member, I needed a tissue or two.
I wish certain characters (Lane and Sookie) were given more screen time, but overall, I was pleased with the story. I had enough closure.
I won't be too upset if they don't bring it back for second season.
Spiced Whiskey Cobbler
Enough TV talk and back to that drink that I happily enjoyed after the show: spiced whiskey cobbler.
Traditionally, a cobbler is a cocktail that consists of brandy or whiskey mixed with simple syrup and a fruit of choice to muddle. Think strawberries during springtime, peaches during the warm summer months, and oranges for all seasons.
For this cocktail, I steeped spices and orange peel in whiskey for a few days to make my own "spiced whiskey blend." It's spicy, rich, and super aromatic.
Along with that, I made a spiced simple syrup using cinnamon and cloves.
(It's a good idea to a make a double batch of the spiced simple syrup so you have extra to use with your coffee and tea!)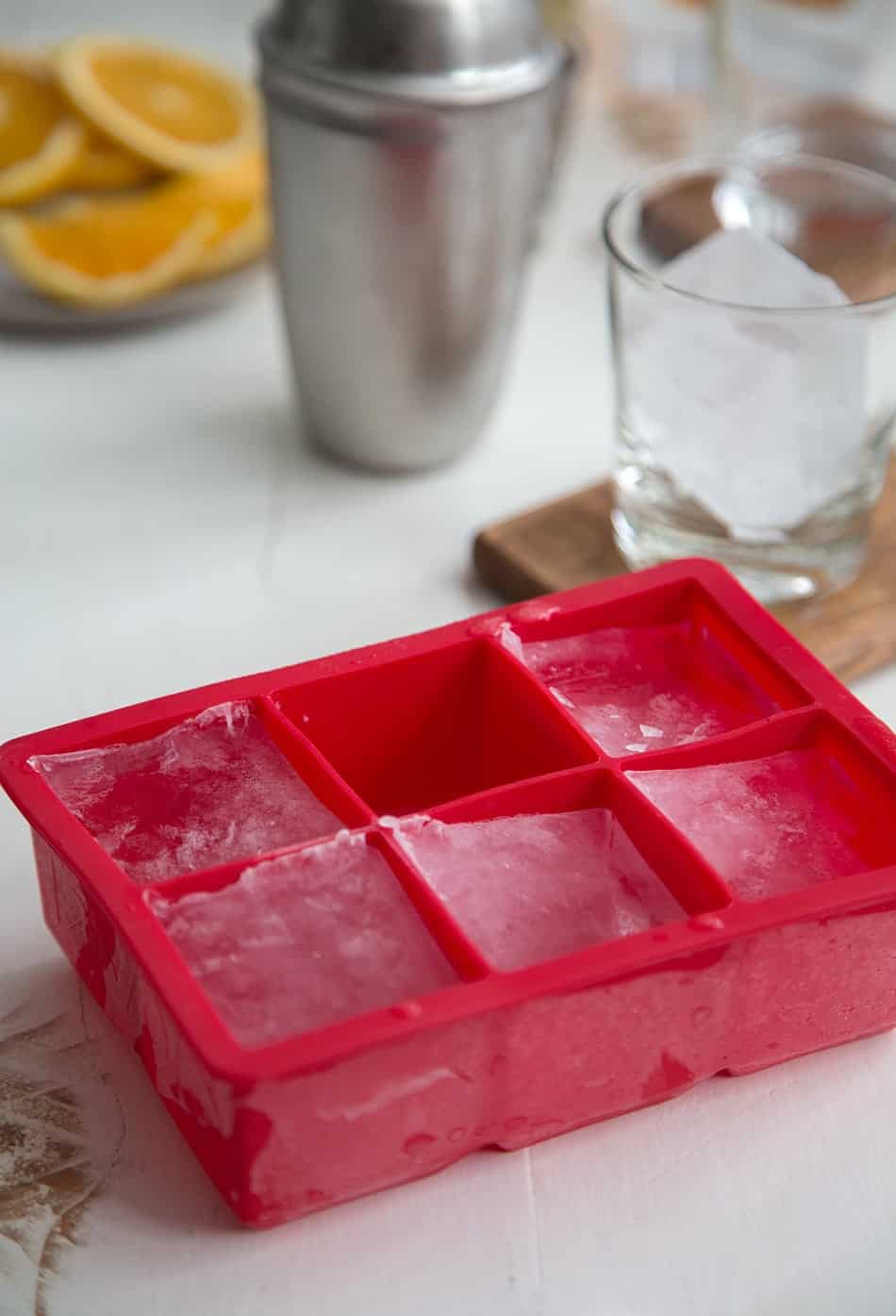 This is a well balanced cocktail that shouldn't be diluted with ice.
It's best to use giant ice cubs that melt slowly. This ice cube tray is one of my favorites.)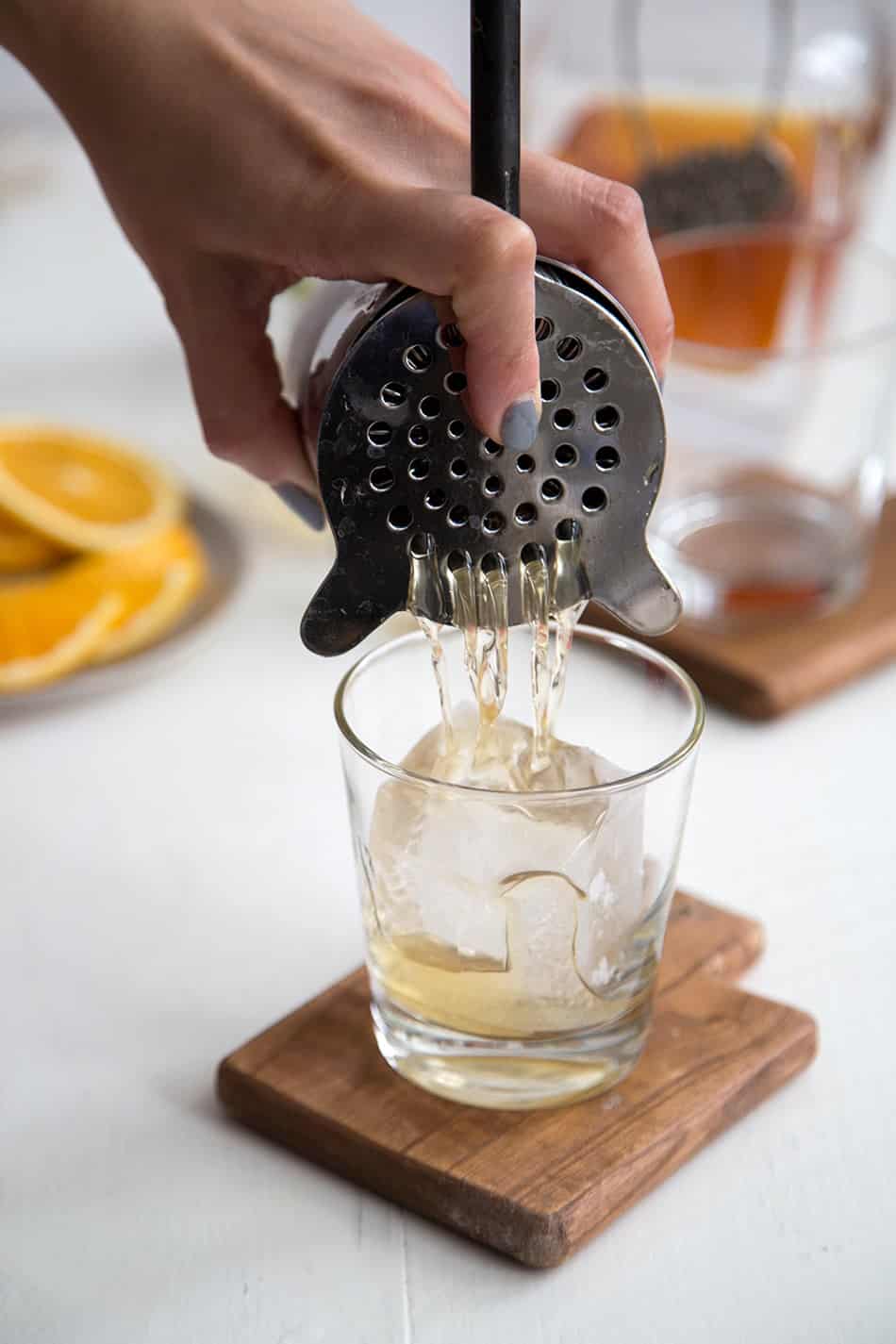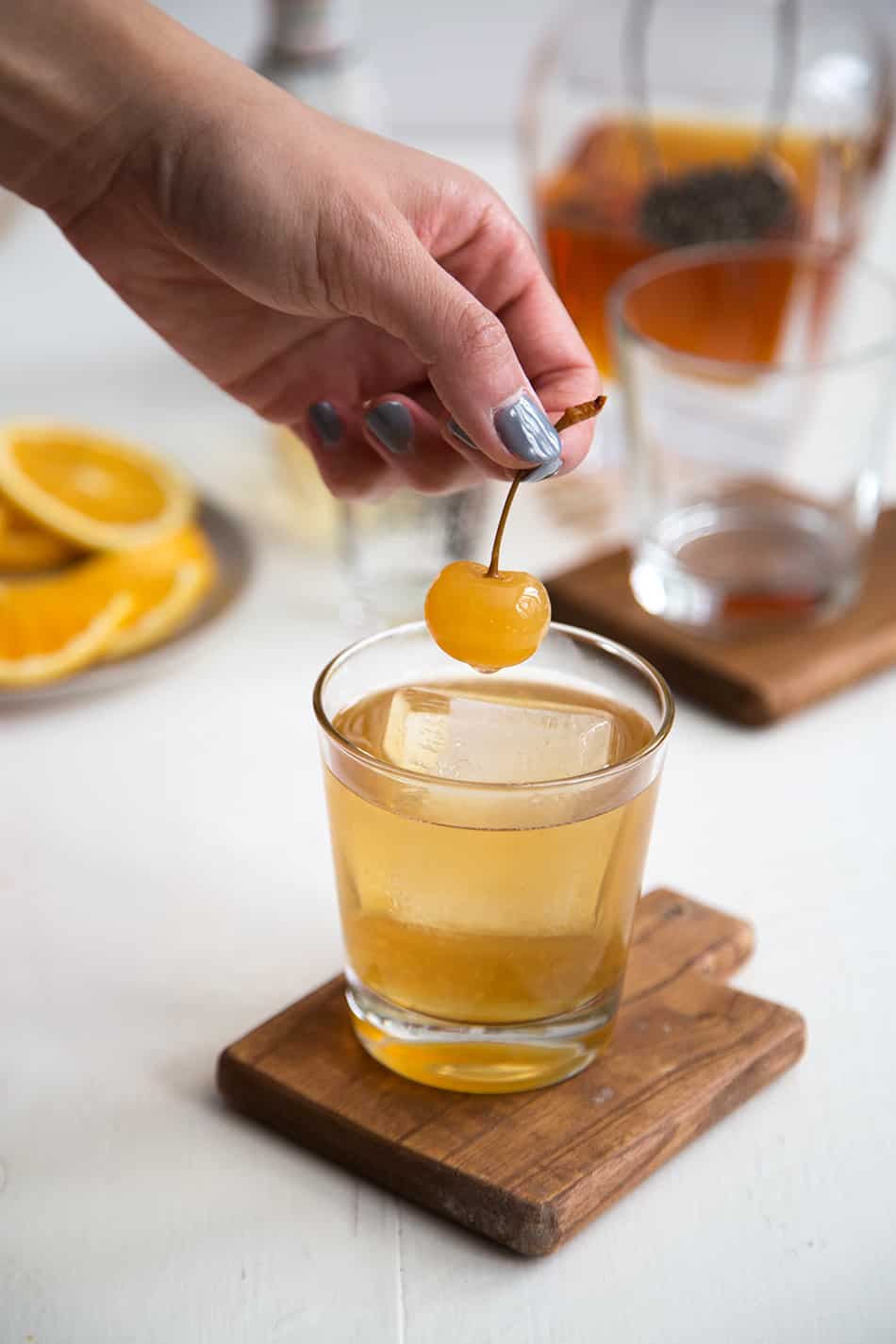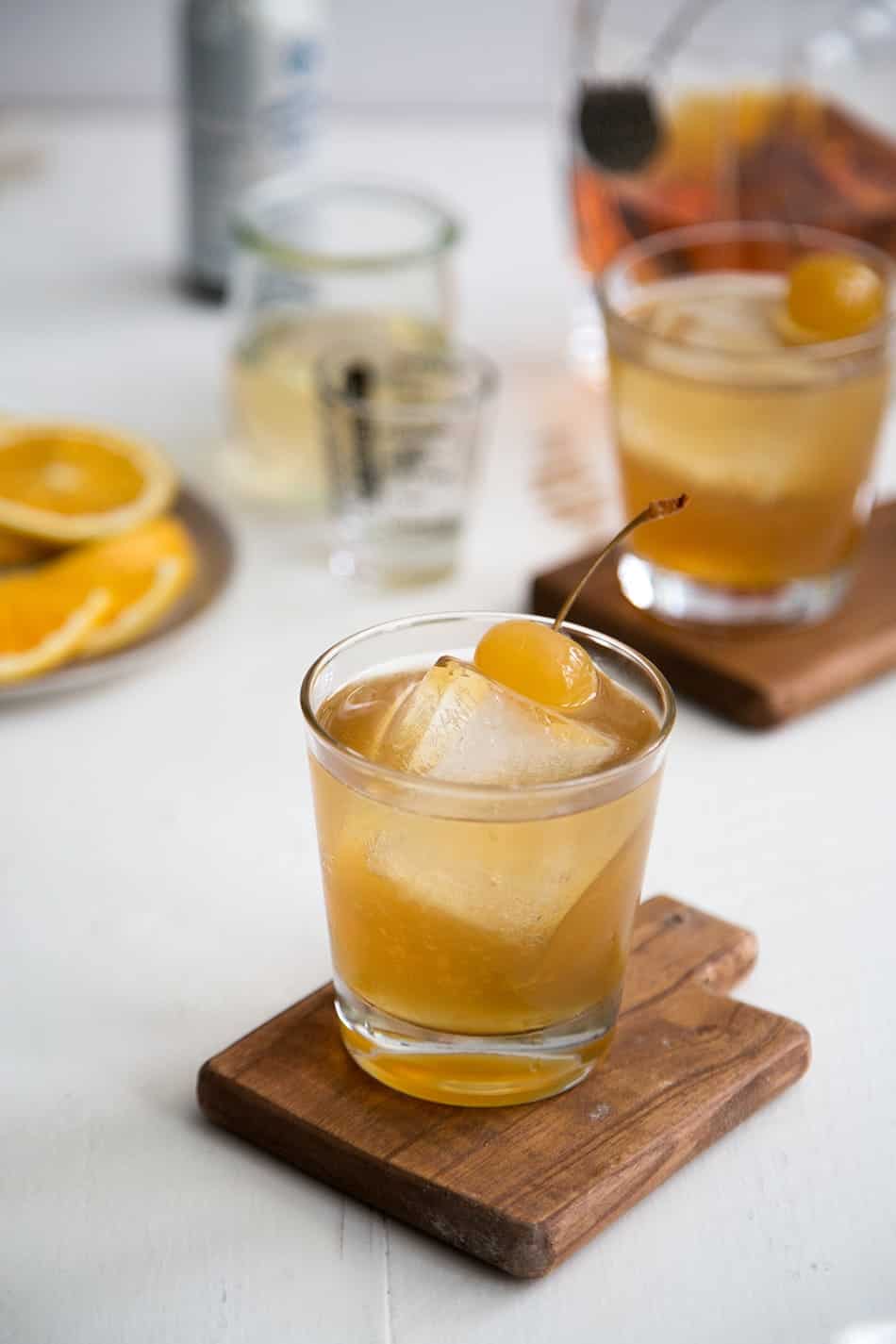 Sweet, smooth, and festively fragrant, this spiced whiskey cobbler is a fun beverage to enjoy all season long.
It's easy to make a large batch to serve as punch for a party. It's strong enough to satisfy traditional cocktail purists, yet sweet enough that your mom might enjoy a sip.
Cheers!
Spiced Whiskey Cobbler Cocktail
Yield: makes 1, multiply as needed
Ingredients
1

orange slice

1

oz

spiced simple syrup

(recipe follows)

dash of angostura bitters

3

oz

whiskey/bourbon of choice,

or homemade spiced whiskey (recipe follows)

orange slices and cherries,

to garnish
Spiced Simple Syrup:
1/2

cup

water

1

cup

granulated sugar

3-inch orange peel

1

medium cinnamon stick

2

whole cloves
Homemade Spiced Whiskey*:
1

cup

whiskey

2

medium cinnamon sticks

4

whole cloves

2

allspice berries

3-inch orange peel
Instructions
In a cocktail shaker, muddle together orange slice, spiced simple syrup, and dash of bitters. Add whiskey and a handful of ice. Cover and shake until drink is chilled. Strain cocktail into a serving glass with one giant ice cube. Garnish cocktail with orange slice and cherry.
To make spiced simple syrup:
Bring water, sugar, orange peel, cinnamon stick, and cloves to a boil. Remove from heat and cover pot. Allow spices to steep for 45-60 minutes. Strain out orange peel and spices. Store in an airtight container in the fridge until ready to use. Keeps in the fridge for 2 weeks.
To make spiced whiskey:
Combine whiskey, cinnamon sticks, cloves, allspice berries, and orange peel in an airtight container. Keep at room temperature for 2 days to steep. Taste whiskey after 2 days, if it is not "spicy" enough to your liking, allow to steep for up to 4 days. Strain out spices and orange peel.
Notes
*Spiced Whiskey recipe makes one cup, multiply as needed to make a larger batch.
All images and text ©The Little Epicurean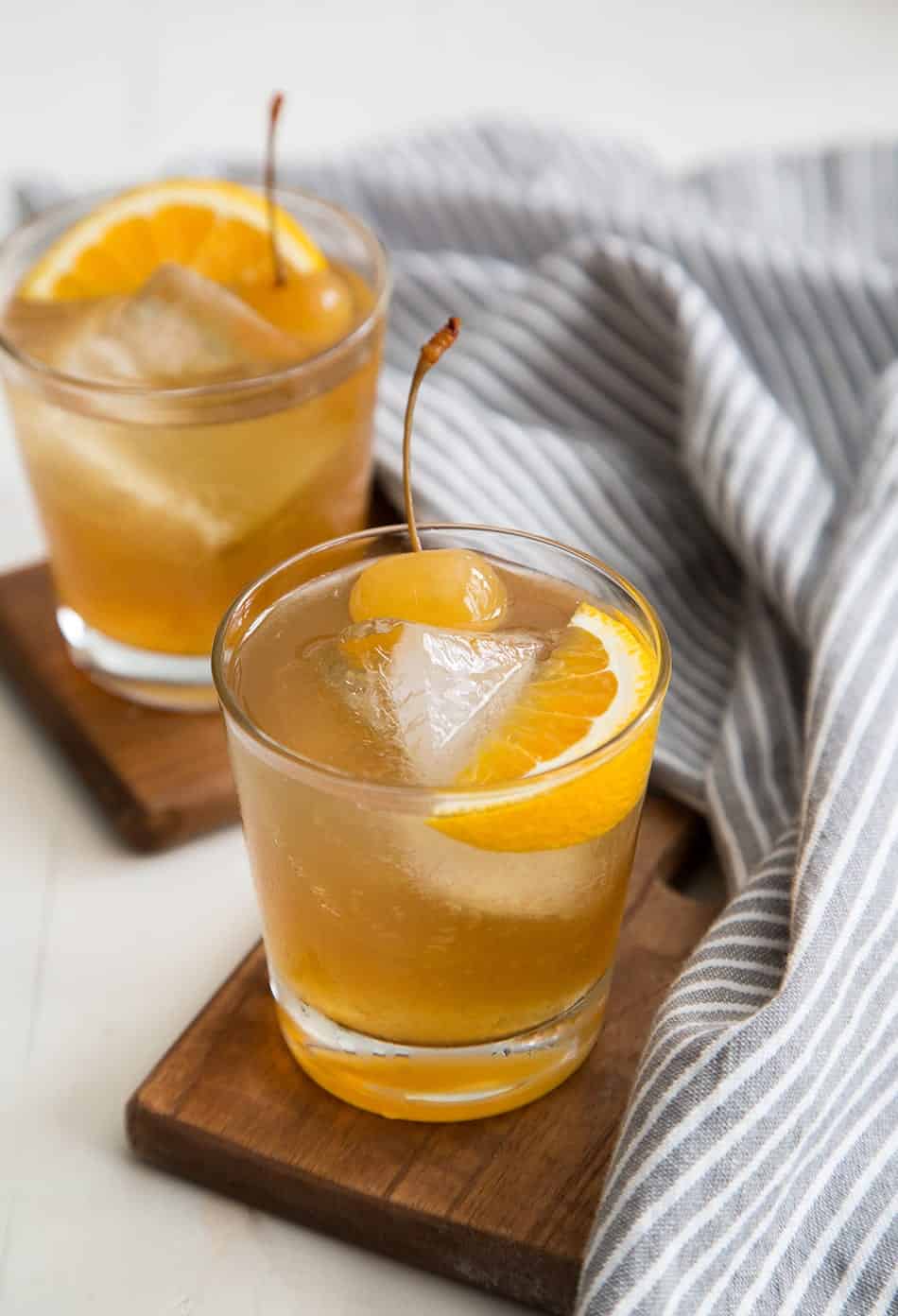 For more holiday cocktails, check out: