Baked Cayenne Chocolate Donuts are a sweet and spicy chocolate treat!
These baked chocolate donuts are dipped in melted dark chocolate and topped with a sprinkle of cinnamon and cayenne.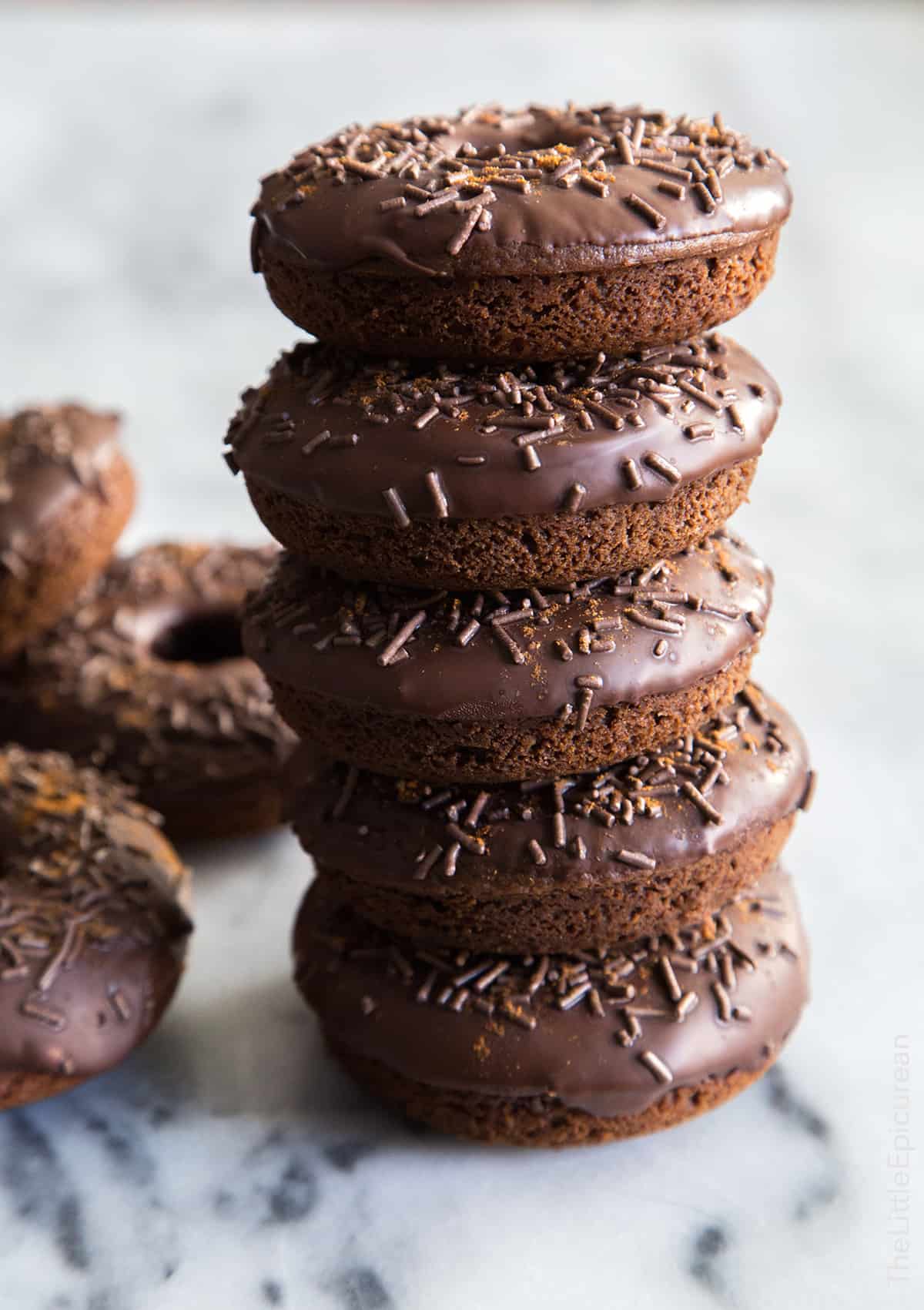 The day before Valentine's Day is Galentine's Day– a holiday created by Leslie Knope (Amy Poehler) of Parks and Recreations.
It's a day to celebrate the love for your friends. Parks and Rec is my FAVORITE show, so much so that I used a line from the show in my own wedding vows.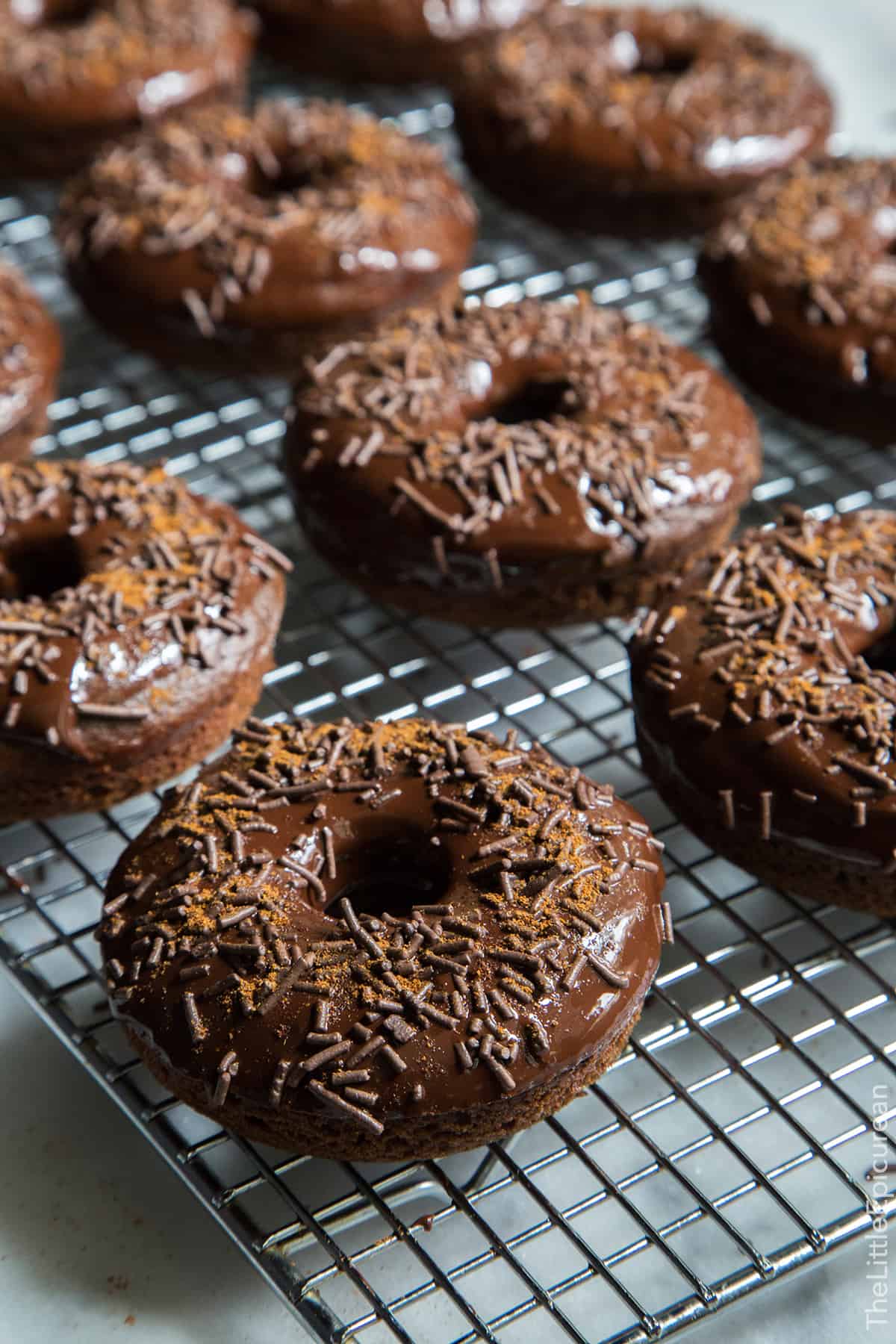 Baked Cayenne Chocolate Donuts
This recipe makes conveniently makes a baker's dozen.
Make a batch to give away to a loved one, and you get to keep one donut for yourself!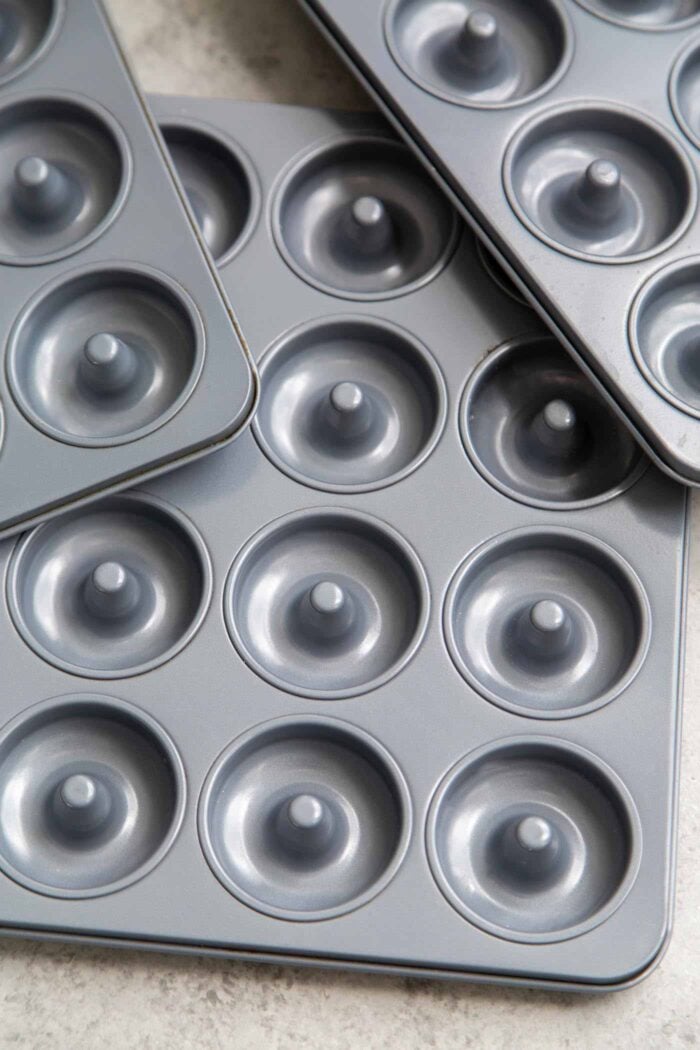 Nonstick Donut Pan
This recipe requires use of a nonstick donut pan.
There are a variety of different donut pans to choose from. Use:
Use a pipping bag fitted with a round tip to fill the donut pans 2/3 full.
Alternatively, use a spoon to fill the pans.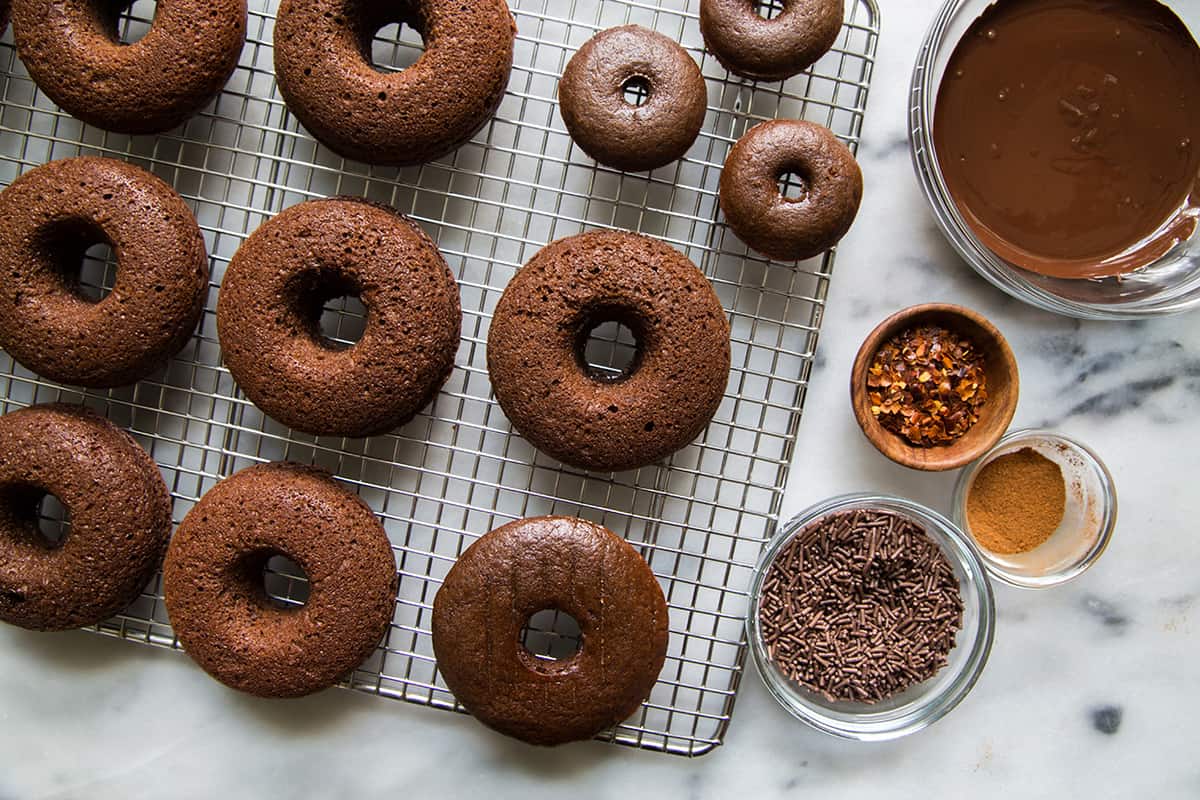 One Bowl Chocolate Batter
This is a one bowl chocolate batter that I'm absolutely smitten with.
It's adapted and inspired from these chocolate fudge cake doughnuts by King Arthur Flour.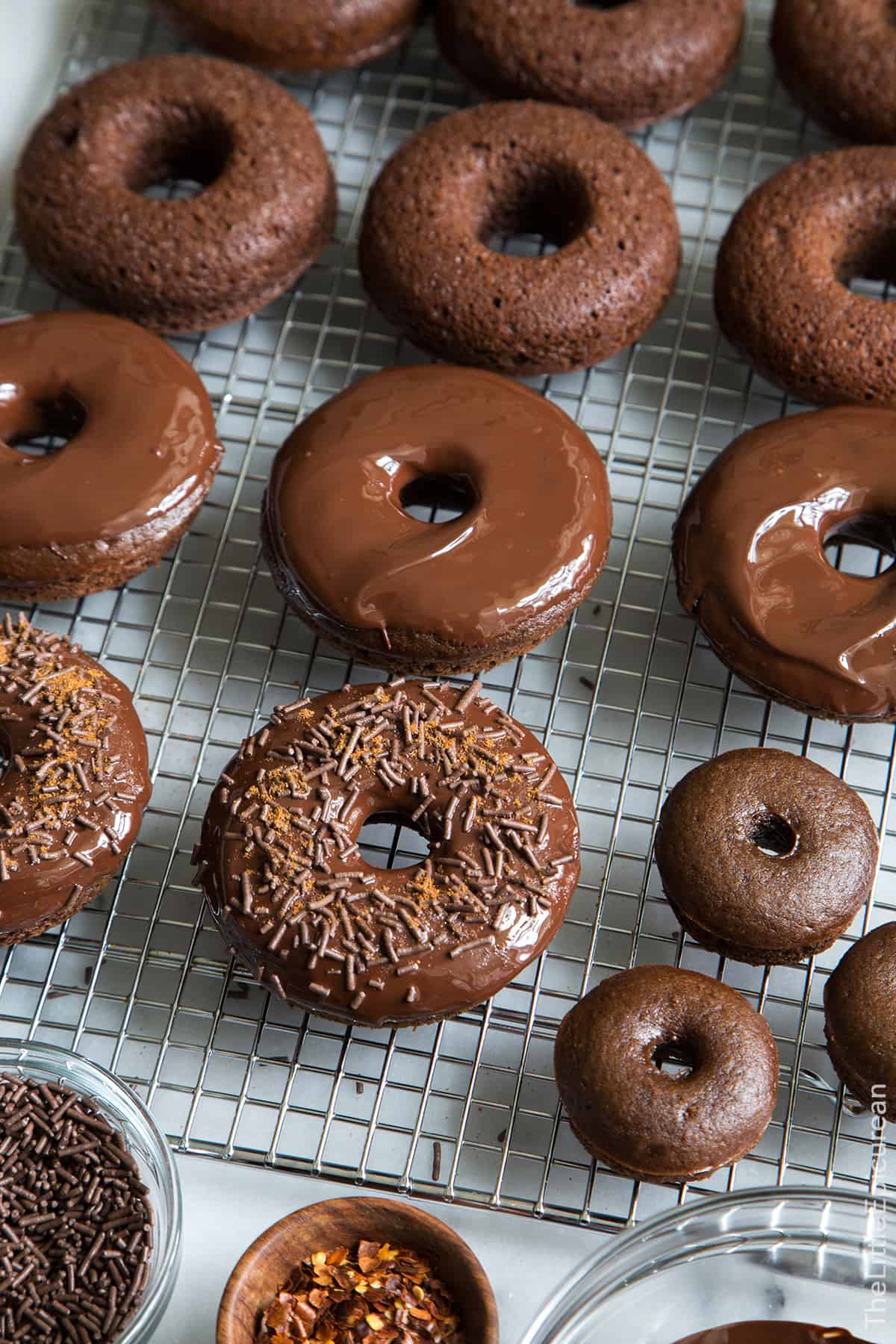 Spicy Chocolate Glaze
As Valentine's Day approaches, I've had more than my fill of chocolates.
I've opted to add some heat to chocolate to change it up!
One of my favorite donut shops in Los Angeles has a spicy chocolate doughnut. This is an ode to that!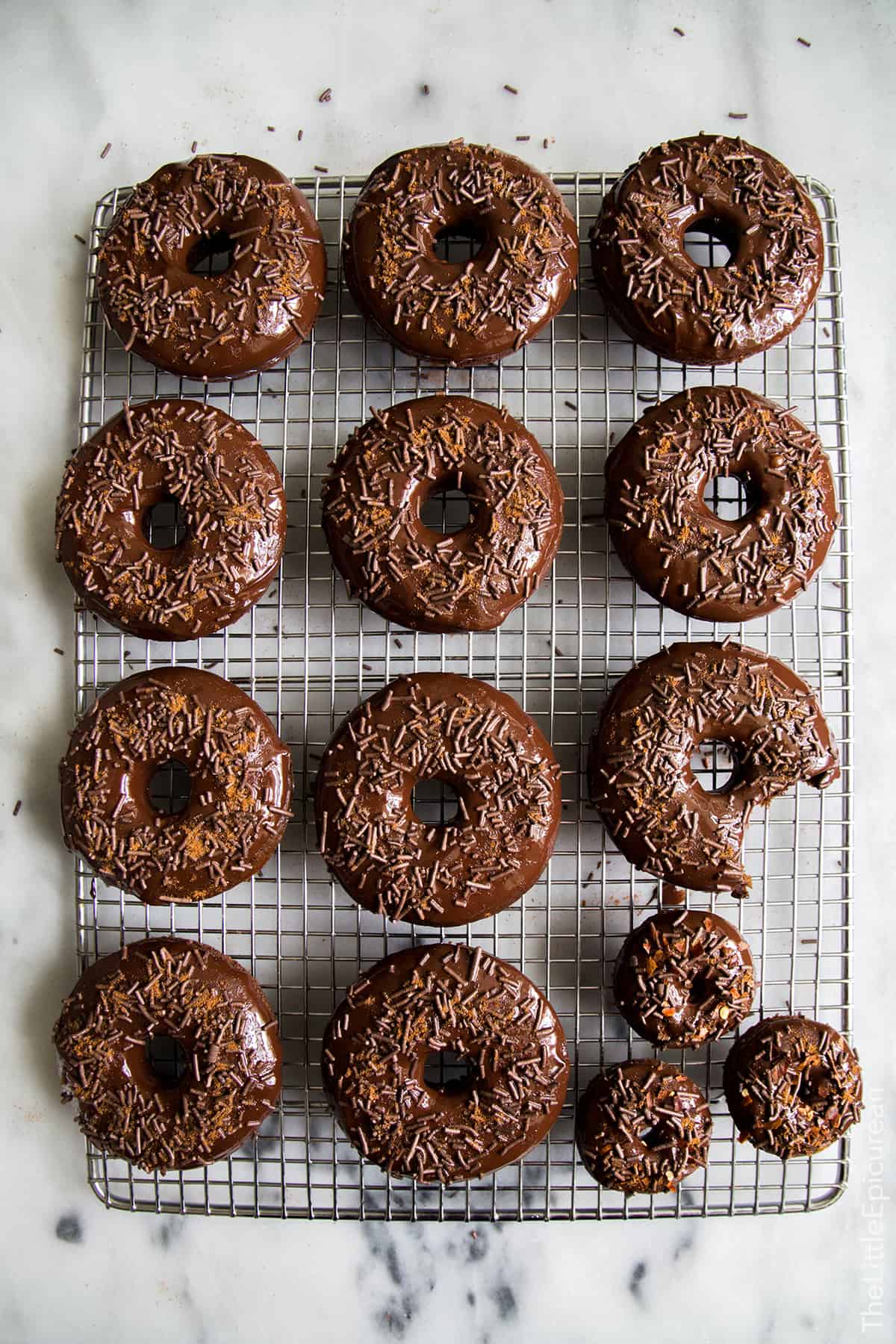 These cayenne chocolate donuts are super chocolatey, they leave a slight tingling sensation after eat bite, and they're crazy addicting.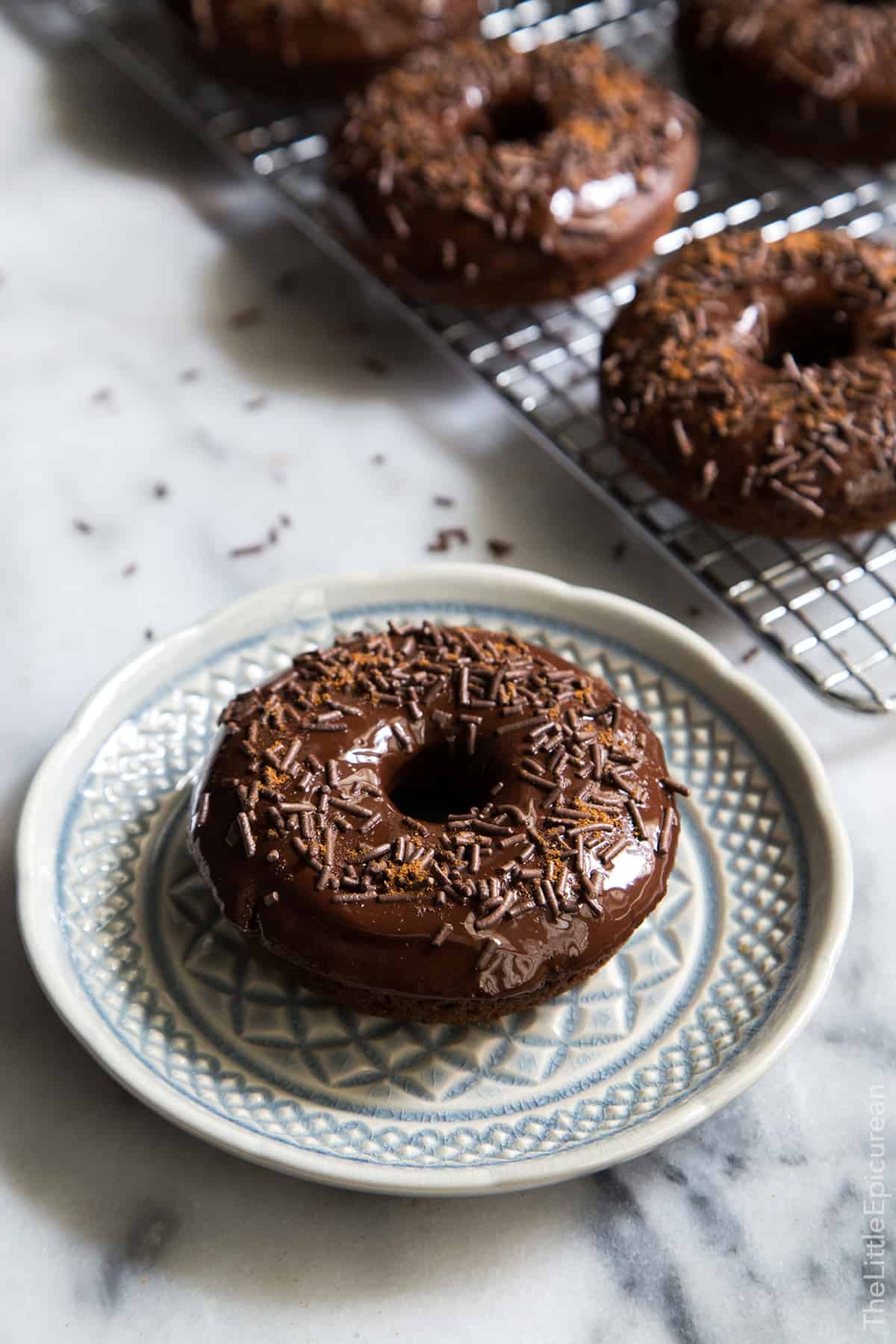 These baked donuts get better with time!
Fried donut are best eaten the day they're made.
These baked cayenne chocolate donuts are different.
They taste BETTER the following day.
Fresh from the oven, the donuts are super cake-like. They're moist and a bit fragile.
When you let them sit out overnight, the chocolate glaze sets the exposed cake slightly hardens mimicking the texture of a real fried cake donut. (!!!)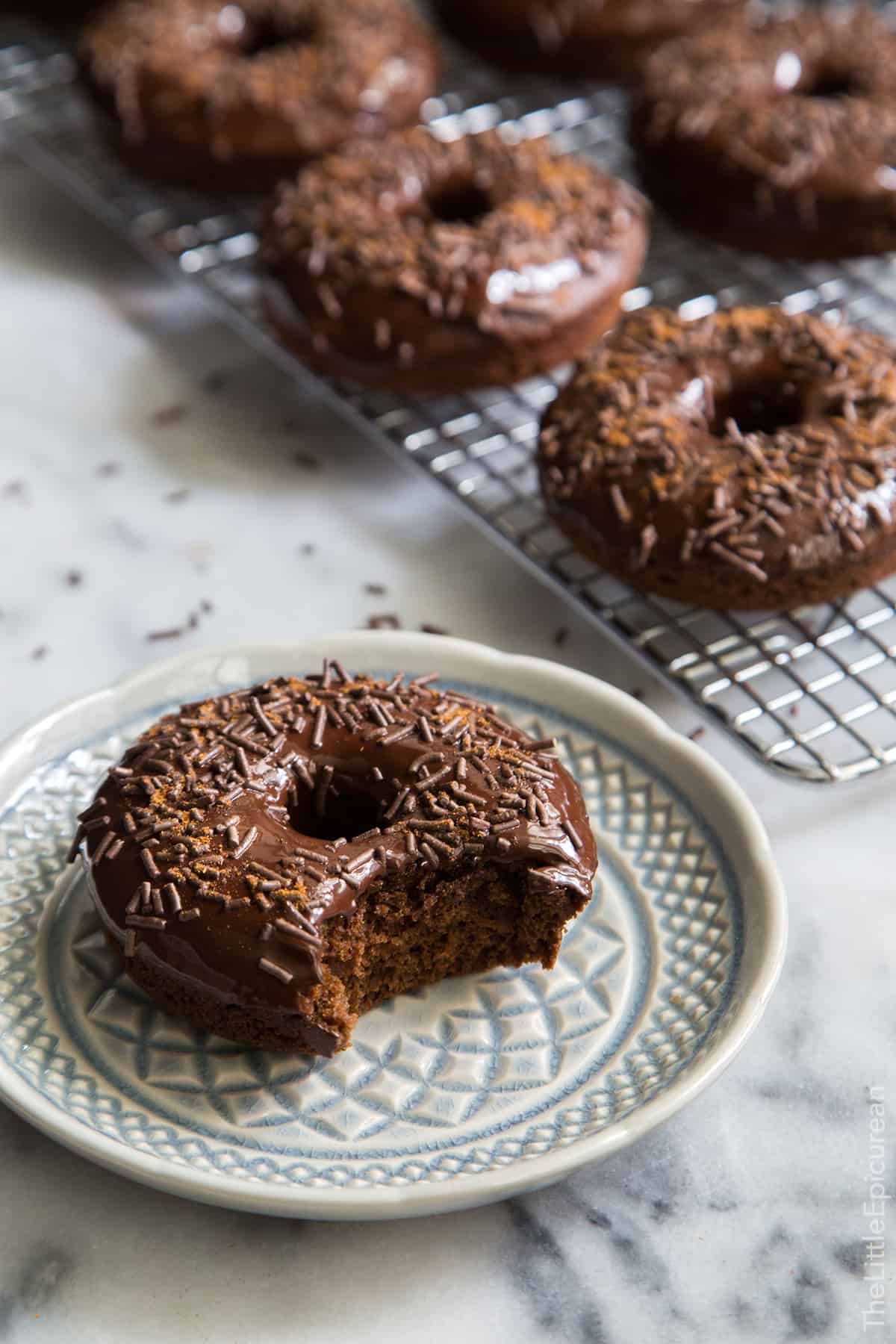 Craving more donuts? Here are a few more to check out (baked and fried versions!):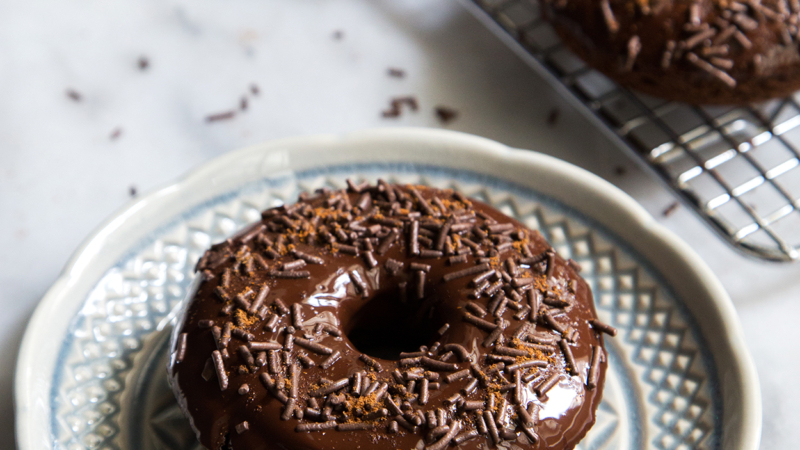 Baked Cayenne Chocolate Donuts
A sweet and spicy chocolate treat! These baked chocolate donuts are dipped in melted dark chocolate and topped with a sprinkle of cinnamon and cayenne.Yield: baker's dozen
Ingredients
Donuts:
2/3

cup

(50 grams) unsweetened cocoa powder

1 3/4

cup

(255 grams) all-purpose flour

1

cup

(213 grams) dark brown sugar, packed

1

teaspoon

cayenne powder

1

teaspoon

baking powder

1

teaspoon

baking soda

3/4

teasppon

fine sea salt

2

large eggs

1

teaspoon

pure vanilla extract

1

cup

low-fat buttermilk, room temp

1/3

cup

(35 grams) coconut oil, melted
Chocolate Glaze:
1

cup

(122 grams) dark chocolate, melted

1

teaspoon

coconut oil

chocolate jimmies, as needed

1/2

teaspoon

ground cinnamon

1/2

teaspoon

ground cayenne pepper

red pepper flakes, optional
Instructions
Preheat oven to 350 degrees F. Grease two standard 6-cavity donut pans. Set aside.

In a large bowl, sift cocoa powder. Add all-purpose flour, brown sugar, cayenne, baking powder, baking soda, and salt. Whisk together. Make a well in the center of the dry ingredients.

Add eggs and vanilla extract. Use a sturdy spatula to mix eggs into batter. Add buttermilk and melted coconut oil. Stir until incorporated and batter is smooth. Batter will be thick.

Transfer batter to a piping bag fitted with a large round pipping tip. Pipe batter into prepared donut pans, filling cavities 2/3 full. Alternatively, use a spoon to fill donut pan.

Bake for 18-20 minutes until donuts have puffed up and a toothpick inserted in donuts comes out clean. Allow to cool in pan for 3 minutes. Invert donut pan to release donuts. If donuts are sticking to pan, tap edge of donut pan against a sturdy surface to release donuts. Allow donuts to cool on wire rack before dipping in chocolate.

Glaze and Assembly:
In a small pinch bowl, whisk together cinnamon and cayenne. Set aside.

Gently melted chopped chocolate and coconut oil in a double boiler set over simmering water. Remove from heat. Dip the smooth side of donut (the side exposed during baking), into the melted chocolate. Place on a wire rack and immediately drizzle chocolate jimmies on top. Dust cinnamon-cayenne mixture on top.


Serve once assembled or wait for chocolate glaze to set. These donuts taste better the day after baking and glazing. (See Notes)

Notes
These donuts actually taste better the day after baking. Immediately after baking, the donuts will be more cake-light, soft and fragile. After dipping and topping the donuts, allow them to sit out overnight at room temperature. The chocolate topping will set and the exposed donut part will slightly harden mimicking the "fried" donut exterior texture. To achieve this, allow the donuts to sit overnight exposed. On second day, transfer any remaining donuts to an airtight container. Donuts keep well for 4 days.
Special Equipment:
ADAPTED FROM KING ARTHUR FLOUR 

CHOCOLATE FUDGE CAKE DOUGHNUTS
All images and text ©The Little Epicurean