A birthday classic: three layers of yellow cake frosted with chocolate buttercream and topped with rainbow sprinkles.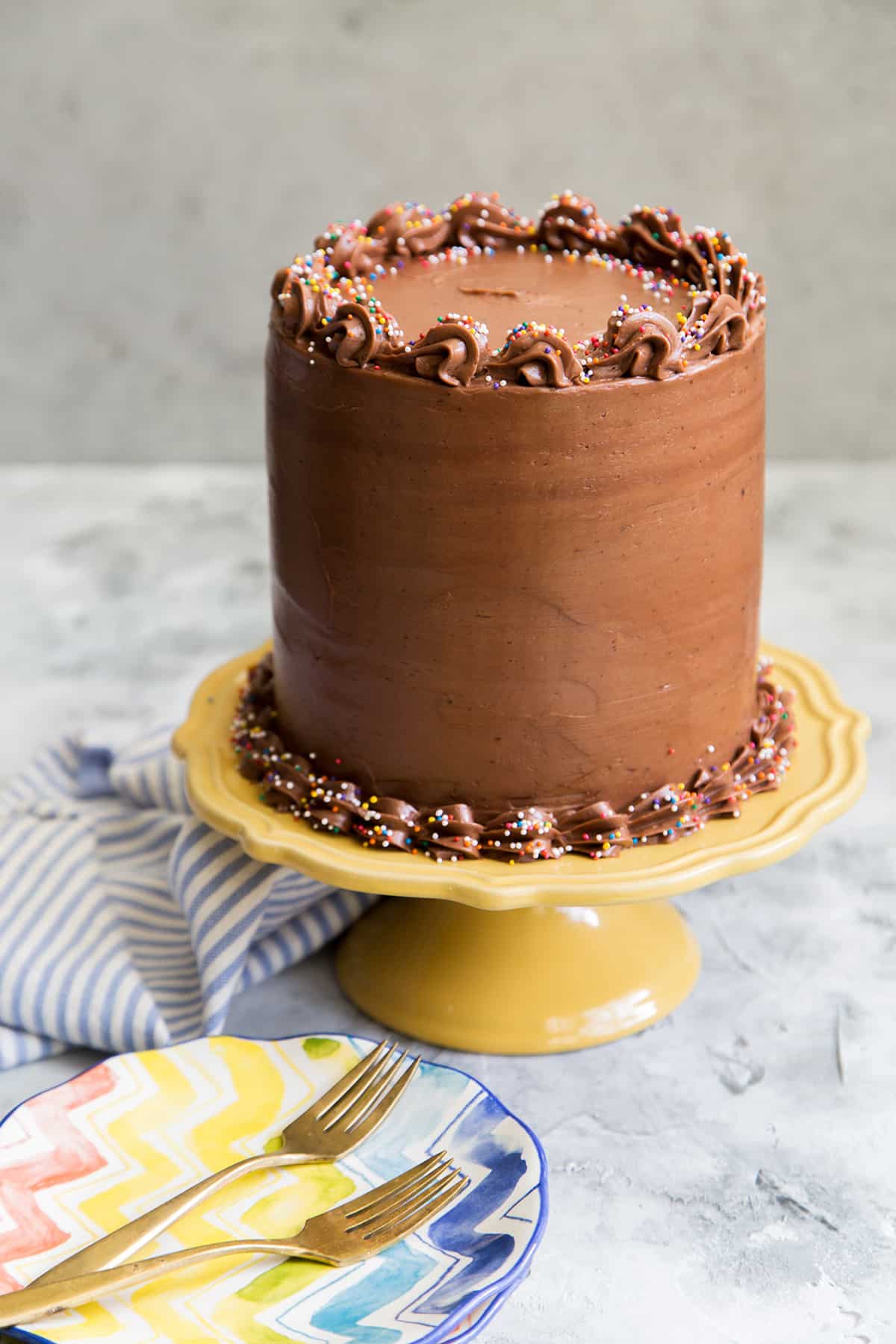 I'm on the hunt for the perfect birthday cake. Alex has a BIG birthday coming up this summer. He's turning 30! On my eve of my 30th birthday, he proposed to me at Walt Disney World. Now, I feel compelled to do something over the top for him. Ideally I would love to plan an out of town adventure. Because of our conflicting schedules traveling together isn't plausible this summer. Perhaps, I should present him with three different cakes to celebrate three decades of life? YES. That's what I'm going to do.
When it comes to cakes, Alex will eat them all. However, his top three favorite cake flavors are chocolate yellow cake, chocolate peanut butter, and everything coconut. This chocolate cake with peanut butter frosting I used to make his Dodgers Baseball Cap Cake a few years ago is my go-to chocolate pb recipe. This coconut cake is a family favorite. But when it comes to chocolate yellow cake…I have yet to find the one.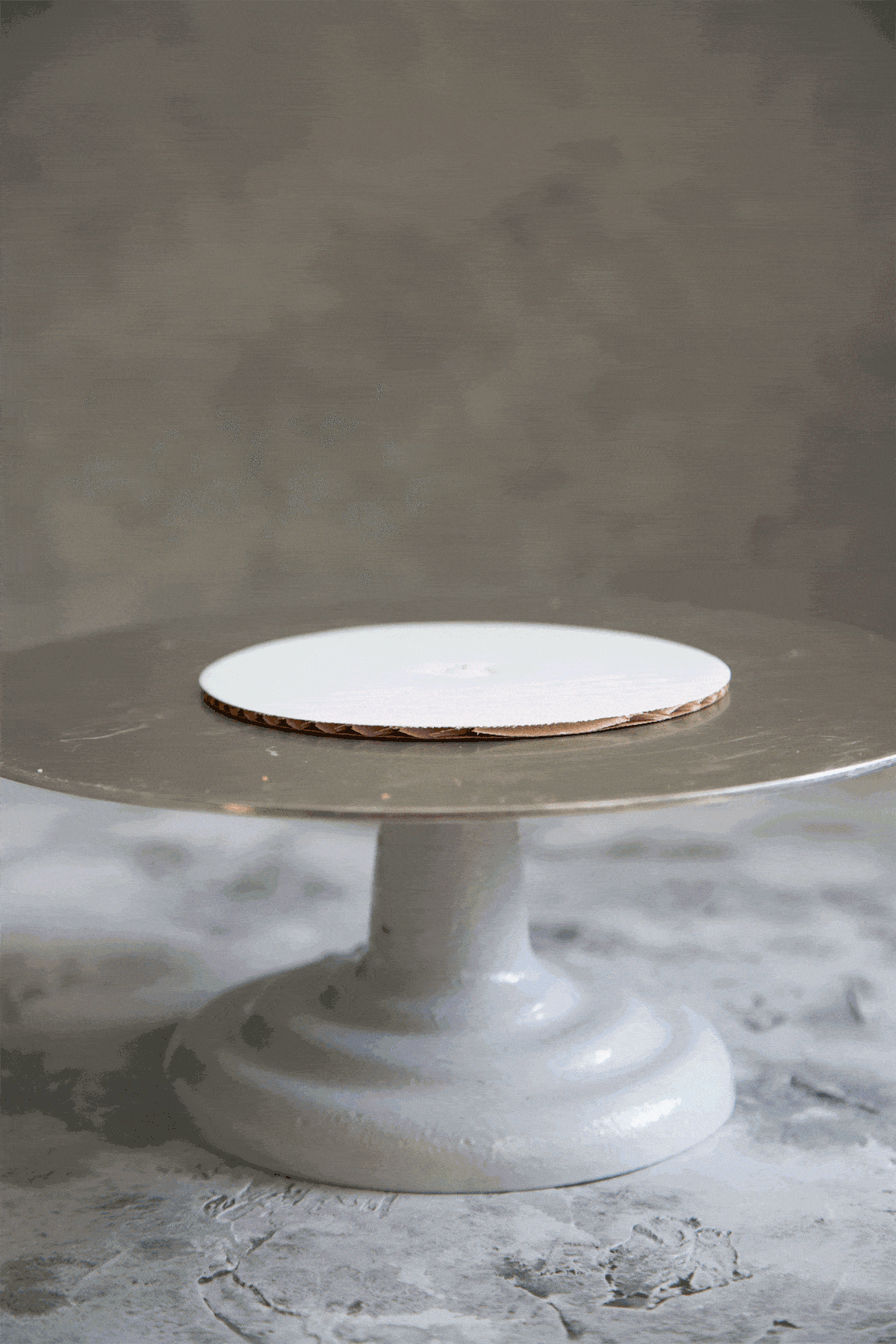 This is attempt number one at the classic yellow cake with chocolate Swiss buttercream. Over the next few months, I'll be experimenting with different yellow cake recipes and various chocolate buttercream frostings until I find the best one!
Since I'm a fan of tall cakes, this one is a three layered 6-inch cake. You can use the recipe to make a two layered 8 or 9-inch cake as well. While yellow cakes are usually frosted with a simple American buttercream (butter, powdered sugar, melted chocolate and/or cocoa powder), for this version I opted for a silkier and lighter Swiss buttercream (egg whites, granulated sugar, butter, melted chocolate).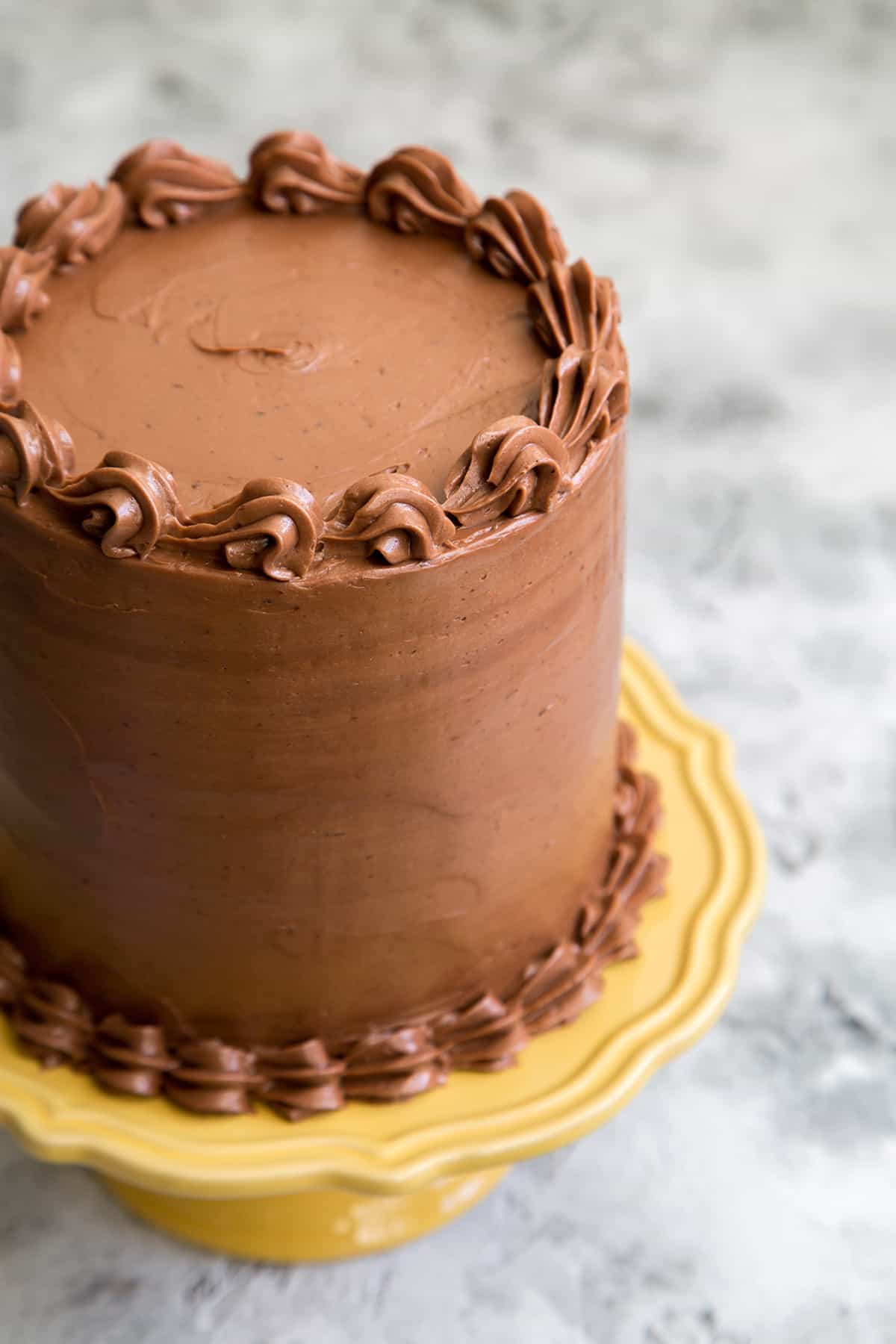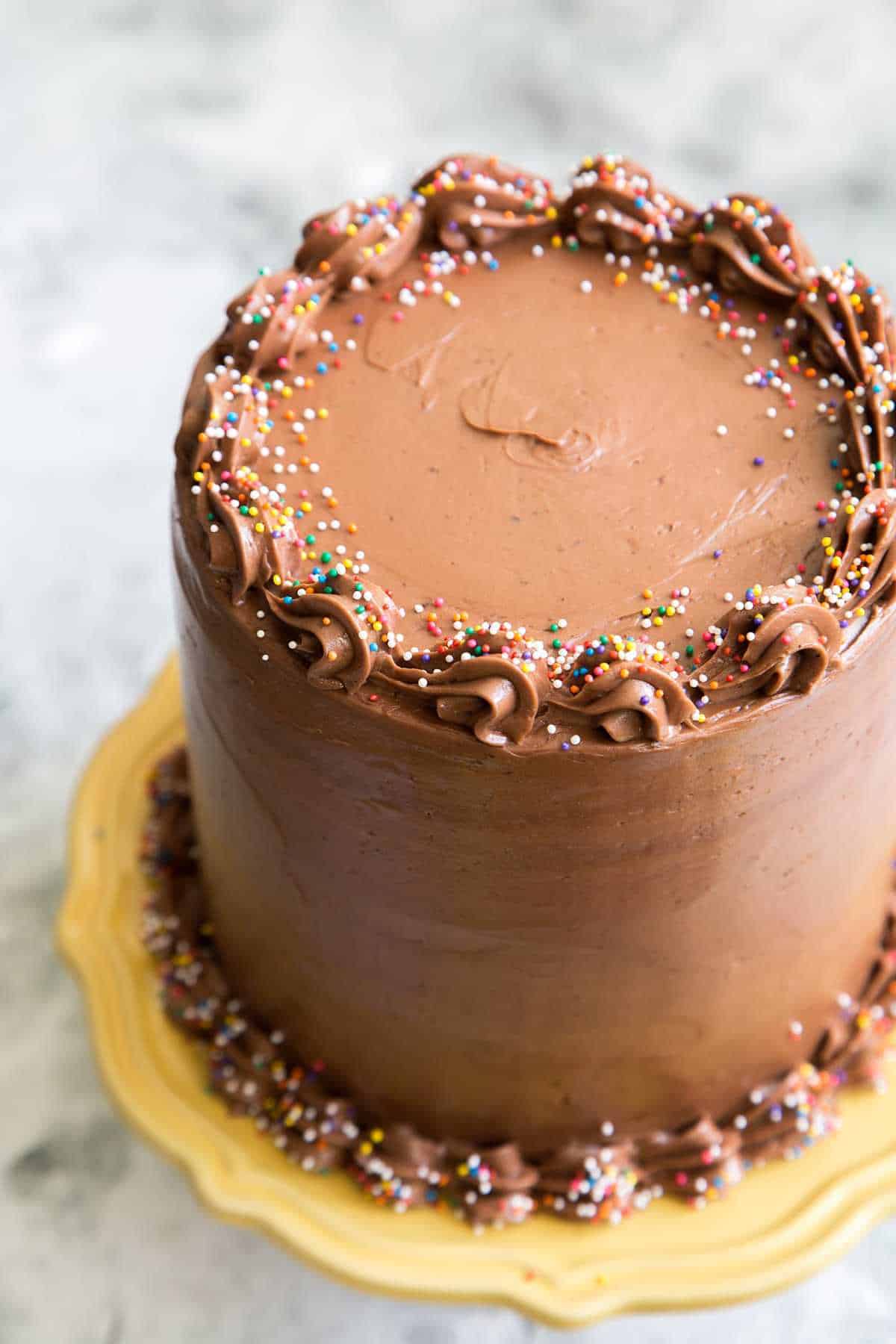 This yellow cake is moist and flavorful. It's a sturdy cake that would be the perfect kind of cake layers to use for a fondant covered cake or a sculpted cake because it's structure holds up very well.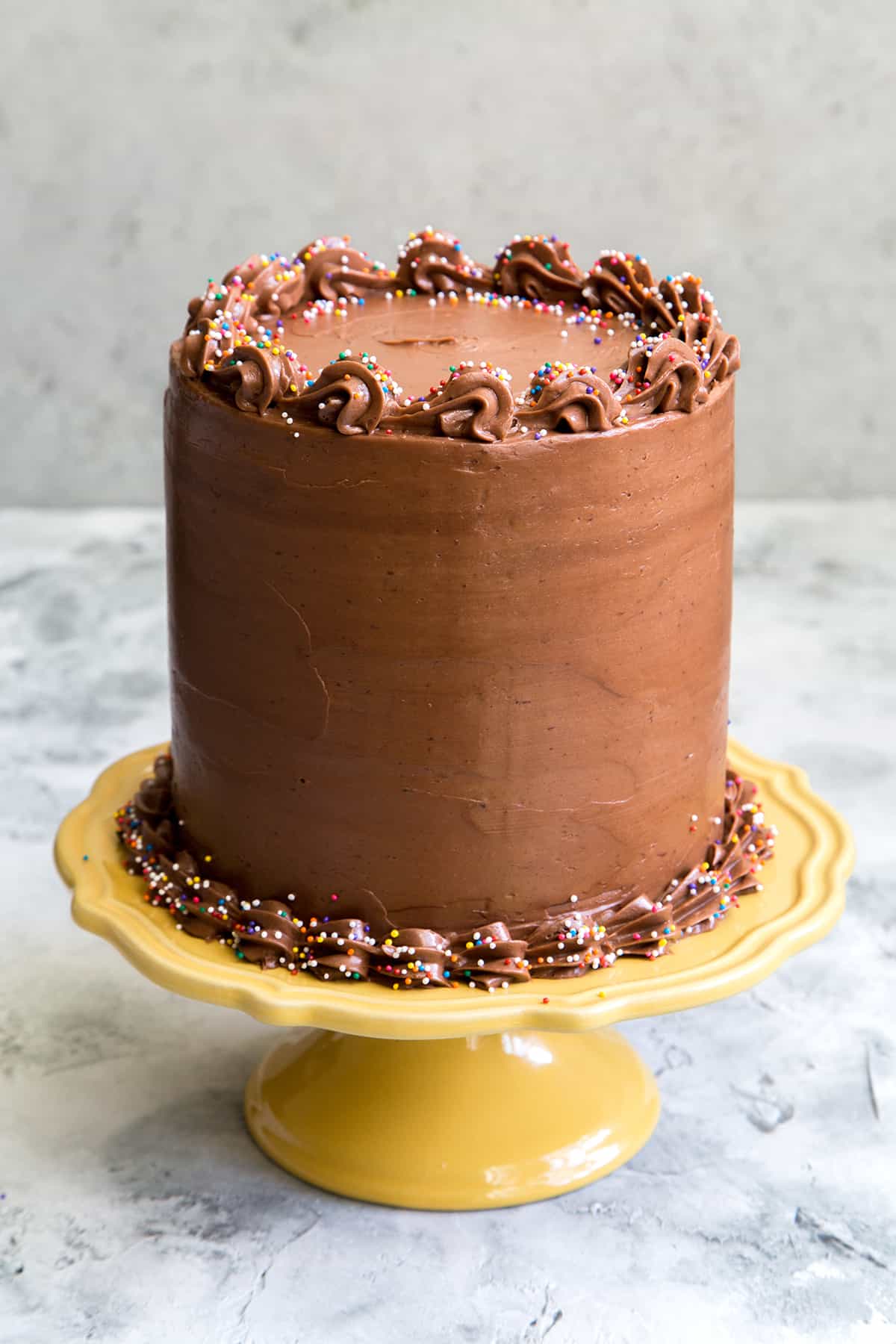 Yellow Cake with Chocolate Swiss Buttercream
Ingredients:
Yellow Cake:
2 1/2 cups cake flour, sifted
1 1/4 cup granulated sugar
2 tsp baking powder
1/2 tsp fine sea salt
1 cup unsalted butter, cut into tablespoons, softened but still cool to the touch
3/4 cup whole milk, room temperature
3 large eggs
1 large egg whites
2 tsp pure vanilla extract
Chocolate Swiss Buttercream: (makes about 4 cups)
6 large egg whites (3/4 cup)
1 1/2 cup granulated sugar
2 1/4 cup unsalted butter, cut into tablespoons
4.5 oz chopped dark chocolate* (preferably 70% or darker), melted and slightly cooled
Directions:
Preheat oven to 350 degrees F. Grease and flour three 6-inch round cake pans. Line with parchment paper and set aside.
In the bowl of a stand mixer, whisk together 2 cups flour (reserve remaining 1/2 cup of flour), sugar, baking powder, and salt. Using a paddle attachment, run mixer on low speed. With the mixer running, add cut butter in three additions. Continue to mix on low speed until mixture is crumbly.
In another bowl, combine milk, eggs, egg white, and vanilla. Add half of liquid mixture to mixing bowl. Mix on medium speed until incorporated. Add remaining half of liquid mixture and mix until batter is throughly combined. The batter may look curdled. Add remaining 1/2 cup flour and mix until batter comes together. Scrape down bowl as needed to ensure thorough mixing.
Evenly distribute batter among prepared cake pans and level using a mini offset spatula or the back of a spoon. Bake for 30-35 minutes until toothpick inserted in center of cake comes out clean. Allow cake to cool in pan for 10-15 minutes. Run an offset spatula along the sides of the cake pan to loosen cake. Invert cake onto a wire rack and allow to cool to room temperature.
Chocolate Swiss Buttercream:
In the bowl of a stand mixer, whisk together egg whites and sugar.  Place bowl over a pot of simmering water to create a double boiler. Make sure simmering water does not touch the bottom of the bowl. Whisk sugar egg mixture until it reaches a temperature of 160 degrees F. Alternatively, if you don't have a thermometer, heat until all the sugar has melted. You can test this by dipped your pointer finger into the warm mixture and rubbing it against your thumb. The mixture should be smooth. You should not be able to feel the granules of sugar.
Return bowl to the stand mixer. With the whisk attachment, beat mixture at medium speed until it cools to room temperature and holds medium-stiff peaks.
Using a paddle attachment, mix on low speed. With the mixing running, add butter one tablespoon at a time. Once all the butter has been incorporated, add pinch of salt. Increase speed to medium-high and continue to beat until buttercream is light and fluffy. Add melted cooled chocolate and mix on low speed until thoroughly mixed.
Notes: I used 90% dark chocolate. Use at least 70% dark chocolate to balance the sweetness of the buttercream.