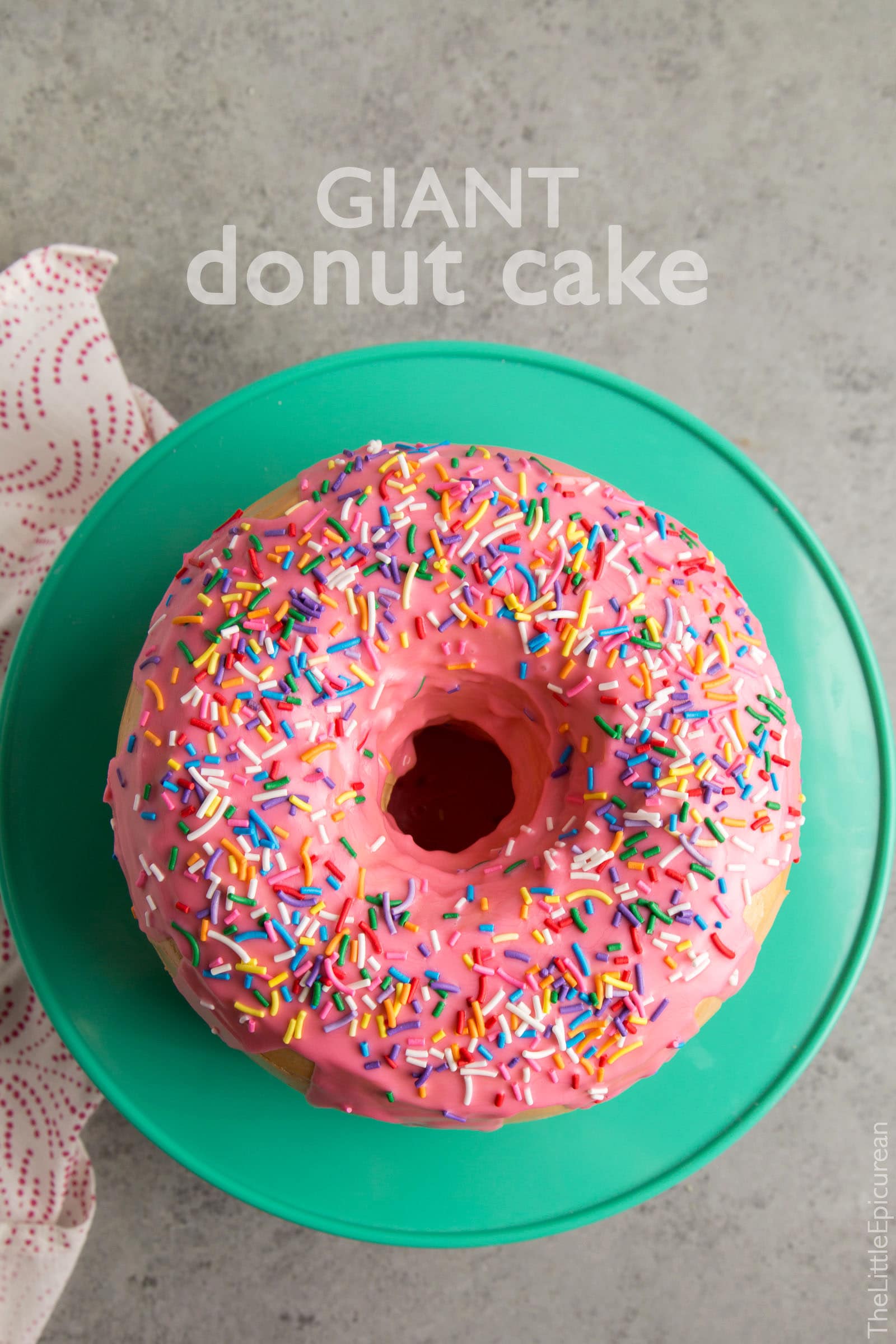 As a kid, never in my wildest dreams did I think we would have access to every episode of The Simpsons. Who knew streaming would take over television?! Just five years ago or so, I was still buying boxed DVD sets of my favorite shows. Nowadays, there is no need to ever buy such things. You can stream everything you could ever want to watch online.
Growing up, The Simpsons was one of my favorite shows. I may have not understood all the jokes and references back then, but I still found the show entertaining and funny. Ever since FX made every episode available for streaming, Alex and I have gone back to season 1 to rewatch the episodes in order… that's 28 seasons of content!
I'm a fan of the show, but Alex is HUGE fan. He knows a ton more trivia and little details than I ever could remember. In honor of his 30th birthday, I made him this giant donut cake… similar to Homer's favorite pink glazed sprinkle topped donut! (For my 30th birthday, I made myself this Funfetti Doughnut Cake!)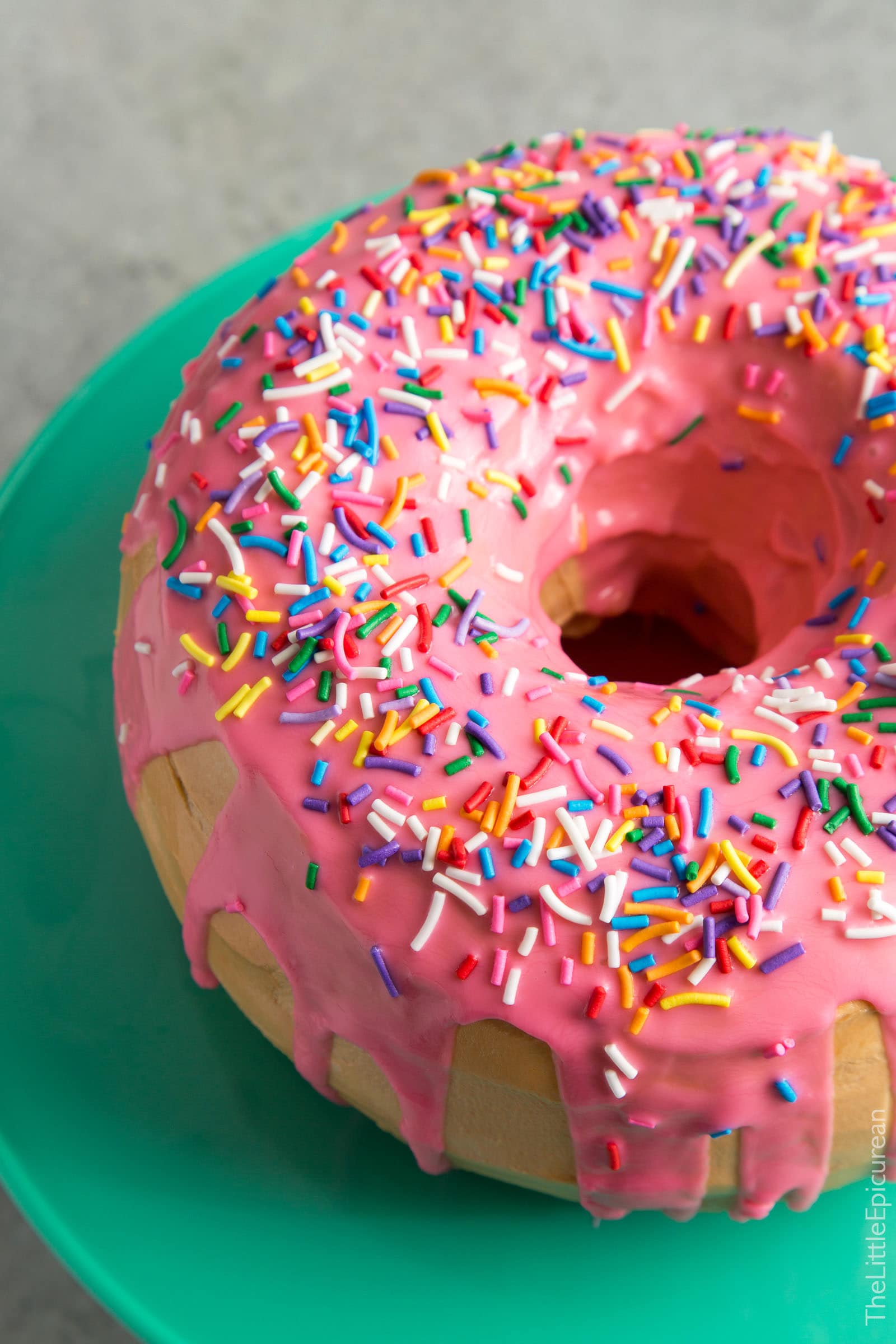 Obviously with almost three decades of content, some seasons are far superior than others, some episode are more memorable and stand the test of time. Is there anything more iconic than Homer and his love for donuts? I don't think so.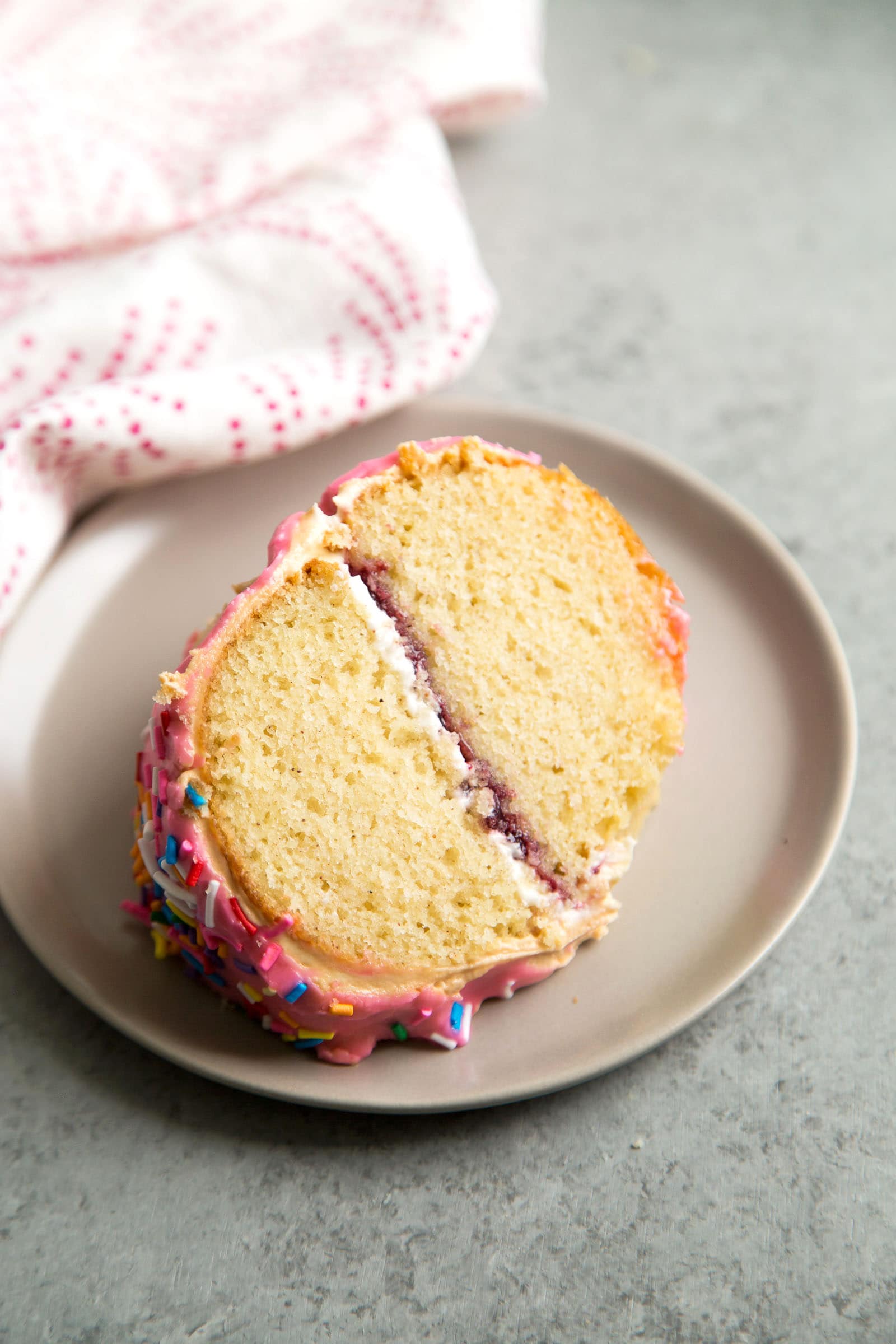 This slice of cake photographed above is an ode to Homer's "forbidden donut." In the episode The Devil and Homer Simpson (from Treehouse of Horror IV), Homer sells his soul to the devil for a doughnut. According to the contract, once Homer finishes eating the donut, his soul will be transferred over. To keep his soul, Homer doesn't finish the donut. He saves the last bite in the fridge with a ton of warning notes. However, Homer eventually sleepwalks into the kitchen one night and devours that last piece. You'll have to watch the episode to find out what happens to Homer's soul :)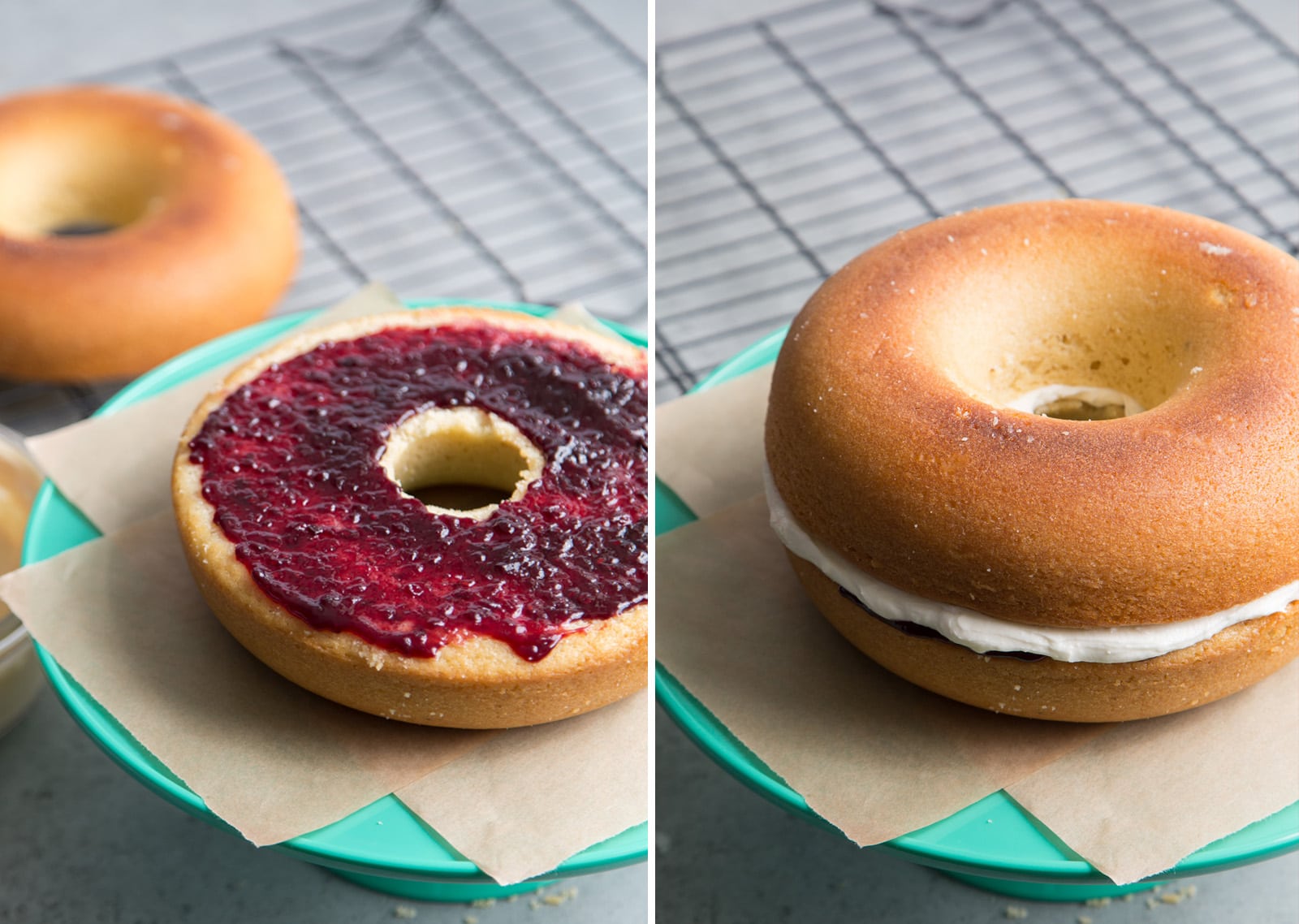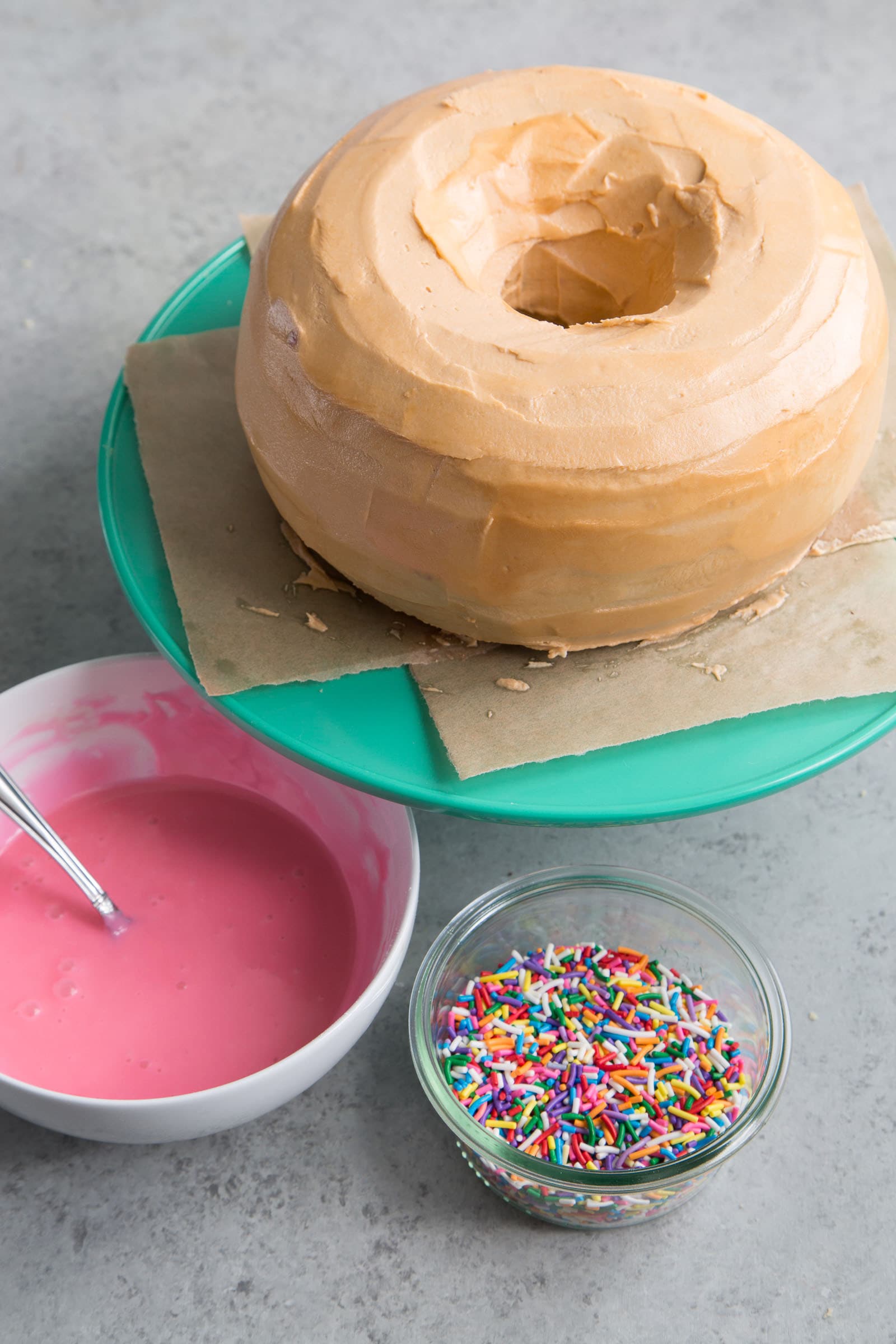 My favorite cake donuts are lightly spiced with cinnamon and nutmeg. This cake has a little more cinnamon than nutmeg. If you're not a fan, simply stick to vanilla. I used this Williams Sonoma Giant Cake Donut Pan (which unfortunately has been discontinued). The set contains two 8-inch ring pans. There are a few options available on Amazon- like this one and this one.
I added a thin layer of boysenberry jam along with standard American vanilla buttercream. I used 4 drops of ivory gel paste food coloring mixed with 1 drop of chocolate brown gel paste food coloring to get that lightly golden tan color for the buttercream frosting that coats the outside of the cake. I used the "hot spatula" technique from The Cake Blog to smooth out the exterior of the cake. And finally, I used a regular old powdered sugar glaze dyed with a couple drops of electric pink gel paste food coloring to make the iconic pink glaze.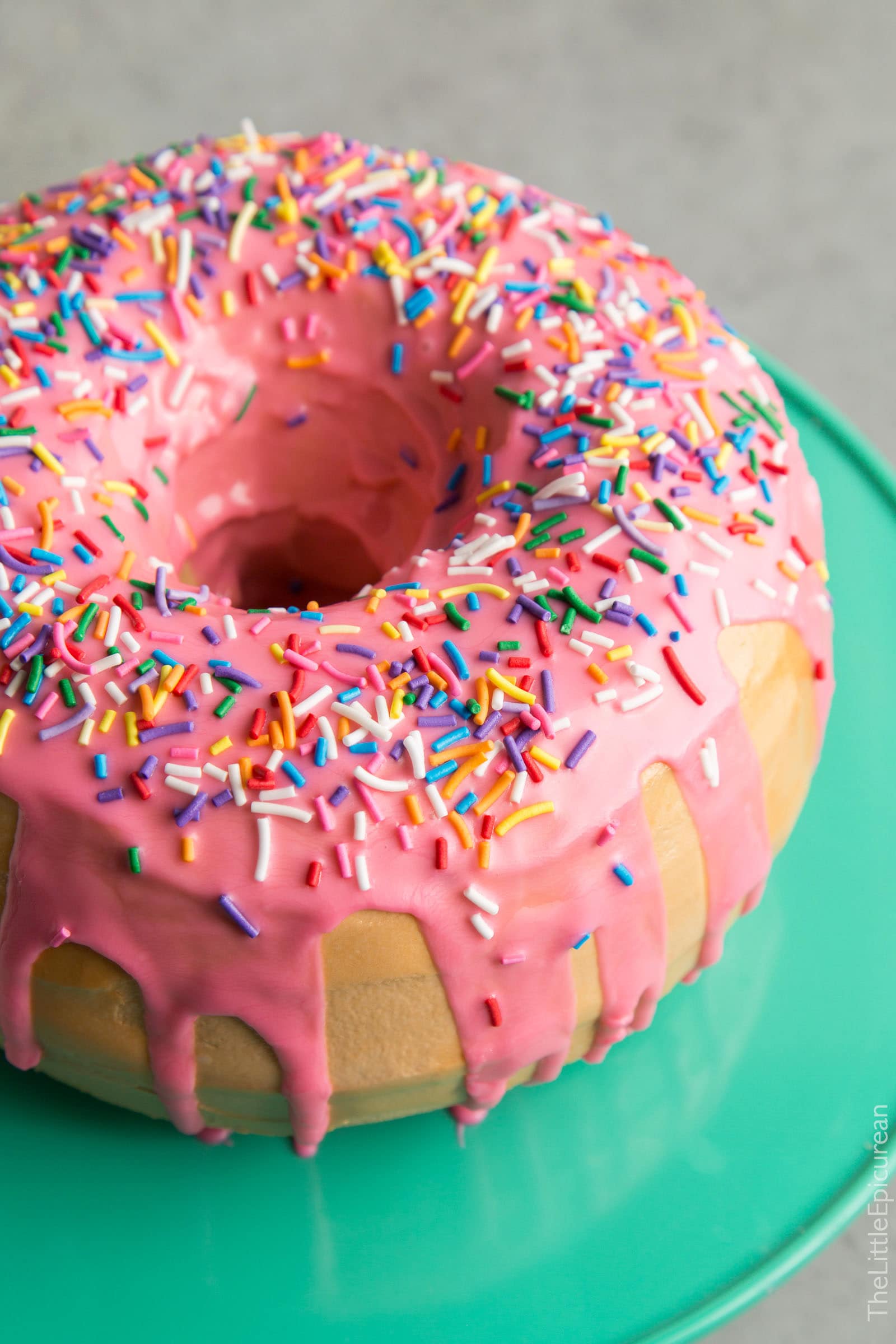 This giant donut cake is perfect for The Simpsons fans and donut lovers! It's a really fun cake to bring out to a party. And it's really great to snack on while you binge watch The Simpsons during the summer!
Giant Donut Cake
Yield: 8-inch cake, serves 12-14
Ingredients:
Donut Cake:
3 cups all-purpose flour
2 teaspoons baking powder
1 1/2 teaspoons fine sea salt
1/2 teaspoon ground cinnamon
1/4 teaspoon ground nutmeg
1 cup unsalted butter, room temperature
1 2/3 cups granulated sugar
4 large eggs, room temperature
1 1/2 teaspoons pure vanilla extract
1 1/2 cups whole milk, room temperature
Filling and Buttercream:
1 cup unsalted butter, softened, room temperature
3 cups powdered sugar
1/4 teaspoon fine sea salt
1/2 teaspoon pure vanilla extract
1 Tablespoon milk
4 drops ivory gel paste food coloring
about 1/4 cup boysenberry jam (or jam of choice)
Glaze:
Directions:
Donut Cake:
Preheat oven to 350 degrees F. Grease and flour two 8-inch cake ring pans. Set aside.
In a large bowl, whisk together flour, baking powder, salt, cinnamon, and nutmeg. Set aside.
In the bowl of a stand mixer fitted with a paddle attachment (or using a hand mixer), beat butter until smooth. Add sugar and continue to beat until mixture is light and fluffy. Scrape down bowl as needed to ensure thorough mixing.
With the mixing running on low speed, add eggs one a time. Make sure egg is incorporated before adding the next egg. Add vanilla and mix until batter is smooth.
Continuing to mix on low speed, add flour mixture in three additions, alternating with the milk. Begin and end with the flour mixture. Mix until just combined and there are no longer any dry streaks of flour in batter.
Divide batter between the two prepared cake pans. Bake for 40-45 minutes until toothpick inserted in cake comes out clean. Allow cake to cool in pan for 10-15 minutes. Invert pans to unmold cakes. Allow cakes to cool to room temperature on a wire rack. Once cakes are cool, level the bottom of the cake by slicing off any excess cake.
Buttercream:
In the bowl of a stand mixer fitted with a paddle attachment(or using a hand mixer), cream butter until smooth. Add powdered sugar and mix until incorporated. Scrape down bowl as needed. Add salt, vanilla, and milk. Mix until thoroughly combined.
Glaze:
Combine powdered sugar, salt, vanilla, and milk. Stir until smooth. Add food coloring as needed.
Assembly:
Place one half of cake on a cake stand or serving plater. Spread jam over cake. Top with a thin layer of buttercream. Place top half of cake over buttercream.
Dye the remaining buttercream with food coloring.
Use a spoon or mini offset spatula to crumb coat the cake. Place frosted cake in the fridge for 15 minutes to allow buttercream to set up. Frost cake with another coat of buttercream. Return to fridge for another 15 minutes to set up.
Use a warmed up off set spatula to smooth out the chilled buttercream. Warm metal spatula by dipping it hot warm and wiping off moisture. Return cake to fridge for another 5-10 minutes to set up. Meanwhile, prepare glaze.
Remove chilled cake from the fridge and pour glaze over cake. Immediately top glaze with sprinkles. Glaze will harden on it's own. To speed up the process, return cake to fridge. Keep cake chilled until ready to serve. Allow cake to sit at room temperature for about 30-40 minutes before slicing and serving.
Notes:
The set of two 8-inch cake ring molds I used are from Williams-Sonoma have been discontinued. I have linked a couple options from Amazon in the post above.
Cake recipe is adapted from Williams-Sonoma Kitchen
Buttercream smoothing technique from The Cake Blog