Celebrate love with these homemade Pink Valentine Cake Doughnuts dipped in sweet glaze and topped with sprinkles.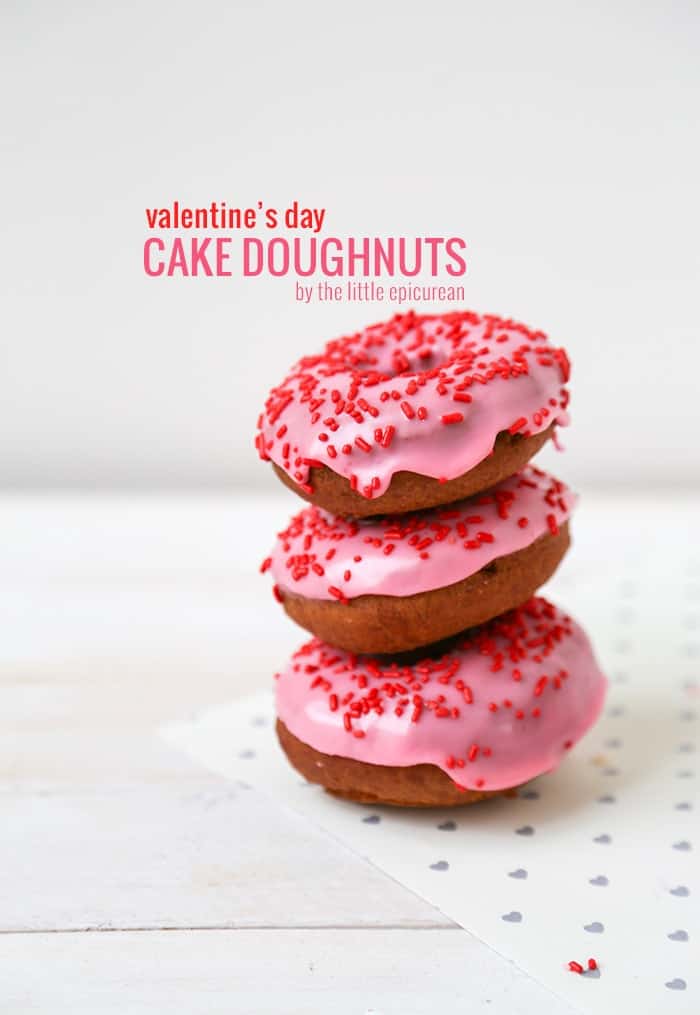 It is dessert? How about breakfast? It's all both!
It's one of the most amazing fried foods ever- the doughnut!
Valentine's Day is coming up. I'm getting in the lovey-dovey spirit with these super cute and festive cake doughnuts.
Some girls want jewelry, maybe a dozen long stem roses, or even a box of chocolates.
I'm a little different. Sure, I can't turn down something that sparkles and glitters, but the way to my heart is through doughnuts!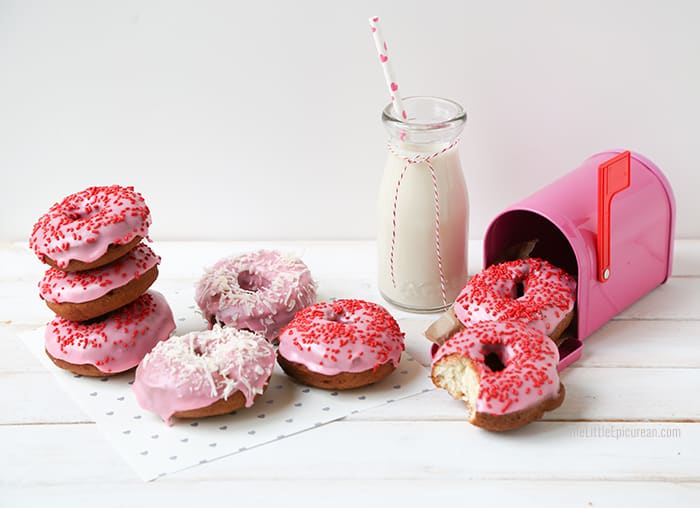 Over the years, I've made quite a lot of baked donuts: green velvet donuts, orange and poppy seed mini donuts, baked chocolate-hazelnut crunch donuts.
For this holiday, I'm making real deal fried doughnuts!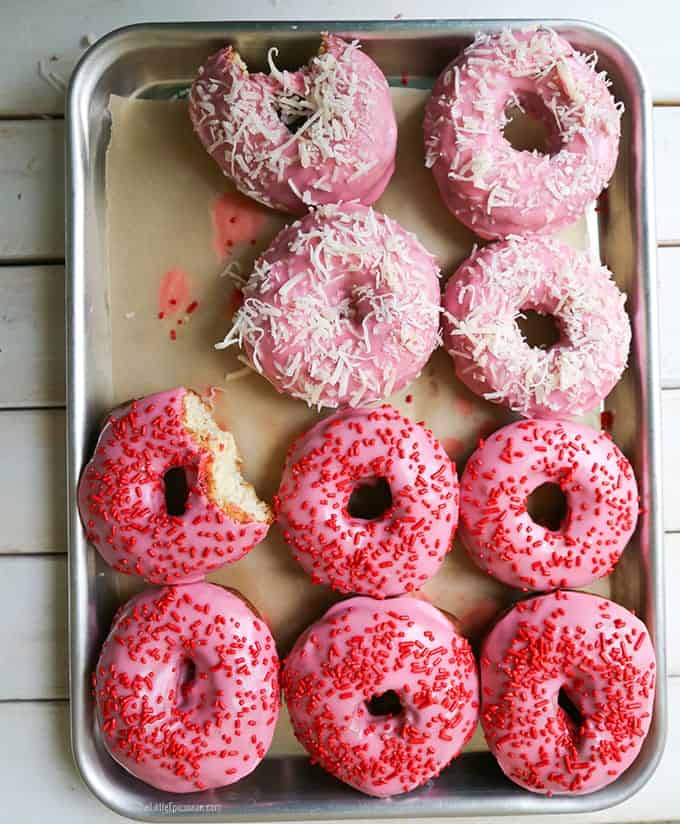 Valentine's Day Cake Donuts
I love the way these doughnuts turned out. They're so pretty!
Word of warning: the dough is really, really sticky. Don't be afraid to sprinkle cake flour as needed when you're rolling out the dough. Other than that, it's easy-peasy.
There is something magical and alluring about doughnuts– especially because they are a sweet treat that is acceptable to eat any time of day!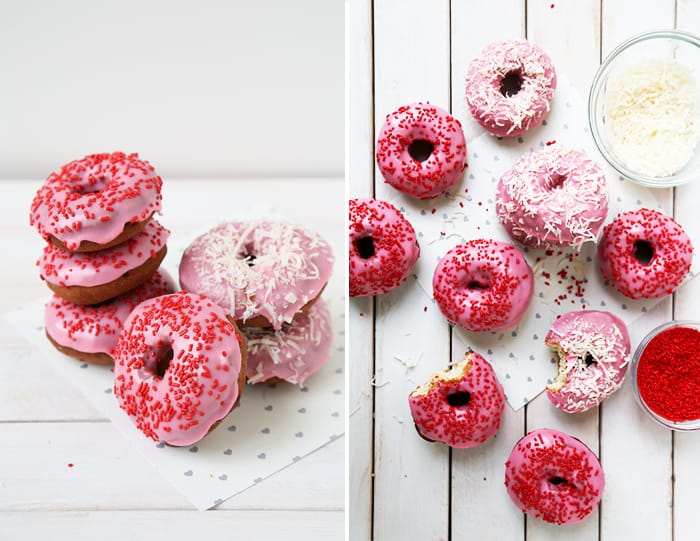 If the way to a man's heart is through his stomach- I got Alex's in the bag!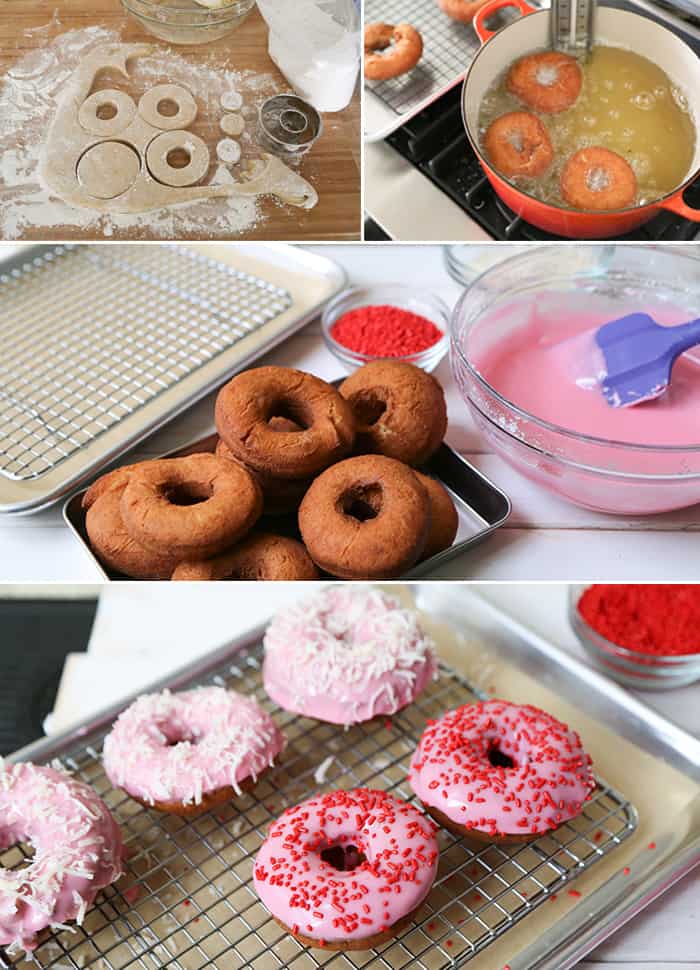 Tools and Equipment for Making Cake Donuts
3.5-inch donut cutter (either 2.5-inch or 3 .5-inch)
heavy bottomed pot (such as Dutch oven or cast iron pot)
Donut Cutter
THIS DOUGH IS VERY STICKY! Generously flour your hands, your work surface, and the donut cutter often.
(If you don't have a handy dandy donut cutter, simply use a 3 1/2-inch round cookie cutter paired with a 1-inch round cutter for the center.)
Candy Thermometer
It is important to use a candy thermometer to ensure even cooking.
Attach candy thermometer to frying pot to maintain proper cooking temperature. Oil temperature will fluctuate as you add raw dough to hot oil.
Heavy Bottom Pot
Choose a pot that retains heat well, such as a Dutch oven or a cast iron pot. This will help maintain even oil temperature resulting in more consistent cooked donuts.
Wire Cooling Rack
Fried donuts can be placed on paper towels to drain, or on a wire cooling rack. The rack allows for air flow, crisping up the cake donuts.
Set freshly glazed donuts atop wire cooling rack to allow any excess glaze to drip off.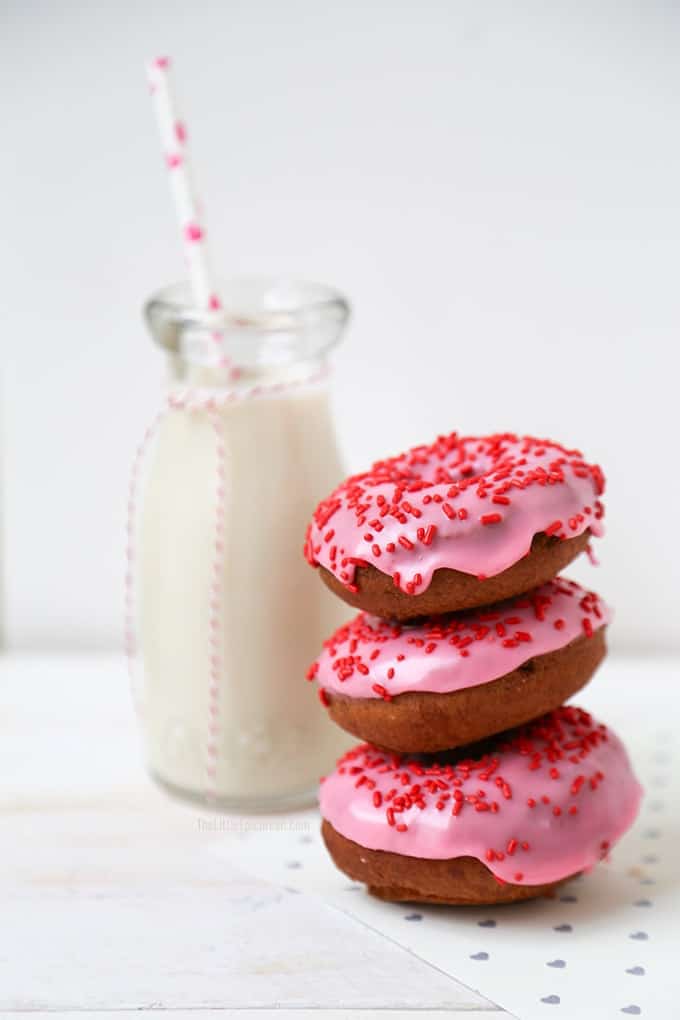 Storage and Leftovers
As with all fried foods, these Valentine Cake Doughnuts are best served the same day they are fried. Ideally, you want to enjoy these donuts within hours of frying.
Should you have any leftovers or plan to transport these donuts, store them in a breathable box (like a cardboard bakery box or container with the lid slightly ajar).
The glaze needs air circulation. Otherwise, it will melt and make the donuts soggy.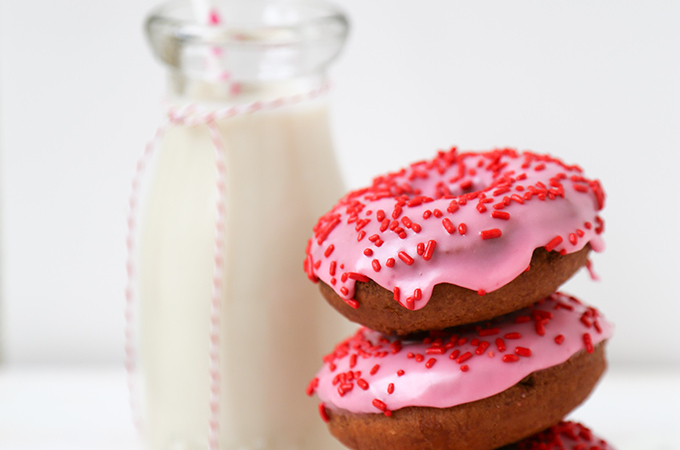 Valentine's Day Cake Doughnuts
Ingredients
Cake Doughnuts:
2

cups

cake flour

3/4

cup

all-purpose flour

1

teaspoon

baking powder

1 1/2

teaspoon

fine sea salt

3/4

teaspoon

ground nutmeg

1/2

teaspoon

ground cinnamon

2/3

cup

granulated sugar

2

Tablespoon

vegetable shortening

1

large egg

1

large yolk

2/3

cup

2% milk

vegetable oil,

for frying
Pink Icing:
4 1/2

cups

confectioners' sugar

2

teaspoon

light corn syrup

1/4

teaspoon

fine sea salt

1/2

teaspoon

pure vanilla extract

a couple drops of pink food gel coloring,

as needed

1/3

cup

hot water
Toppings:
red jimmies (sprinkles)

sweetened shredded coconut
Instructions
Cake Doughnuts:
Whisk together cake flour, all-purpose flour, baking powder, salt, nutmeg, and cinnamon in a medium bowl. Set aside.

In the bowl of stand mixer fitted with a paddle attachment, mix together sugar and shortening on low speed. Mix until mixture resembles coarse sand. Add whole egg and yolk. Mix until creamy. Scrape down bowl as needed to ensure thorough mixing.


Add 1/3 of dry mixture into mixing bowl. Mix on low speed until almost combined. Following with 1/2 of milk. Add another 1/3 of dry mixture, followed with remaining milk. Mix and end with dry mixture.


The dough will be quite sticky. Once combined, transfer dough to a clean bowl. Cover directly with plastic wrap. Refrigerate for one hour.

Filled a large pot with 3 inches of oil. Using a candy thermometer, bring oil to 370 degrees F over medium heat.

Remove dough from fridge and transfer to generously floured surface. Dough will be very sticky. Sprinkle cake flour over dough as needed to ensure dough doesn't stick to surface. Pat dough into an even layer about 1/2-inch thick.


Dip 2 1/2-inch round cutter in flour each time before cutting dough. Cut smaller doughnut hole in center. Fold and press dough scrapes together to cut out more doughnuts.


Brush off any excess flour off the doughnuts before adding them to the oil hot. Depending on the size of your pot, add 4-5 doughnuts to the pot at a time. Be sure not to crowd the doughnuts. Set a timer for 1 minute and 30 seconds. By this time, the doughnuts should have floated to the top. Turn over doughnut and cook for another 90 seconds. Once golden brown all over, remove from oil and let drain on paper towels or over wire rack.


Allow doughnuts to cool before dipping in pink icing.

Pink Icing:
In a medium bowl add confectioners' sugar, corn syrup, salt, vanilla extract, pink gel coloring, and hot water. Use a whisk or a hand mixer to blend ingredients together until smooth. If icing is too thick, add hot water about 1 teaspoon at a time.

Assembly:
Once doughnuts have cooled, dip one side into pink icing. Place dipped doughnut on wire rack, iced side up. Sprinkle desired toppings over icing. Let icing set until firm, about 10-15 minutes.